For Immediate Release
Contact:
Mark McCullough, 202-730-7283
SEIU to Host Screening of Brave New Films' 'Diagnosis: Now!' at Washington HQ, 40+ House Parties Nationwide
Documentary Details How Insurance Industry Puts Profits Before People,
WASHINGTON
On
Wednesday, September 24, SEIU will host a screening of Brave New Films'
documentary titled "Diagnosis: Now!" at the health care union's
headquarters in Washington, D.C., kicking off a series of screenings at
house parties being hosted by SEIU locals across the country. The
events are part of a series of screenings organized by Health Care for
America Now (HCAN), a broad coalition founded by SEIU and other
nonprofit and political organizations to promote quality, affordable
health care for all Americans.
SEIU Locals will
host screenings in California, Connecticut, Florida, Iowa, Indiana,
Massachusetts, Maryland, Maine, Michigan, Minnesota, Missouri, North
Carolina, New Hampshire, New Jersey, New Mexico, New York, Rhode
Island, Texas and Washington State
"Diagnosis: Now!"
uses the stories of everyday Americans to illustrate how the health
care industry continues to put profits before people's health care
needs and highlights the urgent need for quality, affordable health
care for everyone in America.
Some facts about the health care industry:
In
recent years, the country's major insurance companies saw their profits
grow 300 percent, while the numbers of insured Americans stayed the
same;
Half
of all bankruptcies are caused by medical bills, and of those, 75
percent had health insurance at the time they got sick or injured; and
Last
year, about 116 million people in this country struggled to pay medical
bills while insurance companies made billions.
WHAT: Screening of Brave New Film's "Diagnosis: Now!"
WHEN: Wednesday, September 24, 2008
12:00 P.M. EDT
WHERE: SEIU
1800 Massachusetts Avenue NW (Dupont Circle), Washington, D.C.
Media interested in attending should contact Mark McCullough at 202-730-7283 or mark.mccullough@seiu.org.
With 2 million members in Canada, the United States and Puerto Rico, SEIU is the fastest-growing union in the Americas. Focused on uniting workers in healthcare, public services and property services, SEIU members are winning better wages, healthcare and more secure jobs for our communities, while uniting their strength with their counterparts around the world to help ensure that workers--not just corporations and CEOs--benefit from today's global economy.
LATEST NEWS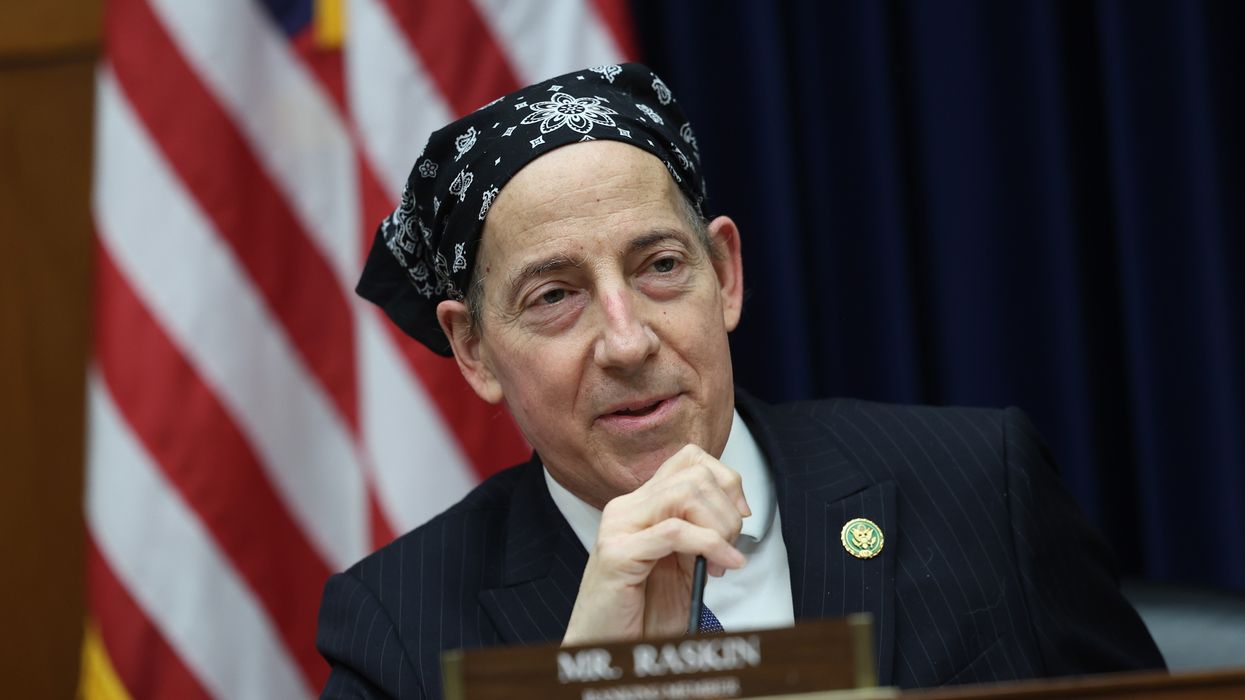 "America, we cannot let McCarthy and Carlson become the Orwellian editors of our past or the authoritarian authors of our future," exhorted the Maryland Democrat.
As right-wing politicians and pundits continue to peddle lies and conspiracies related to the January 6, 2021 attack on the U.S. Capitol by supporters of then-President Donald Trump, Democratic Maryland Congressman Jamie Raskin on Wednesday delivered a passionate rebuttal of Republicans' "nonsense."
Speaking on the House floor, Raskin asserted that "it all starts" with "Donald Trump's 'Big Lie'" that the 2020 presidential election was stolen.
He continued: "They say, 'Who knows, maybe he won, maybe he didn't. You say Joe Biden's president, we say Donald Trump's president.' Nonsense!"
"Sixty federal and state courts rejected every claim of electoral fraud and corruption that they put forward. Sixty," Raskin—who was the lead manager for Trump's historic second impeachment—reminded listeners. "They don't have a single court that ever ruled in their favor. Donald Trump lost that election by more than seven million votes, 306-232 in the Electoral College."

"So then... their Big Lie has to stretch all the way over January 6," Raskin said. "We have to disbelieve the evidence of our own eyes and our own ears. We saw them come and descend upon this chamber, this Congress, wounding and injuring 150 of our police officers, breaking people's noses, breaking people's fingers, putting people in the hospital, and already they're back on the news with big lies saying, 'No, no, no, it was a tourist visit.'"
Referring to the Fox News opinion host and the Republican House speaker, Raskin tweeted Wednesday that "Tucker Carlson's assault on the truth about January 6 is unconscionable, but more scandalous yet is Kevin McCarthy's central role in its design. America, we cannot let McCarthy and Carlson become the Orwellian editors of our past or the authoritarian authors of our future.
On Monday evening, Carlson—who according to legal documents said he "passionately hates" Trump even as he publicly amplified the ex-president's lies—dubiously dismissed the Capitol attack as "mostly peaceful chaos."
Carlson's characterization was roundly rejected even by numerous Republican senators including Thom Tillis of North Carolina, who called the false narrative "bullshit."

News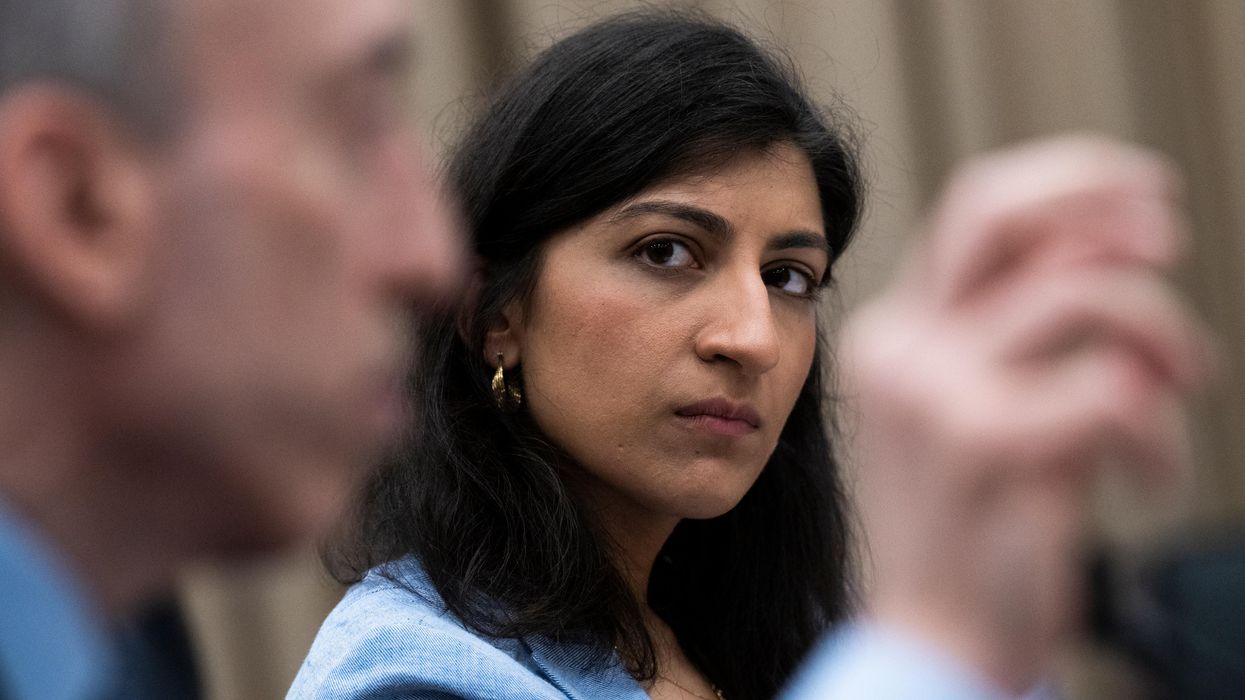 "Anyone who cares about the free press should be concerned by the FTC's demand that Twitter identify journalists who have received information that might embarrass the administration," said one critic.
Press freedom defenders on Wednesday expressed outrage after it was revealed that the Federal Trade Commission, as part of its investigation into Twitter's data privacy practices, demanded that the social media giant "identify all journalists" given access to company records, including in relation to owner Elon Musk's dissemination of the so-called "Twitter Files" purporting to expose censorship on the platform.
"Anyone who cares about the free press should be concerned by the FTC's demand that Twitter identify journalists who have received information that might embarrass the [Biden] administration, regardless of what they think of Elon Musk or Twitter," Freedom of the Press Foundation (FPF) advocacy director Seth Stern said in a statement.
According to FPF: "Government-compelled identification of journalists is dangerous on its own and enables further surveillance of those identified. Administrations from both political parties have overreached to spy on journalists—especially journalists investigating those in power."
"The Department of Justice has adopted policies against surveilling journalists," the advocacy group noted, "but other agencies like the FTC have not."
The Wall Street Journalreported Tuesday that in addition to the names of journalists granted access to Twitter records, the FTC also sought internal communications related to Musk as well as information regarding layoffs, which the agency said could undermine the corporation's capacity to protect users, and the launch of the Twitter Blue subscription service.
FTC spokesperson Douglas Farrar told the newspaper that the agency is "conducting a rigorous investigation into Twitter's compliance with a consent order that came into effect long before Mr. Musk purchased the company."
Farrar explained Wednesday on social media that Twitter in 2011 "agreed to a 20-year consent order over its data security practices and how it uses your private information."
"In 2022, the FTC charged Twitter with violating the 2011 order for misusing personal information. The company then paid a $150 million penalty and entered a new consent order," he continued. "Besides the penalty, the FTC added further provisions to protect consumers' sensitive data. This order was issued in May of 2022," several months before Musk's acquisition of the company was finalized.
"The FTC should not have to violate the privacy of journalists to protect the privacy of Twitter users."
Farrar added that the 12 demand letters the FTC has sent to Twitter since Musk took over in late October "are nonpublic, but cherry-picked portions of some have recently been made public."
This happened after the Republican-led House Judiciary Committee's Select Subcommittee on the Weaponization of the Federal Government published excerpts of the letters in an interim staff report about the FTC's Twitter probe.
As part of its investigation, the FTC on December 13 "asked about Twitter's decision to give journalists access to internal company communications, a project Mr. Musk has dubbed the 'Twitter Files' and that he says sheds light on controversial decisions by previous management," the Journal reported.
According to the newspaper: "The agency asked Twitter to describe the 'nature of access granted each person' and how allowing that access 'is consistent with your privacy and information security obligations under the order.' It asked if Twitter conducted background checks on the journalists, and whether the journalists could access Twitter users' personal messages."

Journalist Matt Taibbi—whose December 2 thread on Twitter's 2020 decision to suppress the Hunter Biden laptop story and subsequent reporting have put him at the center of the "Twitter Files" saga—tweeted Tuesday: "Which journalists a company or its executives talks to is not remotely the government's business. This is an insane overreach."

In response, Matt Stoller of the American Economic Liberties Project, an anti-monopoly think tank, wrote that "the FTC is seeing whether Twitter is violating its consent decree on privacy."
Farrar doubled down on that claim Wednesday, writing: "FTC investigations are straightforward and nonpolitical. They are to ensure that companies are following the law, including protecting people's privacy. The consent order the FTC has with Twitter isn't about Musk's acquisition of the company or their content moderation policies. This isn't about free speech, it's about the FTC doing its job to protect Americans' privacy."
Stern, for his part, was unconvinced by Farrar and Stoller's attempts to justify the FTC's actions as an exercise in protecting consumers' data.
"The FTC," said Stern, "should not have to violate the privacy of journalists to protect the privacy of Twitter users."
"It's especially disturbing," he continued, "that the demand could enable future efforts to obtain the journalists' newsgathering materials."
The FTC's actions underscore why Americans of all political persuasions "should support passing the PRESS Act," Stern added. "It's the only way to ensure that all administrations, and all government agencies, are prohibited from surveilling or retaliating against journalists."
News
"Congress must fix this before considering any reauthorization of Section 702 of the Foreign Intelligence Surveillance Act this year," said one advocate.
Privacy advocates on Wednesday said testimony from FBI Director Christopher Wray at a U.S. Senate Select Intelligence Committee hearing offers the latest evidence that Congress must take action to keep the government from performing mass surveillance on people across the United States, as Wray admitted the bureau has purchased cellphone geolocation data from companies.
Sen. Ron Wyden (D-Ore.) asked Wray at a hearing about national security threats whether the FBI purchases "U.S. phone geolocation information," showing the location of users.
Wray said the bureau does not currently make such purchases, but acknowledged for the first time that it "previously, as in the past, purchased some such information for a specific national security pilot project," drawing on data "derived from internet advertising."
He said the project has been inactive "for some time" but said he could only provide more information about it and the past purchase of geolocation data in a closed session with senators, adding that the FBI currently accesses "so-called ad tech location data" through "a court-authorized process."
"This is a policy decision that affects the privacy of every single person in the United States."
"I think its a very important privacy issue that [geolocation data purchases] not take place," said Wyden, an outspoken advocate for privacy rights.
Grassroots social welfare organization Demand Progress called Wray's admission "both shocking and further proof of the need for Congress to take immediate action to rein in mass surveillance."
"This is a policy decision that affects the privacy of every single person in the United States," said Sean Vitka, the group's policy counsel. "We should have the right to decide when and how our personal information is shared, but instead intelligence agencies continue to obstruct any accountability or transparency around this surveillance."

The revelation came as Section 702 of the Foreign Intelligence Surveillance Act (FISA) is scheduled to expire at the end of the year and as Congress is expected to soon begin debating its reauthorization.
As written, the provision allows the U.S. government to conduct targeted surveillance of people in foreign countries, but intelligence agencies have also used the law to collect data on Americans.
"Congress must fix this before considering any reauthorization of Section 702 of the Foreign Intelligence Surveillance Act this year," said Vitka of Wray's admission.
Vitka and Fight for the Future director Evan Greer were among the critics who demanded to know "who told [Wray] buying Americans' location info from data brokers would be legal?"
\u201cThe @FBI bought Americans\u2019 location info without a court order. This is enormous, was illegal, and has countless effects on the #FISAReform debate this year. What it means for what remains of Americans\u2019 privacy is horrifying.\u201d

— Sean Vitka (@Sean Vitka) 1678293086
Privacy advocates have long warned that the Supreme Court ruling in the 2018 case Carpenter v. United States, in which the court decided government agencies that accessed location data without a warrant were violating the Fourth Amendment, contains a loophole allowing the government to purchase data that it can't obtain legally.
"The public," Vitka told Wired, "needs to know who gave the go-ahead for this purchase, why, and what other agencies have done or are trying to do the same."

News
SUPPORT OUR WORK.
We are independent, non-profit, advertising-free and 100%
reader supported.