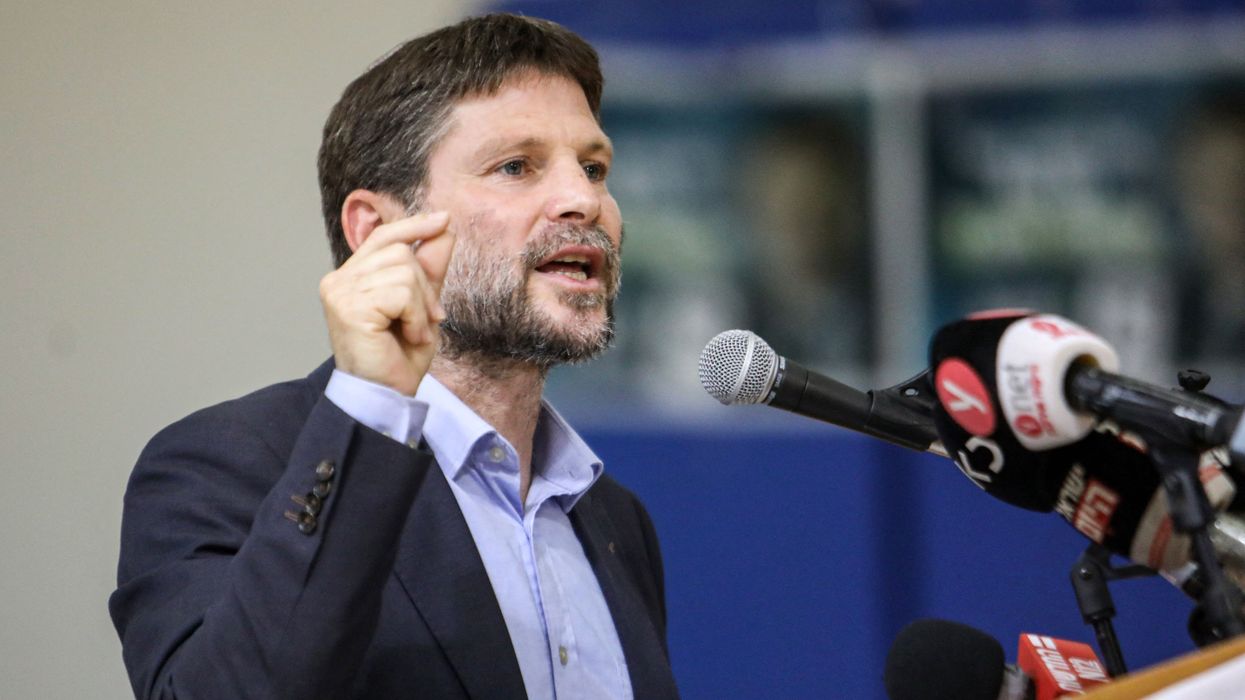 "It is time for the Biden administration to end its hollow words of concern and condemnation and to start taking action," said one advocate.
Jewish-led peace groups on Wednesday called on the Biden administration to bar Israeli Finance Minister Bezalel Smotrich from entering the U.S. ahead of a planned visit over his recent comments about the Palestinian town of Hawara, which was the target of a deadly rampage earlier this week by Israeli settlers.
Smotrich said after the attack that "the village of Hawara needs to be wiped out," adding, "I think that the State of Israel needs to do that."
U.S. State Department spokesperson Ned Price denounced the comments as "repugnant" and an "incitement to violence," but progressive supporters of Palestinian rights urged the Biden administration to go further and refuse Smotrich entry to the United States.
"It is time for the Biden administration to end its hollow words of concern and condemnation and to start taking action," said Beth Miller, political director of Jewish Voice for Peace Action (JVP). "Bezalel Smotrich, an Israeli government official with sweeping power over the occupied West Bank, is publicly and unabashedly inciting genocide and supporting settler pogroms. If Biden fails to take action at this moment, the U.S. will be fully complicit in the violence that comes next."
\u201cSmotrich called for an entire Palestinian town to be "wiped out".\n\nThis is a call for genocide from the government official who was granted sweeping power over the occupied West Bank.\n\n@POTUS. Failure to take action right now is complicity in whatever comes next.\u201d

— Jewish Voice for Peace Action (@Jewish Voice for Peace Action) 1677705961
Sunday's violence in the occupied West Bank was "the worst settler attack in decades," said JVP, with hundreds of people living in illegal settlements burning homes and vehicles and injuring 350 Palestinians in the villages of Hawara, Zatara, and Burin. One man, a 37-year-old father of three named Sameh al-Aqtash, was killed.
The attack was called a "pogrom" by one Israeli military commander, and Israeli police have arrested 10 people in connection with the attack.
Smotrich, who chairs the Religious Zionist Party, made clear that he feels the only thing wrong with the attack was that it wasn't carried out by the Israel Defense Forces (IDF), saying, "I think that the state of Israel needs to [wipe out the town], but God forbid not individual people."
He later doubled down on his comments, accusing the media of misinterpreting them even as he refused to retract the remarks and claiming Hawara "is a hostile village that has become a terrorist outpost."
Circulating a petition calling on supporters to demand President Joe Biden bar Smotrich from entering the U.S., Americans for Peace Now said the finance minister looked at the carnage in Hawara and thought, "Let's finish the job."
"This goes beyond his previous hateful incitement. This is calling for a war crime. And it's doing so at a time where it's more evident than ever that incitement like this has fatal consequences," said the group. "We must be clear: the only thing that should be wiped out is this violent and hateful ideology. It is unacceptable abroad and it is unacceptable here."
JVP noted that Smotrich's "call for state-sanctioned ethnic cleansing of Palestinians comes just days after the Israeli government gave him sweeping powers over the civil administration of the occupied West Bank, including control over settlement planning," following a deal with Defense Minister Yoav Gallant.
Smotrich is scheduled to travel to the U.S. on March 12 to speak at the Israel Bonds conference.
Along with immediately ending "its unconditional U.S. military funding and support for the Israeli government," the U.S. should "refuse to allow Smotrich entry to the U.S. on his upcoming planned trip," said JVP.

The advocacy group Democracy for the Arab World Now (DAWN) outlined how U.S. statutes give the Biden administration broad authority to deny entry to Smotrich on the grounds of incitement to violence.
"Under U.S. law, 8 U.S. Code § 1182, the State Department may deny and/or revoke visas to individuals who have 'under circumstances indicating an intention to cause death or serious bodily harm, incited terrorist activity,'" said the group. "Smotrich has also possibly committed the act of incitement to genocide, which also would prevent him from acquiring a U.S. visa under the statute, 'Any alien who ordered, incited, assisted, or otherwise participated in genocide, as defined in section 1091(a) of title 18, is inadmissible.'"

The U.S. has previously barred government officials from Nigeria and Cameroon, citing their incitement to violence.
"The Biden administration should not allow senior government officials inciting atrocities against Palestinian civilians to spread their violent and hateful rhetoric in the United States, just as it has banned government officials inciting violence against civilians from several African countries," said Sarah Leah Whitson, executive director of DAWN. "The 'exceptional' nature of the U.S.-Israel relationship should have its limits, and banning Smotrich would send an important signal that the U.S. will not tolerate such dangerous, reckless incitement to violence."
In the first six weeks of 2023, Israeli forces and settlers killed at least 65 Palestinian people.

News