Opinion
Climate
Economy
Politics
Rights & Justice
War & Peace
LATEST NEWS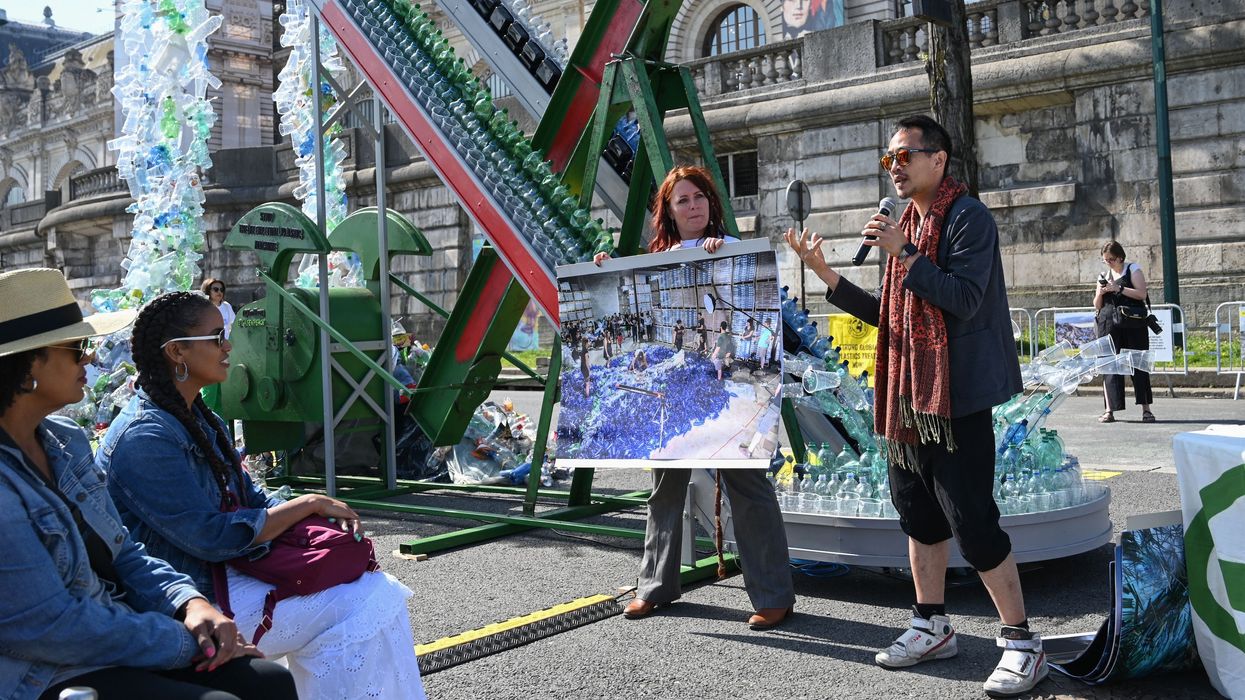 "It is clear from this week's negotiations that oil-producing countries and the fossil fuel industry will do everything in their power to weaken the treaty and delay the process," said one Greenpeace USA campaigner.
As the second session of the Intergovernmental Negotiating Committee wrapped up in Paris with an agreement to develop the first draft of a Global Plastics Treaty by November, climate, environmental, and other advocacy groups on Friday urged governments not to allow fossil fuel and other corporate interests to water down the landmark accord.
"Time is running out and it is clear from this week's negotiations that oil-producing countries and the fossil fuel industry will do everything in their power to weaken the treaty and delay the process," Graham Forbes, Greenpeace USA's global plastics campaign lead, said in a statement. "While some substantive discussions have taken place, there is still a huge amount of work ahead of us."
"Plastic pollution and the climate crisis are two sides of the same coin," Forbes added. "The Global Plastics Treaty must tackle plastic production head-on. This will align with the need to stay within 1.5℃ and move the world away from its plastic addiction. Anything else less than that, and the treaty will fail."
\u201cWhy do we need a Global Plastics Treaty?\n\nBig oil and big brands continue to make a profit while indigenous peoples, marginalised and affected communities bear the brunt of social injustice and the climate and plastic crisis.\n\n\ud83e\uddf5[1/2]\u201d

— Greenpeace Africa (@Greenpeace Africa) 1685710817
Governments from around 170 nations, NGOs, and plastics industry lobbyists spent the week at the United Nations Educational, Scientific, and Cultural Organization (UNESCO) headquarters in the French capital hammering out the framework for the world's first treaty aimed at reducing plastic pollution.
As Reutersreports:
Though the first half of the five-day negotiations was spent arguing over procedural issues, delegations split into two groups to discuss the range of control measures that can be taken to stop plastic pollution as well as whether countries should develop national plans or set global targets to tackle the problem.

By the session's close on Friday, countries agreed to prepare a "zero draft" text of what would become a legally binding plastics treaty and to work between negotiation sessions on key questions such as the scope and principles of the future treaty.

The "zero draft" text would reflect options from the wide-ranging positions of different countries by the start of the next round of talks to be held in Nairobi, Kenya, in November.
Ana Rocha, who directs the Global Plastics Program at GAIA, lamented that the conference "hosted at least 190 industry lobbyists, who used their access and infinite resources to promote tech-fixes like chemical 'recycling,' and plastic credits, while fenceline communities, waste pickers, Indigenous peoples, youth, and other members of civil society most impacted by plastic pollution had very limited opportunity to hold the mic."
"If we are to achieve a strong plastics treaty, member states must listen to and represent their people, not the very industry that is profiting from this crisis," Rocha added.
\u201cTAKE ACTION \u27a1\ufe0f Plastic pollution is a global problem that needs a global solution. International leaders are working toward a treaty to fully address the plastic problem. Add your voice: Urge the @StateDept to help make that happen.\nhttps://t.co/gduEUEa1O6\u201d

— Center for Biological Diversity (@Center for Biological Diversity) 1685733905
Julie Teel Simmonds, a senior attorney at the Center for Biological Diversity, praised the United States for helping to "jumpstart substantive talks in Paris," however, she added that the U.S. "must come to the next session with a bold commitment to cut plastic production."
"The U.S. hasn't yet been willing to put the reduction of plastic production front and center in this treaty, and we can't curb pollution without drastically scaling back its creation," she asserted. "At the next negotiations, the United States should take direct aim at the pervasive plastic that's infiltrating every corner of our planet by hitting hard on production."
News
"You can't address poverty in a world of climate chaos," one advocacy group told Ajay Banga. "End fossil fuel finance now!"
Climate advocates on Friday held a demonstration outside the World Bank Group's headquarters in Washington, D.C., where they welcomed the bank's new president, Ajay Banga, and implored him to immediately begin pursuing a global just transition.
Campaigners from the Glasgow Actions Team, Global Citizen, Friends of the Earth, and Big Shift Global handed their "First 100 Days" demands to World Bank staffers as they entered the building, making the case on Banga's first day at the helm that he should prioritize four key goals over the next few months: end fossil fuel finance, ramp up clean energy funding, cancel debt for poor nations facing myriad crises, and align the bank's policies with the Paris agreement's goal of limiting global warming to 1.5°C.

"It's not often we feel hope in the climate movement, but today, with a new World Bank president having publicly committed to taking climate change seriously, we're feeling hopeful," Glasgow Actions Team director Andrew Nazdin said in a statement. "But President Banga doesn't have a moment to lose; the time is now to announce plans to move away from fossil fuels and help the globe transition to clean energy in a just and equitable manner."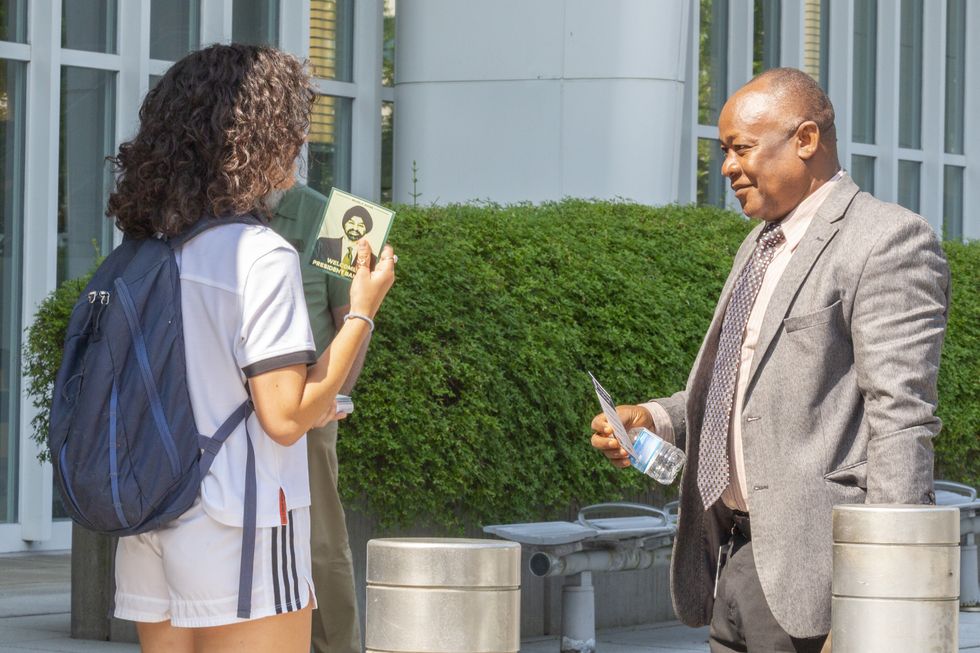 Activists hand their "First 100 Days" demands to World Bank staffers in Washington, D.C. on June 2, 2023.(Photo: Eric Kayne/AP Images for Glasgow Actions Team)
Climate advocates cheered in February when former World Bank President David Malpass, nominated to lead the bank by then-U.S. President Donald Trump in 2019, said that he would step down this spring, nearly a year ahead of schedule.
The early resignation announcement followed a sustained pressure campaign against Malpass, who was condemned as a "climate denier" after refusing to acknowledge that burning fossil fuels causes the planet-heating pollution underlying increasingly frequent and intense extreme weather disasters.
U.S. President Joe Biden's ensuing decision to tap Banga for the role angered progressives, who argued that the erstwhile private equity executive and former Mastercard CEO is likely to advance the powerful international financial institution's historically pro-corporate and pro-fossil fuel agenda. When the World Bank's board of governors ratified Banga's presidency in early May—appointing the Biden nominee to a five-year term with a June 2 start date—the bank's new leader suggested that a "climate change shift" was coming.
On the eve of Banga's first day in office, Big Shift Global acknowledged that his stated belief in climate science is an improvement over the status quo. But whether he leads the World Bank in "the right direction on climate" remains an open question, the international campaign noted, reiterating its demands for "a phaseout of fossil fuel finance and support for a just, clean energy transition."
Luisa Abbott Galvao, senior international policy campaigner at Friends of the Earth U.S., pointed out that "Ajay Banga has spent his career chasing profits for shareholders rather than working in the public interest."
"But he could still commit to a different legacy from his climate change-denying predecessor, David Malpass," said Galvao. "We call on Banga to pledge an end to World Bank financing for fossil fuels on his first day in office. When science says new fossil fuel developments are incompatible with the 1.5°C pathway, a failure to act is effectively climate denial."
\u201cWe gathered at @WorldBank with a message to the Bank's new president, Ajay Banga\ud83d\udce2\n\nIt's not too late to change your legacy from chasing profits to leading the Bank toward real climate action.\n\nDon't be like your climate-denying predecessor, David Malpass!\u201d

— Friends of the Earth (Action) (@Friends of the Earth (Action)) 1685727500
For its part, the Glasgow Actions Team tweeted, "While Ajay Banga is inside addressing his staff, we're outside showing him how easy it is to truly shift the World Bank to act on climate change!"
"You can't address poverty in a world of climate chaos," the group added. "End fossil fuel finance now!"
Big Shift Global showed in a recent report that the World Bank has directly financed at least $14.8 billion in fossil fuel production since the signing of the Paris agreement in 2015—reneging on its 2017 pledge to stop supporting oil and gas projects within two years.
The Intergovernmental Panel on Climate Change and the International Energy Agency have made clear that fossil fuel expansion will cause the climate emergency's consequences to grow even deadlier, especially for humanity's poorest members who have done the least to cause the crisis.
Global Citizen noted Friday that impoverished countries on the frontlines of mounting socio-ecological catastrophes "can't tackle climate change when they're drowning in debt" and urged Banga to implement a debt jubilee in addition to subsidizing a green overhaul of the global economy.
The group also took out a full-page ad in The Wall Street Journal, calling on Banga to begin transforming the World Bank into an instrument for genuinely sustainable development on his first day.
\u201c@GlblCtzn placed this in today\u2019s @WSJ to coincide with Ajay Banga\u2019s first day as the new head of the @WorldBank\u2b55\ufe0f\u201d

— Global Citizen Impact (@Global Citizen Impact) 1685721724
"As the new president, what will your legacy be?" the ad asks. "In the face of the triple climate, poverty, and hunger crises, the world's biggest development bank stands at a critical juncture."
"Under your guidance, the World Bank could serve as an invaluable partner for low-income countries and those vulnerable to climate change," it continues. "The solutions are on the table."
"Make your first steps bold," says the ad. "Working alongside other multilateral development banks, help mobilize $1 trillion more in financing to help the world's poorest and most vulnerable countries quicken their transition to clean energy, withstand disasters, and power our planet."
News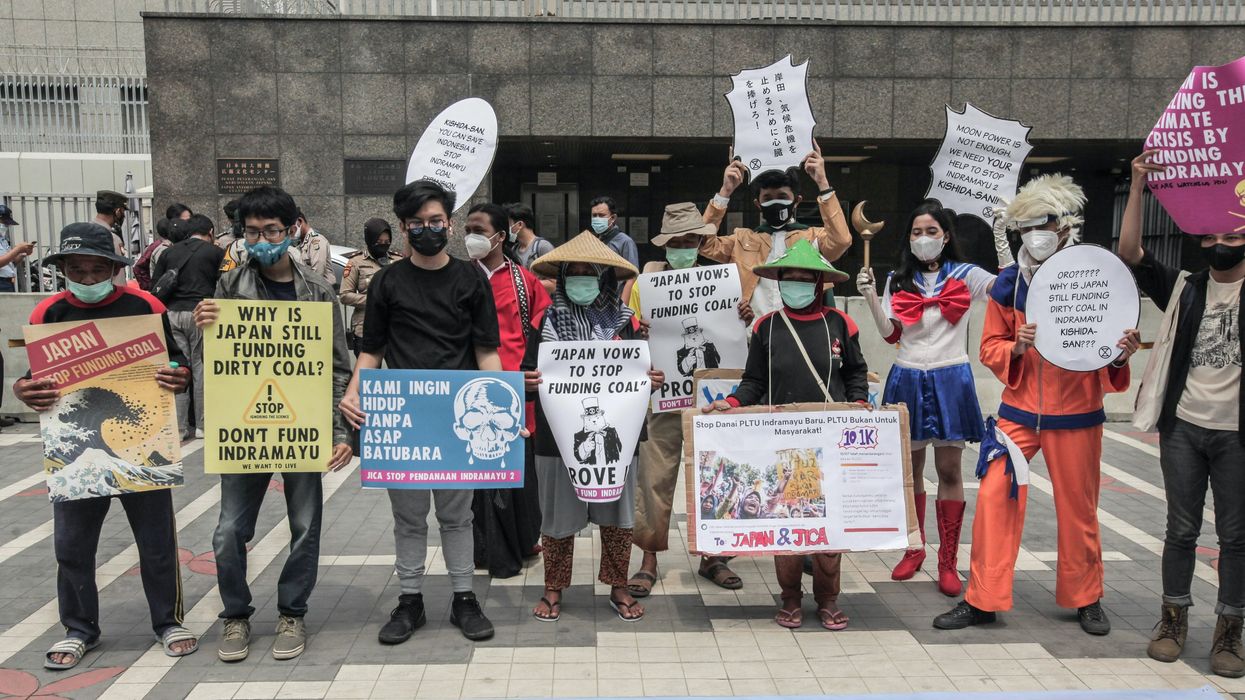 "Essentially, whatever they call climate finance is climate finance," said one developing nation's lead climate negotiator.
Wealthy nations are spending money under the guise of "climate finance" to fund projects that have little or nothing to do with tackling the climate crisis and—as in the case of three Japanese-backed coal plants—are sometimes fueling the planetary emergency, according to a Reutersinvestigation published Thursday.
While media outlets including Reuters have recently reported that rich countries are on track—albeit long overdue—to finally meet their 2009 pledge to invest $100 billion annually in climate financing by 2020, the new Reuters investigation shows that governments are funding climate-harming projects and counting the expenditures toward their giving total.
"This is the wild, wild West of finance," Mark Joven, an undersecretary in the Philippines Department of Finance and the country's lead climate negotiator, told Reuters. "Essentially, whatever they call climate finance is climate finance."
\u201cWealthy countries have pledged $100 billion a year to help end the #climatecrisis. \n\nBut it turns out that large sums have ended up in strange projects - including a coal plant, a hotel and chocolate shops \ud83e\udd2f https://t.co/LkDtXRCNsz\u201d

— Greenpeace International (@Greenpeace International) 1685718012
The Japanese government has lent at least $9 billion for projects that are dependent upon fossil fuels. These include a 1,200-megawatt coal-fired power plant in Matarbari, Bangladesh, coal plants in Vietnam and Indonesia, and a new terminal at Egypt's Borg al-Arab Airport. The Matarbari plant is expected to add 6.8 million tons of carbon dioxide to the Earth's atmosphere every year, while the airport terminal is forecast to increase outbound flight emissions by about 50% over 2013 levels.
Japanese officials have attempted to justify the investments by portraying the coal plant as an improvement because it uses Japanese technology that generates more energy with less coal, while calling the new terminal an "Eco-Airport" replete with energy-saving solar panels, high-efficiency air conditioning, and LED light bulbs.
However, Wayne King, director of climate change for the Cook Islands—a self-governing South Pacific nation in free association with New Zealand—took exception with Japan's characterization.
"Basically, that's a development project," King said of the Egyptian airport project. "You can't count it, because the motivation is wrong."
\u201cThis is utterly absurd! \n\u201cWealthy countries have pledged $100 billion a year to help reduce the effects of global warming. But Reuters found large sums going to projects including a coal plant, a hotel and chocolate shops\u201d\n#ClimateJustice #LossAndDamage\nhttps://t.co/Mnb2mzZG2C\u201d

— Prof. Farhana Sultana (@Prof. Farhana Sultana) 1685675967
Other examples of questionable climate financing in the Reuters report include an agreement by the United States to loan $19.5 million to the developers of a Marriot hotel in Cap-Haïtien, Haiti; a Belgian backing of an Argentinian film about a man who works to destroy forests for a paper company before falling in love with an environmental activist; and a $4.7 million Italian investment in a chain of chocolate and gelato shops across Asia.
According to the report:
Some countries count projects that never happened toward climate finance goals. France reported a $118.1 million loan to a Chinese bank for environmental initiatives, as well as loans totaling $267.5 million for upgrades to a metro system in Mexico and $107.6 million for port improvements in Kenya. Each project was subsequently canceled with no funds paid out, according to the French Development Agency. Similarly, the U.S. reported $7 million in insurance coverage for a hydropower project in South Africa that never happened.
Iqbal Kabir, an official in the Bangladeshi Ministry of Health and Family Welfare, told Reuters that "people deserve more" than the misallocation of climate funds for projects like coal plants, while criticizing countries that are "spending [climate funds] on other projects, depriving the issues like women's health, children's health, and salinity intrusion."
Matthew Samuda, a minister in Jamaica's Ministry of Economic Growth and Job Creation, added that "if we are telling ourselves we are spending money and investing in our future in a way that we are not, then we are courting disaster."

News