Opinion
Climate
Economy
Politics
Rights & Justice
War & Peace
LATEST NEWS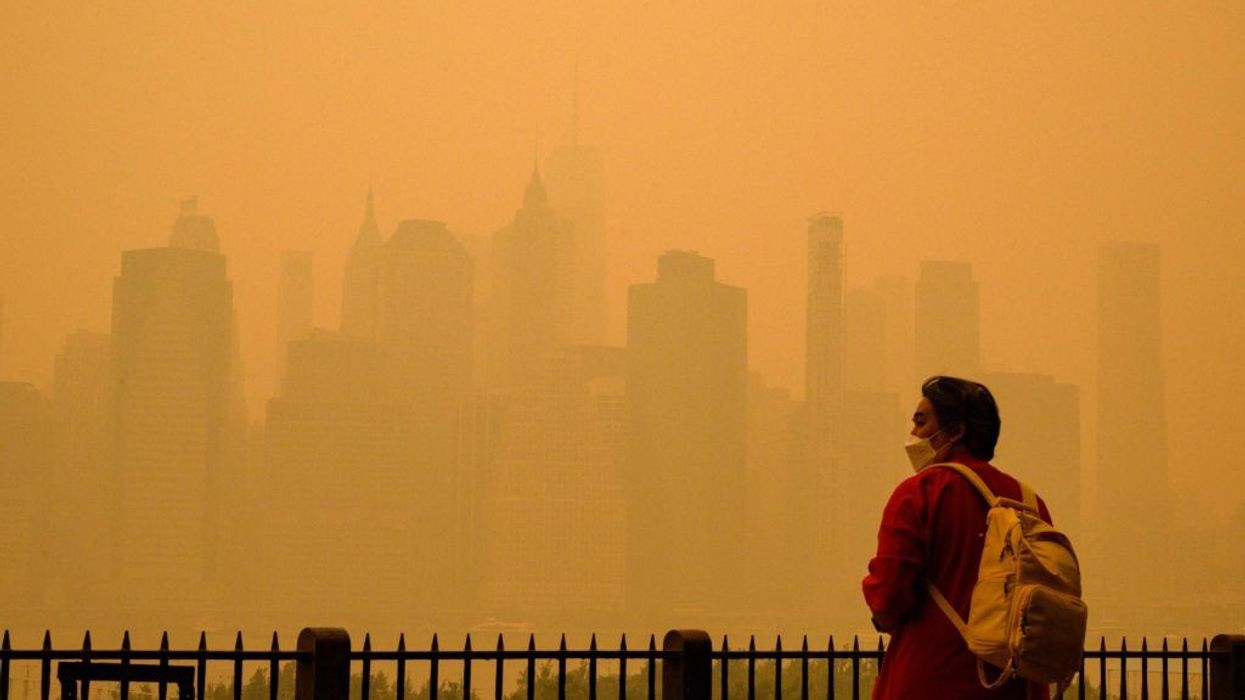 "Governments at the COP28 climate talks must take real action for a full, fair, funded, and fast phaseout of fossil fuels," one advocate said in response to the news.
It is "virtually certain" that 2023 will be the warmest year on record, the World Meteorological Organization concluded in its provisional State of the Global Climate report for the year.
That was only one of the broken records detailed in the report, which was released Thursday to coincide with the start of the United Nations Climate Change Conference (COP28) in the United Arab Emirates. The WMO documented a year of "extreme weather and climate events" that "had major impacts on all inhabited continents."
"Record heat. Deadly floods. Toxic air. It has never been clearer that the world must stop burning fossil fuels if we want a safe, livable planet," Oil Change International global policy manager Romain Ioualelen said in response to the findings. "And yet, the fossil fuel industry is pumping more and more gas and oil, expanding its business, lying to us, and raking in deadly profits, as millions of people are displaced, harmed, and killed. Governments at the COP28 climate talks must take real action for a full, fair, funded, and fast phaseout of fossil fuels."
As of October, 2023 was set to be the warmest year in 174 years of record-keeping, WMO confirmed. The body's findings come as scientists have previously said it will likely be the hottest year in 125,000 years as well. Mean near-surface temperatures during the first 10 months of the year were around 1.4°C above the average from 1850 to 1900, WMO found. Because 2016 and 2020, the two previous hottest years on record, came in at 1.29°C and 1.27°C above that average, it is unlikely that the last two months of 2023 would be cold enough to offset its lead.
Hottest year wasn't the only record broken in 2023. The year also saw the hottest monthly ocean temperatures on record from April through September, and the hottest land temperatures from July to October. Because July is typically the hottest month of the year, this July was the hottest month ever recorded.
Sea level rise reached a record height, and the rate of increase from 2013 to 2022 was more than double the rate from 1993 to 2002. Antarctic sea-ice extent also shrank to its lowest level on record in February and struggled to recover, measuring its lowest maximum extent on record in September.
"We urge governments to be ready now at the U.N. climate talks to take action commensurate with what the science is telling us."
Some markers for which 2023 data is not yet available broke records in 2022. This included atmospheric levels of the three main greenhouse gases—carbon dioxide, methane, and nitrous oxide—and ocean heat content.
"It's a deafening cacophony of broken records," WMO Secretary-General Petteri Taalas said in a statement. "These are more than just statistics. We risk losing the race to save our glaciers and to rein in sea level rise."
The report also detailed how a warming climate is having a direct and devastating impact on human communities. Climate-fueled weather disasters this year included Storm Daniel, which brought severe flooding to much of the Mediterranean, with especially deadly consequences for Libya; a record wildfire season in Canada that shrouded major North American cities in toxic smoke; heat waves, which reached especially severe heights Southern Europe and North Africa; and flooding in the Horn of Africa following five years of drought that made the soil less able to absorb the rainfall. Many of these events forced people to flee their homes and made it harder for them to secure food.
"This year we have seen communities around the world pounded by fires, floods, and searing temperatures. Record global heat should send shivers down the spines of world leaders," United Nations Secretary-General António Guterres said in response to the report.
Guterres and other climate advocates used the report to push world leaders to deliver ambitious climate action at COP28, which is mired in controversy following revelations that its president Sultan Ahmed Al Jaber, who is also the CEO of Abu Dhabi National Oil Company, used the talks to push oil and gas deals.
"We have the roadmap to limit the rise in global temperature to 1.5 °C and avoid the worst of climate chaos. But we need leaders to fire the starting gun at COP28 on a race to keep the 1.5 degree limit alive," Guterres said.
He called for a commitment to phase out fossil fuels, triple renewable energy, double energy efficiency, set clear guidelines for the next round of pledges, and provide countries with the financial support they need to make them happen.
Ioualelen said that the delegates should pay attention to experts instead of fossil fuel companies.
"Rather than prioritizing lobbyists and corporations, we need leaders to make real change that tackles the root cause of the climate crisis, fossil fuels, and makes a better world for all of us—today and for generations to come," Ioualelen said. "We urge governments to be ready now at the U.N. climate talks to take action commensurate with what the science is telling us."
Taalas also called for action to avoid worsening extremes.
"We cannot return to the climate of the 20th century, but we must act now to limit the risks of an increasingly inhospitable climate in this and the coming centuries," he said.
News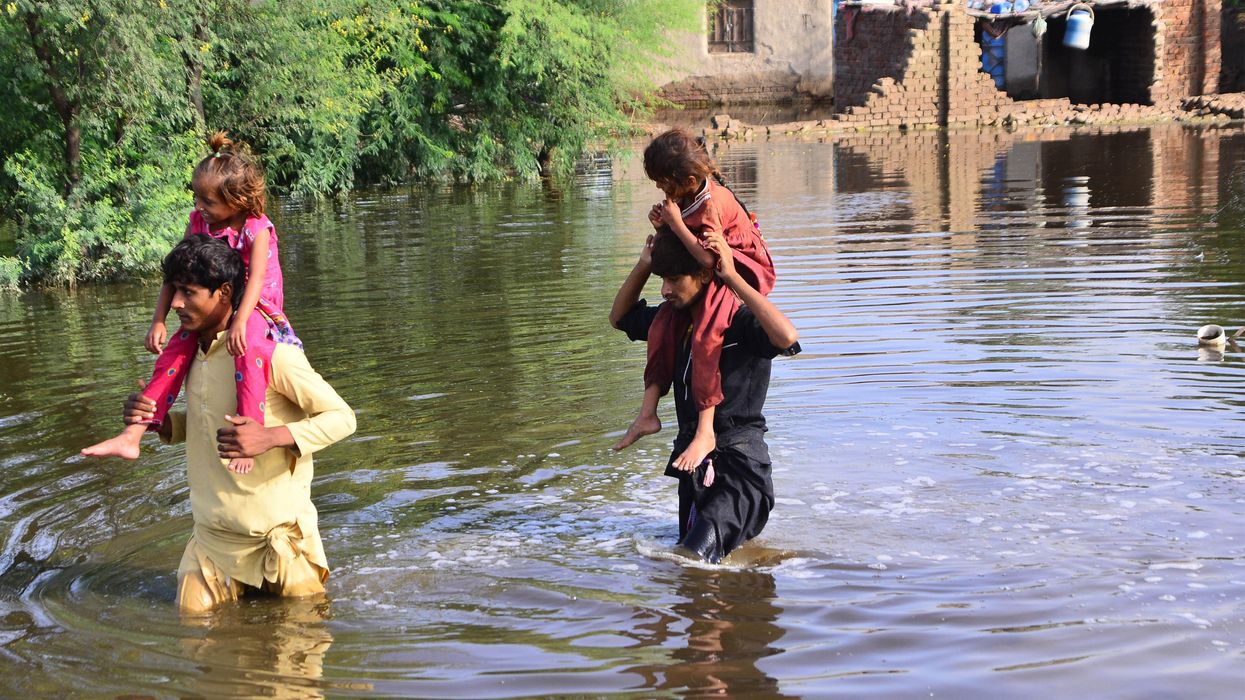 The United States' contribution of $17.5 million, in particular, was denounced as "embarrassing" for the wealthiest country in the world.
International campaigners who for years have demanded a global "loss and damage" fund to help developing countries confront the climate emergency were encouraged on Thursday as the 28th United Nations Climate Change Conference began with an agreement to make the fund operational—but said the details of the deal made clear that wealthy countries are still largely abandoning communities that have contributed the least fossil fuel emissions, only to suffer the worst climate injustices.
A recent study from the University of Delaware showed that "the unweighted percentage of global GDP lost" due to climate impacts such as long-lasting drought, catastrophic flooding, and wildfires is estimated at 1.8%, or about $1.5 trillion, and low- and middle-income countries "have experienced $2.1 trillion in produced capital losses due to climate change."
To meet the need, developing countries have said they already require about $400 billion annually in a loss and damage fund that could help governments rebuild communities, restore crucial wildlife habitats, or relocate people who have been displaced by the climate emergency—so advocates on Thursday were left wondering why the fund agreed upon at COP28 was expected to provide only about $100 billion per year by 2030.
The shortfall threatened to ensure the loss and damage fund will remain "an empty promise," said Fanny Petitbon, head of advocacy for Care France.

"We hope the agreement will result in rapid delivery of support for communities on the frontlines of the climate crisis," said Petitbon. "However, it has many shortcomings. It enables historical emitters to evade their responsibility. It also fails to establish the scale of finance needed and ensure that the fund is anchored in human rights principles."
"We urgently call on all governments who are most responsible for the climate emergency and have the capacity to contribute to announce significant pledges in the form of grants," she added. "Historical emitters must lead the way."
The United States, the largest historical contributor of the planet-heating emissions that scientists agree are fueling the climate crisis, has objected to tying loss and damage funding to each wealthy nation's emissions—perhaps partially explaining why the Biden administration pledged only $17.5 million to the fund.
Such contributions are "a drop in the ocean compared to the scale of the need they are to address," said Mohamed Adow, director of Power Shift Africa.
"In particular, the amount announced by the U.S. is embarrassing for President [Joe] Biden and [Special Presidential Climate Envoy] John Kerry," said Adow. "It just shows how this must be just the start."
Campaigners also objected to the agreement's stipulation that the World Bank will host the fund for the first four years—a demand that had been made by the U.S. and other wealthy countries—with voluntary payments from powerful governments that will be "invited," not required, to contribute.
"Although rules have been agreed regarding how the fund will operate there are no hard deadlines, no targets, and countries are not obligated to pay into it, despite the whole point being for rich, high-polluting nations to support vulnerable communities who have suffered from climate impacts," said Adow.
"The most pressing issue now is to get money flowing into the fund and to the people that need it," he added. "The pledged funds must not just be repackaged commitments. We need new money, in the form of grants, not loans, otherwise it will just pile more debt onto some of the poorest countries in the world, defeating the point of a fund designed to improve lives."
The United Arab Emirates, which is hosting COP28, pledged $100 million to the fund, a sum that was matched by Germany. The United Kingdom committed to contributing 60 million British pounds, or about $75 million, while Japan pledged $10 billion. The U.S. also said it would provide $4.5 million to the Pacific Resilience Facility, which will offer loss and damage funding to Pacific Island nations, and $2.5 million for the Santiago Network, which will provide technical support to developing countries.
Izzie McIntosh, climate campaign manager at U.K.-based Global Justice Now, called the creation of the global loss and damage fund was called a "welcome, yet long overdue, step forward for our climate," and one that "reflects the utter devastation caused by climate change in the global south, and the need for rich countries to pay what they owe for their role in it."

Rich countries, however, "have weakened the commitment they made to climate justice by insisting on the World Bank as interim host," added McIntosh. "This decision risks both excluding countries due to its outdated rules and deepening the debt crisis if support is provided through loans, not grants. If loss and damage funding is to be truly impactful, it must be funded and designed adequately, or risk being all talk and no action."
At COP27 in Egypt one year ago, noted Christian Aid global advocacy lead Mariana Paoli, policymakers did not even place the loss and damage fund on the agenda.
"It's a testament to the determination of developing country negotiators that we now already have the fund agreed and established," she said. "It's now vital we see the fund filled. People who have contributed the least to the climate crisis are already suffering climate losses and damages. The longer they are forced to wait for financial support to cover these costs, the greater the injustice."
Before COP28 wraps up on December 12, Paoli added, campaigners are hoping they will "see significant new and additional pledges of money to the loss and damage fund, and not just repackaged climate finance that has already been committed."
A fully funded, impactful loss and damage fund must be paired with a commitment by countries to end fossil fuel expansion, added Romain Ioualalen, global policy manager at Oil Change International, with rich countries "redirecting trillions in fossil industry handouts to triple renewable energy and double energy efficiency."

"We have had enough delays," said Ioualalen, "and this must happen now to secure a livable future."
News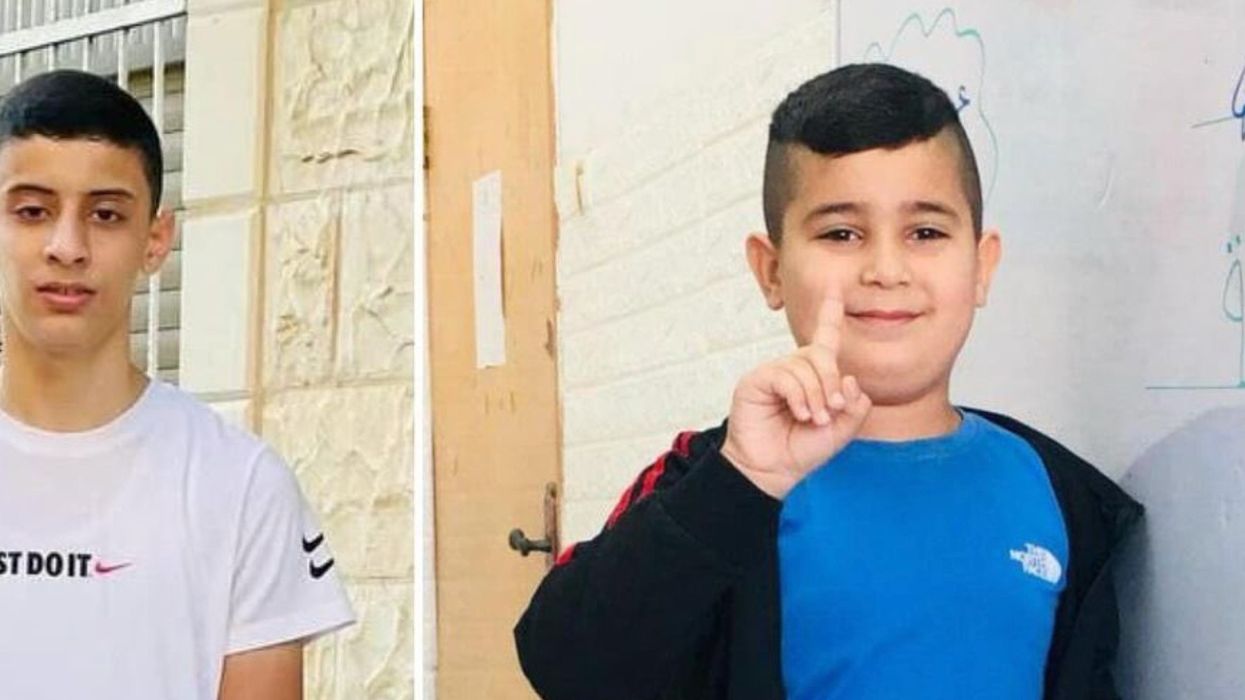 "Unarmed and running away," said Palestine's envoy to the U.K. "But Israeli soldiers still killed this child in Jenin today in the same indiscriminate manner that they have been killing thousands of children in Gaza."

Israeli troops shot and killed two Palestinian children during a Wednesday morning raid on the Jenin refugee camp in the illegally occupied West Bank, where more than 240 people have been killed by occupation soldiers and Jewish settler-colonists since early October.
Fifteen-year-old Basil Suleiman Abu al-Wafa and Adam Samer al-Ghoul, who was either 8 or 9, were shot dead by Israel Defense Force (IDF) troops during the raid, the Palestinian Health Ministry said.
According toAl Jazeera, al-Wafa was shot in the chest and died in a hospital, while al-Ghoul was shot in the head. Graphic CCTV footage posted on social media shows al-Ghoul trying to run away as he is gunned down. Another boy is seen dragging him away, with blood trailing behind the victim's body.
"Palestinian children in Jenin have been a routine target for the Israeli military."
The children were shot as IDF troops forced residents of the ad-Damj neighborhood from their homes at gunpoint before destroying streets there and bombing at least one home with an armed drone.
The Palestine Red Crescent Society said Israeli forces subsequently prevented paramedics from reaching Palestinians wounded during the raid.

"Unarmed and running away," Husam Zumlot, Palestine's ambassador to the United Kingdom, wrote on social media. "But Israeli soldiers still killed this child in Jenin today in the same indiscriminate manner that they have been killing thousands of children in Gaza."

Ayed Abu Eqtaish, accountability program director at the advocacy group Defense of Children International-Palestine (DCIP), noted in a statement that "Palestinian children in Jenin have been a routine target for the Israeli military."

"It is shocking that Israeli forces, sitting in an armored vehicle, can fatally shoot two children in broad daylight and the international community will refuse to hold them accountable," Abu Eqtaish added.
An IDF spokesperson said Israeli troops opened fire with live rounds after "explosives" were thrown at them. Al-Ghoul can be seen in CCTV footage holding a very small object, which he drops after being shot.
Two Palestinian men—Muhammad Jamal Zubaidi and Wissam Ziad Hanoun—were also killed during the Jenin raid. Palestine's WAFA News Agencyreported that occupation forces took their bodies.

The Palestinian Health Ministry said at least 242 Palestinians, including more than 50 children, have been killed by Israeli soldiers and settlers in the West Bank and East Jerusalem since October 7, when Hamas-led attacks on southern Israel left approximately 1,200 Israeli civilians and soldiers dead and around 240 others kidnapped. Over 2,750 other Palestinians have been injured.
Israeli forces have killed more than 100 Palestinian children in the West Bank and East Jerusalem so far this year, according to DCIP, making 2023 the deadliest year ever recorded.

Occupation forces have also arrested more than 3,300 Palestinians in the West Bank and East Jerusalem, including 35 people—one of them a 12-year-old child—since Tuesday. Israeli authorities have arrested nearly as many Palestinians during the six-day cease-fire with Hamas as they have freed during the concurrent prisoner exchanges.
Meanwhile in Gaza, officials reported that 160 Palestinian bodies were recovered from the rubble on Tuesday and Wednesday during the relative calm of the cease-fire. Gaza civil defense officials said at least 7,000 bodies remain buried under the bombed-out buildings.

More than 15,000 Palestinians—including over 4,000 women and 6,100 children—have been killed by Israeli bombs and bullets since October 7.

Gaza and United Nations officials also said Wednesday that more than 80% of Gazans—or around 1.8 million people—have been forcibly displaced by the Israeli onslaught, which has destroyed or damaged more than 300,000 homes.
News