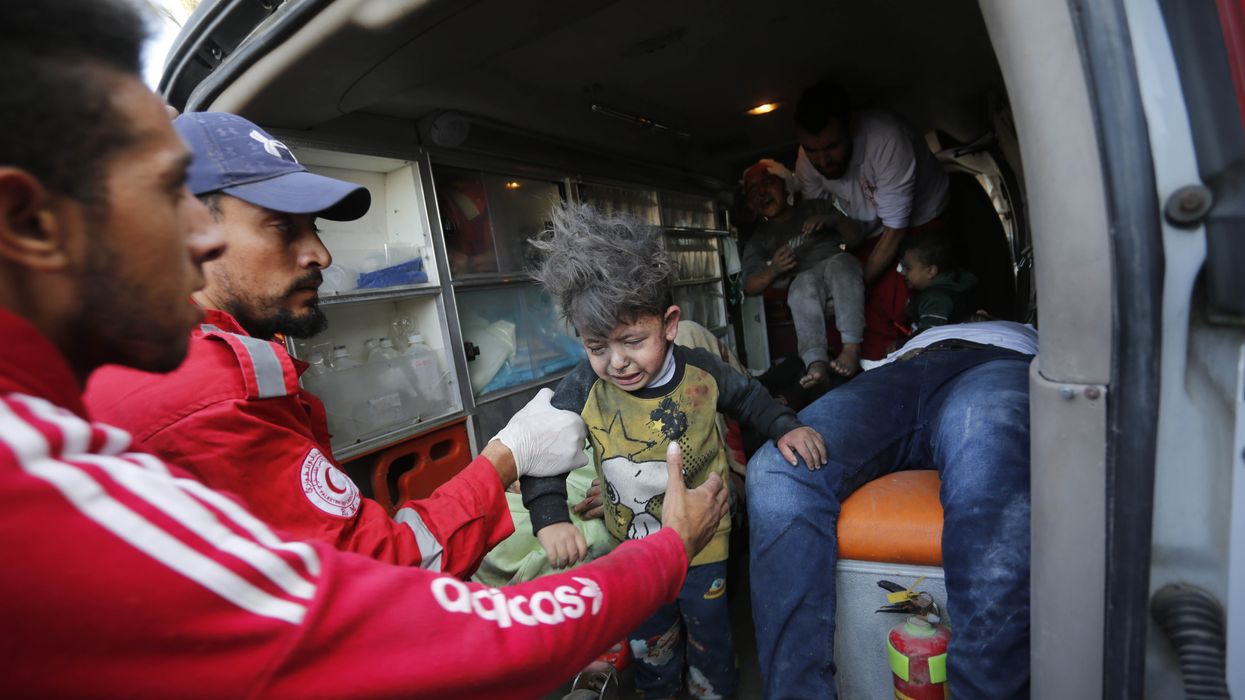 "I signed this statement because I believed until October 7th that harming the innocent is a crime, and I believe it even more today," said one Israeli history teacher.
Hundreds of academics, including faculty members from at least five Israeli universities, released an open letter Monday calling on the Biden administration to end its no-strings-attached support for Israel's war on the Gaza Strip.
The letter—also signed by artists, writers, and others—was made public after the U.S. vetoed a U.N. Security Council resolution calling for an immediate humanitarian cease-fire in the Gaza Strip, where Israeli forces have killed more than 17,000 people in just over two months.
"We denounce the October 7 attacks," reads the letter, which as of this writing has 720 signatories. "At the same time, 75 years of displacement, 56 years of occupation, and 16 years of blockade have generated an ever-worsening spiral of violence that can only be stopped with a political solution."
"Israel's continued apartheid in the West Bank, administrative detention (jail without trial) of 2000 civilians, and daily terrorizing of Palestinians by armed settlers, are causing an escalation of violence," the letter adds. "This historic injustice continues unchecked because the U.S. allows Israel to flout binding U.N. Security Council resolutions. We call on the U.S. to stop its unconditional support of Israel's assault on Gaza and flagrant violations of international humanitarian law. Ideas for a political resolution abound; they require political will."
Organizers of the letter said its signatories include scholars from 62 cities—including Tel Aviv—across 14 countries. Mordehai Amihai-Bivas, Israel's former ambassador to Barbados, is among the signers, as is Meir Baruchin, an Israeli history teacher who was arrested last month over social media posts criticizing the killing of Gaza civilians.
"I signed this statement because I believed until October 7th that harming the innocent is a crime, and I believe it even more today," Baruchin said in a statement Monday. "I believed that all human beings have the right to live in security, justice, and peace, and I believe that even more today."
The letter comes as Gaza's population of roughly 2.3 million people is facing dire humanitarian conditions—including widespread hunger, the lack of uncontaminated water, and the spread of infectious diseases—as well as near-constant bombing by Israeli forces, which have received thousands of bombs and other weaponry from the U.S.
The letter calls on the Biden administration—which has thus far rebuffed efforts to secure a sustained end to the bombing or attach conditions to its military assistance—to "lead the way in negotiating an immediate and lasting cease-fire, implementing a hostage-prisoner exchange, and supplying urgent humanitarian aid to Gaza."

Lior Sternfeld, a leading scholar of history and Jewish studies at Pennsylvania State University and the spokesperson for the group behind the new letter, said that "as an Israeli historian studying the modern Middle East and seeing the rapid deterioration of humanity in front of our eyes, I know that the unbearable toll of death will impact the lives of Palestinians and Israelis for generations to come."
"The only way to minimize damage and restore hope is to demand a cease-fire now and the unconditional release of all the hostages," said Sternfeld. "We must find a path to a peaceful Israel/Palestine."
News