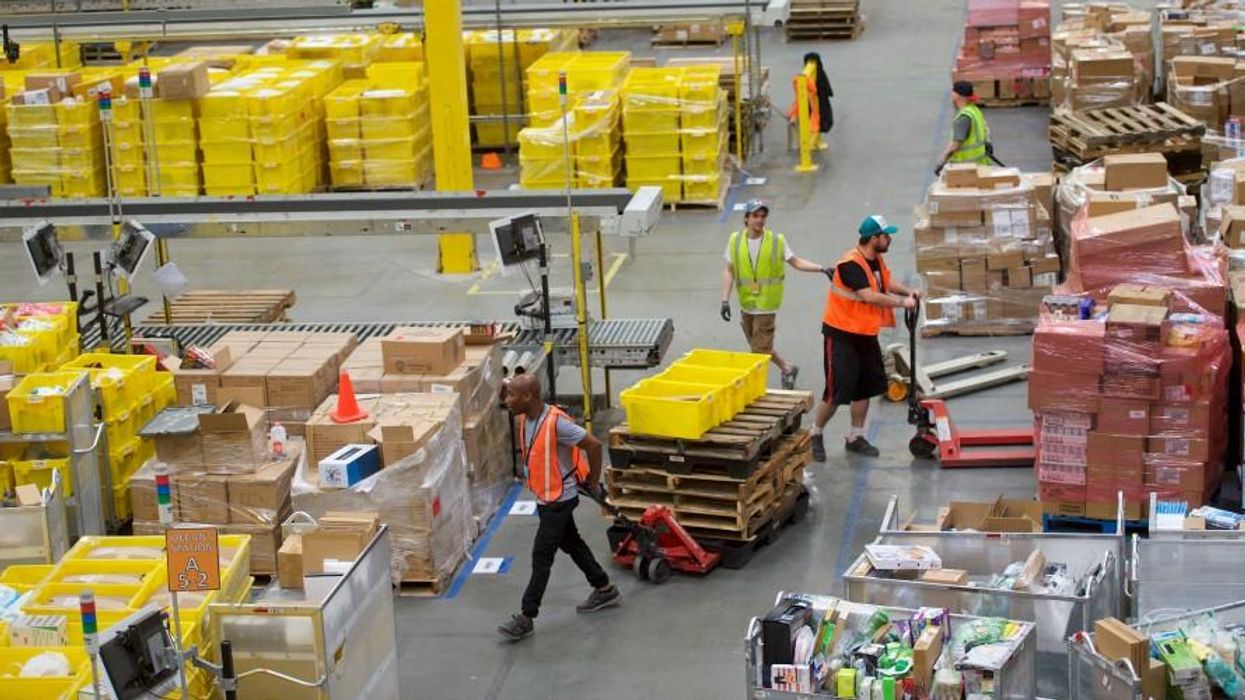 "I am extremely disturbed that workers in some of the world's most profitable companies—in one of the richest countries on earth—are struggling to afford to eat or pay their rent," the expert said.
A United Nations expert on human rights and poverty is concerned that three major U.S. companies systemically underpay their workers, and that the country's minimum wage and labor laws enable them.
U.N. special rapporteur on extreme poverty and human rights Olivier De Schutter sent letters to the CEOs of Amazon, DoorDash, and Walmart on August 31, asking them to respond within two months to allegations that they erroneously labeled employees as independent contractors and paid them so little that they were forced to rely on government benefits to make ends meet. He also sent a separate letter to the U.S. government asking how it intended to reduce working poverty in the nation. As of October 31—the 60 day deadline—only Amazon had responded.
"I am extremely disturbed that workers in some of the world's most profitable companies—in one of the richest countries on earth—are struggling to afford to eat or pay their rent," De Schutter said in a statement publicizing his efforts on Monday. "Multibillion-dollar companies should be setting the standard for working conditions and wages, not violating the human rights of their workers by failing to pay them a decent wage."
In letters to Amazon CEO Andy Jasey, DoorDash CEO Tony Xu, and Walmart CEO Doug McMillon, De Schutter wrote that it was alleged that the three companies did not pay their workers enough for them and their families to attain an "adequate standard of living."
He pointed to a 2020 U.S. Government Accountability Office (GAO) report finding that Amazon was one of the 25 employers with most workers enrolled in the Supplemental Nutrition Assistance Program (SNAP) in six of nine states studied.
"According to the report, more than 4,000 warehouse workers at Amazon depended on food stamps to make ends meet in nine states, and a shocking 70% of food stamp recipients studied work full-time," De Schutter wrote.
"What these companies do for the most part is not illegal. What they do is use the loopholes in the system."
He similarly cited a 2021 GAO report finding that Walmart was the leading employer in many states of employees who received government SNAP and Medicaid benefits.
In the letter to DoorDash, he recounted a report of one employee who had to live in his car and rely on SNAP for food despite dashing full time. He said that the company's practice of classifying workers as independent contractors, as well as its algorithms and tip policies, meant that workers were not guaranteed a minimum wage.
"Jobs are supposed to provide a pathway out of poverty, yet in all three companies the business model seems to be to shift operating costs onto the public by relying on government benefits to supplement miserably low wages," he said in a statement.
In addition, De Schutter asked Walmart and Amazon to respond to allegations that they violated workers' right to unionize. For example, Amazon has allegedly interfered in union elections, retaliated against employees for organizing, made employees sit through anti-union messaging, and changed policies to make organizing more difficult, such as not allowing employees to access work sites while off the clock. Walmart also has a widely-documented history of firing or laying off workers in retaliation for organizing attempts and making new employees sit through anti-union videos.
However, De Schutter said that many of the companies' actions were facilitated by U.S. policies.
"What these companies do for the most part is not illegal," he toldThe Guardian. "What they do is use the loopholes in the system—for example, misclassifying workers as independent contractors rather than employees. There are many loopholes in the system that the U.S. government is still responsible for, and I'm still expecting an answer from the Department of Labor."
In his letter to the U.S. government, De Schutter drew attention to the actions of the three companies specifically, but also said the U.S. was not doing enough to combat working poverty—defined by the U.S. Bureau of Labor Statistics as working or looking for work at least 27 weeks a year but earning less than $14,580. In 2020, 6.3 million people, or 4.1% of U.S. workers, qualified as "working poor."
"According to the information received, in-work poverty is directly linked to U.S. law and policy, including highly inadequate and inconsistent pay, systematic improper worker classification and a proliferation of gig work, paltry social protection, weak and unenforced labor law, widespread discrimination, and a lack of protection for workers at higher risk of poverty," De Schutter wrote in the letter to the government.
In the only full response to date, Amazon said Sunday that it had raised regular hourly pay to more than $20.50 per hour in 2023 and that all of its full-time employees received "great benefits." It said that it's starting pay of at least $17 an hour would disqualify most full-time employees from SNAP or Medicaid, but that some may be on benefits due to other household factors or may be transitioning off of benefits, since almost 50% of Amazon fulfillment center hires were previously unemployed. It also contended that it respected employees' rights to join a union. However, De Schutter told The Guardian that Amazon did not reply to all of his concerns.
DoorDash responded after the letters were made public, telling the Financial Times that employees made more than $25 an hour while delivering and that many worked other jobs as well. It further emailed De Schutter Monday saying it was "diligently preparing a response, which you will receive from us in the coming weeks."
In his reporting on the letters and the companies' response, Simon Mundy of the Financial Times noted that, "clearly, appeals from the U.N. won't be enough to change big companies' approach to their workers, especially the precarious 'gig workers' on whom they—and the wider economy—increasingly depend. Serious movement on that front will happen not through voluntary corporate action, but through change to the law."
In his letter to the U.S. government, De Schutter pointed to a low federal minimum wage, and the fact that exemptions for gig workers and tipped employees meant that some workers wouldn't even earn the minimum.
"Businesses have a responsibility to respect internationally recognized human rights, including the right to a living wage and to join a union without fear of reprisal," De Schutter said in Monday's statement. "The allegations against Amazon, DoorDash, and Walmart would constitute flagrant violations of these rights and it is time for these corporations, and the U.S. government, to be held accountable."
News