For Immediate Release
Contact:
Ryan O'Donnell (Free Speech For People): 413-­‐335-­‐9824
Allison Johnson (Avaaz): 617-­‐905-­‐1536
Layne Amerikaner (People For the American Way): 202-­‐467-­‐4999 Lauren Strayer (Demos): 212-­‐389-­‐1413
White House Petition for Constitutional Amendment on Campaign Cash Clears Threshold
25K call on President Obama to use State of the Union to endorse amendment movement
WASHINGTON
Today, a petition on the White House website urging President Obama to "use the State of the Union to call for a constitutional amendment to get big money out of politics" exceeded the 25,000 signatures necessary to guarantee an official White House response. The petition, launched by the groups Free Speech For People, Avaaz, People For the American Way, and Demos on January 8 took less than two weeks to cross the threshold.
The petition can be found here: https://wh.gov/P9j7
Fixing our campaign finance system has long been a cause President Obama supports, though he failed to make progress on it during his first term. During his re-election campaign, President Obama told supporters that: "Over the longer term, I think we need to seriously consider mobilizing a constitutional amendment process to overturn Citizens United . . . . Even if the amendment process falls short, it can shine a spotlight of the super-PAC phenomenon and help apply pressure for change."
The petition calls on the President to reiterate and strengthen this call in the State of the Union, and comes just two days after President Obama delivered an inaugural address that many believe reflected a renewed willingness on his part to fight for core goals he has long supported even in the face of challenges.
"Americans everywhere are asking President Obama to take the lead on the one issue that unlocks all the others: getting big money out of our political system, to restore our government of, by, and for the people," said Peter Schurman, Campaign Director at Free Speech For People. "'We the people' means all the people, not just the wealthy few, and not the corporations."
Ian Bassin, Campaign Director at Avaaz, said: "We the people have spoken and the message is clear: We're sick of oil industry money setting our energy agenda, the Wall Street dollar determining our economic policy, and gun company cash dictating how we protect our kids. We need elections not auctions and we're counting on President Obama to lead us there, starting with his State of the Union."
The petition may also be the last White House petition to garner a response after receiving 25,000 signatures. It also may be the most serious of the latest round. Last week, after responding to petitions to deport Piers Morgan and to build a Death Star, the White House upped the threshold for guaranteeing a response to 100,000. But petitions like this campaign finance one that were launched before the change were grandfathered at the 25,000 threshold.
"This petition provides more evidence for what we already know - that Americans want a solution to the corrupting influence of big money in our democracy," said Marge Baker, Executive Vice President of People For the American Way. "We saw massive amounts of money pour into last year's elections, much of which was undisclosed. Using the megaphone provided to them by the Supreme Court's Citizens United decision, corporate special interests are drowning out the voices of ordinary voters. President Obama calling for a constitutional remedy in the upcoming State of the Union Address would draw attention to this critical situation and mobilize even more Americans into action."
"This is the moment President Obama should take a strong and decisive step toward ending big money's stranglehold on our politics and our economy, and cement his legacy by leading the effort to finally forge a democracy in which the strength of a citizen's voice does not depend upon the size of her wallet," said Demos Counsel Adam Lioz.
After the coalition involved in launching this petition posted it to the White House website, its growth came from citizens expressing their frustration with the flood of money infecting our political system. Much of this public frustration stems from the U.S. Supreme Court's 2010 decision in Citizens United v. FEC that corporations have a constitutional right to spend unlimited sums to influence elections. In the wake of that decision, more than $6 billion was spent in the 2012 elections, much of it by corporations and anonymous billionaires. Congress responded by proposing amendments to reverse that decision and eleven states and nearly 500 cities and towns have joined this call.
This petition tees up for President Obama the key question of what he'll do next to deliver on a core, unfulfilled promise of his first campaign: to change the way Washington works. The groups behind the petition will continue to campaign until he does.
Avaaz.org is a new global web movement with a simple democratic mission: to close the gap between the world we have, and the world most people everywhere want. "Avaaz" means "Voice" in many Asian, Middle Eastern and Eastern European languages. Across the world, most people want stronger protections for the environment, greater respect for human rights, and concerted efforts to end poverty, corruption and war. Yet globalization faces a huge democratic deficit as international decisions are shaped by political elites and unaccountable corporations -- not the views and values of the world's people.
LATEST NEWS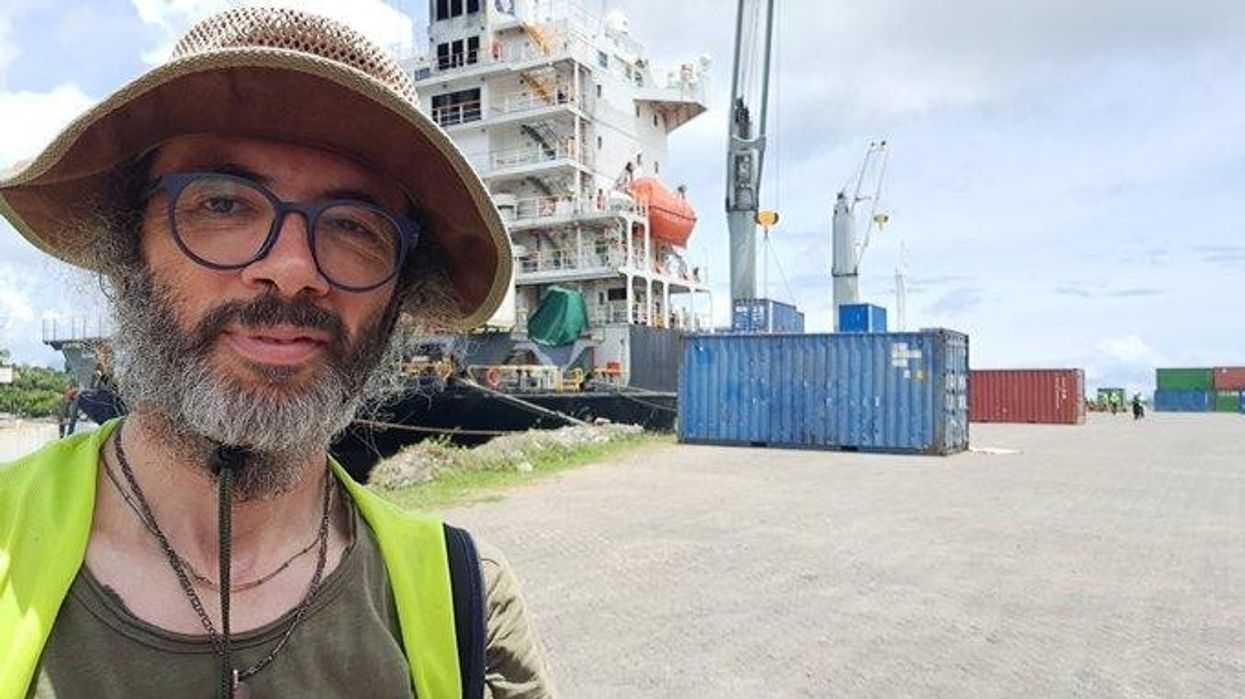 "I am prepared to pay this price, if it helps raising awareness among the public and the societal leadership on the desperate situation we are in," said Giancarlo Grimalda.
A climate researcher based in Kiel, Germany said Monday that he was prepared to lose his job at a globalization think tank, after his employer gave him an ultimatum and demanded he go against his climate-based objection to aviation travel in order to return to his place of work—a requirement at least one critic said was rooted in retaliation for the scientist's activism.
Gianluca Grimalda has been working on a field assignment in Papua New Guinea for the past six months, studying the relationship between globalization, climate change, and social cohesion for his employer, the Kiel Institute for the World Economy (IfW). He traveled to Papua New Guinea without the use of airplanes and has planned to get back to Germany the same way, boarding cargo ships, ferries, trains, and coaches to avoid 3.6 tonnes of carbon emissions.
Grimalda was originally scheduled to be finished with his work on September 10, but said in an essay on Monday that he received permission from the head of his department to remain in Papua New Guinea after wrapping up the project and noted that he is able to complete his work while traveling.
Nevertheless, on Friday the president of IfW informed Grimalda that he was required to be back in Kiel on Monday, which would require him to board a plane—a demand that he said ignores the climate impact of aviation travel and the effects already being felt by communities across the globe, including in Papua New Guinea.
"Traveling by plane would produce around four tons of carbon dioxide—the greenhouse gas responsible for global warming," wrote Grimalda. "In my outbound journey, I limited my emission to two tons by traveling over land and sea for 35 days over 16,0000 of the 22,000 kilometers. In my inbound journey I plan to cover the entire distance without catching a plane, which would limit carbon dioxide emissions to 400 kilograms—ten times less than traveling by plane."
By resolving to carry out his "slow-travel" plans instead of flying back to Kiel, Grimalda said he is risking his job.
"I know that most people would swallow the bitter pill, take a plane, and go ahead with their work—both as a professional and as an activist," wrote Grimalda. "With this job, I have enough economic stability and spare time to pursue environmental causes. Nevertheless, I believe that we have reached the point where instrumental rationality is no longer applicable. The most recent scientific evidence says that we have transgressed six out of nine planetary boundaries and that several ecosystems are close to collapse (or likely past their point of collapse) because of temperature rise—in turn caused by greenhouse gases emissions."
Grimalda acknowledged that his individual refusal to support the airline industry is no match for the continued emissions of the sector as well as fossil fuel giants, industrial farming, and other corporate actors.
"My decision not to catch a plane will mean close to nothing for the protection of the environment," he wrote. "'That plane will fly even if you have not boarded it,' many people have already told me. This is true, but giving less money to the aviation industry may mean fewer planes in the future. In any case, all the science I know, all the evidence I see, point to the fact that we are in [an] emergency. In [an] emergency, extraordinary actions should be taken. That is why, with enormous sadness, I have decided not to take a plane and face all the consequences this will lead to."
"I am prepared to pay this price, if it helps raising awareness among the public and the societal leadership on the desperate situation we are in," Grimalda added. "It is my act of love to the current and future generations, to the animal species under threat of extinction, to the idea of humanity that I instinctively and undeservedly abide by."
Grimalda and direct action group Scientist Rebellion went public with the researcher's dilemma on the same day the Institute for Policy Studies (IPS) in the U.S. released a report on private jet travel out of Laurence G. Hanscom Field near Boston, the largest private aviation field in New England.
Constrasting with Grimalda's commitment to reduce his support for carbon-intensive activities, IPS found that over 18 months, private jet owners and operators were responsible for an estimated 106,676 tons of carbon emissions, with half of those flights used for recreational or luxury travel. More than 40% of the flights were less than an hour long.
Climate groups in the area are currently pushing to ensure developers don't expand Hanscom in order to avoid even more planet-destroying emissions.
Grimalda told Scientist Rebellion that IfW has withheld his pay for the month of September without notice.
Julia Steinberger, a lead author of the latest report by the International Panel on Climate Change—which reiterated that "human activities, principally through emissions of greenhouse gasses, have unequivocally caused global warming" and warned that "approximately 3.3 to 3.6 billion people live in contexts that are highly vulnerable to climate change"—said it was "extraordinary that a research institute threatens to dismiss a researcher for doing his job too diligently and for avoiding flying during a climate emergency."

She added that she believes IfW aims to "retaliate for Gianluca's past participation in civil disobedience on climate change with Scientist Rebellion."

Grimalda has taken part in actions such as a blockade of the entrance of a biofuel refinery controlled by Eni, Italy's energy company.
The researcher expressed hope that his latest action "will sound yet another alarm bell to the ears of an inactive political leadership."

"As a scientist, I feel I have the moral responsibility to be proactive in sounding such alarms," Grimalda wrote. "It is true that thus far hundreds, if not thousands, of protests have all but gone unheard and have changed very little. Nevertheless, 'social tipping points' have existed for much progressive social change and things have changed rapidly for the good after a critical mass of support has been garnered."
News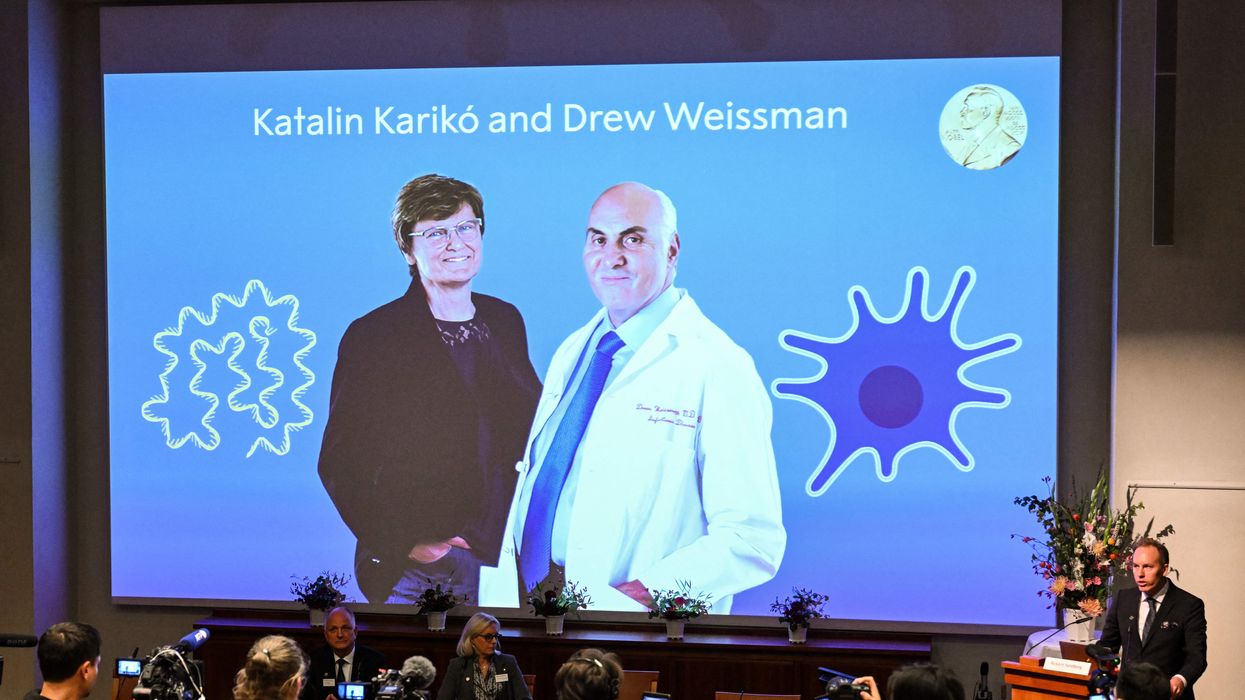 "Public funding delivers incredible medical advances and that should be a priority for all countries, but pharmaceutical companies cannot be trusted to share technology with the world."
Scientists Katalin Karikó and Drew Weissman were awarded the Nobel Prize in Physiology or Medicine on Monday for research that paved the way for the messenger RNA vaccines against Covid-19—critical work that, as campaigners quickly pointed out, benefited from substantial U.S. government funding.
Dr. Mohga Kamal-Yanni, policy co-lead for the People's Vaccine Alliance, said in a statement that "this award challenges the claim that it was solely big pharmaceutical companies who saved the world from Covid-19."
"Just like the Oxford-AstraZeneca vaccine, Karikó and Weissman's groundbreaking work on mRNA vaccines received a huge amount of public funding," said Kamal-Yanni. "Pharmaceutical companies have refused to share mRNA technologies with developers and researchers in developing countries."
The Nobel Prize committee credited Karikó and Weissman with fundamentally changing "our understanding of how mRNA interacts with our immune system."
"The laureates contributed to the unprecedented rate of vaccine development during one of the greatest threats to human health in modern times," the committee said.
As The Washington Postsummarized, the pair "discovered how to chemically tweak messenger RNA, turning basic biology into a technology ready to change the world when the pandemic struck. Their discovery is incorporated into the coronavirus vaccines made by Moderna and Pfizer and its German partner, BioNTech, which have now been given billions of times."
But the Post and other major outlets covering Karikó and Weissman's Nobel prize-winning contributions did not emphasize—or even mention—that some of the scientists' work was funded by the National Institutes of Health. Karikó and Weissman patented their findings in 2006 and later licensed the patents to Moderna and BioNTech, Pfizer's coronavirus vaccine partner.
According to an analysis by Knowledge Ecology International (KEI), Weissman "appears as the principal investigator on a total of 42 projects funded by the National Institutes of Health (NIH) between 1998 and 2020, representing $18,323,060 in costs."
"Karikó was the principal investigator of four projects funded by the NIH between 2007 and 2011, totaling $1,234,462 in costs," KEI observed. "In other words, the United States government funded and has certain rights over at least some of the foundational Karikó and Weissman patents directed to mRNA discoveries."
"As governments discuss how to prepare for the next pandemic, they should learn from the story of mRNA."
Throughout the pandemic and into the present, vaccine makers such as Pfizer and Moderna have opposed global calls to share their vaccine recipes and technology with the world, fiercely clinging to their monopoly control over production and using that control to force governments into one-sided contracts favorable to the pharmaceutical industry—even though their vaccines were developed with massive public support.
A study published in The BMJ earlier this year estimated that the U.S. government pumped nearly $32 billion into the development, production, and purchase of mRNA coronavirus vaccines.

The Biden administration, meanwhile, has declined to use its ownership of key patents or the leverage provided by public funding to force pharmaceutical companies to do everything they can to ensure the equitable distribution of lifesaving vaccine technology.
Kamal-Yanni of the People's Vaccine Alliance said Monday that "fortunately, Weissman is helping a WHO-backed mRNA program which aims to develop mRNA technology in lower-income countries, even while pharmaceutical companies refuse to share their know-how."
"As governments discuss how to prepare for the next pandemic, they should learn from the story of mRNA," said Kamal-Yanni. "Public funding delivers incredible medical advances and that should be a priority for all countries, but pharmaceutical companies cannot be trusted to share technology with the world."
Peter Maybarduk, director of the Access to Medicines program at Public Citizen, echoed that message, saying in a statement that "today's Nobel must ring as a call for equity and health justice, and a call to change a massively unjust pharmaceutical industry."
"Moderna, Pfizer, and BioNTech still largely control the available vaccines and in some countries have significantly increased their price, despite the billions in public funding on which the vaccines rely," said Maybarduk. "By supporting initiatives to share science and technology, and by funding vaccine infrastructure, governments can help blunt the effects of disease, and bring a coda of justice to a terribly unjust time."
This story has been updated to include a statement from Public Citizen.

News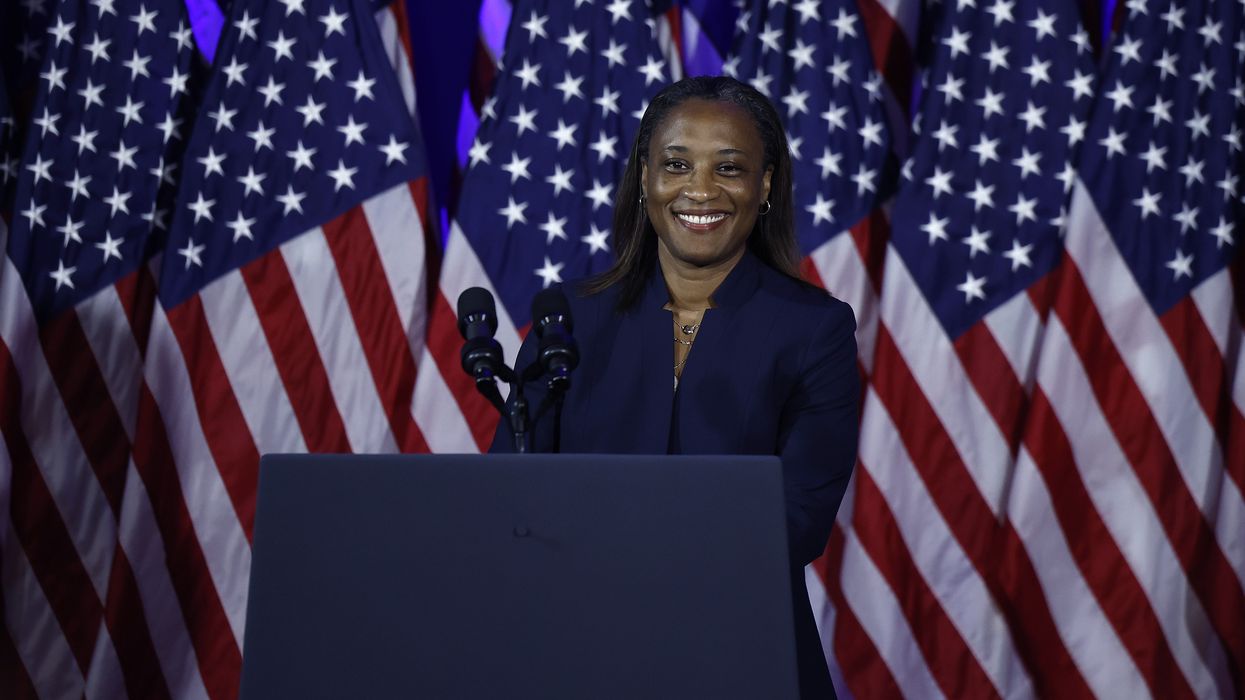 Butler previously served as the head of a major SEIU local. But she also represented Uber as it fought efforts to classify drivers as employees.
California Gov. Gavin Newsom announced late Sunday that he will appoint Laphonza Butler, president of the Democratic Party-aligned reproductive rights group EMILY's List, to fill the U.S. Senate seat left vacant by the death of long-serving Sen. Dianne Feinstein last week.

Newsom's selection rebuffs calls from progressives and some Democratic lawmakers—including the head of the Congressional Black Caucus—to nominate Rep. Barbara Lee (D-Calif.) to fill the vacancy. Lee is one of three prominent Democrats running for Feinstein's seat in 2024.
Feinstein had planned to step down at the end of her term in January 2025.
Newsom pledged to fill any early vacancy with a Black woman, but he signaled last month that it would not be Lee, who is running against Reps. Katie Porter (D-Calif.) and Adam Schiff (D-Calif.).
"I don't want to get involved in the primary," Newsom told NBC, stressing that his selection would be an interim pick. "It would be completely unfair to the Democrats that have worked their tail off. That primary is just a matter of months away. I don't want to tip the balance of that."
In a statement late Sunday, Newsom said that "as we mourn the enormous loss of Senator Feinstein, the very freedoms she fought for—reproductive freedom, equal protection, and safety from gun violence—have never been under greater assault. Laphonza will carry the baton left by Senator Feinstein, continue to break glass ceilings, and fight for all Californians in Washington, D.C."
"An advocate for women and girls, a second-generation fighter for working people, and a trusted adviser to Vice President [Kamala] Harris," Newsom added, "Laphonza Butler represents the best of California, and she'll represent us proudly in the United States Senate."
Shortly following news of the governor's decision, journalists noticed that EMILY's List removed the final line of Butler's bio that said she lives in Maryland with her partner and daughter. Newsom's office confirmed to California reporter Ashley Zavala that Butler moved to the Washington, D.C. area for her role at EMILY's List but owns a home in California, and will reregister to vote in the state before she is sworn in.

Prior to her stint at EMILY's List, which works to elect pro-choice Democrats, Butler served as president of Service Employees International Union (SEIU) Local 2015, the nation's largest home care and nursing home workers union.

But CalMattersnoted Sunday that "despite her previous career, organized labor is likely to split on Butler."
"Many felt betrayed when she represented Uber in 2019 as the company tried to broker a deal that would avoid classifying their drivers as employees," the outlet reported.
Butler also worked as director of public policy for Airbnb.
Politicoreported that "Newsom is making his appointment without putting limitations or preconditions on his pick running for the seat in 2024. That means Butler could decide to join the sprawling and competitive field of Democratic contenders seeking to succeed Feinstein, with special elections now layered on top of the March primary and November runoff."
In a letter to Newsom earlier Sunday, Congressional Black Caucus Chair Steven Horsford (D-Nev.) urged Newsom to appoint Lee to fill the vacant U.S. Senate seat, arguing that her "unparalleled legislative record, longstanding leadership in the Democratic Party, and deep commitment to justice and equality cannot be equaled."
"Barbara Lee has diagnosed a sickness in this country: greed," Horsford wrote. "And, as a former mental health professional, she has a solution: eradicate poverty, exterminate corporate welfare, and end austerity for working families. She is the only person with the courage, vision, and record to eradicate poverty, face down the fossil fuel industry, defend our democracy, and tirelessly advance the progressive agenda."

Lee, for her part, wrote in a social media post that she looks forward to working with Butler to "deliver for the Golden State."
"I am singularly focused on winning my campaign for Senate," Lee wrote. "CA deserves an experienced senator who will deliver on progressive priorities. That's exactly what I'm running to do."
News
Independent, nonprofit journalism needs your help.
Please Pitch In
Today!