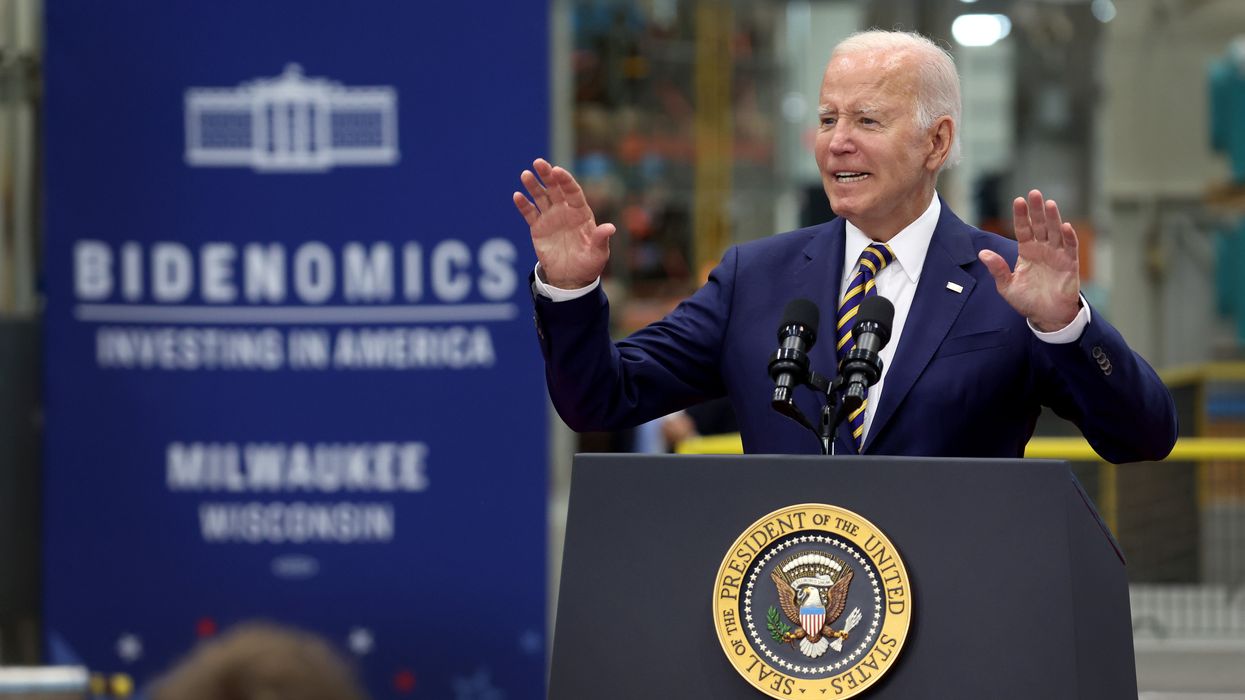 "Approving more fossil fuels not only torches our climate future, but it also harms people's health, degrades ecosystems, and threatens wildlife," said the lead author of a new report.
As the United States is set to break its all-time fossil fuel production record in a year that's likely to be the hottest ever recorded, an analysis published Monday by the Center for Biological Diversity warns that planet-heating oil and gas projects approved by the Biden administration "threaten to erase the climate emissions progress from the Inflation Reduction Act."
According to the CBD report, "The potential carbon emissions from 17 massive fossil fuel projects approved by the Biden administration are larger than the projected emissions reductions from the IRA and other climate policies."
Those 17 projects have the potential to release emissions totaling 1,642 million metric tons of CO2 equivalent per year, or the same as the annual emissions of 440 coal-fired power plants.
The IRA—which was signed by U.S. President Joe Biden in August 2022—"lowers economy-wide CO2 emissions, which includes electricity generation and use, by 35% to 43% below 2005 levels in 2030," according to the U.S. Environmental Protection Agency.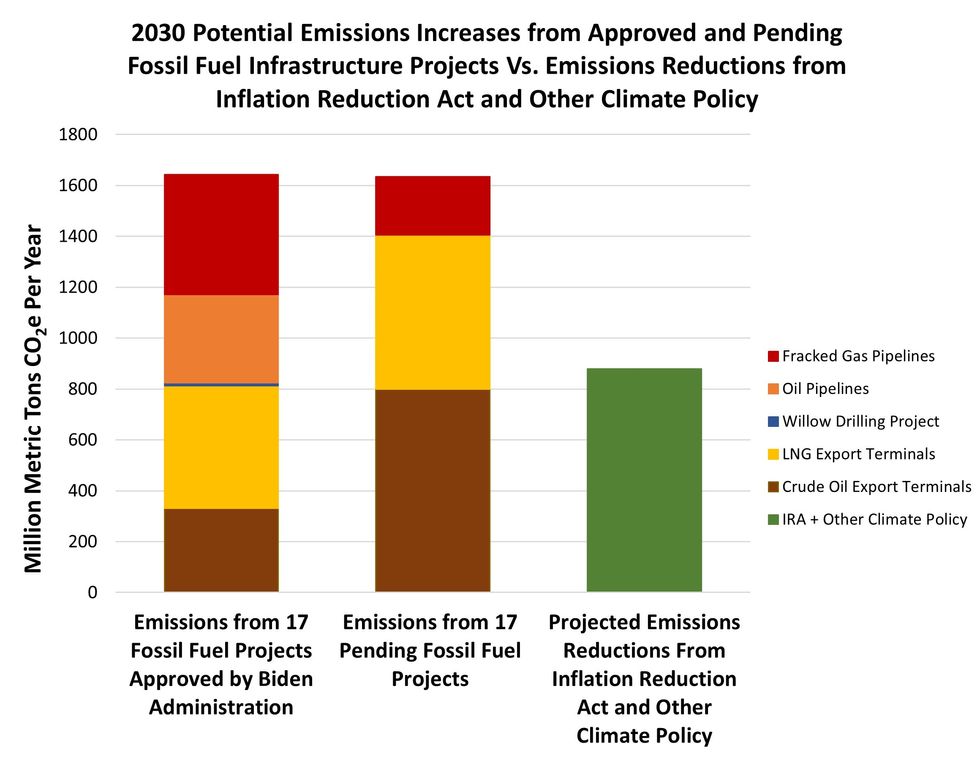 (Image: Center for Biological Diversity)
As CBD noted:
Under the Biden administration, the United States is the world's largest oil and gas producer. Last year it became the world's biggest exporter of liquefied gas, with exports set to nearly double by 2035. The United States is also leading the world's largest planned expansion of oil and gas through 2050, at the exact moment we need to be moving in the opposite direction.
"The report shows in stark detail how the Biden administration is canceling out its own climate progress by greenlighting major oil and gas projects," CBD climate science director Shaye Wolf, the report's lead author, said in a statement. "This report also shows how President Biden can truly build on the IRA's progress. He can save lives and wildlife by halting the approval of new fossil fuel projects and phasing out drilling on our public lands and waters."
The analysis lists "essential actions" the Biden administration can take:
Stop approvals of new fossil fuel projects like the massive CP2 liquefied natural gas export terminal slated for the Gulf Coast;
Revoke permits for the Willow oil drilling project, Mountain Valley Pipeline, and other projects;
Revise the offshore oil leasing five-year plan to include no new leases;
Phase out oil and gas production on public lands and waters by instituting a managed phase-down policy; and
Declare a national climate emergency.
Climate campaigners have pressed Biden to declare a climate emergency, a move the president has resisted even as he claims that he's "practically" declared one. Activists have also expressed anger and disappointment that Biden approved more permits for oil and gas drilling on public lands during his first two years in office than the Trump administration did in 2017 and 2018.
"Approving more fossil fuels not only torches our climate future, but it also harms people's health, degrades ecosystems, and threatens wildlife," said Wolf. "Many of these projects concentrate more on polluting fossil fuel infrastructure in overburdened communities of color and low-income communities, worsening environmental injustice."
The new CBD analysis comes ahead of Thursday's start of the United Nations Climate Change Conference, or COP28, in Dubai. Biden is reportedly not attending the conference.
News