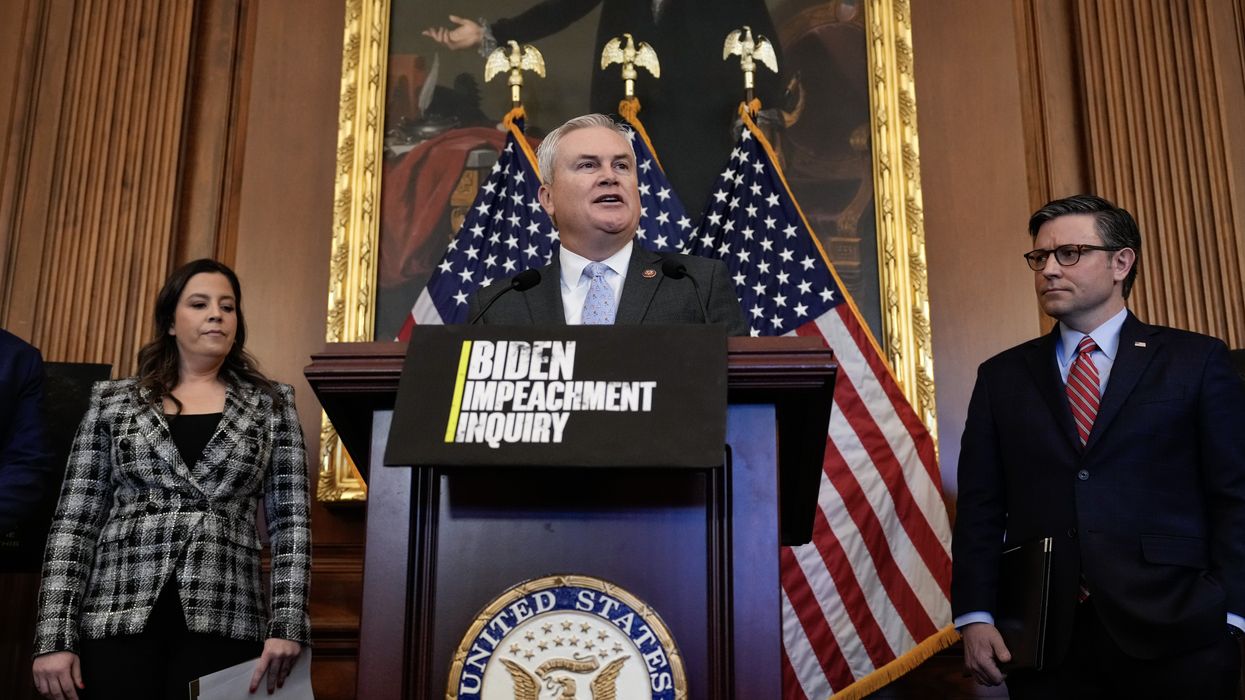 One critic said the GOP aims "to give Donald Trump something to say when it's pointed out he has been twice impeached and is a proven fraudster, sexual assailant, and defamer of women who now faces 91 felony charges."
As a Republican congressman on Thursday introduced an impeachment inquiry resolution targeting U.S. President Joe Biden, leading House Democrats called out the GOP for serving former President Donald Trump and not the American people.
House Resolution 918, led by Rep. Kelly Armstrong (R-N.D.), formally directs the House Oversight and Accountability, Ways and Means, and Judiciary committees to continue ongoing investigations into whether sufficient grounds exist to impeach Biden. A markup is scheduled for next Tuesday, so a vote may be held as soon as Wednesday.
"This impeachment inquiry is a complete political stunt with zero evidence. What a joke," responded Rep. Robert Garcia (D-Calif.), president of the House Democratic freshman class.

Congressional Progressive Caucus Chair Pramila Jayapal (D-Wash.) declared that "this MAGA-extremist Biden impeachment resolution is a giant fishing expedition and a continued example of this GOP do-nothing Congress."
House Oversight Committee Ranking Member Jamie Raskin (D-Md.)—a constitutional scholar who was the lead manager for Trump's historic second impeachment after the January 6, 2021 insurrection— released a lengthy statement blasting the panel's chair, Rep. James Comer (R-Ky.), for the "sham" impeachment inquiry.

"Voting to launch an impeachment inquiry will not change the fact that, following many months of endless investigation by House Republicans this Congress and by Senate Republicans in 2020, the evidence plainly shows no evidence of wrongdoing by President Biden, much less an impeachable offense," he said. "Chairman Comer cannot even identify what crime he thinks President Biden has committed."
Raskin highlighted the abundance of evidence collected regarding unfounded allegations of the president's misconduct related to his son Hunter Biden's business dealings and legal issues:

This is what we have assembled from House Republicans' 10-month investigation: more than 37,000 pages of subpoenaed private bank records, more than 2,000 pages of suspicious activity reports (SARs) made available by Treasury, more than 20,000 pages of emails regarding Hunter Biden released by the National Archives, with more than 62,000 additional pages being produced in the next few days, and dozens of hours of witness testimony from Hunter Biden's business associates, then-Vice President Biden's former financial adviser, and nine witnesses from agencies across the administration... All of it shows no misconduct by President Biden.

We also know that Hunter Biden has offered to testify and answer the committee's questions, under oath and in public, for as long as the committee seeks to go. But, embarrassingly, Chairman Comer refuses to take yes for an answer. He has insisted Hunter Biden must be deposed by lawyers in secret, behind closed doors. There is no reason for a secret deposition because the committee can adopt any format it chooses for a public hearing, including having lawyers questioning Hunter Biden. Obviously Chairman Comer does not want the American people hearing Hunter Biden's testimony or seeing the evidence free from GOP spin, editing, and manipulation.
"Everyone knows that the floundering Biden impeachment probe is designed to give Donald Trump something to say when it's pointed out he has been twice impeached and is a proven fraudster, sexual assailant, and defamer of women who now faces 91 felony charges in federal and state court," Raskin added. "But the price of this stupidity is huge constitutional damage as Republicans try to turn the extraordinary device of impeachment into a meaningless political event, plunging the nation into further lawlessness and nihilism."
Ian Sams, the White House spokesperson for oversight and investigations, said in a statement that "this baseless stunt is not rooted in facts or reality, but in extreme House Republicans' shameless desire to abuse their power to smear President Biden. Fox News already reported that the only reason they're having this vote is to 'put a GOP win on the table for the base,' which is sad, pathetic, and a waste of everyone's time."
Biden is seeking reelection in 2024 and Trump—despite his performance during his first term, four criminal cases, and arguments that inciting the insurrection constitutionally disqualifies him from holding office again—remains the front-runner for the Republican nomination.
On the campaign trail in recent weeks, Trump has pledged to be a dictator only on " day one" to "close the border and... drill, drill, drill" as well as to "root out" what he called "radical left thugs that live like vermin within the confines of our country," fascistic language that drew comparisons to Nazi rhetoric.
This post has been updated with comment from the White House.

News