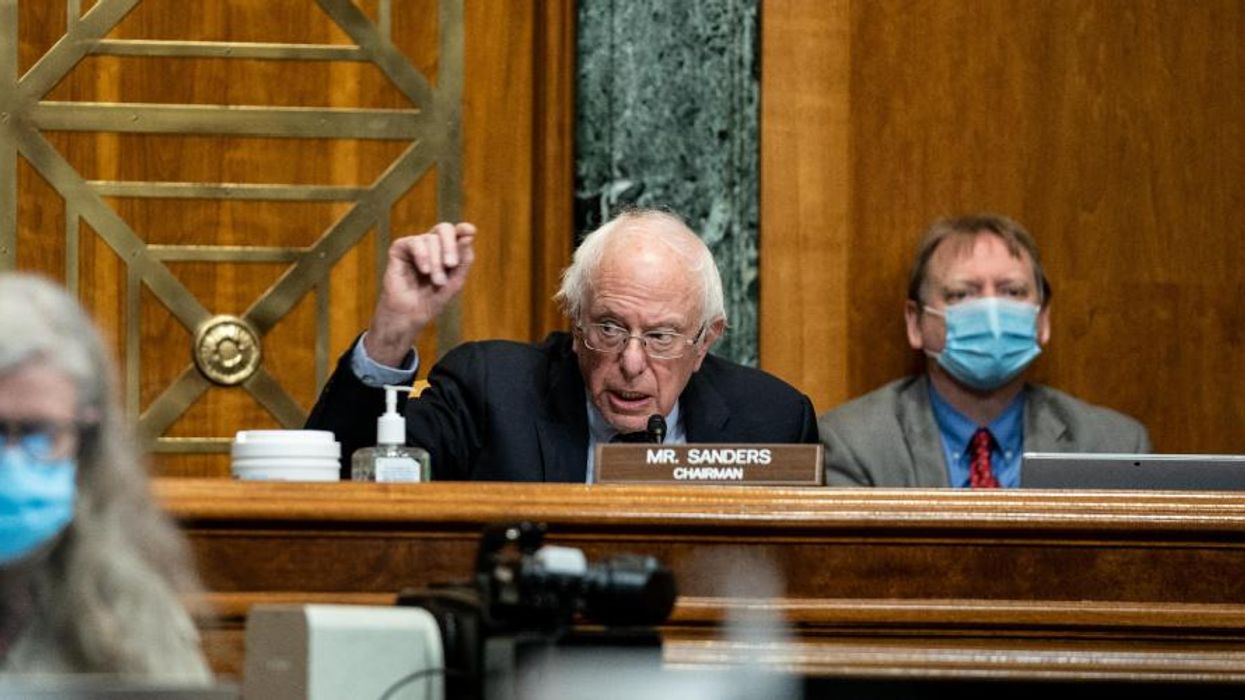 "Providing Americans with a medical home will not only save lives and ease suffering," said the senator. "It will save billions of dollars. Providing primary care to all is not only smart healthcare, it is cost-effective healthcare."
In an op-ed on Wednesday, U.S. Sen. Bernie Sanders made the case for the bipartisan legislation he introduced last month to address the nation's shortage of doctors and nurses as well as the "primary care cliff" that he has warned millions of Americans are heading toward if Congress does not act to fund the community health centers that many Americans rely on.
Writing at The Daily Beast, the Vermont independent senator said the country's for-profit healthcare industry—in addition to leaving more than 27 million Americans without health insurance—has failed to recruit and retain a sufficient number of medical providers, with the American Association of Medical Colleges projecting a shortage of 122,000 doctors by 2032.
A shortage of 400,000 home health aides—badly needed in a country where the population of people over age 65 is expected to grow by nearly 50% in the next decade—is also expected, and as Sanders wrote, "over the next two years alone it is estimated that we will need between 200,000 and 450,000 more nurses."
The healthcare provider shortage can partially be blamed, said Sanders, on disinvestment in primary care and a heavy focus on "hospital and tertiary care," with the for-profit system forcing many uninsured people "with common illnesses into emergency rooms—the most expensive form of primary care."
"Most countries spend between 10% to 15% of their healthcare budgets on primary healthcare," wrote Sanders, who chairs the Senate Health, Education, Labor, and Pensions (HELP) Committee and has for decades pushed for a government-funded universal healthcare system. "Canada spends 13%, Germany spends 15%, Spain spends 17%, and Australia spends 18%. We spend less than 7%."
While spending less on preventive care than other wealthy countries, the U.S. spends three to four times more on its healthcare system overall than countries including New Zealand, South Korea, and Japan, and more than twice as much as the U.K., France, and Australia.
But with a system that "can seem designed to discourage people from using services," noted the Commonwealth Fund in a report earlier this year, the U.S. has a higher rate than other wealthy countries of adults with chronic health conditions, and "Americans see physicians less often than people in most other countries."

"Every major medical organization in the country agrees that what we are investing in primary healthcare is woefully inadequate," the senator wrote on Wednesday. "They understand that focusing on disease prevention and providing Americans with a medical home will not only save lives and ease suffering. It will save billions of dollars. Providing primary care to all is not only smart healthcare, it is cost-effective healthcare."
Sanders' bill, the Primary Care and Health Workforce Expansion Act, would expand the Graduate Medical Education and Teaching Health Center Graduate Medical Education programs as well as the National Health Service Corps—steps that would "significantly increase the number of doctors in our country" and ensure more doctors are licensed to provide primary rather than specialty care.
The bill would also provide incentives to encourage medical schools to graduate more primary care providers and expand programs that address the shortage of instructors in nursing programs—which has impacted the number of people who are able to go into the nursing field.

With community health centers currently facing a
potential 70% funding cut
if Congress does not act to expand federal investments, the legislation also provides funding to provide the facilities with $65.5 billion over five years. The funding would be used for expanded operating hours, the creation of school-based health centers, mental healthcare, substance use disorder care, and dental care.
"This bill would increase the number of these centers throughout the country, concentrating on rural and urban areas which are now medically underserved," wrote Sanders. "The result: millions more Americans would be able to receive the primary healthcare they need in a timely and cost-effective way."
Sanders noted that "the day must come, sooner than later, when we join the rest of the industrialized world and guarantee healthcare for every man, woman, and child as a human right through a Medicare for All single-payer system. That is the right thing to do, that is the humane thing, and that is the cost-effective thing to do."
Until then, he wrote, lawmakers must take action to significantly improve a healthcare system in which "tens of millions of Americans, even those with decent insurance, cannot find the medical care they need on a timely basis" due to provider shortages.

"For many years members of Congress have talked about our healthcare crises," said the senator. "Now is the time to act."

News