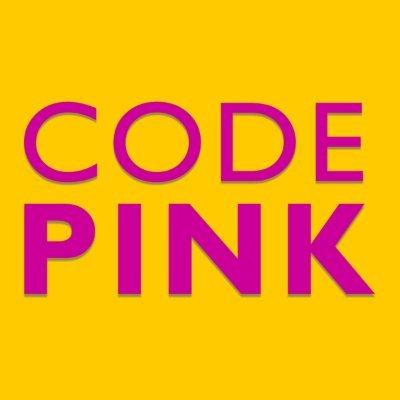 American Jews Attempt to Enter Blockaded Gaza Through Israel this Week
32-member delegation urges Obama to visit Gaza during Middle East trip, calls for end to border blockade
NEW YORK
To coincide with Pres. Obama's landmark speech to the Arab
world Thursday in Cairo, 12 Jewish-Americans will attempt to enter war-torn Gaza on June 5 through the Israeli border as part of
a 32-member peace delegation
to call on the U.S. administration to push Israel to end its 21-month
blockade on Gaza. They also hope to prove the Jewish-American community
largely does not support Israel's policies, and urge Obama to visit
Gaza during his Middle East trip.
The delegation will meet with members of the Israeli Knesset and
deliver aid and toys to Gazan children if allowed through the Israeli
checkpoints. It will follow more than 100 Americans and delegates from
eight
other countries who entered Gaza last week through Rafah, Egypt in four separate delegations organized by the women's peace group CODEPINK.
Many delegates met with Hamas officials and helped build a playground
for Gazan children. (Follow their progress on Twitter #gazacp).
"The brutal invasion of Gaza was a breaking point for me and many
American Jews," said CODEPINK co-founder Medea Benjamin, currently
inside Gaza and leader of two delegations. "I'm appalled by
the devastation and the suffering I see here, particularly among
children. As a mother, and a Jew, I feel compelled to speak out and
urge our government to push Israel to end its brutal blockade and
violations of international law. "
Benjamin's sentiments are aligned with the majority opinions of Jewish
Americans. According to a recent survey by the Jewish lobby group J Street, 76 percent of American Jews support a two-state solution, 69
percent support negotiating with a Fatah-Hamas unity government, and 59
percent felt the Gaza invasion did not improve Israel's security.

The Jewish members of CODEPINK's delegation are seeking to amplify the
voice of this majority who believe in peace. Infinity Rotbard, a
student delegate on the trip and a resident of San Francisco, grew up
in an ultra-orthodox Jewish family and lived in the Jewish settlements
in Gaza during his rabbinic studies in Israel.
"Growing up, my beliefs about Israel and Palestine were rooted around
unconditional rights of its Jewish inhabitants," Rotbard said. "But I'm now seeking the
truth beyond my childhood's limited beliefs. I feel a responsibility to bear witness to what is happening to
the people under siege in Gaza."
Like the other delegations, this last delegation will bring toys and
school supplies for Gazan children -- many of the schools and
playgrounds were bombed during Israel's invasion earlier this year that
killed more than 1,400, displaced more than 50,000 people and destroyed
approximately 4,000 homes. They expect they will be held by Israeli
authorities, as the other delegations were held by Egyptian authorities
for several days before they were allowed through May 26.
If so, they will join the Israeli feminist group The Coalition of Women for Peace
in protest near either the Erez or Kerem Shalom checkpoints on June 6,
join a workshop on "The Role of International Community in Freeing
Gaza" and several tours, and join protests in Jerusalem and the West
Bank between June 10 and 14.
CODEPINK is a women-led grassroots organization working to end U.S. wars and militarism, support peace and human rights initiatives, and redirect our tax dollars into healthcare, education, green jobs and other life-affirming programs.
(818) 275-7232
LATEST NEWS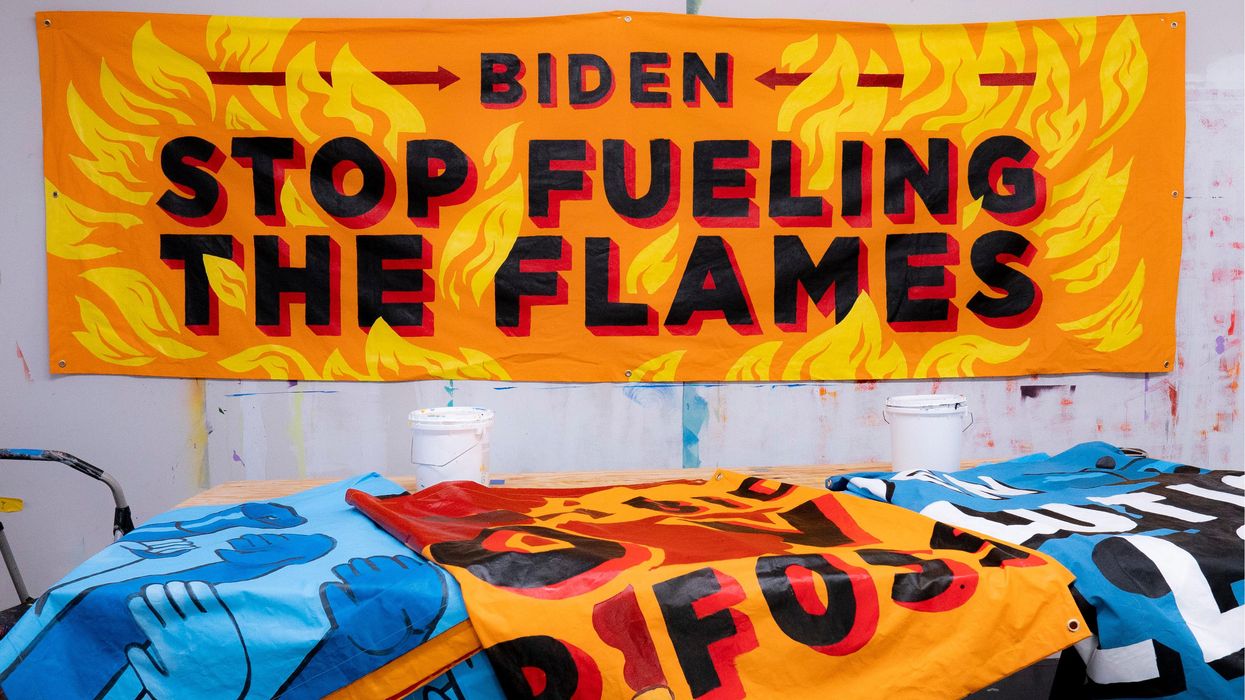 "The March to End Fossil Fuels isn't a request," one organizer said "It's a demand for President Biden to enact actionable solutions that match the scale of the crisis at hand."
A total of 500 international, national, and local organizations have endorsed the September 17 March to End Fossil Fuels in New York City, leaders behind the event announced Tuesday.
The march comes ahead of U.N. Secretary-General António Guterres' Climate Ambition Summit and follows a summer of fossil-fueled extreme weather that smothered the Northeast and Midwest in wildfire smoke, flooded the streets of Vermont's state capital, devastated the town of Lahaina in Maui, and baked Phoenix under 31 days of more than 110°F heat.
"It's never been more clear than now–a summer of record heat, deadly fires, and devastating floods–that we need to unite to put an end to fossil fuels," Oil Change International U.S. program manager Allie Rosenbluth said in a statement. "Every new fossil fuel project is incompatible with a livable future."
Oil Change International is one of the march's main organizers, along with the Center for Biological Diversity, the Center for Popular Democracy, Climate Organizing Hub, Food & Water Watch, Fridays For Future USA & NYC, Earthworks, Greenfaith, Indigenous Environmental Network, New York Communities for Change, and Oil & Gas Action Network.
They have been joined more recently by the Sunrise Movement, the Sierra Club, and the NAACP, as well as by prominent activists and progressive politicians like Jane Fonda, Bill McKibben, Naomi Klein, Mark Ruffalo, Sen. Ed Markey (D-Mass.), Reps. Rashida Tlaib (D-Mich.), and Jamaal Bowman (D-N.Y.), and Tennessee State Rep. Justin Pearson.
The march will call President Joe Biden to stop approving new fossil fuel projects, end oil and gas drilling on public lands, declare a climate emergency, and ensure a just transition to renewable energy that provides good jobs and respects local communities.
"The same voices that called him to the presidency are now calling on him to take bold climate action."
"With 500 organizations strong, the March to End Fossil Fuels isn't a request, it's a demand for President Biden to enact actionable solutions that match the scale of the crisis at hand," Olivia Leirer, co-executive director of New York Communities for Change, said in a statement.
The march comes as Republican candidates are already jostling to decide who will face Biden in the 2024 presidential election, and younger activists warned that Biden's approval of carbon bombs like the Willow Project or the Mountain Valley Pipeline could hurt him with the youth voters who helped him win in 2020.
"In the past three years many of us have lost the passion and hope we originally had when fighting for Biden," Fridays For Future NYC Organizer Noa Greene-Houvras said in a statement. "We have watched him approve pipelines and fossil fuel projects that youth have consistently pushed against. The same voices that called him to the presidency are now calling on him to take bold climate action."
Organizers also emphasize the impact that the burning of oil, gas, and coal and the pollution and extreme weather it generates have on communities across the country, especially low-income or minority communities.
"The current reliance on fossil fuels is literally killing Black Americans," NAACP director for the Center for Environmental and Climate Justice Abre' Conner said in a statement. "Black elders are three times more likely to die from air quality-related issues and Black youth continue to suffer the impacts of living in communities that are more likely to house fossil fuel plants and other toxic waste incinerators."
"This is an emergency," Conner added. "For Black communities to have any hope of a just and sustainable future, we must act now."
The New York march is part of a larger international escalation against fossil fuels launched in June and timed for the weekend before Guterress' September 20 summit, which asks nations for the first time to present plans for phasing out fossil fuels and ceasing production of the climate-warming energy sources.
It will begin from 56th Street and Broadway at 1 pm Eastern Daylight Time, move down Broadway to 52nd Street, and then follow 52nd Street to First Avenue for a rally at First and 50th outside U.N. headquarters. Organizers expect thousands of participants, and to join them, you can RSVP here.
"We demand President Biden wield his power, to usher in the end of fossil fuels so our planet and people can thrive," Rosenbluth said. "We join together for the March to End Fossil Fuels, not just to ask for change, but for a reckoning."
News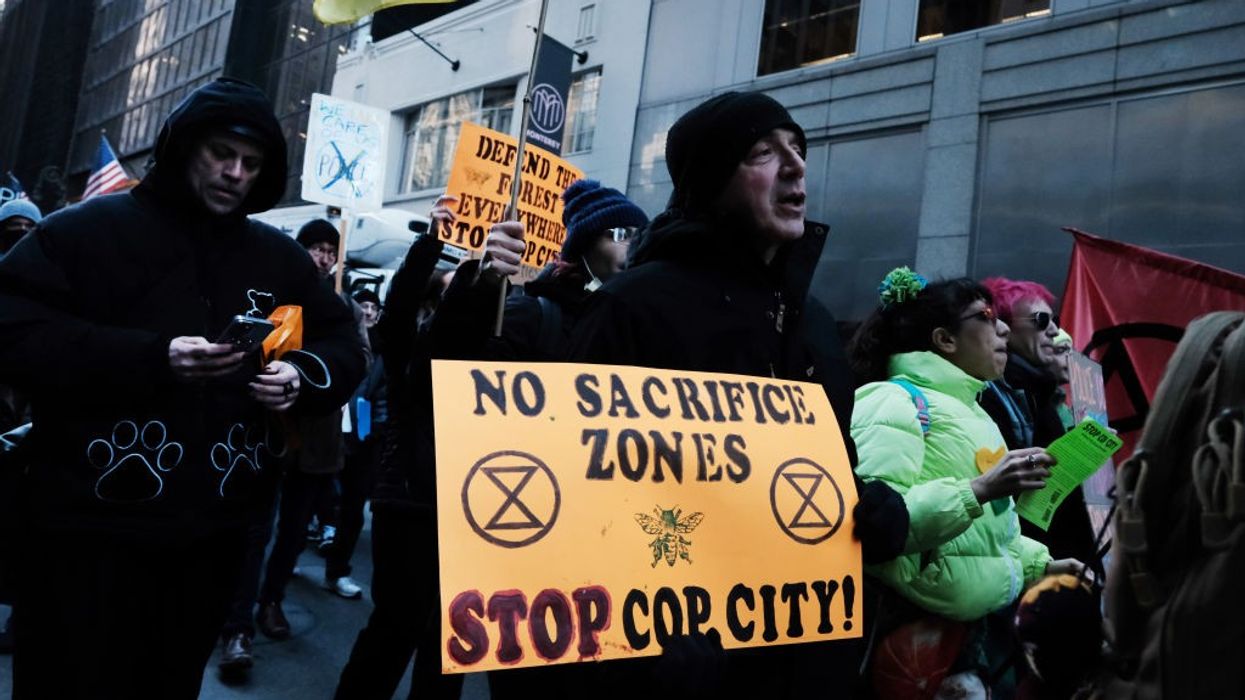 The indictments "send a chilling message that any dissent to Cop City will be punished with the full power and violence of the government."
Organizers with the Stop Cop City movement in Atlanta said Tuesday that new organized crime and racketeering charges against more than 60 campaigners were aimed at quashing all dissent against the construction of a $90 million police training facility in the city, as well as similar law enforcement projects.
Georgia's Republican attorney general, Chris Carr, announced that a grand jury indicted 61 protesters under the state's Racketeer Influenced and Corrupt Organizations (RICO) Act, with some accused only of distributing fliers.

"These charges, like the previous repressive prosecutions by the State of Georgia, seek to intimidate protesters, legal observers, and bail funds alike, and send the chilling message that any dissent to Cop City will be punished with the full power and violence of the government," organizers with the Cop City Vote Coalition (CCVC) toldThe Appeal. "The Cop City Vote Coalition strongly condemns these anti-democratic charges."
The indictments are the latest escalation by the state against movement to "Stop Cop City," as opponents have called the proposed 85-acre Public Safety Training Center planned in the Weelaunee Forest in DeKalb County.
Forest defender Manuel Esteban Paez Terán, known as Tortuguita, was shot and killed by police earlier this year while trying to stop the clearing of the area, and prosecutors in DeKalb County and Fulton County filed domestic terrorism charges against 42 people who have protested the training center. Many of those charged were also listed in Tuesday's indictments.
As Common Dreamsreported in May, the Georgia and Atlanta police also arrested three organizers of a bail fund supporting protesters, accusing them of money laundering and charity fraud. The organizers are also among those facing RICO charges.
The New Republic noted that the date listed on the indictments is May 25, 2020—the day George Floyd was murdered by a Minneapolis police officer, marking the beginning of a nationwide uprising against police violence. The date suggests "that the attorney general's office plans to link the Stop Cop City movement with the larger protests that followed Floyd's death," wrote Edith Olmsted at the outlet.
The RICO charges, said racial justice group Color of Change, represent "a blatant attempt to silence democratic protest—and a dangerous violation of the constitutional right to protest."

News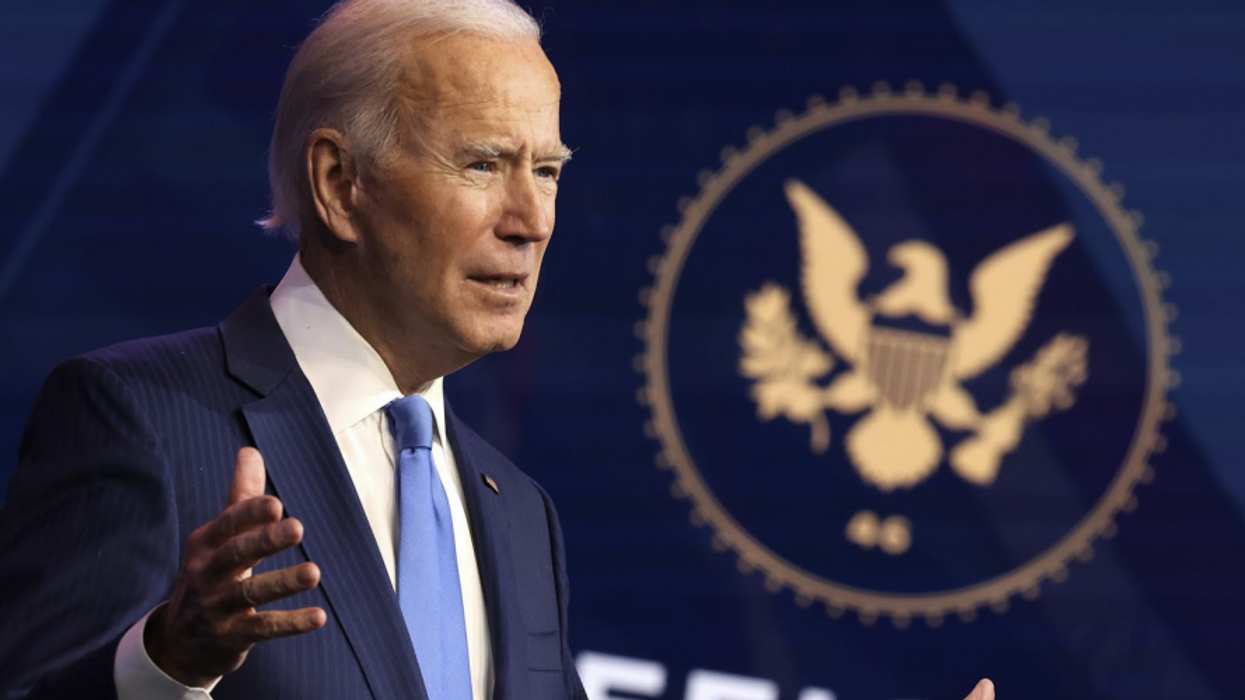 "Nothing about this proposed policy would prevent a return to the reign of 'alternative facts' should Trump be reelected," said one critic.
A coalition of public health and science advocacy groups on Tuesday called on the Biden administration to strengthen its proposed scientific integrity policy, warning that the proposal does little to solve the problem of the political interference that was rampant in the federal government under former Republican President Donald Trump.
Shortly after taking office, President Joe Biden signed an executive order pledging to "protect scientists from political interference and ensure they can think, research, and speak freely to provide valuable information and insights to the American people," followed by a requirement for federal agencies to review how such interference can be avoided through policy changes.
More than two years later, the White House Office of Science and Data Policy joined the U.S. Department of Health and Human Services (HHS) in releasing a draft policy which, if finalized, would cover all scientists working within the department and could serve as a template for other federal agencies.
But without provisions for independent investigations into alleged misconduct, legal protections for scientists doing certain types of work, and with "few safeguards against scientific work being altered or suppressed," the coalition said the draft "leaves a lot to be desired."
"Scientific integrity problems at HHS have ranged from unwarranted age restrictions on emergency contraception during the Obama administration to halting important research and interfering with Covid-19 guidance during the Trump administration."
Groups including Public Employees for Environmental Responsibility (PEER), the Government Accountability Project, and the Center for Reproductive Rights wrote to the administration to warn that both Democratic and Republican administrations have stood in the way of scientific integrity, calling for vigilance from the Biden White House.
"Scientific integrity problems at HHS have ranged from unwarranted age restrictions on emergency contraception during the Obama administration to halting important research and interfering with Covid-19 guidance during the Trump administration," wrote the groups in their public comments on the policy. "HHS should design its scientific integrity policy to provide protections against such meddling and effective avenues for correction when interference occurs. HHS should also consider the possibility of individuals acting in bad faith using the policy to harass scientists who are doing their jobs, and HHS should erect barriers to such bad-faith attempts."
The groups listed a number of areas in which they believe the new draft policy is lacking, including:
Protections and accountability for grantees;
Specifics that delineate scientists' ability to communicate with the media and public about their areas of expertise, without leaving scientists vulnerable to bad-faith attacks;
Specific protections from retaliation for those engaged in certain scientific activities; and
Penalties sufficient to deter wrongdoing and hold accountable all violators of scientific integrity, including political appointees.
PEER pointed out that the lack of specific guidance for grantees is a "major gap" in the policy, as much of the scientific work at agencies such as the National Institutes of Health is completed by scientists who receive grants.
The group's comments notes that the right-wing Trump administration canceled teen pregnancy prevention grants and terminated federally funded research using fetal tissue, yet the policy draft does not include "specific protections against early termination of both research and service grants for political reasons."
The policy's "'Protecting Scientific Processes' section could include a prohibition against terminating intramural or extramural research funding for reasons other than breach of contract, abusive behavior, or gross mismanagement," the groups said.
"Nothing about this proposed policy would prevent a return to the reign of 'alternative facts' should Trump be reelected," said Pacific PEER director Jeff Ruch. "Under this proposed policy, every aspect of enforcing scientific integrity principles would remain a captive of the political process inside the agencies."
The policy also includes "the extremely broad statement that HHS scientists 'shall refrain from making or publishing statements that could be construed as being judgments of, or recommendations on, HHS or any other federal government policy,'" reads the letter. "A bad-faith actor seeking to harass a scientist whose work they find distasteful could claim to have 'construed' virtually any statement as a judgment of government policy."
"For instance," the groups added, "a scientist who makes a factual statement about the effect of a policy—for instance, explaining how a Trump administration directive to stop procuring fetal tissue halted work on an HIV study—could be accused of criticizing that policy decision. We recommend that HHS remove this text from its scientific integrity policy to avoid creating a weapon for bad-faith actors."
The watchdogs applauded the administration for taking steps to protect government scientists from retaliation, "rather than relying on existing whistleblower protections alone."
But the policy, they said, should include language assuring scientists that they can work "free from reprisal or concern for reprisal" and should "specifically provide protections against blocklisting/blacklisting and retaliatory investigations and offer an affirmative defense to whistleblowers who are subjected to civil or criminal lawsuits."
When Biden announced an overhaul of scientific integrity policies to protect scientists in 2021, groups including PEER said the move was a "welcome change from the Trump administration."
On Tuesday, however, Ruch warned that "little about this proposed policy would restore public faith in the credibility of government science."
News
Independent, nonprofit journalism needs your help.
Please Pitch In
Today!