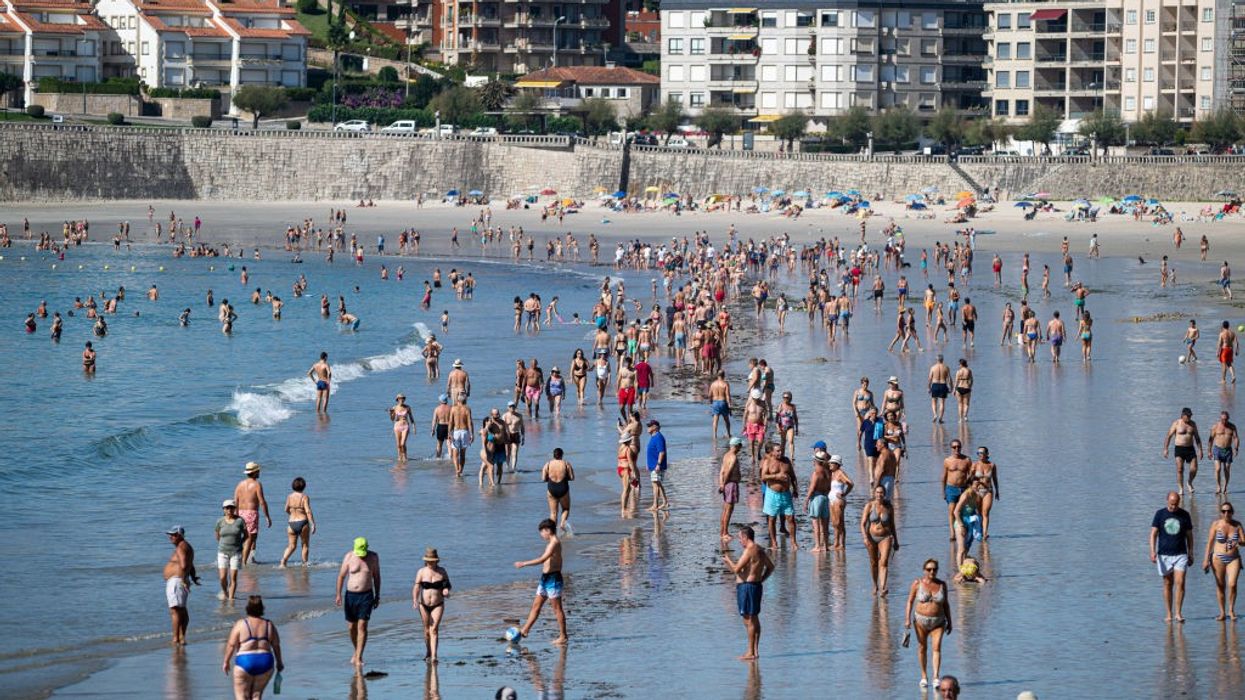 "We've never seen a record smashed by anything close to this margin," one climate scientist said.
In another sign of the climate crisis, September of 2023—following the hottest summer ever recorded over June, July, and August—also seems to be one for the record books.
A data set out of Japan found that September 2023 was 0.5°C warmer than the previous warmest September on record and around 1.8°C warmer than temperatures in the preindustrial era, climate scientist Zeke Hausfather wrote on Tuesday on the social media site formerly known as Twitter.
"This month was, in my professional opinion as a climate scientist—absolutely gobsmackingly bananas," he said.
Hausfather was looking at the the Japanese 55-year Reanalysis (JRA-55), which draws on a wide range of weather observations dating back to 1958. The more than half-a-degree jump from the previous September record is the steepest increase between monthly records to date, The Washington Post reported.
"We've never seen a record smashed by anything close to this margin," Hausfather told the Post.
"This September would not have been out of place as a typical July this decade in terms of global temperatures," he added on X, formerly Twitter.
Another data set, the European Centre for Medium-Range Weather Forecasts' ERA5, also shows September shattering the previous record by around the same margin, according to Hausfather.
"I'm still struggling to comprehend how a single year can jump so much compared to previous years," Finnish Meteorological Institute researcher Mika Rantanen tweeted of the ERA5 data. "Just by adding the latest data point, the linear warming trend since 1979 increased by 10%."
The JRA-55 and ERA5 data sets are more immediately available than the monthly analyses from NOAA and NASA, which take longer to complete, The Washington Post explained. The satellite-based data from the University of Alabama in Huntsville is also showing a record September.
2023 has been a record-breaking year in part because an El Niño weather pattern emerged in June, but the primary driver is atmospheric warming caused by the burning of fossil fuels and the destruction of natural carbon sinks. This year has been much hotter than the previous El Niño years in 2015 and 2016.
On a local and regional level, many countries experienced their hottest Septembers on record, among them Austria, Belgium, France, Germany, Poland, and Switzerland, according to The Guardian. France's September beat the previous record by more than 1°C, and Belgium's September was even hotter than its July and August for the first time since 1961.
"Belgium has never experienced a month of September this warm," David Dehenauw of the Belgian Royal Meteorological Institute told The Guardian.
On the other side of the world, Japan also had its hottest September at 2.66℃ higher than normal.
"We can't believe just how high temperatures got," a representative from the Japan Meteorological Agency toldJapan Today. "It became a record-breaking phenomenon after multiple factors overlapped on top of climate change."

September also saw a number of extreme weather events, from deadly flooding in Libya to record-breaking rainfall in New York. Warmer temperatures are linked to heavy rainfall, as warmer air can hold more moisture. Separate studies also said the climate crisis made both events more extreme.
So far, October looks set to continue the historic weather trend. The central U.S. began the month with record heat, according to The Washington Post. And Spain had its warmest start to October on record, Reuters reported.
"The bad news is that we don't see any sign of global temperatures reverting to what is normal for this time of year," Hausfather tweeted. "They remain close to to the highest anomalies we saw in the month of September as we go into October."
News