For Immediate Release
December, 09 2015, 09:15am EDT
Contact:
Vesna Jaksic Lowe, deputy director of communications, Physicians for Human Rights (PHR); vjaksiclowe@phrusa.org; 917.679.0110 (m)
A Year After Torture Report, Impunity Persists
New Paper Details the CIA's Reliance on Psychological Torture; Calls for Accountability
NEW YORK
The U.S. government must investigate and prosecute all those responsible for the CIA's unlawful torture program, provide redress to victims, and release the full Senate torture report, Physicians for Human Rights (PHR) said in a briefing paper today.
The document discusses the central role that two psychologists, James Mitchell and Bruce Jessen, played in developing and operationalizing the CIA's brutal torture regime. The methods they devised, including the so-called "enhanced interrogation techniques," were designed to break down detainees through the infliction of extreme mental and physical pain. This calculated process of reducing people to a state of profound debilitation and helplessness constitutes torture, in violation of U.S. and international law.
"The United States authorized torture and employed health professionals to design and implement the program, but a year after the Senate torture report, there has been no accountability for these crimes," said Widney Brown, PHR's director of programs. "The express aim of the CIA program was to psychologically destroy human beings. Mitchell and Jessen were the architects of these methods and were paid millions for their unlawful and unethical work."
On December 9, 2014, the U.S. Senate Select Committee on Intelligence released parts of its 6,700-page report on the CIA's torture program. Practices highlighted include indefinite secret detention and brutal interrogation techniques such as hooding, stress positions, prolonged isolation, sleep deprivation, sensory deprivation and overload, forced nudity and sexual humiliation, and waterboarding. These techniques, long classified as torture, were nonetheless authorized in the U.S. Department of Justice "torture memos," which have since been rescinded.
Over the last year, there have been increased efforts by civil society actors to tell the truth about Bush-era torture practices and to take actions to prevent torture. These include the American Psychological Association's ban on psychologists participating in national security interrogations and being present at Guantanamo Bay, as well as the filing of a lawsuit against Mitchell and Jessen by the American Civil Liberties Union. But the U.S. government has failed to take steps towards accountability and transparency, which are crucial for ensuring that torture and other human rights violations are not repeated.
PHR's 17-page document, "Truth Matters: Accountability for CIA Psychological Torture," outlines the psychological dimensions of the CIA's torture program:
Legal protection: Government officials relied on health professionals to certify that torture was safe, legal, ethical, and effective, and to indemnify those responsible against prosecution.
Regime of psychological torture: Mitchell and Jessen developed torture methods based on the psychological theory of "learned helplessness" and convinced the CIA to adopt their program.
Intentional infliction of pain and suffering: Profound psychological trauma was embedded in the design and implementation of the CIA program. These methods achieved their intended result and no efforts were made to avoid harm.
Short- and long-term health effects: As a result of their torture, detainees suffered severe and prolonged harm, which PHR and others have documented in additional populations of torture survivors.
PHR said the United States has an obligation under international law to investigate torture allegations, prosecute the perpetrators, and provide victims access to an effective remedy for past human rights violations.
"One year later, transparency and accountability - let alone redress to victims - remain stalled," the paper says. "Torture is a crime, and the United States' failure to reject impunity has come at a very high cost."
PHR was founded in 1986 on the idea that health professionals, with their specialized skills, ethical duties, and credible voices, are uniquely positioned to investigate the health consequences of human rights violations and work to stop them. PHR mobilizes health professionals to advance health, dignity, and justice and promotes the right to health for all.
LATEST NEWS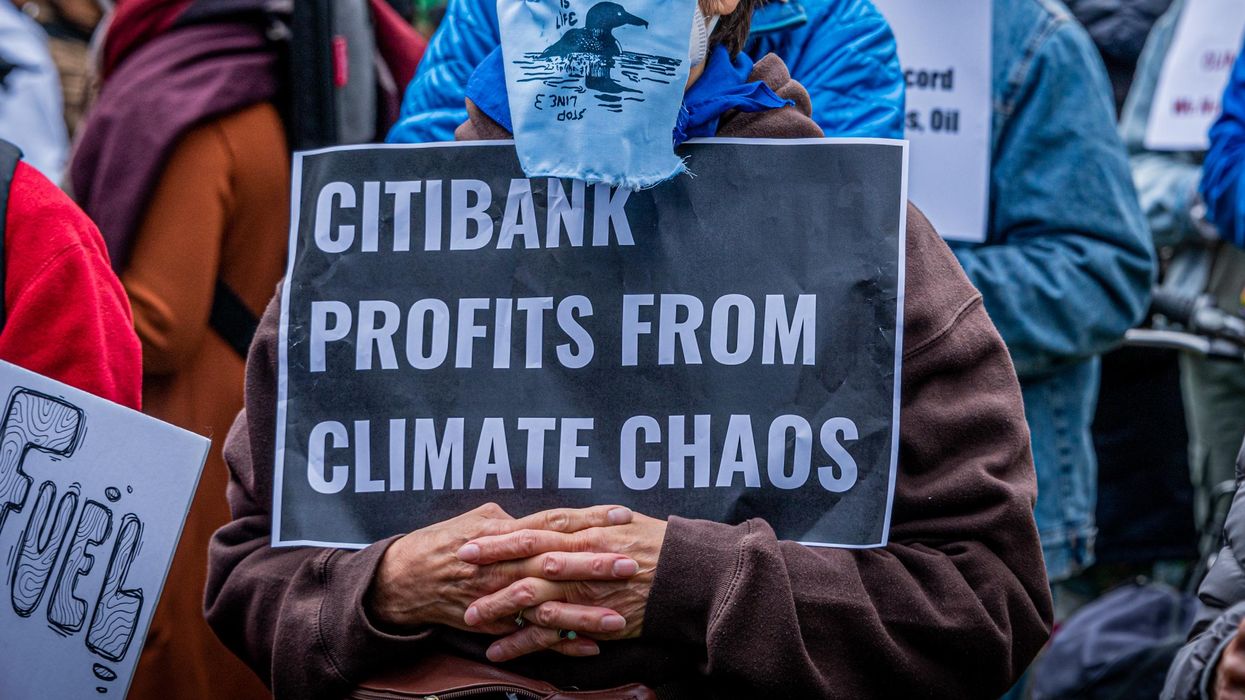 "It is business as usual for most banks and investors who continue to support fossil fuel developers without any restrictions, despite their high-profile commitments to carbon neutrality."
Top banks in the United States and around the world have made a show of embracing net-zero emissions pledges, portraying themselves as allies in the fight against the global climate emergency.
But a new analysis published Tuesday by a group of NGOs makes clear that the world's leading financial institutions—including major Wall Street banks such as Citigroup, JPMorgan Chase, and Bank of America—are still pumping money into fossil fuel expansion, bolstering the industry that is primarily responsible for worsening climate chaos.
According to the report, 56 of the largest banks in the Net-Zero Banking Alliance (NZBA)—a coalition convened by the United Nations—have provided nearly $270 billion in the form of loans and underwriting to more than 100 "major fossil fuel expanders," from Saudi Aramco to ExxonMobil to Shell.
Additionally, 58 of the biggest members of the Net-Zero Asset Managers (NZAM) initiative—including the investment behemoths BlackRock and Vanguard—held at least $847 billion worth of stocks and bonds in more than 200 large fossil fuel developers as of September.
Both the NZBA and the NZAM are under the umbrella of the Glasgow Financial Alliance for Net-Zero (GFANZ), a campaign launched in 2021 with the goal of expanding "the number of net zero-committed financial institutions." Climate advocates have long argued that net-zero pledges are fundamentally inadequate to the task of stopping runaway warming.

"The science is very clear: we need to stop developing new coal, oil, and gas projects as soon as possible if we want to meet our climate goals and avoid a worst-case scenario," said Lucie Pinson, the executive director and founder of the watchdog group Reclaim Finance. "Yet, it is business as usual for most banks and investors who continue to support fossil fuel developers without any restrictions, despite their high-profile commitments to carbon neutrality."
"Their greenwashing is all the more damaging as it casts doubt on the sincerity of all net-zero commitments and undermines the efforts of those who are truly acting for the climate," Pinson added.
\u201c\ud83d\udea8 NEW REPORT: since joining the Glasgow Financial Alliance for Net Zero #GFANZ, financial institutions have provided HUNDREDS OF BILLIONS of $ to fossil fuel expansion \ud83d\udca3\n \nIt's the finding of a report published today by 13 NGOs including Reclaim Finance.\n\n#GFANZFuelsFire #wef23\u201d

— Reclaim Finance (@Reclaim Finance) 1673944009
The groups found that the U.S.-based Wall Street giants Citigroup, JPMorgan Chase, Bank of America, Morgan Stanley, and Wells Fargo provided nearly $90 billion in total financing for fossil fuel expansion between the dates they joined the NZBA and August 2022.
Citigroup, which touts its net-zero commitments on its website, led the pack with $30.5 billion in fossil fuel financing from April 2021 to August 2022.
"The U.S. financial sector cannot be taken seriously on climate change until it stops investing in new fossil fuel projects," said Adele Shraiman, a representative for the Sierra Club's Fossil-Free Finance campaign. "We need an urgent transition to a green economy and the financial sector must help deliver that."
Overall, according to the new report, "229 of the world's largest fossil fuel developers received finance from the 161 GFANZ members covered... which will support them to develop new coal power plants, mines, ports, and other infrastructure, as well as new oil and gas fields and pipelines and LNG terminals."
"These new fossil fuel projects are incompatible with the objective of limiting global warming to 1.5°C, as confirmed in the latest International Energy Agency's World Energy Outlook published in October 2022," the report states. "They will lock in greenhouse gas emissions for decades, despite the adoption of decarbonization targets by some GFANZ members."
Paddy McCully, a senior analyst at Reclaim Finance, said in a statement that "GFANZ members are acting as climate arsonists."
"They've pledged to achieve net-zero but are continuing to pour hundreds of billions of dollars into fossil fuel developers," said McCully. "GFANZ and its member alliances will only be credible once they up their game and insist that their members help bring a rapid end to the era of coal, oil, and fossil gas expansion."

News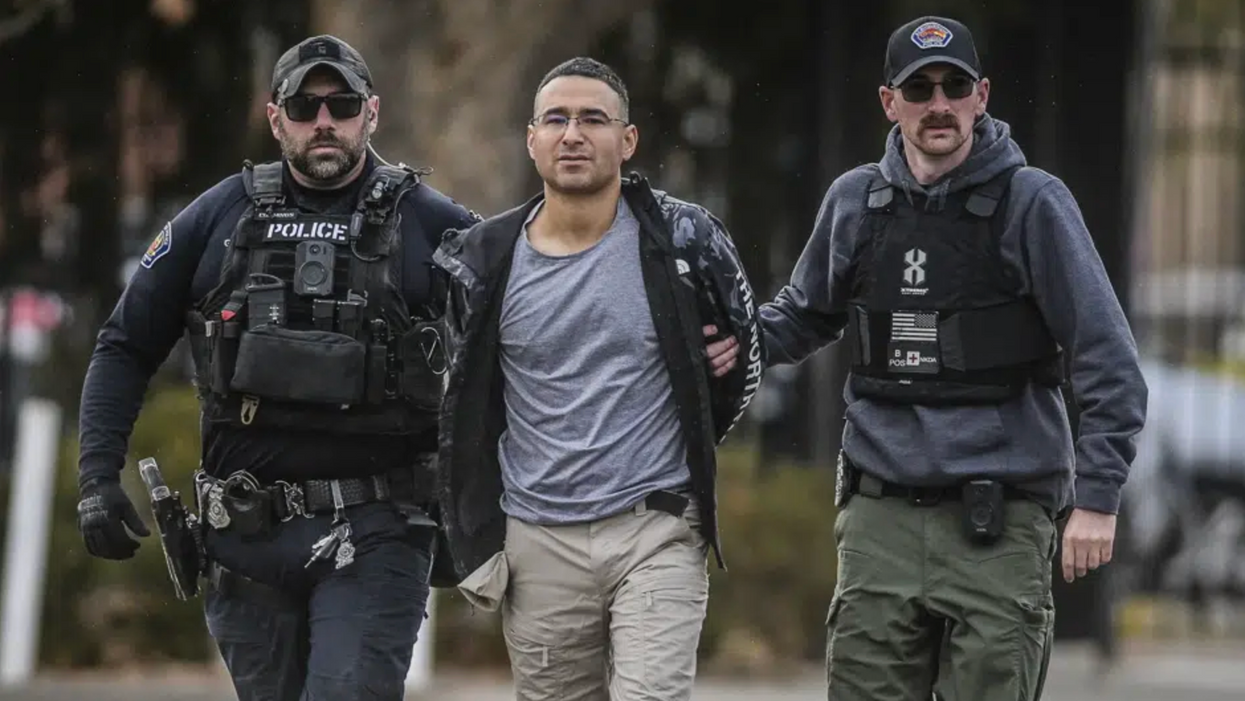 Republican Solomon Peña is suspected of hiring gunmen to help carry out drive-by shootings targeting the homes of Democratic lawmakers in the state.
Solomon Peña, a Republican former candidate for New Mexico's state House, was arrested by Albuquerque police on Monday in connection with a string of recent drive-by shootings targeting the homes of Democratic lawmakers.
Peña, who lost his November race by an overwhelming margin of 26% to 74%, is suspected of orchestrating the four shootings that began in early December. Local authorities accused Peña of hiring four men to help carry out the attacks, and Peña himself "pulled the trigger" in one of the shootings.
An outspoken supporter of former President Donald Trump, Peña "has made repeated claims that the election was rigged and appears to have attended the January 6, 2021 riot in Washington, D.C.," the Albuquerque Journalreported Monday.
"He also visited three of the targeted officials' homes unannounced in November complaining the election was fraudulent and should not be certified," the newspaper added.
The Democratic lawmakers targeted were Bernalillo County Commissioner Adriann Barboa, State House Speaker Javier Martinez, Bernalillo Commissioner Debbie O'Malley, and state Sen. Linda Lopez. No one was injured in the attacks but, as the Associated Pressreported, three bullets "passed through the bedroom" of the state senator's 10-year-old daughter.
At a press conference following Peña's arrest, which came after a standoff with police, Albuquerque Mayor Tim Keller (D) said that police "essentially discovered what we had all feared and what we had suspected—that these shootings were indeed politically motivated."
"They were dangerous attacks not only to these individuals," Keller added, "but, fundamentally, also to democracy."
\u201cThank you to our @ABQPOLICE officers and partners in law enforcement who worked tirelessly to make this arrest. \n\nThis radicalism is a threat to our city, our state, and our nation. We will continue to push back against hate in all forms and stop political violence.\u201d

— Mayor Tim Keller (@Mayor Tim Keller) 1673916021
New Mexico Gov. Michelle Lujan Grisham said in a statement that "there is no place in our society or our democracy for violence against any elected official or their families, and I trust the justice system will hold those responsible for such attacks to full and fair account."

NBC News reported Monday that "a key to the investigation, police said, was a traffic stop early January 3 of Peña's Nissan Maxima, driven by a man named Jose Trujillo, who was arrested based on a felony warrant."
The outlet continued:
The arrest triggered an "inventory search" of the vehicle, a sweep allowed under law in order to impound it safely, and authorities discovered more than 800 fentanyl pills in the center console, police said.

More crucial to the case were the two handguns found in the Nissan, one of which appeared to have fired shots outside the home of state Sen. Linda Lopez roughly 40 minutes before the traffic stop and 4 miles away, according to the latest police statement.

One of the guns matches the description of one police allege Peña took to one of the four shootings with plans to join in the gunfire, according to the statement. The gun malfunctioned, and he left the shooting to one of the men he hired, police alleged. "Another shooter fired more than a dozen rounds from a separate handgun," police said in their statement Monday night.
Speaking to reporters on Monday, Albuquerque police spokesperson Gilbert Gallegos said of Peña, "He was an election denier—he doesn't want to accept the results of his election."
News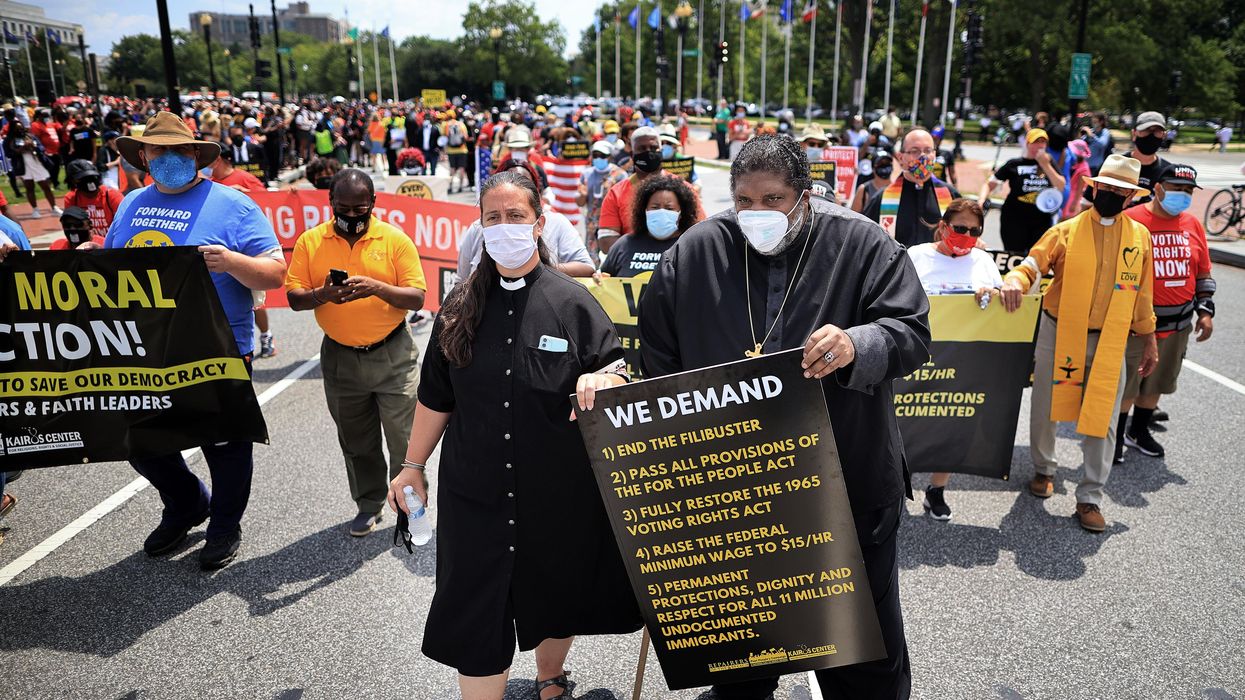 "Today and every day let's honor King as we end racism, poverty, ecological devastation, the denial of healthcare, militarism, and this false narrative of Christian nationalism," said Rev. Dr. Liz Theoharis.
To mark Dr. Martin Luther King Jr. Day on Monday, leaders of a modern iteration of the slain civil rights champion's final campaign called on U.S. politicians from both sides of the aisle—many of whose policies and actions are like those King condemned as the "evil triplets of racism, materialism, and militarism"—to step up and meet the needs of the country's poor and low-income people.
Poor People's Campaign: A National Call for Moral Revival released a video demanding the Biden administration and every member of Congress "meet with poor and low-wealth people, religious leaders, economists, lawyers, and public health specialists to address the systemic policy violence that threatens the soul of our nation."
"When prophets are killed or assassinated, our job is to pick up the baton and continue the work," campaign co-chair Rev. Dr. William J. Barber II said in the video. "Sadly, many will go to King events today and claim to honor the prophet. Elected officials on both sides of the aisle will go while even today, they are standing diametrically opposed to the things he fought for: addressing systemic poverty, addressing racism, ensuring voter protection, just immigration policy, just treatment of Indigenous people, healthcare for all, and dealing with the war economy and militarism."
As they do each year, officials—including Republican lawmakers who voted against an MLK Day holiday, the U.S. government King called "the greatest purveyor of violence in the world today," and its agencies like the FBI that tried to destroy King—all took to Twitter to sing his praises.
Poor People's Campaign Petition Congress to Truly Honor MLK Legacy | Press Conferencewww.youtube.com
Rev. Liz Theoharis, also a co-chair of the Poor People's Campaign, said in the video that "this Martin Luther King Day, we must continue a campaign for social, political, and economic rights, not simply commemorate a man. Today and every day let's honor King as we end racism, poverty, ecological devastation, the denial of healthcare, militarism, and this false narrative of Christian nationalism. Let us fight poverty, not people."
The video also includes messages from low-income Americans and advocates calling for healthcare, living wages, "and more so everyone can thrive."
"I live in North Carolina. I work 60 hours a week and more and I still don't make enough money to live comfortably," Matthew Byars said in the video. "I'm chasing the American Dream, but I'm living the American nightmare. Raise the minimum wage. Impacted people matter too."
King, along with the Southern Christian Leadership Conference, launched the original Poor People's Campaign in December 1967, months before he was assassinated in Memphis while supporting a strike by Black sanitation workers. King said the movement's demands were $30 billion for anti-poverty programs, full employment for all, a guaranteed universal income, and the annual construction of 500,000 affordable homes.
SCLC president Ralph Abernathy led the campaign after King's murder, and in May 1968—just weeks after King's murder—his widow, Coretta Scott King, led demonstrators in a two-week protest in Washington, D.C., where participants demanded an Economic Bill of Rights.
Camp life in Resurrection City 1968www.youtube.com
Thousands of poor people camped on the National Mall in a community called Resurrection City, which stood for six weeks—including on the day when Sen. Robert F. Kennedy (D-N.Y.) was assassinated on June 5—until police violently destroyed it and evicted the protesters.
News
SUPPORT OUR WORK.
We are independent, non-profit, advertising-free and 100%
reader supported.