For Immediate Release
Contact:
Jack Temple,,Email:,jack.temple@berlinrosen.com
Houston Fast-Food Workers To Strike for $15, Union Rights Ahead of GOP Debate
Walkout to Culminate in Massive March on Moores Opera House
HOUSTON, Tx.
Houston fast-food workers demanding $15 and union rights announced they will walk off the job Thursday --hours before the GOP debate and less than a week before voters go to the polls on Super Tuesday .
The walkout will culminate in a massive march and rally outside the Republican debate on the campus of the University of Houston, with striking cooks and cashiers joined by hundreds of home care workers, janitors and other workers fighting for $15 to stress their Fight for $15 Voter Agenda , which includes higher pay, union rights, and comprehensive immigration reform.
Members of a statewide coalition of organizations fighting for racial, economic, immigrant and environmental justice who are telling candidates of all political stripes that they better stand with the nearly 64 million Americans paid less than $15 will join the workers at the march and rally.
Thursday's strike and protest follows a wave of walkouts coinciding with presidential primaries that has swept across the country, and comes as low-paying jobs are dragging down communities across Texas: 48% of workers in the state, or some 5.4 million, are paid less than $15/hour--the second highest number in the nation--making the need to raise pay a major issue in the run-up to the primary. Workers, many of whom experience the inhumanity of the nation's broken immigration system on a daily basis, will also stress the urgent need for immigration reform.
"I spend all day in the kitchen at Burger King, but when I come home at night I have to rely on friends or family for help because I can't afford my own dinner," said Janice Talton, 47, a Houston Burger King worker who is paid $8.00 an hour. "I've always worried more about finding a place to sleep or feeding my children than I have about politics, but this year that's changing. By going on strike, fast-food workers have proven that we can win real change, and in November, I'll be going to the polls to support whoever will stand with us in our fight for $15 and union rights."
"I moved to America from Guatemala in 1990, and for 25 years I've never been paid much more than the minimum wage," said Isaias Sapon, 44, who works at Taco Cabana in Houston. "It's been nearly impossible to raise my family on a little more than $9 an hour, but the Fight for $15 has shown me that when fast-food workers speak out, companies and politicians respond. That's why I'm going on strike on Thursday . I'm also applying for citizenship this year so that I can vote in November for whoever will stand with workers fighting for $15 an hour, union rights, and fair immigration reform."
Thursday, Feb 25: Schedule of Texas Fight for $15 Strike Actions and Events
Ongoing Media Availability
Striking fast-food workers available throughout the day for interviews. Contact Giovanna or Anna above to arrange.
12pm CT Strike | Burger King at 4212 Richmond, Houston, TX
Striking fast-food workers available for interview. Great visuals including strike signs, chanting, marching.
5pm CT Protest at GOP Debate | Cullen Blvd and Elgin Street, University of Houston, Houston, TX
Massive crowd of underpaid workers will march on the GOP debate.
Everywhere candidates go this primary season, workers in the Fight for $15 are following them, forcing White House hopefuls to address the demands of the nearly 64 million Americans paid less than $15, drowning out supporters for the individual candidates:
As the Fight for $15 builds a political front ahead of the 2016 election, the New York Times and USA Today have both warned candidates who ignore the growing movement that they do so "at their own peril." Meanwhile, the Associated Press said underpaid workers are flexing, "increasingly potent political muscle," and BuzzFeed has said they "could make up a powerful new voting bloc."
Ahead of the election, workers will continue to collect signatures on their Fight for $15 Voter Agenda , a five-point platform that launched late last year and calls for $15 and union rights, affordable child care, quality long-term care, racial justice and immigration reform--issues identified by underpaid workers as key factors in whether they will go to the polls for a candidate. They will put politicians on notice that, as a voting bloc, workers paid less than $15 could swing elections all across the country.
"I got into home care because I wanted to go to bed each day knowing I had made a difference in my community," said Shaunta Agniel, who cares for three clients in Houston and is paid $8.50 an hour. " Sixteen years later , I'm still getting paid less than $9 an hour and can't afford basic necessities and have to work sick because I can't afford to go to the doctor. Enough is enough. Any candidate who wants Houston voters needs to stand with our communities' caregivers and support $15."
A recent poll of workers paid less than $15/hour commissioned by the National Employment Law Project showed that 69% of unregistered voters would register to vote if there were a candidate who supported $15/hour and a union; and that 65% of registered voters paid less than $15/hour would be more likely to vote if there were a candidate who supported $15/hour and a union. That's 48 million potential voters paid less than $15 who could turn out if there were candidates who backed higher pay and union rights.
Fast food workers are coming together all over the country to fight for $15 an hour and the right to form a union without retaliation. We work for corporations that are making tremendous profits, but do not pay employees enough to support our families and to cover basic needs like food, health care, rent and transportation.
LATEST NEWS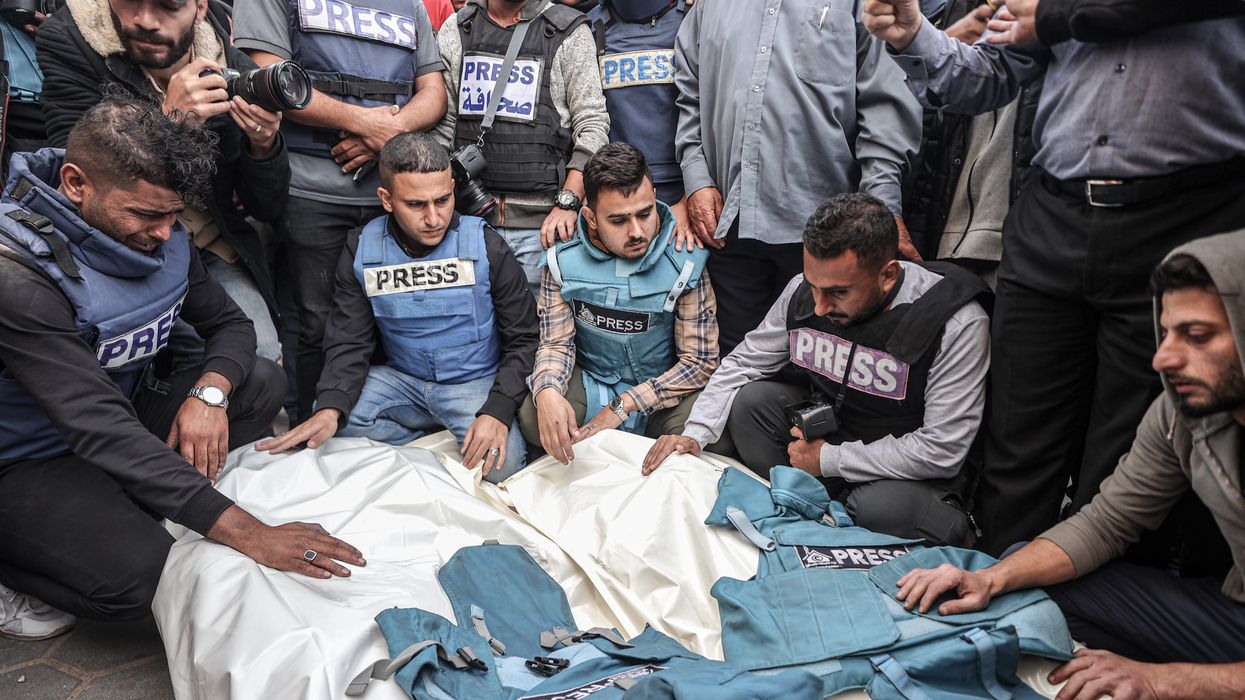 "Journalists are in severe peril as they cover the war that has claimed the lives of dozens of their colleagues," said the Committee to Protect Journalists.

A press freedom group said Monday that at least 50 journalists—most of them Palestinian—have been killed since the Hamas-led October 7 attack on Israel, to which the Israeli military responded with an indiscriminate bombing campaign in the densely populated Gaza Strip.
According to the Committee to Protect Journalists (CPJ), which began documenting media worker fatalities in 1992, 45 of the journalists killed thus far were Palestinian, four were Israeli, and one was Lebanese.
An investigation by Reporters Without Borders found that the Lebanese journalist—Issam Abdallah of Reuters —was intentionally targeted in southern Lebanon by strikes launched from the direction of the Israeli border. He and other journalists in the area at the time of the strikes were clearly identifiable as members of the media, wearing helmets and press vests.
CPJ said the first month of Israel's assault on Gaza was the deadliest on record for journalists, and the toll has continued to grow in recent days. Over the weekend, at least six more Palestinian journalists were killed in Gaza—including Bilal Jadallah, a previous CPJ contributor.
The Palestinian Journalists' Syndicate said Israeli forces "targeted" Jadallah's car.
"Bilal Jadallah helped CPJ document a deadly pattern of journalist killings by Israel Defense Forces and it appears that he fell victim to the same pattern on Sunday," Sherif Mansour, coordinator of CPJ's Middle East and North Africa program, said in a statement. "His killing leaves a gaping hole in the media landscape in Gaza, where journalists are in severe peril as they cover the war that has claimed the lives of dozens of their colleagues."
In addition to sounding alarm over the rising death toll, CPJ has expressed growing concerns about arrests of reporters, threats, censorship, attacks on media offices, and communications blackouts that have left journalists unable to safely do their jobs.
CPJ has documented several assaults on journalists, including by Israeli settlers in the West Bank. Earlier this month, top Israeli officials—including Prime Minister Benjamin Netanyahu—amplified an Israeli media watchdog's false suggestion that Palestinian journalists were somehow complicit in the October 7 attack, an allegation that further heightened the dangers of reporting on the conflict.
"Journalists in Gaza are facing exponential risk," Mansour said Monday. "But their colleagues in the West Bank and Israel are also facing unprecedented threats, assaults, and intimidation to obstruct their vital work covering this conflict."
Israeli forces have repeatedly been accused of deliberately targeting reporters—a war crime under international law—but have yet to face accountability.
"Last May, we said the [Israel Defense Forces] must change their rules of engagement to stop unleashing the use of lethal forces against journalists and media organizations," Mansour told The Guardian on Tuesday. "We have not seen any indication that this has been done. This time, therefore, we have also called on Israel's allies, including the United States, Britain, and other European countries to pressure it to stop any use of lethal force against journalists."
News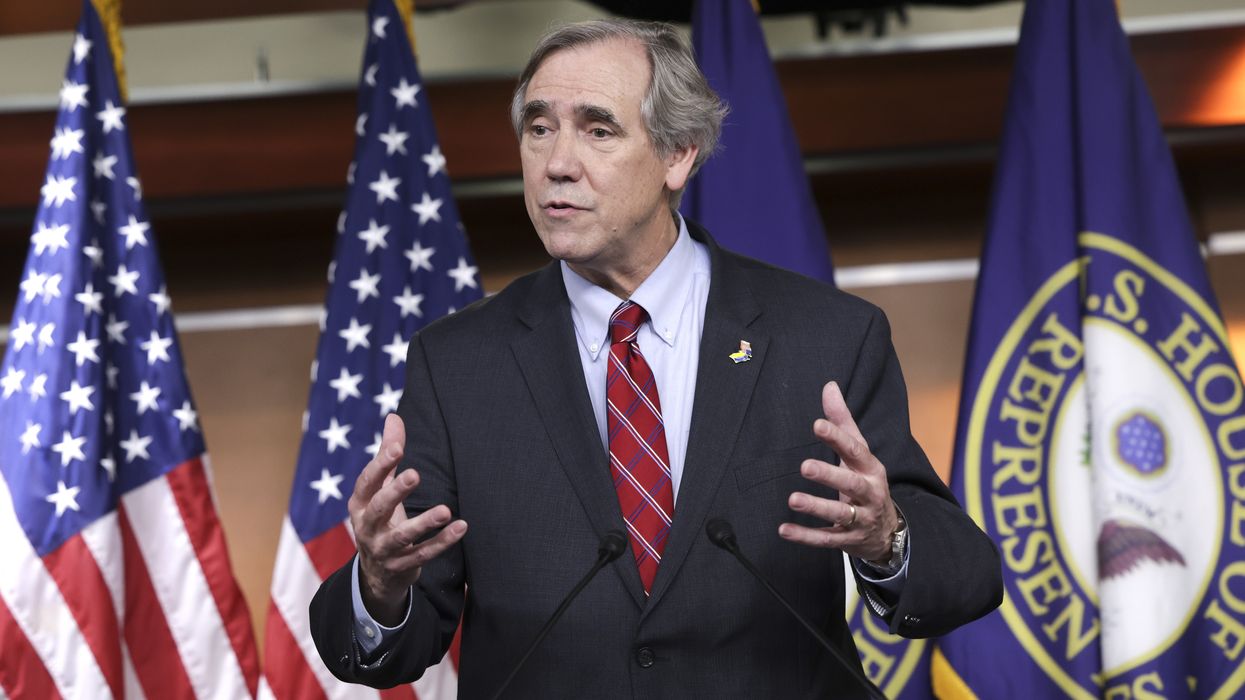 "At this rate there won't be any Palestinians left in Gaza before enough U.S. senators screw up the courage to do the right thing."
U.S. Sen. Jeff Merkley on Monday became just the second member of the Senate to demand a cease-fire in the Gaza Strip, over six weeks into Israel's brutal bombardment and ground operations that have killed over 13,000 Palestinians, including 5,500 children .
The Oregon Democrat's move, which he explained in a lengthy post on Medium, follows a cease-fire call from Sen. Dick Durbin (D-Ill.), the number two Senate Democrat, earlier this month, and demands from a couple dozen Democratic House members.
Merkley, who first visited Israel in 1978, wrote that by his fifth visit earlier this year, "far-right extremists were now helping to drive Israeli government policy," with Prime Minister Benjamin Netanyahu having "formed a government with Bezalel Smotrich as minister of finance and Itamar Ben-Gvir as minister of national security."
"Israel has unleashed a bombing campaign on Gaza of phenomenal ferocity... The impression the world has been left with is one of indiscriminate bombing."

"Under such a government, attacks by Israel's settlers against Palestinians in the West Bank have become more frequent and violent, often condoned by the Israel Defense Forces (IDF)," he pointed out. "Meanwhile, the Palestinian Authority (PA), which had worked closely with the IDF to prevent violence by Palestinians, was losing its legitimacy."
Since winning local elections in 2006, Hamas—which the Israeli and U.S. governments consider a terrorist group—has controlled Gaza, and Israel has limited who and what can come and go. After the October 7 Hamas-led attack in which around 1,200 Israelis were killed and 240 people were taken hostage, Israel declared war and intensified its blockade.
"The whole world was with Israel," Merkley wrote, noting U.S. President Joe Biden's trip to meet with Netanyahu—which was followed by a request that Congress give Israel $14.3 billion in military aid, on top of the $3.8 billion that the country already gets each year. "I and others defended Israel's right to respond with a campaign targeted at destroying Hamas."
"But the way that Israel has conducted that campaign matters and has been deeply disturbing for me and millions of others," the senator asserted, pointing to civilians in Gaza facing "the immediate possibility of starvation," hospitals operating without basic medical supplies, a lack of clean water that could spread diseases, and Israel's refusal to boost the flow of humanitarian aid.
Merkley also highlighted that "Israel has unleashed a bombing campaign on Gaza of phenomenal ferocity. Israel defends this campaign as necessary to strike Hamas wherever necessary. But the impression the world has been left with is one of indiscriminate bombing. Airstrikes have leveled much of Gaza City and hit crowded refugee camps, schools, hospitals, and even shelters operated by the United Nations."
"The result is mass carnage," he declared. "Too many civilians and too many children have died, and we must value each and every child equally whether they are Israeli or Palestinian. The war will damage Israel's economy with so many workers called to military duty. It also risks undoing the relationships with Arab neighbors won through the Abraham Accords, puts the negotiations for normalization with Saudi Arabia on ice, and could trigger a regional conflict with Hezbollah and other powers."
The senator previously called for humanitarian pauses, the position also held by the White House and various other senators. He wrote Monday that "after grimly witnessing accelerating body counts, many Americans, including thousands of Oregonians, have raised their voices to say more must be done to stop the carnage. I agree. So today I am calling for a cease-fire."
"The cease-fire requires an immediate cessation of military hostilities by both sides. But the cease-fire and the negotiations that follow must accomplish a number of objectives or it will not endure," he stressed. "Most importantly, the Israeli people and the Palestinian people must find leaders determined to partner with each other and the world to replace the cycle of hate and violence with both a long-term vision for security, peace and prosperity featuring two states for two peoples, and immediate, concrete steps toward that goal."
While individuals and groups who have spent weeks demanding a cease-fire—including with massive demonstrations around the world— celebrated Merkley's shift as proof that the pressure is working, he is still just the second of 100 senators.
"At this rate there won't be any Palestinians left in Gaza before enough U.S. senators screw up the courage to do the right thing and demand a cease-fire, and this after collectively embracing colonial Zionism and calling for its incessant support," University of California, Berkeley history professor Ussama Makdisi said on social media.
While many senators and representatives are under pressure from their constituents, a notable target is U.S. Sen. Bernie Sanders (I-Vt.), who has also faced calls from hundreds of former staffers from his presidential campaigns to demand a cease-fire.
Sanders, who briefly lived in Israel in the 1960s and has since said he is "proud to be Jewish" but "not actively involved in organized religion," has argued in recent weeks that "Israel has the right to go after Hamas" but must stop its "indiscriminate bombing."
In a statement on Saturday, Sanders reiterated his positions while also suggesting that Israel should have to meet certain conditions to receive any more U.S. military aid, including "a significant pause in military operations so that massive humanitarian assistance can come into the region" and "no long-term Israeli reoccupation or blockade of Gaza."

"The Netanyahu government, or hopefully a new Israeli government, must understand that not one penny will be coming to Israel from the U.S. unless there is a fundamental change in their military and political positions," the senator said.
News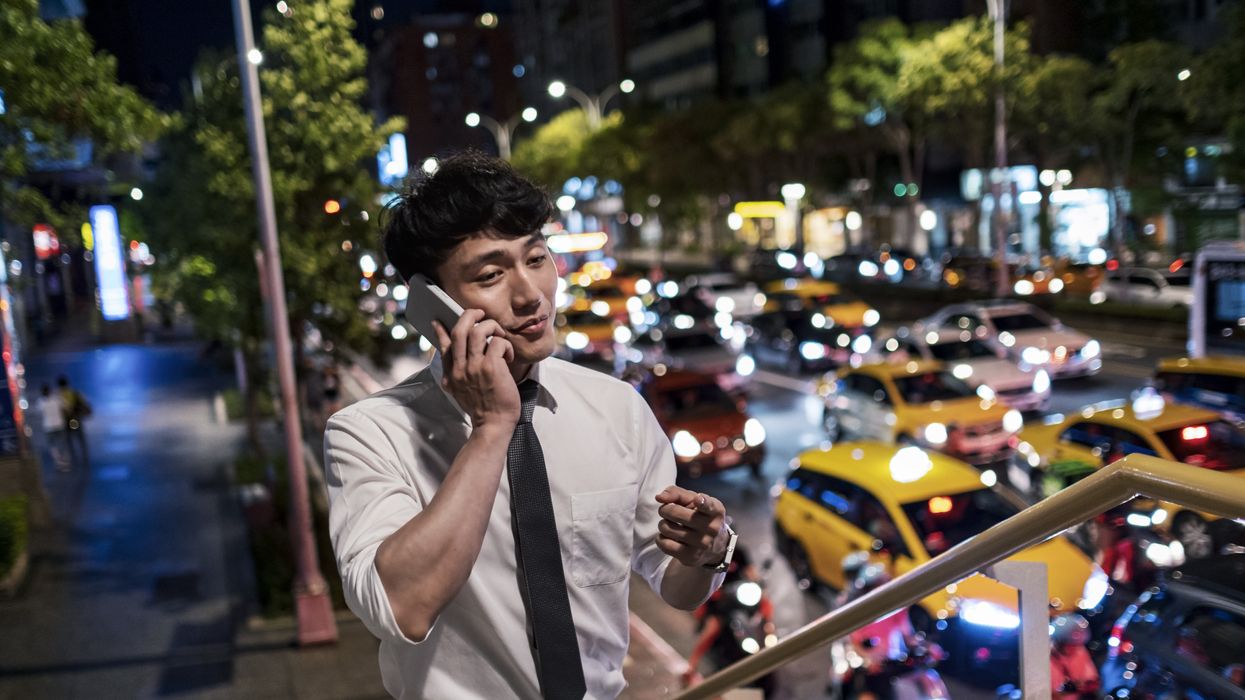 "These new details add up to a horrifying picture that proves the need for Congress to... enact comprehensive privacy protections for Americans before reauthorizing any spying powers," said one campaigner.
Privacy advocates on Monday renewed demands for swift congressional action on government surveillance in response to new WIRED reporting on a federally funded program through which law enforcement obtains phone records from AT&T.
"This is a long-running dragnet surveillance program in which the White House pays AT&T to provide all federal, state, local, and tribal law enforcement agencies the ability to request often-warrantless searches of trillions of domestic phone records," U.S. Sen. Ron Wyden (D-Ore.) wrote Sunday in a letter to Attorney General Merrick Garland, which WIRED obtained and published in full.
Wyden—a lead sponsor of the Government Surveillance Reform Act (GSRA), a bipartisan bill introduced earlier this month—shared some of what he has learned about the program and urged the U.S. Department of Justice (DOJ) to release information about it.
Now known as Data Analytical Services (DAS), the program was initially revealed to the public as the Hemisphere Project by The New York Times in 2013. Information collected includes caller and recipient names, phone numbers, and dates and times of calls.
Based on what officials told Wyden's staff, "all Hemisphere requests are sent to a single AT&T analyst located in Atlanta, Georgia, and... any law enforcement officer working for one of the federal, state, local, and tribal law enforcement agencies in the U.S. can contact the AT&T Hemisphere analyst directly to request they run a query, with varying authorization requirements," the letter says.

The letter also explains that "although the Hemisphere Project is paid for with federal funds, they are delivered to AT&T through an obscure grant program, enabling the program to skip an otherwise mandatory federal privacy review" by the DOJ.
Citing a document provided by the White House Office of National Drug Control Policy (ONDCP), Wyden noted that "White House funding for this program was suspended by the Obama administration in 2013, the same year the program was exposed by the press, but continued with other federal funding under a new generic sounding program name, 'Data Analytical Services.'"
"ONDCP funding for this surveillance program was quietly resumed by the Trump administration in 2017, paused again in 2021, the first year of the Biden administration, and then quietly restarted again in 2022," according to the senator.
"The public interest in an informed debate about government surveillance far outweighs the need to keep this information secret."
"I have serious concerns about the legality of this surveillance program, and the materials provided by the DOJ contain troubling information that would justifiably outrage many Americans and other members of Congress," he wrote, referencing materials the department gave his office. "While I have long defended the government's need to protect classified sources and methods, this surveillance program is not classified and its existence has already been acknowledged by the DOJ in federal court. The public interest in an informed debate about government surveillance far outweighs the need to keep this information secret."
WIRED pointed out that in addition to DAS not being subjected to a DOJ privacy review, "the White House is also exempt from the Freedom of Information Act, reducing the public's overall ability to shed light on the program."
While the White House "acknowledged an inquiry... but has yet to provide a comment," WIRED reported, AT&T spokesperson Kim Hart Jonson declined to comment, "saying only that the company is required by law to comply with a lawful subpoena."
"There is no law requiring AT&T to store decades' worth of Americans' call records for law enforcement purposes," the outlet highlighted. "Documents reviewed by WIRED show that AT&T officials have attended law enforcement conferences in Texas as recently as 2018 to train police officials on how best to utilize AT&T's voluntary, albeit revenue-generating, assistance."
Responding in a statement Monday, Demand Progress policy director Sean Vitka noted that the reporting comes as members of Congress are considering whether to reauthorize Section 702 of the Foreign Intelligence Surveillance Act (FISA), which allows warrantless surveillance targeting foreigners located outside the United States and will expire at the end of 2023.
"Hemisphere appears to be Exhibit A for mass domestic surveillance, the data broker loophole, and even parallel construction," said Vitka. "These new details add up to a horrifying picture that proves the need for Congress to close the data broker loophole and enact comprehensive privacy protections for Americans before reauthorizing any spying powers, most notably Section 702 of FISA. The fact that a White House office—one that is actively fighting FISA reform—restarted funding for Hemisphere in 2022, in spite of recent Supreme Court precedent, is scandalous."
Demand Progress is among the groups backing Wyden's recently unveiled legislation—which, as WIRED reported, would close various loopholes, "effectively rendering the DAS program, in its current form, explicitly illegal."
Elizabeth Goitein of the Brennan Center for Justice at New York University School of Law, which also endorsed the GSRA, said of the reporting: "This is exactly why Congress must pass comprehensive surveillance reform as a precondition for ANY reauthorization of FISA Section 702. The Government Surveillance Reform Act would put an end to the abuses revealed in this latest bombshell story."
Freedom of the Press Foundation also acknowledged current reauthoriztion battle, saying on social media Monday: "So the [government] used loopholes to secretly restart a mass domestic surveillance program, and some lawmakers also want to re-up FISA Section 702 without real reforms because we can 'trust' authorities not to abuse their power to go after journalists and others? No thanks."
News