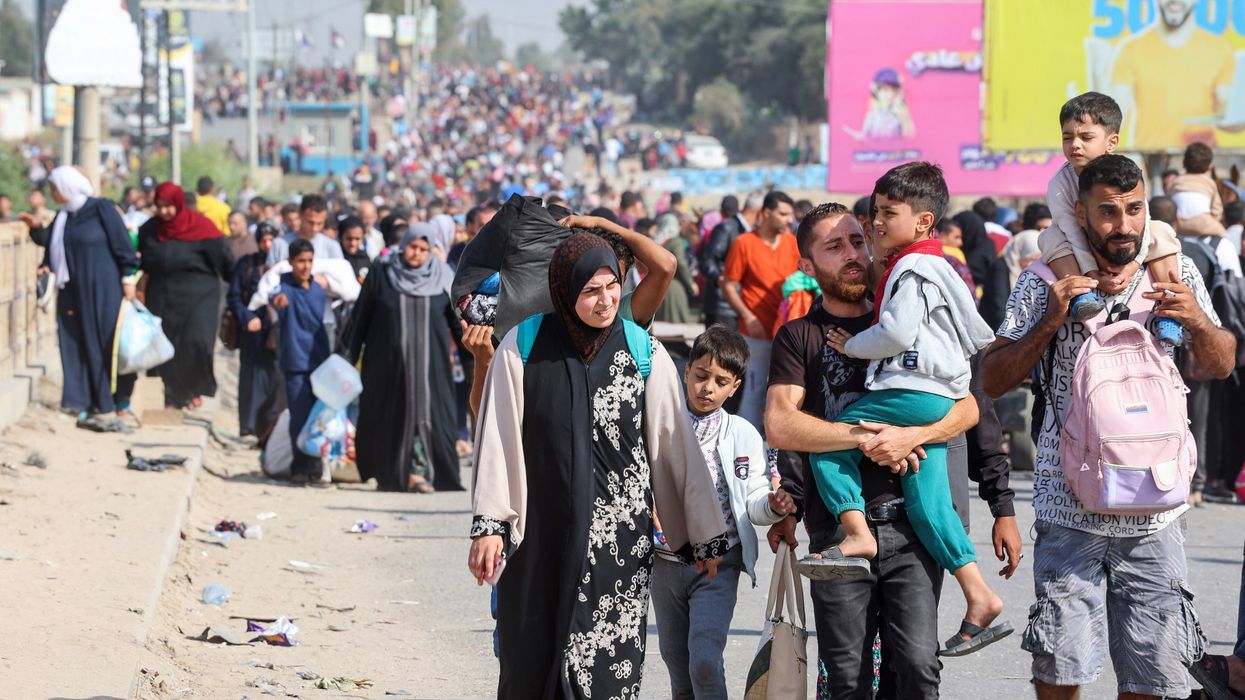 "Nowhere in Gaza is safe," lamented one Red Cross official.
After already displacing nearly 70% of Gaza's population, mostly from the northern part of the strip, Israeli forces on Wednesday ordered residents of the southern Gazan city of Khan Younis to evacuate, fueling fears of further escalation of a war in which nearly 40,000 Palestinians have been killed or injured.
Israel Defense Forces (IDF) personnel dropped leaflets reading, "To the residents of the eastern neighborhoods of Khan Younis, Al Qarara, Khuzaa, Bani Suheila, and Abasan, for your safety, you must evacuate your homes immediately and head to the known shelters."
Israeli Defense Minister Yoav Gallant explained Wednesday that the IDF invasion will "include both the north and south" of Gaza, while vowing to "strike Hamas wherever it is."
Jessica Moussan, spokeswoman for the International Committee of the Red Cross, toldThe National that the new evacuation orders "further endanger the lives of over a million people."
"These orders lack adequate provisions for basic necessities such as shelter, food, water, and medical care," she continued. "This significantly increases the risk to civilians."
"Today, civilians in Gaza face the stark reality of being trapped in a conflict zone with very limited humanitarian aid and safe spaces," Moussan added. "Nowhere in Gaza is safe."
Ahmed Bayram, a spokesperson for the humanitarian group Norwegian Refugee Council, told The National that the IDF order is "simply unrealistic, let alone unlawful."
"Our teams on the ground, many of them displaced in Khan Younis, tell us they and their extended families have nowhere to go," he said. "Israel, even after its original orders to move northern residents to the south, has persistently bombed areas it claimed to be safe."
"These are all places where people thought they would be safe. It turns out they were just as dangerous," Bayram added. "The tragedy is repeating itself here."
It is feared that Israel's new evacuation order will exacerbate the humanitarian crisis in Gaza—which some Israeli officials deny exists—with the World Health Organization in recent days warning of the swift spread of infectious diseases due to weakened people in overcrowded conditions characterized by a lack of basic health and sanitation supplies.
The United Nations Relief and Works Agency for Palestine Refugees in the Near East (UNRWA) said Wednesday that "nearly 813,000 internally displaced persons are now sheltering in 154 UNRWA installations across all five governorates of the Gaza Strip, including in the north."
The Gaza Health Ministry says that more than 11,200 Palestinians—two-thirds of them women and children—have been killed since October 7, when Hamas-led attacks on Israel killed around 1,200 Israeli and international civilians and soldiers and left another 240 as hostages. Gaza officials said more than 28,000 Palestinians have been injured and 2,700 others are missing.
As many as 1.7 million Gazans have been forcibly displaced, while half the homes in the besieged strip have been damaged or destroyed.
"In the north, hundreds of thousands of people who are unwilling or unable to move to the south remain amid intense hostilities," the United Nations Office for the Coordination of Humanitarian Affairs (OCHA) said Thursday. "They are struggling to secure the minimum amount of water and food for survival."
On Thursday, the U.N. Inter-Agency Standing Committee, the world body's top humanitarian coordination forum, rejected an Israeli proposal to push displaced Gazans into so-called "safe zones" in the south of the strip.
"We will not participate in the establishment of any 'safe zone' in Gaza that is set up without the agreement of all the parties, and unless fundamental conditions are in place to ensure safety and other essential needs are met and a mechanism is in place to supervise its implementation," IASC said in a statement.
"Under the prevalent conditions, proposals to unilaterally create 'safe zones' in Gaza risk creating harm for civilians, including large-scale loss of life, and must be rejected," the group continued. "Without the right conditions, concentrating civilians in such zones in the context of active hostilities can raise the risk of attack and additional harm."
"No 'safe zone' is truly safe when it is declared unilaterally or enforced by the presence of armed forces," IASC added.
News