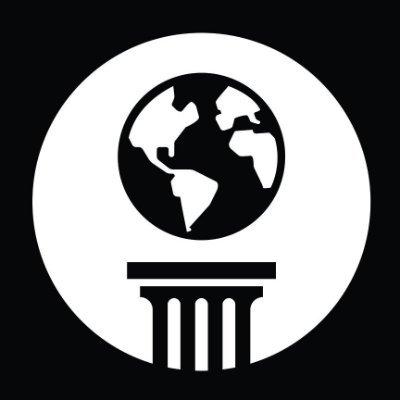 For Immediate Release
Contact:
Email:,info@earthjustice.org
Coalition Steps in to Defend Maui Residents from Pesticides and GE Contamination
Files to protect citizen-approved GE crop moratorium and impact study ordinance
Honolulu, HI
A coalition of Maui and Moloka`i residents, farmers, and public interest groups, represented by Center for Food Safety (CFS) and Earthjustice, has filed papers in Honolulu federal district court to defend the County of Maui's recently passed genetically engineered (GE) crop safety initiative from a legal challenge by multinational chemical companies. The ballot initiative prohibits the growth, testing or cultivation of GE crops in Maui County until an environmental and public health study can show that the planting operations are safe for the community. Over the past year, CFS and Earthjustice have similarly fought on behalf of local citizen groups to defend the GE crop and pesticides ordinances passed by Kaua`i and Hawai`i counties in 2013.
On November 13, just nine days after the Maui initiative passed, Monsanto, along with Dow-owned Agrigenetics and several industry-friendly groups, sued Maui County, seeking to have the moratorium thrown out. It also asked the court to temporarily delay the measure's effectiveness by issuing an injunction. Maui County immediately embraced the chance to block the will of its voters and agreed to an injunction until March 2015.
"Like the residents of Kaua`i county and Hawai`i counties before them, the people of Maui County decided they would no longer sit idly by as the State of Hawai`i becomes a poisoned paradise of intensive genetically engineered crop production and its intertwined pesticide spraying," said George Kimbrell, senior attorney for Center for Food Safety. "These chemical companies are again trying to trump the democratic process, and again, we stand by the communities and will vigorously defend the law."
The opposition to the initiative, almost exclusively backed by Monsanto and Dow, spent $7,970,686.12 on the race--$362.22 per vote earned--or $174.43 per total vote cast, on a barrage of television spots and other media.
Earthjustice managing attorney Paul Achitoff commented, "Maui County's betrayal of its own people by agreeing to delay the moratorium without a whimper of resistance proves it cannot be trusted to properly defend our clients' interests. The people of Maui, Moloka`i, and Lana`i have spoken, in the face of enormous industry pressure: They want the spraying and growing to stop until the impacts are properly studied. Since Maui County won't defend the law, we'll have to do its job and make the arguments in court."
Members of The Moms on a Mission (MOM) Hui commented: "Our mission statement is, 'What we love, we will protect!' We are seeking to uphold the law, which was voted in by the people of Maui County, for the health and safety of us all."
Presently, Hawai`i is used as an outdoor laboratory for companies like Monsanto to test genetically engineered crops and their related pesticides. In 2013 alone there were 1124 field test sites in Hawai`i; California only hosted 184 sites. Most of these crops are engineered to resist herbicides and produce their own pesticides. Testing and producing these crops means repeated spraying of dangerous chemicals near neighborhoods, schools, and waterways.
The coalition of groups asking to intervene includes The Mothers on a Mission (MOM) Hui, a group of mothers on Moloka`i, Maui and other islands concerned about the health of their families; Moloka`i Mahi`ai, a hui of Moloka`i-based farmers, and Maui farmer Gerry Ross, concerned about the impacts of chemical-based industrial agriculture on their livelihoods and on their island community; and CFS, the leading national group advocating for responsible regulation of genetic engineering and pesticides.
Earthjustice is a non-profit public interest law firm dedicated to protecting the magnificent places, natural resources, and wildlife of this earth, and to defending the right of all people to a healthy environment. We bring about far-reaching change by enforcing and strengthening environmental laws on behalf of hundreds of organizations, coalitions and communities.
800-584-6460
LATEST NEWS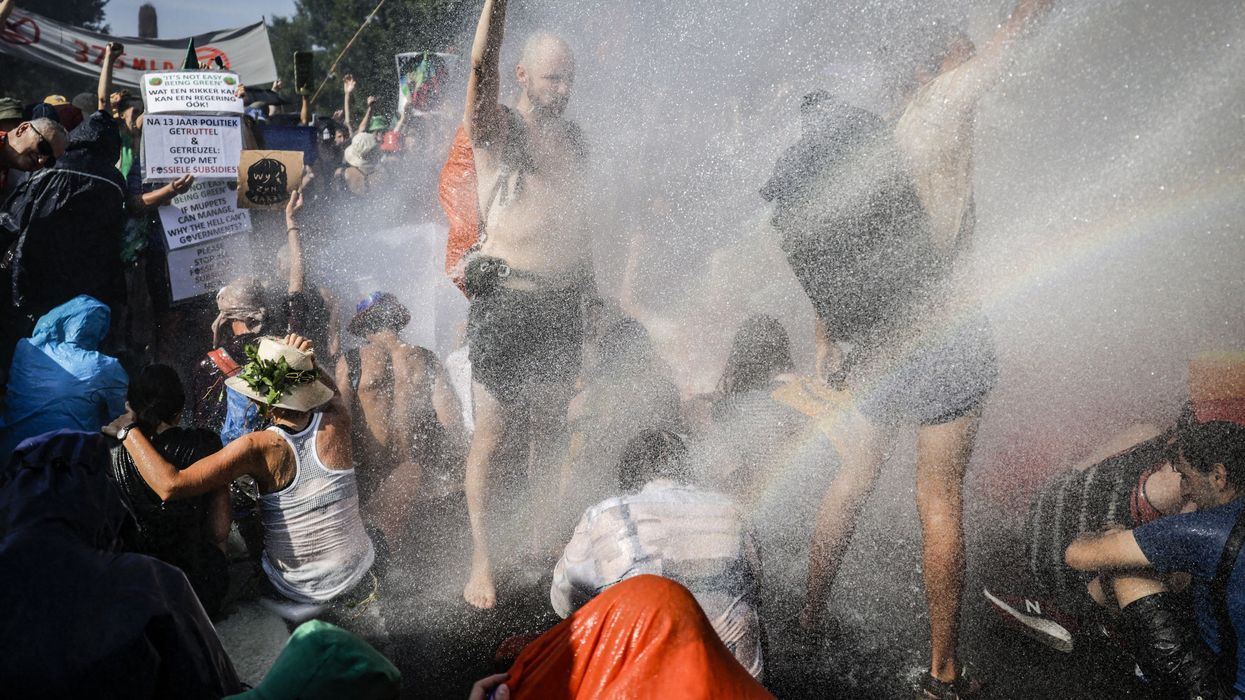 "While the world is going up in flames, the government continues to add fuel to the fire by propping up the biggest source of the climate crisis, fossil fuels, with billions in subsidies."
Climate campaigners calling for an end to fossil fuel subsidies were fired upon with water cannons and physically abused Saturday near The Hague in the Netherlands as the global movement demanding an end to the dominance of the coal, oil, and gas industry continues to call on world leaders to act.
Members of Extinction Rebellion spearheaded the direct action on the A12 Utrechtsebaan highway near the center of the Dutch government. With an estimated 10,000 participants overall, the jovial protesters sat down in the road, bringing traffic to a standstill as they chanted, "The seas are rising and so are we!" even as police vehicles sprayed them with water at high velocity.
The Associated Press reported that the protesters vowed to stay until the Netherlands ends public subsidies for the fossil fuel industry or, if removed by police, to return each day until the financial support is suspended.
"This is much larger than any one of us," one participant, Yolanda de Jager, told the AP. "This concerns the whole world."
Dutch police carted some protesters off in carts while others were beaten with batons or dragged off the roadway:
Earlier this week, a new report detailed how the Dutch government spends nearly $38 billion in taxpayer funds each year to support fossil fuels. The authors of the peer-reviewed report—a joint research effort by SOMO, Oil Change International, and Milieudefensie—argued that such subsidies should be eliminated by 2025 in order to help the nation meet its emission reductions goals and also help fund the necessary transition to renewable energy.
"Phasing out fossil subsidies kills two birds with one stone: it reduces fossil fuel emissions and raises additional revenue needed to accelerate a social and equitable transition," said Audrey Gaughran, director of SOMO, also known as the Centre for Research on Multinational Corporations.
OCI director Elizabeth Bast said, "The Netherlands has taken the international stage to promise an end to fossil fuel subsidies multiple times already, but it is failing to live up to its promise."
"While the world is going up in flames, the government continues to add fuel to the fire by propping up the biggest source of the climate crisis, fossil fuels, with billions in subsidies," she added. "With an urgent and fair phase-out plan the Netherlands can deliver on longstanding promises and take the lead within the EU and internationally to ensure other countries follow through."

News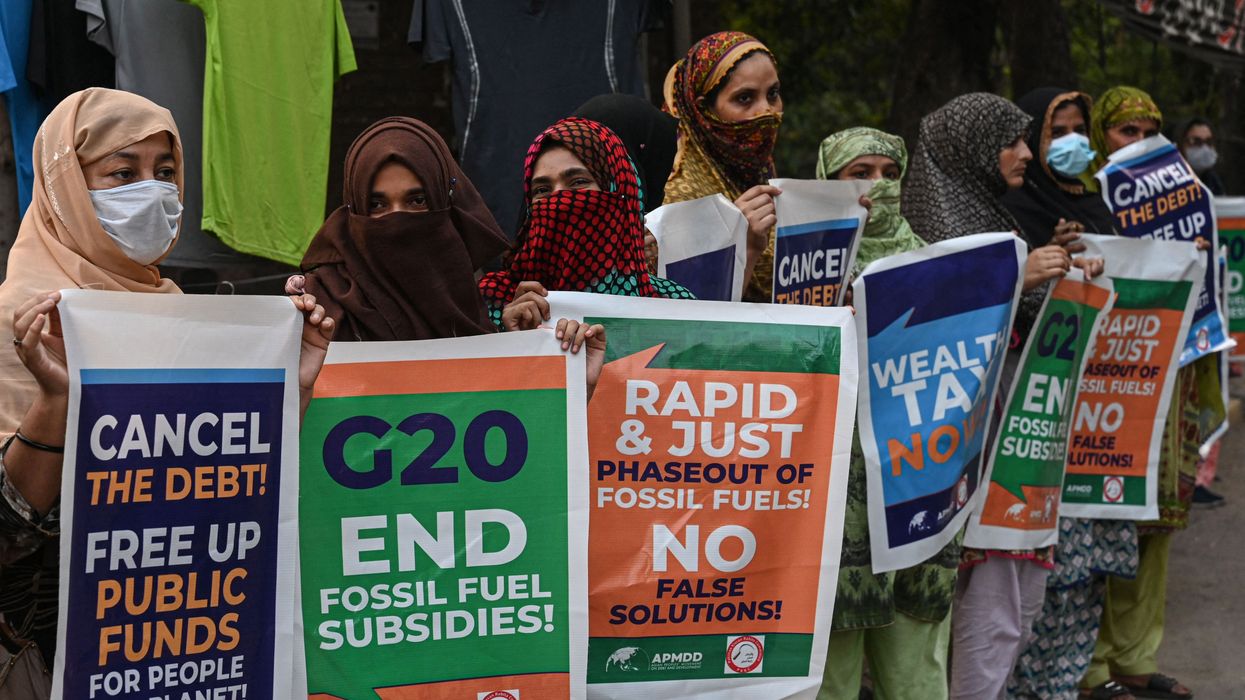 "Fossil fuels are killing us, and the G20's reckless failure to act will be measured in further lives and livelihoods lost," said one campaigner who noted the refusal by rich nations to pledge a phaseout of oil, coal, and gas.
Climate groups cried foul Saturday after an agreement generated at the G20 summit in New Delhi, India failed to see the world's wealthiest bloc of nations make anywhere near the kind of climate commitments—namely an agreement to phase out fossil fuels—required to address the planetary emergency fueled by greenhouse gas emissions.

Greenpeace described the lackluster pledge, which came in the form of a joint G20 communique, as an "incomprehensible failure" in the face of a runaway climate crisis that continues to wreak havoc, death, grave injustice, and economic disaster for working people across the globe.
"Despite record-shattering temperatures, raging wildfires, drought, floods and other climate disasters over recent months impacting tens of millions of people, G20 leaders have collectively failed to deliver anything meaningful on climate change this year," said Tracy Carty, a global climate politics expert for Greenpeace International.
"Fossil fuels are killing us, and the G20's reckless failure to act will be measured in further lives and livelihoods lost," Carty added. "Leaders failed to reach agreement on the phaseout of coal, oil and gas. They also made a timid commitment to triple renewables, but only through 'existing targets and policies.'"
Alex Rafalowicz, director of the Fossil Fuel Non-Proliferation Treaty initiative, also expressed dismay with the lack of ambition shown by the G20 leaders.
"World leaders, particularly rich countries, need to rise to the occasion and fulfill their fair share of responsibilities in the fight against the climate crisis. Anything less would be an affront to both humanity and our planet."
"Continued dependence on fossil fuels remains a primary driver of climate change, carrying dire and irrevocable consequences for ecosystems, communities, and the global economy," Rafalowicz said in a statement on Saturday.
The failure by the richest nations in the world "to come up with anything substantial on fossil fuel phaseout is unacceptable," he said. "World leaders, particularly rich countries, need to rise to the occasion and fulfill their fair share of responsibilities in the fight against the climate crisis. Anything less would be an affront to both humanity and our planet."
The G20 summit in India comes ahead of one-day United Nations climate summit that kicks off in New York City next week and a meeting of the UN General Assembly. While a major protest march by hundreds of climate-focused groups is planned for Sept. 17, the global movement calling for a just energy transition has seen few signs of hope as increasingly severe extreme weather events and dire warnings from the scientific community continue in the face of rising emissions.
UN Secretary General António Guterres, who is hosting what he's dubbed the "Climate Ambition Summit" in New York, suggested his disappointment with the G20's limited statement.
"Half-measures will not prevent full climate breakdown," Guterres said Saturday afternoon. "Today I urged the G20 to demonstrate far more ambition on reducing emissions and supporting climate justice. We have one planet. Let's save it."
While some applauded the G20 for the vow to ramp up renewables by the end of the decade, critical experts said an increase in green energy is simply not enough if fossil fuel companies are allowed to continue to extract and burn oil, gas, and coal.
"The G20's commitment to triple renewable energy is a historic step—a glimmer of hope in our battle against climate chaos," said Andreas Sieber, associate director of global policy at 350.org, but added that it was still not time to celebrate.
"We must hold them accountable, demand they phase out fossil fuels, and lead with urgency," Sieber added. "In particular, rich nations who bear the most responsibility for climate change must provide the finance required to achieve a tripling of renewable energy capacity globally by 2030."

Avinash Chanchal, campaign manager at Greenpeace India, said the lack of concrete financing commitments from the rich nations makes such lofty goals around renewables hard to stomach, especially as these top polluting countries remain responsible for 80% of global emissions.
According to Chanchal, "G20 developed countries have utterly failed to take concrete steps to increase international financial support for climate action. Existing promises such as providing USD100BN per year until 2025 in climate finance remain unfulfilled, and merely reiterating these promises in the G20 declaration is useless and will not lead to tangible change."

News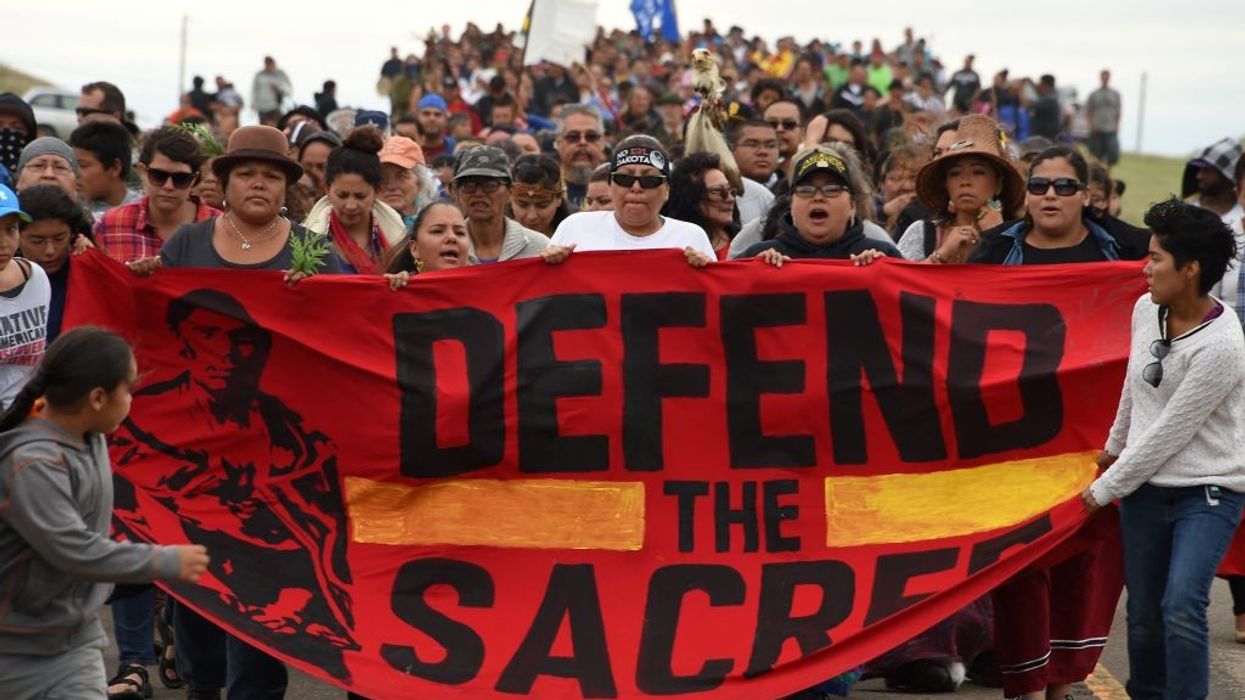 "The Corps' covering for the pipeline company's outrageous safety record and the reviewer's serious conflict of interest have now resulted in a failed effort," said Standing Rock Sioux Tribe Chairwoman Janet Alkire. "They need to start over with adult supervision."
Standing Rock Sioux Tribe Chairwoman Janet Alkire is leading a fresh demand that the U.S. Army Corps of Engineers throw out an ongoing environmental review process of the controversial Dakota Access Pipeline and start again from scratch alongside a superseding call for the pipeline to be shuttered completely.
Following Friday's release of a revised Environmental Impact Statement (EIS), ordered by a federal court, the tribe said the document reveals the entire process has been a failure and that the pipeline—currently operating across their land without consent in what they consider an "illegal" manner by the Energy Transfer company—should be shut down once and for all.
"We're furious that the Army Corps has addressed none of our major concerns during the review process," Chairwoman Alkire said in a statement.
"The pipeline is an imminent threat to the Missouri River, sensitive habitat, and sacred burial sites along the riverbank," she continued. "The oil company's emergency response plans are inadequate, its safety track record is horrendous, and there's been a stunning lack of transparency with Standing Rock throughout the environmental review process, including inaccurate characterizations of tribal consultation."
The Army Corps did not make any recommendations or indicate preferences among the alternatives presented in the new EIS report, which included keeping it in operation, possible rerouting, removing the pipeline by excavation, or abandoning it in place. The Corps said its final recommendations will accompany a final report once the review process is complete, but the Standing Rock Sioux said the process has been seriously flawed.
The tribe said the draft EIS fails to "account for the existence of criminal charges and a host of fines and serious citations" from regulators faced by Energy Transfer. Alkire accused the Corps of "doing all it can to ignore the company's poor safety record and the high risk" of the pipeline. According to the statement by the tribe:
the entirety of the environmental review process hasn't been taken seriously and is compromised because the Corps selected a company with a clear conflict of interest to prepare the just-released draft EIS. Environmental Resources Management — which also produced a sparkling environmental review for the Keystone XL pipeline, later shelved due to environmental concerns — is a member of the American Petroleum Institute. That organization previously filed a legal brief in support of DAPL in Standing Rock's suit against the Army Corps.
Moreover, Environmental Resources Management has contracted with at least five separate companies with an ownership interest in DAPL.

The release of the EIS triggers a 45-day public comment period and the Standing Rock Sioux Tribe is now requesting public support in opposition of the project.
"The Corps' covering for the pipeline company's outrageous safety record and the reviewer's serious conflict of interest have now resulted in a failed effort," said Alkire of the current process. "They need to start over with adult supervision."
Amy Mall, senior advocate at NRDC, said her group stands "in solidarity with the Standing Rock Sioux Tribe in opposing this dirty and dangerous pipeline that harms the climate and threatens the primary water source for the Tribe."
"The Army Corps must consider all of the risks of this pipeline, make all significant environmental information available without redactions, and honor the Tribe's treaty rights," Mall added. "We call on the Corps to shut it down."
News
Independent, nonprofit journalism needs your help.
Please Pitch In
Today!