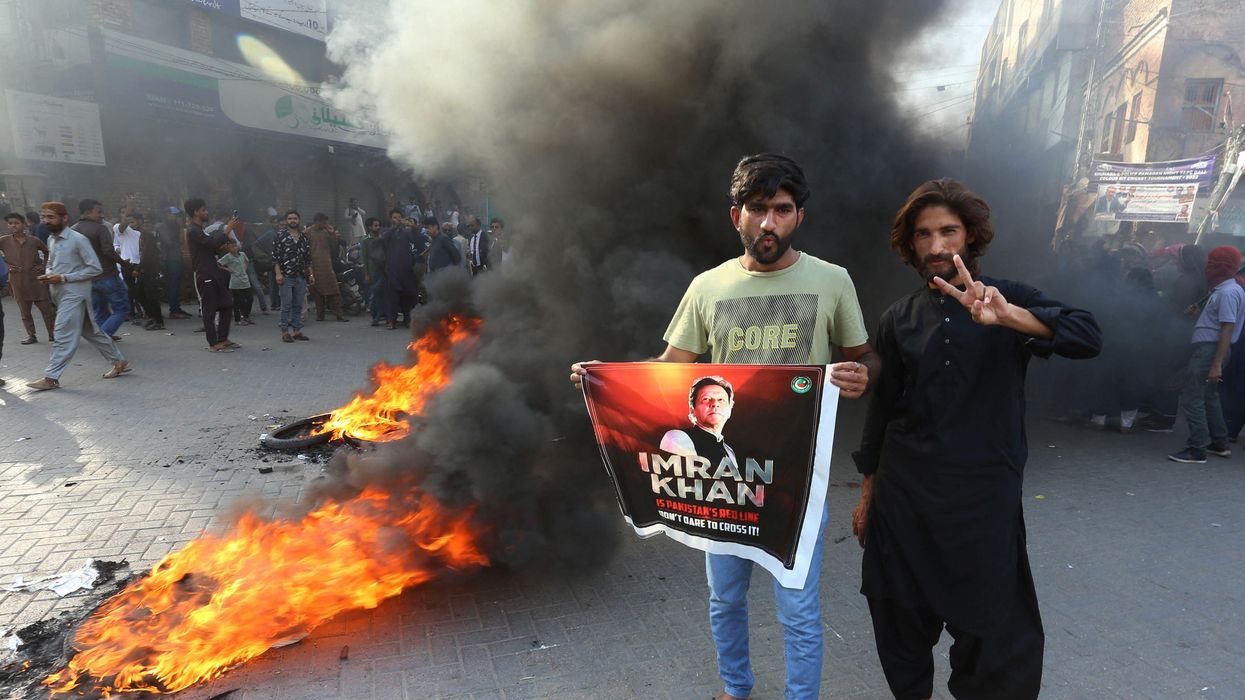 "If you want to send me to jail, I am prepared for it," said the embattled politician just hour before he was taken into custody under heavy guard.
Supporters of Imran Khan took to the streets of Pakistan nationwide in angry protest Tuesday after the former Prime Minister was arrested on corruption and embezzlement charges—allegations the champion cricketer turned progressive politician has denied and says are politically motivated.
The protests erupted in various cities—including Karachi, Islamabad, Peshawar, and Lahore—clashed with police who used water cannons and tear gas in an effort to control the crowds.

In Islamabad for a scheduled court appearance over the allegations, Khan was taken into custody upon his arrival. Video footage showed him being taken away by a throng of police in riot gear and placed into an armored vehicle.
Imran Khan Arrested in Islamabadwww.youtube.com
According to the Washington Post:
Khan's arrest comes after days of mounting public dispute between the former prime minister, who was ousted from his office last year, the current government, and the country's powerful military. Khan had recently accused a senior officer of having been part of an assassination attempt against him last year, which he narrowly survived.

The former prime minister's party said there were political motives behind the arrest linked to the current government under Prime Minister Shehbaz Sharif. Khan's supporters say the government is acting undemocratically, having repeatedly sought to delay key regional votes this year after Khan performed above expectations in by-elections last October.
Pakistan's Interior Minister Rana Sanaullah told reporters that Khan's arrest was "in accordance with the law" and ordered by National Accountability Bureau (NAB). "NAB is an independent institution and we have never tried to control it," Sanaullah explained.
In a video message filmed hours ahead of his arrival in Islamabad—and released by his Pakistan Tehreek-e-Insaf (PTI) party just prior to his arrest—Khan said he was prepared for whatever came next.
\u201c\u0622\u0626\u06cc \u0627\u06cc\u0633 \u067e\u06cc \u0622\u0631 \u06a9\u0648 \u0645\u06cc\u0631\u0627 \u062c\u0648\u0627\u0628 \u0627\u0648\u0631 \u0648\u06c1 \u062f\u0648 \u0628\u0646\u06cc\u0627\u062f\u06cc \u0648\u062c\u0648\u06c1\u0627\u062a \u062c\u0646 \u06a9\u06cc \u0628\u0646\u06cc\u0627\u062f \u067e\u0631 \u067e\u06cc \u0688\u06cc \u0627\u06cc\u0645 \u0627\u0648\u0631 \u0627\u0633 \u06a9\u06d2 \u0633\u0631\u067e\u0631\u0633\u062a \u0645\u062c\u06be\u06d2 \u06af\u0631\u0641\u062a\u0627\u0631 \u06a9\u0631\u0646\u06d2 \u06a9\u06cc \u06a9\u0648\u0634\u0634\u0648\u06ba \u0645\u06cc\u06ba \u0644\u06af\u06d2 \u06c1\u0648\u0626\u06d2 \u06c1\u06cc\u06ba: \n\u06f1\u06d4 \u0645\u062c\u06be\u06d2 \u0627\u0646\u062a\u062e\u0627\u0628\u06cc \u0645\u06c1\u0645 \u0686\u0644\u0627\u0646\u06d2 \u0633\u06d2 \u0631\u0648\u06a9\u0646\u06d2 \u06a9\u06cc\u0644\u0626\u06d2 \u06a9\u06cc\u0648\u0646\u06a9\u06c1 \u0627\u0646\u0634\u0627\u0621\u0627\u0644\u0644\u06c1 \u062c\u0628 \u0627\u0646\u062a\u062e\u0627\u0628\u0627\u062a \u06a9\u0627 \u0627\u0639\u0644\u0627\u0646 \u06c1\u0648\u06af\u0627 \u062a\u0648 \u0645\u06cc\u06ba \u062c\u0644\u0633\u06d2 \u0645\u0646\u0639\u0642\u062f \u06a9\u0631\u0648\u06ba \u06af\u0627\u06d4 \n\u06f2- \u067e\u06cc \u0688\u06cc \u0627\u06cc\u0645 \u062d\u06a9\u0648\u0645\u062a \u0627\u0648\u0631 \u0627\u0633 \u06a9\u06d2\u2026\u201d

— Imran Khan (@Imran Khan) 1683616655
Speaking in Urdu, Khan said the reasons behind his potential arrest were twofold. "One," he said, "to stop me from campaigning" when new elections are announced. And two, he added, "to restrain me from mobilizing the people for a vigorous mass movement in support of the Constitution," which he says has been violated by his political opponents and the ruling government.

"Come to me with warrants, my lawyers will be there," Kahn says in the video. "If you want to send me to jail, I am prepared for it."
News