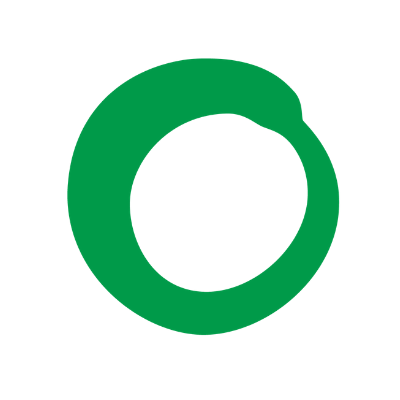 For Immediate Release
Contact:
Steve Mashuda, Earthjustice, 206.343.7340, ext.1027
Hawk Rosales, InterTribal Sinkyone Wilderness Council, 707.489.3640
Miyoko Sakashita, Center for Biological Diversity, 415.632.5308
Marcie Keever/Fred Felleman, Friends of the Earth, 510.900.3144/206.595.3825
Kyle Loring, Friends of the San Juans, 360.378.2319
Jessica Lass, NRDC, 415.875.6143
Court Rules that Federal Agency Failed to Protect Thousands of Whales and Dolphins from Navy Sonar
EUREKA, Calif.
A federal court has ruled that National Marine Fisheries Service failed to protect thousands of whales, dolphins, porpoises, seals, and sea lions from U.S. Navy warfare training exercises along the coasts of California, Oregon and Washington.
In an opinion released late Wednesday, Magistrate Judge Nandor Vadas, U.S. District Court for the District of Northern California, found that NMFS's approval of the Navy's training activities in its Northwest Training Range Complex failed to use the best available science to assess the extent and duration of impacts to whales and other marine mammals. The decision requires the federal agency to reassess its permits to ensure that the Navy's training activities comply with protective measures in the Endangered Species Act.
"This is a victory for dozens of protected species of marine mammals, including critically endangered Southern Resident orcas, blue whales, humpback whales, dolphins and porpoises," said Steve Mashuda, an Earthjustice attorney representing a coalition of conservation and Northern California Indian Tribes. "NMFS must now employ the best science and require the Navy to take reasonable and effective actions to avoid and minimize harm from its training activities."
The Navy uses a vast area of the West Coast, stretching from Northern California to the Canadian border, for training. Activities include anti-submarine warfare exercises involving tracking aircraft and sonar; surface-to-air gunnery and missile exercises; air-to-surface bombing exercises; and extensive testing for several new weapons systems.
In 2010 and 2012, NMFS authorized the Navy to harm or "take" marine mammals and other sea life through 2015. The permits allow the Navy to conduct increased training exercises that can harm marine mammals and disrupt their migration, nursing, breeding, or feeding, primarily as a result of harassment through exposure to the use of sonar.
New science from 2010 and 2011 shows that whales and other marine mammals are far more sensitive to sonar and other noise than previously thought. In permitting the Navy's activities, NMFS ignored this new information. The court found that the agency violated its legal duty to use this "best available data" when evaluating impacts to endangered whales and other marine life.
The Court also rejected the agency's decision to limit its review to only a five-year period when the Navy has been clear that its training activities will continue indefinitely. The Court held that NMFS's limited review "ignores the realities of the Navy's acknowledged long-term, ongoing activities in the [Northwest Training Range]," because "a series of short-term analyses can mask the long-term impact of an agency action. ... [T]he segmented analysis is inadequate to address long-term effects of the Navy's acknowledged continuing activities in the area."
"This is an important win for the environment and for the tribes' traditional, cultural and subsistence ways in their ancestral coastal territories," said Hawk Rosales, executive director of the InterTribal Sinkyone Wilderness Council. "Marine mammals now stand a better chance of being protected from the Navy's war testing and training off our coastline."
According to the ruling, NMFS must now reassess the permits using the latest science, which could trigger a requirement that the Navy do more to protect whales and dolphins in its ongoing training exercises.
"The Navy's Northwest Training Range is the size of the state of California, yet not one square inch was off-limits to the most harmful aspects of naval testing and training activities," said Zak Smith, staff attorney for NRDC. "NMFS relied on faulty science when approving the Navy's permits and thousands of marine mammals suffered the consequences."
"Today's ruling gives whales and other marine mammals a fighting chance against the Navy," said Miyoko Sakashita, oceans director at the Center for Biological Diversity. "This ruling means that the Navy must take greater precautions to protect marine life."
The Navy's mid-frequency sonar has been implicated in mass strandings of marine mammals in, among other places, the Bahamas, Greece, the Canary Islands, and Spain. In 2004, during war games near Hawai'i, the Navy's sonar was implicated in a mass stranding of up to 200 melon-headed whales in Hanalei Bay. In 2003, the USS Shoup, operating in Washington's Haro Strait, exposed a group of endangered Southern Resident killer whales to mid-frequency sonar, causing the animals to stop feeding and attempt to flee the sound. Even when sonar use does not result in these or other kinds of physical injury, it can disrupt feeding, migration and breeding or drive whales from areas vital to their survival.
"In 2003, NMFS learned firsthand the harmful impacts of Navy sonar in Washington waters when active sonar blasts distressed members of J pod, one of our resident pods of endangered orcas," said Kyle Loring, Staff Attorney for Friends of the San Juans. "The use of deafening noises just does not belong in sensitive areas or marine sanctuaries where whales and dolphins use their acute hearing to feed, navigate, and raise their young."
Marcie Keever, Oceans & Vessels program director at Friends of the Earth, added, "Recent research confirms that the 82 remaining endangered Southern Resident orcas use coastal waters within the Navy's training range to find salmon during the critical fall and winter months. NMFS must do more to assure that the Navy is not pushing these critically endangered orcas and other endangered marine mammals even closer to extinction."
Earthjustice represents the InterTribal Sinkyone Wilderness Council, Center for Biological Diversity, Friends of the Earth and Friends of the San Juans and has partnered with the Natural Resources Defense Council in the lawsuit.
Friends of the Earth fights for a more healthy and just world. Together we speak truth to power and expose those who endanger the health of people and the planet for corporate profit. We organize to build long-term political power and campaign to change the rules of our economic and political systems that create injustice and destroy nature.
(202) 783-7400
LATEST NEWS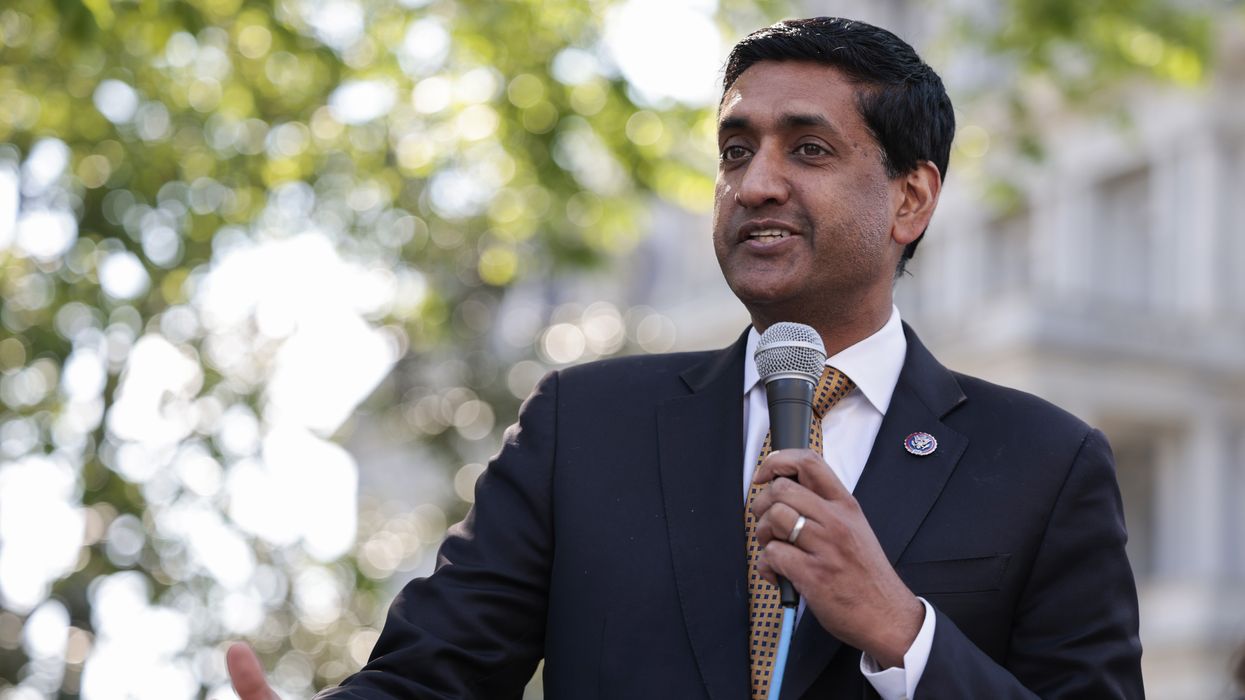 "I know Barbara will not only fight for, but will deliver on our progressive priorities that are long overdue like Medicare for All, a Green New Deal, and ending the filibuster," said the Democratic congressman.
Congressman Ro Khanna announced on CNN Sunday that he will not run for U.S. Senate and is endorsing fellow California Democrat Rep. Barbara Lee in the closely watched 2024 race for retiring Sen. Dianne Feinstein's seat.
"I have concluded that despite a lot of enthusiasm from Bernie folks, the best place, the most exciting place, action place, fit place, for me to serve as a progressive is in the House of Representatives," said Khanna, who co-chaired the 2020 presidential campaign of Sen. Bernie Sanders (I-Vt.).
"And I'm honored to be co-chairing Barbara Lee's campaign for the Senate and endorsing her today. We need a strong anti-war senator and she will play that role," the congressman told CNN's Jake Tapper on "State of the Union."
In a statement, Khanna stressed that "Barbara is the progressive leader Californians need right now, and her solid record as one of Congress' most outspoken champions of justice speaks for itself."
"I know Barbara will not only fight for, but will deliver on our progressive priorities that are long overdue like Medicare for All, a Green New Deal, and ending the filibuster," he continued. "There's a reason she's beloved by Gen Z. Because Barbara understands the issues facing young people today and knows it is our responsibility to protect our rights, our democracy, and the planet for the next generation."
"What's more, I believe that representation matters. And for far too long, our country's institutions have failed to reflect that reality," added Khanna, noting that there is not currently a Black woman serving as a Democratic senator.
So far, Lee's opponents are two other Democrats representing California in the U.S. House of Representatives: Katie Porter and Adam Schiff. Feinstein, who is 89, confirmed her long-anticipated retirement plans last month.

News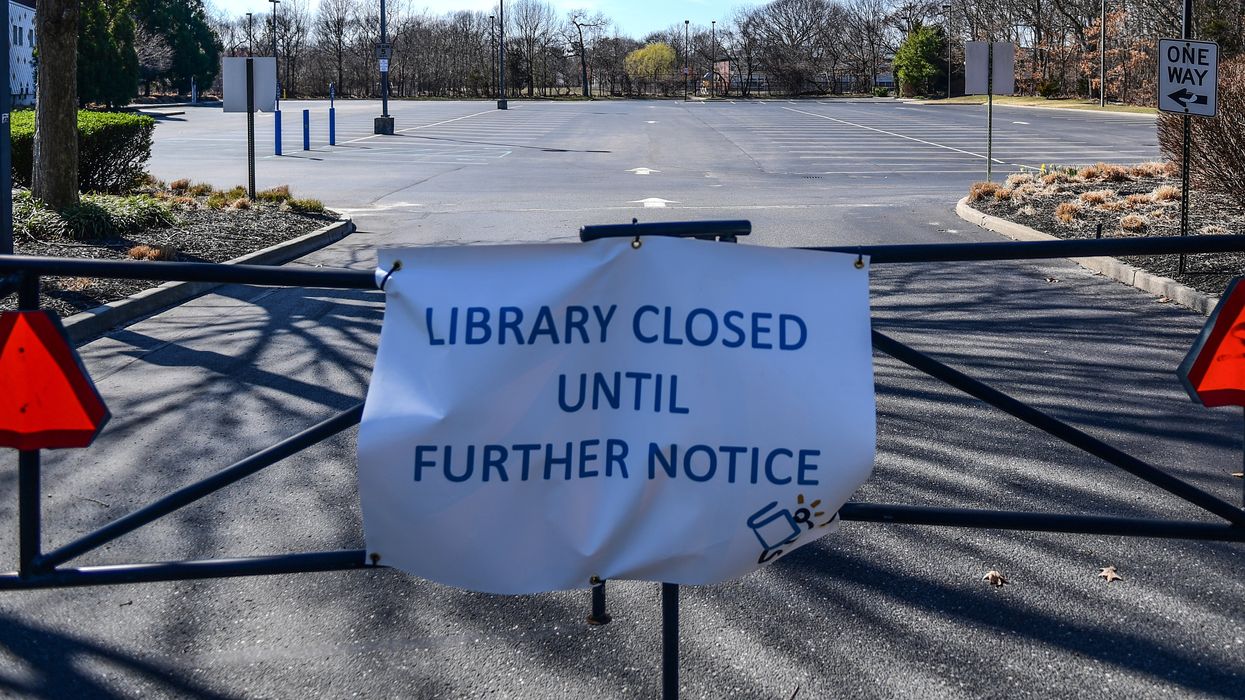 "For democracy to thrive at global scale, libraries must be able to sustain their historic role in society—owning, preserving, and lending books," said Internet Archive founder Brewster Kahle. "This ruling is a blow for libraries, readers, and authors."
Internet Archive vowed to appeal after a U.S. district court judge on Friday sided with four major publishers who sued the nonprofit for copyright infringement.
Prior to the Covid-19 pandemic, Internet Archives operated a controlled digital lending system, allowing users to digitally check out scanned copies of purchased or donated books on a one-to-one basis. As the public health crises forced school and library closures, the nonprofit launched the National Emergency Library, making 1.4 million digital books available without waitlists.
Hachette, HarperCollins, John Wiley & Sons, and Penguin Random House sued Internet Archive over its lending policies in June 2020. Judge John G. Koeltl of the Southern District of New York on Friday found in Hachette v. Internet Archive that the nonprofit "creates derivative e-books that, when lent to the public, compete with those authorized by the publishers."
A future in which libraries are just a shell for Big Tech's licensing software and Big Media's most popular titles would be awful—but that's where we're headed if this decision stands.
Internet Archive "argues that its digital lending makes it easier for patrons who live far from physical libraries to access books and that it supports research, scholarship, and cultural participation by making books widely accessible on the Internet," the judge wrote. "But these alleged benefits cannot outweigh the market harm to the publishers."

In a statement responding to the ruling, Internet Archive founder Brewster Kahle pledged to keep fighting against the publishers.
"Libraries are more than the customer service departments for corporate database products. For democracy to thrive at global scale, libraries must be able to sustain their historic role in society—owning, preserving, and lending books," Kahle said. "This ruling is a blow for libraries, readers, and authors and we plan to appeal it."
Internet Archive's supporters have shared similar warnings throughout the ongoing court battle, including after the ruling Friday.
"In a chilling ruling, a lower court judge in New York has completely disregarded the traditional rights of libraries to own and preserve books in favor of maximizing the profits of Big Media conglomerates," declared Lia Holland, campaigns and communications director at the digital rights group Fight for the Future.
"We applaud the Internet Archive's appeal announcement, as well as their steadfast commitment to preserving the rights of all libraries and their patrons in the digital age," they said. "And our admiration is shared—over 14,000 people having signed our pledge to defend libraries' digital rights at BattleForLibraries.com this week alone."
Holland continued:
From a basic human rights perspective, it is patently absurd to equate an e-book license issued through a surveillance-ridden Big Tech company with a digital book file that is owned and preserved by a privacy-defending nonprofit library. Currently, publishers offer no option for libraries to own and preserve digital books—leaving digital books vulnerable to unauthorized edits, censorship, or downright erasure, and leaving library patrons vulnerable to surveillance and punishment for what they read.

In a world where libraries cannot own, preserve, or control the digital books in their collections, only the most popular, bestselling authors stand to benefit—at the expense of the vast majority of authors, whose books are preserved and purchased by libraries well after publishers have stopped promoting them. Further, today a disproportionate number of traditionally marginalized and local voices are being published in digital-only format, redoubling the need for a robust regime of library preservation to ensure that these stories survive for generations to come.

A future in which libraries are just a shell for Big Tech's licensing software and Big Media's most popular titles would be awful—but that's where we're headed if this decision stands. No book-lover who wants an equitable and trustworthy written world could find such a future desirable. Accordingly, we plan to organize an in-person action to demand robust ownership and preservation standards for digital books and libraries. For updates on when and where, check BattleForLibraries.com.
More than 300 authors last September signed an open letter led by Fight for the Future calling out publishers and trade associations for their actions against digital libraries, including the lawsuit targeting Internet Archive.
"Libraries saved my life as a young reader, and I've seen them do as much and more for so many others," said signatory Jeff Sharlet. "At a time when libraries are at the frontlines of fascism's assault on democracy, it is of greater importance than ever for writers to stand in solidarity with librarians in defense of the right to share stories. Democracy won't survive without it."
Fellow signatory Erin Taylor asserted that "the Internet Archive is a public good. Libraries are a public good. Only the most intellectually deprived soul would value profit over mass access to literature and knowledge."
Koeltl's ruling came just two days after the American Library Association released a report revealing that in 2022, a record-breaking 2,571 titles were challenged by pro-censorship groups pushing book bans, a 38% increase from the previous year.
Meanwhile, Republicans in the U.S. House of Representatives on Friday passed the so-called Parents Bill of Rights Act, which education advocates and progressive lawmakers argue is intended to ban books and further ostracize marginalized communities.

News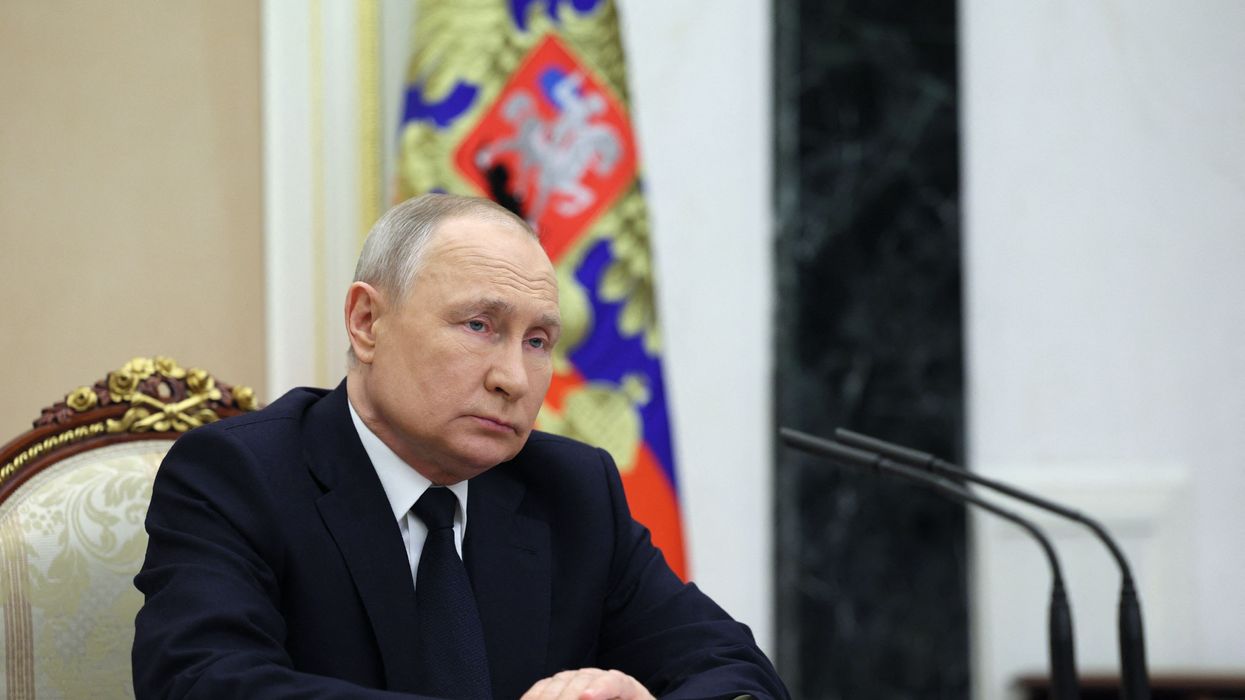 "Putin's nuclear provocations are dangerous and unacceptable. U.S. and NATO must resist calls to respond in kind and avoid injecting nuclear weapons deeper into this war," said Global Zero's Derek Johnson.

Russian President Vladimir Putin announced on state television Saturday plans to station tactical nuclear weapons in Belarus—an escalation anti-war campaigners had been warning about and that alarmed disarmament advocates and experts.
The International Campaign to Abolish Nuclear Weapons (ICAN) "condemns this extremely dangerous escalation which makes the use of nuclear weapons more likely," the group declared in a series of tweets.
"In the context of the war in Ukraine, the likelihood of miscalculation or misinterpretation is extremely high," ICAN added. "Sharing nuclear weapons makes the situation much worse and risks catastrophic humanitarian consequences."
"Sharing nuclear weapons makes the situation much worse and risks catastrophic humanitarian consequences."
The deployment decision comes 13 months into Russia's invasion of Ukraine and after the United Kingdom this week revealed plans to provide the invaded nation with armor-piercing rounds containing depleted uranium (DU).
Putin said the U.K.'s announcement "probably served as a reason" why Belarusian President Alexander Lukashenko agreed to the plan and argued that it won't violate Russia's international nonproliferation treaty obligations, according to a BBC translation.
As Reutersexplained, "The Treaty on the Nonproliferation of Nuclear Weapons, signed by the Soviet Union, says that no nuclear power can transfer nuclear weapons or technology to a nonnuclear power, but it does allow for the weapons to be deployed outside its borders but under its control—as with U.S. nuclear weapons in Europe."
The United States, which has the world's second-largest nuclear arsenal after Russia, "long ago deployed their nuclear weapons on the territory of their allies, NATO countries, in Europe," the Russia leader noted. "We are doing the same thing that they have been doing for decades."
Russia "will not hand over" nuclear arms to Belarus, Putin insisted, explaining that his country has already given its ally an Iskander missile complex that can be equipped with weapons, plans to start training crews in early April, and aims to complete construction of a special storage facility for the nukes by the beginning of July.
The Soviet Union collapsed in 1991 and in the five years that followed, nuclear weapons based in Belarus, Kazakhstan, and Ukraine were transferred to Russia—where they have remained since.
"It's a very significant move," Nikolai Sokol, a senior fellow at the Vienna Center for Disarmament and Nonproliferation, toldReuters of the deployment decision. "Russia had always been very proud that it had no nuclear weapons outside its territory. So, now, yes, they are changing that and it's a big change."
Hans Kristensen, director of the Federation of American Scientists' Nuclear Information Project, told Reuters that "this is part of Putin's game to try to intimidate NATO... because there is no military utility from doing this in Belarus as Russia has so many of these weapons and forces inside Russia."
Global Zero managing partner Derek Johnson said that "Putin's nuclear provocations are dangerous and unacceptable. U.S. and NATO must resist calls to respond in kind and avoid injecting nuclear weapons deeper into this war."

In addition to his nuclear announcement, Putin pointed out during the Saturday interview that Russia also has depleted uranium shells. As he put it: "I must say that certainly, Russia has something to respond. Without exaggeration, we have hundreds of thousands, namely hundreds of thousands of such shells. We are not using them now."
A U.K. Ministry of Defense official had confirmed earlier this week that "alongside our granting of a squadron of Challenger 2 main battle tanks to Ukraine, we will be providing ammunition including armor-piercing rounds which contain depleted uranium," which swiftly generated concerns about not only Russian nuclear threats but also public health and environmental impacts.
"DU shells have already been implicated in thousands of unnecessary deaths from cancer and other serious illnesses," stressed Kate Hudson, general secretary of the U.K.-based Campaign for Nuclear Disarmament, which has advocated for a moratorium on such arms. "Sending them into yet another war zone will not help the people of Ukraine."
This post has been updated with new comments from Derek Johnson.

News
SUPPORT OUR WORK.
We are independent, non-profit, advertising-free and 100%
reader supported.