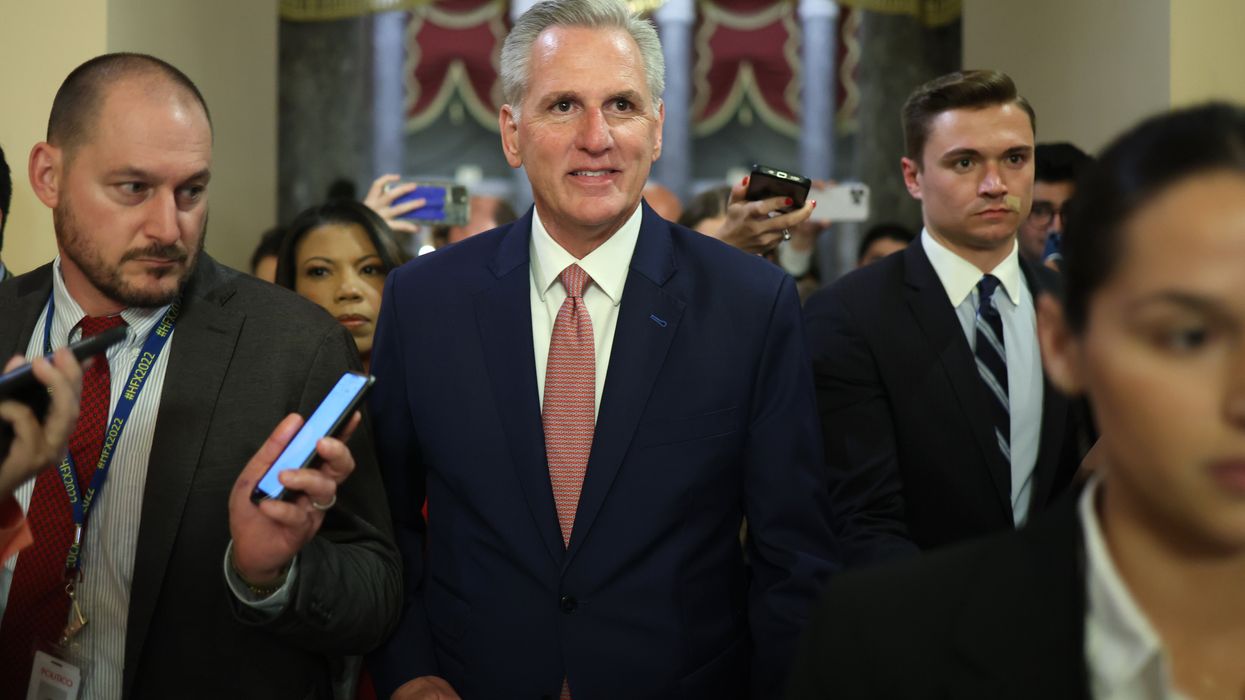 "Kevin McCarthy took the American economy, and working people's economic security, hostage," said one campaigner. "Now if he wants to get his ransom, he ought to put up the votes from his own caucus."
As the U.S. House of Representatives prepares for a debt ceiling vote as soon as Wednesday, progressives in Congress and beyond are arguing that it is the responsibility of Speaker Kevin McCarthy to deliver the GOP votes needed to pass the package he negotiated with President Joe Biden with the nation hurtling toward economic catastrophe.
The window to prevent the first-ever U.S. default is rapidly closing, with Treasury Secretary Janet Yellen warning McCarthy (R-Calif.) that absent action on the debt ceiling, the federal government will run out of money to pay its bills on June 5. The so-called Fiscal Responsibility Act announced over the weekend would suspend the country's arbitrary borrowing limit until January 2025.
However, the legislation would also cap nonmilitary spending, impose work requirements for the Supplemental Nutrition Assistance Program (SNAP) and other safety net initiatives, resume student loan payments, cut Internal Revenue Service (IRS) funding to target rich tax dodgers, roll back parts of the National Environmental Policy Act, and greenlight the "climate-killing" Mountain Valley Pipeline (MVP).
As reporters on Capitol Hill tried to track how many far-right House Republicans oppose the package—with some even suggesting it could lead to McCarthy being ousted as speaker—Working Families Party director of federal affairs Natalia Salgado released a statement Tuesday.
"The extremist Republican Party successfully took the world economy hostage to win cuts to food safety, clean air, and water, and to make it harder for our nation's most vulnerable to get by," Salgado said. "Over the weekend, President Biden agreed to pay Speaker McCarthy's ransom, albeit a much lower amount than MAGA Republicans demanded. Now, some of those MAGA Republicans are threatening to blow up the deal, and people are wondering how House progressives will vote."
"Progressives were not part of negotiating this deal, which contains measures—like spending caps and work requirements for food stamps—that progressives have always rightly opposed," she continued. "Kevin McCarthy promised the president he could deliver the votes necessary to pass his deal. If he can't, and progressives' votes are needed to avert a catastrophic default, then progressives must have the opportunity to meaningfully improve the legislation."
Mary Small, chief strategy officer at the group Indivisible, similarly took aim at McCarthy and fellow Republican lawmakers in a Tuesday statement, declaring that "progressive votes weren't courted for the current deal, and it shows."
"All Democrats have stood ready all year to avoid default without drama through a clean bill; this last-minute scramble is the Republicans' fault," Small said. "If Kevin McCarthy wants this bill to pass, it's on him to prove that he has the promised Republican votes. If progressive votes are needed to pass this bill, then progressives will be ready to quickly land legislative improvements to earn them. That's how governing works."
"Kevin McCarthy took the American economy, and working people's economic security, hostage," she stressed. "That's not a secret and it's not spin—he paraded around the Capitol relishing that he was the villain in a hostage negotiation. Now if he wants to get his ransom, he ought to put up the votes from his own caucus."
The Indivisible leader added:

We oppose budget caps for programs that support our families and communities—while shoveling more money into a bloated defense budget. We oppose so-called 'work requirements' for programs like SNAP that are nothing more than hurdles intentionally designed to strip benefits from the most vulnerable. We oppose giving special treatment to the Mountain Valley Pipeline, a fossil fuel project that has proven incapable of clearing foundational environmental tests. We oppose stripping funding from the IRS to make it easier for big corporations and the ultrawealthy to cheat on their taxes.

This is Kevin McCarthy's wish list. McCarthy and his caucus will be judged based on these priorities. This is their big power play, and they chose to wield it to try and take our economy backwards and score political points. The GOP shares a vision for a scarcity economy that pits working people against each other and asks them to continuously foot the bill for endless tax cuts for the ultrawealthy. Progressives are right to opt out of carrying water for this deal, and instead putting it at McCarthy's feet where it belongs.
Salgado noted that Democrats could have avoided the current crisis if they took action last year, when they still controlled both chambers of Congress—and the president could have pursued unilateral action rather than negotiating with GOP hostage-takers.
"This deal is not as awful as it could have been, but Republicans still accomplished their biggest goal. Again and again, we've seen extremist congressional Republicans set precedents to increase their power and leverage in future fights," she said. "The next time Republicans control just one chamber of Congress, we can be assured that they will rerun this exact same play."
By electing "the right kinds of Democrats" to Congress in 2024, "we can disarm these reckless extremists and make sure this sad day is never repeated," Salgado contended. "In the meantime, no one should expect progressives to vote for a deal they didn't negotiate, that violates a number of fundamental commitments."
Some leftist lawmakers critical of the Fiscal Responsibility Act have already unveiled amendments targeting controversial provisions—one from Virginia Democrats would strip out the MVP language, while another from Rep. Ayanna Pressley (D-Mass.) would preserve the pause on federal student loan payments.
In a call with reporters Tuesday, Congressional Progressive Caucus Chair Pramila Jayapal (D-Wash.) said CPC members' top concerns about the package are the changes to environmental reviews for energy project permits, work requirements for safety net programs, and potentially "harmful" spending caps.
Like the progressive campaigners, Jayapal pointed out that CPC members pushed for a debt limit vote during the lame-duck session and unilateral action by Biden more recently but she still ultimately put the blame for the current crisis squarely on McCarthy.
"We are in this place because of Speaker Kevin McCarthy threatening default. If not for Kevin McCarthy and the extreme MAGA Republicans threatening default, we could have had a clean debt ceiling hike—and if not for Kevin McCarthy threatening default, we would not be talking about new bureaucratic red tape on food or cash assistance," she said.
"He got us here, and it's on him to deliver the votes for the deal," Jayapal asserted, noting that the CPC has not yet taken a public position on the legislation but is in the process of formally checking in on where all caucus members stand.
The congresswoman also said the negotiation process "sets an extremely dangerous precedent—Republicans can hold the economy hostage," and concluded that "we need to get rid of the debt ceiling when we next take the majorities back."
Meanwhile, on the floor of the Senate, which is narrowly controlled by Democrats, Majority Leader Chuck Schumer (D-N.Y.) struck a different tone, saying Tuesday that "I support the bipartisan agreement that President Biden has produced with Speaker McCarthy."
"When this bill arrives in the Senate, it is my plan to bring it to the floor as quickly as possible for consideration. Senators must be prepared to act with urgency to send a final product to the president's desk before the June 5 deadline," he said. "From the start, I've said that the best way forward to avoiding default is bipartisan cooperation, and that's what this agreement represents. Again: nobody got everything they wanted, but this bill is the responsible and prudent and necessary way forward."
Groups opposed to the MVP rallied outside of Schumer's Brooklyn home Tuesday, with Indivisible tweeting that "it's time to stop building fossil fuel infrastructure and that means no more pipelines."
News