For Immediate Release
Contact:
Noah Greenwald, Center for Biological Diversity,
(503) 484-7495 cell
Cat Lazaroff, Defenders of Wildlife, 202-365-1329 cell                
Jane
Kochersperger, Greenpeace, (202) 680-3798 cell
Bush Administration Finalizes Regulations Gutting Protections for Nation's Endangered Species
Conservation Groups File Immediate Challenge to 11th Hour Reductions in Protections for Nation's Wildlife
SAN FRANCISCO
Secretary of the Interior
Dirk Kempthorne today finalized regulations that would eviscerate our
nation's most successful wildlife law by exempting thousands of federal
activities, including those that generate greenhouse gases, from review under
the Endangered Species Act (ESA).
"The regulations that were finalized today undermine
fundamental protections for the nation's endangered species," said
Noah Greenwald, biodiversity program director of the Center for Biological
Diversity. "We hope an Obama administration or Congress will act quickly
to undo this 11th hour attempt to weaken our most important law for
protecting wildlife."
The Center for Biological Diversity, Greenpeace, and
Defenders of Wildlife immediately filed suit in the Northern District of
California to stop the regulations, arguing that they violated the Endangered
Species Act and did not go through the required public review process.
First proposed on August 11th, the Bush administration rushed the
regulations through an abbreviated process in which over 300,000 comments from
the public were reviewed in 2-3 weeks, and environmental impacts were analyzed
in a short and cursory environmental assessment, rather than a fuller environmental
impact statement.
"This is a clear example of a lame duck administration
ramming through weakened regulations that are opposed by Congress and the
public," said Greenwald. "When the survival of species hangs
in the balance, public policy should not be rushed."
"This administration's disdain for wildlife and
the environment has never been more clear than it is today," said Jamie
Rappaport Clark, executive vice president of Defenders of Wildlife and former
director of the Fish and Wildlife Service. "For 35 years, the Endangered
Species Act has helped save and recover imperiled wildlife on the brink of
extinction. Now, with this administration facing its last days, they are doing
everything they can to cement their anti-environmental legacy before the Obama
administration takes office."
Under current regulations, federal agencies must consult
with the U.S. Fish and Wildlife Service if the agencies permit, fund, or
otherwise carry out actions that "may affect" endangered species,
or if the Service has already determined those actions adversely affect
endangered species. Under the new regulations, federal agencies will themselves
determine whether their actions are likely to adversely affect endangered
species. That finding would in turn determine whether the agency must consult
with the Fish and Wildlife Service.
"These regulations are a recipe for the extinction of
endangered species," said Greenwald. "It's a classic example
of letting the fox guard the henhouse. It would allow thousands of projects
that harm endangered species to move forward without mitigation."
The policy would also prohibit any consideration of the
impacts of greenhouse gas emissions from federal projects on endangered
species. Greenhouse gas emissions are currently predicted to result in
loss of half the world's polar bear population by 2050. If
today's proposed policy is enacted, the agency will not be able to
consider and mitigate such impacts.
"Members of the Bush administration have finally
admitted that greenhouse gas emissions are driving species like the polar bear
to extinction, yet they are doing everything in their power to ensure that
these emissions are not regulated or reduced," said Carroll Muffett,
deputy campaign director of Greenpeace USA.
The groups are represented by Eric Glitzenstein at Meyer,
Glitzenstein and Crystal
LATEST NEWS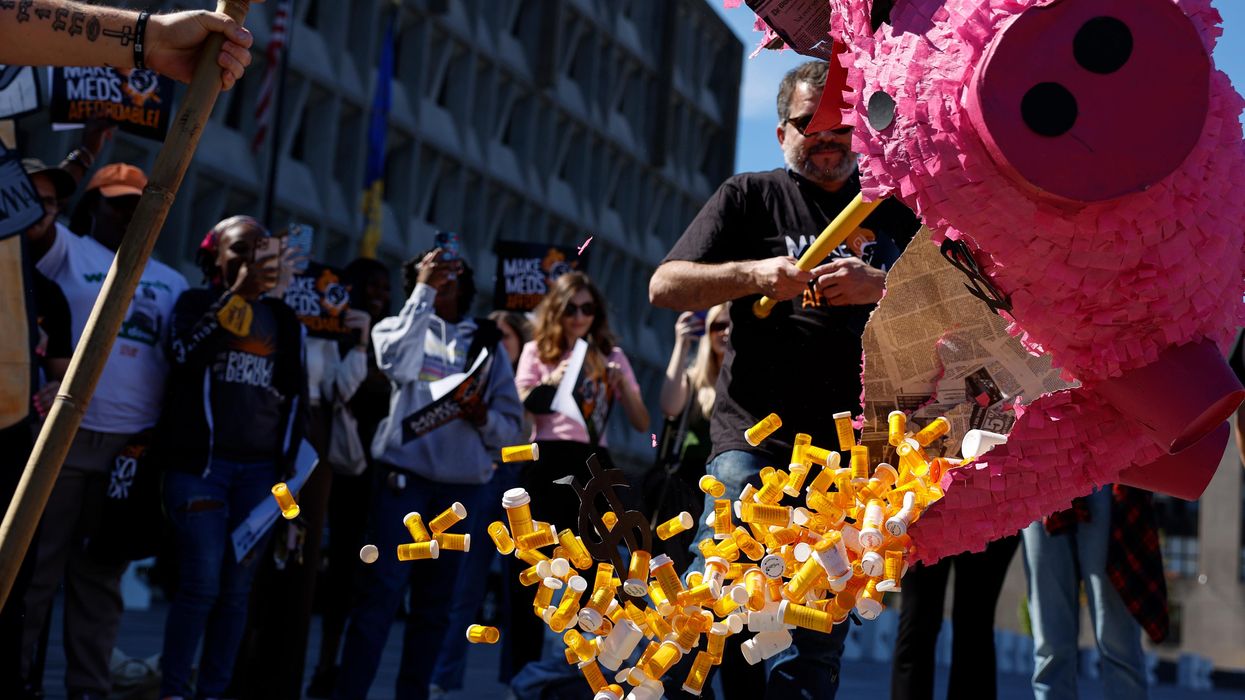 "This decision effectively rubber-stamps continued Big Pharma abuse," said one Democratic lawmaker.
Patient advocates on Tuesday blasted the Biden administration's refusal to compel the manufacturer of a lifesaving prostate cancer drug developed completely with public funds to lower its nearly $190,000 annual price tag.
In 2021, prostate cancer patient Eric Sawyer petitioned U.S. Health and Human Services (HHS) Secretary Xavier Becerra to grant march-in rights—under which the government can grant patent licenses to companies other than a drug's manufacturer—for enzalutamide, which is sold under the brand name Xtandi by Pfizer and Japanese pharmaceutical giant Astellas.
The drug's development was 100% taxpayer-funded. Yet a one-year supply of Xtandi currently costs $189,800 in the United States, or up to five times more than its price in other countries.
HHS' National Institutes of Health (NIH) said Tuesday that it "does not believe that use of the march-in authority would be an effective means of lowering the price of the drug."
"What the Biden administration is saying is that charging U.S. residents three to six times more than any other high-income country is reasonable."
The agency added that it "will pursue a whole-of-government approach informed by public input to ensure the use of march-in authority is consistent with the policy and objective of the Bayh-Dole Act," a reference to legislation meant to promote the commercialization and public availability of government-funded inventions.
James Love, director of the Washington, D.C.-based advocacy group Knowledge Ecology International, called the administration's rejection "appalling."
"What the Biden administration is saying is that charging U.S. residents three to six times more than any other high-income country is reasonable," he wrote.
U.S. Senate Health, Education, Labor, and Pensions Committee Chair Bernie Sanders (I-Vt.) said in a statement that he is "extremely disappointed that the Biden administration denied a petition by prostate cancer patients to substantially reduce the price of Xtandi."
"This is a drug that was invented with taxpayer dollars by scientists at UCLA and can be purchased in Canada for one-fifth the U.S. price," Sanders added. "The Japanese drugmaker Astellas, which made $1 billion in profits in 2021, has raised the price of this drug by more than 75%... How many prostate cancer patients will die because they cannot afford this unacceptable price?"
Rep. Lloyd Doggett (D-Texas), the ranking member of the House Ways and Means Health Subcommittee, said in a statement:
Today's decision is a blow to prostate cancer patients, their families, and taxpayers. Developed with U.S. taxpayer research dollars, Xtandi costs American patients $180,000 a year—as much as six times as much as patients in other countries. This excessive price gouging cost taxpayers $2 billion to cover Medicare beneficiaries' treatment in 2020 alone. The Biden administration has missed yet another opportunity to do something meaningful to lower prescription drug costs and protect taxpayer investments.
The administration's position "protects monopolists over taxpayers and patients, despite clear statutory authority and reasonableness to intervene," Doggett added. "This decision effectively rubber-stamps continued Big Pharma abuse."
In a move that Public Citizen president Robert Weissman called "pathetic," HHS and the Department of Commerce announced Tuesday that they would "pursue a whole-of-government approach to review... march-in authority as laid out in the Bayh-Dole Act" by forming an interagency working group.
The group "will develop a framework for implementation of the march-in provision that clearly articulates guiding criteria and processes for making determinations where different factors, including price, may be a consideration in agencies' assessments."
In a statement, Becerra said that the administration is "committed to increasing access to healthcare and lowering costs."
"March-in authority is a powerful tool designed to ensure that the benefits of the American taxpayers' investment in research and development are reasonably accessible to the public," he added. "We look forward to updates from the Bayh-Dole Interagency Working Group, and at my direction, HHS will review the findings, engage the public, and better define how HHS could effectively utilize our authority moving forward."

News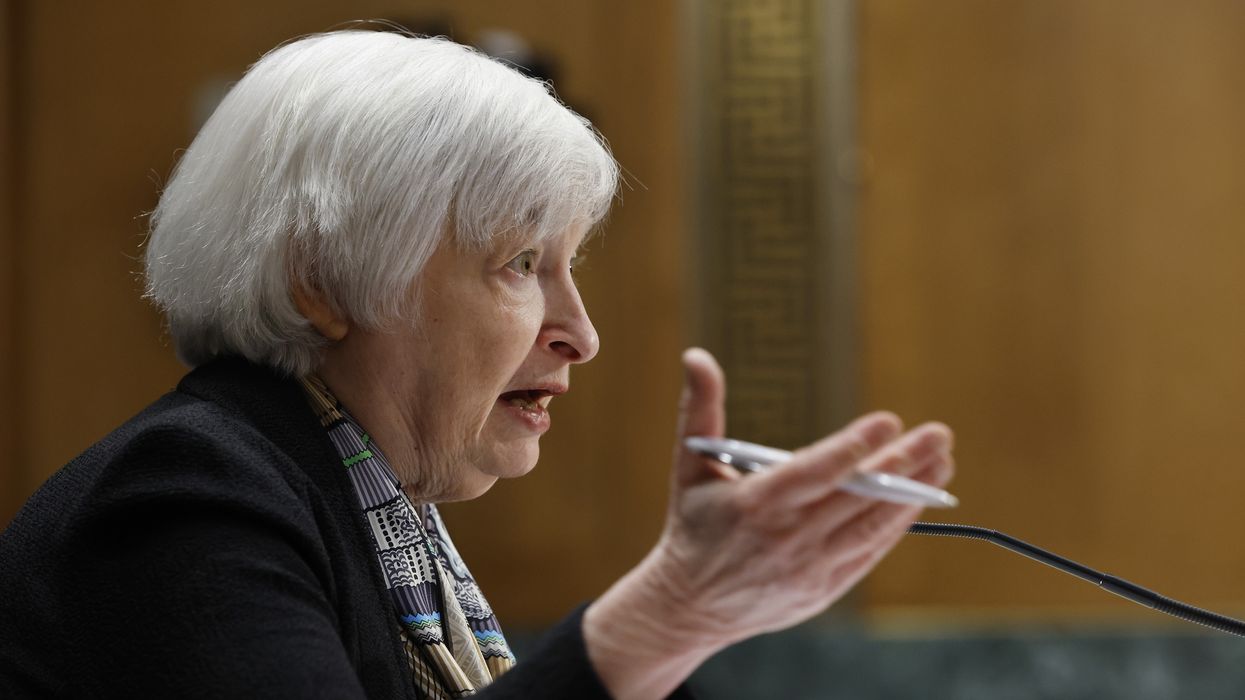 "The Treasury Department can and should exercise the full extent of its regulatory authority to limit this blatant abuse of our tax system by the ultrawealthy."
Four U.S senators this week called on Treasury Secretary Janet Yellen to use her existing authority to go after American billionaires and multimillionaires who "use trusts to shift wealth to their heirs tax-free, dodging federal estate and gift taxes."
"They are doing this in the open: Their wealth managers are bragging about how their tax dodging tricks will be more effective in the current economy," stressed Sens. Elizabeth Warren (D-Mass.), Chris Van Hollen (D-Md.), Bernie Sanders (I-Vt.), and Sheldon Whitehouse (D-R.I.).

"While we look forward to continuing to partner with you on legislative solutions," the senators wrote to Yellen, "the Treasury Department can and should exercise the full extent of its regulatory authority to limit this blatant abuse of our tax system by the ultrawealthy."
Their letter to the Treasury leader, dated Monday and first reported by CBS MoneyWatch Tuesday, highlights that "only the wealthiest American families" are asked to pay transfer taxes such as the estate tax, gift tax, and generation-skipping transfer (GST) tax.
As the letter lays out:
Tax avoidance through grantor trusts starts with the ultrawealthy putting assets into a trust with the intention of transferring them to heirs. Grantor trusts are trusts where the grantor retains control over the assets, and the structures of some of these grantor trusts allow the transfer of massive sums tax-free. Tax planning via grantor trusts, including grantor retained annuity trusts (GRATs), is a kind of shell game, with a wealthy person and their wealth managers able to pass assets back and forth in ways that effectively pass wealth to heirs while minimizing tax liability.

Some of the wealthiest families further compound this tax avoidance with perpetual dynasty trusts, which can be used to shield assets from transfer tax liability indefinitely. For example, aggressive valuation discounts can artificially reduce the value of assets transferred into a trust below the GST tax exemption threshold, after which the assets can grow in perpetuity within a trust exempt from transfer tax.
"The ultrawealthy at the top of the socioeconomic ladder live by different rules than the rest of America, especially when it comes to our tax system," the letter charges. "As the richest Americans celebrate and take advantage of these favorable tax opportunities, middle-class families struggle with inflation and Republicans threaten austerity measures and the end of Social Security and Medicare."
To help force the richest Americans to "pay their fair share" in taxes, the senators are calling on Treasury to revoke a pair of tax code rulings from the Internal Revenue Service (IRS); require GRATs to have a minimum remainder value; reissue family limited partnership regulations; clarify that intentionally defective grantor trusts (IDGTs) are not entitled to stepped-up basis; and put out clarifying regulations on certain valuation rules for estate and gift taxes.
The senators also sent a series of questions—about potential administrative action, how much is estimated to be held in grantor trusts, and how much could be raised from cracking down on abuse—and requested a response from Treasury by April 3.
Their letter comes after President Joe Biden earlier this month introduced a budget blueprint for fiscal year 2024 that would hike taxes on the rich—proposed policies praised by progressive experts and advocates as "fair, popular, and long overdue."
Yellen last week appeared before the Senate Finance Committee—of which Warren and Whitehouse are members—to testify about the administration's proposal. She said in part that "our proposed budget builds on our economic progress by making smart, fiscally responsible investments. These investments would be more than fully paid for by requiring corporations and the wealthiest to pay their fair share."

News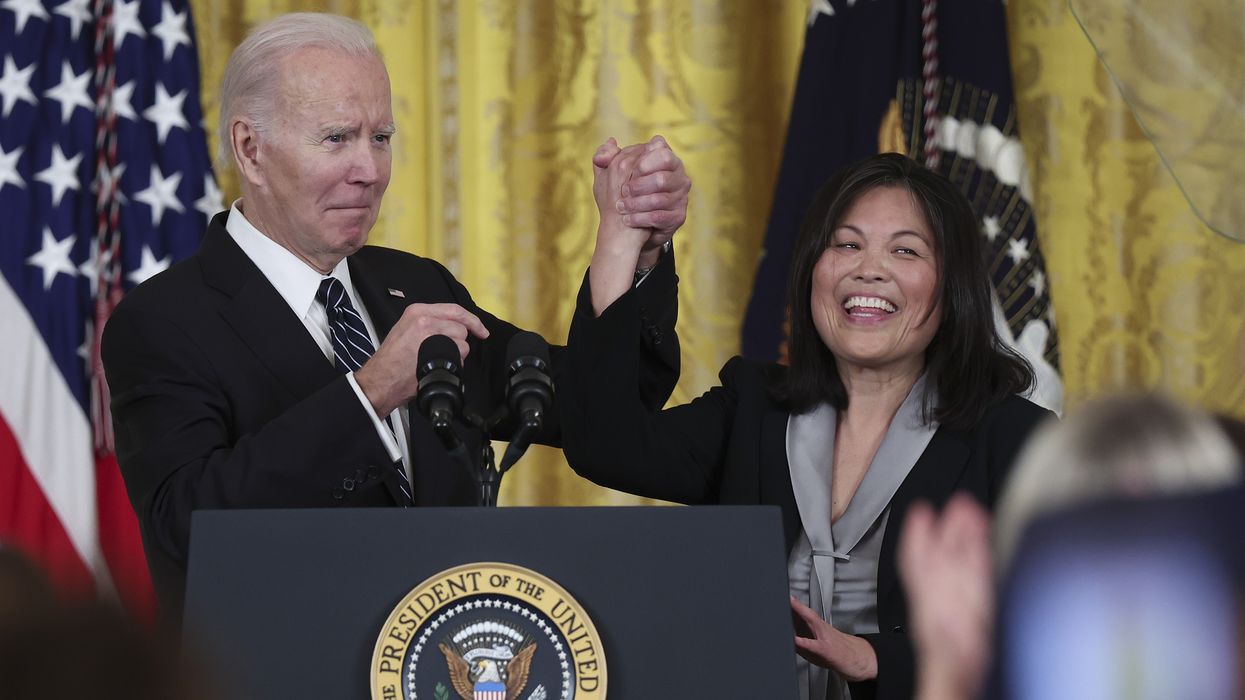 The department's "action against predatory stay-or-pay contracts sends a monumental message to employers: Obey the law or face repercussions," said the head of Towards Justice.
Workers' rights advocates are applauding the Biden administration this week for filing a historic lawsuit against a Brooklyn-based healthcare staffing agency for coercive contracts that allegedly violate federal labor law.
Biden's Department of Labor (DOL) says in a complaint filed against Advanced Care Staffing (ACS) and CEO Sam Klein in the U.S. District Court for the Eastern District of New York that "in flagrant disregard" of the Fair Labor Standards Act (FLSA), the company "has entered into contracts purporting to require employees to complete at least three years of full-time work for ACS in order to retain their wages."

"The contracts warn employees that if they leave ACS's employ before three years' time, they will face ACS and its lawyers in an arbitration behind closed doors, where ACS will demand that employees kick back much of their hard-earned wages—including wages to which they are entitled under federal law," the complaint continues.
"Under this scheme, the pay that ACS promises its employees may be converted into nothing more than a loan that employees must repay with interest and fees, leaving some employees with no compensation at all, much less the wages required by the FLSA," the document adds. "The FLSA prohibits an employer from holding employees' wages hostage, allowing employees to keep their wages free and clear only if employees remain in the service of their employer."

The DOL, led by acting Secretary Julie Su, aims not only to end this "unlawful conduct" but also "to recover unpaid wages and liquidated damages due to the former employees from whom ACS has already initiated arbitrations, and to restrain defendants from withholding unpaid wages from their former employees."

Solicitor of Labor Seema Nanda reiterated in a statement Monday that "federal law forbids employers from clawing back wages earned by employees, for employers' own benefit."

"Employers cannot use workers as insurance policies to unconditionally guarantee future profit streams. Nor can employers use arbitration agreements to shield unlawful practices," Nanda said. "The Department of Labor will do everything in its power to make sure employees are being paid their hard-earned wages, and to safeguard them from these types of exploitative practices."

Bloomberg last September reported on Benzor Shem Vidal, a nurse who immigrated to the U.S. from the Philippines and took legal action against ACS for forcing him to work in "brutal and dangerous conditions," including simultaneously caring for 40 patients.

As Bloomberg detailed:

Under Vidal's contract, Advanced Care Staffing could sue him in arbitration for damages if he quit within three years of starting work—and make him pay the legal costs, according to the complaint in federal court in Brooklyn. The conditions were so onerous that they violate human trafficking laws meant to protect people from being exploited for labor, Vidal said.

"Mr. Vidal believed it was impossible for him to provide adequate care to patients but was also terrified to resign," his lawyers wrote. "He knew that his contract with Advanced Care Staffing purported to allow the company to pursue legal action against him, with potentially ruinous financial consequences, if he decided to terminate his employment."

Advanced Care Staffing did not immediately respond to an inquiry. The company has placed thousands of employees at facilities in New York and surrounding states, according to its website.
The DOL complaint lays out his experience over several pages and concludes that "defendants have a policy and practice of entering into contracts with employees with identical or substantially similar contract provisions to the 2022 contract with Vidal."

Celebrating the new case against ACS, Towards Justice executive director David Seligman declared Tuesday that "DOL's action against predatory stay-or-pay contracts sends a monumental message to employers: Obey the law or face repercussions."

"A fundamental premise of our labor laws is that employers pay workers, and not the other way around," said Seligman. "This lawsuit builds on a multiagency effort from the Biden administration to curb coercive contracts that rob workers of bargaining power. We look forward to what's next."

As Seligman noted in a series of tweets, other actions include the Consumer Financial Protection Bureau (CFPB) last June launching an inquiry into practices and products that may leave workers indebted to their employers, and the Federal Trade Commission (FTC) in January proposing a ban on noncompete clauses.

After noting that the DOL is taking on the ACS case as a minimum wage fight, Seligman said another important aspect is the department's allegation that the company's "arbitration requirements violate federal law too, not just because the employer is attempting to shield unlawful practices but also because the arbitration requirement itself shifts costs onto workers."
The DOL complaint states that ACS's arbitration and contract demands "have an impermissible chilling effect on their employees' ability to effectively vindicate their federal statutory rights, including the protection to be free from an unsafe or hazardous workplace, and to obtain unpaid wages due."

Student Borrower Protection Center senior policy adviser Chris Hicks on Tuesday stressed that such problems stretch far beyond one company, saying that "whether it's training repayment agreement provisions (TRAPs) or stay-or-pay contracts, employers are using debt as a tool of coercion to force workers to stay in low-paying, unsafe jobs."

Hicks also highlighted that "the Biden administration has been strengthening its whole-of-government approach to ensure workers are able to fully and freely exercise their rights—including their right to depart without the looming threat of debt."
News
SUPPORT OUR WORK.
We are independent, non-profit, advertising-free and 100%
reader supported.