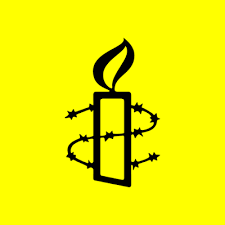 For Immediate Release
Contact:
Tel: +44 (0) 20 7413 5566,After hours: +44 7778 472 126,Email:,press@amnesty.org
Global: Amnesty International calls for universal social protection, as overlapping crises leave hundreds of millions facing disaster
GLOBAL
Amnesty International is today calling for social security to be made available to everyone worldwide after a series of crises exposed huge gaps in state support and protection systems, leaving hundreds of millions facing hunger or trapped in a cycle of poverty and deprivation.
In a briefing issued today, Rising Prices, Growing Protests: The Case for Universal Social Protection, the human rights organization also calls for international debt relief, and urges states to enacttax reforms and clampdown on tax abuse, to free up substantial funding to pay for social protection.
"A combination of crises has revealed how ill-prepared many states are to provide essential help to people. It is shocking that over 4 billion people, or about 55% of the world's population, have no recourse to even the most basic social protection, despite the right to social security being enshrined since 1948 in the Universal Declaration of Human Rights," said Agnès Callamard, Amnesty International's Secretary General.
A combination of crises has revealed how ill-prepared many states are to provide essential help to people.
Agnès Callamard, Amnesty International's Secretary General
The briefing shows how rising food prices, climate change, and the economic fallout from the Covid-19 pandemic and Russia's invasion of Ukraine, are driving a catastrophic humanitarian crisis, and leading to increased social unrest and protests.
It urges states to ensure that social security coverage — such as sickness and disability payments, healthcare provision, pensions for older people, child support, family benefits and income support — is available to every person who may need it.
The briefing shows how the lack of social security in many states has left communities more exposed to sudden economic shocks, the consequences of conflict, climate change, or other upheaval. The fallout from these crises, including widespread hunger, higher unemployment and anger at falling living standards, has motivated protests around the world, which have often been brutally suppressed.
"Universal social protection can address the violations of economic and social rights that are often at the heart of grievances and protest. Instead of viewing peaceful protest as an expression of people's attempts to claim their rights, authorities have frequently responded to demonstrations with unnecessary or excessive use of force. Peaceful protest is a human right and Amnesty International campaigns to Protect the Protest," saidAgnès Callamard.
Universal social protection can address the violations of economic and social rights that are often at the heart of grievances and protest.
Agnès Callamard, Amnesty International's Secretary General
The briefing calls for international creditors to reschedule or cancel debts to enable them to better fund social protection. It also highlights that the cost of offering basic social security protection in all low income and low-to-middle income states is estimated at US$440.8 billion a year, according to the International Labour Organization (ILO), an amount that is less than the US$500 billion the Tax Justice Network estimated is lost annually by states to tax havens around the world.
Amnesty International urges states to work together and to use all their resources, as well as reform of their taxation systems to stop evasion and loss of critical revenues, to help ensure funds are available to improve social protection.
"People have been brought to their knees by these crises, and when it comes to fixing the problems in the world, the solutions are rarely simple, but we do know that states should get serious about clamping down on tax abuse," said Agnès Callamard.
To guarantee the right to social security, Amnesty International supports the establishment of an internationally administered Global Fund for Social Protection, a concept supported by UN Special Rapporteur on Extreme Poverty and Human Rights, the UN Secretary-General and the ILO.
The creation of a fund would offer states technical and financial support to provide social security and would aim to build the capacity of national social protection systems to scale up their responses in times of crisis.
Hunger, poverty and protests
The lack of adequate social security can be catastrophic for the growing numbers of people struggling to afford food.
The World Food Programme (WFP) says 349 million people around the world are in immediate danger from a shortage of food, and 828 million go to bed hungry every night.
Furthermore, according to the Sustainable Development Goals Report 2022, the Covid-19 pandemic has wiped out almost four years of progress in poverty reduction and pushed an additional 93 million people into extreme poverty, living on less than US$ 2.15 a day.
The lack of effective measures to mitigate inflation and shortages has led to a downward spiral in people's living standards. This has contributed to protests around the world recently, including in Iran, Sierra Leone, and Sri Lanka.
The rising price of food and other essential items has hit people living in low-income countries the hardest, but the increased use of food banks in wealthier countries shows that the cost-of-living and food affordability crisis is widespread.
Russia's invasion of Ukraine, a major grain producer, has dealt a devastating blow to global food supplies, and pushed the Food and Agriculture Organization's (FAO) food price index to its highest point since records began in 1990.Climate change, and spiralling fertilizer prices, have hit agricultural production too. Drought is the greatest single contributor to reduced harvests, according to the FAO.
Social security, tax and debt
Amnesty International is part of a growing coalition of experts and civil society organizations calling on states to progressively deliver universal social protection, and to realize the benefits it will bring.
Agnès Callamard said: "Protecting people against losses due to shocks, from disasters or economic reversals, can be transformational, both for society and the state that provides the support, by reducing social tension and conflict, and promoting recovery. It enables children to stay in education, improves healthcare, reduces poverty and income inequality, and ultimately benefits societies economically.
Protecting people against losses due to shocks, from disasters or economic reversals, can be transformational, both for society and the state that provides the support, by reducing social tension and conflict, and promoting recovery.
Agnès Callamard, Amnesty International's Secretary General
"We cannot continue to look away as inequality soars, and those struggling are left to suffer. Tax evasion and aggressive tax avoidance by individuals and corporations are depriving states and particularly lower income countries of the resources they need."
High levels of debt, and the cost of servicing it, mean that heavily indebted states often lack the financial capacity to realize social security aspirations. Low-income countries spend four times more on debt repayments than they do on health service provision, and 12 times more on debt payments than on social protection, according to Oxfam.
According to the IMF's annual report around 60% of low-income countries are in debt distress or at a high risk of debt distress, and risk defaulting on repayments. Debt cancellation or rescheduling would free up substantial funding in many countries to pay for social protection.
Amnesty International is a worldwide movement of people who campaign for internationally recognized human rights for all. Our supporters are outraged by human rights abuses but inspired by hope for a better world - so we work to improve human rights through campaigning and international solidarity. We have more than 2.2 million members and subscribers in more than 150 countries and regions and we coordinate this support to act for justice on a wide range of issues.
LATEST NEWS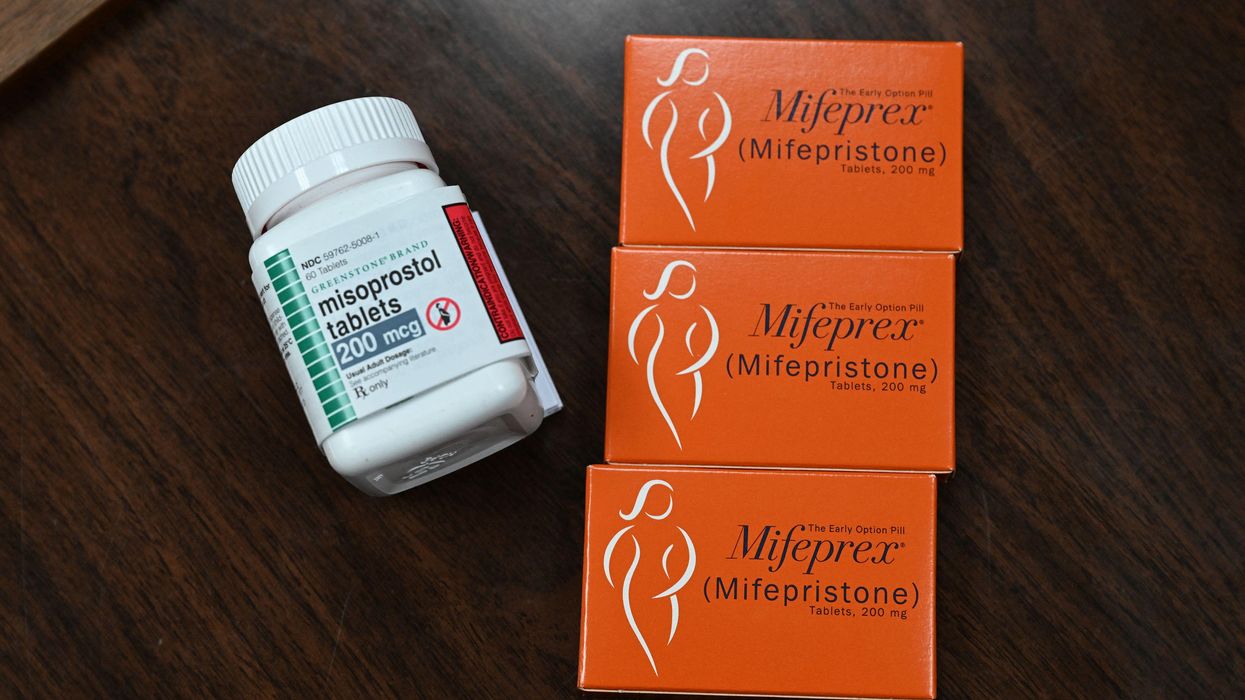 "In this particular case, here's the audacity: Self-managed abortion is not even a crime in fucking Nebraska," said one rights advocate.
Amid a wave of right-wing efforts to quash abortion rights across the United States, a Nebraska judge on Friday sentenced Jessica Burgess to two years in prison after helping her teenage daughter end her pregnancy and bury the remains in early 2022.
Police have said that over two years ago, then-17-year-old Celeste Burgess took abortion pills—provided by her mother—at approximately 29 weeks pregnant and gave birth to a stillborn fetus, which the pair burned and buried in Norfolk, Nebraska.
Celeste Burgess was sentenced to 90 days behind bars and released earlier this month. Tanner Barnhill, who pleaded no contest to attempting to conceal a death for helping with the burial, was sentenced to nine months of probation and 40 hours of community service.
Jessica Burgess, who took a plea deal, faced up to five years in prison. She pleaded guilty to providing an abortion after 20 weeks of gestation, tampering with human remains, and false reporting. As Jezebelnoted, the 42-year-old was charged even though the state's 20-week ban that was in effect at the time applied to "licensed abortion providers, not people self-managing their own terminations."
As Rafa Kidvai, director of If/When/How's Repro Legal Defense Fund—which is not representing Jessica Burgess—put it to Jezebel, "In this particular case, here's the audacity: Self-managed abortion is not even a crime in fucking Nebraska."
"None of this is about justice or safety or someone's health or society being better or kinder or safer—this is about control from the state," Kidvai argued. "Everything is a distraction, including conversations around gestational age... They're distracting you constantly by telling you that your individual choices are the problem, not the systems that keep you oppressed."
The Appeal reported Friday that "abortions after 21 weeks rarely occur within the United States, accounting for just 1% of all abortions. It is unclear when Celeste first knew she was pregnant. Police say Celeste, then 17, got an ultrasound showing she was 23 weeks pregnant on March 8, 2022."
"That same month, police say Jessica Burgess ordered abortion pills online. But the medication took about six weeks to arrive," the outlet added. "[Celeste] Burgess stated in court that she wanted to end her pregnancy because she was in an abusive relationship and did not want to share a child with the man who impregnated her."
While Celeste Burgess' stillbirth occurred a couple of months before the U.S. Supreme Court overturned Roe v. Wade, abortion rights advocates have connected the Nebraska mother and daughter's cases to a broader assault on reproductive freedom since the right-wing justices' Dobbs v. Jackson Women's Health Organizationdecision.
Nebraska is among several states that have tightened abortion restrictions since June 2022. In May, Republican Nebraska Gov. Jim Pillen signed a bill banning abortion at 12 weeks of pregnancy, with exceptions for rape, incest, and to save the life of the pregnant person—a measure which has taken effect but that rights group are fighting in state court.
The Burgesses' cases have also heightened concerns about digital communications, given that police obtained and Facebook parent company Meta complied with a search warrant for their private messages. Further, there are rising fears that U.S. law enforcement may eventually try to use new laboratory methods allegedly developed by researchers in Poland—which has outlawed most abortions—to detect medication commonly used to end pregnancies in biological specimens.
Across the United States from 2000 to 2020, "at least 61 people were criminally investigated or arrested for ending their own pregnancies or helping someone else do so," according to a report released this month by Pregnancy Justice and other groups. From 2006 to 2020, "more than 1,300 people were arrested in relation to their conduct during pregnancy," including people who experienced miscarriages and stillbirths but were suspected of self-managing abortions.
Emma Roth, senior staff attorney at Pregnancy Justice, told The Appeal that "even if the state's law does not criminalize abortion itself, prosecutors will still seek other creative ways to try to incarcerate, shame, or make a case out of that person."
"Prosecutors will charge anything that they can think of when what they're actually trying to criminalize is what they view as immoral conduct," Roth stressed. With the Burgesses, she said, "the prosecutor's whole case was about shaming somebody for being a young teenager and having an abortion later on in pregnancy. These prosecutions create a culture of fear."
Nebraska is one of multiple U.S. states where reproductive rights advocates are currently working to put a question on 2024 ballots regarding an amendment to the state constitution that would protect the right to abortion.

News
"This is unprecedented: a sitting president showing up on the picket lines with workers," said Congressional Progressive Caucus Chair Pramila Jayapal.
In a historic move, U.S. President Joe Biden vowed Friday to travel to Michigan next week and stand with striking United Auto Workers members, an announcement that came just hours after union autoworkers widened their strike to include all U.S. General Motors and Stellantis parts distribution centers.
"Tuesday, I'll go to Michigan to join the picket line and stand in solidarity with the men and women of UAW as they fight for a fair share of the value they helped create," Biden said on social media. "It's time for a win-win agreement that keeps American auto manufacturing thriving with well-paid UAW jobs."
Last Friday, Biden called on automakers to share more of their windfall with UAW workers, who are seeking better pay and benefits.
"Auto companies have seen record profits... They have not been shared fairly with workers," the president said. "I understand the workers' frustration. Over generations, autoworkers have sacrificed so much to keep the industry alive and strong, especially during the economic crisis and the pandemic."
"The companies have made some significant offers," Biden added. "But I believe they should go further to ensure that record corporate profits mean record contracts for the UAW."
Biden—who is seeking reelection next year—is a self-described "pro-labor president" but his response to the UAW is notably different from last year, when he came under fire for signing legislation to block a nationwide rail strike.
At noon Eastern time this Friday, workers at all 38 GM and Stellantis parts distribution facilities across the U.S. walked off the job as the UAW escalated its strike.
"We will shut down parts distribution until those two companies come to their senses and come to the table with a serious offer," UAW president Shawn Fain said in a video update. "The plants that are already on strike will remain on strike."
Fain said Ford was spared the escalation because UAW and company negotiators were making "real progress" at the bargaining table.
While some striking workers said they'd prefer the president didn't join them, others welcomed the solidarity.
"Me personally, I wouldn't mind if Biden stepped up and showed some support," 55-year-old Laura Zielinski of Toledo, Ohio, toldReuters earlier this week, recalling 2010, when he was vice president and visited her city's Stellantis assembly plant.
"Support like that would put a spotlight on the talks—kind of give a nudge to the companies," she added.
Congressional Progressive Caucus Chair Pramila Jayapal (D-Wash.) said Friday on social media that it was "unprecedented" for a sitting U.S. president to join striking workers on a picket line.
Jeremi Suri, a historian and presidential scholar at the University of Texas at Austin, toldReuters the last time it happened was probably in 1902, when then-President Theodore Roosevelt invited striking coal miners to the White House.
"This would be a major, major shift for Biden to identify the presidency with striking workers," said Suri, "rather than siding with industry or staying above the fray."
News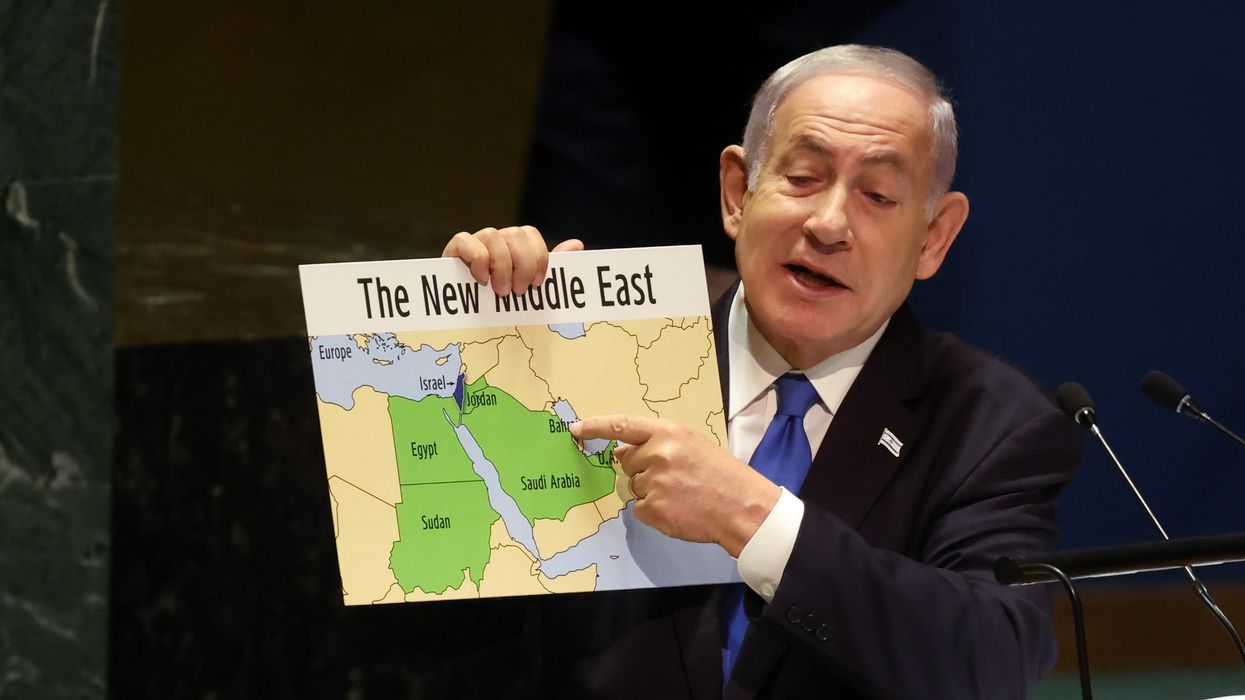 "Netanyahu made clear with his little map today what normalization really seeks: eliminating Palestine... from the region and legitimizing greater Israel, all with the blessing of Arab regimes," one critic said.
Israeli Prime Minister Benjamin Netanyahu angered Palestinians and their defenders Friday after presenting a map of "The New Middle East" without Palestine during his speech to the United Nations General Assembly in New York.
Speaking to a largely empty chamber, Netanyahu—whose far-right government is widely considered the most extreme in Israeli history—showed a series of maps, including one that did not show the West Bank, East Jerusalem, or Gaza. These Palestinian territories have been illegally occupied by Israel since 1967, with the exception of Gaza—from which Israeli forces withdrew in 2005, while maintaining an economic stranglehold over the densely populated coastal strip.
Middle East Eyereported Netanyahu also held up a map of "Israel in 1948"—the year the modern Jewish state was established, largely through the ethnic cleansing of more than 750,000 Arabs—that erroneously included the Palestinian territories as part of Israel.
Palestinian Ambassador to Germany Laith Arafeh said on social media that there is "no greater insult to every foundational principle of the United Nations than seeing Netanyahu display before the UNGA a 'map of Israel' that straddles the entire land from the river to the sea, negating Palestine and its people, then attempting to spin the audience with rhetoric about 'peace' in the region, all the while entrenching the longest ongoing belligerent occupation in today's world."
As Middle East Eye noted:
The inclusion of Palestinian lands (and sometimes land belonging to Syria and Lebanon) in Israeli maps is common among believers of the concept of Eretz Yisrael—Greater Israel—a key part of ultra-nationalist Zionism that claims all of these lands belong to a Zionist state.

Earlier this year, Netanyahu's finance minister, Bezalel Smotrich, spoke from a podium adorned with a map that also included Palestine, Lebanon, and Syria as part of Greater Israel. In the same event, he said there was "no such thing as Palestinians."

The use of such maps by Israeli officials comes at a time when Netanyahu's ultra-nationalist government has taken steps that experts say amount to the "de jure annexation" of the occupied West Bank.

Netanyahu used the maps in an attempt to illustrate the increasing number of Arab countries normalizing relations with Israel under the Abraham Accords brokered by the administration of former U.S. President Donald Trump.
"There's no question the Abraham Accords heralded the dawn of a new age of peace," the Israeli prime minister said. "But I believe that we are at the cusp of an even more dramatic breakthrough, an historic peace between Israel and Saudi Arabia. Peace between Israel and Saudi Arabia will truly create a new Middle East."
Critics have countered that peace between apartheid Israel and Arab dictatorships has come at the cost of advancing Palestinian rights. In the case of Morocco, the United States recognized the North African nation's illegal annexation and brutal occupation of Western Sahara in exchange for normalization with Israel.

Netanyahu's props on Friday reminded numerous observers of the time during his 2012 General Assembly speech when he used a cartoon drawing of a bomb to illustrate Iran's progress on advancing a nuclear weapons program that both U.S. and Israeli intelligence agencies said did not exist.

News
Independent, nonprofit journalism needs your help.
Please Pitch In
Today!