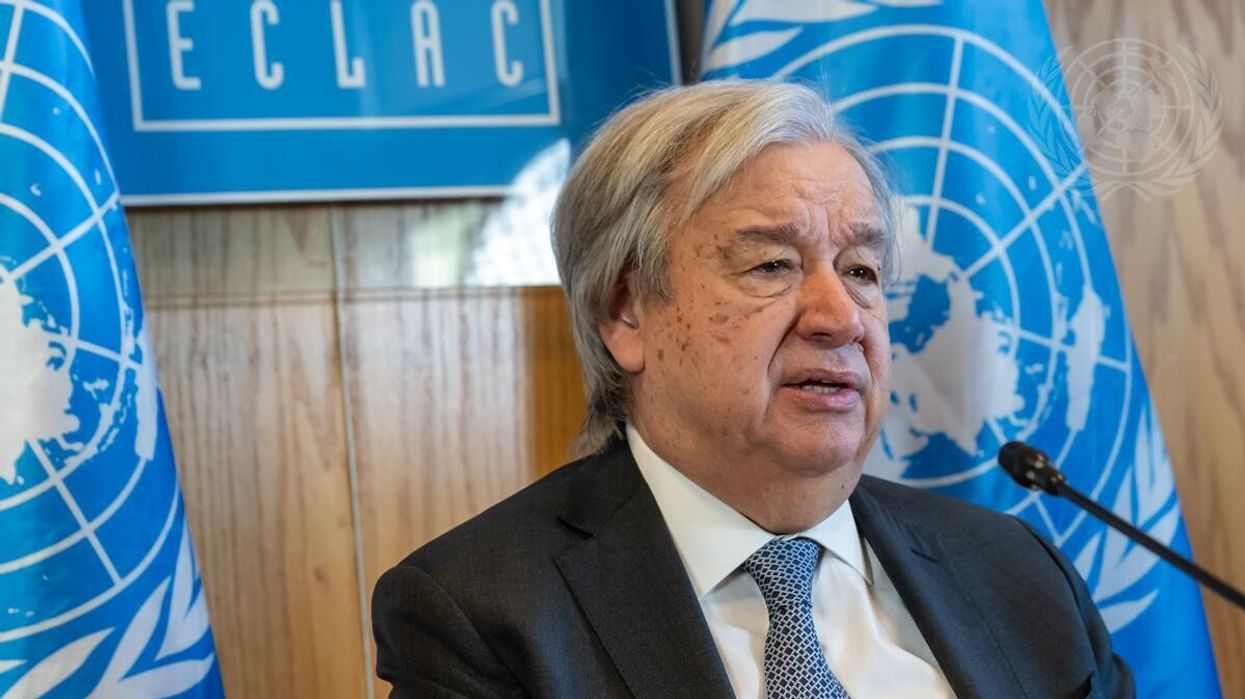 "Facing a severe risk of collapse of the humanitarian system in Gaza, I urge the council to help avert a humanitarian catastrophe and appeal for a humanitarian cease-fire to be declared."
With over 16,000 Palestinians dead just two months into Israel's war on the Gaza Strip, United Nations Secretary-General António Guterres on Wednesday demanded immediate action by the U.N. Security Council.
For the first time since becoming secretary-general nearly seven years ago, Guterres invoked Article 99, a rarely used section of the U.N. Charter empowering him to bring to the attention of the council "any matter which in his opinion may threaten the maintenance of international peace and security."
U.N. spokesperson Stéphane Dujarric said that Guterres was invoking Article 99 "given the scale of the loss of human life in Gaza and Israel, in such a short amount of time."
"I think it's arguably the most important invocation," Dujarric told reporters at U.N. headquarters, "in my opinion, the most powerful tool that he has."
"The international community has a responsibility to use all its influence to prevent further escalation and end this crisis."
Guterres wrote to José Javier De la Gasca Lopez Domínguez, the Ecuadorian president of the Security Council, that "more than eight weeks of hostilities in Gaza and Israel have created appalling human suffering, physical destruction and collective trauma across Israel and the occupied Palestinian territory."
The U.N. chief reaffirmed his condemnation of the October 7 Hamas-led attack on Israel—in which around 1,200 people were killed and over 200 others were captured—that led to the war. He called accounts of sexual violence "appalling" and stressed that the remaining hostages "must be immediately and unconditionally released."
He also emphasized that "civilians throughout Gaza face grave danger," with the Israeli airstrikes and raids damaging more than half of all homes and displacing about 80% of the 2.3 million residents. Over a million of them have sought shelter at U.N. facilities, "creating overcrowded, undignified, and unhygienic conditions," while others "find themselves on the street."
"The healthcare system in Gaza is collapsing," he noted, pointing out that only 14 of 36 hospitals are operating at all. "I expect public order to completely break down soon due to the desperate conditions, rendering even limited humanitarian assistance impossible. An even worse situation could unfold, including epidemic diseases and increased pressure for mass displacement into neighboring countries."
Already, conditions in Gaza are making "it impossible for meaningful humanitarian operations to be conducted," Guterres added. "The capacity of the United Nations and its humanitarian partners has been decimated by supply shortages, lack of fuel, interrupted communications, and growing insecurity."
"The situation is fast deteriorating into a catastrophe with potentially irreversible implications for Palestinians as a whole and for peace and security in the region. Such an outcome must be avoided at all cost," the U.N. leader warned. "The international community has a responsibility to use all its influence to prevent further escalation and end this crisis."
"I urge the members of the Security Council to press to avert a humanitarian catastrophe," he wrote. "I reiterate my appeal for a humanitarian cease-fire to be declared. This is urgent. The civilian population must be spared from greater harm."
The United States—a supporter of Israel's war and one of the U.N. Security Council's five permanent members—vetoed a mid-October resolution condemning violence against civilians in Israel and Gaza and urging "humanitarian pauses" for aid delivery.
Roughly a month later, the Security Council approved a Gaza resolution that calls on all parties to abide by their obligations under international law and advocates for "urgent and extended humanitarian pauses and corridors."
Dr. Christos Christou, international president of Médecins Sans Frontières, or Doctors Without Borders, said at the time that "the unacceptably jumbled and sluggish process finally led to the adoption of a text that does not come close to reflecting the severity of the humanitarian catastrophe in Gaza."
News