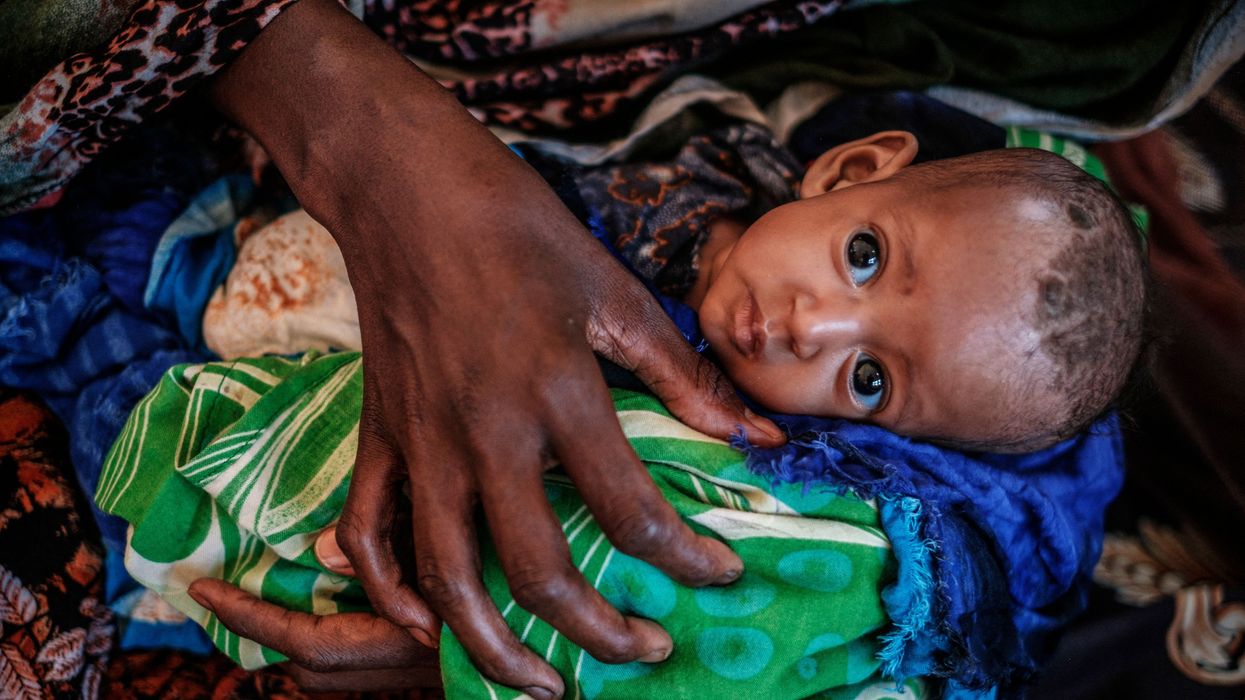 "I've been working on and off in this region for almost 25 years now—and in terms of accumulated emergencies, this is bad as I've ever seen it," the expert said.
Extreme hunger fueled by the climate emergency, violence, and disease has nearly 130,000 people in the Horn of Africa—which has entered its sixth straight failed rainy season—facing starvation, while 48 million others suffer from crisis levels of food insecurity, a United Nations expert warned Friday.
Liesbeth Aelbrecht, a consultant on health and food insecurity for the World Health Organization (WHO) sounded the alarm on what she said was the worst situation she's ever seen in over two decades of work in a region that includes the nations of Djibouti, Ethiopia, Kenya, Somalia, South Sudan, Sudan, and Uganda.
"These 48 million people do include as many as 129,000 who are facing catastrophe," Aelbrecht told reporters in Geneva, Switzerland. "That means they are facing starvation and literally looking death in the eyes."
According to a report published earlier this year by the United Nations High Commissioner for Refugees (UNHCR):
The Horn of Africa region continues to experience the longest and most severe drought on record, threatening lives and livelihoods, including millions of refugees and internally displaced people. Relentless drought and high food prices have weakened many people's ability to grow crops, raise livestock, and buy food... Harvests have yielded little and water sources have dried up. Conflict and insecurity continue to intersect with the drought emergency. As conditions continue to worsen, hundreds of thousands of people have been forced to flee in search of safety and assistance.
UNHCR—which is appealing for $137 million "to respond to the immediate needs of affected populations" in the drought-stricken region—says 1,750,000 people have been internally displaced in Ethiopia and Somalia alone, while more than 180,000 refugees have crossed from Somalia and South Sudan into regions of Kenya and Ethiopia that are also suffering from drought.
The region is also experiencing soaring disease rates.
"All seven countries are battling measles, a deadly disease, Aelbrecht said. "Four of the countries are fighting cholera, South Sudan being one of them; they just declared an outbreak," she added. "Malaria, which we know is endemic in this region and remains the biggest cause reason for [medical] consultation, is really on the rise."
Cases of hepatitis, meningitis, and dengue are also increasing, with Khartoum, the Sudanese capital, reporting its first-ever dengue outbreak this year.
"The frequency of these disease outbreaks is directly linked to these extreme weather events and to climate change," Aelbrecht said. "I've been working on and off in this region for almost 25 years now—and in terms of accumulated emergencies, this is bad as I've ever seen it."
"We need to do anything possible to control these disease outbreaks," she added. "We know how to control cholera, what we need is really the resources to scale this up."
News