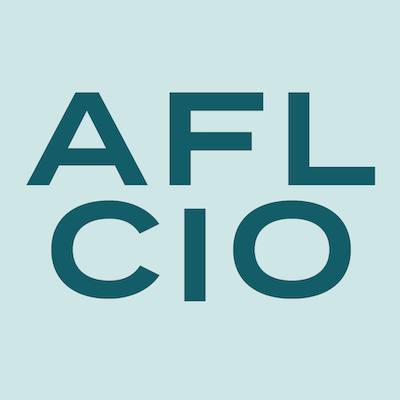 For Immediate Release
Contact:
Carolyn Bobb, (202) 637-5018
AFL-CIO, SEIU, SNITIS And Public Citizen Announce Filing of First USMCA 'Rapid Response Mechanism' Labor Case to Fight for Mexican Workers Denied Independent Union Representation
The AFL-CIO, the Service Employees International Union (SEIU), the Sindicato Nacional Independiente de Trabajadores de Industrias y de Servicios Movimiento 20/32 (SNITIS) and Public Citizen announced today that they have filed the first complaint under the Rapid Response Mechanism of the United States-Mexico-Canada Agreement (USMCA) against Tridonex, an auto parts factory located in Matamoros in the state of Tamaulipas, Mexico.
WASHINGTON
The AFL-CIO, the Service Employees International Union (SEIU), the Sindicato Nacional Independiente de Trabajadores de Industrias y de Servicios Movimiento 20/32 (SNITIS) and Public Citizen announced today that they have filed the first complaint under the Rapid Response Mechanism of the United States-Mexico-Canada Agreement (USMCA) against Tridonex, an auto parts factory located in Matamoros in the state of Tamaulipas, Mexico.
The case will test whether Mexico's labor reforms and USMCA's Rapid Response Mechanism can deliver for Mexican workers denied their fundamental right to organize and bargain for better wages and working conditions. For two years, workers at Tridonex have been harassed and fired for trying to organize with SNITIS, an independent Mexican union of their choice, to replace a corrupt "protection" union. Their lawyer, Susana Prieto Terrazas, gained international media notice after the Tamaulipas governor, who is opposed to labor reform, had her jailed for a month in a state penitentiary that was ridden with COVID-19 on trumped-up charges. Prieto was only released after agreeing to internal exile in another Mexican state and a ban on appearing in labor court.
"USMCA requires Mexico to end the reign of protection unions and their corrupt deals with employers," said AFL-CIO President Richard Trumka. "The ongoing harassment of Susana Prieto and SNITIS members is a textbook violation of the labor laws Mexico has pledged to uphold."
Workers at Tridonex, a subsidiary of Philadelphia-based Cardone Industries Inc., make auto parts, a substantial portion of which are for the U.S. market. Tridonex has refused workers' legal demand to stop withholding their dues and transferring them to the protection union. The company has fired more than 600 supporters of the independent union, SNITIS, which formed after worker protests in 2019 forced the maquiladoras in Matamoros to raise wages.
"Tridonex workers are suffering from the abuses of a corrupt and criminal union leader, who is protected by the company so that it can continue providing precarious wages and working conditions," said Prieto. "All of this through oppressors who harass, intimidate and beat the workers with the consent and protection of Tamaulipas Gov. Francisco Garcia Cabeza de Vaca. We are fighting so that no one ever is afraid of freely electing the union they wish to represent them and to make history, ending several generations of modern slavery."
Corporations' denial of workers' basic rights undermines the livelihoods and lives of workers across North America.
"Tridonex's suppression of workers' rights has cost our members in Philadelphia hundreds of good manufacturing jobs, and now they're doing the same to workers in Matamoros," said SEIU International President Mary Kay Henry. "USMCA requires Mexico to enforce its labor laws and the Rapid Response Mechanism was designed to ensure facility-specific enforcement opportunities to help workers here at home and in Mexico who want to join together in unions, have safe workplaces, and raise their families with dignity."
The Tamaulipas state government has acted on the company's behalf, blocking the workers' demand for an election and arresting Prieto, who has led worker protest movements in both Tamaulipas and the border state of Chihuahua. Shortly after Prieto was released from jail in Tamaulipas and exiled to Chihuahua, the government there also brought bogus criminal charges against her and, even with the repeated COVID-19-related delays, seem intent on imprisoning her again.
"The glaring violations of the USMCA and of Mexico's new labor law became evident as we worked with allies in Mexico and Texas to free Susana Prieto after she was jailed for protecting workers' rights; and we learned more about the mass firings, the fake union's abuses against the workers she represents at Tridonex and how the state government was entirely ignoring the obligations of the revised NAFTA," said Daniel Rangel, an attorney with Public Citizen's Global Trade Watch. "We are honored to join with SNITIS, the AFL-CIO and SEIU on this first USMCA [Rapid Response Mechanism] case."
Organized labor and civil society groups working with congressional Democrats demanded and won improvements in the renegotiation of the North American Free Trade Agreement initiated by President Trump, including the Rapid Response Mechanism.
"We stand with Susana and the brave SNITIS members who are demanding respect for their right to dignity and fair wages. We are calling on Mexican authorities to hold Tridonex accountable for its illegal union-busting and to protect Susana from further harassment, intimidation and threats. Her fight for the rights of the workers at Tridonex is our fight as well, and we will work with our allies in Congress and the Biden administration to insist that Mexico fully implements its obligations under the USMCA," said President Trumka.
The American Federation of Labor and Congress of Industrial Organizations (AFL-CIO) works tirelessly to improve the lives of working people. We are the democratic, voluntary federation of 56 national and international labor unions that represent 12.5 million working men and women.
LATEST NEWS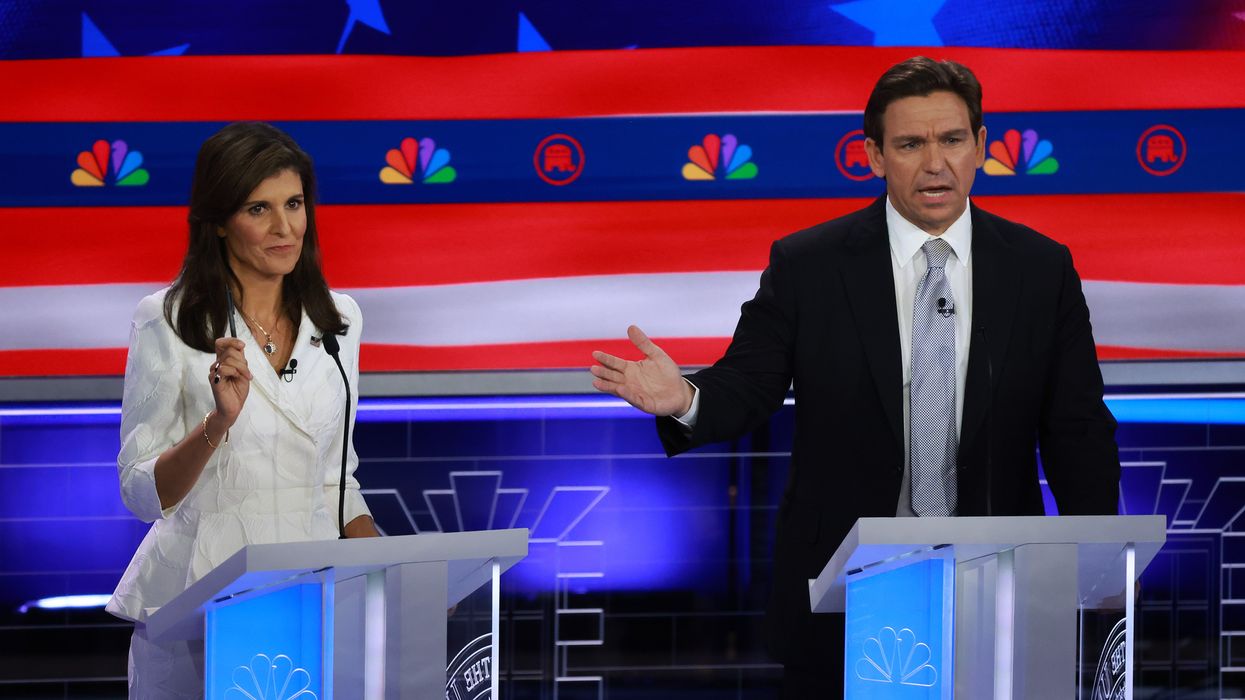 A DNC representative said it is "no surprise" given that she "checks all of their boxes: slashing taxes for the ultrawealthy, gutting Social Security and Medicare, and ripping healthcare away from millions of Americans."
While former U.S. President Donald Trump remains the Republican Party's front-runner for 2024, the political network founded by right-wing billionaire brothers Charles and David Koch announced Tuesday that it is instead backing Nikki Haley.
The Americans for Prosperity Action (AFPA) endorsement is a big win for Haley, who served as Trump's ambassador to the United Nations during the first half of his presidency and before that as governor of South Carolina. She has been battling Florida Gov. Ron DeSantis for the second GOP spot, and the Iowa caucuses are now less than two months away.
"Subtext: Prior to the democratic primaries are the billionaire primaries," journalist Jane Mayer—who has reported extensively on the Koch Brothers and other rich donors behind the rise of the radical right in the United States—wrote on social media Tuesday.

Both DeSantis and Haley trail Trump significantly in national polling, but the ex-president is facing four criminal cases and legal arguments that he is constitutionally disqualified from holding office after inciting an insurrection, so the next top GOP candidate could end up challenging Democratic President Joe Biden, who is seeking reelection next year.
"AFP Action is proud to throw our full support behind Nikki Haley, who offers America the opportunity to turn the page on the current political era," says a memo from Emily Seidel, a senior adviser to the group. "She has what it takes to lead a policy agenda to take on our nation's biggest challenges and help ensure our country's best days are ahead."
"With the grassroots and data capability we bring to bear in this race, no other organization is better equipped to help her do it," the memo continues. Citing internal polling, the document claims that Haley is "in the best position to defeat Donald Trump in the primaries" and "by far the strongest candidate Republicans could put up against Joe Biden in a general election."
The memo adds that "in sharp contrast to recent elections that were dominated by the negative baggage of Donald Trump and in which good candidates lost races that should have been won, Nikki Haley, at the top of the ticket, would boost candidates up and down the ballot, winning the key independent and moderate voters that Trump has no chance to win."
Some critics have pushed back against such presentations of Haley. Stephen Prager wrote last month for Current Affairs that "the media framing of Haley and other candidates as 'moderate' helps to soften their vicious policy prescriptions and inure liberals who'd ordinarily be skeptical of them. As a result, liberals who despise Trump end up having a favorableview of someone like Haley—even though she often holds more conservative policy inclinations in many places."
As Common Dreamshighlighted when Haley confirmed her candidacy in February, Christina Harvey, executive director of progressive advocacy group Stand Up America, warned, "Make no mistake: Nikki Haley is no moderate."
"From her support of Trump's policy of putting children in cages and the regressive reproductive health policies she pushed as governor of South Carolina to her opposition to federal voting rights legislation and her unwavering support of Donald Trump—even after he incited the January 6 insurrection—Nikki Haley has shown her true colors," Harvey said.
The Democratic National Committee similarly pointed to her policy positions in response to the AFPA endorsement on Tuesday. DNC national press secretary Sarafina Chitika said that "it's no surprise the Koch network, architects of Trump's MAGAnomics agenda, found their match in Nikki Haley, who checks all of their boxes: slashing taxes for the ultrawealthy, gutting Social Security and Medicare, and ripping healthcare away from millions of Americans."

"Republicans have entered a new stage in their primary—lighting millions of dollars on fire to attack each other, all the while reminding voters that every MAGA Republican candidate is in lockstep support of the same extreme, out-of-touch agenda the American people rejected in 2018, 2020, 2022, 2023, and will also reject next November, regardless of who emerges from this messy primary," Chitika charged.
Haley, meanwhile, shared an AFPA video about her on social media and said that she was "honored" to have the group's support.

DeSantis spokesperson Andrew Romeo said: "Congratulations to Donald Trump on securing the Koch endorsement. Like clockwork, the pro-open borders, pro-jail break bill establishment is lining up behind a moderate who has no mathematical pathway of defeating the former president. Every dollar spent on Nikki Haley's candidacy should be reported as an in-kind to the Trump campaign. No one has a stronger record of beating the establishment than Ron DeSantis, and this time will be no different."
Trump campaign spokesperson Steven Cheung toldThe New York Times that "Americans for Prosperity—the political arm of the China First, America Last movement—has chosen to endorse a pro-China, open borders, and globalist candidate in Nikki 'Birdbrain' Haley" and claimed that no amount of "shady money" would stop the former president from winning the party nomination.
The newspaper noted that AFPA "has been among the country's largest spenders on anti-Trump material this year, buying online ads and sending mailers to voters in several states, including Iowa, New Hampshire, and South Carolina. All told, the group has spent more than $9 million in independent expenditures opposing Mr. Trump."
News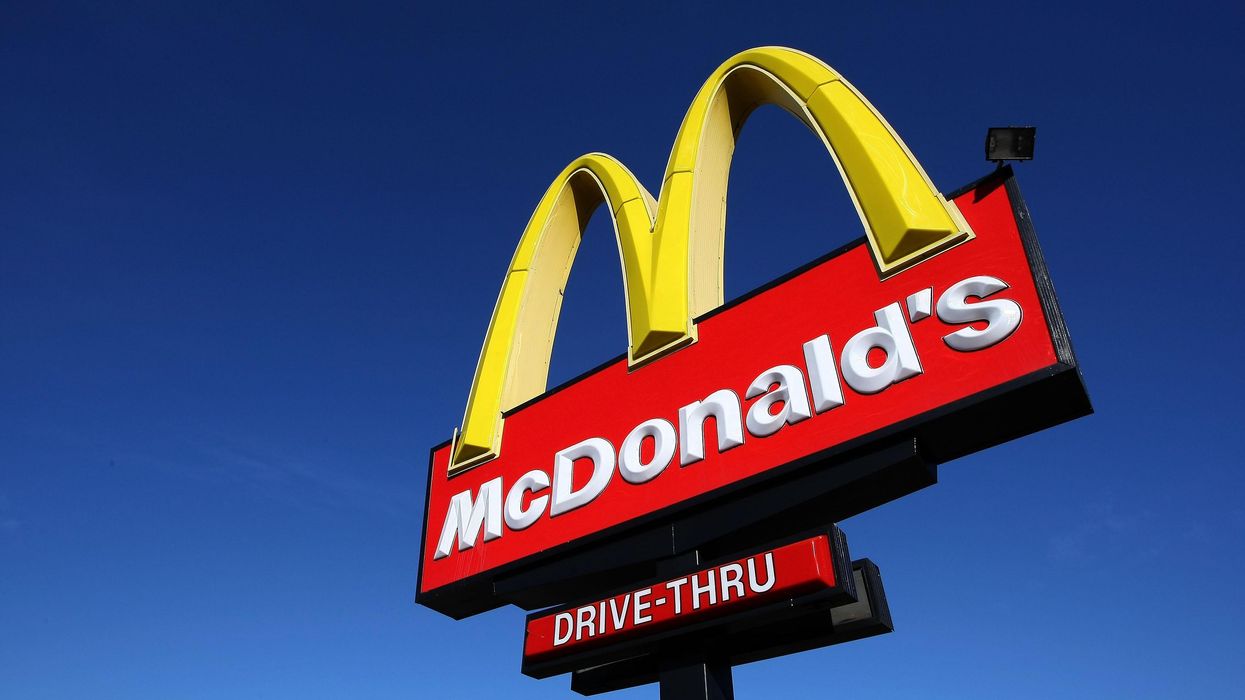 "Less than $1,000 per child," said one critic. "For one of the biggest franchises on Earth."
McDonald's, one of the largest employers in the world, was fined just $26,000—a tiny fraction of its profits—on Monday for violating child labor laws in Pennsylvania, with two franchisees found to be violating numerous rules in five stores.
The U.S. Department of Labor's (DOL) Wage and Hour Division found that Paul and Meghan Sweeney, owners of a company called Endor, which runs five McDonald's locations, employed 34 children who were 14 and 15 years old.
The employers scheduled the teenagers to work outside the times that 14- and 15-year-olds are legally permitted to work, including during school hours, earlier than 7:00 am and 7:00 pm during the school year, and more than three hours on a school day.
Writer and organizer Joshua P. Hill said the $26,000 fine—amounting to less than $1,000 per child who was affected by the Sweeneys' employment practices—was "not even a slap on the wrist," especially considering that the $200 billion multinational fast food company is one of the world's largest companies.
John DuMont, district director for the Wage and Hour Division in Western Pennsylvania, said in a statement that the Sweeneys employed young teenagers "at the expense of their education or well-being."
"Fast food restaurants offer young workers an opportunity to gain valuable work experience," said DuMont. "The Fair Labor Standards Act allows for developmental experiences but restricts the work hours of 14- and 15-year-olds and provides for penalties when employers do not follow the law."
Earlier this year, the DOL found that three McDonald's stores in Kentucky were illegally employing more than 300 children—some as young as 10. A coalition of McDonald's shareholders demanded a third-party human rights assessment in June, citing the Kentucky case and that of a 15-year-old employee in Tennessee who was injured at work.

The AFL-CIO pointed out that the violations at stores in Brookville, Clarion, Punxsutawney, and St. Mary's, Pennsylvania, took place amid a right-wing push to roll back child labor laws.
With the backing of powerful conservative donors like Richard Uihlein, lawmakers in Florida, Iowa, Arkansas have pushed legislation to weaken child labor protections in recent months. Iowa Gov. Kim Reynolds, a Republican, signed a bill in May removing so-called "unnecessary restrictions" that keep minors from working in hazardous workplaces, and GOP Arkansas Gov. Sarah Huckabee Sanders signed a bill in March allowing companies to hire children under the age of 16 without verifying their age.
The finding at the Pennsylvania McDonald's locations serves as a reminder that "any lawmaker who votes to roll back child labor laws is a disgrace," said the AFL-CIO.

The fine announced on Monday only represents "two ten-thousandths of a single percent" of McDonald's gross profits in 2022, said the labor group.
News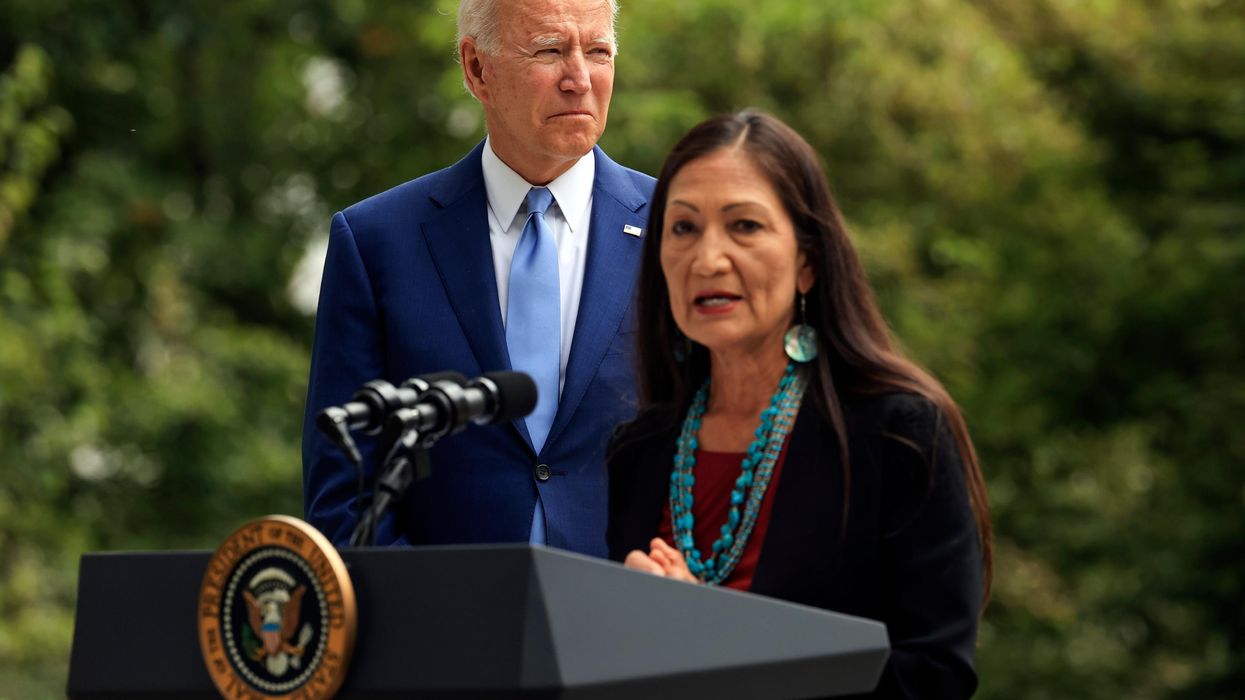 The lawsuit aims to "shed light on the Biden administration's dumbfounding refusal to align our country's federal fossil fuel programs with its own climate goals," said one campaigner.
A national conservation group sued the Biden administration on Tuesday for failing to respond to a public records request pertaining to the Interior Department's dismissal of a petition that called for a phaseout of oil and gas extraction on federal lands and waters.

Submitted last year, the petition from more than 360 environmental and Indigenous organizations called on the Interior Department to initiate a rulemaking process aimed at reducing oil and gas production on public lands and waters by 98% by 2035.
The department rejected the petition earlier this year, claiming that it "has a robust rulemaking agenda already underway to address the climate crisis and implement reforms to our conventional energy programs" and doesn't have adequate resources to "undertake the proposed rulemaking at this time."
The administration's reply came after the Center for Biological Diversity (CBD) sued the administration for not responding to the petition for more than a year.
CBD is now taking legal action against the Interior Department again, this time for violating the Freedom of Information Act (FOIA).
In July, CBD requested that the Interior Department turn over records related to the agency's deliberations about the fossil fuel phaseout petition and its response.
"At the time of the filing of this complaint, over 130 days have passed since the Center submitted its FOIA request to Interior. To date, however, Interior has not provided any requested records," the new lawsuit states. "Accordingly, the Center challenges Interior's FOIA violations resulting from its failure to respond to the Center's request and seeks declaratory and injunctive relief to require Interior to promptly search for and produce all responsive records without further delay."
"The administration needs to explain its failure to take bold, urgent action but instead it's hiding public records."
Taylor McKinnon, CBD's southwest director, said in a statement that the lawsuit "will shed light on the Biden administration's dumbfounding refusal to align our country's federal fossil fuel programs with its own climate goals."
"All-time high federal oil production is causing our planet's life support systems to shut down under the stresses of the climate emergency," said McKinnon. "The administration needs to explain its failure to take bold, urgent action but instead it's hiding public records."
The suit comes days before the start of the COP28 climate summit in the United Arab Emirates, closely watched and critically important talks that Biden has decided to skip.
Under Biden's leadership, U.S. crude oil production is on pace to surge to a record 12.9 million barrels this year. During his first two years in office, the Biden administration approved more than 6,400 permits for oil and gas drilling, exceeding the number of approvals during former President Donald Trump's first two years.
According to a CBD analysis released Monday, drilling projects that the Biden administration has approved could "erase" emissions-reduction progress from the Inflation Reduction Act, the president's signature legislative achievement.
"The Biden administration is canceling out its own climate progress by greenlighting major oil and gas projects," said Shaye Wolf, CBD's climate science director.
News