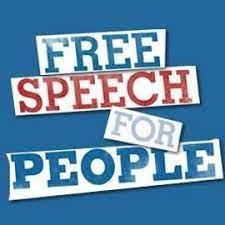 Following Amazon $1.5 Million Campaign to Try to Remake the Seattle City Council, Lawmakers Ban Foreign-Influenced Corporations from Spending in City Elections
The Seattle City Council voted 7-0 to pass landmark bill on Monday, effectively banning foreign corporate spending in city elections.
Seattle, WA
The Seattle City Council voted today to pass a landmark campaign finance law that combats the influence of foreign corporate spending in city elections.
The legislation, introduced by Councilmember M. Lorena Gonzalez, prohibits corporations from spending money in Seattle elections if they are foreign-influenced, defined as more than 1 percent ownership by a single foreign national or more than five percent ownership by multiple foreign nationals.
Free Speech For People has worked closely with Councilmember Gonzalez and Fix Democracy First to help draft this legislation. The ordinance builds on Free Speech For People's work developing similar legislation in St. Petersburg, Florida, which passed in November 2017, as well as proposed legislation in Massachusetts, Maryland, and New York City. Nationally-known experts in constitutional law, campaign finance, and corporate governance, including Professor Laurence Tribe of Harvard Law School, Chair Ellen Weintraub of the Federal Election Commission, and Professor John Coates of Harvard Law School, joined Free Speech For People's efforts. The ordinance also received support from the League of Women Voters of Seattle-King County.
While this legislation was pending, local election spending in Seattle garnered national attention ahead of the 2019 city council elections, where online retail giant Amazon contributed an unprecedented $1.5 million to the Seattle Chamber of Commerce's super PAC. In addition to being one of the country's largest companies, more than five percent of Amazon is owned by foreign investors in Europe and Asia; in fact, two of Amazon's top ten investors are foreign banks. Political spending by Amazon and other companies that meet the legislation's thresholds of foreign ownership would be prohibited under the proposed legislation.
"Seattle has become the largest and only second city in the country to pass legislation that stops foreign-controlled companies from using their influence as leverage to sway our democracy," said Councilmember M. Lorena Gonzalez. "Thanks to the ordinance passed today, the security of our electoral system is stronger. Building upon Seattle's pioneering Democracy Voucher program, this legislation confirms Seattle's ongoing commitment to a democracy by and for the people of this city. I'm honored to have worked with my Council colleagues, Seattle's democracy protectors and our partners nationwide on this important legislation package."
"The Seattle City Council's passage of this model legislation marks a major victory for our democracy," said John Bonifaz, President of Free Speech For People. "In Seattle, as in so many places, the corrupting influence of foreign corporate money in politics is not just a threat. It's here and now. We congratulate Seattle for leading the way in addressing this threat and in protecting the integrity of its elections."
The Supreme Court's January 2010 decision in Citizens United v. FEC sanctioned political spending by corporate entities as political speech protected by the First Amendment on the claim that corporations are "associations of citizens." As many major corporations are owned in substantial part by foreign shareholders, they can now circumvent federal law which explicitly prohibits foreign nationals from making any political expenditures in U.S. elections.
"Fix Democracy First is very happy to see this important legislation passed in Seattle," said Cindy Black, Executive Director of Fix Democracy First. "We believe addressing foreign-influenced corporations and expanding transparency in elections will increase accountability and transparency, as well as create more voter confidence in our political process. We especially want to thank CM Lorena Gonzalez for her leadership, and Free Speech for People for their guidance and legal expertise throughout this process."
"Seattle's law should spark a national movement to protect our democratic self-government. If what Seattleites call 'the other Washington' won't lead, then Seattle will," says Ron Fein, Legal Director for Free Speech For People.
For more information about the legislation, including letters of support and analysis from Professor Tribe, Commissioner Weintraub, Professor Coates, and others, visit: https://freespeechforpeople.org/seattle-legislation/
Free Speech For People is a national non-partisan non-profit organization founded on the day of the U.S. Supreme Court's ruling in Citizens United v. FEC that works to defend our democracy and our Constitution.
LATEST NEWS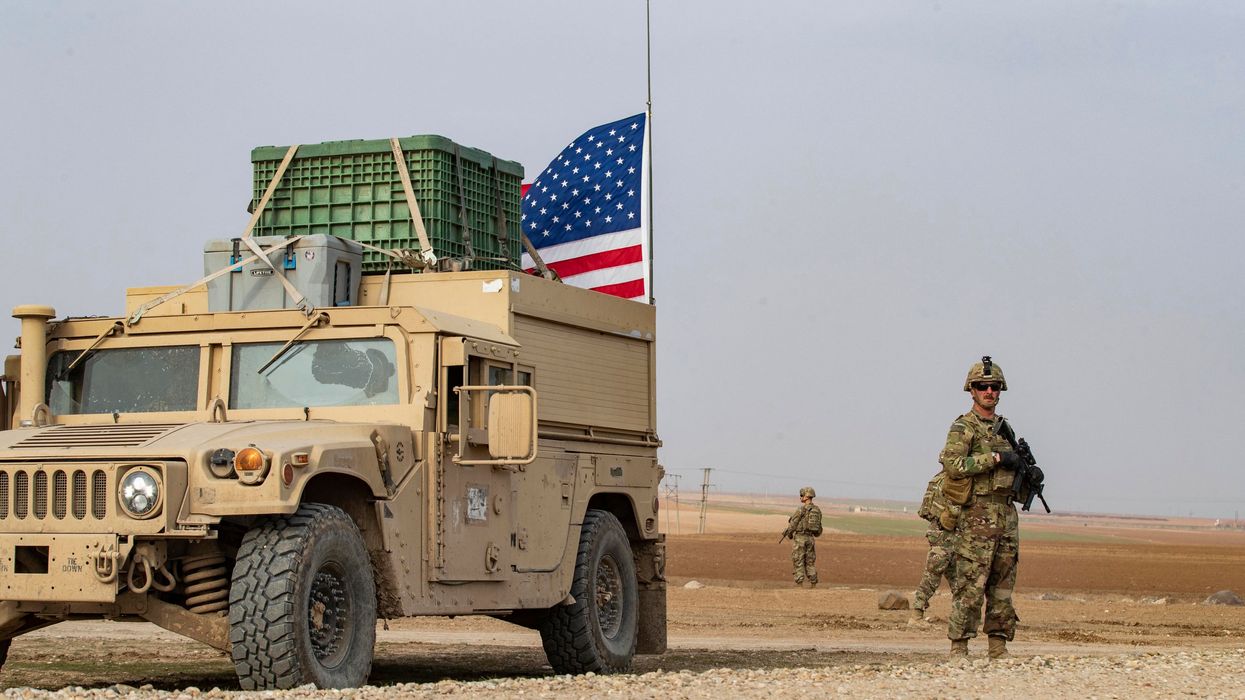 "We are at war in Syria, but American lawmakers haven't debated it and the public barely knows," said one foreign policy writer.
The U.S. launched airstrikes in Syria on Thursday after one American contractor was killed and five service members were injured in an attack by a drone that the Pentagon claims was of "Iranian origin."
The drone attack on a maintenance facility in northeast Syria and the U.S. response came two weeks after the House of Representatives voted down a bipartisan resolution that would have required President Joe Biden to withdraw all American troops from Syria within 180 days.
Around 900 U.S. troops and hundreds of contractors are currently stationed in Syria under a legal rationale that experts say is highly dubious at best.
Thursday's airstrikes in Syria were among several Biden has approved without congressional authorization since taking office. In a statement, U.S. Defense Secretary Lloyd Austin said that "at the direction of President Biden," the Pentagon "authorized U.S. Central Command forces to conduct precision airstrikes tonight in eastern Syria against facilities used by groups affiliated with Iran's Islamic Revolutionary Guards Corps (IRGC)."
"The airstrikes were conducted in response to today's attack as well as a series of recent attacks against coalition forces in Syria by groups affiliated with the IRGC," Austin added.
The strikes, which reportedly killed at least eight people described as "pro-Iran fighters," spurred another flurry of questions about the legal authority that the Biden administration is using to maintain the presence of U.S. troops and carry out military operations in Syria.
While Austin did not specifically invoke any legal authority in his statement, he did say the U.S. airstrikes were "intended to protect and defend U.S. personnel"—an apparent reference to Article II of the Constitution.
"We are at war in Syria, but American lawmakers haven't debated it and the public barely knows," Vox foreign policy writer Jonathan Guyer tweeted late Thursday. "One of the most significant and least discussed legacies of George W. Bush's 20-year-old invasion of Iraq is the way it's led to unauthorized forever wars we scarcely discuss."

Members of Congress have previously voiced alarm over the Biden administration's reliance on Article II to carry out military operations without congressional approval, something that was also done by previous administrations.
In 2021, following two rounds of U.S. airstrikes in Syria, more than 30 House lawmakers led by Reps. Peter Defazio (D-Ore.), Nancy Mace (R-S.C.), and Jamaal Bowman (D-N.Y.) sent a letter criticizing the Biden administration's "dangerous claim that Article II of the Constitution permits you to bypass congressional authorization to perform strikes inside Syria."
The lawmakers also rebuked the administration's insistence that "the wide range of activities" it has "undertaken as part of the ongoing U.S. occupation of a large swath of Syrian territory is justified by the Authorization for Use of Military Force (AUMF) of 2001," the measure Congress passed in the wake of the September 11 attacks.
That AUMF has been used by several administrations to justify military operations in Afghanistan, Iraq, Libya, Yemen, Somalia, Syria, and other countries. Opponents of the war powers resolution aimed at withdrawing U.S. forces from Syria invoked the 2001 AUMF to justify the continued occupation.
Congress has never specifically authorized the U.S. military to combat "Iran-backed forces" in Syria.

Earlier this week, as Congress moved to repeal the separate 2002 Iraq War AUMF, Sen. Lindsey Graham (R-S.C.) attempted to pass an amendment to change the language of the authorization to greenlight operations "against Iranian-backed militias operating in Iraq."
The Graham amendment was soundly defeated, with 60 senators voting no.
News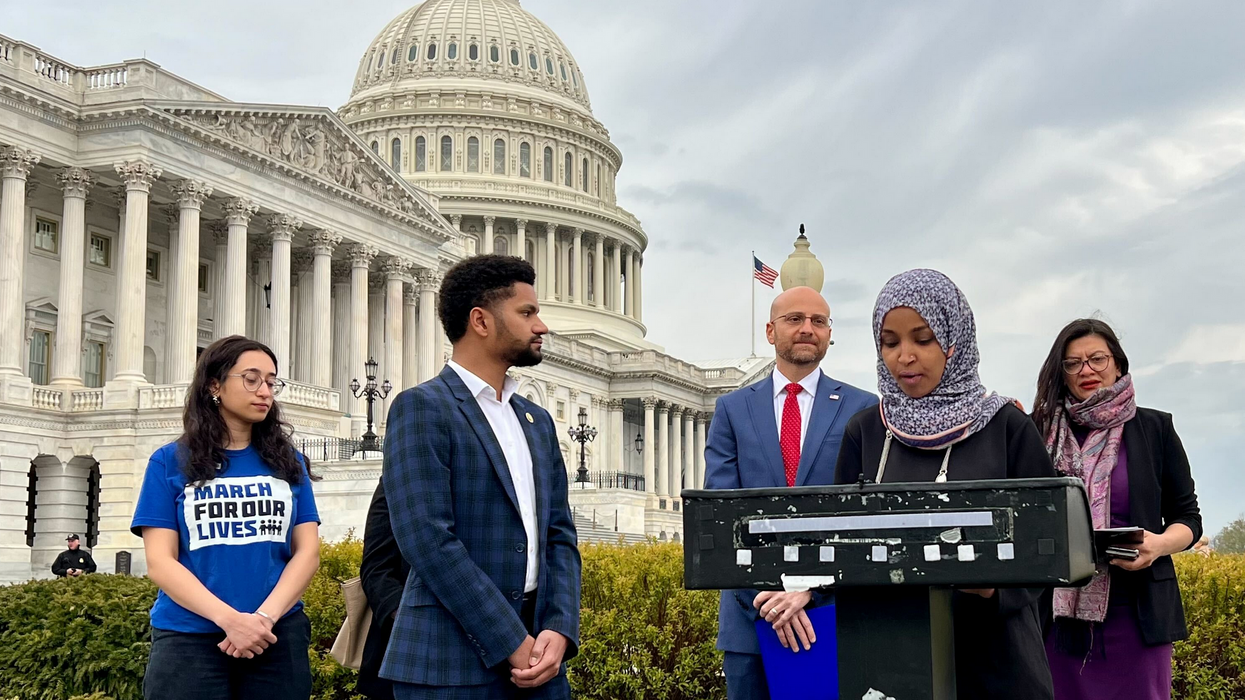 "In order to confront the evils of religious bigotry and hatred, we must come to understand that all our destinies are linked," said Omar, a former refugee from Somalia and one of two Muslim women in Congress.
Joined by Democratic House colleagues and activists outside the U.S. Capitol on Thursday—the first full day of Ramadan—Minnesota Congresswoman Ilhan Omar announced a new resolution condemning Islamophobia and commemorating the recent anniversary of the 2019 Christchurch, New Zealand mosque massacre.
Omar's office said the resolution—which is co-sponsored by more than 20 House Democrats—"comes after continued violence and threats made against religious minorities, particularly Muslims," while adding that the March 15, 2019 murder of 51 Muslim worshippers at the Al Noor Mosque in Christchurch by an Australian white supremacist "was a stated source of inspiration for mass shootings in the United States."
These include the deadly synagogue shooting in Poway, California; the massacre of 23 people, most of them of Mexican origin, at a Walmart in El Paso, Texas; and the murder of 10 people by a white supremacist in a Buffalo, New York grocery store.
Omar said:

As we begin the holy month of Ramadan, we must reaffirm that all people of faith should have the right to worship without fear. According to the Council on American-Islamic Relations, anti-Muslim hate crimes and attacks are at an all-time high. The attack in Christchurch, motivated by an extremist ideology of white supremacy, anti-Muslim hate, and the so-called replacement theory resonates deeply for Muslims in nearly every corner of the globe.

We also know that this increase in hate is not isolated to only Muslims. Church bombings, synagogue attacks, and racial hate crimes are also on the rise.
"In order to confront the evils of religious bigotry and hatred, we must come to understand that all our destinies are linked," Omar added. "That's why I'm proud to lead my colleagues in condemning the rise in Islamophobia and affirming the rights of religious minorities in the United States and around the world."
Robert McCaw, director of government relations at the Council on American-Islamic Relations, also spoke at Thursday's event, saying that "it is with a heavy heart that CAIR welcomes Omar's resolution," which "recognizes the threat posed by rising global Islamophobia to American Muslims and Muslims in other countries across the world, as well as the threat white supremacism poses to all people."
"It is incredibly important for Congress to lead the way in rejecting these hateful and dangerous ideologies, and CAIR calls on both sides of the aisle to co-sponsor and adopt this resolution," McCaw added. "As we remember the lives lost in Christchurch, we must continue to work towards a world where everyone is treated with humanity and dignity, regardless of their faith, ethnicity, or background."
In 2021, the Democratic-controlled House narrowly passed a resolution introduced by Omar aimed at combating Islamophobia after Rep. Lauren Boebert (R-Col.) referred to her and Rep. Rashida Tlaib (D-Mich.)—the only two Muslim women in Congress—as the "jihad squad."

The House GOP, which now narrowly controls the chamber, voted last month to remove Omar from the foreign affairs panel. Just before the vote, the congresswoman said that Republicans "are not OK with having a Muslim have a voice on that committee."
Omar's new federal resolution stood in stark contrast with Texas state Rep. Tony Tinderholt's (R-94) vote against a legislative resolution celebrating Ramadan.
"As a combat veteran, I served beside many local translators who were Muslims and good people," the Iraq War veteran explained. "I can also attest that Ramadan was routinely the most violent period during every deployment."
"Texas and America were founded on Christian principles and my faith as a Christian prevents me from celebrating Ramadan," Tinderholt added.
Responding to Tinderholt's statement, CAIR tweeted: "Every elected official has the right to express their own sincerely held religious beliefs—and we welcome that. But to insult another religion is uncalled for and harmful."

News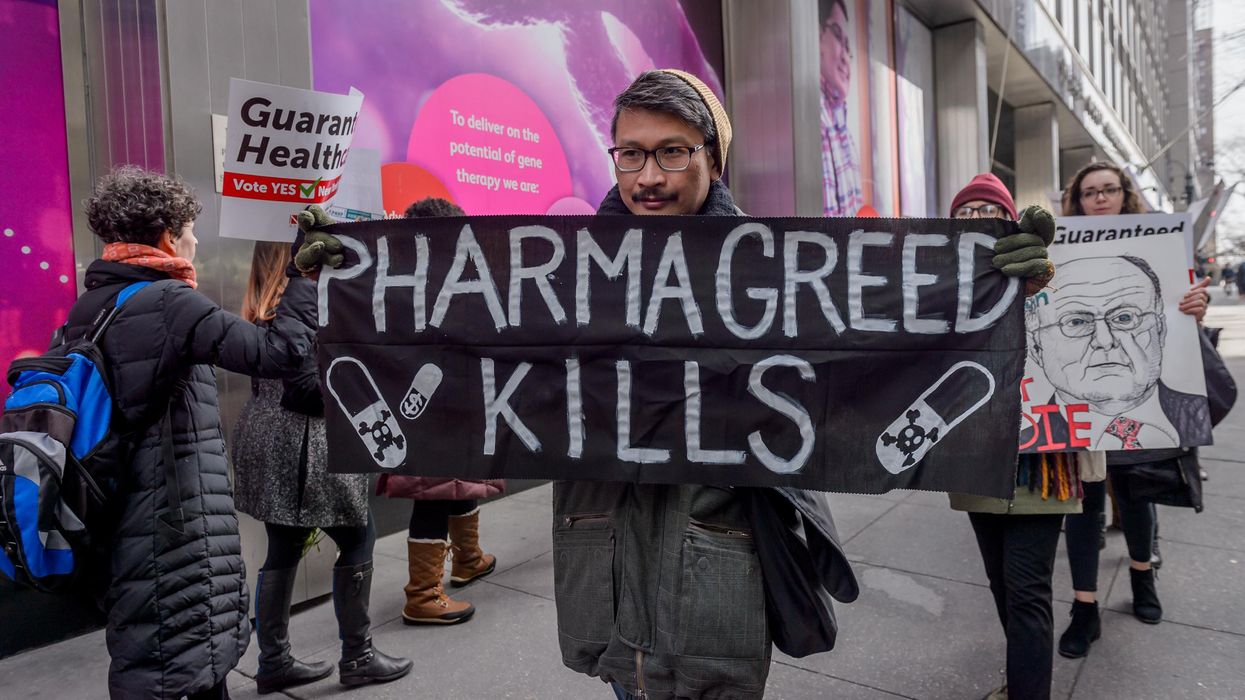 "We request HHS to consider this appeal directly... because the NIH has repeatedly demonstrated its unwillingness to even acknowledge that the Bayh-Dole Act includes an obligation to make products invented with federal funds 'available to the public on reasonable terms.'"
Two days after President Joe Biden's administration rejected a petition asking federal regulators to use their authority to lower the astronomical price of a lifesaving prostate cancer drug developed entirely with public funds, petitioners on Thursday filed an administrative appeal.
At issue is enzalutamide, a drug the Japanese pharmaceutical giant Astellas and its U.S. counterpart Pfizer sell under the brand name Xtandi. Although Xtandi owes its existence to U.S. taxpayers, who bankrolled 100% of its development, an annual supply of the drug costs $189,900 in the United States—three to six times more than its list price in other wealthy nations.
In late 2021, prostate cancer patients Robert Sachs, Clare Love, and Eric Sawyer petitioned the U.S. Department of Health and Human Services (HHS) to exercise its "march-in rights" against Xtandi. Under the Bayh-Dole Act, the federal government can reclaim and redistribute patents for inventions created with public funding—enabling generic competitors to produce cheaper versions—when "action is necessary to alleviate health or safety needs" or when an invention's benefits are not being made "available to the public on reasonable terms."
HHS Secretary Xavier Becerra referred the petition to the National Institutes of Health (NIH), whose acting Director Lawrence Tabak argued in a Tuesday letter that "Xtandi is widely available to the public on the market," citing Astellas' estimate that "more than 200,000 patients were treated with Xtandi from 2012 to 2021."
Even with insurance, co-pays for Xtandi are sky-high. Medicare recipients, for example, are expected to pay roughly $10,000 per year for the medicine. Especially for the millions of uninsured and underinsured people in the U.S., Xtandi remains completely out of reach.
Tabak's letter went on to say that Xtandi's "practical application is evidenced by the 'manufacture, practice, and operation' of the invention and the invention's 'availability to and use by the public….'" As Knowledge Ecology International executive director James Love lamented, the NIH completely elided any mention of "reasonable terms," editing out that key phrase from Bayh-Dole.
In their appeal, the petitioners wrote: "The petition focused on a single issue: the reasonableness of charging U.S. cancer patients three to six times more than residents of other high-income countries for the drug Xtandi."
"There is no dispute about the following facts," the appeal continues. "Xtandi was invented on grants from the U.S. Army and the NIH at UCLA, a public university. The patents were licensed eventually to Astellas, a Japanese drug company, with a partnership share now held by Pfizer, following its 2016 $14 billion acquisition of Medivation, UCLA's original licensee, that occurred just after the NIH rejected an earlier march-in request on Xtandi. The prices in the United States have consistently been far higher than the prices in other high-income countries."
Prior to the 2021 petition, Clare Love and prostate cancer patient David Reed filed a petition, later joined by Sachs, with the U.S. Department of Defense (DOD) after the Senate Armed Services Committee instructed the Pentagon to initiate march-in proceedings when the price of a drug created with a DOD grant exceeds the median price in seven large high-income nations. The Pentagon, however, has yet to acknowledge or act on the petition submitted to it in February 2019.
"If you consider both of these requests together, a petition to exercise the government's march-in or other rights in the Xtandi patents has been pending before the federal government for more than four years," Thursday's appeal states. "The HHS petition was filed 16 months ago."

It continues:
The petitions were filed with the DOD and HHS instead of the NIH because the NIH has repeatedly demonstrated its unwillingness to even acknowledge that the Bayh-Dole Act includes an obligation to make products invented with federal funds 'available to the public on reasonable terms.' This is demonstrated by a track record of dismissing multiple requests to use the government's Bayh-Dole safeguard to address pricing abuses and access restrictions, including those concerning the federal government's march-in rights under 35 USC § 203, and the federal government's global royalty-free license, under 35 USC § 202(c)(4). There are also extensive email records between Mark Rohrbaugh, currently NIH special adviser for technology transfer who is a long-time agency official, and lobbyists for drug companies and university rights holders, obtained through Freedom of Information Act requests, which not only express opposition to any safeguards regarding unreasonable pricing but organize public relations efforts against using a march-in request to address the pricing of products.
"HHS chose to assign to the NIH the evaluation of our petition regarding Xtandi," says the appeal. "We request HHS to consider this appeal directly, and not assign NIH to review its own decision. The latter would be tantamount to no review at all."
Since Bayh-Dole was enacted in 1980, "march-in rights have never been used... and NIH has repeatedly rejected the idea that affordability is a reasonable term," The American Prospectreported Wednesday. With Xtandi, "advocates thought they found the perfect test case for a new administration that paid lip service to lowering prescription drug costs."
As The Levernoted on Wednesday, the NIH's decision this week was consistent with Biden's track record:
Biden was vice president when the Obama administration rejected congressional Democrats' demand that the government use the same power to lower the skyrocketing prices of medicine in America.

As a senator in 2000, Biden was one of just eight Democrats who helped pharmaceutical lobbyists kill a measure spearheaded by Sen. Paul Wellstone (D-Minn.) and then-Rep. Bernie Sanders (I-Vt.) that would have reinstated the Reagan-era requirement that drug companies sell medicines developed with public money at a reasonable price.

That requirement was repealed by the Clinton administration in 1995, following pressure by drugmakers.
But Becerra's acquiescence to Big Pharma was more surprising. Prior to joining the Biden administration, the HHS secretary had expressed support for wielding the executive branch's authority to rein in soaring drug prices.
As the attorney general of California in the summer of 2020, "Becerra demanded the Trump administration use existing law to lower the price of medicines that were originally developed at taxpayer expense," The Lever reported. "As a member of Congress in 2016, Becerra signed on to a letter to the Obama Department of Health and Human Services calling on officials to broadly use 'march-in rights' to lower the cost of prescription drugs—including 'specialty drugs, like those to treat cancer, which are frequently developed with taxpayer funds.'"
Despite pressure from numerous members of Congress and medicine affordability advocacy groups, the NIH declared Tuesday that it "does not believe that use of the march-in authority would be an effective means of lowering the price of the drug."
Instead, the agency vowed to "pursue a whole-of-government approach informed by public input to ensure the use of march-in authority is consistent with the policy and objective of the Bayh-Dole Act," a move that progressive advocates denounced as a "pathetic" attempt to deflect criticism of its failure to use or threaten to use its legal power.
"This is a drug that was invented with taxpayer dollars by scientists at UCLA and can be purchased in Canada for one-fifth the U.S. price," Sanders said Tuesday. "The Japanese drugmaker Astellas, which made $1 billion in profits in 2021, has raised the price of this drug by more than 75%."
"How many prostate cancer patients will die because they cannot afford this unacceptable price?" asked Sanders, chair of the Senate Committee on Health, Education, Labor, and Pensions.
During a Wednesday hearing, Sanders made the case for changing "the current culture of greed into a culture which understands that science and medical breakthroughs should work for ordinary people, and not just enrich large corporations and CEOs."
News
SUPPORT OUR WORK.
We are independent, non-profit, advertising-free and 100%
reader supported.