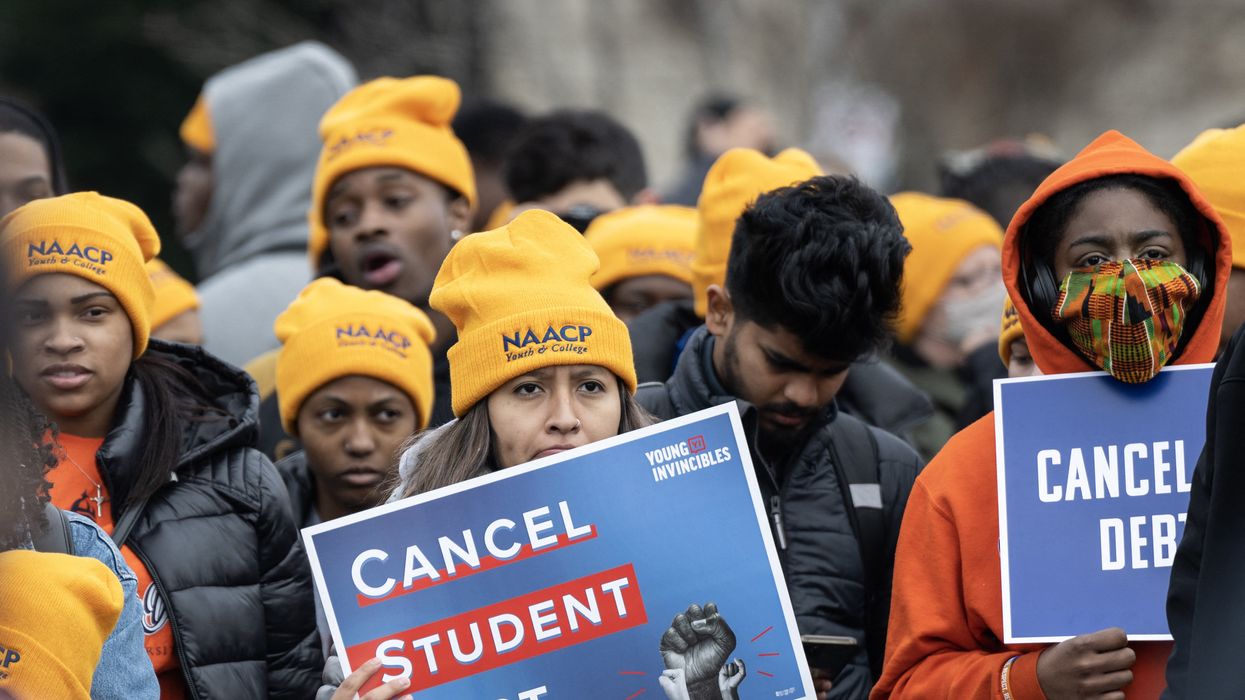 "Forty million people are being thrown to the wolves," warned one advocacy group.
Despite advocates' pleas for the Biden administration to slam on the brakes, the U.S. Education Department confirmed Thursday that student loan payments will resume for the first time in three-and-a-half years on October 1—even if the federal government shuts down.
An unnamed Education Department spokesperson toldPolitico that payments will be due starting in October "even if Republicans needlessly shut down the government." Student loan debt began accruing interest again earlier this month after the coronavirus pandemic-related pause.
The official's comment came hours after the Student Borrower Protection Center (SBPC) issued a statement imploring the Biden administration to halt the planned restart of student loan payments.
"If House Republicans shut down the federal government, the Biden administration must shut down the student loan system too," said SBPC executive director Mike Pierce. "As it stands, the administration plans to keep paying the student loan companies botching this effort to restart payments while furloughing the federal employees who are supposed to help borrowers when things don't go according to plan."
"This will result in more borrowers receiving inaccurate and incorrect information with less oversight and fewer resources to fix problems," Pierce added. "Forty million people are being thrown to the wolves. It will be a catastrophe."
"To throw borrowers back into repayment with bad-faith loan servicers and an understaffed Department of Education is a recipe for disaster."
Rep. Ayanna Pressley (D-Mass.), a longtime champion of student debt cancellation, also urged the Biden administration to keep the repayment pause in place if the government shuts down this coming Sunday.
"The student loan payment pause has been a lifeline for borrowers across the nation," said Pressley. "As we stare down an impending Republican government shutdown, it is abundantly clear that student loan payments should not resume October 1."
Pressley continued:

To throw borrowers back into repayment with bad-faith loan servicers and an understaffed Department of Education is a recipe for disaster and would deeply undermine the progress we have made to advance economic justice for student loan borrowers. While the administration works diligently to push back on the corrupt Supreme Court's obstruction of President [Joe] Biden's historic cancellation plan, we should take immediate steps to prevent borrowers from entering into repayment at a time when the infrastructure is not there and bad actors will seize on the lack of government capacity caused by Republican dysfunction.

This Republican government shutdown stands to harm families across the nation, many who were just regaining their financial footing for the first time since the Covid-19 crisis. The administration should absolutely pause student loan payments and interest accrual in light of these stark realities.

The Education Department said earlier this year that it would lift the student loan repayment pause shortly after the Supreme Court's ruling on Biden's debt cancellation plan. That timeline was cemented by a debt ceiling agreement that the White House negotiated with House Republicans.

Advocates have been warning for months that a resumption of payments without broad-based relief for borrowers would be both unjust and unwise. The Consumer Financial Protection Bureau estimated in June that millions of borrowers "have risk factors that suggest they could struggle when scheduled payments resume," including "pre-pandemic payment assistance on student loans" and "delinquencies on other credit products since the start of the pandemic."
Additionally, analysts believe resuming student loan payments will yank $70 billion out of the U.S. economy each year.

In an effort to mitigate some of the looming financial pain, the Education Department has implemented a three-month grace period for missed payments once the pause is lifted in October and launched a new income-driven repayment plan known as SAVE, which is aimed at lowering borrowers' monthly payments.
But advocates and borrowers have already reported significant chaos in the weeks leading up to the end of the freeze, a signal that the resumption of payments in the coming days is likely to be nightmarish.
The American Prospect's David Dayen reported in late August that the "transfers of millions of student loan accounts to new private loan servicers, which have slashed staff and need to ramp up quickly, have led to what some borrowers believe are miscalculations and mistakes."
"One borrower, Melanie Neff, a pediatric palliative care social worker, said her payment under SAVE more than tripled, from $300 to $1,000 a month, even though her income hasn't significantly increased since 2019," Dayen wrote. "Some servicers even sent borrowers statements saying their debts were paid off in full based on the Biden administration's debt cancellation program, only to have to revoke that when the Supreme Court struck it down. Since that program was stopped almost immediately by court injunction, there's no way that servicers should have sent out payoff statements, which just added to the confusion."
The Debt Collective noted in a social media post on Thursday that "the Biden administration is already attempting to do the administratively impossible—resume a 45 million person portfolio of student debt payments after a three-year pause with broken servicers."
"Doing it during a government shutdown will only exacerbate problems," the group wrote. "This is bad bad bad."
The Biden administration is currently pursuing an alternative student debt cancellation plan using the Higher Education Act of 1965, but it has chosen to undergo a time-consuming rulemaking process instead of wiping out debt immediately—which advocates and experts say he has the authority to do.

News