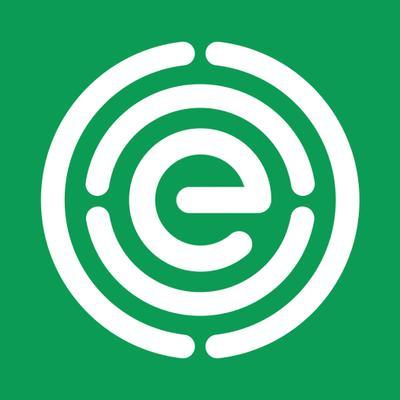 For Immediate Release
Contact:
Alex Formuzis
Senior VP, Communications & Strategic Campaigns
Environmental Working Group (EWG)
1436 U Street, NW
Suite 100
Washington, D.C. 20009
202.667.6982
@AlexFormuzis
Asbestos Imports Surge as Trump White House Moves to Keep Deadly Carcinogen Legal
New government data: asbestos imports rise 2,000 percent between July and August
WASHINGTON
Asbestos imports to the U.S. soared by nearly 2,000 percent between July and August, according to federal import data analyzed by the Asbestos Disease Awareness Organization (ADAO) and Environmental Working Group.
According to the U.S. International Trade Commission and the Department of Commerce, in August alone, the U.S. imported 272 metric tons of asbestos, compared to 13 metric tons in July.
The striking increase is a major indicator that industry is not concerned about President Trump and the Environmental Protection Agency (EPA) taking any steps to ban or even reduce the use and import of asbestos.
As the U.S. Geological Survey reported , the only remaining user of raw asbestos in the U.S. is the chlor-alkali industry, which uses it to make semipermeable asbestos diaphragms needed in the manufacturing of chlorine and sodium chloride.
The EPA was given new powers to ban and restrict dangerous substances like asbestos when Congress passed legislation in 2016 overhauling the federal Toxic Substances Control Act, or TSCA.
Asbestos is one of the first 10 substances the EPA is assessing for safety following the updates made to the revamped chemicals law. Although the EPA has not yet made a decision about the safety of asbestos under the new TSCA, recent actions by the Trump administration lay the groundwork for the agency to find that asbestos is safe and should remain legal.
Last week, the White House released its Fall 2018 deregulatory agenda, further indicating that Trump's EPA, under acting Administrator Andrew Wheeler, has no plans to implement a ban of asbestos .
The last asbestos mine in the U.S. closed in 2002, forcing the chlor-alkali industry and other users to rely on imports.
In 2017, all of the asbestos imported into and used in the U.S. came from Brazil.Between January and August of this year, the industry spent nearly $1 million to import 555 metric tons of asbestos from Brazil and Russia. Last year, the U.S. imported more than 341 metric tons of asbestos, and 2018 imports are expected to double.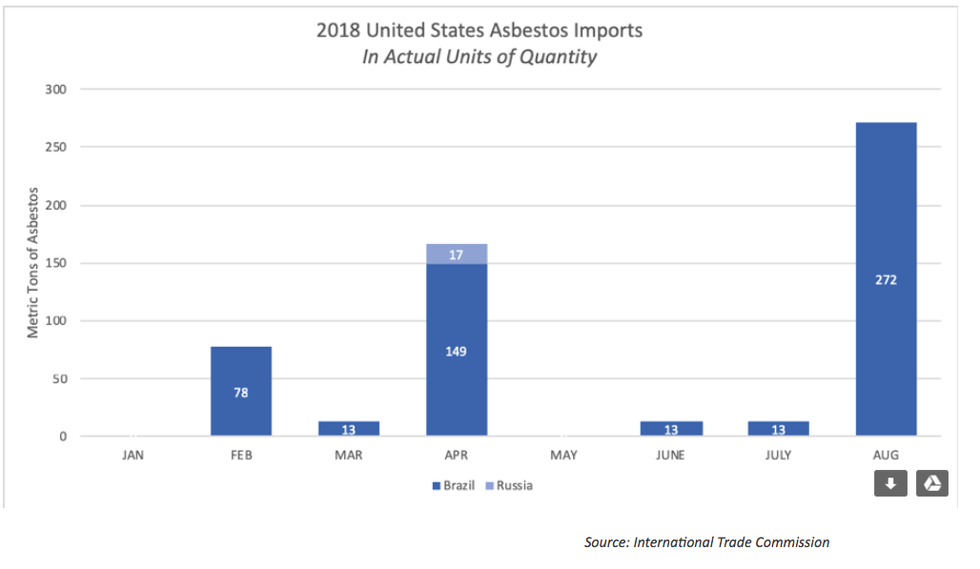 Lobbyists from the American Chemistry Council, working on behalf of the chlor-alkali industry, are now pushing the Trump administration for an exemption from the new chemical safety law that would allow it to continue to import and use asbestos just as it does today.
Analysis of federal data from the Centers for Disease Control and Prevention suggests that asbestos-triggered diseases kill an estimated 15,000 Americans a year. A recent study led by Jukka Takala , president of the International Commission on Occupational Health, found that the death toll from asbestos exposure may be much higher , at nearly 40,000 Americans a year and more than 255,000 a year worldwide.
"It is clear that under the Trump administration, U.S. asbestos imports and use are not decreasing. The science is irrefutable, there is no safe level of asbestos exposure or controlled use. Clearly, the chlor-alkali industry is lobbying for another exemption." said Linda Reinstein, president and co-founder of the Asbestos Disease Awareness Organization.
"It is appalling that unlike more than 60 nations around the world, the U.S. not only fails to ban asbestos, but allows imports to increase," Reinstein said. "Americans cannot identify or manage the risks of asbestos. The time is now for the EPA to say no to the asbestos industry and finally ban asbestos without exemptions."
"If virtually anyone other than Donald Trump were president, EPA would be following the law and moving to ban asbestos to protect public health," said EWG President Ken Cook. "When most people learn that asbestos remains legal even after it's claimed the lives of countless Americans, they're shocked. And when the public finds out the Trump administration is actively working to keep it legal, they are furious."
Earlier this year, ADAO and EWG discovered that Russia's largest asbestos producer, with close ties to Vladimir Putin, is wrapping its products in packaging adorned with President Trump's image . The company posted on Facebook a photo of pallets of asbestos with this caption:
Donald is on our side! ... He supported the head of the United States Environmental Protection Agency, Scott Pruitt, who stated that his agency would no longer deal with negative effects potentially derived from products containing asbestos. Donald Trump supported a specialist and called asbestos "100% safe after application."
According to the U.S. Geological Survey , in 2016, roughly 95 percent of the asbestos imported into the U.S. came from Brazil, with the rest coming from Russia.
But in November 2017, Brazil joined more than 60 other nations and banned asbestos. Brazil's ban, which will be in full effect soon, leaves Russia, Kazakhstan and China as the world's dominant asbestos producers. With Brazil poised to no longer provide the vast majority of asbestos to the U.S., Russia and Kazakhstan could fill the void.
The Environmental Working Group is a community 30 million strong, working to protect our environmental health by changing industry standards.
(202) 667-6982
LATEST NEWS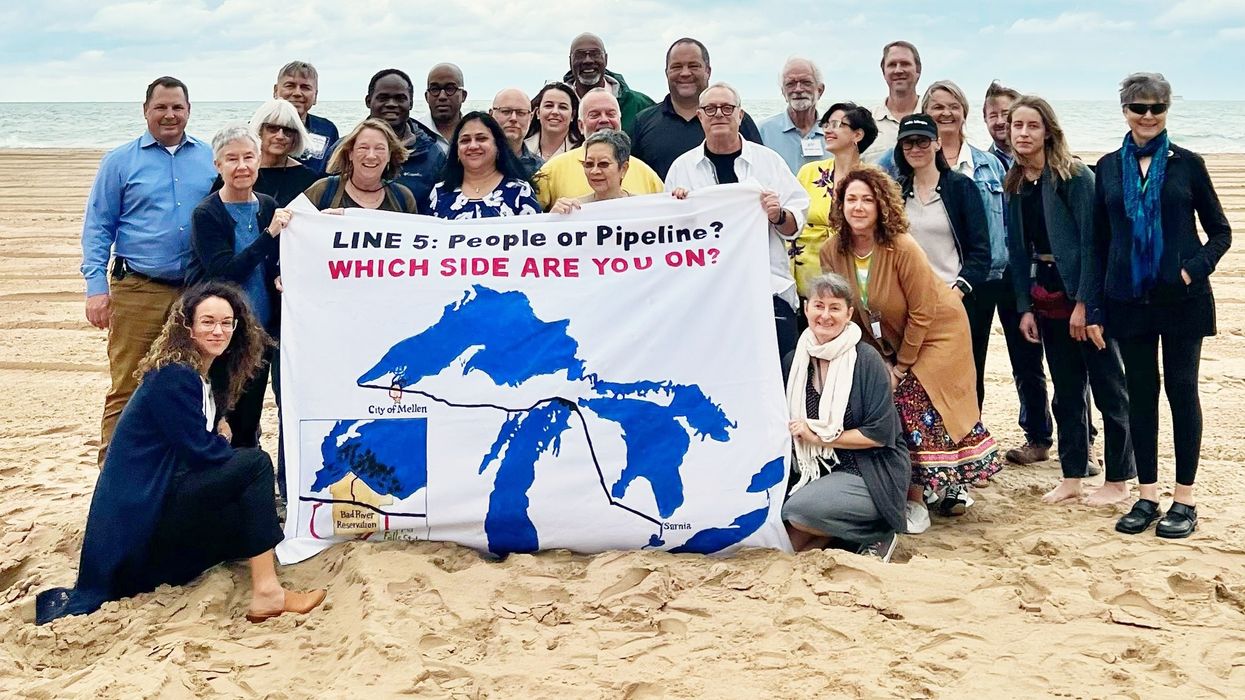 "Today's decision is another notch in a long history of ignoring the rights of tribal nations," said one Indigenous leader.
Days after climate advocates applauded Michigan Gov. Gretchen Whitmer's signing of a package of clean energy bills that one campaigner said would "translate into better air, water, and health for everyone," state regulators took several steps back from a sustainable future as they approved a key permit for Enbridge's Line 5 expansion project beneath the Great Lakes.
In a 2-0 vote with one member abstaining, the Michigan Public Service Commission (MPSC) approved siting for the project, granting Canadian oil firm Enbridge permission to build a concrete tunnel beneath the Straits of Mackinac—which connect Lake Michigan and Lake Huron—to house a four-mile section of its 645-mile petroleum pipeline.

The company can't break ground on the project without approval from the U.S. Army Corps of Engineers, which isn't expected to announce its decision until 2026, but Indigenous tribes and advocacy groups that have fought for years to stop the pipeline from being built expressed outrage that the commission approved the permit despite well-documented objections.
All federally recognized tribes in Michigan have passed resolutions opposing Line 5, which safety experts have warned puts the Great Lakes at risk for a massive explosion and oil spill.
"Today's decision is another notch in a long history of ignoring the rights of tribal nations," said Whitney Gravelle, president of the Bay Mills Indian Community. "We must act now to protect the peoples of the Great Lakes from an oil spill, to lead our communities out of the fossil fuel era, and to preserve the shared lands and waters in Michigan for all of us."
Tribes have said the project would violate their treaty rights and that Enbridge has not proven it can operate the tunnel safely. The company's Line 6B oil spill in 2010 contaminated nearly 40 miles of the Kalamazoo River.

"Disappointment isn't a big enough word," Rebecca Liebing, attorney for Bay Mills, told Michigan Bridge after the MPSC vote was announced. "There's no ambiguity regarding how the tribes feel about this matter... We're not done fighting."
The lakes hold 84% of North America's surface freshwater, and the Line 5 expansion would be the largest underwater hazardous liquids tunnel ever completed, said the coalition Oil and Water Don't Mix (OWDM).
"With this action, the Michigan Public Service Commission is putting Michigan in uncharted, dangerous territory while ignoring warnings by independent industry experts who testified during the MPSC's proceedings," said Sean McBrearty, a campaign coordinator for OWDM. "Never before has an oil tunnel that also carries other hazardous liquids been built in one of the most ecologically sensitive spots on Earth."
McBrearty pointed out that Enbridge already operates other oil pipelines in the Straits of Mackinac, and said there is "an open question whether Enbridge intends to build the tunnel or is simply using the project as a diversion and delay from shutting down the existing twin oil pipelines."
"Moreover, the Line 5 tunnel will worsen the impacts of the climate crisis by adding 27 million metric tons of polluting and climate altering carbon into the atmosphere, equivalent to 10 coal-fired power plants," said McBrearty, calling on President Joe Biden to revoke the presidential permit for Line 5.
Whitmer campaigned on closing down Line 5, but Enbridge has claimed the governor has no authority to shut down its pipelines because it runs between the U.S. and Canada and is subject to federal regulations.
A spokesperson for the governor told Michigan Bridge that Whitmer is reviewing the MPSC's decision and that her goal "has always been getting the pipelines out of the water as quickly as possible."
Christopher Clark, senior attorney for Earthjustice , which represented Bay Mills as it presented its case objecting to Line 5 to the MPSC, said the commission ignored "the concerns of tribal communities in favor of the profit of a fossil fuel company."
"The evidence before the commission demonstrated that the proposed tunnel would put the Great Lakes region at serious risk and profoundly endanger the identity and lifeways of the Bay Mills Indian Community, a sovereign tribal nation whose relationship to these waters preexists the United States," said Clark. "We will use every open avenue to shut down Line 5 in order to avert an environmental catastrophe and slow the unthinkable impacts of climate change."
News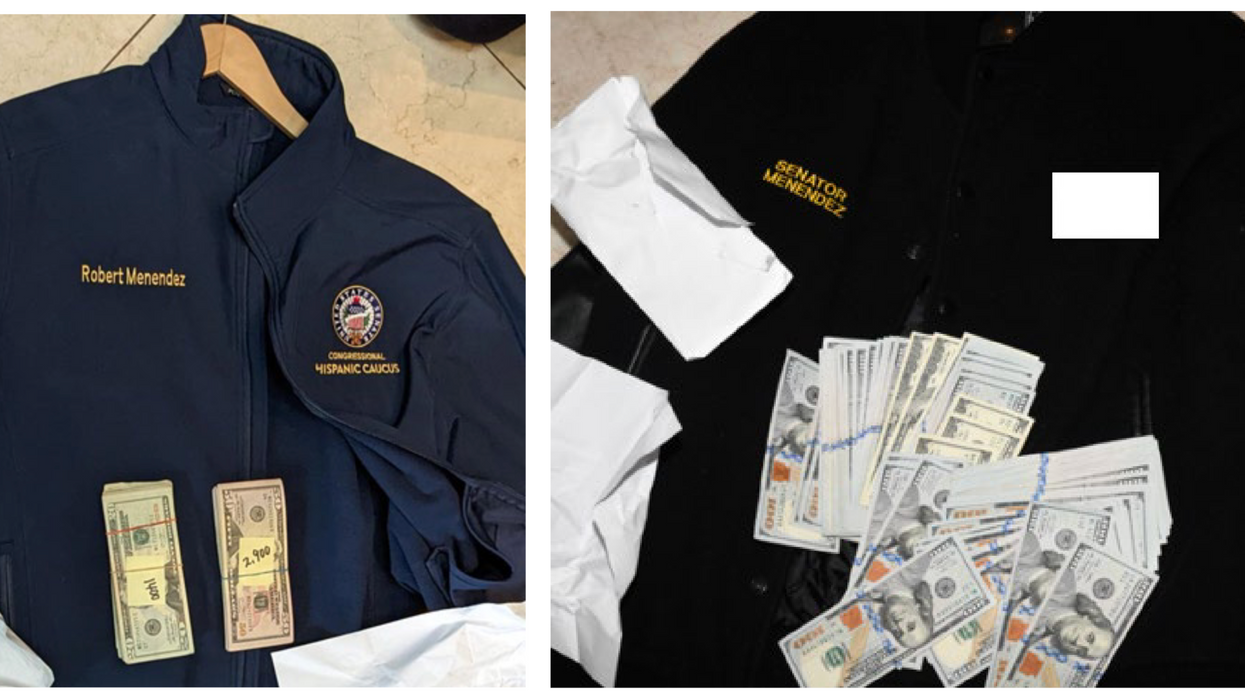 "If you are going to expel Santos, how can you allow... somebody like Menendez to remain in the Senate?"
After the U.S. House of Representatives on Friday voted to expel Republican New York Congressman George Santos, Sen. John Fetterman renewed his demand for similar action against Sen. Bob Menendez.
Fetterman (D-Pa.) has been calling for Menendez (D-N.J.) to exit the Senate since he was indicted in September and accused aiding the government of Egypt, engaging in "a corrupt relationship" with multiple businessmen, and accepting bribes in the form of "cash, gold, payments toward a home mortgage, compensation for a low-or-no-show job, a luxury vehicle, and other things of value."
Menendez has temporarily stepped down as chair of the Senate Foreign Relations Committee but refused to voluntarily leave the chamber, even after he was hit with another federal charge in October for allegedly acting as an unregistered agent for Egpyt.

Appearing on "The View" Friday, Fetterman argued that Menendez's alleged actions are "much more sinister and serious" than those of Santos—who faces 23 charges including wire fraud, aggravated identity theft, and conspiracy to commit offenses against the United States.
"He needs to go. And if you are going to expel Santos, how can you allow... somebody like Menendez to remain in the Senate?" said Fetterman, who previously returned $5,000 that his colleague gave to his 2022 campaign. "Menendez, I think, is really a senator for Egypt, not New Jersey."
Asked about the fact that Menendez has not been convicted of any crimes, Fetterman responded that "he has the right for his day in court... but he doesn't have the right to have those kind of votes [in the Senate]. That's not a right and I think we need to make that kind of decision to send him out."

Congressman Rob Menendez (D-N.J.)—the embattled senator's son, who has not been accused of any wrongdoing—was among the 105 Republicans and 206 Democrats who voted Friday to expel Santos. It was a reversal from his position last month, before the House Ethics Committee released its report on the New Yorker's alleged misconduct and criminal activity.

News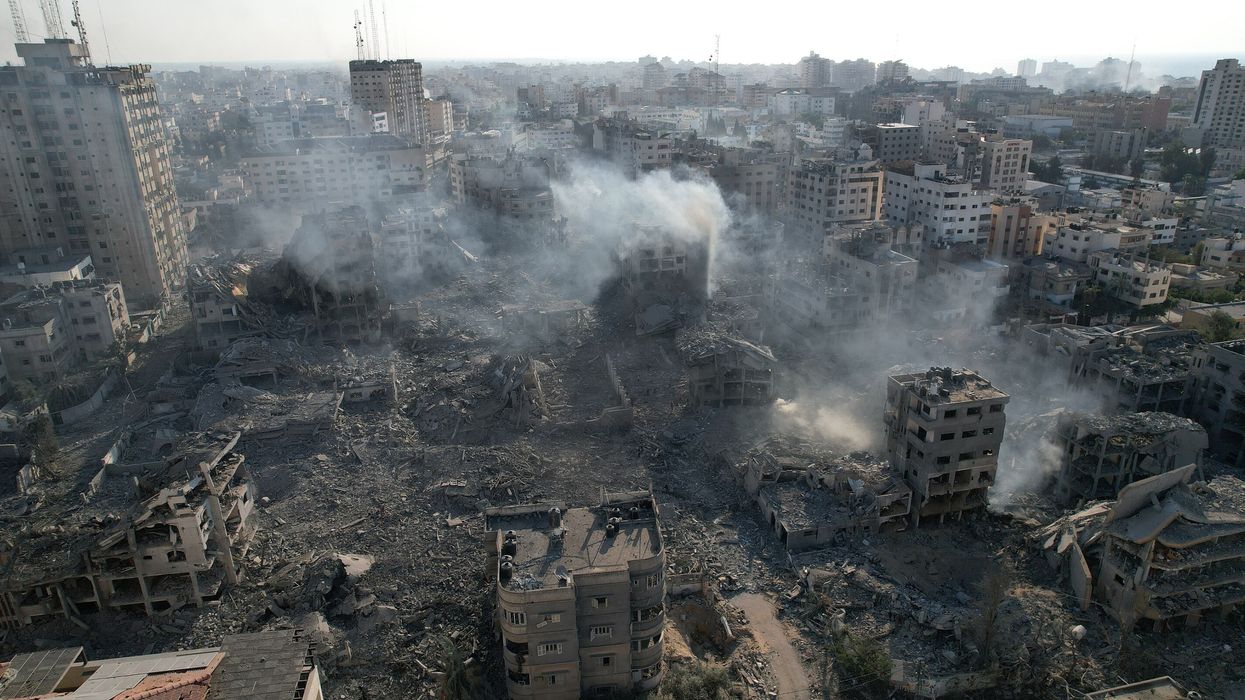 "This is the first AI-facilitated genocide in history," said one observer.
As Israel on Friday resumed bombarding Gaza following a weeklong pause, a joint investigation by a pair of progressive Israeli media outlets sheds new light on the Israel Defense Forces' use of artificial intelligence to select targets, essentially creating what one former Israeli officer called a "mass assassination factory."
The Israeli sites +972 Magazine and Local Call interviewed seven current and former Israeli intelligence officials including participants in the current war on Gaza, who spoke under condition of anonymity. Their testimonies—as well as official statements by Israeli officials, interviews with Palestinians, documentation from the besieged strip, and data—show how Israeli leaders know roughly how many Palestinian civilians are likely to be killed in each of its attacks, and how the use of AI-based systems is accelerating a noncombatant casualty rate that more resembles the indiscriminate bombing of World War II than the modern era of codified civilian protection under international humanitarian law.
"Nothing happens by accident," another source stressed. "When a 3-year-old girl is killed in a home in Gaza, it's because someone in the army decided it wasn't a big deal for her to be killed—that it was a price worth paying in order to hit [another] target."
"We are not Hamas. These are not random rockets," the source added. "Everything is intentional. We know exactly how much collateral damage there is in every home."
In one case, sources said Israeli officials approved an attack they knew would kill up to hundreds of civilians in a bid to assassinate a single Hamas military commander. More than 120 civilians were killed in the October 31 bombing of the densely populated Jabalia refugee camp with at least two 2,000-pound bombs.
"The numbers increased from dozens of civilian deaths [permitted] as collateral damage as part of an attack on a senior official in previous operations, to hundreds of civilian deaths as collateral damage," one source said.

One reason for the staggering Palestinian civilian death toll—over 15,000 people as of December 1, most of them women and children—is Israel's use of a platform called Habsora, or "Gospel," which is largely built on AI and can generate targets at what the report states is "almost automatically at a rate that far exceeds what was previously possible."
A source interviewed in the report said that "in the past there were times in Gaza when we would create 50 targets per year," but with AI-driven systems, it is possible to produce 100 targets in a single day.
"It really is like a factory," the source said. "We work quickly and there is no time to delve deep into the target. The view is that we are judged according to how many targets we manage to generate."
According to the report :
The increasing use of AI-based systems like Habsora allows the army to carry out strikes on residential homes where a single Hamas member lives on a massive scale, even those who are junior Hamas operatives. Yet testimonies of Palestinians in Gaza suggest that since October 7, the army has also attacked many private residences where there was no known or apparent member of Hamas or any other militant group residing. Such strikes, sources confirmed to +972 and Local Call , can knowingly kill entire families in the process.
One source said that a senior intelligence officer told his subordinates after October 7 that the goal was to "kill as many Hamas operatives as possible," leading to "cases in which we shell based on a wide cellular pinpointing of where the target is, killing civilians."
"This is often done to save time, instead of doing a little more work to get a more accurate pinpointing," the source added.
Another source said that the "emphasis is on quantity and not on quality." A human "will go over the targets before each attack, but it need not spend a lot of time on them."
The result of the new Israeli policy is the killing and maiming of civilians at a rate with few if any parallels in modern history. Since October 7, when Hamas-led attacks killed 1,200 Israelis and others in southern Israel, nearly 50,000 Palestinians have been killed, wounded, or left missing by IDF attacks. Over 300 families have lost at least 10 members, which the report notes is 15 times higher than during Operation Protective Edge in 2014, when the IDF killed more than 2,300 Palestinian civilians in what was at the time its deadliest attack on Gaza.
In the wake of the horrific October 7 attacks—plans for which were known to Israeli leaders but dismissed as too audacious, according to new reporting by The New York Times —Israeli officials publicly stated how they would retaliate, sometimes using language rife with genocidal intent.
"The emphasis is on damage and not on accuracy," IDF spokesperson Daniel Hagari explained on October 9.
Israeli forces answered the worst mass murder of Jews since the Holocaust with the worst mass murder of Palestinians since the 1947-48 Nakba, or "catastrophe," when Jews—many of them Holocaust survivors—killed 15,000 Arabs and ethnically cleansed more than 750,000 others from Palestine while establishing the modern state of Israel.
IDF bombs and bullets have killed nearly as many civilians in 56 days as the U.S.-led coalition did in Afghanistan in 20 years. During the first two weeks of the Israeli onslaught, nearly all the bombs dropped by the IDF were either 1,000- or 2,000-pound bombs made by the United States—which, although it has killed more foreign civilians this century than any other armed force in the world, eschews using such massive ordnance in civilian areas.
Israeli military officials said the IDF dropped 6,000 bombs weighing a total of 4,000 tons on Gaza during the first five days of the war alone, destroying entire neighborhoods.

In addition to bombing tactical and undergound targets—which often lie beneath homes and other civilian structures—the IDF is destroying so-called "power targets," which include high-rise and residential towers in the center of densely populated cities, and other civilian structures likes universities, banks, and government offices. The idea, intelligence sources said in the report, is to foment "civil pressure" against Hamas, whose political wing governs Gaza.
The IDF also targets the homes of Hamas and Islamic Jihad personnel, but Palestinians interviewed in the report said some of the families killed by Israeli bombing had no members who were in militant groups.
"We are asked to look for high-rise buildings with half a floor that can be attributed to Hamas," said one source. "Sometimes it is a militant group's spokesperson's office, or a point where operatives meet. I understood that the floor is an excuse that allows the army to cause a lot of destruction in Gaza. That is what they told us."
"If they would tell the whole world that the [Islamic Jihad] offices on the 10th floor are not important as a target, but that its existence is a justification to bring down the entire high-rise with the aim of pressuring civilian families who live in it in order to put pressure on terrorist organizations, this would itself be seen as terrorism. So they do not say it," the source added.
News