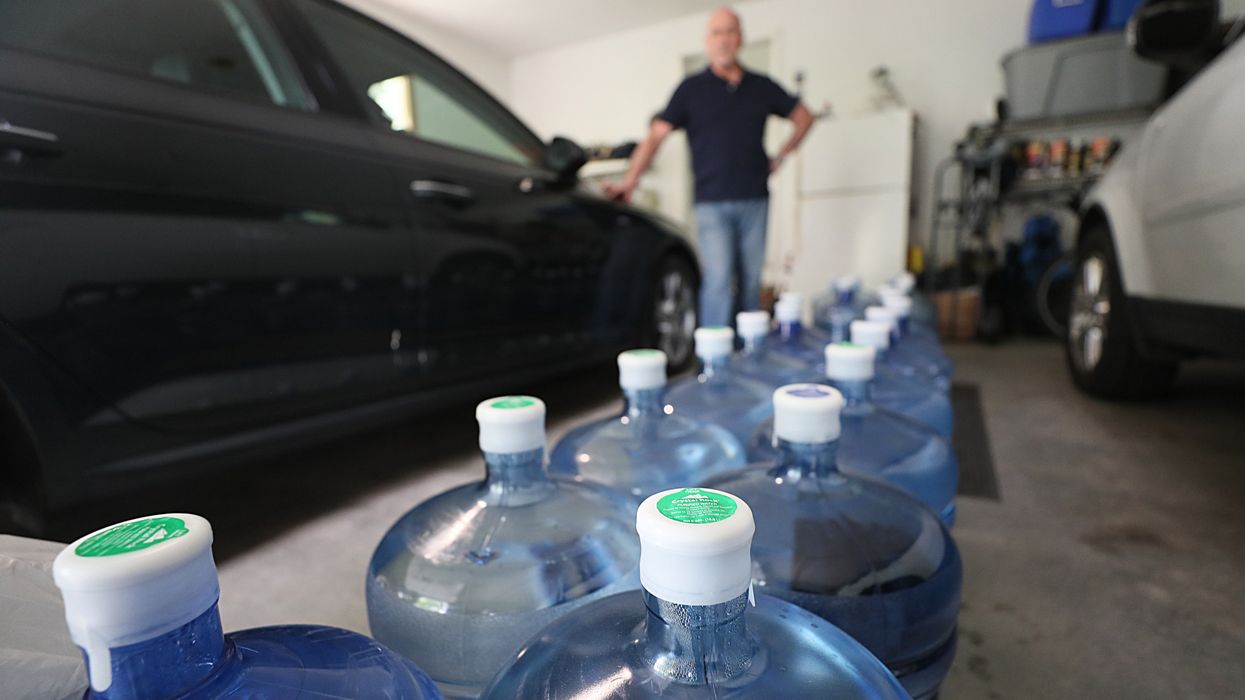 "We cannot safeguard public health until we get off this toxic treadmill of regulating one PFAS at a time when thousands of other PFAS remain unregulated," said one scientist.
The Biden administration's proposed first-ever national drinking water standard for six "forever chemicals" is both "groundbreaking" and far from the comprehensive action needed to address the environmental and public health crisis, advocates, scientists, and people from polluted U.S. communities said Tuesday.
Commonly called forever chemicals because they persist in the environment, humans, and wildlife for long periods, per- and polyfluoroalkyl substances (PFAS) have long been used in products such as firefighting foam, food packaging, nonstick pans, and water-resistant fabrics for clothing and furniture despite their ties to various health issues.

As part of U.S. President Joe Biden's action plan for PFAS pollution, the Environmental Protection Agency (EPA) calls for regulating PFOA and PFOS as individual contaminants in drinking water at 4 parts per trillion (ppt) as well as regulating PFNA, PFHxS, PFBS, and HFPO-DA—often referred to as GenX—as a mixture. The rule would require public water systems to monitor for the six chemicals and, if levels exceed the proposed standards, notify the public and take action to reduce contamination.
"We know which companies created these poisons and made billions of dollars in profits pumping them into our world for decades."

"Communities across this country have suffered far too long from the ever-present threat of PFAS pollution. That's why President Biden launched a whole-of-government approach to aggressively confront these harmful chemicals, and EPA is leading the way forward," said the agency's administrator, Michael Regan.
"EPA's proposal to establish a national standard for PFAS in drinking water is informed by the best available science, and would help provide states with the guidance they need to make decisions that best protect their communities," he added. "This action has the potential to prevent tens of thousands of PFAS-related illnesses and marks a major step toward safeguarding all our communities from these dangerous contaminants."
The administration's rule—which follows new lifetime advisories for PFOA, PFOS, PFBS, and GenX unveiled last June—would be "much stricter than the EPA suggested in 2016, when its health advisories recommended PFAS concentrations in drinking water of no more than 70 ppt," and "one of the first new chemical standards that updates the Safe Drinking Water Act since 1996," CNNreported.

U.S. military veteran, registered nurse, and Sierra Club member Mark Favors highlighted that "unfortunately, today's protections arrived too late for my family members who drank water contaminated by the use of PFAS at Peterson Air Force Base in Colorado Springs for decades."
"Sixteen people in my extended family have had cancer, including five military veterans," he explained. "But the new rules will have far-reaching implications for future generations."
Scott Faber, senior vice president for government affairs at the Environmental Working Group (EWG)—whose scientists have found that more than 200 million people across the country could have PFAS in their tap water—called the EPA announcement "historic progress," noting that "Americans have been drinking contaminated water for decades."
EWG senior scientist David Andrews declared that "these six PFAS stand out as some of the most well-studied PFAS, but the entire class of chemicals is a health concern. Action to reduce exposure cannot come soon enough."
While similarly praising the EPA proposal as "a historic start to protecting our families and communities," Natural Resources Defense Council (NRDC) senior scientist Anna Reade also warned that "we cannot safeguard public health until we get off this toxic treadmill of regulating one PFAS at a time when thousands of other PFAS remain unregulated."
Agreeing the "chemical-by-chemical approach leaves the public unprotected," Public Employees for Environmental Responsibility (PEER) staff counsel Monica Mercola asserted that "the only way to address this growing crisis is for EPA and Congress to regulate PFAS as a class of chemicals and to ban all but essential uses."
Waterkeeper Alliance CEO Marc Yaggi also argued that more must be done, calling on "federal and state governments to adequately fund the infrastructure upgrades that utilities need to effectively remove these dangerous chemicals, which should ultimately be paid for by the manufacturers and not by the public."
Other advocates also took aim at the chemical companies responsible for widespread PFAS pollution.
After applauding the EPA for "putting our communities ahead of the polluters," activist and actor Mark Ruffalo said:
My message to polluters is simple: After poisoning your workers and neighbors for decades, it is time to make our public health, not your profits, our top priority. My message to communities devastated by PFAS pollution is equally simple: Help is finally on the way.
Ruffalo portrayed U.S. attorney and author Rob Bilott in the 2019 film Dark Waters, which is about the lawyer's fight for West Virginians whose community was contaminated by DuPont's PFOA. Bilott said Tuesday that "it has taken far too long to get to this point, but the scientific facts and truth about the health threat posed by these man-made poisons have finally prevailed over the decades of corporate cover-ups and misinformation campaigns designed to mislead the public and delay action."
"We know which companies created these poisons and made billions of dollars in profits pumping them into our world for decades without warning any of us of the threats they posed to human health and our environment," he added. "We should not allow these same companies to now push onto all of us the costs of cleaning up their mess."
Along with making corporate polluters "clean up their own mess," the Biden administration "must move quickly to regulate industrial discharges of PFAS into the air and water," contended EWG vice president of government affairs Melanie Benesh.
Toxic-Free Future executive director Laurie Valeriano urged federal policymakers to pursue a "prevention-based approach modeled on states like Washington that bends the curve down on PFAS and all highly hazardous chemicals that shouldn't be in products or our drinking water."
People affected by existing pollution are also pushing for efforts to help detect potentially related medical problems. According to Clean Cape Fear co-founder Emily Donovan, "We now need every office within the EPA and all other federal agencies to use a whole-of-government approach to address PFAS as a class, stop all exposures at their source, make responsible parties pay for the cleanup, and give overexposed communities access to health monitoring."
News