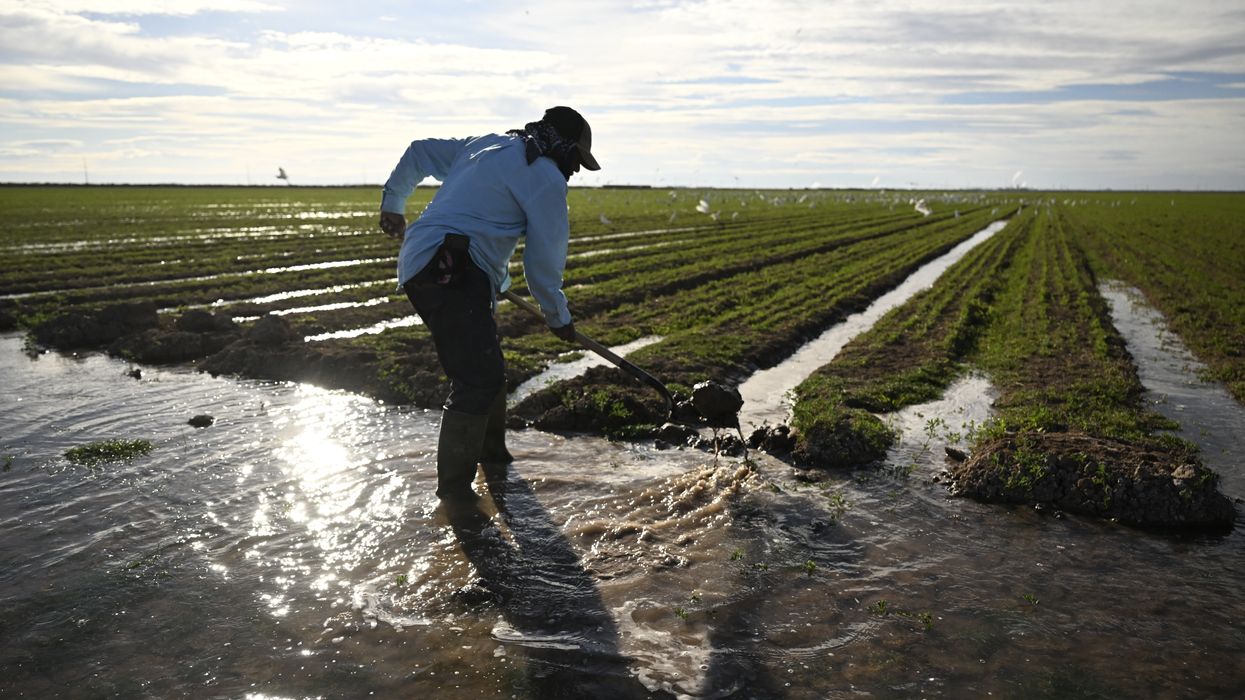 One campaigner implored governors and the Biden administration to "muster the political will to stop the expansion of water-intensive crops like tree nuts and alfalfa, factory farms, fracking, and fossil fuel extraction."
Since the seven Colorado River Basin states failed again this week to reach a consensus on a plan to conserve the region's dwindling water resources, environmental justice campaigners have implored officials to prioritize combating the "overuse and abuse" of water by agribusiness and fossil fuel corporations.
Arizona, Colorado, Nevada, New Mexico, Utah, and Wyoming agreed Monday on a proposed framework to collectively slash water use by roughly 15%. But California refused to approve the plan and submitted its own on Tuesday, causing the states to miss a federal deadline to finalize an interstate water conservation pact for the second time in six months. This sets the stage for what CNN describes as a "high-stakes legal battle" and increases the likelihood that the U.S. Department of Interior's Bureau of Reclamation will impose its own solution later this year.
Since the Colorado River Compact was first signed in 1922, the sprawling 1,450-mile river—a key water source for 40 million people in the western U.S. and northern Mexico—has been overallocated. Meanwhile, historic drought conditions intensified by the fossil fuel-driven climate emergency have exacerbated the situation, leading to worsening scarcity that threatens drinking water provision and power generation throughout the region, including in the metropolitan areas of Los Angeles, Phoenix, San Diego, Denver, Las Vegas, Albuquerque, and Salt Lake City.
The volume of water being withdrawn from the Colorado River has decreased since 2000 even as more people have moved to the region. But with less water flowing into the river amid the West's ongoing 23-year megadrought—more severe than anything seen in the preceding 1,200 years—recent reductions in per capita water consumption are inadequate. A 15% cut represents the bare minimum scientists say is needed to prevent water levels in dangerously depleted reservoirs from dropping even further.
"In this moment of crisis on the Colorado River, we must start from scratch and fundamentally rethink the allocation and use of these water resources," Mitch Jones, managing director for policy and litigation at Food & Water Watch, said Thursday in a statement. "This effort would be pointless without confronting head-on the key drivers of the crisis: the overuse and abuse of water by big agribusiness and fossil fuel corporations—the very same industries driving climate chaos in the first place."
As Wall Street investment firms look to capitalize on the pending catastrophe by buying and selling rights to the Colorado River's waning water supplies, Jones urged all levels of government to protect the vital waterway "as a public trust resource and prioritize the well-being of the public before corporate profits."
"The Biden administration and governors of the seven compact states must muster the political will to stop the expansion of water-intensive crops like tree nuts and alfalfa, factory farms, fracking, and fossil fuel extraction," said Jones. "They must halt these practices and chart a course to a more sustainable and resilient future, one that aligns with the reality of climate change and our precarious water future."
A whopping 80% of the Colorado River's water is currently "put towards agriculture, and 80% of that supply is used for crops like alfalfa, which is largely used as feedstock for cattle," according to Food & Water Watch. "The current framework to cut water uses, however, focuses on overall allocations and makes only a passing reference to the actual purpose that water is used."
"Each industrial, municipal, and agricultural user should be held to the highest industry standards in handling, using, and disposing of water," the progressive advocacy group added. "There is precious little water left to waste."
"Large agribusinesses and oil and gas operators use massive and unsustainable amounts of water, permitted by ineffective regulations that put profits over people."
In a Wednesday report titled Big Ag, Big Oil, and the California Water Crisis, Food & Water Watch researchers detailed "the toll that corporate agriculture and fossil fuel drilling is taking on the state's beleaguered water supplies." While more than one million Californians are denied access to clean water, powerful companies "have taken advantage of the state's water allocation system to benefit their own interests over public needs."
Despite ongoing drought conditions, California's "large agribusinesses and oil and gas operators use massive and unsustainable amounts of water, permitted by ineffective regulations that put profits over people," the group explained.
For instance, a massive expansion since 2010 in the number of acres devoted to growing almonds and pistachios required 523 billion additional gallons of water for irrigation in 2021 compared with 2017—an increase equivalent to the recommended indoor water use of 34.1 million people, or 87% of California's population. In addition, irrigation for the lucrative alfalfa industry guzzles nearly 1 trillion gallons of water per year, and corporate megadaries consume more than 142 million gallons of water every day.
Because vast quantities of California's nut crops, alfalfa, and dairy products are exported around the globe, it means that billions of gallons of the region's sorely needed water resources are being shipped overseas.
Furthermore, planet-heating oil and gas producers in California "devoured 3 billion gallons of freshwater between 2018 and 2021," the report points out.
California-based corporations are not alone in abusing the Colorado River's water resources. Food & Water Watch has also estimated that New Mexico's megadairies consume a combined 10 million gallons of water each day while producing significant amounts of pollution.
This is not the first time that Food & Water Watch has made the case for implementing just and sustainable water policies that don't allow the industries most responsible for the West's water crisis to call the shots.
Last August, when the seven states that depend on the Colorado River failed for the first time to produce an accord for achieving a 15% to 30% reduction in water use, the group's research director Amanda Starbuck called on policymakers to "eliminate rampant corporate water abuse before it's too late," decrying the "massive water use of Big Ag and Big Oil."
"By switching to renewable energy sources like solar and wind, California could save 98% of the water currently needed for its fossil fuel production," Starbuck said at the time. "And by transitioning away from industrial megadairies, thirsty crops like almonds and pistachios, and engaging in regenerative farming, California will gain enormous water savings that could serve small farmers and domestic households."
Food & Water Watch's new report urges Democratic California Gov. Gavin Newsom to "use executive and emergency powers to immediately stop egregious misuses" of water. "This includes preventing the planting of new almond and alfalfa acres on the salty, dry west side of the San Joaquin Valley, banning new megadairies, and ending new oil and gas drilling."
In addition, the report says that "the California Legislature should expressly define all water, including groundwater, as a public trust resource, and the government should protect and preserve this common resource for the public."
News