For Immediate Release
Contact:
Reprieve's press office: +44 (0) 207 553 8140
An Estimated 800 Facing Hanging in Pakistan Were Sentenced to Death as Children
LONDON
An estimated 800 of those facing execution in Pakistan may have been sentenced to death when they were children, a report released today has revealed.
Justice Project Pakistan and Reprieve conducted a study of 30 prisoners close to execution and discovered that 10% were arrested and sentenced to death while still children. Should this figure hold true across the entire death row population, there could be over 800 people convicted as children among the more than 8000 prisoners currently sentenced to death.
Among those profiled in the report is Shafqat Hussain, who was sentenced to death aged 14 following nine days of police torture, and is scheduled for execution tomorrow (Thursday 19th) along with five others.
The execution of child offenders is prohibited under Pakistani and international law and the Minister of the Interior Chaudhry Nisar had previously promised an inquiry into Shafqat's case. However, he has since failed to conduct one or to issue a stay of execution despite an international outcry over Shafqat's conviction.
Pakistan's moratorium on executions was lifted on December 17th. 49 people have been executed since then; 21 of those in the past 36 hours alone.
Maya Foa, Director of Reprieve's death penalty team, said: "The prospect of Shafqat's execution is bad enough, but the fact that there could be hundreds more people facing the hangman's noose, who were convicted when they were merely children, is truly shocking. Killing child offenders flies in the face of international law and basic humanity. Minister Nisar must put a halt to all executions, including Shafqat's, while he conducts an inquiry into the number of child offenders on Pakistan's enormous death row."
Reprieve is a UK-based human rights organization that uses the law to enforce the human rights of prisoners, from death row to Guantanamo Bay.
LATEST NEWS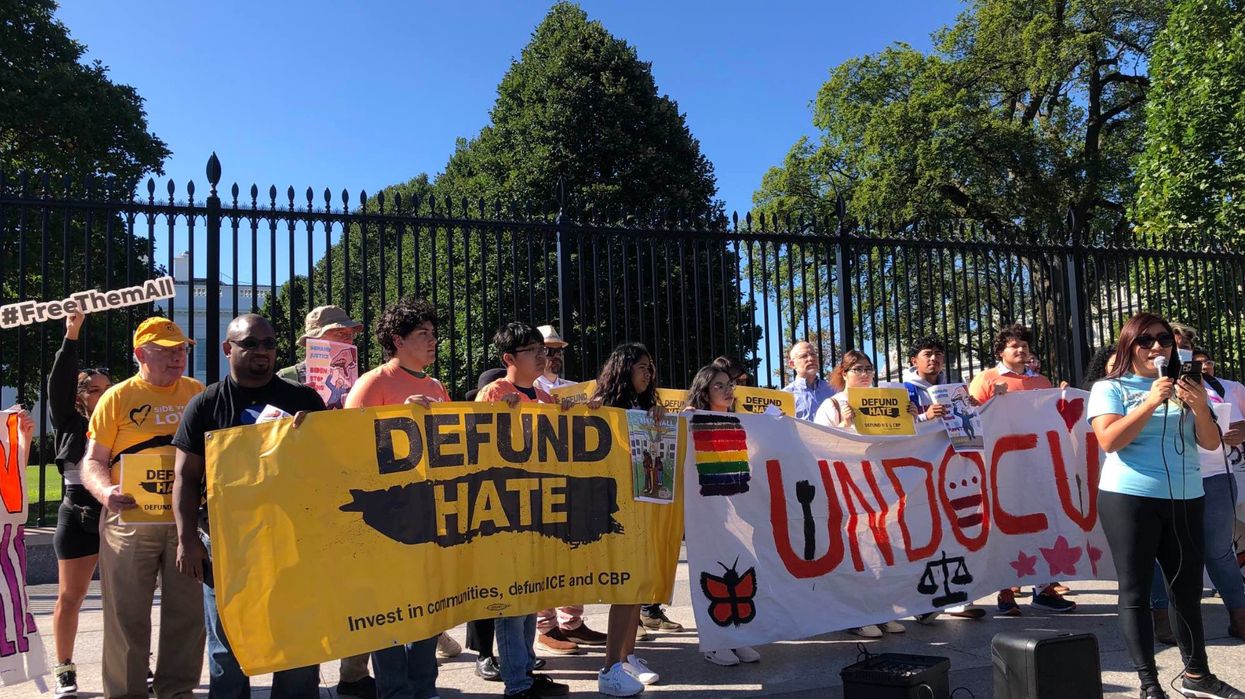 "Our tax dollars need to be used to strengthen our families and communities and uphold our human rights, not for the militarization of our beloved borderlands," said one activist.
A coalition of over 80 advocacy groups on Friday co-sponsored demonstrations in eight U.S. states and Washington, D.C. as part of a national day of action demanding the Biden administration close all federal immigration detention centers, release all migrants in custody, and end deportations.
Throughout his campaign, President Joe Biden "pledged to create an immigration system that is just and humane, including ending for-profit immigration detention," the coalition—which is organizing under the Defund Hate and Communities Not Cages banners—said in a statement.
"Our community is enraged and ready to push the Biden administration to fulfill his broken promises."
"However, after taking office, enforcement, detention, and surveillance have only increased and in July 2023, over 90% of detained immigrants are incarcerated in facilities owned and operated by private prison corporations that rake in billions of dollars in revenue," the groups continued.
Noting that at least 11 people have died during U.S. Immigration and Customs Enforcement (ICE) and Customs and Border Protection (CBP) detention during Biden's tenure, the coalition said that "the negligent death of 8-year-old Anadith Tanay Reyes Álvarez in CBP custody further highlights an immigration enforcement system beyond compassion and beyond repair."
"Our community is enraged and ready to push the Biden administration to fulfill his broken promises," the campaign added.
The activists are urging the Biden administration to:
Shut down federal immigration detention centers;
Defund ICE and CBP by cutting their funding in Biden's fiscal year 2025 budget request; and
Freeing everyone detained in federal immigration custody.
"We join our colleagues here in D.C. and around the country to demand the Biden administration to move away from the cruel imprisonment of immigrants, release those in ICE custody, end immigration detention, and halt all deportations immediately," Guerline Jozef, co-founder and executive director of the Haitian Bridge Alliance, said in a statement.
Protecting the civil liberties of those seeking a better life in the United States is a core tenant of our nation's democracy," Jozef added. "Throwing vulnerable people into prisons is deplorable—and often deadly."
Jovanny Hernandez, co-chair of the Southern Border Communities Coalition and an organizer for the New Mexico Dream Team,asserted that "it is our constitutional and human right for everyone to live free of inhumane treatment. Yet while the United States presents itself as a beacon of these human rights on the global stage, we continue to witness the violation of our rights at the southern border."
"Our tax dollars need to be used to strengthen our families and communities and uphold our human rights, not for the militarization of our beloved borderlands and the targeting, detention, and deportation of our families, neighbors, and newcomers seeking protection," Hernandez added.

Luba Cortes, immigrant defense coordinator at Make the Road New York, said: "ICE has a horrifying track record of mistreating immigrants—denying them access to legal counsel, denying them freedom, and severing them from their families. Despite this, our government continues to funnel billions of dollars into these detention centers."
"People should be able to navigate their immigration cases with dignity and respect and in the comfort of their homes, not from behind bars in a jail cell," Cortes argued. "It is time to hold this administration accountable. President Biden and Congress must stop wasting public money by unnecessarily punishing immigrants in these horrid facilities and instead focus on reinvesting resources into our communities."
News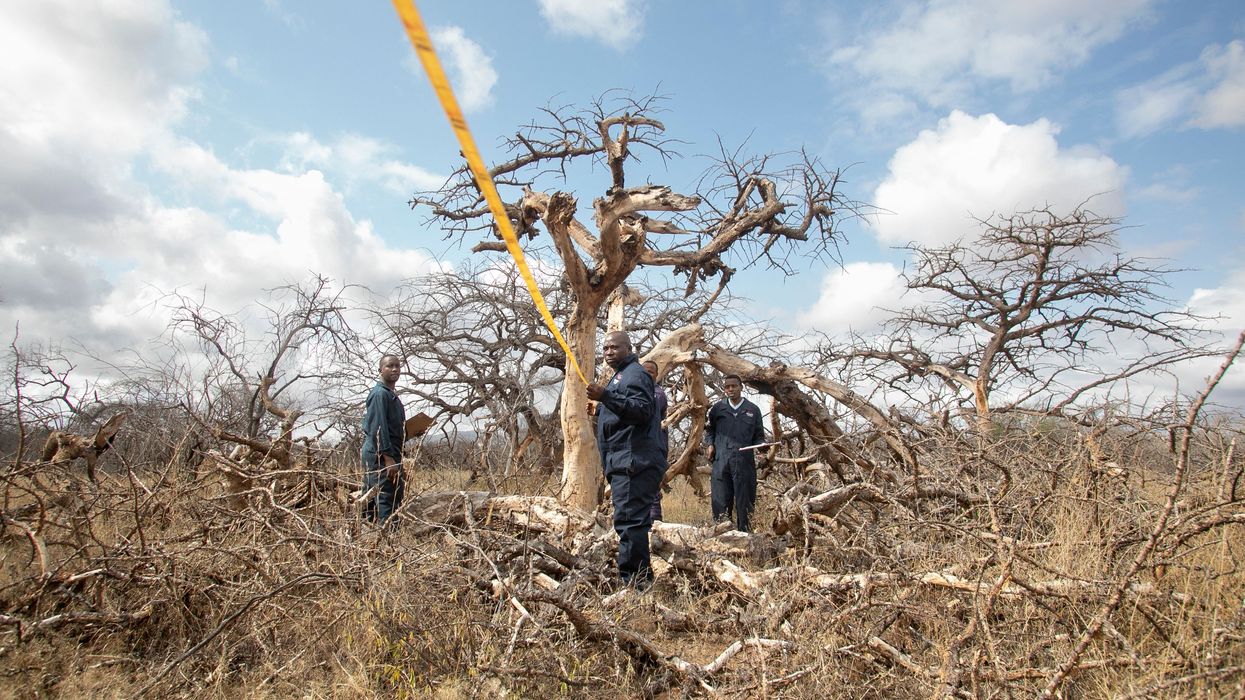 "Biodiversity, the climate, and Indigenous people or local communities are losing out on what should have been a system to drive meaningful financial flows to the forest conservation projects that so desperately need it," said one expert.
Echoing previous warnings from climate advocates and studies, an environmental watchdog on Friday released research from experts at the University of California which shows that trying to offset fossil fuel emissions with popular forest carbon credit projects "is a pipe dream."
As the new Berkeley Carbon Trading Project assessment—funded by Carbon Market Watch (CMW)—explains, "The voluntary carbon market generates credits, each nominally equivalent to one metric ton of carbon dioxide reduced or removed from the atmosphere, from a wide range of projects around the globe."
Critics have long argued that carbon credit schemes are "false solutions" that harm poor communities where such projects are based and enable companies worldwide to greenwash their polluting activity rather than implementing reforms or investing in action to actually combat deforestation and the climate emergency.
"Reducing Emissions from Deforestation and Forest Degradation (REDD+) is the project type that has the most credits on the voluntary carbon market—about a quarter of all credits to date," the assessment details. "These projects pay governments, organizations, communities, and individuals in forest landscapes (primarily tropical ones in the Global South) for activities that preserve forests and avoid forest-related greenhouse gas (GHG) emissions."
Over the past two decades, more than $3 billion has been poured into REDD+ and nearly half a billion carbon credits have been awarded, yet "deforestation is still continuing at an alarming rate," the report notes. Berkeley researchers' analysis of four methodologies that have generated almost all REDD+ credits—under Verra, the largest voluntary carbon market registry—revealed that estimated GHG emissions reductions were dramatically exaggerated.
"We found significant over-crediting from all of the factors we reviewed, the core causes of which are a combination of incentives and uncertainty," said Barbara Haya, who led the research. "Everyone involved in the voluntary carbon market, from the buyers and sellers of credits, to the registries who write the rules and the auditors who enforce them, all benefit from more credits."
"Large uncertainty in climate benefit calculations creates many opportunities for market participants to choose assumptions that inflate credits issued," Haya added. "Drawing on all evidence, we conclude that REDD+ is ill-suited for carbon offsetting."
As a CMW briefing published with the assessment summarizes:
Project baselines are significantly overestimated, the research found, leading to the creation of carbon credits that represent imaginary emission reductions.
Similarly, leakage is systematically underestimated by projects, which make use of flexibilities provided to them by the methodologies to downplay the risk of deforestation moving to areas outside of their project.
The creation of low-quality carbon credits is further fueled by exaggerated estimates of the quantity of carbon stored within the trees that are protected by projects.
The risk that the trees protected by REDD+ projects will die in the future is also drastically underestimated by projects, which again use methodological flexibility to misrepresent the real deforestation threat that forests will face in the future.
Finally, the safeguards implemented by Verra are weak, do not protect communities from harm, and are not properly upheld by the validation and verification bodies.
Verra
released
a lengthy response to the new assessment, which welcomed "the insight of the broader scientific and environmental community into our work on nature-based solutions," but also said that "it is important to note that the vast majority of findings and recommendations from this research align with extensive and systematic work to update the Verified Carbon Standard (VCS) Program that Verra has carried out over the last two years."
Inigo Wyburd, a CMW policy expert on global carbon markets, said that "we welcome Verra's willingness to engage with our research and hope that it will take on board our findings and implement all of our recommendations."
"Businesses are offsetting their emissions on the cheap by buying low-quality carbon credits connected to forest protection projects in the Global South," the expert added. "When only 1 in every 13 carbon credits represents a real emissions reduction, their action is lost in the forest."
Meanwhile, as Gilles Dufrasne, CMW's policy lead on global carbon markets, highlighted, "biodiversity, the climate, and Indigenous people or local communities are losing out on what should have been a system to drive meaningful financial flows to the forest conservation projects that so desperately need it."
"Offsetting should be axed," he argued. "It cannot work in its current form, and carbon markets must evolve into something different. The focus should be on getting money to the right place, rather than getting as many credits as possible."
As Patrick Galey, senior fossil fuels investigator at Global Witness, pointed out on social media Friday, the new research was released as the African nation Liberia is preparing to sign an offsetting agreement conceding 10% of its territory to Blue Carbon, a private company in the United Arab Emirates led by a member of an Emirati royal family.
Middle East Eyereported late that month that the deal for "control of one of the most densely forested territories" on the continent "would violate a number of Liberian laws, including the 2019 land rights law." Additionally, as CMW policy expert Jonathan Crook told the outlet, "there's no clarity as to what will be done to calculate what emission reductions have taken place."

News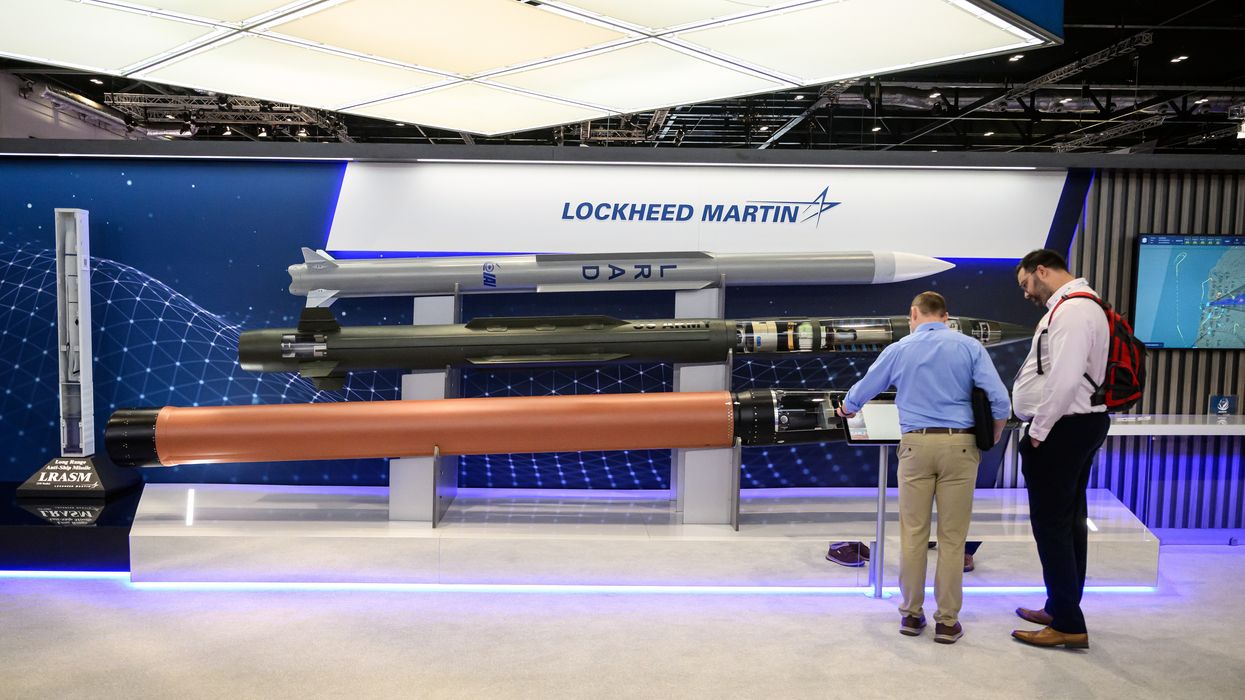 "Deals done at DSEI will cause misery across the world, causing global instability, and devastate people's lives," one peace activist lamented.

Military-industrial complex players big and small gathered in London this week, hawking everything from long-range missiles to gold-plated pistols to arms fair attendees—including representatives of horrific human rights violators—as weapon-makers and other merchants of the machinery of death reap record profits.
"War is good for business," one defense executive attending the biennial Defense and Security Equipment International (DSEI) conference at ExCel London flat-out toldReuters. "We are extremely busy," Michael Elmore, head of sales at the U.K.-based armored steelmaker MTL Advanced, told the media agency.
Russia's ongoing invasion of Ukraine and the West's scramble to arm Ukrainian homeland defenders have been a bonanza for arms-makers.
"Ukraine is a very interesting combination of First and Second World War technologies and very modern technology," Kuldar Vaarsi, CEO of the Estonian unmanned ground vehicle firm MILREM, told Reuters.
Saber-rattling and fearmongering by government, media, and business figures amid rising tensions between the U.S. and its allies on one side, and a fast-rising China on the other, have also spurred military spending, including Japan's $320 billion buildup announced last December.
"We think this is a longer-term essentially 'sea change' in national defense strategy for the U.S. and for our Western allies," Jim Taiclet, CEO of U.S. arms giant Lockheed Martin, told investors during a call earlier this summer announcing higher-than-expected sales and profit outlooks.
According to the Stockholm International Peace Research Institute, the United States, Russia, France, China, and Germany were the world's top arms exporters from 2018-22, with the five nations accounting for 76% of all weapons exports during that period. The U.S. accounted for nearly 40% of such exports during those five years, while increasing its dominance in the arms trade. The U.S. also remains by far the world's biggest military spender.
In addition to major corporations, middlemen like Marc Morales have also been profiting handsomely from wars in countries including Ukraine. Morales happened to have a warehouse full of ammunition in Bulgaria that the Pentagon originally intended for Afghanistan when Russia invaded its neighbor, and he has been richly rewarded as the U.S. spends tens of billions of dollars arming Ukrainian forces. He named his new $10 million yacht Trigger Happy.
Outside the sprawling ExCel convention center in London's Docklands, anti-war protesters rallied against the global arms trade and the death and destruction it fuels. The Guardianreported that at least a dozen demonstrators were arrested during the course of the conference, including nine on Thursday for blocking a road outside the venue.
Sam Perlo-Freeman, a researcher at the Campaign Against Arms Trade (CAAT), told The Guardian that "a lot of countries that are being talked about as new arms export markets are ones we would be concerned about."
"Egypt is a repressive regime and Vietnam an absolute dictatorship," Perlo-Freeman added. "Indonesia is involved in brutality in West Papua."
Emily Apple, also of CAAT, toldPeople's World that "the companies exhibiting read as a who's-who of the world's worst arms dealers."
"Israel is an apartheid state, and it is disgusting that the U.K. is not only selling weapons to Israel but encouraging Israeli arms companies to sell their weapons in London," she continued. "Representatives from regimes such as Saudi Arabia, who have used U.K.-made weapons to commit war crimes in Yemen, will be wined and dined and encouraged to buy yet more arms."
"Deals done at DSEI will cause misery across the world, causing global instability, and devastate people's lives," Apple added.
Inside ExCel, it was business as usual. Pressed by Declassified U.K. chief reporter Phil Miller on why Britain's right-wing government supports "selling arms to the Saudi dictatorship that sentences someone to death for tweeting," Minister of State for the Armed Forces James Heappey deflected.
Private sector leaders, however, have been more forthcoming. As Raytheon CEO Greg Hayes opined during a 2021 investor call touting the company's "solid" growth: "Peace is not going to break out in the Middle East anytime soon."

News
Independent, nonprofit journalism needs your help.
Please Pitch In
Today!