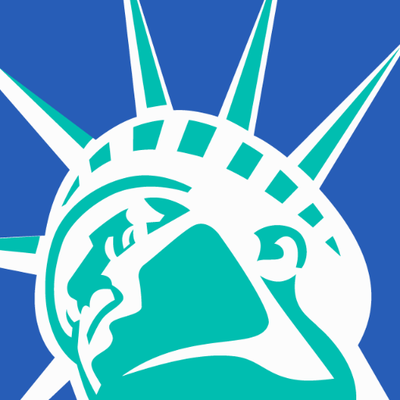 For Immediate Release
March, 07 2019, 11:00pm EDT
House Passes Historic Democracy Reform and Corruption Overhaul Legislation
Statements of Public Citizen Experts
WASHINGTON
Note: Today, the U.S. House of Representatives voted 234-193 to pass the For the People Act (H.R. 1). H.R.1's restorative democracy principles earned it the distinction of being the first-introduced bill of the 116th Congress, indicating its importance and urgency. Backed by more than 130 public interest groups, if enacted H.R. 1 expands access to voting by declaring Election Day a federal holiday, raises ethics standards at all levels of government, enacts automatic voter registration, calls for restoration of the Voting Rights Act and replaces a corrupt campaign finance system with one that relies on small donors and public funds.
The legislation now moves to the U.S. Senate where U.S. Sen. Tom Udall (N.M.) is expected to introduce a companion bill that Americans and advocacy groups will push to have considered in committee and brought to the floor for a vote. The national push for H.R. 1 parallels a movement in states to fix their politics as well. The coalition supporting H.R. 1 hopes that states like New York follow the lead of Congress and pass ballot reforms like Fair Elections for NY.
"The historic passage of H.R. 1 responds to the public's overwhelming demand for fundamental and far-reaching reforms to our corrupt political system. Its enactment would remove the political barriers to the policy agenda favored by the public - slashing medicine prices, providing Medicare-for-All, preventing climate catastrophe, providing a living wage, holding Wall Street accountable and more - an agenda currently thwarted by the political power of corporations and the superrich. Now the bill must be taken up in the Senate. If Mitch McConnell wants to bring up the Green New Deal, why is he scared of a vote on H.R. 1?"
- Robert Weissman, president, Public Citizen
"We have long recognized that fixing democracy must be the first order of business to ensure that the people are represented in the halls of power. The truth is in the name - this bill is called For the People for a reason."
- Lisa Gilbert, vice president of legislative affairs, Public Citizen
"H.R. 1 draws a clear line of demarcation between those who support democracy and those who favor Trump's rule by the wealthy. Congressional Democrats today have staked out a united front for democracy reforms to turn control of government back to regular Americans. The choice is now very clear, and the voters in the 2020 elections will decide which path America will take."
- Craig Holman, government affairs lobbyist, Public Citizen
Public Citizen is a nonprofit consumer advocacy organization that champions the public interest in the halls of power. We defend democracy, resist corporate power and work to ensure that government works for the people - not for big corporations. Founded in 1971, we now have 500,000 members and supporters throughout the country.
(202) 588-1000
LATEST NEWS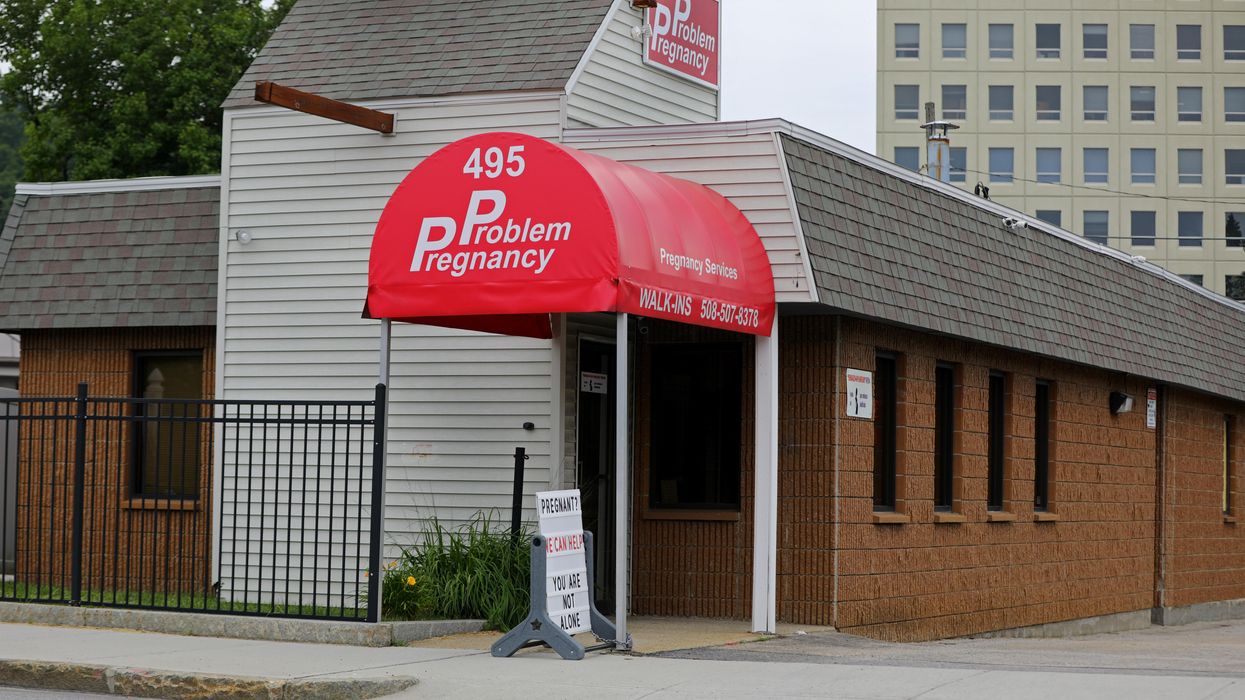 "People generally tend to consider Google's search engine as an equalizer... but that's just not the case," said one researcher. "Lower-income women are being targeted, and they're the ones that are going to suffer the most."

Research published Monday shows that Google is targeting lower-income users with advertisements for so-called crisis pregnancy centers, anti-choice organizations known to steer people away from accessing abortion care.
As the Tech Transparency Project (TTP), which conducted the analysis, explained: "Crisis pregnancy centers—which critics have dubbed 'fake abortion clinics'—appear to offer medical services but instead push an anti-abortion message, providing free ultrasounds and baby supplies with the aim of persuading women to carry unwanted pregnancies to term. Abortion rights advocates accuse them of using deceptive tactics to get women in the door—and targeting their advertising at low-income women and women of color in urban areas."
For its investigation, TTP established Google accounts for test users in Phoenix, Arizona; Atlanta, Georgia; and Miami, Florida. The users were characterized as 21-year-old women belonging to three different household income groups as defined by Google: average- or lower-income, moderately high-income, and high-income. While logged into each account, researchers entered 15 abortion-related search terms, including "Abortion clinic near me" and "I want an abortion," and then recorded ads that appeared on the first five pages of results. Researchers used a Google Chrome browser with no previous history, and they used virtual private networks to make it look like the users were conducting searches from their respective cities.
TTP found that Google showed ads for crisis pregnancy centers to women on the lower end of the income scale at a higher rate than their wealthier counterparts in two of the three cities. In Phoenix, average- or lower-income women saw 56% of ads come from crisis pregnancy centers, higher than what moderately high-income women (41%) and high-income women (7%) saw. In Atlanta, 42% of the ads targeted at average- or lower-income women came from crisis pregnancy centers, more than Google showed to moderately high-income women (18%) and high-income women (29%).
"By pointing low-income women to [crisis pregnancy centers] more frequently than higher-income women in states with restrictive laws, Google may delay these women from finding an actual abortion clinic to get a legal and safe abortion," TTP director Katie Paul toldThe Guardian on Tuesday.
"The time window is critical in some of these states," said Paul.
Abortion is banned after 15 weeks of pregnancy in Arizona and Florida. In Georgia, abortion is banned after six weeks, before many people know they are pregnant.
Because it can cost thousands of dollars in lost wages, child care, transportation, and lodging, lower-income people are less likely to be able to travel for abortion care.
Women on the lower end of the income scale did not receive ads for crisis pregnancy centers at the highest rate in every city in TTP's study. In Miami, researchers observed an inverse pattern: high-income women saw a larger share of ads from anti-abortion organizations (39%) than moderately high-income women (10%) and average- or lower-income women (15%).
"It's not clear why Miami diverged from the other cities, but one possibility is that crisis pregnancy centers, which often seek to delay women's abortion decisions until they are past the legal window for the procedure, are more actively targeting lower-income women in states like Arizona and Georgia, which have more restrictive abortion laws than Florida," TTP hypothesized. Although Republican lawmakers in Arizona and Florida have both prohibited abortion after 15 weeks, Arizona's ban comes with heightened restrictions.
Still, even if high-income women in Miami received more crisis pregnancy center ads on the top five pages of search results, that doesn't mean those are the ones they saw first. Ad rank is significant, and according to TTP, Google showed ads for anti-abortion organizations "higher up in the search results for lower-income women than it did for women of other income levels," as shown below.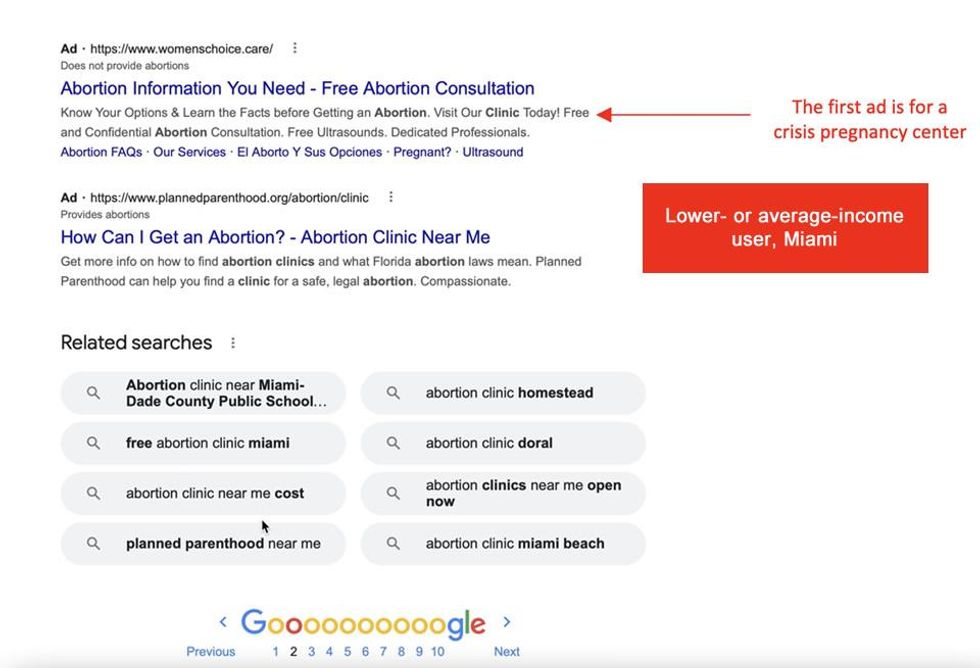 In Miami, the first ad shown to an average- or lower-income Google user searching for 'Abortion clinic near me' is for a crisis pregnancy center.(Photo: Tech Transparency Project)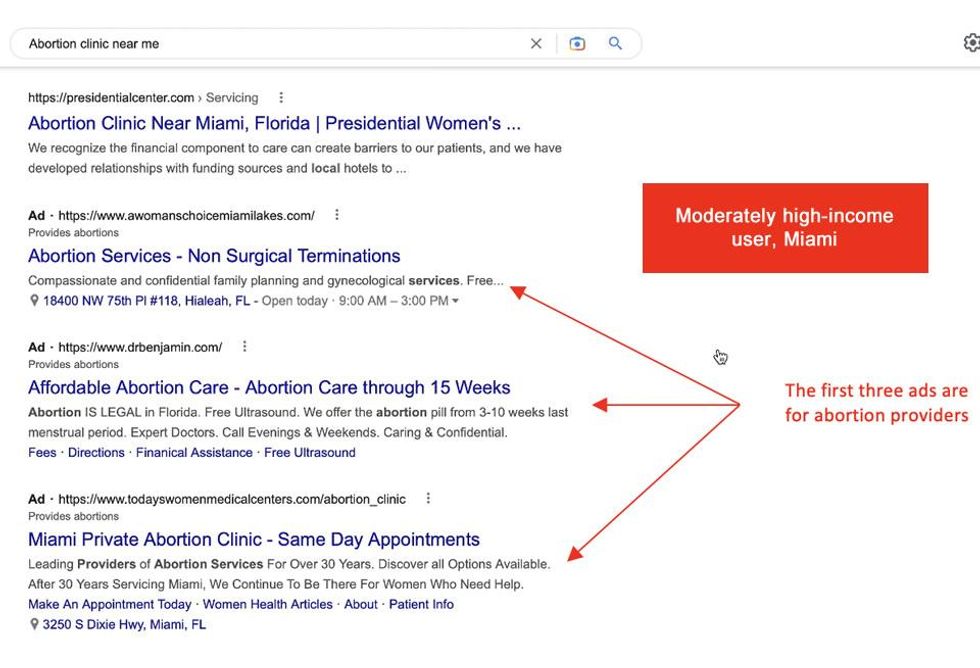 In Miami, the first three ads shown to a moderately high-income Google user searching for 'Abortion clinic near me' are for abortion providers.(Photo: Tech Transparency Project)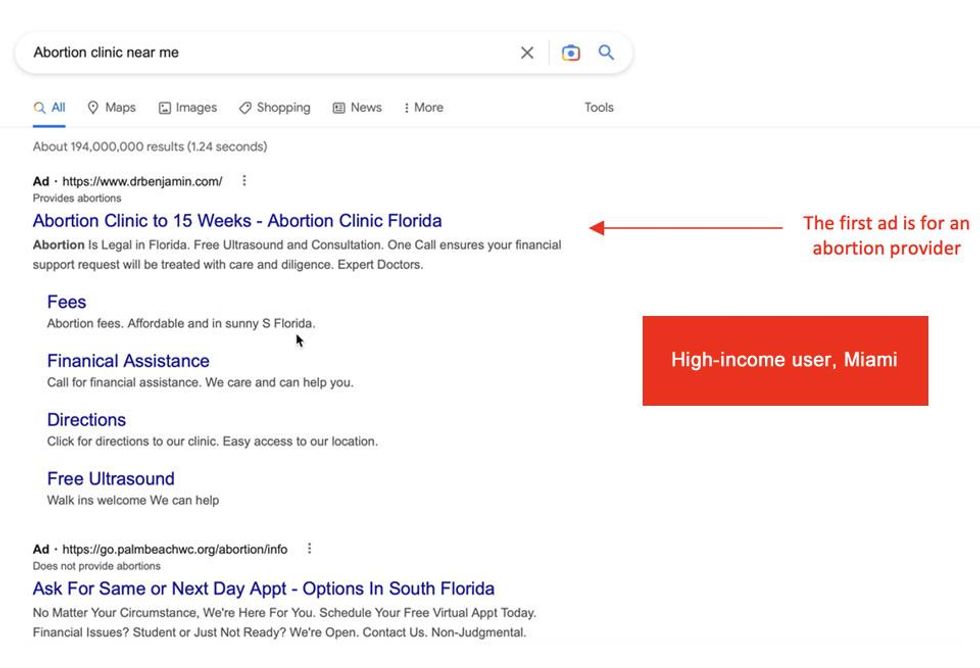 In Miami, the first ad shown to a high-income Google user searching for 'Abortion clinic near me' is for an abortion provider.(Photo: Tech Transparency Project)
The search terms used are also important. Several queries in TTP's experiment yielded only crisis pregnancy center ads for lower-income women.
"Although companies buying ads with Google can selectively target the groups they want to reach–including by income–Paul adds that many users won't be aware they are being targeted by Google in this way," The Guardian reported.
"Google has a large share of influence, particularly in the United States when people are trying to search for authoritative information," Paul explained. "People generally tend to consider Google's search engine as an equalizer. They think the results they get are the results that everyone's going to get. But that's just not the case."
"Lower-income women are being targeted," she said, "and they're the ones that are going to suffer the most under these policies."
As TTP pointed out: "Google is helping these centers reach their intended audience. Abortion rights groups and academic studies have noted that crisis pregnancy centers typically target women of lower socioeconomic classes, in part by advertising free services on public transportation and in bus shelters."
Crisis pregnancy centers have sought to expand their reach since the U.S. Supreme Court's far-right majority overturnedRoe v. Wade last summer.
These facilities have "been known to employ a number of shady tactics to convince women seeking an abortion to keep their pregnancies," The Guardian noted. "Those include posing as abortion clinics online though they do not offer abortion care, refusing pregnancy tests for women who say they intend to have an abortion, and touting widely disputed research about abortion care to patients. Crisis centers,which go largely unregulated despite offering medical services, have been known to target low-income women precisely because they find it harder to travel out of state for abortion care."
Previous reports have shown that Google is increasingly aiding these anti-abortion organizations, particularly in the GOP-led states that eliminated reproductive freedom as soon as the constitutional right to abortion was revoked.
TTP's new findings "add to growing questions about Google's handling of crisis pregnancy centers," the group wrote. "Bloomberg News has reported that Google Maps routinely misdirected users searching for abortion clinics to crisis pregnancy centers and that Google often failed to affix a warning, as promised, to crisis pregnancy center ads indicating they do not provide abortions. (In response to the first report, Google pledged to clearly label U.S. facilities that provide abortions in Google Maps and search results.)"
"Last fall, TTP also found that Google frequently served ads for crisis pregnancy centers that falsely suggest they offer abortions, violating the platform's policy against advertising that misleads users," the group noted.
During its new investigation, "TTP found similar omissions in multiple ads."
Rights & Justice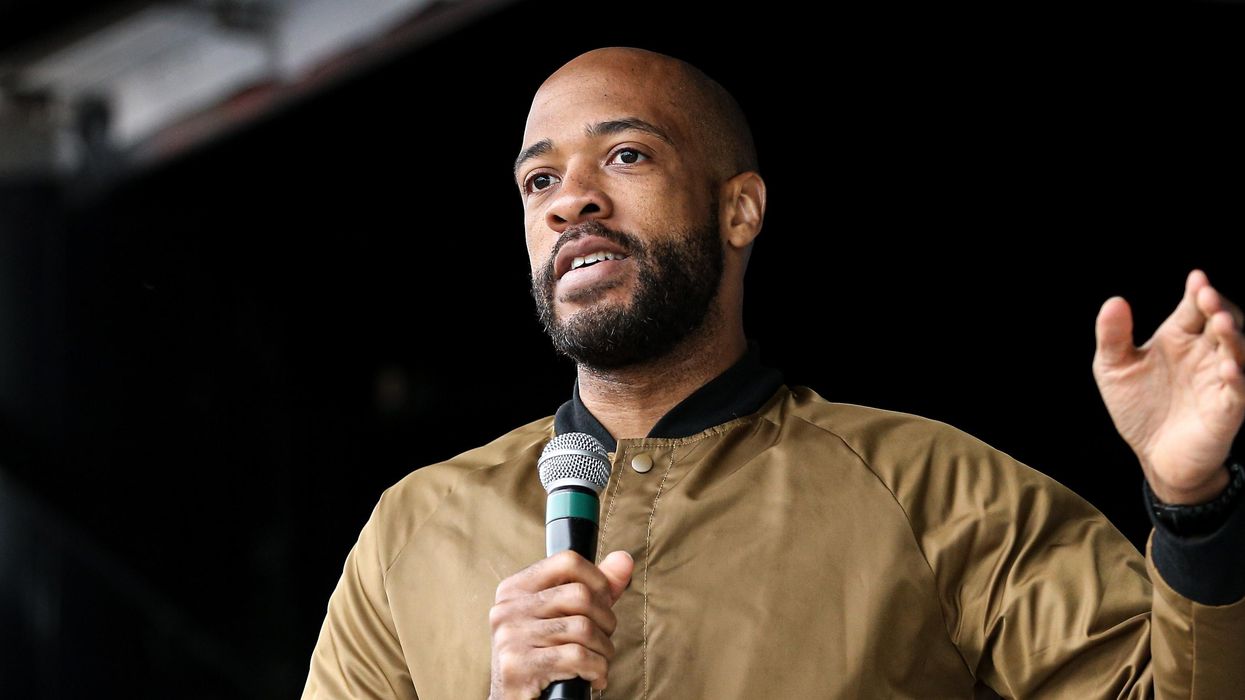 "Too often, fairly or unfairly, the questions of 'Can this person win?' and 'Does this person have what it takes?' come up," Barnes said. "Sometimes those questions aren't always asked in good faith."
To challenge establishment Democratic leaders who focus on the so-called "electability" of candidates and, in many cases, withhold funding that could be the deciding factor in whether they win or lose, former U.S. Senate candidate Mandela Barnes on Tuesday announced the launch of a new political action committee aimed at helping supposedly long-shot contenders.
The Long Run PAC will invest in the campaigns of "women, people of color, LGBTQ, and working-class candidates across the country" and in Barnes' home state of Wisconsin, where he came within 26,000 votes of beating two-term Republican Sen. Ron Johnson last year.
The former lieutenant governor of Wisconsin said that "changemaking candidates" in the Democratic Party are increasingly "redefining what a winning candidate looks like and where they come from," but they continue to face naysayers within their own party—and struggle to secure the funding needed to ensure their campaigns reach the finish line successfully.
\u201cA little bit of *personal news*.... Today I'm launching the @LongRunPAC \ud83c\udfc3\ud83c\udffe\u200d\u2642\ufe0f\n\nRunning taught me that winning a race isn\u2019t just about race day\u2014it\u2019s about how you train and prepare.\n\nRunning for office is the same. It takes time, patience, and people believing in you from the outset.\u201d

— Mandela Barnes (@Mandela Barnes) 1675778455
"Every single one of them is being asked the same question: 'Can you win?'" said Barnes in a statement. "The Long Run PAC is my way of making sure the answer to that question is a resounding, 'yes.' Because winning a race isn't just about what you put in on race day, it's about the support, training, and resources you put in from day one."
The PAC plans to announce an initial slate of candidates it is supporting this summer.
During his own campaign last year, Barnes refused to take money from corporate PACs, and raised more than $40 million from grassroots supporters, breaking fundraising records in Wisconsin. Barnes is a supporter of Medicare for All and focused heavily on workers' rights and strengthening unions during his Senate campaign.
In recent years corporate Democrats have shown hostility toward progressive candidates and lawmakers, warning that pushing for government-run healthcare will harm the party despite the proposal's popularity with Democratic voters. Political pundits have also claimed that support for progressive policies will hurt Democratic candidates' chances at the ballot box.

"Too often, fairly or unfairly, the questions of 'Can this person win?' and 'Does this person have what it takes?' come up," Barnes toldAxios on Tuesday. "Sometimes those questions aren't always asked in good faith."
Hand-wringing over "electability," he added, ensures that "there are a lot of 'different' candidates out there who don't get the attention they should be getting or the initial investments that they should be getting."
In recent elections, progressive candidates including Reps. Alexandria Ocasio-Cortez (D-N.Y.), Greg Casar (D-Texas), and Summer Lee (D-Pa.) have won while campaigning on progressive policy proposals, after receiving early grassroots support from left-wing PAC Justice Democrats.
"We're going to make sure these candidates have support through their run, ensuring their final sprint is a sprint to win," said Barnes on Tuesday. "The leaders who are 'different' are the ones who will make a difference—and winning a race depends on what you put in from the start."
News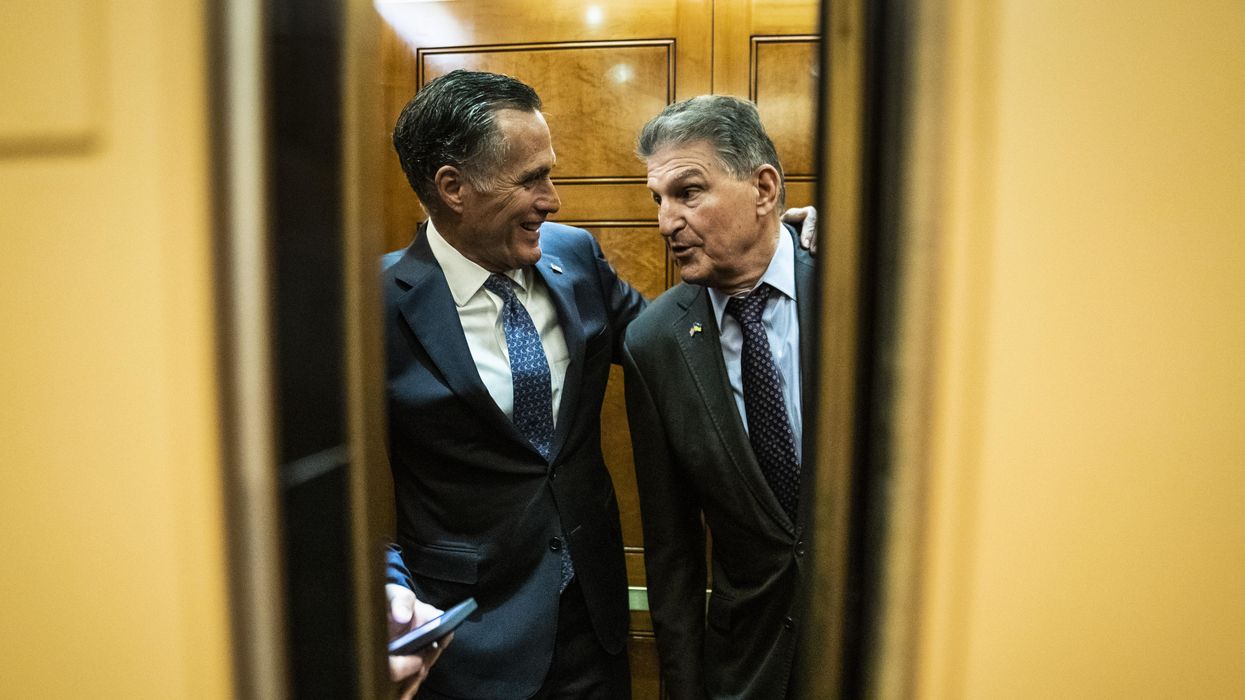 The administration is "absolutely right," said one advocacy group. "The TRUST Act is a ploy to gut Social Security and Medicare behind closed doors."
The Biden White House made clear on Monday that it opposes the creation of commissions to devise changes—and possible cuts—to Social Security and other U.S. trust funds, rejecting an idea embraced by Republicans and Democratic Sen. Joe Manchin amid a dangerous standoff over the nation's debt ceiling.
In a statement to Bloomberg Government, White House spokesperson Andrew Bates called the proposed commissions a "death panel for Medicare and Social Security," repurposing a term that GOP lawmakers used frequently in their attacks on the Affordable Care Act.
Bates said the GOP's renewed push for Social Security and Medicare commissions represents the "latest in a long line of ultimatums about how they'll act to kill jobs, businesses, and retirement accounts if they can't cut Medicare and Social Security benefits."
The commissions in question are central to legislation known as the TRUST Act, which Sens. Mitt Romney (R-Utah), Kyrsten Sinema (I-Ariz.), Manchin (D-W.Va.), and other lawmakers reintroduced in 2021 and have frequently touted as a potential path to a bipartisan compromise on Social Security and Medicare.
But advocates warn that the commissions—modeled after the infamous Obama-era Bowles-Simpson initiative—are an attempt to fast-track cuts to Social Security and Medicare. Under the TRUST Act, bipartisan panels of lawmakers would be established with a mandate to craft "legislation that restores solvency and otherwise improves" the programs—a vague and highly subjective standard.
The legislation would then receive expedited consideration in Congress, with no amendments permitted.
"We need to expand Social Security's modest benefits, never cut them."
As recently as last month, Manchin floated the TRUST Act as a possible way to reach a deal with the House GOP to avert a debt ceiling disaster. Republicans have demanded steep cuts and changes to Social Security, Medicare, and discretionary spending—which includes education, healthcare, and climate outlays—as part of any deal to raise the federal government's borrowing limit.
Bloomberg Lawreported Monday that House Republican committee and caucus chairs have gotten behind the idea of forming Social Security and Medicare commissions in recent days.
"I don't believe we're going to do what is necessary and right, which is save and strengthen Social Security and Medicare, without having a bipartisan mechanism," Rep. Jodey Arrington (R-Texas), chair of the House Budget Committee and a co-sponsor of the TRUST Act, told the outlet.
Social Security Works, a progressive advocacy group that has been a vocal opponent of the TRUST Act, applauded the White House's stated opposition to the TRUST Act.
"They are absolutely right—the TRUST Act is a ploy to gut Social Security and Medicare behind closed doors," the group tweeted late Monday. "We need to expand Social Security's modest benefits, never cut them."
News
SUPPORT OUR WORK.
We are independent, non-profit, advertising-free and 100%
reader supported.