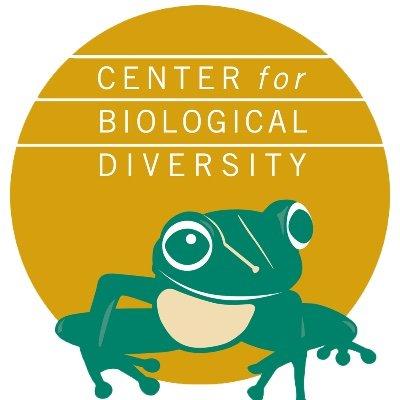 For Immediate Release
Contact:
Tel: (520) 623.5252,Email:,center@biologicaldiversity.org
170 Conservation Groups Urge Senate to Reject Zinke for Interior Secretary
Congressman Would Do Irreparable Damage to Endangered Species, Public Lands, Climate
WASHINGTON
One hundred seventy conservation groups today urged the U.S. Senate to reject Rep. Ryan Zinke (R-Mont.) as the next interior secretary. Senators will vote in the coming weeks on whether to place Zinke in charge of the nation's more than 1,500 endangered species, as well as more than 500 million acres of public lands and minerals leasing for oil, gas and coal across the country and in our oceans. Today's letter notes that Zinke earned just a 3 percent rating from the League of Conservation Voters during his two years in Congress. At his Jan. 17 nomination hearing, he offered no indication that he would manage the Department of the Interior differently from what his congressional voting record indicates: that he consistently put special interests ahead of the nation's wildlife, natural heritage and climate.
"Zinke's voting record qualifies him to be an exterminator, not the chief protector of America's endangered animals and beautiful public lands," said Kieran Suckling, executive director of the Center for Biological Diversity, one group that signed the letter. "Anyone who cares about public lands, protecting wildlife and halting the climate crisis should understand that Zinke -- and Trump's corrupt brand of politics -- will take us in exactly the wrong direction."
As interior secretary Zinke would oversee the U.S. Fish and Wildlife Service, one of two federal agencies responsible for administering the Endangered Species Act. In Congress Zinke cast 21 votes against endangered species protections. He even opposed a crackdown on black-market ivory from poached African elephants.
At his confirmation hearing, Zinke endorsed increased fossil fuel extraction on public lands despite the fact that existing oil, gas and coal leases on public lands already account for a significant portion of the U.S.'s carbon pollution. Additional reserves on public lands contain an estimated 450 billion tons of potential greenhouse gas pollution, which if fully tapped would dangerously tip the scales toward an unlivable planet for future generations.
"Forty percent of America's coal and 21 percent of our oil are produced on federal land under the jurisdiction of the U.S. Department of the Interior. To address climate change, protect our environment, and prevent another BP-type oil catastrophe, we need an interior secretary who understands the science of climate change and will stand up to Big Coal and Big Oil. Zinke's confirmation hearing made clear that he is the wrong man for this important job, and the Senate should not confirm him," said Robert Weissman, president of Public Citizen.
The American public does not support Trump's extreme agenda. Trump received almost 3 million fewer votes than Hillary Clinton in November, and millions of Americans have taken to the streets to protest his government.
"Donald Trump has turned our foreign policy over to Big Oil and now he wants to hand them our public lands as well," said Friends of the Earth President Erich Pica. "A movement formed to keep fossil fuels in the ground and that movement will resist Trump and his polluting agenda."
At the Center for Biological Diversity, we believe that the welfare of human beings is deeply linked to nature — to the existence in our world of a vast diversity of wild animals and plants. Because diversity has intrinsic value, and because its loss impoverishes society, we work to secure a future for all species, great and small, hovering on the brink of extinction. We do so through science, law and creative media, with a focus on protecting the lands, waters and climate that species need to survive.
(520) 623-5252
LATEST NEWS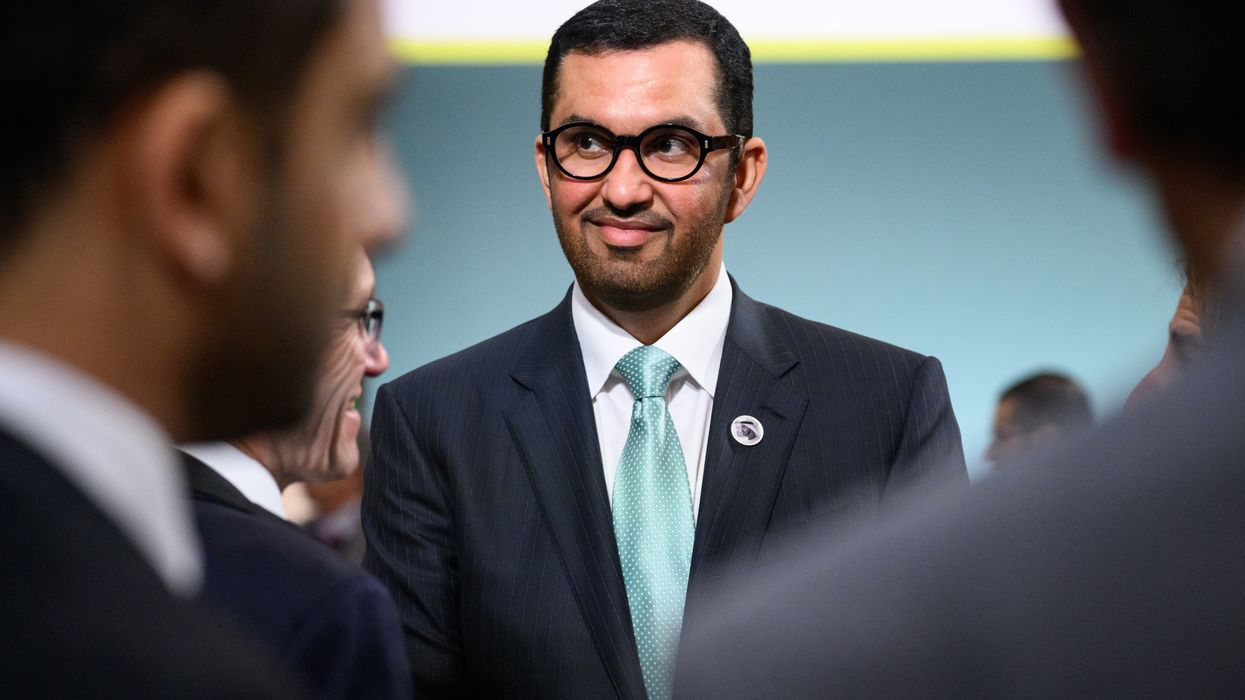 "This is exactly the kind of conflict of interest we feared when the CEO of an oil company was appointed to the role," said a Greenpeace campaigner.
Internal records leaked by a whistleblower show that Sultan Al Jaber—who is simultaneously serving as CEO of Abu Dhabi National Oil Company and president of COP28—used meetings about the upcoming United Nations climate summit to push foreign governments for fossil fuel deals.
The documents, obtained by the Center for Climate Reporting (CCR) and the BBC, include meeting records, briefings, and emails that indicate Al Jaber's role as CEO of the United Arab Emirates' state-owned oil company has bled into his responsibilities as president of the critical U.N. climate talks, validating the fears of climate campaigners who opposed his selection to lead the summit that kicks off Thursday in Dubai.
"Al Jaber, who has continued his role as CEO of the Abu Dhabi National Oil Company (ADNOC) despite calls for him to step down during his COP presidency, has held scores of meetings with senior government officials, royalty, and business leaders from around the world in recent months," CCR said Monday, citing briefings it obtained. "The COP28 team has quietly planned to use this access as an opportunity to increase exports of ADNOC's oil and gas."
The investigative group found that "on at least one occasion a nation followed up on commercial discussions brought up in a meeting with Al Jaber" and that "ADNOC's business interests were allegedly raised during a meeting with another country."
Kaisa Kosonen, policy coordinator at Greenpeace International, said in a statement that "if the allegations are true, this is totally unacceptable and a real scandal."
"The climate summit leader should be focused on advancing climate solutions impartially, not backroom deals that are fueling the crisis. This is exactly the kind of conflict of interest we feared when the CEO of an oil company was appointed to the role," said Kosonen. "This summit is the world's most powerful forum to avert the biggest threat to the survival of humankind, and we urge the presidency to act accordingly."
"It looks ever more like a fox is guarding the hen house."
Advocacy groups and lawmakers have been urging Al Jaber to resign from the COP28 presidency since his appointment earlier this year, citing his glaring conflicts of interest as top executive of ADNOC—a company that is planning to expand fossil fuel production despite scientists' repeated warnings that no new oil, gas, and coal production is compatible with preventing runaway planetary warming.
Al Jaber, who has the support of the Biden administration and other world powers, has refused to step aside, casting further doubt on the prospects of concrete climate progress at COP28.
"Sultan Al Jaber claims his inside knowledge of the fossil fuel industry qualifies him to lead a crucial climate summit but it looks ever more like a fox is guarding the hen house," Ann Harrison, Amnesty International's climate adviser, said in response to CCR's revelations. "The appointment of the chief executive of one of the world's largest fossil fuel companies to lead COP28 was always a brazen conflict of interests which undermines the meeting's ability to reach the outcome we desperately need."
"Documents suggesting he was briefed to advance business interests in COP meetings only fuel our concerns that COP28 has been comprehensively captured by the fossil fuel lobby to serve its vested interests that put the whole of humanity at risk," Harrison added.
Internal emails obtained by CCR show that COP28 staffers have been instructed to "always" include talking points for ADNOC and Masdar—the UAE's state-owned renewable energy company—in summit meetings.
"In statements to CCR and other media outlets, the team has repeatedly denied allegations of undue influence by the oil company," the group said. "For instance, a summit spokesperson told CCR in September that 'the COP28 staff are separate from any other entity' and that the presidency's 'operations are fully independent and autonomous.'"
"But the leaked briefings, emails, and meeting records paint a different picture," CCR continued. " After questions from CCR, a spokesperson also confirmed that one senior member of the summit team who has been deeply involved in diplomatic efforts, COP28's director of government affairs Mohammed Al Kaabi, works across Al Jaber's 'entire portfolio.'"
CCR previously revealed that Oliver Phillips, an adviser to Al Jaber at ADNOC, played a central role in public relations efforts for COP28, which the head of the U.N. has said must be the catalyst for "dramatic" climate action. In June, The Guardianreported that ADNOC was able to read emails from the COP28 office.
Whistleblowers told CCR that COP28 meetings are still "regularly held" at ADNOC headquarters.
Michael Jacobs, a professor at Sheffield University in the U.K. and an expert on climate policy, told CCR that Al Jaber's actions appear "breathtakingly hypocritical."
"The UAE at the moment is the custodian of a United Nations process aimed at reducing global emissions," said Jacobs. "And yet, in the very same meetings where it's apparently trying to pursue that goal, it's actually trying to do side deals which will increase global emissions."
Kosonen of Greenpeace argued that "if the presidency wants to claw back credibility, it can only do so through actions."
"That means brokering a global agreement for a just and equitable phaseout of all fossil fuels, in alignment with science, and making polluters pay for the loss and damage they've caused to communities," said Kosonen.
News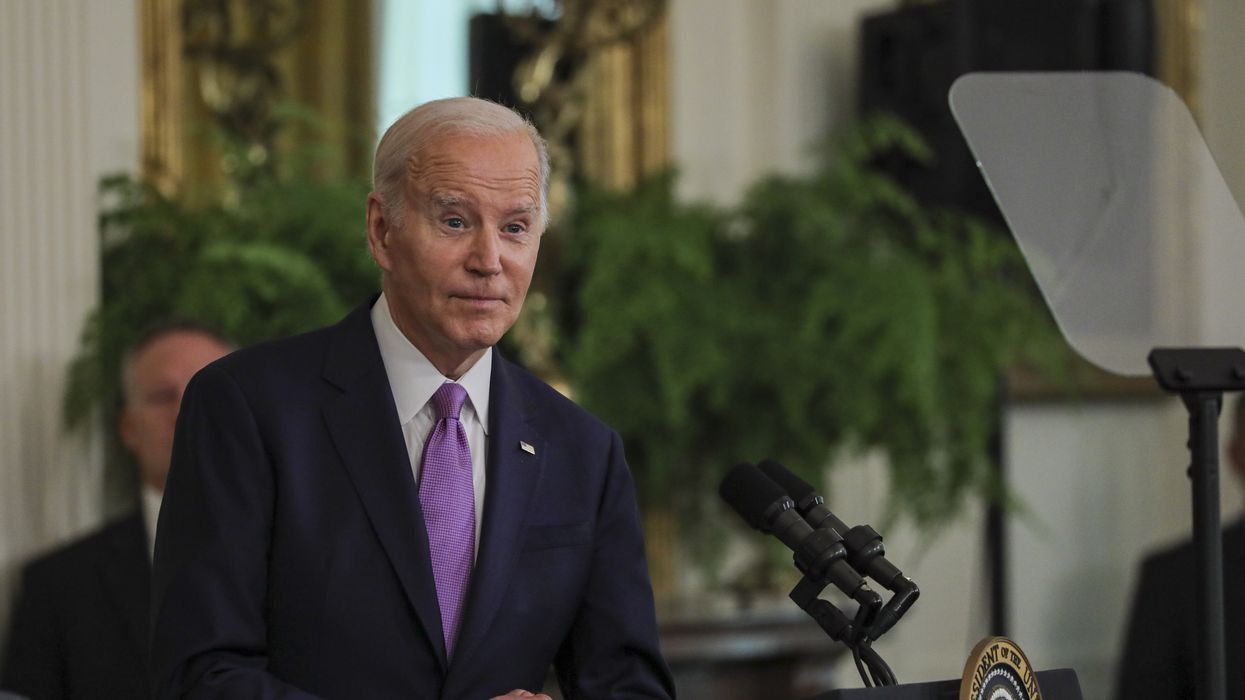 The U.S. president has come under heavy criticism for approving oil and gas projects in the face of global climate breakdown.
U.S. President Joe Biden is reportedly planning to skip the United Nations climate summit that kicks off later this week in Dubai, a decision sure to anger climate advocates and scientists who have pushed him to back a speedy fossil fuel phaseout at the talks.
The New York Times was first to report the president's plans on Sunday, citing an unnamed White House official who did not provide a specific reason why Biden intends to skip COP28, which comes at the tail end of what's almost certain to be the hottest year on record. The U.S. is the largest historical emitter of planet-warning greenhouse gases, and the country is on pace to extract more oil and gas than ever this year.

Biden attended the previous two U.N. climate summits, neither of which yielded concrete agreements from world leaders to drastically curb oil, gas, and coal production and use in line with the latest scientific evidence indicating that nations are acting far too slowly to prevent catastrophic warming.
The U.S. president has himself faced significant backlash for approving massive fossil fuel projects such as the Willow drilling venture on Alaska's North Slope, which—if completed—is expected to result in more than 9 million metric tons of carbon dioxide pollution each year. And Biden's fossil fuel approvals go well beyond Willow: During his first two years in office, the president's administration greenlit more than 6,400 permits for oil and gas drilling, outpacing the Trump administration.
According toThe Washington Post, "there are no public events" on Biden's schedule for Friday, the first day of COP28's world leaders' summit. On Thursday, the opening day of COP28, Biden "is set to meet with Angolan President João Manuel Gonçalves Lourenço and participate in the White House Christmas tree lighting," the Post reported.
John Kerry, Biden's climate envoy, will be in attendance at COP28.

News that the U.S. president will be skipping COP28 came as the BBCreported that the summit's host, the United Arab Emirates, "planned to use its role... as an opportunity to strike oil and gas deals."

"The UAE team did not deny using COP28 meetings for business talks," the outlet added, "and said 'private meetings are private.'"
Last week, research by the Kick Big Polluters Out coalition showed that oil and gas industry lobbyists have attended United Nations-led climate talks more than 7,000 times over the past 20 years in an attempt to prevent action to rein in fossil fuels.
Like previous U.N. climate summits, COP28 is expected to be inundated with fossil fuel representatives, particularly given the UAE's status as one of the world's leading oil producers. Sultan al-Jaber, president of COP28, is the CEO of Abu Dhabi National Oil Company.
Kaisa Kosonen, policy coordinator at Greenpeace International, said in response to the BBC report that "the climate summit leader should be focused on advancing climate solutions impartially, not backroom deals that are fueling the crisis."
"We have all the solutions we need to transition to renewable energy, but it won't happen fast enough if governments fail to regulate fossil fuels out of the way," said Kosonen. "COP is an opportunity to secure our survival, not to strike business deals that fuel the crisis."
News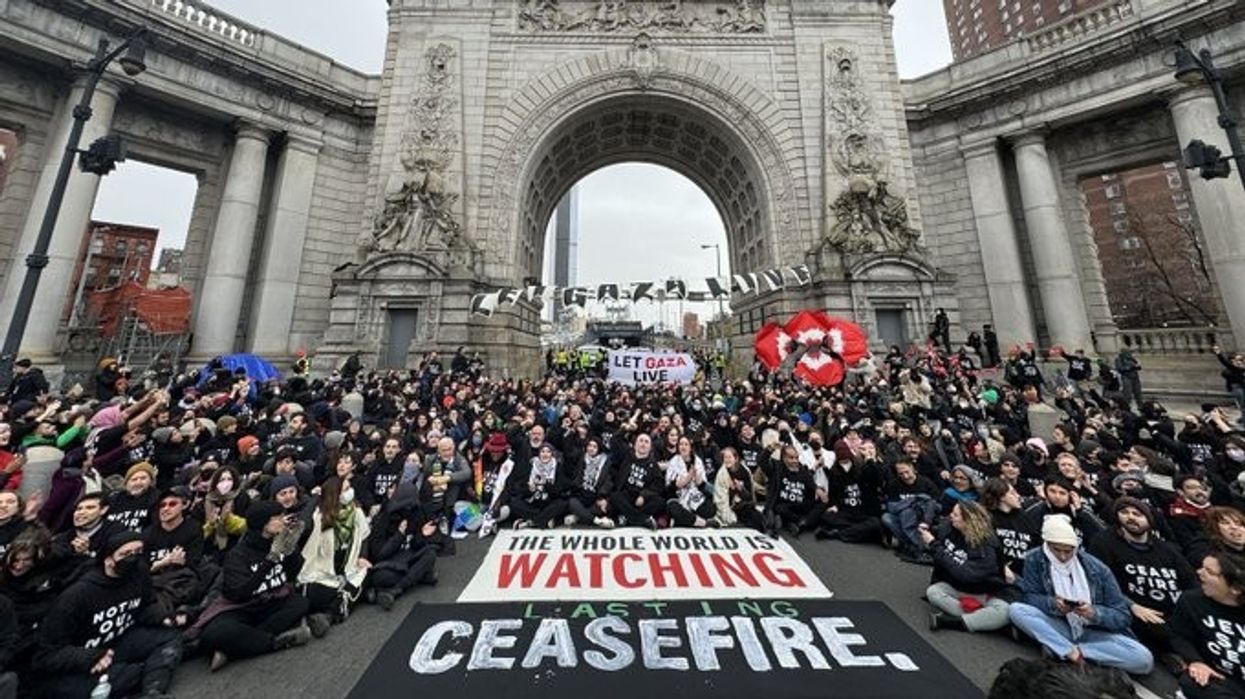 "We will make business as usual impossible until the U.S. stops funding and fueling a genocide," Jewish Voice for Peace said.
In what organizers said was the largest action of civil disobedience in New York City since the Iraq War, more than 1,000 protesters blocked traffic on the Manhattan Bridge for hours Sunday to demand a permanent cease-fire in Israel's war with Hamas in Gaza.
The action, organized by Jewish Voice for Peace, began around 2 pm Eastern Time, and traffic began moving again around 5:30 pm, The New York Times reported. The group included 1,500 Jews, Palestinians, religious leaders, and elected officials, Jewish Voice for Peace said on social media.
"These kind of things where you stop traffic brings more attention to the issue," 74-year-old participant Joan Glickman, who lives in Westchester, toldGothamist. "I do think there are many Americans who don't really pay attention to how serious this is."
The protest came on the third day of a negotiated four-day pause in hostilities between Israel and Hamas. On Sunday, Hamas released a third group of 17 hostages while Israel released 39 Palestinian prisoners, The Associated Press reported. However, activists expressed concern about what would happen when the temporary truce ended.
"There are only two days left before the Israeli government resumes its genocidal onslaught against the people of Gaza—funded and fueled by the U.S. Netanyahu has said, 'We will come back to annihilate them,'" Jewish Voice for Peace tweeted Sunday.
On October 7, Hamas attacked Israel, killing 1,200 and taking around 240 hostages. In the month and a half since, Israel has killed more than 14,800 Palestinians in Gaza, including 10,000 women and children. That figure is more than double the number of women and children confirmed killed in Ukraine in two years of war against Russia. More than 800 legal scholars have said Israel may be committing a genocide in Gaza, and one human rights lawyer and former United Nations official called Israel's campaign in Gaza a "textbook case of genocide."
The protesters Sunday blocked the Manhattan entrance to the bridge and sat down in the center of the entrance ramp, The New York Times reported. One person scaled the arch over the ramp to unfurl a Palestinian flag.
"We needed to continue to raise our voices and continue to speak out because there's thousands of Palestinians that are under the rubble right now," Jewish Voice for Peace member Jay Saper said at the protest, as the Times reported.
At one point, the protesters said they would refuse to leave until U.S. President Joe Biden called for a permanent cease-fire to the conflict, and they unfurled banners reading, "Lasting cease-fire," and "The whole world is watching."
"We will make business as usual impossible until the U.S. stops funding and fueling a genocide," Jewish Voice for Peace tweeted.
A spokesperson for the New York Police Department told Gothamist that it made "multiple" arrests.
"I hope that this message is strong and they're listening in the White House," Palestinian American activist Linda Sarsour said during the protest, as Gothamist reported.
News