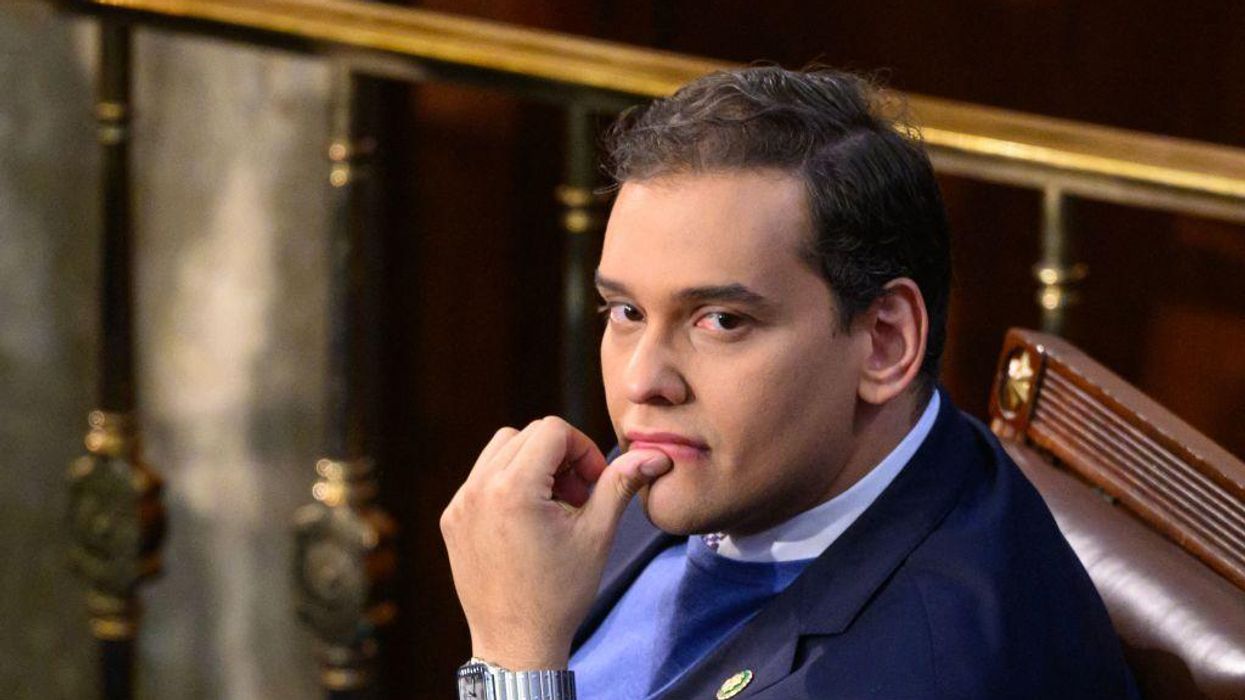 "Santos' constituents deserve real representation at home and in Washington, instead of a liar and a fraud with zero credibility," said Stand Up America's executive director.
As the U.S. House Committee on Ethics announced an investigation into embattled Congressman George Santos, progressives on Thursday renewed calls for the New York Republican to be expelled from office over his elaborate lies and controversies.
"Why did it take the MAGA House nearly two months to do anything about it?" asked Accountable.US spokesperson Derek Martin.
Santos, who was sworn in to represent New York's 3rd District in January, has faced criticism for dishonesty about his education, employment history, and religious background, and concerns have mounted about his net worth, claims of fraud in Brazil and the United States, potential campaign finance violations, and alleged sexual harassment of a former staffer.
"George Santos' extensive lies were exposed even before he was sworn in," Martin noted. "Everyone knows George Santos is a total fraud—even his own constituents have called for him to resign."
House Speaker Kevin McCarthy (R-Calif.) "should've called for Santos to resign on Day 1," he argued. "It's too little, too late from the MAGA majority."
House Ethics Committee Chair Michael Guest (R-Miss.) and Ranking Member Susan Wild (D-Pa.) said in a statement that in accordance with chamber rules, the panel unanimously voted on Tuesday to establish an investigative subcommittee led by Rep. David Joyce (R-Ohio.) He is joined by Wild as well as Congressmen John Rutherford (R-Fla.) and Glenn Ivey (D-Md.).
Guest and Wild explained that the subcommittee has jurisdiction to determine whether Santos "engaged in unlawful activity with respect to his 2022 congressional campaign; failed to properly disclose required information on statements filed with the House; violated federal conflict of interest laws in connection with his role in a firm providing fiduciary services; and/or engaged in sexual misconduct towards an individual seeking employment in his congressional office."
\u201cIt is beyond time that George Santos is investigated for his campaign finance violations, but it may just be that him being a creepy boss is what gets him booted. Looking forward to the report from the House Ethics Committee.\u201d

— Dr. Cindy Banyai (@Dr. Cindy Banyai) 1677794819
Santos' office said Thursday that "the House Committee on Ethics has opened an investigation, and Congressman George Santos is fully cooperating. There will be no further comment made at this time."
Meanwhile, Stand Up America executive director Christina Harvey said that "George Santos deceived voters in New York's 3rd Congressional District about his résumé, background, and the source of his campaign funds. The House Ethics Committee should condemn Santos in the strongest possible terms and recommend his expulsion from the House of Representatives."
"Speaker McCarthy has promised to remove Santos if he is found to have broken the law, and we will hold him to his word," Harvey continued. "Santos' constituents deserve real representation at home and in Washington, instead of a liar and a fraud with zero credibility."
Stand Up America also joined with Common Cause and more than 50 other groups based in New York this week for a letter calling on the state's congressional delegation "to commit to voting to expel Rep. Santos from Congress."
"As New York state in recent years has made strides toward becoming a national leader on campaign finance issues, voters expect our federal delegation to hold their colleagues to a higher standard of transparency and accountability," they wrote. "Federal prosecutors and regulators are already doing their job. It's time for every member of New York's congressional delegation to make it clear that they are prepared to hold Rep. Santos accountable."
"Failing to do so," they warned, "is putting political gain over the interests of New York voters."
As The Hillnoted Thursday, "The Ethics Committee probe is just one of several investigations into Santos, who is also coming under scrutiny from the Nassau County District Attorney, the New York state attorney general, the Queens district attorney, and reportedly by the U.S. Attorney's Office in the Eastern District of New York."
News