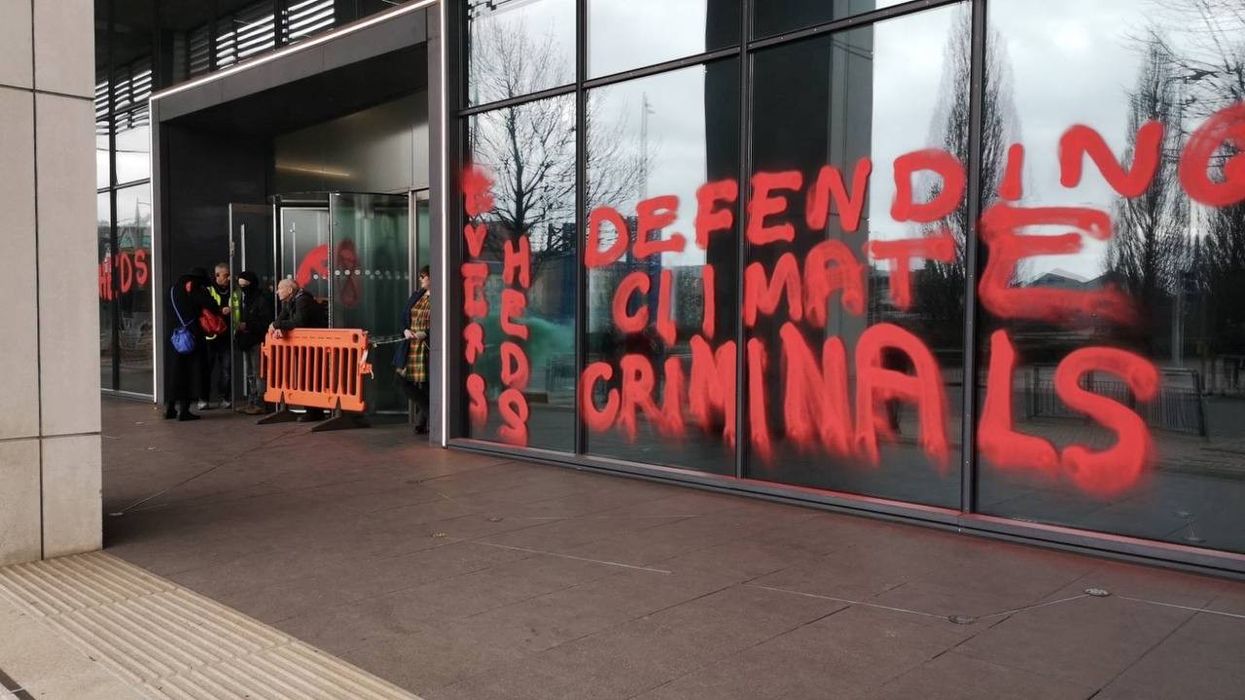 "We are taking this action against injunctions put in place by law firms like Eversheds which prevent peaceful protest," said a 70-year-old who joined the protest in London.
Dozens of protesters on Tuesday gathered at Eversheds Sutherland offices in four U.K. cities—Birmingham, Cardiff, London, and Nottingham—to call out the corporate law firm's work for major polluters fueling the climate emergency.
The activists "are protesting against the law firm's complicity in the destruction of the planet by facilitating injunctions for companies like Esso (ExxonMobil) and High Speed 2 (HS2)," Extinction Rebellion (XR) and HS2 Rebellion explained in a statement.
"I can't stand by while civil liberties are eroded and we drift towards a police state," declared Dorothea Hackma, a 70-year-old grandmother from Camden who participated in the London protest, where activists coated their hands in fake blood and held up inflatable Earths.
"We are taking this action against injunctions put in place by law firms like Eversheds which prevent peaceful protest," Hackma said. "Injunctions enable big oil companies like Exxon and developers like HS2 to continue their destruction of the planet and ecology through the reckless exploitation of fossil fuels."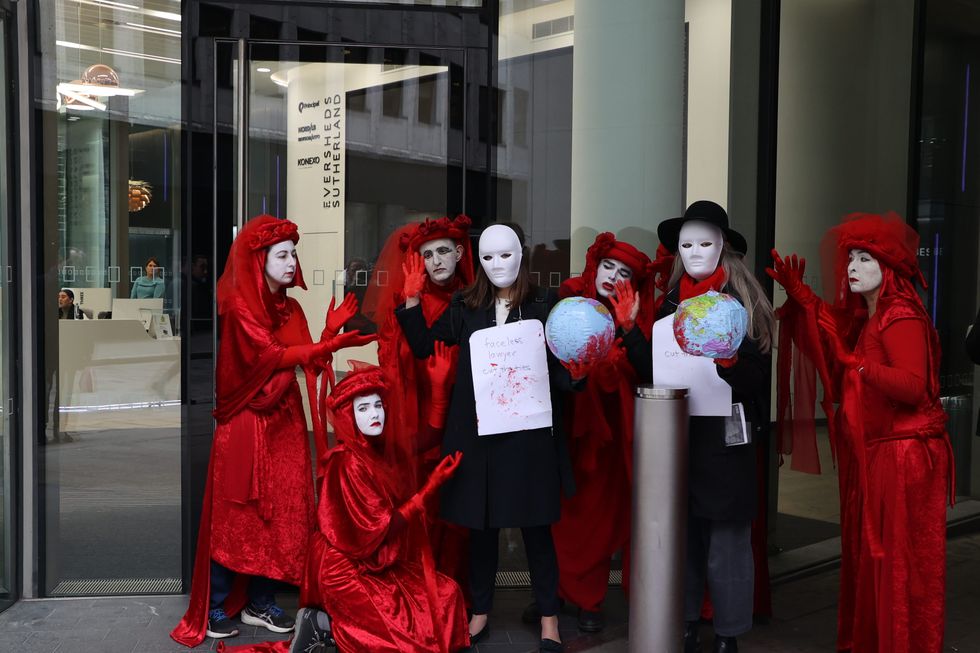 (Photo: Extinction Rebellion)
The demonstrators' statement pointed out that "these injunctions have been used on the activists protesting against the destruction of precious woodlands, meadows, and other crucial habitats by HS2 contractors for access to construction sites. The law firm also helped ban protesters from disrupting a new Esso oil pipeline transporting aviation fuel from Southampton to West London through the use of injunctions."

While XR is no longer using "public disruption as a primary tactic," Tuesday's actions were part of a "Cut the Ties" protest series launched in November targeting the "web of organizations propping up the fossil fuel economy." The series is leading up to "The Big One," a demonstration intended to bring together 100,000 people outside the U.K. Parliament in late April.
Climate campaigners in the English city of Birmingham on Tuesday left a message in spray paint: "Cut the Ties To Fossil Fuels."
\u201cOur #CutTheTies campaign targets the organisations propping up the #fossilfuel economy. This phase is part of a series of actions counting down to a mass protest #21April \n\nLet's all #UniteToSurvive\nhttps://t.co/5Fi0YZGTUx\u201d

— Extinction Rebellion UK \ud83c\udf0d (@Extinction Rebellion UK \ud83c\udf0d) 1677589662
In Cardiff, the capital of Wales, they poured fake oil outside the firm's Callaghan Square office, blocked an entrance, and wrote "Denfeding Climate Criminals" on the glass.
According toWalesOnline:
Earlier, the group delivered a coffin to the Welsh Parliament. Wearing hazmat suits and black masks, the protesters were making a stand against what they say have been a "glut of applications" to extend coal mining licences in Wales and the "Welsh government's failure to protect future generations."

South Wales Police confirmed one person has been arrested following the demonstration at Callaghan Square. A 68-year-old man from Caerphilly had been arrested on suspicion of criminal damage and remains in police custody.
"We live in a time when multinational corporations are ignoring the science and continuing to extract fossil fuels and cause widespread ecological damage contrary to everything that we are being told about the precarious state of nature and metrological systems," said Mel Price, a certified accountant from Swansea who joined the Cardiff action.
"It seems that the only way to resist the policies of these corporations is to take direct action, not just against them but against the firms that assist them and feed off their profits to suppress movements that seek to bring about the changes that are needed to protect people all over the world," added the 55-year-old. "We need to make the firms see that only by cutting the ties to fossil fuels will we maintain a sustainable future for our children and grandchildren."
In Nottingham, England, demonstrators donned hazmat suits while unfurling "Cut the Ties to Fossil Fuels" banners, setting off smoke flares, and spraying the firm's Canal Street building in fake oil.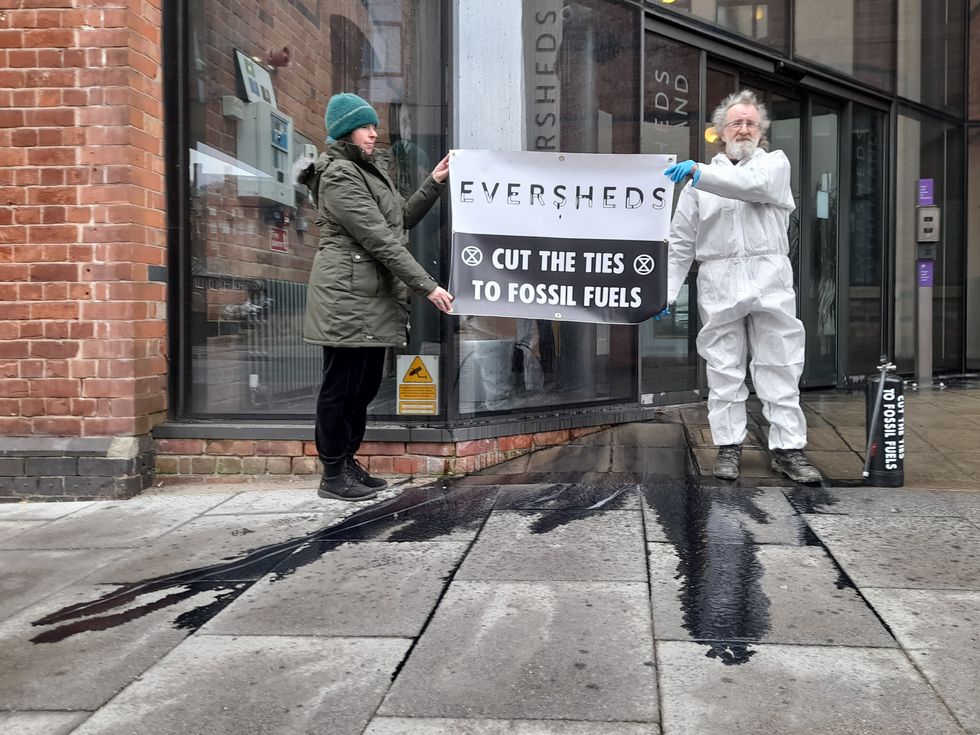 (Photo: Extinction Rebellion)
"I'm taking this action today because I'm so frightened by the climate crisis that I feel this is a necessary and appropriate response. Eversheds need to cut ties with the fossil fuel industry," said Eddie Francis, a 74-year-old retiree and father.
"Spraying nontoxic, washable fake oil on the offices of a firm that seeks to protect that destructive industry is trivial compared with the damage they're doing to our planet," Francis told the West Bridgford Wire. "They need calling out."
News