OCA Calls on Aurora Organic Dairy to End Membership in the Grocery Manufacturers Association
Aurora Organic Dairy is supporting efforts to defeat GMO labeling laws through its membership in the GMA
FINLAND, Minn.
The Organic Consumers Association today called on Aurora Organic Dairy to immediately withdraw from the Grocery Manufacturers Association (GMA), a trade association that has contributed more than $2.2 million to defeat I-522, a GMO labeling initiative on the November 5 ballot in Washington State.
"Aurora Organic Dairy claims it is committed to providing organic foods to its customers and fulfilling their desire to know how that food is made," said Ronnie Cummins, OCA's national director. "Yet the company has been indirectly funding campaigns to deny the citizens of California and Washington the right to know if their food has been genetically modified."
Earlier this month, Weil Lifestyle LLC, a company founded by health guru Dr. Andrew Weil, withdrew from the GMA after more than 25,000 consumers signed a petition circulated by the OCA. In the petition to Dr. Weil, consumers pointed out the hypocrisy of a company that tells customers that GMOs have not been proven safe, while at the same time supports the GMA, which works against consumers to kill state GMO labeling laws.
Dr. Weil responded by stating that because Weil Lifestyle's views on GMO labeling were not aligned with those of the GMA, the company had dropped its membership.
The GMA is being sued by a not-for-profit group calling itself Moms for Labeling for allegedly hiding its No on I-522 campaign donors in an effort to shield its members from bad publicity.
To date, only multinational pesticide giants Monsanto ($5.2 million) and Dupont ($3.42 million) have contributed more to defeat Washington's I-522 initiative than has the GMA.
The Organic Consumers Association (OCA) is an online and grassroots 501(c)3 nonprofit public interest organization, and the only organization in the U.S. focused exclusively on promoting the views and interests of the nation's estimated 50 million consumers of organically and socially responsibly produced food and other products. OCA educates and advocates on behalf of organic consumers, engages consumers in marketplace pressure campaigns, and works to advance sound food and farming policy through grassroots lobbying. We address crucial issues around food safety, industrial agriculture, genetic engineering, children's health, corporate accountability, Fair Trade, environmental sustainability, including pesticide use, and other food- and agriculture-related topics.
LATEST NEWS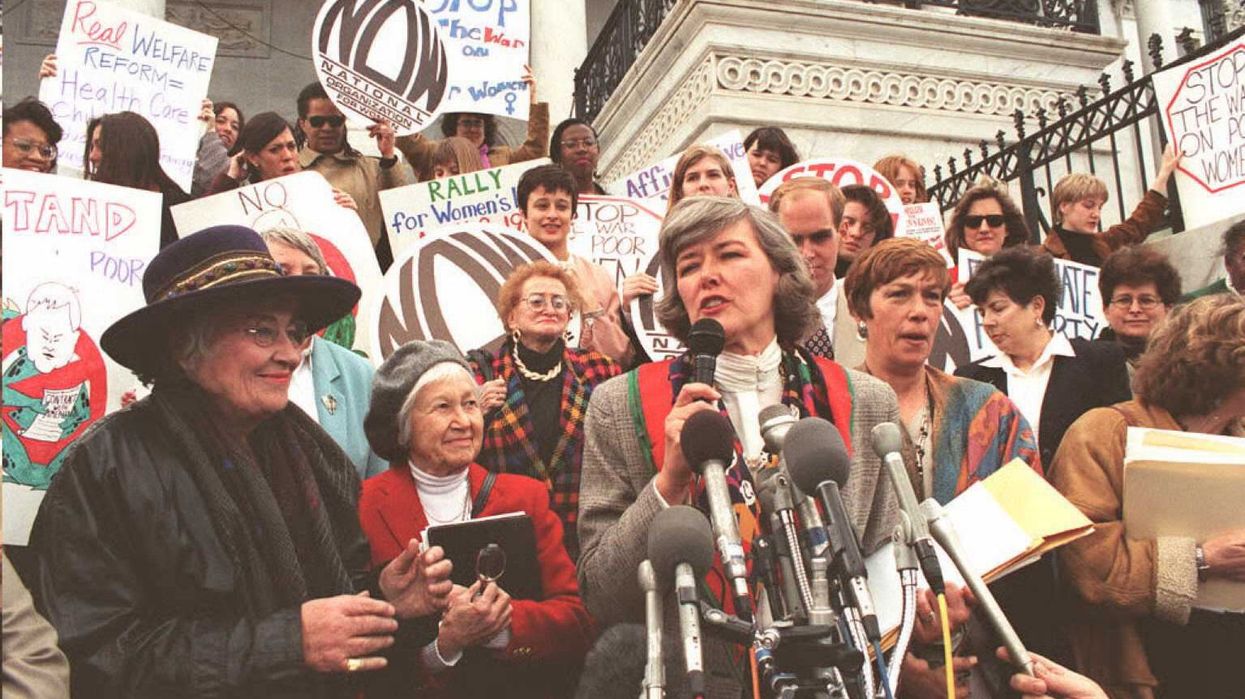 "A pioneer for women's rights, Rep. Schroeder spoke up for Colorado in D.C. for over two decades, defying odds and making her mark," said one lawmaker.
Progressive lawmakers were among those mourning the death of former U.S. Rep. Patricia Schroeder, who served in the House for 24 years and pushed for legislation to protect the jobs of parents, control military spending, and expand healthcare for low-income people. She died in Celebration, Florida on Monday at age 82.
Schroeder first ran for Congress in 1972, representing the Denver area and centering her grassroots campaign largely on her opposition to the U.S. war in Vietnam.

She was one of just 14 women in the House when she took office and was the first woman to serve on the House Armed Services Committee, on which she sat for her entire legislative career.

Upon being named to the committee, Schroeder recalled being ordered by Chairman F. Edward Hébert, a right-wing Democrat from Louisiana, to share a seat with African-American Rep. Ron Dellums (D-Calif.), saying that Hébert told the newly elected lawmakers that they were "only worth half the normal member."
She had previously been told by a dean at Harvard Law School, where she earned a law degree in 1964, that she and the other 14 women in her class had "taken this position from a man."
She was undaunted by the sexism she encountered, and used her position on the Armed Services Committee to regularly call for arms control and reduced military spending. Schroeder aimed to reform the committee that she said acted too frequently as the Pentagon's "lap dog."

The congresswoman was also well known for leading the fight for women's rights in the workplace, pushing for the passage of the 1978 Pregnancy Discrimination Act, which prohibited employers from firing women because they were pregnant. Fifteen years later, she helped pass the Family and Medical Leave Act of 1993 to ensure people wouldn't lose their jobs for taking time off work to care for a newborn or other family member.
Other legislation she played a crucial role in passing included the Violence Against Women Act of 1994; the National Child Protection Act of 1993, which established a background check system for childcare providers; and the Breast and Cervical Cancer Mortality Prevention Act of 1990, which provided screenings for lower-income women.

In 1995, Schroeder joined Bernie Sanders, then an Independent member of the House representing Vermont, in rising to oppose the comments of Rep. Duke Cunningham (R-Calif.). Cunningham uttered a slur as he attacked the two lawmakers for supporting gay Americans who served in the military and told Sanders, "Sit down, you socialist!"
Schroeder retorted with a "parliamentary inquiry," asking, "Do we have to call the gentleman a gentleman if he's not one?"

On Tuesday, Sanders tweeted that Schroeder "was not only a friend but an extraordinarily effective congresswoman who, in so many ways, led the way in opening up opportunities for women."
"Former Congresswoman Pat Schroeder was a fearless champion for women's rights," said Rep. Alexandria Ocasio-Cortez(D-N.Y.). "Her work has inspired countless women in politics and government, and we hope to continue to uphold her legacy."
Newly elected progressive Reps. Maxwell Alejandro Frost (D-Fla.) and Jasmine Crockett (D-Texas) also expressed appreciation for Schroeder's legacy.
"A pioneer for women's rights, Rep. Schroeder spoke up for Colorado in D.C. for over two decades, defying odds and making her mark," said Crockett. "Last night we lost a giant—but Pat Schroeder's legacy and work lives on!"
News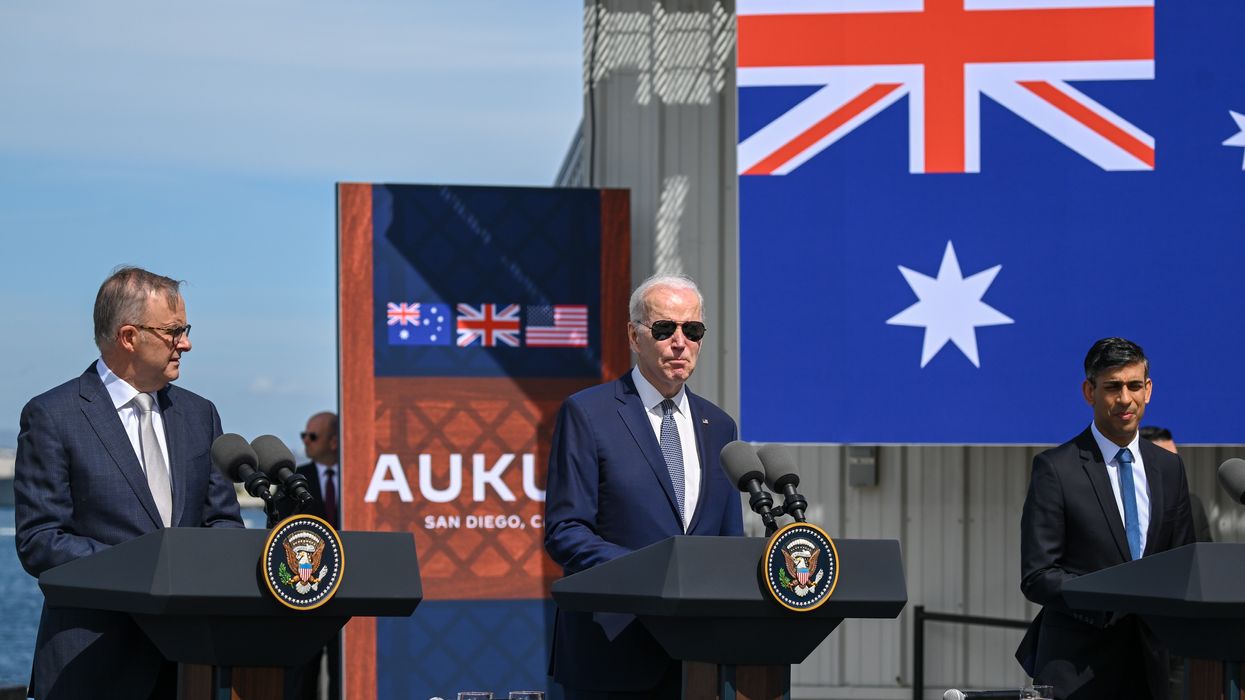 Beijing called on Australia, the U.K., and the U.S. "to abandon the Cold War mentality and zero-sum games, honor international obligations in good faith, and do more things that are conducive to regional peace and stability."
China accused Australia, the United Kingdom, and the United States of threatening peace in the Pacific region after leaders of the so-called AUKUS military partnership unveiled further information about their plan to expand the reach of Washington's nuclear-powered submarine technology.
"The latest joint statement from the U.S., U.K., and Australia demonstrates that the three countries, for the sake of their own geopolitical interests, completely disregard the concerns of the international community and are walking further and further down the path of error and danger," Chinese foreign ministry spokesperson Wang Wenbin said at a Tuesday press conference.
Eighteen months after AUKUS was established, Australian Prime Minister Anthony Albanese, U.K. Prime Minister Rishi Sunak, and U.S. President Joe Biden met Monday in California, where they announced details about the yearslong collaboration.
Following roughly a decade of training from the U.S. and U.K. navies, Australia is set to purchase three Virginia-class submarines propelled by enriched uranium by the "early 2030s," pending U.S. congressional approval. After the initial deal, Canberra will have the option to obtain two additional vessels, which are valued at $3 billion each and capable of launching cruise missiles.
"The sale announced on Monday is part of a long-term, multi-stage plan destined to make Australia a full partner in fielding top-secret U.S. nuclear technology previously shared only with the U.K.," Al Jazeerareported. "Meanwhile, Australia and Britain will start building a new submarine model with U.S. technology and support, with the U.K. expected to deliver its first home-built nuclear submarine by the late 2030s. Australia is set to deliver those new vessels to its navy by the early 2040s."
As the news outlet noted, the trilateral agreement also "includes a commitment to cooperate on building artificial intelligence capabilities, hypersonic weapons, and other advanced technologies."
Although China received only a passing reference on Monday, AUKUS is widely seen as a U.S.-led effort to contain Beijing's growing economic, military, and diplomatic power. Chinese officials, global peace activists, and the U.K. Labour Party have denounced the military pact as an escalation of a "new Cold War" against China.
Speaking Monday from the Naval Base Point Loma in San Diego, Biden described the moment as "an inflection point in history, where the hard work of enhancing deterrence and promoting stability is going to affect the prospect of peace for decades to come."
Albanese, meanwhile, thanked the U.S. for sharing its nuclear propulsion technology for "the first time in 65 years and only the second time in history."
For his part, Sunak argued that "Russia's illegal invasion of Ukraine, China's growing assertiveness, and [the] destabilizing behavior of Iran and North Korea" make it "more important than ever that we strengthen the resilience of our own countries," adding: "Ultimately, the defense of our values depends, as it always has, on the quality of our relationships with others."
Wang's statement came after the Chinese mission to the United Nations condemned the deal on Twitter:
The nuclear submarine cooperation plan released today by AUKUS is a blatant act that constitutes serious nuclear proliferation risks, undermines [the] international non-proliferation system, fuels arms races, and hurts peace and stability in the region.

The irony of AUKUS is that two nuclear weapons states who claim to uphold the highest nuclear non-proliferation standard are transferring tons of weapons-grade enriched uranium to a non-nuclear-weapon state, clearly violating the object and purpose of the NPT [Non-Proliferation Treaty].

Such a textbook case of double standard will damage the authority and effectiveness of the international non-proliferation system. We urge the trio to honor their obligations as members of the NPT and respond to the [concerns] of the international community.
According toThe Guardian: "Biden rejected the accusation, saying the submarines would be 'nuclear-powered, not nuclear-armed.' Penny Wong, Australia's foreign minister, said the Chinese criticism was 'not grounded in fact.'"
Australia has long maintained that it is not looking to acquire nuclear weapons or build its civil nuclear capacity and intends to abide by the NPT.
But critics of AUKUS worry that it "could still indirectly spur the proliferation of weapons" by setting "a dangerous precedent for countries to exploit a loophole in the NPT," The Guardianexplained when the alliance was created in September 2021. The NPT allows countries without atomic bombs, such as Australia, "to build nuclear-powered submarines, and to remove the fissile material they need for the submarine reactors from the stockpile monitored by the global watchdog, the International Atomic Energy Agency, opening up the possibility it could be diverted to making weapons."
The joint statement issued by Biden, Sunak, and Albanese on Monday says that the U.S., U.K., and Australia "continue to consult with the International Atomic Energy Agency to develop a non-proliferation approach that sets the strongest precedent for the acquisition of a nuclear-powered submarine capability."
Wang called this claim "pure deception" and accused the three countries of "coercing" the IAEA into providing its endorsement.
Mao Ning, another Chinese foreign ministry spokesperson, urged the trio "to abandon the Cold War mentality and zero-sum games, honor international obligations in good faith, and do more things that are conducive to regional peace and stability."
Biden said Monday that he expects to speak soon with Chinese President Xi Jinping.
But Wang declared Tuesday that Beijing does not want to "communicate for the sake of communicating." Instead, he said, "the U.S. side should come forward sincerely, with practical actions to promote China-U.S. relations."
Relations between Washington and Beijing have deteriorated in recent months, hitting their lowest point in decades.
Last August, visits by then-U.S. House Speaker Nancy Pelosi (D-Calif.) and other members of Congress to Taiwan (the Republic of China, or ROC) chilled numerous channels of communication. Beijing—along with most of the international community, including Washington since the 1970s—considers the breakaway province to be part of the People's Republic of China (PRC).
In a departure from more than four decades of "One China" policy—in which the U.S. recognizes the PRC as the sole legal government of China and maintains informal relations with the ROC while adopting a position of "strategic ambiguity" to obscure how far it would go to protect Taiwan—Biden has vowed on multiple occasions to use military force in response to a Chinese invasion of the island.
In addition to the AUKUS nuclear submarine deal, the U.S. announced last October that it is preparing to deploy up to six nuclear-capable B-52 bombers to northern Australia, where they would be close enough to strike China.
After Washington shot down a Chinese ballon that entered U.S. air space last month, Beijing refused to take a call from U.S. Secretary of Defense Lloyd Austin, and U.S. Secretary of State Antony Blinken canceled his long-awaited trip to China.
As The Associated Pressreported Tuesday, Xi told Chinese lawmakers last week that "Western countries led by the United States have implemented all-round containment, encirclement and suppression of China, which has brought unprecedented grave challenges to our nation's development."
"On the Legislature's closing day Monday, Xi said it was necessary to modernize the armed forces and 'build the people's army into a great wall of steel' that protects China's interests and national security," AP reported. "Xi also reiterated China's determination to bring Taiwan under its control by peaceful or military means amid rising concern abroad over a possible attack on the island Beijing claims as its own territory."
China must "resolutely oppose interference by external forces and Taiwan independence separatist activities, and unswervingly promote the process of reunification of the motherland," said Xi.
Amid growing concerns that Washington's increasingly hostile approach to Beijing could spiral into a full-blown military conflict, progressive advocacy groups have argued that "nothing less than the future of our planet depends on ending the new Cold War between the United States and China."
News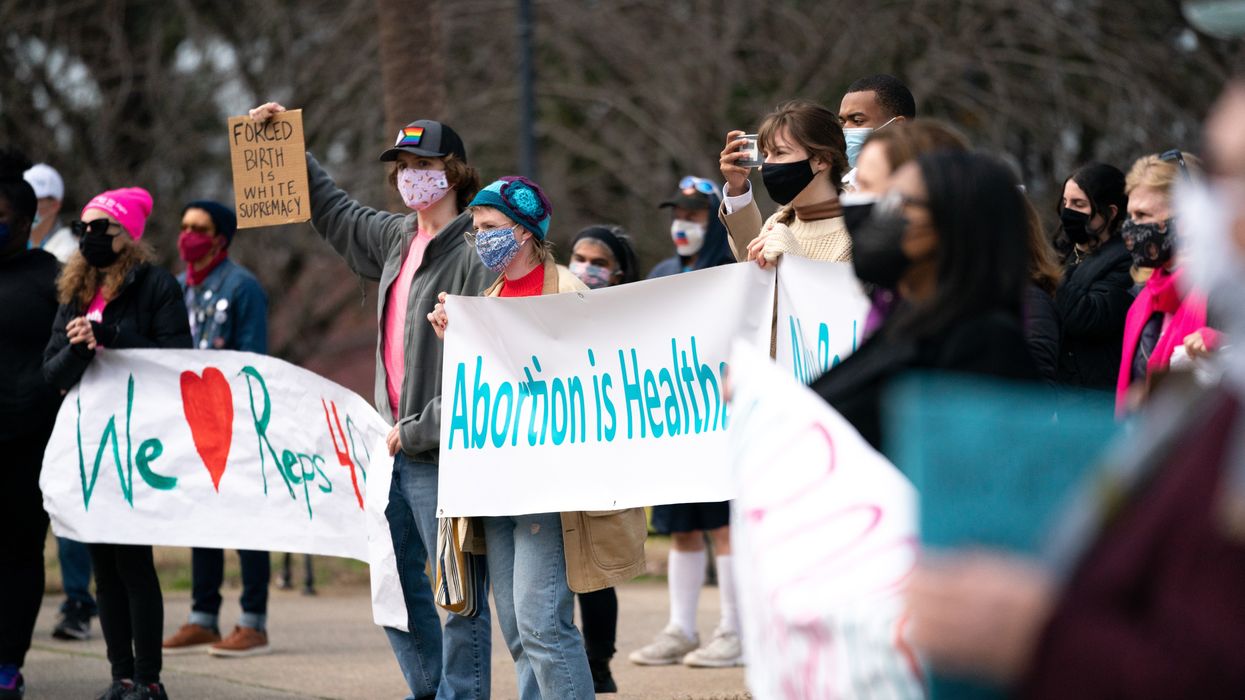 "Executing women is not fringe GOP," said one human rights lawyer. "It's your horrifically mainstream 'pro life' GOP."
A new pro-forced pregnancy proposal in the South Carolina General Assembly that would make people who obtain abortion care eligible for the death penalty was portrayed as coming from the fringes of the Republican Party by one GOP lawmaker—but with 21 state Republicans backing the legislation, critics said the idea is representative of the party's anti-choice agenda.
Proposed by state Rep. Rob Harris, the South Carolina Prenatal Equal Protection Act of 2023 would amend the state's criminal code to give a zygote, or fertilized egg, "equal protection under the homicide laws of the state"—meaning obtaining an abortion could be punishable by the death penalty.
The bill does not include an exception for people whose pregnancies result from rape or incest, and political commentator Brian Tyler Cohen noted its language is vague enough to suggest that some people who suffer miscarriages could become eligible for the death penalty.

The exceptions provided by Harris include only people who are "compelled" by others to have an abortion against their will or people whose continued pregnancies carry the threat of "imminent death or great bodily injury," although numerous cases since the U.S. Supreme Court overturned Roe v. Wade have demonstrated how exceptions to protect a pregnant person's life often put their safety at risk.
U.S. Rep. Nancy Mace (R-S.C.), a rape survivor, spoke on the House floor last Friday about the bill and warned that its lack of exceptions for rape survivors was part of a "deeply disturbing" trend.
"To see this debate go to the dark places, the dark edges," said Mace, "has been deeply disturbing to me as a woman, as a female legislator, as a mom, and as a victim of rape."
But with nearly two dozen co-sponsors, said human rights lawyer Qasim Rashid, the proposal appears to come from the "horrifically mainstream 'pro-life' GOP."
"It's not just one lone extremist," wrote Tessa Stuart at Rolling Stone.

Harris and his co-sponsors—seven of whom have requested to have their names removed from the legislation as it's garnered national attention—are just the latest policymakers to propose punishments for people who obtain abortions. Alabama's attorney general said in January that residents should be prosecuted for taking abortion pills, and former President Donald Trump said as a presidential candidate in 2016 that "there has to be some form of punishment" for abortion patients before walking back the statement.
A number of Texas lawmakers have proposed making people who obtain abortions eligible for capital punishment in recent years.
"If this surprises you," said historian Diana Butler Bass of the South Carolina proposal, "you haven't been paying attention."
News
SUPPORT OUR WORK.
We are independent, non-profit, advertising-free and 100%
reader supported.