Wisconsin Attorney General Seeks to Vitiate Open Records Law to Protect ALEC's National Treasurer
MADISON
Wisconsin Attorney General J.B. Van Hollen has taken the unprecedented step of asserting that a state legislator cannot be held accountable for refusing to disclose public records in response to a lawful open records request by the Center for Media and Democracy.
Van Hollen's department asserted in court filings that Wisconsin Senator -- and American Legislative Exchange Council (ALEC) national treasurer -- Leah Vukmir cannot be served with a court order demanding that she comply with her legal responsibilities under the open records law.
This novel legal argument reverses the policy and practice of prior Attorneys General and would make any state legislator immune from enforcement of the state open records law and any other civil matter.
"Because the current practice of the legislature is never to be out of session, the Attorney General's position means that state legislators can't be held accountable for refusing to comply with their duties under the open records law. This is a radical departure from the clear language of the law, from the position taken by previous Attorneys General, and from Wisconsin's long, proud history of transparency and commitment to open government," said Brendan Fischer, General Counsel, Center for Media and Democracy.
A Wisconsin Constitutional provision from 1848 gives legislators limited immunity from arrest or civil process "during the session of the legislature," which at the time only lasted for a few weeks or months. But today, the legislature remains in session continuously, even during recess, for a full two years. The same day that one session ends, the next one begins. Van Hollen's position would close off any possibility of enforcing any civil action against a state legislator.
The Attorney General's office has previously argued that the provision only applied during "floor session," but is now reversing precedent and essentially arguing that a legislator can never be held accountable for defying the open records law. This position, if upheld by the court, would reverse decades of history and practice and effectively dismantle Wisconsin's public records law as it applies to the state legislature.
The Center for Media and Democracy filed suit against Senator Vukmir in June for her failure to release ALEC-related public records. Senator Vukmir is ALEC's national treasurer. She attended ALEC's Oklahoma City meeting in May 2013 and sponsored an ALEC "model" bill that was adopted by ALEC politicians and corporate lobbyists as ALEC policy. Now she is asserting she does not have a single record relating to the bill or the Oklahoma meeting responsive to CMD's routine request.
"Senator Vukmir is acting like she is above the law, but Wisconsin's open records laws have always applied to legislators. I've seen her at ALEC resort meetings and cigar parties, and we have documented that as a state elected official she has sponsored numerous ALEC bills secretly voted on by corporations and politicians. We have uncovered that she has received thousands of dollars in ALEC 'scholarships' for these trips, and now she is trying to keep ALEC's communications with her secret from the people of Wisconsin by claiming no citizen of the state can enforce civil laws against legislators. What is she really hiding?" added Lisa Graves, CMD's Executive Director, who formerly served as a senior advisor in all three branches of the federal government.
The Wisconsin State Journalreported on how Senator Vukmir's staff berated and physically assaulted a process server trying to routinely serve the legislator with a court order. The process server's sworn affidavit filed with the court can be viewed here.
The lawsuit arose in part because ALEC has been stamping its documents with an extraordinary "disclaimer" asserting that documents it sends to legislators are not subject to any state's public records law, and distributing bills and other material via an Internet dropbox, which makes the records more difficult to access through open records. ALEC admitted to the Wisconsin State Journal in June that these tactics are part of the organization's effort to evade open records laws.
ALEC has faced increasing scrutiny since CMD launched its ALEC Exposed project in July 2011, making the entire ALEC library of more than 800 "model" bills publicly available for the first time.
For more on this, see:
Milwaukee Journal Sentinel: Sen. Leah Vukmir tries to sidestep open records suit
Wisconsin State Journal: Process server says senator's aide chased and pushed him down
The Center for Media and Democracy (CMD) is a non-profit investigative reporting group. Our reporting and analysis focus on exposing corporate spin and government propaganda. We publish PRWatch, SourceWatch, and BanksterUSA. Our newest major investigation is available at ALECexposed.org. We accept no funding from for-profit corporations or the government. If you would like to make a financial contribution to support our work, please click here.
LATEST NEWS
"It will take passage of the John R. Lewis Voting Rights Advancement Act to curb this new generation of assaults on the freedom to vote," said one campaigner.
Although it is nearly certain to go nowhere in a Republican-dominated U.S. House of Representatives, pro-democracy groups nationwide celebrated on Tuesday as Congresswoman Terri Sewell reintroduced the John R. Lewis Voting Rights Advancement Act.
"Generations of Americans—many in my hometown of Selma, Alabama—marched, fought, and even died for the equal right of all Americans to vote," Sewell (D-Ala.) said in a statement. "But today, their legacy and our very democracy are under attack as MAGA extremists target voters with new laws to restrict voting access."
"The fight for voting rights has never been more urgent," she argued, explaining that the legislation—named for the late Democratic Georgia congressman and civil rights leader—aims to restore and modernize the full protections of the Voting Rights Act of 1965 (VRA), which was gutted by the U.S. Supreme Court a decade ago in Shelby County v. Holder.
The bill is backed by every House Democrat but faces tough odds in both chambers. Early last year, Democratic right-wing Sen. Joe Manchin (W.Va.) and Sen. Kyrsten Sinema (Ariz.), who switched from Democrat to Independent in December, worked with Republicans to block a megabill that included the Freedom to Vote Act and the John Lewis legislation.
Still, U.S. advocacy groups on Tuesday applauded the lawmakers' renewed push for federal voting rights reforms—as they did in July, when Democratic leaders reintroduced the Freedom to Vote Act.
"The John Lewis Voting Rights Advancement Act is key in preserving democracy, full stop," declared Public Citizen executive vice president Lisa Gilbert. "A decade after the Supreme Court gutted 'preclearance' protection in the Voting Rights Act, more than half of U.S. states have passed over 90 laws that make it harder to vote for communities of color, in particular."
"Without this legislation, we risk further entrenching anti-democratic, partisan forces that want to choose their own voters," Gilbert warned.
According to the Declaration for American Democracy coalition:

In the last decade since the Shelby County v. Holder Supreme Court decision gutted key enforcement mechanisms in the Voting Rights Act, at least 29 states have passed 94 laws making it harder to vote, with at least 11 states enacting 13 restrictive voting laws in 2023 alone.

Attacks on our freedom to vote disproportionately impact Black, Latino, Asian, Native, and other voters of color. Since Shelby v. Holder, the racial turnout gap has grown significantly in 5 of the 6 states previously covered by the preclearance sections of the Voting Rights Act.
Sylvia Albert, Common Cause's director of voting and elections, stressed that "this ongoing effort to suppress the vote harkens back to the shameful Jim Crow era. At that time, it took the passage of the Voting Rights Act of 1965 and rigorous enforcement by the U.S. Department of Justice to curb the wholesale abuses and attacks on the freedom to vote."
"Today it will take passage of the John R. Lewis Voting Rights Advancement Act to curb this new generation of assaults on the freedom to vote and to strengthen the ability of the Department of Justice to protect that sacred freedom with the tools it used for decades," she asserted, specifically calling out Republican-controlled state legislatures that have tried "to silence Black and Brown voters after they showed up to vote in record numbers during the 2020 election."
Noting that the VRA "has a long history of bipartisan support," Leslie Proll of the Leadership Conference on Civil and Human Rights said: "We applaud our elected officials who have responded to the call of the majority of people in this country who support new legislation to protect the vote. We need federal action now."
Michael Waldman, president and CEO of the Brennan Center for Justice at New York University School of Law, also highlighted previous bipartisan support for the VRA, pointing out that "the last time the Voting Rights Act was reauthorized, in 2006, it gained 98 votes in the Senate." He called on Congress to swiftly pass the "urgently needed" John Lewis bill and the Freedom to Vote Act.
Organizations focused on key issues like abortion rights and the climate emergency also demanded action on the proposal.
"This legislation is long overdue," said a 15-member coalition that included Clean Water Action, Climate Hawks Vote, the Climate Reality Project, Earthjustice, EDF Action, Environmental Law & Policy Center, Greenpeace USA, Interfaith Power & Light, League of Conservation Voters, the National Wildlife Federation, NextGen America, Sierra Club, Union of Concerned Scientists, WE ACT for Environmental Justice, and Zero Hour.
"We cannot effectively tackle the critical issues our nation faces—like combating the climate crisis, advancing environmental justice, and protecting our air, lands, waters, biodiversity, wildlife, and oceans—without fixing the broken system that caters to corporate polluters and disenfranchises too many voters," the coalition argued.
Meanwhile, NARAL Pro-Choice America said on social media that "voting rights and reproductive freedom are deeply intertwined."
"Anti-abortion extremists attack voting rights knowing that it is critical to electing repro champions," the organization added. "Congress MUST pass the John Lewis Voting Rights Act."
News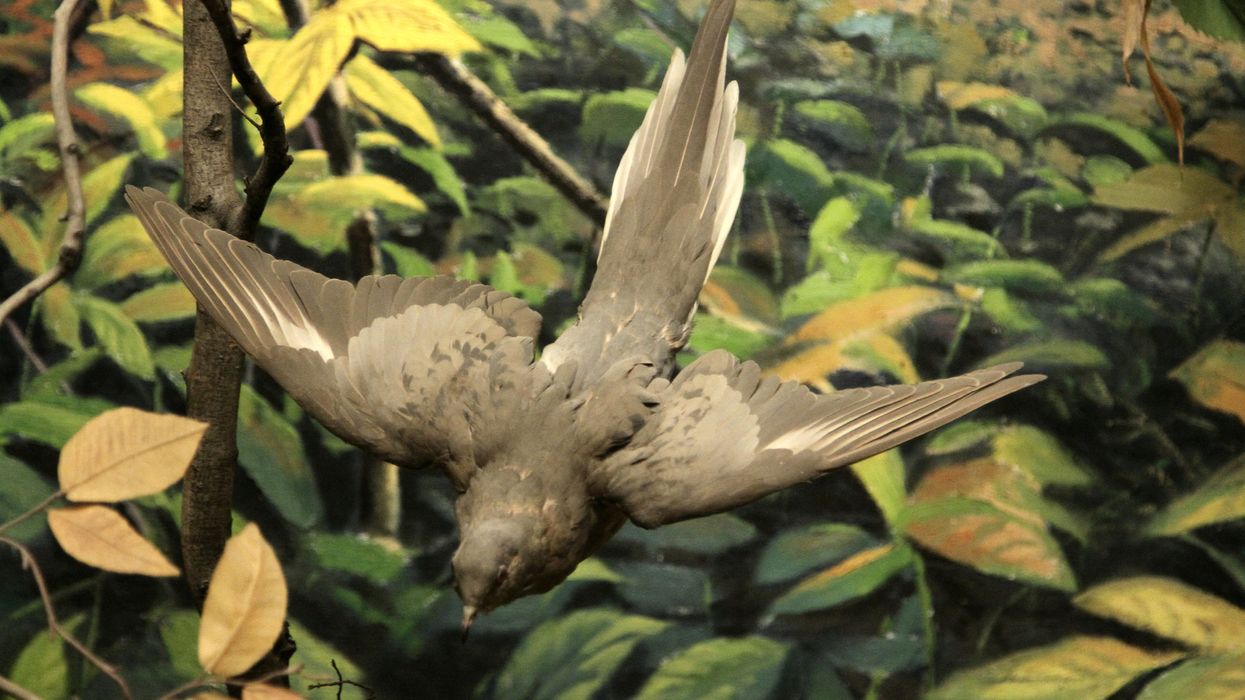 "What we're losing are our only known living companions in the entire universe," one study author said.

In what researchers call a "biological annihilation," human activities are driving entire groupings of vertebrate species to extinction at a rate 35 times what it would have been without human interference.

The study, published in the Proceedings of the National Academy of Sciences Monday, found that 73 genera—the next thickest branch from species on tree of life—had been lost since A.D. 1500. Without the mass exploitation of the natural world that took off around that date with European colonization, the number lost in the past 500 years would have been only two, and it would have taken 18,000 years to reach 73 extinctions.
"Such mutilation of the tree of life and the resulting loss of ecosystem services provided by biodiversity to humanity is a serious threat to the stability of civilization," study co-authors Paul Ehrlich of Stanford University and Gerardo Ceballos of the National Autonomous University of Mexico wrote in the abstract.
Or, as Ehrlich summarized it in all caps on social media, "New approach to extinction crisis, very bad news."
Previous attempts to grapple with the sixth mass extinction had focused on the number of species lost or at risk. But looking at genera can provide a clear view of the "magnitude and impact" of these losses, the study authors wrote.
Why? Because when one species dies, other species in the same genus can fill its niche in the ecosystem and preserve much of its genetic code, Ceballos toldStanford News. However, when a genus disappears, it leaves a larger gap in both the ecosystem and the genetic record—one that it can take evolution tens to millions of years to fill.
For example, when the passenger pigeon genus went extinct in 1914, the white-footed mouse lost its main food competitor. This combined with a decrease in large predators caused white-footed mouse populations to explode, which has been fatal for humans, because white-footed mice are the primary carriers of Lyme disease.
"We are alarmist because we are alarmed."
"By losing all these genera, we are losing the foundations of the planet to have life in general and human life in particular," Ceballos told The Guardian.
There's also an inherent sadness to the disappearance of so much unique life.
"What we're losing are our only known living companions in the entire universe," Ehrlich told Stanford News.
Ceballos and Eherlich expected genera extinction rates to be lower than species ones, but found in fact that they were about the same. The pair looked specifically at birds, mammals, reptiles, and amphibians. Beyond the 73 extinct genera, the planet also lost 10 families and two orders: the elephant bird and the New Zealand moa. Birds overall lost the most genera, with mammals coming in second.
What's more, if the climate emergency, the illegal wildlife trade, and habitat loss continue and all endangered genera go extinct by 2100, their extinction rate would jump to 354 times what it would have been without these human actions.
"People say that we are alarmist by saying that we expect a collapse," Ceballos told The Guardian. "We are alarmist because we are alarmed."
However, both authors emphasized that it was not too late to act.
"As dramatic as the results are, what is important to mention is that we still have time," Ceballos added. Though he noted that "the window of opportunity is closing rapidly."
News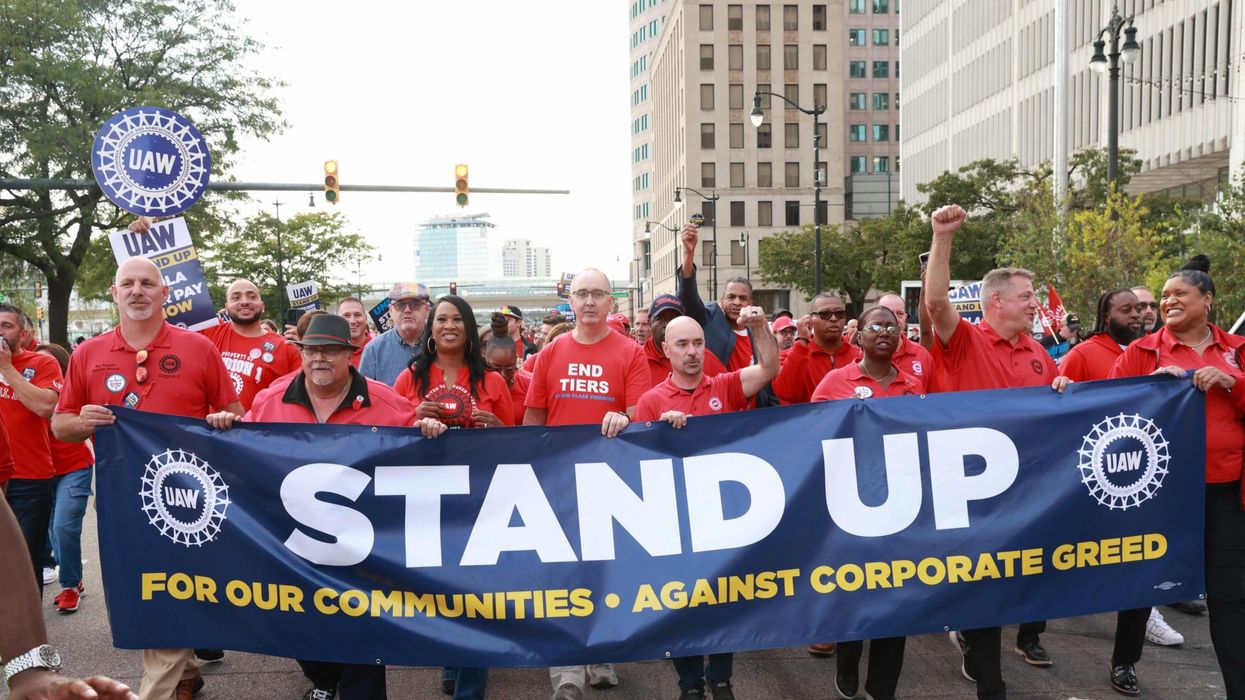 "The tax system is rigged to benefit multinational corporations over the workers who keep them running."
Despite reaping tens of billions of dollars in profits between them over the past five years, General Motors and Ford paid an average combined tax rate of just 1% on total pre-tax income, an analysis published Tuesday by economic justice advocates revealed—as the auto giants claimed they cannot afford striking workers' demands for better pay.
The Americans for Tax Fairness (ATF) analysis—which posits that "the tax system is rigged to benefit multinational corporations over the workers who keep them running"— notes that over the past five years, GM and Ford made a total of $34 billion and $8 billion respectively, but paid an effective federal tax rate of only 1.3% for GM and -0.2% for Ford.
"While some of those tax savings have found their way into rapidly rising compensation packages for the firms' top executives and board members, wages of rank-and-file workers have lagged," the report states. "Average executive pay at GM and Ford grew by 32% over the past five years, while median autoworker pay grew by just 8.8% over the same period, widening the executive-to-worker pay gap to 183-to-1."
"Over that same period, GM and Ford paid out a combined total of $14 billion in dividends (34 times more than they paid in taxes), spent $3.6 billion on stock buybacks (nine times more than they paid in taxes), and lavished $614 million on top company executives (50% more than they paid in taxes)," the publication continues.
The analysis comes five days into a "stand-up strike" by around 13,000 United Auto Workers (UAW) members at GM, Ford, and Stellantis plants. The workers are seeking better pay and benefits.
"General Motors and Ford are refusing to meet UAW's demands, claiming that what workers are asking for is unreasonable," the report states. "An Americans for Tax Fairness analysis of GM and Ford's most recent [Securities and Exchange Commission] filings finds that what is truly unreasonable is how the auto giants get away with paying practically nothing in federal taxes while further enriching their top executives with huge pay packages and their shareholders with dividend payments and stock buybacks."
ATF executive director David Kass argued that "Ford and GM have thrown their priorities into reverse."
"They're overcompensating their already wealthy executives, board members, and shareholders, while shortchanging the workers and nation that made their success possible," Kass continued. "They need to offer serious proposals for sharing the wealth with rank-and-file employees and start paying their fair share of taxes."
"They're overcompensating their already wealthy executives, board members, and shareholders, while shortchanging the workers and nation that made their success possible."
Kass additionally asserted that the National Labor Relations Board "must ensure these corporations treat their workers justly; and in its upcoming budget negotiations, Congress must ensure big corporations like Ford and GM are contributing what they should to America's fiscal health."
Corporate tax dodging is pervasive in most U.S. industries. According to a Government Accountability Office (GAO) analysis commissioned by Sen. Bernie Sanders (I-Vt.) and released in January, more than a third of large, profitable corporations in the United States paid no federal income tax in 2018, the year that the so-called Republican "tax scam" signed into law by then-President Donald Trump took effect.
The GAO report also found that "average effective tax rates—the percentage of income paid after tax breaks—among profitable large corporations fell from 16% in 2014 to 9% in 2018."

Other analyses of more recent data confirms the trend continues. A Center for American Progress study of 2021 investor filings for Fortune 100 companies revealed that 19 of the largest profitable corporations in America "are paying effective tax rates that are in the single digits—or paying nothing at all."
News
Independent, nonprofit journalism needs your help.
Please Pitch In
Today!