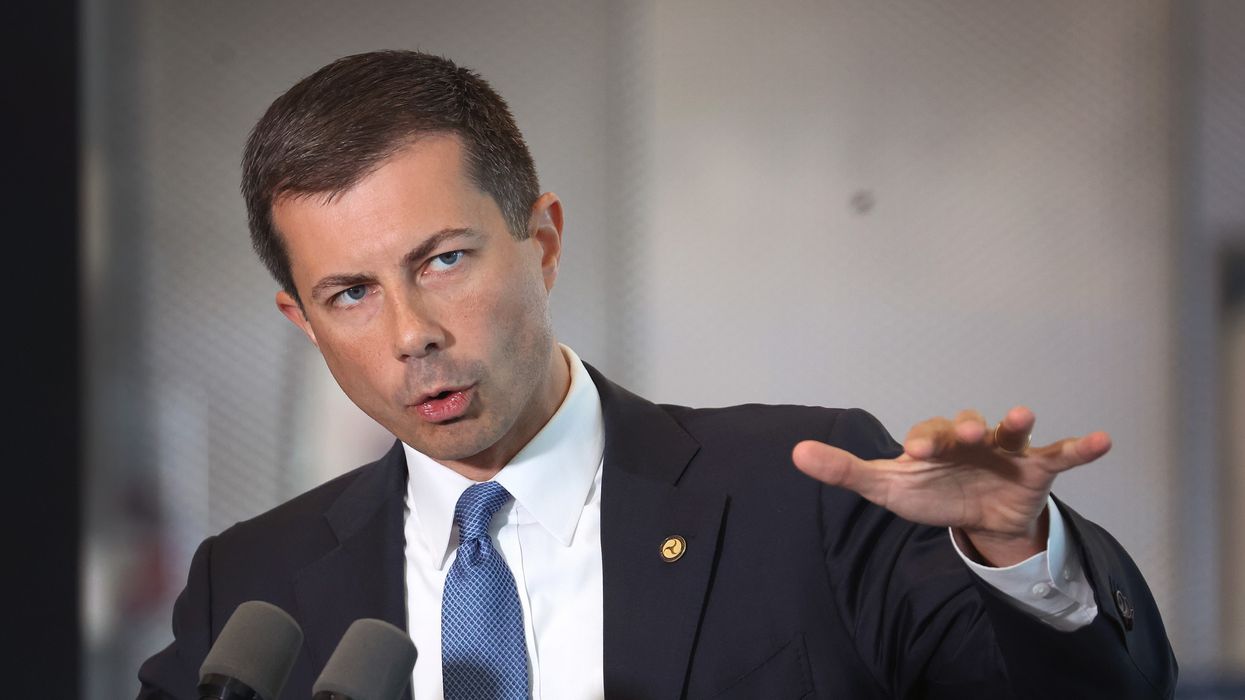 While celebrating the forthcoming review, campaigners also argued that "Secretary of Transportation Pete Buttigieg should put a new rule in place that restores the ban on LNG by rail once and for all."
Green groups on Friday applauded as the Biden administration suspended a Trump-era rule allowing liquefied natural gas to be transported by train, delivering another blow to New Fortress Energy's proposal to ship climate-wrecking LNG by rail from Wyalusing, Pennsylvania to Gibbstown, New Jersey.
The Pipeline and Hazardous Materials Safety Administration (PHMSA)—in coordination with the Federal Railroad Administration, another U.S. Department of Transportation (DOT) agency—announced in the Federal Register on Friday that it is amending the Hazardous Materials Regulations (HMR) to suspend authorization of LNG rail transportation.
PHMSA had previously finalized the rule in June 2020, complying with an April 2019 executive order from then-President Donald Trump, who went on a deregulatory spree during his four years in office and is now seeking a second term in 2024.

Rail transportation of LNG has not yet occurred "and there is considerable uncertainty regarding whether any would occur in the time it takes for PHMSA to consider potential modifications to existing, pertinent HMR requirements," the DOT agency noted. The suspension "guarantees no such transportation will occur before its companion rulemaking has concluded or June 30, 2025, whichever is earlier."
Food & Water Watch New Jersey state director Matt Smith said that "suspending the outrageously dangerous Trump bomb train rule is a welcome relief to the communities that would be turned into sacrifice zones for a billionaire hedge fund tycoon to bet big on dirty gas exports. The victory goes to the powerful grassroots movement fighting back against the dangerous New Fortress export scheme and the enormous climate threat associated with the expansion of fracking and LNG."
The suspension follows the DOT in April denying New Fortress' permit request for an export facility on the Delaware River in Gibbstown—a move that Smith had said at the time was "long overdue, and provides some measure of protection for the communities across South Jersey."
Smith stressed Friday that "this victory can, and must, go deeper. The Biden administration should take action to eliminate the threat of fracked gas bomb trains entirely, and it must do more to stop new fossil fuel projects across the country."
The administration of Democratic New Jersey Gov. Phil Murphy "must do more to stop the dirty energy projects that are being proposed across the state," he added. "If our political leaders believe their own rhetoric about the climate crisis, then they must take appropriate action—and that begins by stopping new fossil fuel proposals immediately."
Natural Resources Defense Council senior attorney Kimberly Ong similarly celebrated the development—particularly for frontline communities of the New Fortress project—while also calling for additional action by the Biden administration.
"People of Pennsylvania and New Jersey living near key rail lines would have faced damage to their health, families, and homes in the event of a derailment," Ong said. "After pausing the rule, Secretary of Transportation Pete Buttigieg should put a new rule in place that restores the ban on LNG by rail once and for all. That would finally put an end to the threat to communities around Gibbstown and other communities targeted by similar dangerous projects."
"New Fortress Energy's proposed LNG project endangers nearly 2 million people living near truck and rail transport routes," she pointed out. "LNG is a volatile substance that can lead to fires and even explosions. The rail disaster in East Palestine, Ohio earlier this year underscores how serious a train derailment involving hazardous substances can be."
The February derailment and resulting environmental and public health concerns in Ohio have generated nationwide calls for stricter rail safety policies and inspired the introduction of multiple bills in Congress.

News