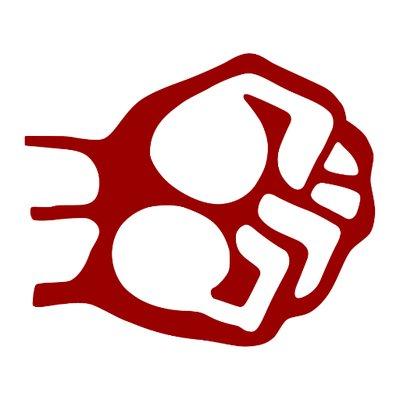 On Day Swartz Trial Would Have Begun, Demand Progress and Swartz's Partner Announce Week of Action Against Computer Fraud and Abuse Act
Activists Seek to Defeat CFAA Expansion Proposal, Pass Reforms to Protect Innovators and Internet Users.
WASHINGTON
Today, on the day that Aaron Swartz's trial was set to have begun, Demand Progress and Aaron Swartz's partner Taren Stinebrickner-Kauffman announced that activists will engage in a week of action starting on Monday, April 8th.
Swartz, who committed suicide on January 11, was being prosecuted for downloading too many academic articles from the journal cataloguing site JSTOR -- with decades in prison being held over his head. His trial was set to begin April 1.
"Aaron's friends and family, I, and the whole world lost a truly amazing person to this travesty. Aaron was a leader and an innovator," said Taren Stinebrickner-Kauffman, Aaron's partner. "Aaron had already done so much, and there's no telling how much more he would have done. Instead, he was prosecuted ruthlessly under over vague and outdated statutes that allow prosecutors almost unlimited discretion to abuse their power.
"Aaron's trial was set to begin today. We would have been in the courtroom for the next two weeks, fighting unjust charges under an unjust law. As a country, we owe it to Aaron to make sure this can never happen again."
The week of action has two main asks:
1) Call for the defeat of a proposal to expand and harshen the Computer Fraud and Abuse Act, under which Swartz was prosecuted.
View the discussion draft here: https://www.scribd.com/doc/133323472/House-Judiciary-Committee-Discussio...
2) Call for reforms to the CFAA, to protect innovators and Internet users. Law enforcement currently asserts that this broad, vague law criminalizes even violations of websites' terms of service agreements.
Participants in the week of action will include a variety of online organizations, including the Internet Defense League -- the core group of activist organizations and websites that came together to defeat the Stop Online Piracy Act last year: https://internetdefenseleague.org/
The week of activism will end with a rally in downtown Boston near the U.S. Attorney's office and the Moakley U.S. Courthouse on Saturday, April 13th. Attendees may RSVP and find more details here: https://act.demandprogress.org/sign/boston_rally/
Many of Aaron's charges stemmed from alleged violations of the Computer Fraud and Abuse Act, which has become a focal point for supporters.
"The Computer Fraud and Abuse Act is older than what most of us think of as the internet," said David Segal, Executive Director of Demand Progress. "It was written in 1984, before Netscape Navigator was invented, before most of us had personal computers, much less dial-up internet. It still governs what's legal and what's not online, and is so outdated and broad that it makes violating terms of service - those things you agree to but never read - federal felonies. We need to change that, and we need to do it before we have another case like this."
Representative Zoe Lofgren (D - CA 19) has proposed revisions to the CFAA known as "Aaron's Law". In the last week, however, the House Judiciary Committee has floated revisions to the CFAA that would actually expand that law and harshen the severity of certain penalties created therein.
"Aaron's Law is a great first step towards making sure the laws that govern the Internet reflect the ways it's used now," continued Segal. "Right now, however, there's talk of increasing the penalties. That's a step in the wrong direction - towards more criminalization of everyday actions online. We need to update the CFAA - and that means making it so terms of service violations aren't felonies and bringing punishments in line with the crimes."
Demand Progress amplifies the voice of the people -- and wields it to make government accountable and contest concentrated corporate power. Our mission is to protect the democratic character of the internet -- and wield it to contest concentrated corporate power and hold government accountable.
LATEST NEWS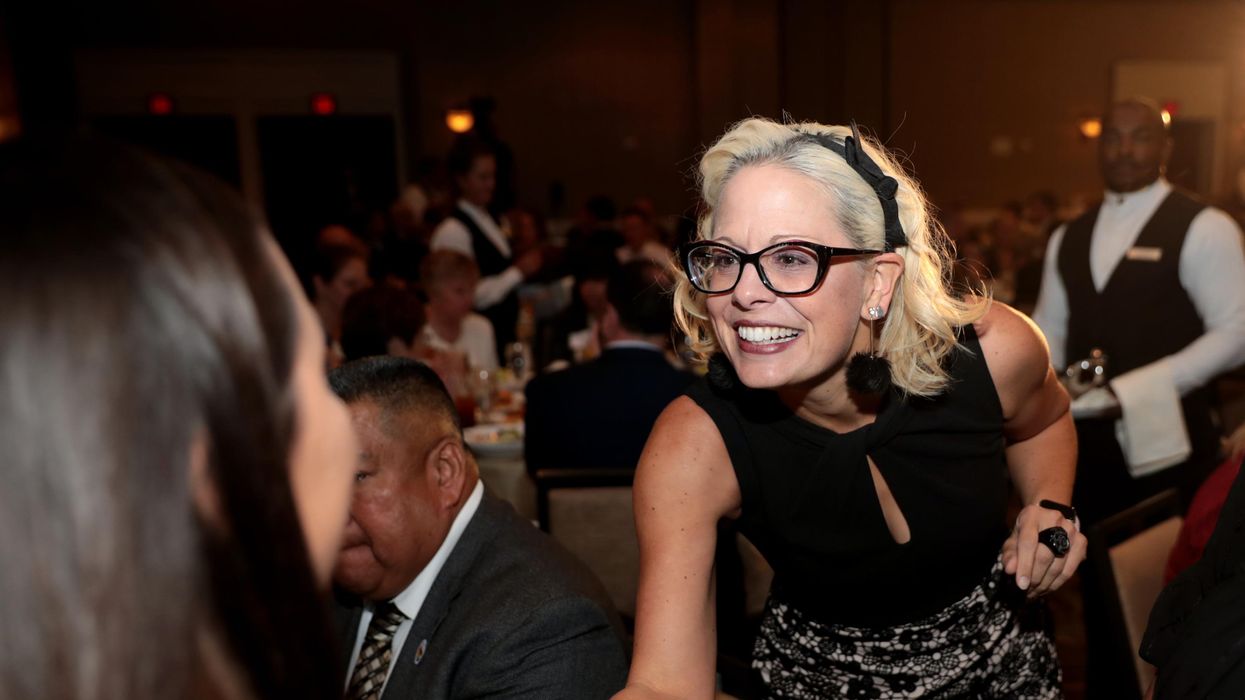 "When bank lobbyists asked me to weaken bank regulations, I said no. When they asked Sen. Sinema, she asked how much—and voted yes," said the Democratic Arizona congressman, who is running for Sinema's Senate seat.
Democratic Arizona Congressman Ruben Gallego on Tuesday accused Sen. Kyrsten Sinema—who he hopes to oust from the U.S. Senate next year—of playing a major role in the Silicon Valley Bank collapse by taking campaign contributions from lobbyists that represented the bank and then voting to deregulate it.
Politicoreports that Sinema (I-Ariz.) was one of numerous members of Congress to take campaign donations from Franklin Square Group, which once counted Silicon Valley Bank (SVB) among its clients. In 2018, Sinema—then a Democrat serving in the U.S. House of Representatives—received more than $8,000 from the lobbyists before she voted for Sen. Mike Crapo's (R-Idaho) Economic Growth, Regulatory Relief, and Consumer Protection Act.
"Before voting to loosen bank safeguards, Sinema received over $100,000 from big banks. And among those who bought Sinema's vote were three Silicon Valley Bank lobbyists that maxed out," Ruben said in a campaign email. "Simply put, she voted to give the banks free rein. And I did not."
"The SVB collapse is a direct result of Kyrsten Sinema's choice to side with big banks over everyday Arizonans."
Dubbed the Bank Lobbyist Act by critics, the law rolled back the Dodd-Frank Act—which was passed in the wake of the 2007-08 global financial meltdown—and exempted banks with between $50 billion and $250 billion in assets from rigorous stress-testing and capital requirements. Both SVB and Signature Bank, which are both now under federal government control, qualified for the "medium-sized bank" exemption.
Sinema argued at the time that "these important reforms will help protect the financial security of Arizonans young and old as they plan for homeownership, a college education, or a stable retirement."
Gallego asked Monday: "What's the difference between Sen. Sinema and me? When bank lobbyists asked me to weaken bank regulations, I said no. When they asked Sen. Sinema, she asked how much—and voted yes. Now we are all going to pay for her mistake."
On Twitter Tuesday, Gallego wrote that "the SVB collapse is a direct result of Kyrsten Sinema's choice to side with big banks over everyday Arizonans."
"FEC records and public lobbying reports show that three SVB lobbyists maxed out donations to Sinema ahead of 2018 Dodd-Frank rollback which led to the collapse," Gallego continued, referring to the Federal Election Commission. "Sinema is in the pocket of Wall Street and her vote put hardworking Arizonans, their families, and their small business, at risk of another 2008-like meltdown."
"Arizonans deserve a leader in the Senate who will fight for them, not Wall Street," he added. "Sinema is not that person and Arizonans know it."
Sinema was far from alone in taking campaign cash from SVB's lobbyists and political action committee.
As Politico's Hailey Fuchs, Jessica Piper, and Holly Otterbein noted:
Between 2017 and 2022, Silicon Valley Bank's PAC gave more than $50,000 to the campaigns of nearly two dozen senators and representatives, according to filings with the Federal Election Commission. The donations largely went to members—Republicans and Democrats—who served on relevant committees including the House Financial Services Committee or Senate Finance Committee. Sen. Mark Warner (D-Va.) and Rep. Patrick McHenry (R-N.C.) received the most from the PAC, each bringing in $7,500 over the six-year period.
SVB CEO Greg Becker "also made maximum individual donations to the campaigns of Warner and Senate Majority Leader Chuck Schumer (D-N.Y.) during the 2022 cycle," the reporters added, citing FEC records.
Sinema—who has been accused of "cartoonish-level corruption" for coziness with corporations and lobbyists—was excoriated in a Tuesday Daily Beast article by Michael Daly, who called the senator "a wolf for Wall Street."
Daly took aim at Sinema's Sunday statement asserting that "the federal government must now ensure those responsible [for the SVB collapse] are held accountable, while maintaining stability for all Americans who rely on our banking system."
"Sinema need only step in front of a mirror to find a prime suspect," wrote Daly. "Whether she's calling herself a Democrat or an independent, her voting record is the same. And it marks her a shill for the banking industry."

News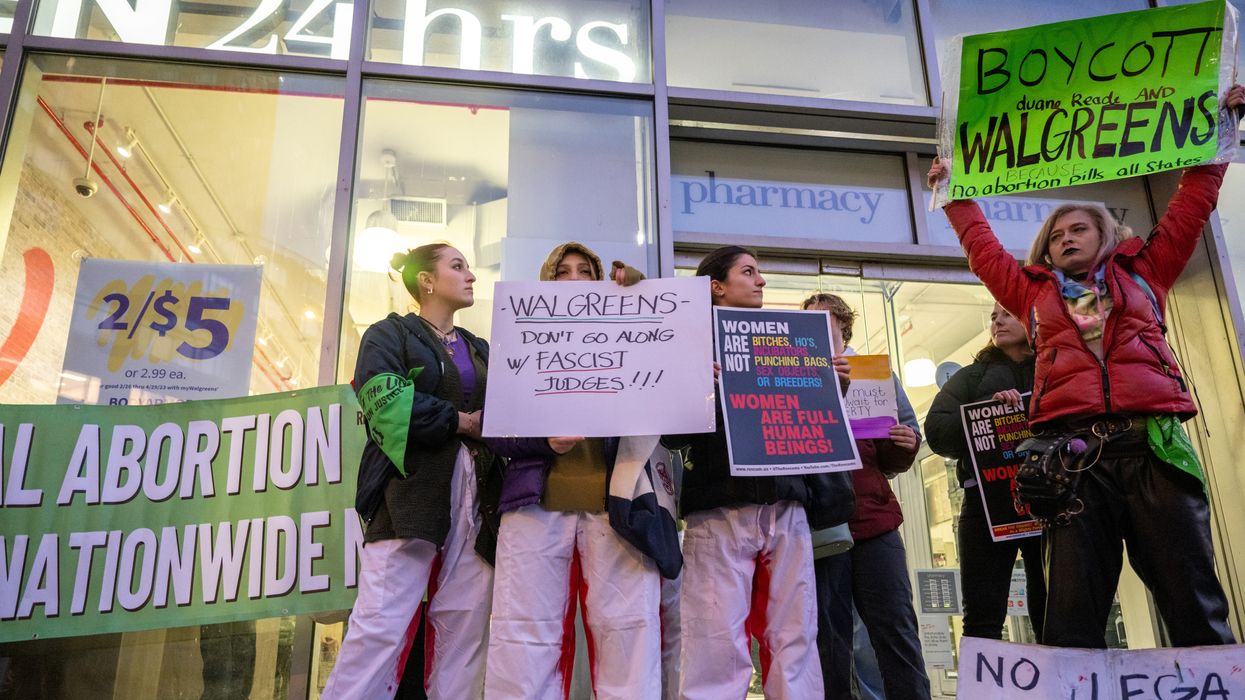 "As companies that dispense critical, lifesaving medications, we urge that your decisions continue to be guided by well-established science and medical evidence and a commitment to the health and well-being of patients—not politics or litigation threats," wrote 14 governors.
With Walgreens under fire for its new abortion pill policy, 14 Democratic U.S. governors on Tuesday asked the corporate leaders of seven other major pharmacies to clarify their plans to lawfully distribute abortion medication like mifepristone.
The Food and Drug Administration (FDA) in January announced a regulatory change to allow retail pharmacies to dispense mifepristone, one of two medications commonly taken in tandem to induce abortion. The move came after the U.S. Supreme Court last summer reversedRoe v. Wade with its 6-3 ruling in Dobbs v. Jackson Women's Health Organization.

In the wake of the high court decision, patients have had to contend with trigger laws, new efforts to enact abortion bans, and other attempts by right-wing political leaders to cut off access to healthcare, including 20 GOP state attorneys general who last month threatened legal action against Walgreens and CVS if they dispense abortion medication by mail.

While shortly after the FDA announcement both pharmacy giants confirmed they planned to seek certification to distribute mifepristone, Walgreens later clarified it won't offer the drug in states where Republican AGs have threatened legal action—prompting California Gov. Gavin Newsom last week to not renew his state's $54 million contract with Walgreens.

Newsom is spearheading the Reproductive Freedom Alliance and on Tuesday joined the Democratic governors of Illinois, Maine, Maryland, Massachusetts, Michigan, Minnesota, North Carolina, New Jersey, New Mexico, New York, Oregon, Washington, and Wisconsin in sending letters to the leaders of Costco, CVS, Health Mart, Kroger, Rite Aid, Safeway, and Walmart.

As the governors wrote:

We are deeply committed to protecting and expanding reproductive freedom and the health and well-being of all of our residents. As governors of 14 states, we not only represent over 141 million residents with a combined economy of over $11 trillion, but we are also direct customers who have partnered with many of your companies for years on a variety of issues and initiatives. We understand you are carefully reviewing the new mifepristone certification process. We look forward to receiving your plans for dispensing mifepristone in states where such care is legal, as well as any other actions you plan to take to safeguard access to reproductive healthcare.
"As companies that dispense critical, lifesaving medications, we urge that your decisions continue to be guided by well-established science and medical evidence and a commitment to the health and well-being of patients—not politics or litigation threats," the governors added.

Meanwhile, Sens. Patty Murray (D-Wash. ) and Debbie Stabenow (D-Mich.) revealed a series of letters—backed by several Senate Democrats—sent to various pharmacy leaders in recent days. They wrote to Walgreens' chief executive officer "with grave concerns about the misunderstanding and confusion your company has created with regard to patients' access to mifepristone from retail pharmacies."

Walgreens' response to Republican attorney generals' pressure "was unacceptable and appeared to yield to these threats—ignoring the critical need to ensure patients can get this essential healthcare wherever possible," the senators continued. "As you work through the FDA certification process, we urge you to fully assess the laws in each state and ensure your policies provide the strongest possible legal access to this critical patient care."
Stabenow told NBC News, which first reported on the senators' letters Tuesday, that "in no way, shape, or form should businesses deny legal healthcare to women who have the right to access this vital medication. All businesses should follow the FDA certification process and fully comply with applicable state and federal law."
The Senate Democrats wrote to the CEOs of Albertsons, Costco, Kroger, and Walmart "with great frustration" that none of them has publicly indicated whether they plan to allow customers to access mifepristone through their pharmacies across the country.

After expressing concern that GOP intimidation tactics could "lead companies like yours to continue to sit on the sidelines and undermine critical care for your customers," the senators urged those four chains "to pursue policies that provide the strongest possible access to the full range of essential healthcare they need, including mifepristone, and to communicate clearly to your customers about how they can access this care."

"We look forward to hearing back from you by March 21, 2023 about your intentions to ensure access to this critical FDA-approved product," the lawmakers added.
In letters to CVS and Rite Aid leadership, the Senate Democrats expressed appreciation for both chains' ongoing efforts to become distributors of mifepristone while also stressing that "at a time of great confusion about abortion access, it is imperative that no company adds to it."

The senators asked both companies' leaders to respond to three questions by March 21:

If certified, how do you plan to notify current customers about access to mifepristone in any given state, where restrictions do and do not exist?
If a new state law to restrict access to medication abortion is proposed, at what stage will you clarify to your customers whether they still have access to mifepristone?
Will your company conduct any community outreach to ensure customers are aware of the full range of legal health services available to them?
"Medication abortion is how most women across our country get abortion care," Murray told NBC, "and it's absolutely critical patients can access this safe, FDA-approved drug without being forced to jump through medically unnecessary hoops or drain their bank accounts to travel hundreds of miles."
The questions and concerns about accessing mifepristone at retail pharmacies come as patients and providers nationwide prepare for a secretive Wednesday hearing before right-wing U.S. District Court Judge Matthew Kacsmaryk regarding an anti-choice group's effort to limit abortion access by arguing that the FDA never should have approved the drug over two decades ago.

News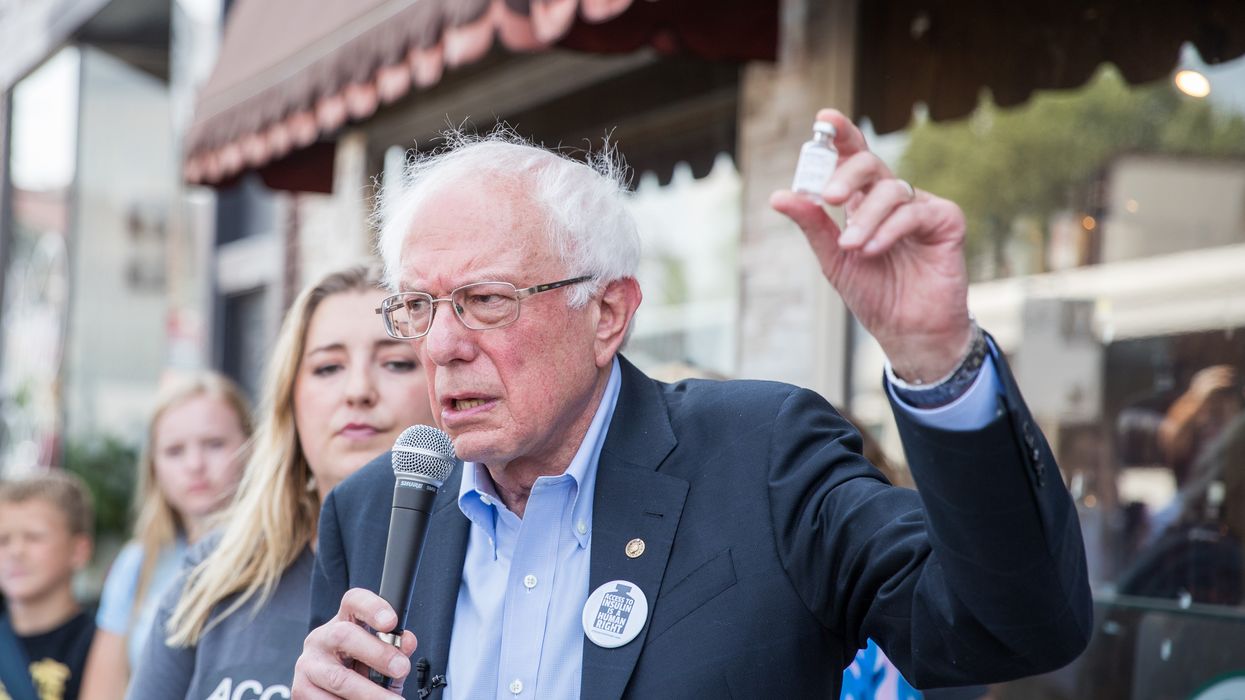 The senator introduced legislation last week to cap insulin prices at $20 per vial.
Crediting advocacy groups with pressuring two out of the three pharmaceutical companies that supply insulin to patients with diabetes in the United States to drastically lower their prices, Sen. Bernie Sanders on Tuesday called on the last of the trio, Sanofi, to do the same while arguing price caps should be mandatory—not a choice.
Novo Nordisk on Tuesday announced that it will cut prices by up to 75% for some of its insulin products starting next year, less than two weeks after one of its rival companies, Eli Lilly, said it plans to slash prices for its most widely used insulin products by 70%.
A vial of one of Novo's products, NovoLog, will drop from more than $289 to just over $72, and the insulin product FlexPen will cost $139, down from more than $500, starting January 1, 2024.
The price changes come after the price of insulin for patients has more than tripled in recent decades, with deadly consequences for some of the eight million Americans who rely on synthetic insulin to convert food into energy. A study based on the 2021 National Health Interview Survey last November found that 1.3 million people in the U.S. rationed their insulin supply in 2021 due to the drug's prohibitive cost.
Sanders (I-Vt.) noted that "grassroots pressure" forced Eli Lilly and Novo this month to announce major price cuts, but said that as chairman of the Senate Health, Education, Labor, and Pensions (HELP) Committee he "will soon hold a hearing on the need to guarantee insulin at an affordable price to everyone who needs it," suggesting that voluntary price cuts by companies are not sufficient.
Public pressure by groups including Patients for Affordable Drugs and Lower Drug Prices Now has resulted in some recent insulin price reforms, including a provision that took effect in January capping insulin copayments at $35 per month for Medicare recipients.

As Common Dreams reported last week, days after Eli Lilly announced its voluntary price cuts, Sanders, a longtime advocate of affordable insulin, joined Rep. Cori Bush(D-Mo.) in introducing legislation that would prohibit pharmaceutical companies from charging more than $20 for a vial of insulin. President Joe Biden has called for the product to be capped at $35 per vial for all patients—a proposal that Senate Republicans voted down last year.
Novo's announcement, said Biden, "builds on the important progress we made last year when I signed a law to cap insulin at $35 for seniors. I urge all other manufacturers to follow suit and Republicans in Congress to join us and cap insulin at $35 for all Americans."
Advocacy groups also called on Sanofi, the third insulin manufacturer for American patients, to follow its rival companies' lead and introduce price cuts.
"Let's keep fighting," said Lower Drug Prices Now, "so that patients can afford any medicine they need."

News
SUPPORT OUR WORK.
We are independent, non-profit, advertising-free and 100%
reader supported.