For Immediate Release
December, 05 2008, 08:56am EDT
Contact:
Tel: +1-212-216-1832,Email:,hrwpress@hrw.org
Turkey: Rising Police Violence Goes Unpunished
Prosecute Abusers to Reverse Trend
ISTANBUL
A rising wave of police violence against the public in Turkey is
linked to the Turkish government's failure to hold abusive officers to
account, Human Rights Watch said in a report released today.
The 80-page report, "Closing Ranks against Accountability - Barriers to Tackling Police Violence in Turkey,"
documents 28 cases of police abuse against members of the public since
the start of 2007, and examines official investigations of police
conduct in those instances. The cases include fatal and non-fatal
shootings by the police; ill-treatment and excessive use of force by
police against demonstrators; and ill-treatment during or following
identity checks. Those who file complaints against the police often
find themselves put on trial for having "forcibly resisted" the police.
"Turkey needs to tackle its violent and trigger-happy policing
culture," said Kenneth Roth, executive director of Human Rights Watch.
"That can only happen if the criminal justice system holds the police
to account for these serious crimes."
Police violence in Turkey has been exacerbated by changes to the law
on police powers made in June 2007, which give police excessively broad
discretion to use lethal force and encourage arbitrary stops and
searches by police. Since the research for this report was finished in
June 2008 there has been a spate of shootings by police officers in
cities such as Ankara, Istanbul, Adana, Bursa, and Antalya. Seven of
them were fatal.
The problem is compounded by the failure to adequately investigate
abuses when complaints are made. The report documents a pattern of
police interference with investigations, including attempts to conceal,
contaminate, or plant evidence. Investigations by prosecutors last many
months and even years, often with no result. Where a prosecution is
commenced, trials also last for years and the rate of conviction is
extremely low. Convictions rarely lead to prison sentences.
"Victims of police violence we interviewed frequently told us that
the police feel untouchable," Roth said. "That will only change if
police officers who break the law are punished."
Motivated to meet conditions attached to its prospective European
Union accession, Turkey has made important changes in law and in
detention regulations in the last five years, providing better
safeguards for those held in detention facilities. While the changes
did bring a reduction of abuse in police custody for those detained
under anti-terrorism laws, there was less impact in other areas of
policing. Since the beginning of 2007, reports of police abuse have
risen compared to previous years, especially outside formal places of
detention.
Incidents of police torture or ill-treatment are now more often
reported as occurring outside formal places of detention - in the
street, during apprehension, in police cars, or out of the sight of
cameras or witnesses. Police also show a readiness to use firearms,
shooting unarmed demonstrators and individuals whom the police claim
have failed to obey stop warnings, and sometimes killing them.
The report contains detailed recommendations to the Turkish government, including:
The establishment of an effective, independent police
complaints authority to investigate police misconduct, leading to the
prosecution of offenders;
Requiring police to report when
they use stop-and-search powers, and giving the person stopped a form
that includes the officers' names, identification numbers, and the
reason for the stop;
Legal clarification that use of lethal force should be a means of last resort and used only where necessary to protect life;
Tamper-proof video and audio recording in police stations at all times; and
Action to ensure that trial hearings of law enforcement officials facing prosecution take place without undue delay.
Human Rights Watch is one of the world's leading independent organizations dedicated to defending and protecting human rights. By focusing international attention where human rights are violated, we give voice to the oppressed and hold oppressors accountable for their crimes. Our rigorous, objective investigations and strategic, targeted advocacy build intense pressure for action and raise the cost of human rights abuse. For 30 years, Human Rights Watch has worked tenaciously to lay the legal and moral groundwork for deep-rooted change and has fought to bring greater justice and security to people around the world.
LATEST NEWS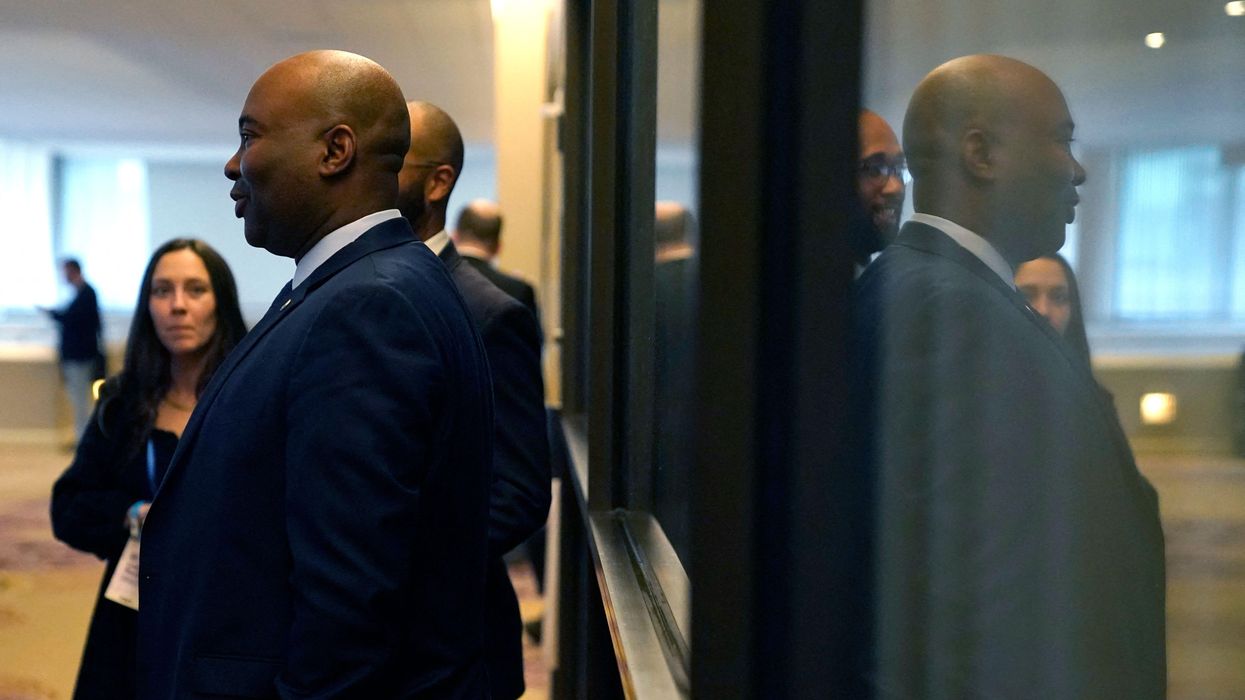 "Time and time again, we've watched 'dark money' used to silence the voices our party most needs to hear."
Nevada Democratic Party Chair Judith Whitmer said Friday that progressives won't stop working to stem the flow of untraceable cash into national primary contests after the DNC Resolutions Committee blocked a vote on her proposed dark money ban for the second time.
Whitmer, a DNC member, told Common Dreams that "time and time again, we've watched 'dark money' used to silence the voices our party most needs to hear."
"Our party and our country need strong Democratic candidates willing to speak truth to power, but when their messages can be drowned out in a flood of untraceable expenditures, many candidates are questioning why they should even run," Whitmer said. "Restoring faith in our democracy has never been more urgent, and that all-important work should start in our own primary elections."
Whitmer sponsored the proposed dark money ban alongside fellow DNC member James Zogby, who previously served as chair of the resolutions panel. If approved, the resolution would have prohibited dark money donations in Democratic primary contests and established guidelines for investigating any violations of the ban.

On Thursday, members of the DNC Resolutions Committee—who likely faced pressure from DNC leadership—stayed quiet when the proposed ban was put up for consideration, so the measure did not receive a vote. Had the committee approved the proposal, which was backed by dozens of DNC members, it would have gone to the full DNC for a vote this weekend. (The DNC doesn't publicize membership lists for its standing committees.)
"Although we were disappointed that the Resolutions Committee once again chose not to move our resolution forward, we will keep fighting to make our primaries a fair and level playing field for all candidates," Whitmer told Common Dreams.
Democratic leaders, including President Joe Biden, have repeatedly railed against the scourge of dark money, decried its corrupting influence, and pledged to rein it in—only to balk at pressure for substantive action.

The party's platform, adopted in 2020, states that "we will bring an end to 'dark money' by requiring full disclosure of contributors to any group that advocates for or against candidates."
Yet as the DNC leadership, headed by Chair Jaime Harrison, refuses to act on its rhetoric—and as congressional Republicans block broader legislative efforts to curtail dark money—Democratic incumbents continue to benefit from untraceable donations, which are frequently used to undercut progressive challengers.
Last year, the newly formed dark money group Opportunity for All Action Fund spent around $600,000 to bolster Reps. Donald Payne Jr. (D-N.J.), Dina Titus (D-Nev.), and Danny Davis (D–Ill.).
All three went on to defeat their progressive primary opponents and win reelection. That pattern played out across the country, though some candidates—including Rep. Summer Lee (D-Pa.), who was aggressively targeted by AIPAC's super PAC—were able to overcome torrents of opposition spending and prevail in November.
"In races around the nation, we've seen these underhanded tactics used to silence debate on critical issues, with competing views buried under an avalanche of dark money-funded messaging."
According to an August 2022 study by the Wesleyan Media Project, nearly 70% of pro-Democratic Senate ads up to that point in last year's election cycle were funded by groups that don't disclose any of their donors.
"Letting our primaries devolve into auctions, rather than elections, has done more than simply create an unequal and unfair playing field," Whitmer said during the DNC Resolutions Committee's last gathering in September. "In races around the nation, we've seen these underhanded tactics used to silence debate on critical issues, with competing views buried under an avalanche of dark money-funded messaging."
At this weekend's DNC meeting in Philadelphia, members are expected to approve a presidential primary calendar that would bump South Carolina up to the first-in-the-nation primary slot—a plan that has drawn criticism from some progressives.
But the issue of dark money is likely to be brushed aside once again.
While Democrats in Congress continue to push legislation to curb dark money across the board in federal elections, progress will be virtually impossible with a closely divided Senate and a Republican-controlled House, leaving internal party rule changes one of the only viable paths toward genuine campaign finance reform in the near future.
Larry Cohen, a DNC member and the board chair of Our Revolution, wrote in an email Friday that the DNC and state-level Democratic parties "have extensive rules relating to the nominating process, which provide many opportunities to block dark and dirty money."
"What happens inside the Democratic Party and inside party caucuses of elected Democrats is frequently ignored by progressives, who are generally more comfortable protesting and working solely outside the party. Of course, protest is essential, and new party-building is fine," Cohen wrote. "But for those of us who believe we must fight in every possible way to advance progressive issues and win real power, we ignore party reform at our peril, even as we demand broader electoral reforms, such as fusion and ranked-choice voting, proportional representation, and more."
News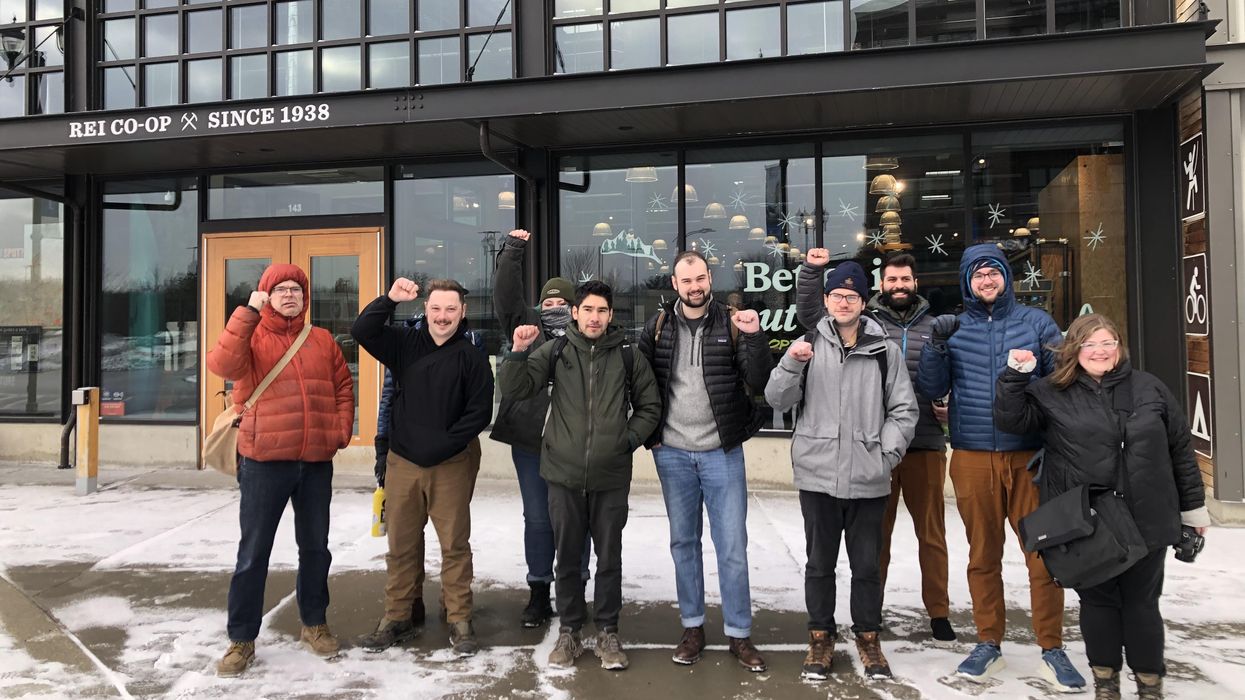 "We are basically making demands that we have a livable wage, that we are able to live our lives outdoors, like REI's mission statement includes," said one sales associate at the Beachwood store.
After REI employees in a suburb of Cleveland, Ohio walked off the job Friday morning, the recreational equipment retailer agreed to schedule a union election vote next month and stopped pushing to exclude certain workers.
Following successful union drives at two other REI stores, employees in Beachwood last month filed for a union election with National Labor Relations Board (NLRB) seeking representation with the Retail, Wholesale, and Department Store Union (RWDSU).
John Ginter, a sales associate at the Beachwood REI, told Cleveland-based Ideastream Public Media that he and his co-workers are seeking better working conditions.
"We are basically making demands that we have a livable wage, that we are able to live our lives outdoors, like REI's mission statement includes," he said. "So having a better work-life balance, being able to care for ourselves and to increase benefits for employees across the spectrum, whether or not they are part-time, full-time, whatever that situation would be."
According to the report: "Ginter alleged REI has some 'pretty rigid stipulations' with regard to which employees are eligible for benefits and accrual of sick time. He also said he believes his REI location is 'not living up to our diversity, equity, and inclusion statement.'"

Beachwood workers launched their brief unfair labor practice (ULP) strike Friday as an NLRB hearing got underway at the federal agency's Cleveland office.
In a ULP charge that RWDSU filed Thursday with the NLRB, the union claimed REI "engaged in the unlawful surveillance of workers and/or created an impression of surveillance of the workers at the Beachwood store."

RWDSU has also accused REI of putting forth "meritless assertions to delay the election" by claiming that sales leads, bike shop workers, and "casual" employees—or those who work part-time with irregular schedules—should not vote.
"RWDSU vehemently disagrees with REI's objections," the union said in a statement. "It is especially galling because, as the company unnecessarily fights RWDSU in Ohio, it is currently bargaining contracts with workers holding these same classifications at the SoHo, New York and Berkeley, California stores. REI's hypocrisy is union-busting plain and simple and is a meek attempt to exclude more than half of the proposed bargaining unit to be eligible to vote."
REI pushed back against RWDSU's characterization of its intentions in a Thursday statement to Axios, saying that the NLRB hearing was "to ensure that all employees who hold the right to vote are included in the voting process."
The agreement reached Friday includes all eligible workers at the location, "a reversal from REI's position last week," according to RWDSU. "The union election will take place on March 3, 2023 from 12:00 pm-6:00 pm ET at the Ohio store."
New York Times labor reporter Noam Scheiber tweeted Friday evening: "One thing I've learned covering labor over the past several years: Your labor rights are typically as robust as the power you and your co-workers can muster at the workplace. This case was a perfect example."
More Perfect Union similarly said, "Strikes work."
U.S. Sen. Sherrod Brown and Congresswoman Shontel Brown, Ohio Democrats who are not related, expressed solidarity with the REI workers in their state this week.
Others, from the REI union in SoHo to UNI Commerce to the AFL-CIO, have also publicly supported the Beachwood workers this week.
If the Ohio employees vote to form REI's third union nationwide, RWDSU would represent approximately 55 workers there—though RWDSU noted that "the store currently operates at a 60% staffing level of its full capacity, potentially increasing that number to over 70."
As the Beachwood workers prepare for next month's election, contract negotiations are underway in Berkeley, and 10 fired employees—including two bargaining team members—are accusing REI of retaliation, which the company denies.
Meanwhile, in Washington state on Tuesday, REI laid off 167 people, or 8% of headquarters workers. President and CEO Eric Artz said that "in the face of increasing uncertainty, we need to sharpen our focus on the most critical investments and areas of work to best serve our members and grow the co-op over the long term."

News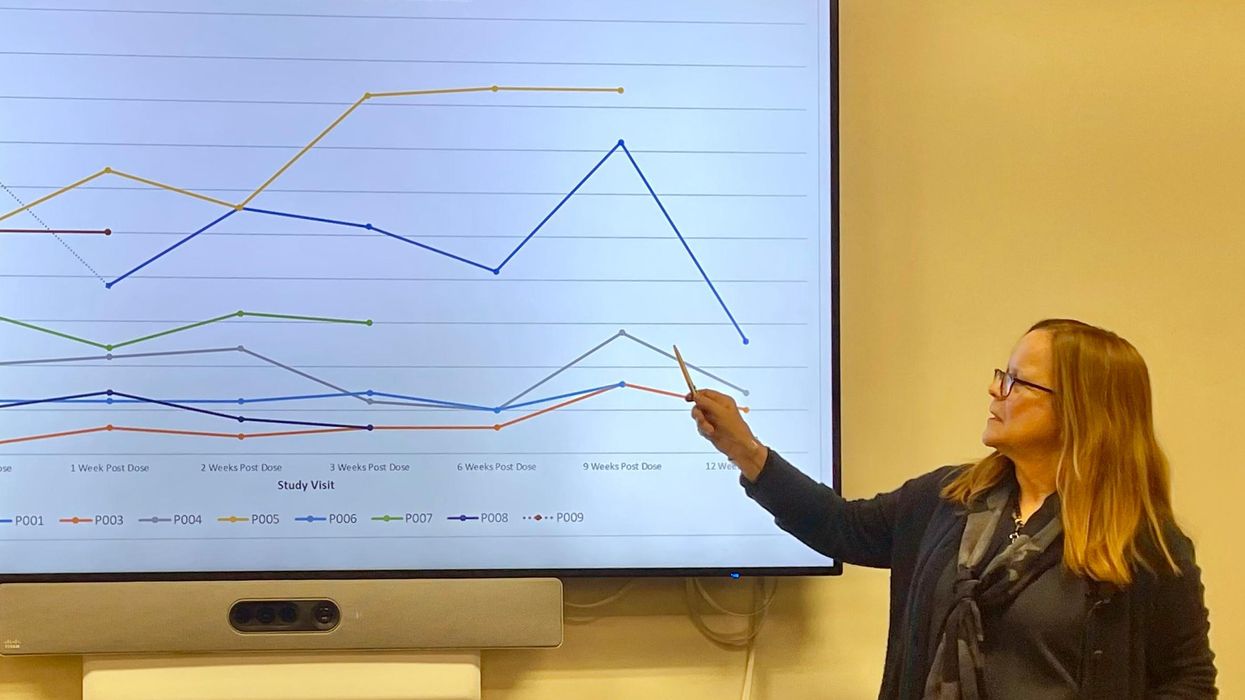 One expert called the move a "very welcome step away from what has been decades of demonization."

After decades of criminalization, Australia's government said Friday that it will legalize the prescription of MDMA and psilocybin for the treatment of two medical conditions, a historic move hailed by researchers who have studied the therapeutic possibilities of the drugs.

Australia's Therapeutic Goods Administration (TGA) said in a statement that starting July 1, psychiatrists may prescribe MDMA (3,4-methylenedioxy-methamphetamine), commonly called "Molly" or "ecstasy" by recreational users, to treat post-traumatic stress disorder (PTSD) and psilocybin—the psychedelic prodrug compound in "magic" mushrooms—for treatment-resistant depression.

"These are the only conditions where there is currently sufficient evidence for potential benefits in certain patients," TGA said, adding that the drugs must be taken "in a controlled medical setting."
Advocates of MDMA and psilocybin are hopeful that one day doctors could prescribe them to treat a range of conditions, from alcoholism and eating disorders to obsessive-compulsive disorder.
David Caldicott, a clinical senior lecturer in emergency medicine at Australian National University, toldThe Guardian that Friday's surprise announcement is a "very welcome step away from what has been decades of demonization."
Caldicott said it is now "abundantly clear" that both MDMA and psilocybin "can have dramatic effects" on hard-to-treat mental health problems, and that "in addition to a clear and evolving therapeutic benefit, [legalization] also offers the chance to catch up on the decades of lost opportunity [of] delving into the inner workings of the human mind, abandoned for so long as part of an ill-conceived, ideological 'war on drugs.'"
\u201cFrom 1 July this year, medicines containing the psychedelic substances psilocybin and MDMA can be prescribed by specifically authorised psychiatrists for the treatment of post-traumatic stress disorder and treatment-resistant depression.\n\nRead more: https://t.co/rJI9dRs3M7\u201d

— TGA Australia (@TGA Australia) 1675387806
MDMA—which has been criminalized in Australia since 1987—was first patented by German drugmaker Merck in the early 1910s. After World War II the United States military explored possibilities for weaponizing MDMA as a truth serum as part of the MK-ULTRA mind control experiments aimed at creating real-life Manchurian candidates. A crossover from clinical usage in marriage and other therapies in the 1970s and '80s to recreational consumption—especially in the disco and burgeoning rave scenes—in the latter decade sparked a conservative backlash in the form of emergency bans in countries including Australia, the United Kingdom, and the United States. The U.S. Drug Enforcement Administration classifies MDMA and psilocybin as Schedule I substances, meaning they have "no currently accepted medical use and a high potential for abuse."
Patients who've tried MDMA therapy and those who treat them say otherwise. A study published last year by John Hopkins Health found that in a carefully controlled setting, psilocybin-assisted psychotherapy held promise for "significant and durable improvements in depression."
The California-based Multidisciplinary Association for Psychedelic Studies (MAPS)—the world's premier organization for psychedelic advocacy and research—interviewed Colorado massage therapist Rachael Kaplan about her MDMA-assisted therapy for PTSD:

For the majority of my life I prayed to die and fought suicidal urges as I struggled with complex PTSD. This PTSD was born out of chronic severe childhood abuse. Since then, my life has been a journey of searching for healing. I started going to therapy 21 years ago, and since then I have tried every healing modality that I could think of, such as bodywork, energy work, medications, residential treatment, and more. Many of these modalities were beneficial but none of them significantly reduced my trauma symptoms. I was still terrified most of the time...

In my first MDMA-assisted psychotherapy session I was surprised that the MDMA helped me see the world as it was, instead of seeing it through my lens of terror. I thought that the MDMA would alter my perception of reality, but instead, it helped me see... more clearly... The MDMA session was the first time that I was able to stay present, explore, and process what had happened to me. This changed everything... There are no words for the gratitude that I feel.
Jon Lubecky, an American Iraq War combat veteran who tried to kill himself five times, toldNBC's "Today" in 2021 that MDMA therapy—also with MAPS—enabled him "to talk about things I had never brought up before to anyone."
"And it was OK. My body did not betray me. I didn't get panic attacks. I didn't shut down emotionally or just become so overemotional I couldn't deal with anything," he recounted.
"This treatment is the reason my son has a father instead of a folded flag," Lubecky said in a message to other veterans afflicted with PTSD. "I want all of you to be around in 2023 when this is [U.S. Food and Drug Administration]-approved. I know what your suffering is like. You can make it."
MAPS' latest clinical research on MDMA—which is aimed at winning FDA approval—is currently in phase three trials. The Biden administration said last year that it "anticipates" MDMA and psilocybin would be approved by the FDA by 2024 and is "exploring the prospect of establishing a federal task force to monitor" therapeutic possibilities of both drugs.
\u201cFounder and Executive Director of @MAPSnews, @RickDoblin Ph.D., discusses a new #psychedelic study that supports MDMA-assisted therapy as a treatment for post traumatic stress disorder (#PTSD) on @FoxBusiness. \n\nhttps://t.co/im1QEz3vdR\u201d

— Psychedelic Science (@Psychedelic Science) 1675357038
Like MDMA, psilocybin—which occurs naturally in hundreds of fungal species and has been used by humans for medicinal, spiritual, and recreational purposes for millennia—remains illegal at the federal level in the U.S., although several states and municipalities have legalized or decriminalized psychedelic mushrooms, or have moved to do so.

There have also been bipartisan congressional efforts to allow patients access to both drugs. Legislation introduced last year by U.S. Sens. Cory Booker (D-N.J.) and Rand Paul (R-Ky.) would permit therapeutic use of certain Schedule I drugs for terminally ill patients. Meanwhile, Reps. Alexandria Ocasio-Cortez (D-N.Y.) and Dan Crenshaw (R-Texas) passed amendments to the 2023 National Defense Authorization Act providing more funding for psychedelic research and making it easier for veterans and active-duty troops suffering from PTSD to try drug-based treatments.

News
SUPPORT OUR WORK.
We are independent, non-profit, advertising-free and 100%
reader supported.