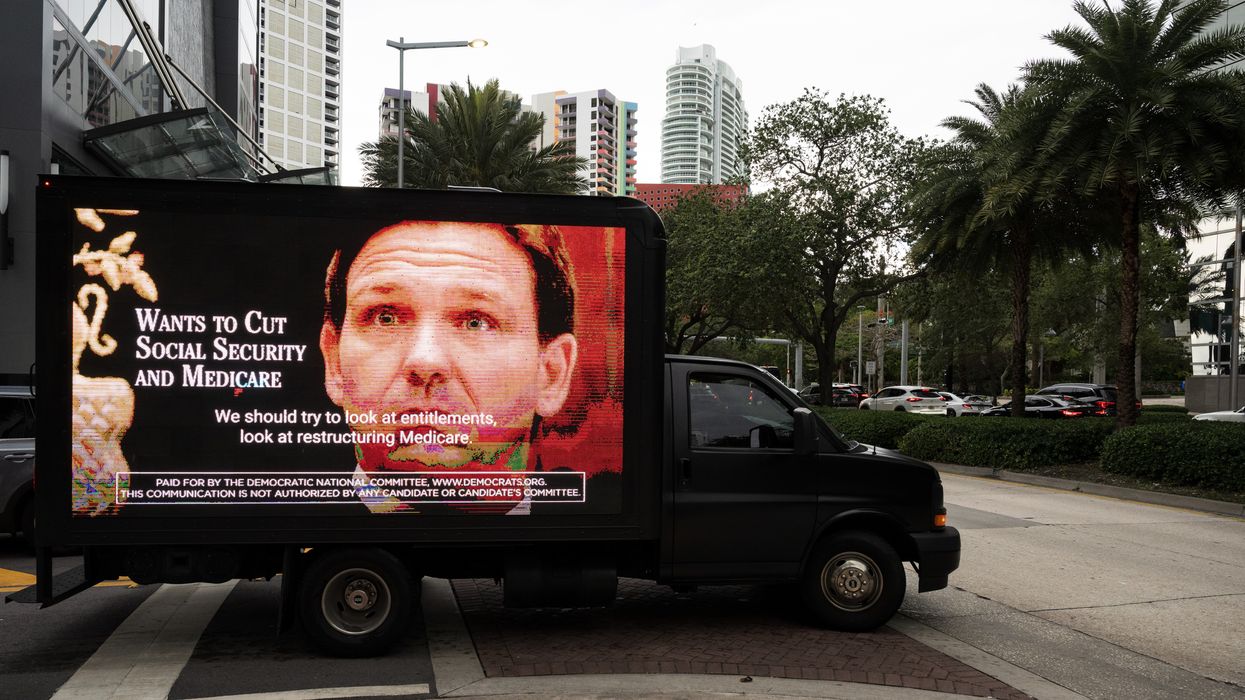 "From his hostility toward racial equity and LGBTQ+ rights, to book bans, to one of the most draconian abortion bans on record, he poses an immense threat to our freedoms and our country's most vulnerable communities," said one critic.
"Of all the extremists gunning for the GOP nomination, Ron DeSantis might be the worst."
That's what NARAL Pro-Choice America president Mini Timmaraju said in a statement Wednesday as Florida's Republican governor formally launched his long-anticipated campaign for the party's 2024 presidential nomination.
"From his hostility toward racial equity and LGBTQ+ rights, to book bans, to one of the most draconian abortion bans on record, he poses an immense threat to our freedoms and our country's most vulnerable communities," Timmaraju warned. "NARAL and our 4 million members will keep fighting side-by-side with those that DeSantis has targeted, and we are ready to mobilize to ensure that his extremism gets nowhere near the White House."
In a series of tweets Wednesday, Women's March also slammed "fascist, anti-choice" DeSantis, and listed some of the policies he has fought for as governor, including a six-week abortion ban and the "Don't Say Gay" law. The Florida Republican has also recently engaged in attacks on academic freedom, the rights of immigrants and transgender people, and democracy.
\u201cRon DeSantis is going to position himself as some anti-business populist but he's actually just an off-putting errand boy for the world's wealthiest people. \n\nThis should be the story about his campaign. He's like a homophobic Cousin Greg without the charm.\u201d

— Jordan Zakarin (@Jordan Zakarin) 1684971187
Jenny Lawson, executive director of Planned Parenthood Votes, similarly stressed Wednesday that "Ron DeSantis' governorship has been an unmitigated disaster for Floridians, and his candidacy is a grave threat to every American's reproductive freedom."
"He's shown time and time again that he will put himself and his political ambitions over anything and everyone—including the health and lives of Floridians," Lawson continued. "While Floridians demand affordable healthcare and safer communities, DeSantis has pushed policies that endanger Florida's future."
"Voters in Florida don't support his anti-abortion, anti-LGBTQ+ agenda, and DeSantis will soon learn that the rest of the country doesn't, either," she added. "Everyone will see him for the dangerous, out-of-touch, overzealous politician he is. Planned Parenthood Votes will make sure of it."
\u201cA world of censorship, restricted access to life-saving care and suppression of our community is not a world we want to live in.\n\nWe cannot allow Ron DeSantis to become president and undo the progress we\u2019ve made.\u201d

— Human Rights Campaign (@Human Rights Campaign) 1684954507
DeSantis on Wednesday filed paperwork with the Federal Election Commission and then officially announced his candidacy during a Twitter "Spaces" event—hosted by the social media giant's billionaire owner, Elon Musk—that, as Politicoput it, was "marred by horrendous tech failures."
Nora Benavidez, Free Press Action's senior counsel and director of digital justice and civil rights, said that "it's no surprise that the Spaces suffered a tech meltdown during tonight's big announcement. Musk has cut back on the personnel needed to keep Twitter glitch-free. It's fitting that his reckless management style would bite him just as so many are tuning in."

"Giving airtime to Ron DeSantis is not about free speech on Twitter or making the platform a public square. Elon Musk is instead prioritizing voices like his that promote bigotry and hate," Benavidez added. "This latest Musk stunt merely showcases a man who has misused his power in Florida to attack every basic right Floridians have. From DeSantis' attacks on voting rights, protest rights, and academic freedoms to denying basic protections for the LGBTQIA+ community, his presidential announcement this evening shows us all what Twitter has become: a megaphone for right-wing reactionary views."
As Politico reported:
President Joe Biden was quick to chime in, tweeting: "This link works," followed by a link to the president's campaign donation site.

A spokesperson for former President Donald Trump responded: "Glitchy. Tech issues. Uncomfortable silences. A complete failure to launch. And that's just the candidate!"
Polling results released Wednesday by Quinnipiac University
show
that despite his various legal issues, Trump is the top choice for 56% of Republican and Republican-leaning voters, followed by DeSantis with 25%. Former United Nations Ambassador and South Carolina Gov. Nikki Haley got just 3% while ex-New Jersey Gov. Chris Christie, former Vice President Mike Pence, and U.S. Sen. Tim Scott (S.C.) all tied at 2%; the other eight declared or potential
candidates
each received less than that.
As Common Dreamsreported earlier Wednesday, DeSantis entered the 2024 race as he faced scrutiny from campaign finance watchdogs.
This article has been updated with comment from Free Press Action.

News