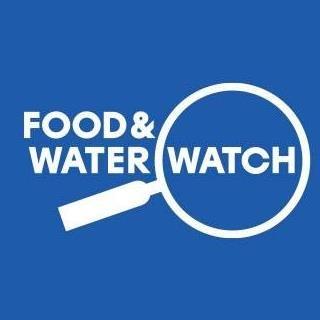 Smithfield's Deceptive Sustainability Claims Slammed in FTC Complaint
Pork giant's 'renewable gas' greenwashing is an attempt to cover up its dirty, polluting reality.
WASHINGTON
A coalition of national and regional research, policy, and advocacy organizations filed a complaint with the Federal Trade Commission today arguing that Smithfield, the nation's largest pork producer, routinely makes false and misleading claims about the sustainability of its pork products and the company's environmental record.
Instead of investing in sustainable production practices, the complaint demonstrates that Smithfield continues to destroy the environment while greenwashing its products by proposing massive anaerobic digesters to produce factory farm biogas, all in the pursuit of greater corporate profit.
While Smithfield relies on marketing terms like "sustainable" and "highest environmental standards," its products actually come from extremely unsustainable, industrialized production and processing facilities with long and ongoing records of environmental degradation.
"Smithfield's false and misleading marketing attempts to cover up its environmentally devastating factory farm model," said Food & Water Watch staff attorney Tyler Lobdell. "Instead of actually cleaning up its act, Smithfield is investing in slick tag lines and false solutions like factory farm anaerobic digesters to dupe consumers. This is classic corporate greenwashing, and the FTC must take action to protect the public and truly sustainable producers from this illegal conduct."
"Smithfield's false and misleading marketing claims deceive consumers and steal market opportunities from truly sustainable farmers and ranchers," said Joe Maxwell, President of Family Farm Action Alliance. "Smithfield claims they are nearing an environmental goal of 100% compliance 100% of the time. But, from polluting our drinking water, to spewing toxins into minority communities, and lying to customers, it seems the only thing they are 100% committed to is deceit."
The filing, led by Food & Water Watch, documents a litany of dubious claims made by Smithfield about the company's environmental stewardship -- claims that are thoroughly undermined by Smithfield's lengthy record of environmental violations and disregard for the health of communities living near its facilities. In reality, Smithfield is one of the biggest industrial polluters in the United States.
Smithfield claims it has an "industry-leading sustainability program" and is close to achieving an environmental goal of "100% compliance, 100% of the time." The company tells consumers that its facilities are "the opposite" of factory farms, and its sustainability website, as described in the complaint, "depict[s] sunny and bucolic farms that bear little resemblance to the actual facilities where the animals used in Smithfield's products are raised."
Indeed, the lengthy record of air and water pollution linked to Smithfield's operations makes a mockery of the company's "Good food. Responsibly.(r)" slogan. Smithfield is the third-largest water polluter in the country, and in 2019 the company was issued at least 66 notices of violations of already bare minimum environmental protection laws. Its Tar Heel, North Carolina plant has a long record of Clean Water Act violations, as well as serious air pollution violations. Smithfield's operations in the state have been linked to massive fish kills, and as recently as January of this year North Carolina officials called out the company over massive spills of hog waste into waterways and the local environment.
The massive amount of pig manure created by the company -- estimated at over 19 million tons per year-- creates substantial threats to water quality and public health. Those threats are only exacerbated by Smithfield's irresponsible practices, which include spraying pollution-laden waste on fields throughout the country.
A series of lawsuits in North Carolina documented an array of nuisances linked to Smithfield's waste lagoons and manure spraying. The company has been hit with millions of dollars in damages. As the Fourth Circuit Court of Appeals recognized, Smithfield's production practices are characterized by "interlocking dysfunctions" that the company "willful[ly]" and "wanton[ly]" ignored to maximize profit.
"Smithfield isn't a good neighbor - just ask the hundreds of people who filed nuisance lawsuits against the company, and the jurors in each of those lawsuits who found Smithfield guilty. Every time," said Kemp Burdette, the Riverkeeper with Cape Fear River Watch. "They aren't a 'green' company. They spray untold millions of gallons of untreated hog feces and urine onto the landscape of eastern North Carolina every year. They have not taken a single step in fulfilling the promises they made twenty years ago to put some of their billions of dollars of profits into improving waste management, and spills and violations are a regular occurrence on factory hog farms in the Cape Fear Basin."
By its own account, Smithfield's water usage and wastewater discharges are rising. In 2019, the company consumed over 11.14 billion gallons of water at just a fraction of the facilities involved in producing its products, which is more water than all the domestic fresh water users combined in approximately 20 U.S. states and territories.
The FTC complaint also zeroes in on an increasingly common corporate greenwashing tactic: Promoting the use of anaerobic digesters as a 'clean energy' innovation. As the filing lays out, installing digesters to produce factory farm biogas cannot be considered a sustainability initiative and is not "clean" energy.
These digesters serve to entrench some of the most dangerous factory farm practices -- in effect monetizing Smithfield's waste mismanagement rather than addressing the root causes of its greenhouse gas emissions and other pollution. The waste products left over after the digestion process can be even more environmentally hazardous, and the eventual burning of factory farm biogas still releases harmful pollutants like carbon dioxide, nitrogen oxides, ammonia, and hydrogen sulfide.
The coalition's complaint asks the FTC to investigate and take enforcement action against Smithfield by requiring it to remove these misleading claims, and to enjoin the company from making similar misrepresentations in the future.
Joining Food & Water Watch in filing the complaint are Cape Fear River Watch, Dakota Rural Action, Family Farm Action Alliance, Institute for Agriculture and Trade Policy, Iowa Citizens for Community Improvement, Missouri Rural Crisis Center, Pennsylvania Farmers Union, and Socially Responsible Agriculture Project.
Food & Water Watch mobilizes regular people to build political power to move bold and uncompromised solutions to the most pressing food, water, and climate problems of our time. We work to protect people's health, communities, and democracy from the growing destructive power of the most powerful economic interests.
(202) 683-2500
LATEST NEWS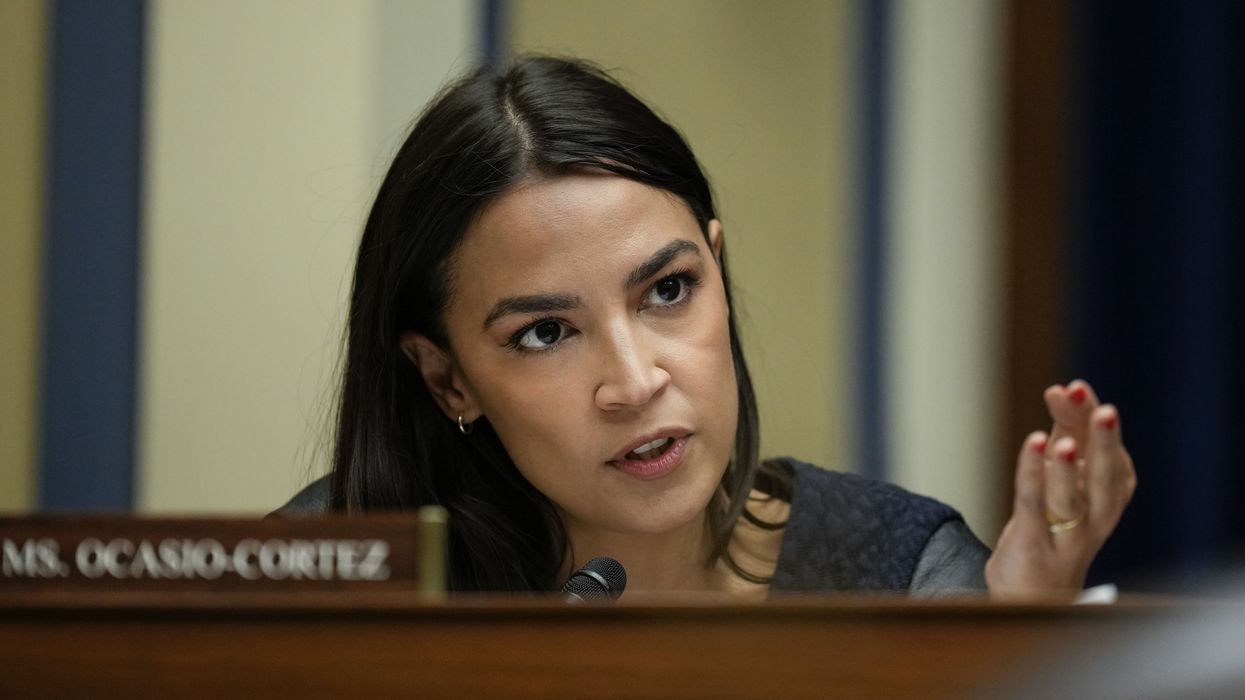 U.S. Rep. Jamaal Bowman told the Republican House speaker that "if you don't stand up to this harmful element of your own party, you will allow them to destroy you and us in the process."
As far-right Congressman Matt Gaetz on Tuesday signaled that he wasn't impressed by House Speaker Kevin McCarthy's bid to appease MAGA Republicans by launching an impeachment inquiry into U.S. President Joe Biden, progressive Rep. Alexandria Ocasio-Cortez suggested that GOP extremist lawmakers appear most interested in causing chaos.
"So let me get this straight: Republicans are threatening to remove their own speaker, impeach the president, and shut down the government on September 30th—disrupting everyday people's paychecks and general public operations," Ocasio-Cortez (D-N.Y.), a member of the House Committee on Oversight and Accountability, said on social media. "For what? I don't think even they know. Chaos vibes."
The congresswoman's comments came alongside a video of Gaetz (R-Fla.), a member of the right-wing House Freedom Caucus, telling McCarthy (R-Calif.) on the House floor: "I rise today to serve notice—Mr. Speaker you are out of compliance with the agreement that allowed you to assume this role. The path forward for the House of Representatives is to either bring you into immediate total compliance or remove you."
It took 15 rounds of voting for McCarthy to be elected speaker—and that only came after he agreed to various far-right demands, including a rule allowing a sole member of the chamber to bring a "motion to vacate" forcing a vote on his removal, which just requires a simple majority.

As USA Todayreported:
Gaetz said on the House floor Tuesday that McCarthy did not put the House in a position to succeed as the government approaches a looming September 30 shutdown date and still needs to pass 11 appropriations bills.

The Florida lawmaker called on McCarthy to hold votes on individual spending bills instead of a continuing resolution, a short-term extension GOP leadership has been considering to avert a shutdown. Gaetz said he will move to oust the speaker if a vote is held on the stopgap measure.

"September 30 is rapidly approaching and you have not put us in a position to succeed. There is no way to pass all the individual appropriations bills now and it's not like we didn't know when September 30 was going to show up on the calendar," he said.
As for the McCarthy kicking off House members' return to Capitol Hill on Tuesday by directing the Oversight, Judiciary, and Ways and Means committees to launch an impeachment inquiry into Biden related to his son's business dealings and legal issues—despite the lack of any proof of wrongdoing by the president—Gaetz said, "This is a baby step following weeks of pressure from House conservatives to do more."
Ocasio-Cortez was not the only progressive to respond on social media to Gaetz's remarks. In a lengthy post on X, formerly Twitter, Rep. Jamaal Bowman (D-N.Y.) said: "Holy cow. All HELL is breaking loose on the floor of the House. Matt Gaetz is threatening to launch a 'mutiny' against Kevin McCarthy and oust him from power. To the speaker of the House: This is what you created."
"You are the worst kind of coward and now you reap what you sow," Bowman told McCarthy. The congressman charged that the speaker has kowtowed to the demands of "the most EXTREMIST zealots" in the Republican Party, who "have lied, intimidated, and strong-armed their dangerous political ends," which has come "at the cost of our institutions and democracy."

"Instead of leadership, you have shown nothing but cowardice," he added in his message to McCarthy. "You care about nothing except your own power. You might be speaker today, but if you don't stand up to this harmful element of your own party, you will allow them to destroy you and us in the process. Mr. Speaker, grow a backbone. Because until then, you do not SPEAK for anyone."
Other members of Congress on Tuesday blasted the impeachment inquiry, which many critics have called an attempt to harm Biden's chances of being reelected next year and help Trump, who is the GOP's 2024 front-runner, despite facing four criminal cases and arguments that inciting the January 6, 2021 insurrection constitutionally disqualifies him from holding office again.
Trump, the first U.S. president to ever be impeached twice, "has been weighing in behind the scenes in support of the House GOP push to impeach" Biden, according toPolitico. In addition to weekly conversations with House GOP Conference Chair Elise Stefanik (R-N.Y.), the first member of Republican leadership to back impeachment, the ex-president "had dinner at his golf club in Bedminster, New Jersey, with Rep. Marjorie Taylor Greene (R-Ga.), an ally of Trump and McCarthy."
Greene, who said last month that "I will not vote to fund the government unless we have passed an impeachment inquiry," welcomed McCarthy's move on Tuesday to launch the Biden probe without holding a vote. She also got into an online spat with Gaetz about which of them has been pushing harder for an impeachment inquiry targeting the president.
In a series of early Tuesday posts on X, Ian Sams, the White House spokesperson for oversight and investigations, said that "McCarthy is being told by Marjorie Taylor Greene to do impeachment, or else she'll shut down the government."
"Opening impeachment despite zero evidence of wrongdoing by POTUS is simply red meat for the extreme right-wing so they can keep baselessly attacking him," Sams added, pointing to previous comments from Gaetz and House Oversight Committee Chair James Comer (R-Ky.). "They admit it."

News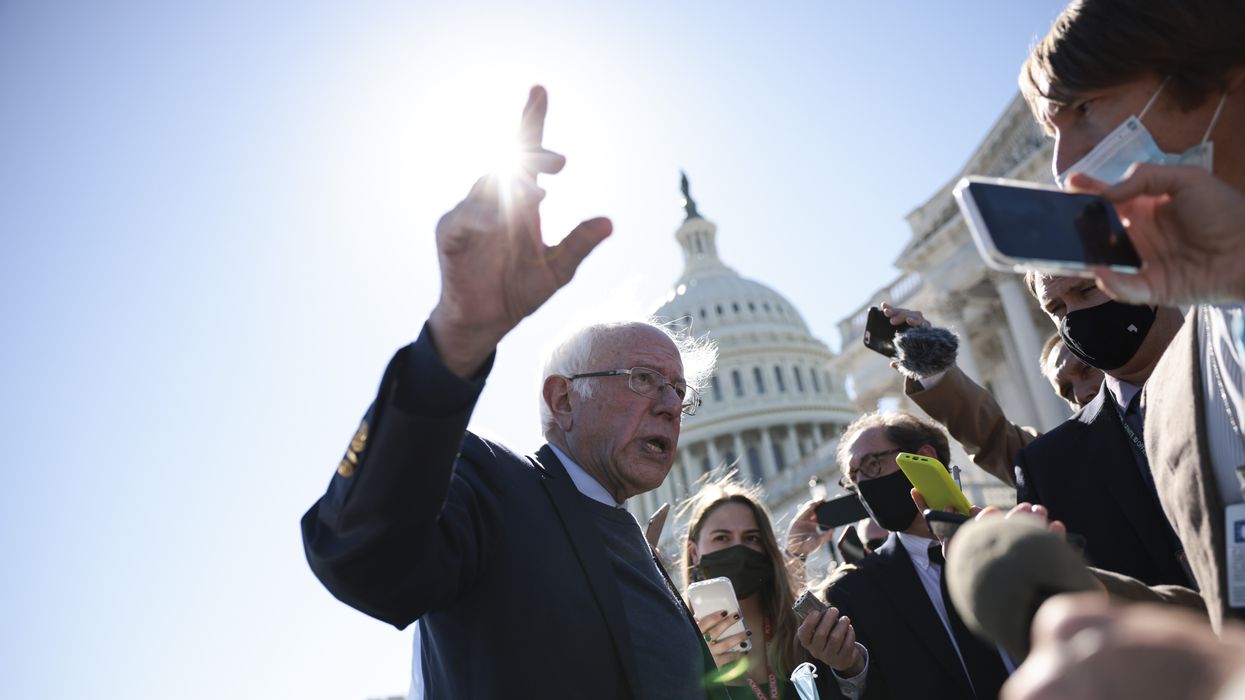 "It is the totally reasonable demand that autoworkers, who have made enormous financial sacrifices over the past 40 years, finally receive a fair share of the record-breaking profits their labor has generated," he said.
U.S. Sen. Bernie Sanders on Tuesday blasted corporate media coverage of United Auto Workers' contract demands and looming strike, echoing a video released last week by the UAW amid negotiations with vehicle manufacturers Ford, General Motors, and Stellantis.
A short list of media conglomerate control the vast majority "of what the American people see, hear, and read," and that is clearly on display with the labor conflict between the union and the "Big Three," Sanders (I-Vt.) argued in a statement, highlighting that "the major reasons as to why autoworkers might go out on strike have been rarely, if ever, the focus of the corporate media's coverage."
"In the first half of 2023, the Big Three automakers made a combined $23 billion in profits—up 80% from the same time period last year," Sanders noted. "But if you've watched any corporate news coverage of the pending strike by 150,000 autoworkers, you've heard more about the strikes' potential negative effects on the economy and a litany of excuses why very well-compensated CEOs just can't make a fair deal."
The chair of the Senate Health, Education, Labor, and Pensions (HELP) Committee continued:
You won't hear that last year the CEO of General Motors raked in about $29 million in total compensation, the CEO of Ford made approximately $21 million, and the CEO of Stellantis pocketed over $25 million. In fact, over the last four years pay for those CEOs has increased by more than 40%.

You won't hear that over the past decade these same companies made some $250 billion in profits in North America alone.

You won't hear that the average starting wage at the Big Three today is around $17 an hour—less than a number of nonunion auto plants around the country—and that the top wage is $32.32 an hour.

You won't hear that, unbelievably, over the last 20 years, the average wage for American autoworkers has decreased by 30% after adjusting for inflation.

You won't hear that autoworkers at the Big Three are earning less today than they did 15 years ago.
"Of course, none of this is new. The corporate media will always side with CEOs and shareholders," he added. "Despite what you might hear in the corporate media in the coming days, what the UAW is fighting for is not radical. It is the totally reasonable demand that autoworkers, who have made enormous financial sacrifices over the past 40 years, finally receive a fair share of the record-breaking profits their labor has generated."
Along with his statement calling out the corporate media, Sanders on Tuesday published an opinion piece in The Guardian urging Americans to "stand in solidarity with the UAW and create an economy that works for all, not just the privileged few."
In the event of a strike later this week, "the UAW members will be fighting not only for themselves but against a corporate culture of arrogance, cruelty, and selfishness causing massive and unnecessary pain for the majority of working families throughout the country," the senator stressed. "Their fight against corporate greed is our fight. Their victory will resonate all across the economy, impact millions of workers from coast to coast and help create a more just and equitable economy."
Sanders' remarks follow a September 7 video in which UAW president Shawn Fain spends about four minutes debunking a recent "NBC Nightly News" story, calling out corporate media coverage more broadly, and sharing some facts about the industry.
"You don't see big, splashy nightly news segments on how consumers will be impacted by companies choosing to spend billions on executive salaries, and stock buybacks, and special dividends," Fein said. "You only hear these concerns when the working class stands up and demands a fair share of the value we produce."
"But the autoworkers and working people of this country know what's really going on. We live it," he explained. "We know firsthand what it's like not to be able to afford the cars we produce. We know what it's like to live paycheck to paycheck while the companies we work for make out like bandits. We know what it's like for our communities to be decimated and our families to be torn apart by plant closures."
The UAW announced last month that 97% of participating members at "Big Three" voted to authorize a strike if a contract deal isn't reached by September 14.

News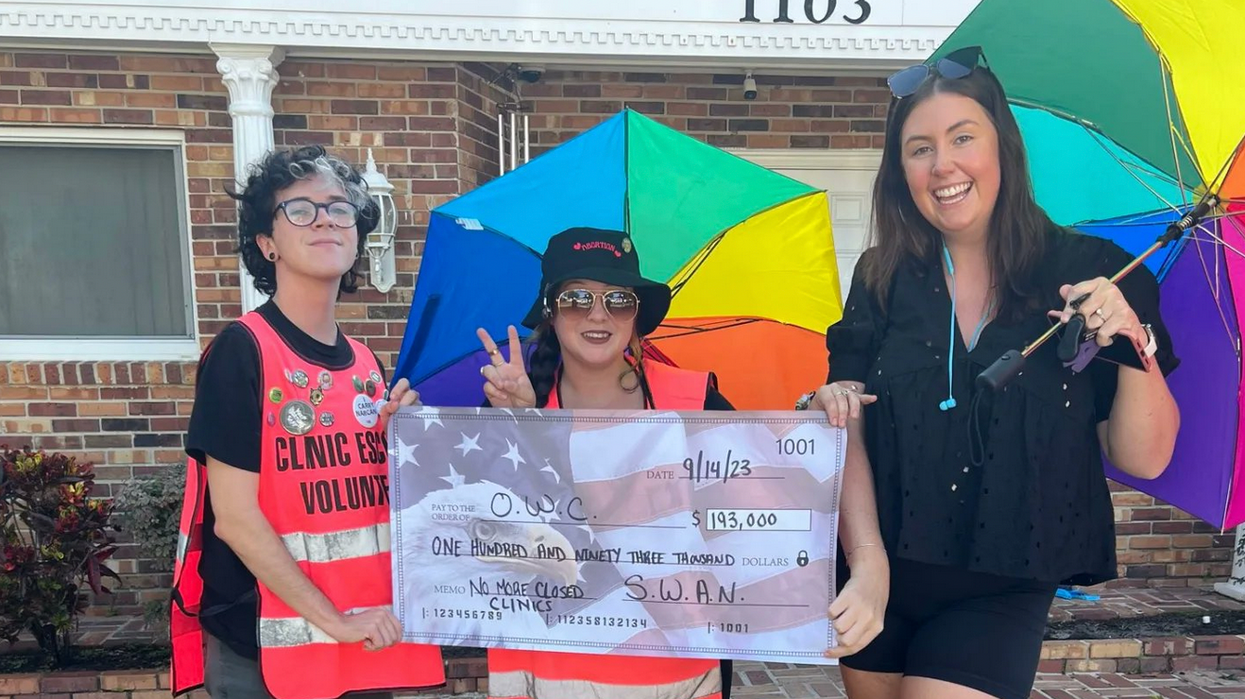 "We've never been so proud to be part of this movement and community," said SWAN of Orlando.
Volunteers who regularly help protect abortion clinic patients in Florida from crowds of pro-forced pregnancy protesters were able to deliver a check for $193,000 to Center of Orlando for Women on Tuesday, helping the reproductive healthcare center pay state fines that threatened to bankrupt it.
Volunteers with Stand With Abortion Now (SWAN) of Orlando raised the money in less than two weeks, after the Florida Agency for Healthcare Administration (AHCA) accused the clinic of violating the state's 24-hour waiting period for people seeking abortion care.
The law requires people to have two medical appointments 24 hours apart in order to obtain an abortion, and the clinic has maintained it had attempted to contact the AHCA to find out when the measure went into effect—but instead of providing the information the agency ordered the facility to pay $1,000 each for 193 alleged violations.
"We got to hand over $193,000 to our clinic today to save them from unjust AHCA fines meant to shut them down!" said SWAN on social media. "We've never been so proud to be part of this movement and community."
The makers of the podcast "Repros Fight Back" called SWAN's crowdfunding effort "a powerful display of love, community, and solidarity" that will keep one of Orlando's last abortion clinics open.
The clinic escorts delivered the funds to the facility days after the state's right-wing Supreme Court
heard
oral arguments in a case challenging Florida's 15-week abortion ban. If the court does not overturn the law, a
six-week abortion ban
signed by Republican Gov. Ron DeSantis—who is also running for the GOP's presidential nomination—will go into effect.
SWAN volunteers rallied outside the state Supreme Court last week during the hearing.
News
Independent, nonprofit journalism needs your help.
Please Pitch In
Today!