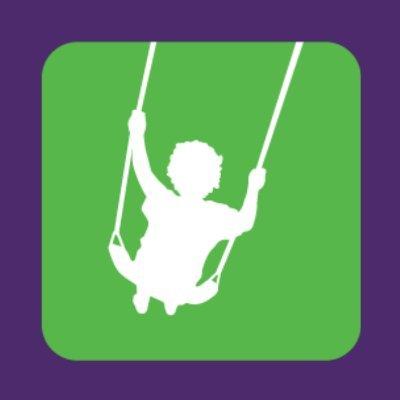 CCFC Urges Fisher-Price to Pull the Plug on its Newborn-to-Toddler Apptivity(tm) Seat for iPad(r) device
BOSTON, MA
December 10--Campaign for a Commercial-Free Childhood is calling on Fisher-Price to immediately stop selling its Newborn-to-Toddler Apptivity(tm) Seat for iPad(r) device. The Apptivity Seat is a bouncy seat for infants with a place for an iPad directly above the baby's face, blocking his or her view of the rest of the world. Because screens can be mesmerizing and because babies are strapped down and "safely" restrained, it encourages parents to leave infants--even newborns--alone in the seat with an iPad.
"The Newborn-to-Toddler Apptivity(tm) Seat for iPad(r) device is ultimate electronic babysitter, whose very existence suggests that it's fine to leave babies as young as newborns all alone and with an iPad inches from their face," said CCFC's Director, Dr. Susan Linn. "Fisher-Price should stay true to its mission to foster learning and development by creating products for infants that promote, rather than undermine, interaction with caregivers."
The American Academy of Pediatrics discourages any screen time for children under two. There's no evidence that babies benefit from screen time and some evidence that it may be harmful. Research suggests that screen time for children under two is linked to language delays, sleep disturbance, and learning problems later in childhood. Studies also suggest that time with screens takes babies away from activities proven to be beneficial to brain development--hands-on creative play and positive interactions with caring adults.
"By manufacturing a device to restrain infants in front of a screen, even when they're too young to sit up, Fisher-Price actually discourages interactions that are crucial to learning and healthy development," said Dr. Linn. "Babies thrive when they're talked to, played with, and held--not when they're alone with a screen."
"Attaching iPads to babies' bouncy seats is a terrible idea," said Victor Strasburger, MD, Distinguished Professor of Pediatrics at University of New Mexico School of Medicine. "Does anyone out there think that kids need more screen time? There is no need to hurry to expose kids to new technology, certainly not babies--or newborns!"
CCFC has a long history of successful advocacy to stop media companies from deceptively marketing products as educational for babies. In 2009, CCFC's efforts led the Walt Disney Company to offer an unprecedented refund on Baby Einstein DVDs. In 2012, in response to a CCFC complaint, the Federal Trade Commission issued a landmark judgment against the video series Your Baby Can Read. Currently, the FTC is investigating CCFC's complaint against Fisher-Price's Laugh & Lear apps. But because the Apptivity Seat restrains babies in front of a screen, encouraging parents to leave infants all alone with an iPad, CCFC is taking the unprecedented step of asking for a recall, rather than urging Fisher-Price to modify the way the seat is marketed.
Since Amazon.com selected the the Appivity Seat as one of the best gifts for kids for 2013, the site has been deluged with scathing reviews, calling the Apptivity Seat a terrible product for babies.
Added Dr. Linn, "Fisher-Price is damaging its reputation as a brand parents can trust. They should pull the plug on the Apptivity Seat and go back to the drawing board."
Fairplay, formerly known as Campaign for a Commercial-Free Childhood, educates the public about commercialism's impact on kids' wellbeing and advocates for the end of child-targeted marketing. Fairplay organizes parents to hold corporations accountable for their marketing practices, advocates for policies to protect kids, and works with parents and professionals to reduce children's screen time.
LATEST NEWS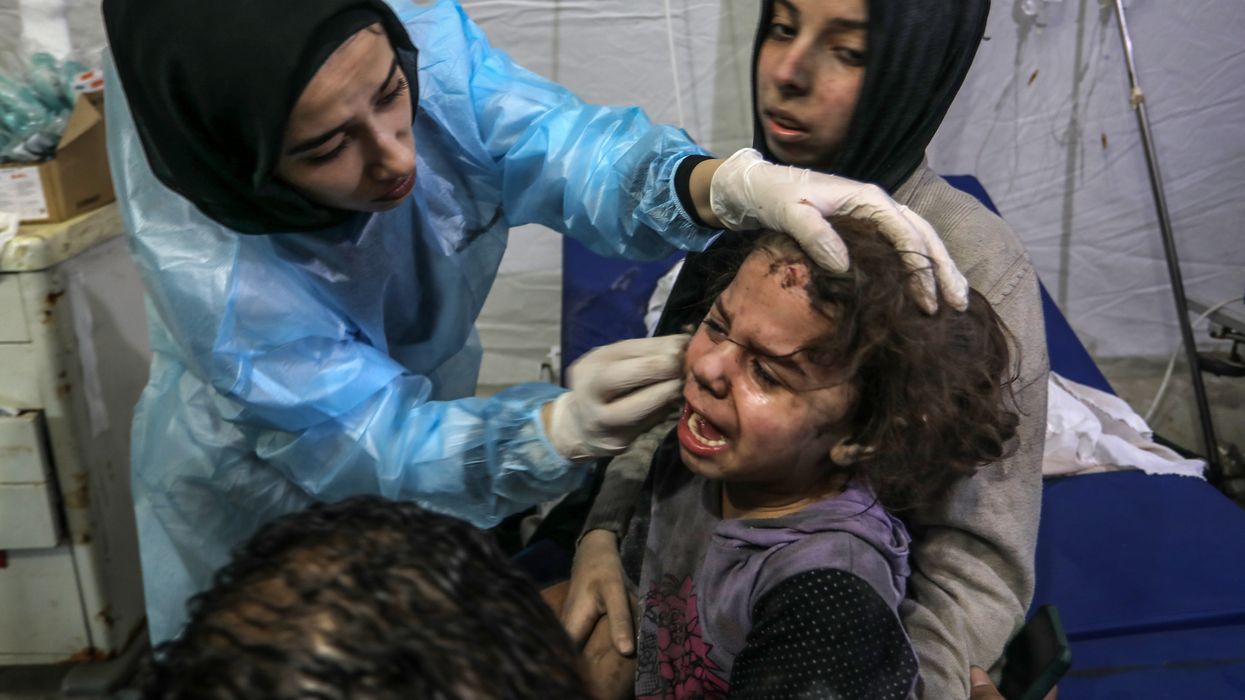 "We are nearly sure that we are alone now," said a Doctors Without Borders surgeon at Gaza's largest hospital. "No one hears us."
Doctors and nurses in the Gaza Strip issued urgent pleas for a cease-fire as Israeli forces encircled and attacked the territory's largest hospital, trapping thousands of displaced people and threatening the lives of medical workers and patients.

One Doctors Without Borders nurse texted his colleagues from the basement of al-Shifa Hospital early Saturday, writing that "four or five families"—including his own—were sheltering there amid heavy bombardment and fighting around the facility.
"We are being killed here, please do something," the nurse wrote. "The shelling is so close, my kids are crying and screaming in fear."
The attacks on and around al-Shifa as well as the Israeli siege—which has cut off Gaza's electricity supply and prevented fuel from reaching the northern part of the enclave—have caused power outages at the hospital, endangering babies and other patients who are unable to evacuate. Al-Shifa's director said that two premature babies have died due to outages at the hospital's intensive care unit and pediatric ward.
Mohammed Obeid, a Doctors Without Borders surgeon at al-Shifa, said four patients in the hospital were wounded by sniper fire on Saturday and those who have tried to flee have been shot at and bombed.
"There is no electricity, actually there is no water, there is no food. Our team is exhausted," said Obeid. "We are nearly sure that we are alone now. No one hears us."
Other hospitals in northern Gaza, including al-Quds, have been forced to shut down completely due to a lack of fuel and other critical supplies. Across the strip, the majority of hospitals have ceased functioning.
The Palestinian Red Crescent Society said Saturday that "repeated appeals for urgent international assistance" at al-Quds have been unsuccessful, leaving the hospital to "fend for itself under ongoing Israeli bombardment, posing severe risks to medical staff, patients, and displaced civilians." Nearly 200 medics have been killed by Israeli bombing in Gaza since October 7.

The al-Rantisi pediatric hospital was reportedly surrounded by tanks on Saturday. NBC News, which has journalists embedded with the Israel Defense Forces (IDF), reported that "more than a dozen children with cancer or other serious blood disorders" were evacuated from al-Rantisi to hospitals in Egypt and Jordan "but more than 30 remain" in Gaza.

Israel's bombing has killed more than 4,500 children since it began last month following a deadly Hamas-led attack.
Targeting hospitals is a war crime under international law. Israel claims Hamas runs operations from inside and under Gaza's hospitals, an assertion that directors of the facilities have denied.
Last week, an IDF spokesperson said that "if we see Hamas terrorists firing from hospitals, we'll do what we need to do."

"Doctors should not have to beg for a cease-fire. Nurses should not have to beg for a cease-fire."
The Israeli military's intensifying assault on Gaza hospitals has been met with global horror. The World Health Organization said Sunday that it has been unable to communicate with its contacts at al-Shifa and assumes they "joined tens of thousands of displaced people who had sought shelter on the hospital grounds and are fleeing the area."

"WHO has grave concerns for the safety of the health workers, hundreds of sick and injured patients, including babies on life support, and displaced people who remain inside the hospital. The number of inpatients is reportedly almost double its capacity, even after restricting services to lifesaving emergency care," the U.N. agency added. "WHO calls again for an immediate cease-fire in Gaza as the only way to save lives and reduce the horrific levels of suffering."

Doctors Without Borders, known internationally as Médecins Sans Frontières (MSF), echoed that call on Saturday.

"We urge the U.S., U.K., Canada, member states of the League of Arab States, member states of the Organisation of the Islamic Cooperation, and the European Union who have repeatedly called for the respect of International Humanitarian Law (IHL) to take action to ensure a cease-fire now," the group said in a statement.

"The horrors unfolding before our eyes in Gaza clearly show that calls for restraint and adherence to IHL have gone unheeded," MSF added. "Working purposefully to reach a cease-fire is the most effective way to ensure the protection of civilians."

But Israeli Prime Minister Benjamin Netanyahu again rejected calls for a cease-fire during a televised address on Saturday, saying one would only be possible once Hamas releases all hostages. Before Israel launched its ground invasion of Gaza, Netanyahu reportedly rejected a proposed five-day cease-fire in exchange for the release of some hostages, including women and children.

The leadership of the U.S., Israel's top arms supplier, has also refused to support a cease-fire despite pressure from the head of the United Nations, leading human rights organizations, Capitol Hill staffers, and members of Congress.

"Doctors should not have to beg for a cease-fire," U.S. Rep. Cori Bush (D-Mo.) wrote on social media Saturday. "Nurses should not have to beg for a cease-fire."
"As a nurse, I cannot imagine the difficulty of taking care of patients while being bombed," added Bush, one of the leaders of a cease-fire resolution in the U.S. House. "It does not have to be like this. Where is the collective humanity?"
News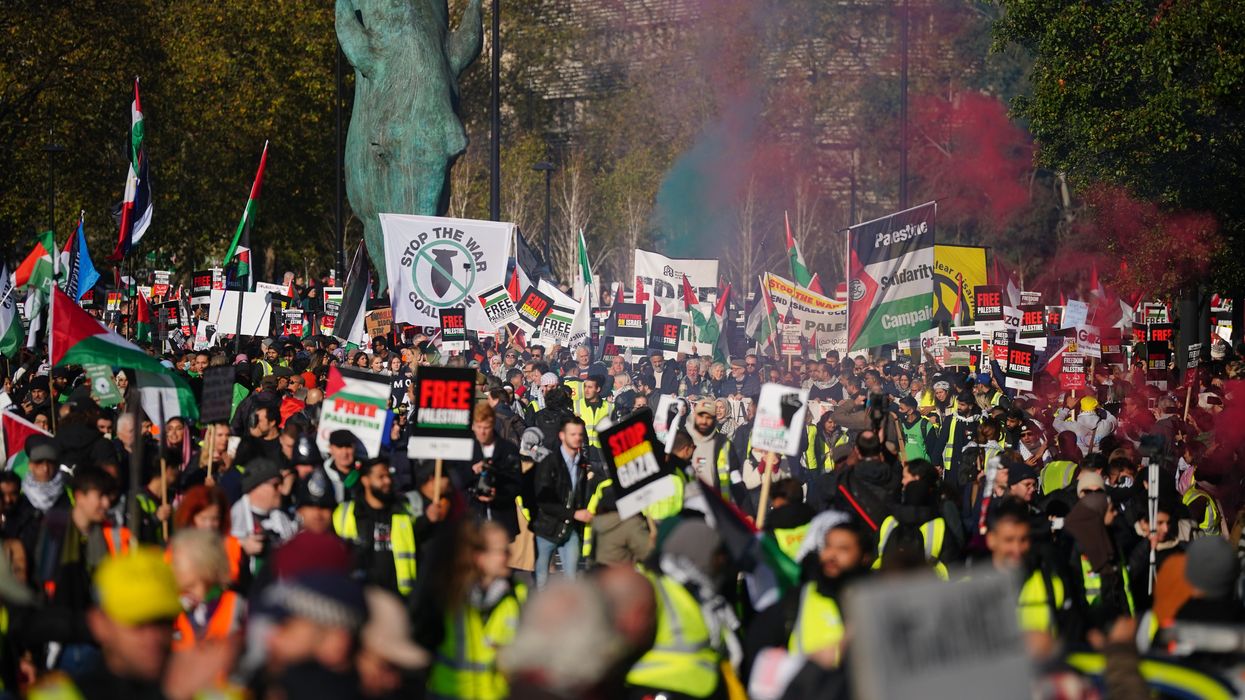 "In our thousands, in our millions, we are all Palestinians," demonstrators chanted at Saturday's march, described as one of the largest political protests in U.K. history.
Hundreds of thousands of people took to the streets of London on Saturday to demand an immediate cease-fire in Gaza as Israeli forces ramped up their aerial and ground assault on the Palestinian enclave's hospitals and other civilian infrastructure, intensifying the territory's humanitarian crisis.
Described as one of the largest political demonstrations in U.K. history, the march moved ahead despite criticism from British Home Secretary Suella Braverman and Tory Prime Minister Rishi Sunak, who suggested earlier in the week that the protest should have been banned by London police given that it coincided with Armistice Day. Braverman accused the police of giving favorable treatment to "pro-Palestinian mobs."
"I am horrified by the tone, language, and incitement our own government is using to whip up hatred against its own citizens—citizens who are standing up in solidarity with the besieged and bombed citizens of Gaza," British Army veteran and march participant Nadia Mitchell wrote for OpenDemocracy. "Personally, I cannot think of a more appropriate day to demand a cease-fire than on the day we remember the mother of all cease-fires, to remember and honor those who sacrificed their lives in pursuit of peace and an end to war."
Some U.K. lawmakers, including former Labour leader Jeremy Corbyn and Labour MP John McDonnell, joined Saturday's march alongside hundreds of thousands of peace activists, union members, and people of all faiths.
"In our thousands, in our millions, we are all Palestinians," demonstrators chanted.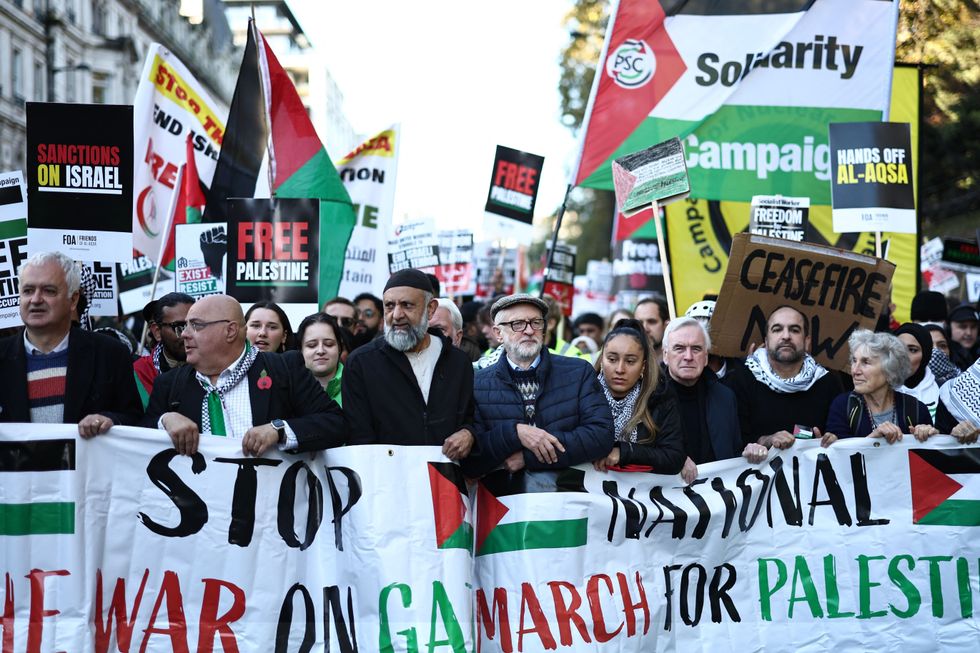 (Photo: Henry Nicholls/AFP via Getty Images)
Reutersreported that "police said far-right groups opposing the march were present in central London in 'significant numbers,' leading to skirmishes with officers near the Cenotaph war memorial, close to the Houses of Parliament and in Westminster."
"Officers in riot gear sought to contain the far-right protesters, some of whom threw bottles at them, and police vehicles sped around the city to respond to reports of tensions in the streets," the outlet added.
Participants in the mass demonstration, meanwhile, marched from London's Hyde Park to the U.S. Embassy to protest the Biden administration's unwavering military and political support for the Israeli government as the death toll in Gaza continues to climb.
The head of the World Health Organization told the United Nations Security Council on Friday that Israel's bombing and siege are killing one child on average every 10 minutes in Gaza.
"Nowhere and no one is safe," said WHO Director-General Tedros Adhanom Ghebreyesus.
Mohammed Abu Mughaisib, deputy medical coordinator for Doctors Without Borders in Gaza, toldThe Washington Post on Saturday that hospitals in northern Gaza have become "a graveyard" due to mounting Israeli attacks.
Medical workers at al-Nasr pediatric hospital were forced to leave babies in incubators behind as they evacuated south, Abu Mughaisib said.
"The medical staff evacuated because of the shelling on the pediatric hospital, and they couldn't save the babies to take them out, so they left five babies alone in the intensive care on the machines and the ventilators," he told the newspaper. "That's the situation: leaving babies now alone on the ventilators."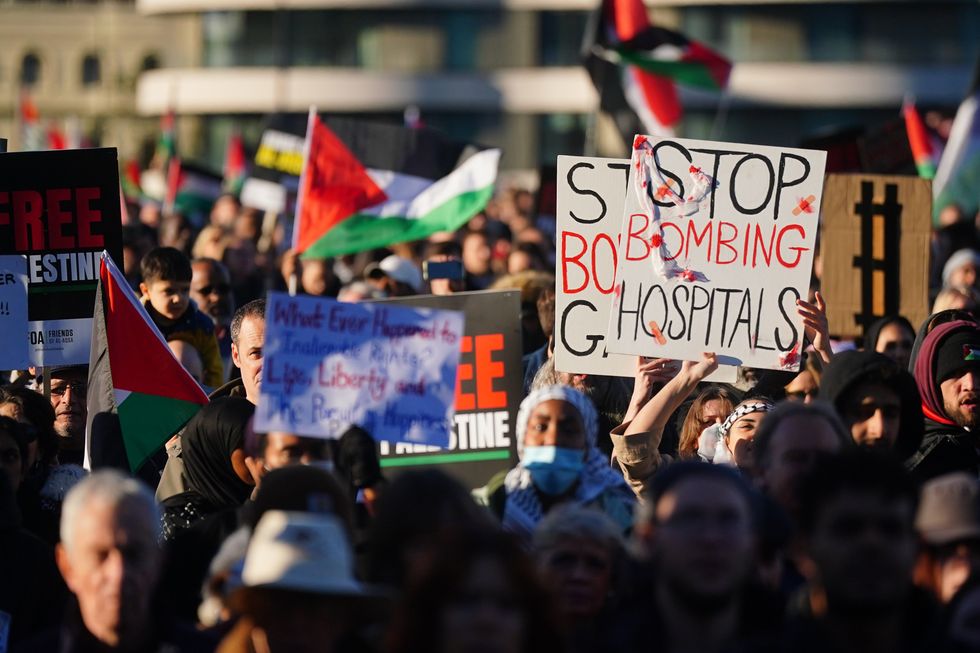 (Photo: Victoria Jones/PA Images via Getty Images)
Saturday's march was organized by the Palestine Solidarity Campaign (PSC), Stop the War Coalition, Campaign for Nuclear Disarmament, and other advocacy groups.

"We march to call for an end to the indiscriminate bombing of civilians and a #CeasefireNOW," PSC director Ben Jamal wrote on social media. "We march in respect of the rights of all to live in freedom and with dignity."
The demonstration is part of a growing international movement supporting a cease-fire in the Gaza Strip as Western leaders, including Sunak and U.S. President Joe Biden, refuse to demand an end to Israel's siege and relentless bombing campaign.
Earlier this week, as Israeli forces encircled northern Gaza, Biden told reporters that there is "no possibility" of a cease-fire. Israeli Prime Minister Benjamin Netanyahu reportedly rejected a proposed five-day cease-fire in exchange for the release of some of the hostages held by Hamas.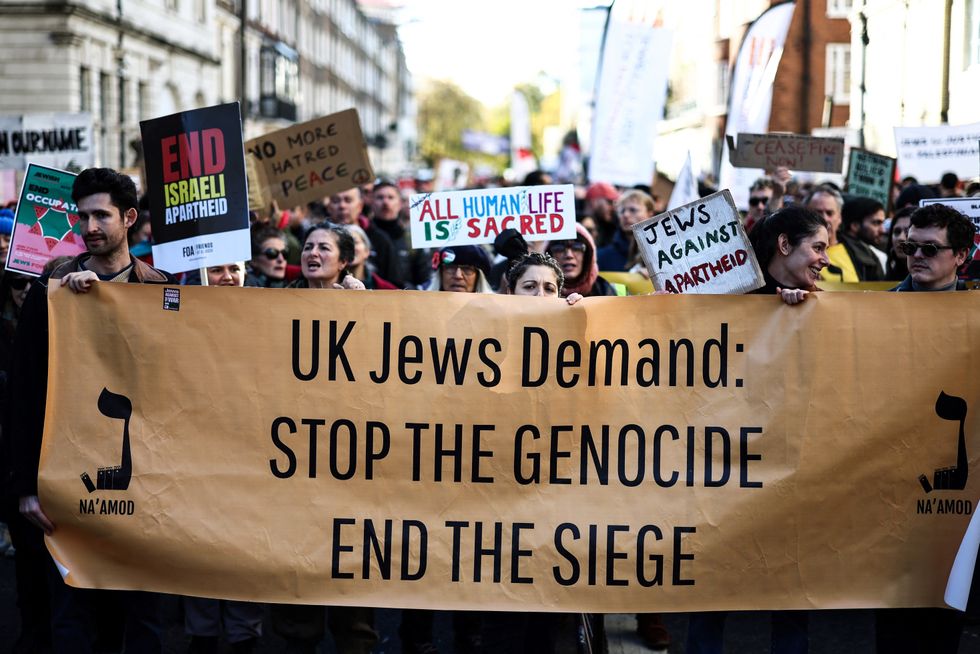 (Photo: Henry Nicholls/AFP via Getty Images)
Video footage of Saturday's march shows the streets of central London packed with demonstrators expressing solidarity with the people of Gaza and demanding an end to Israel's assault, which began after a deadly Hamas-led attack in southern Israel last month.
London authorities estimated that around 300,000 people took part in Saturday's march. Organizers said turnout was as high as 1 million.

"This footage shows the true will of the British people," wrote Ahmed Alnaouq, a London-based Palestinian journalist and co-founder of the nonprofit We Are Not Numbers. "Hundreds of thousands are protesting peacefully despite rounds of vicious smear campaigns and intimidation. "All say in one word: CEASE-FIRE NOW!"
News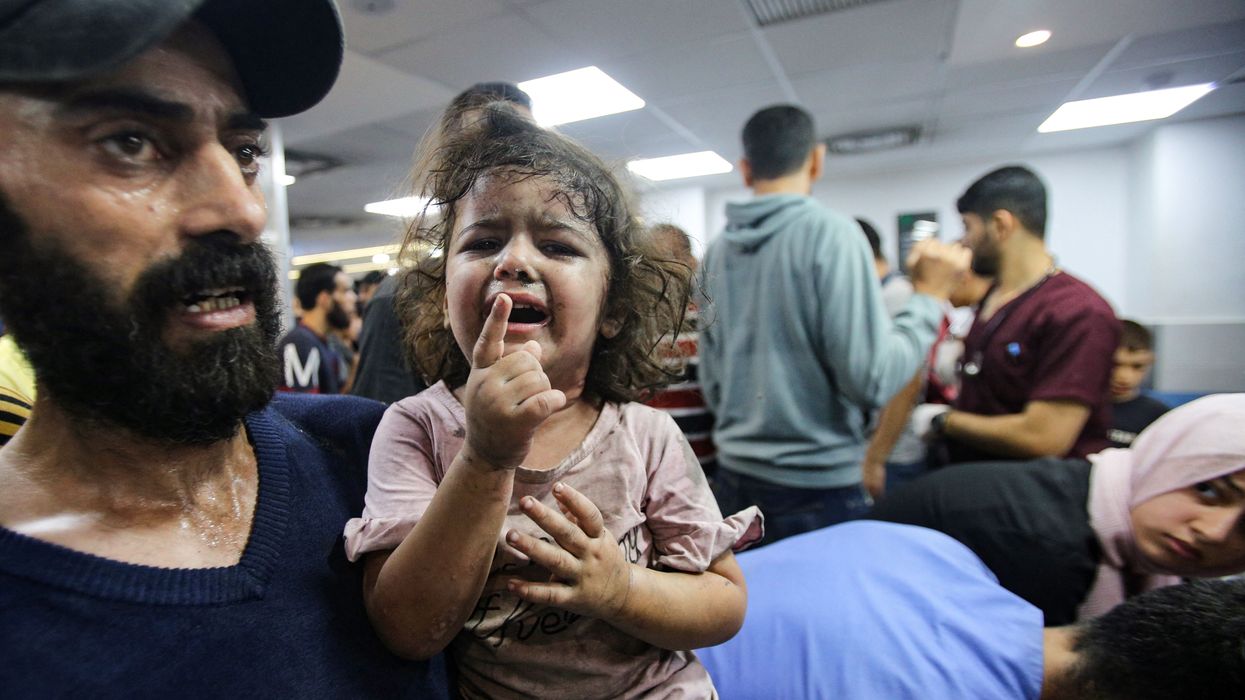 "When are you going to stop this?" Dr. Mads Gilbert asked U.S. President Joe Biden and the leaders of European nations.
A Norwegian physician who has volunteered in Gaza for decades said Friday that Western leaders, including U.S. President Joe Biden, are complicit in Israel's intensifying assault on the Palestinian enclave's hospitals, which are overwhelmed with airstrike victims and displaced people seeking refuge.
In a video message posted to social media as Israeli forces bombarded al-Shifa—Gaza's largest hospital—and other medical facilities, Dr. Mads Gilbert asked, "Can you hear the screams from innocent people, refugees sheltering, trying to find a safe place, being bombed by the Israeli attack forces this morning inside the hospital, hospitals that are the temples of humanity and protection?"
"When are you going to stop this?" Gilbert added, with audio of screams from Gaza's al-Shifa hospital playing in the background. "You're all complicit."

Gilbert's plea for immediate action from world leaders who are supporting and arming Israel's military came as Israeli forces surrounded al-Shifa and other hospitals in northern Gaza, claiming that Hamas is using the facilities as command centers—an assertion that hospital directors have denied.
Targeting hospitals is a war crime under international law.

Israeli airstrikes and sniper fire on Gaza hospitals have forced thousands of people who were sheltering at the facilities to flee, but many others "remain trapped inside," the U.K.-based humanitarian group Medical Aid for Palestinians (MAP) said Saturday.
The charity said it has heard "chilling testimony from inside Gaza's largest hospital, al-Shifa," including reports that "the intensive care unit has been bombed and damaged."
"Staff moving between buildings have been shot at and critically wounded," said MAP, which is calling for a cease-fire. "Those who have tried to flee have come under fire, and lie dead or wounded in the street as rescue is impossible. With the mortuary shut down, a hundred bodies are piled up and cannot be buried."
"Power has gone out, and staff are having to hand ventilate critically ill patients to keep them alive," the group continued. "At least one patient in intensive care has already died. Babies in the neonatal intensive care unit which MAP has supported over many years are beginning to die from lack of oxygen. More will die soon unless the power supply is restored. Day after day, week after week, we have been warning of catastrophic consequences if world leaders fail to protect healthcare in Gaza. Our worst fears are coming true."
Doctors Without Borders, which has been providing emergency assistance in the Gaza Strip, offered a similarly harrowing account.
"We are currently unable to contact any of our staff inside al-Shifa, and we are extremely concerned about the safety of patients and the medical staff," the group said late Friday. "Patients are still in the hospital, some in critical condition and unable to move."
Mohammed Obeid, a Doctors Without Borders physician at al-Shifa, said that "there is a patient who needs surgery. There is a patient who's already asleep in our department. We cannot evacuate ourselves and [leave] these people inside. As a doctor, I swear to help the people who need help."
Early Saturday, the group wrote on social media that its staff "are witnessing people being shot at as they attempt to flee the al-Shifa hospital."

News