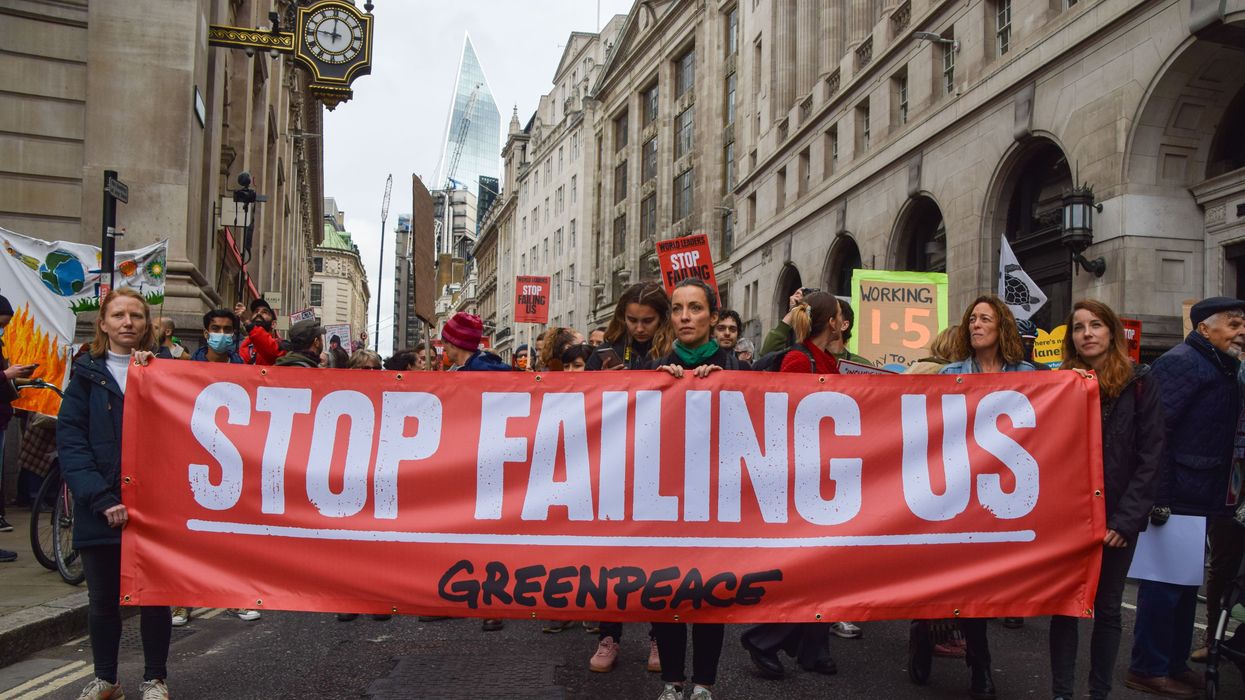 "While the Glasgow Statement is a success story that's having a real-world impact in shifting finance away from fossil fuels, some countries like the U.S., Germany, and Italy have broken their promise," said a lead author.
A report released Wednesday by Oil Change International reveals that while the Glasgow Statement is already shifting billions of dollars from fossil fuels to clean energy around the world, some rich nations are still failing to live up to promises made under the 2021 agreement.
During COP26—the United Nations climate summit in Glasgow, Scotland—34 countries and five public finance institutions vowed to cut off financing for new international fossil fuel projects by the end of 2022 and instead invest that money in clean power.
"Our research shows that while the Glasgow Statement is a success story that's having a real-world impact in shifting finance away from fossil fuels, some countries like the U.S., Germany, and Italy have broken their promise," said Oil Change International (OCI) public finance strategist Adam McGibbon, a lead author of the report.
The report—entitled Promise Breakers: Assessing the impact of compliance with the Glasgow Statement commitment to end international public finance for fossil fuels—states that "out of 16 signatories that provide significant international public finance for energy, eight have new or existing policies that broadly meet the promise they made in Glasgow (Canada, the European Investment Bank, the United Kingdom, France, Finland, Sweden, Denmark, and New Zealand)."
"True leaders do not blink when faced with a global climate crisis."
While those actions are expected to shift $5.7 billion from fossil fuels to clean energy annually, the report suggests that another $13.7 billion could be added if the countries who have failed to enact such policies and those "with below-Glasgow policies" did more to cut fossil fuel funding.
The nations with policies that are updated but still not in line with the Glasgow statement are Belgium, Spain, Switzerland, and the Netherlands. Those identified by OCI as in breach of the 2021 deal are Germany, Italy, Portugal, and the United States.
"During the 2020 presidential election, Joe Biden promised to end U.S. support for dirty energy projects abroad," the report highlights. "The Biden administration has taken the unusual step of developing a policy in response to the Glasgow Statement for its bilateral financing agencies but not making it public, even at the request of members of Congress."
After noting a diplomatic cable revealed in December 2021, the report calls on the administration to "release a public interagency guidelines that (a) bars new public fossil fuel support with no exemptions for gas projects and (b) closes the potential widely defined loophole for projects with 'national security' implications that appeared in the leaked memo."
Kate DeAngelis, international finance program manager at Friends of the Earth U.S., echoed that demand for transparency.
"The United States has long claimed to be a world leader in climate action, yet fails to back this up with meaningful action or policy," she said. "U.S. agencies like the U.S. Export-Import Bank and U.S. International Development Finance Corporation continue to be piggy banks for fossil fuel projects from Mexico to South Africa to Indonesia, as these nations suffer from climate change."
"President Biden must make his administration's policy public, which would catalyze other countries to stop providing billions of dollars to polluting projects all over the world," DeAngelis added. "True leaders do not blink when faced with a global climate crisis."
Meanwhile, the report details that not only has Italy declined to publish any Glasgow Statement policies but also the government recently "attempted to weaken a ministerial statement by 10 European governments to stop export credit support for fossil fuel projects" and its export credit agency SACE—which financed €13.7 billion ($14.45 billion) in fossil fuels from 2016-21—is continuing to consider major international projects.
Simone Ogno, climate and finance campaigner at ReCommon, pointed to some specific projects, saying Wednesday that "through its export credit agency SACE, Italy has become the first European fossil fuel financier, enabling the development of strategic oil and gas projects for the Russian Federation, not to mention LNG projects in Mozambique and oil refineries in Egypt."
Germany also has not only failed to put out a policy, but also "is engaged in a 'dash for gas,' including pursuing controversial gas development in Senegal and exploring gas deals with Qatar, the United States, and Iraq," the report says.
"Instead of providing gigantic sums of public funds for fossil fuel projects that are incompatible with the Paris agreement, we urge German Chancellor Olaf Scholz to ensure that the Kreditanstalt für Wiederaufbau adheres to the Glasgow Statement," declared Constantin Zerger, head of energy and climate protection at the Deutsche Umwelthilfe, referring to the nation's public bank.
"The government-owned development bank needs to officially commit that it will end its support for financial fossil fuel projects abroad and in Germany," Zerger charged. "Chancellor Scholz, it is time to become a real climate leader!"
Rather than featuring a section on Portugal like the other "promise breakers," the report calls out the country for "particularly low data transparency" and says its process for developing a policy related to the Glasgow Statement is "unclear."
While the new report takes aim at the "promise breakers," it also stresses that "all signatories must still do more to meet the parallel commitment to 'prioritize support fully towards the clean energy transition' whilst 'do[ing] no significant harm' to the goals of the Paris agreement, local communities, and local environments."
News