For Immediate Release
May, 24 2013, 02:26pm EDT
Contact:
Contact: Sarah Morris (267.217.3372)
100-Mile March Across PA Seeks to Halt Prison Expansion, Austerity
Broad coalition calls for "a people's budget, not a prison budget"
WASHINGTON
In an unprecedented action against mass incarceration, a statewide coalition is embarking on a 100 mile march across Pennsylvania to demand "A People's Budget, Not a Prison Budget." The march will start in Philadelphia at Love Park at noon on May 25 and conclude with a noontime rally at the state capitol building in Harrisburg on June 3, as the state legislature reconvenes to discuss the budget for next year.
Marchers are demanding that the General Assembly refuse to pass a budget with increases in corrections spending. They further call for the governor to stop the $400 million construction of two new prisons in Montgomery County, outside Philadelphia.
The march is being organized by Decarcerate PA, a grassroots campaign working to end mass incarceration in Pennsylvania by insisting that the state stop building prisons, reduce its prison population, and reinvest money into local community resources. More than thirty organizations are cosponsoring the march, including public school advocates, immigrant rights groups, faith-based communities, and a wide array of racial and economic justice organizations.
"Everyone in Pennsylvania has an investment in stopping prison growth." said Layne Mullett of Decarcerate PA. "That's why community groups, churches, labor unions, parents, teachers, students, formerly incarcerated people, legislators and entire families are getting involved. We know we all benefit when the state invests in education, not incarceration."
The March for a People's Budget is an impressive and creative step in a growing national movement against mass incarceration, according to several high-profile analysts.
"Decarcerate PA's march highlights a simple truth: Public budgets should be made by the people for the people," said Ruth Wilson Gilmore, an award-winning scholar of imprisonment and the past president of the American Studies Association. "In walking the walk, these historic marchers take the fight against prisons and austerity to a new level. What happens in Pennsylvania now can lift all who strive for a new national freedom agenda."
Like other states, Pennsylvania has embraced a path of austerity. In recent years, Republican governor Tom Corbett has cut more than a billion dollars from education, eliminated General Assistance, and slashed health care spending. Philadelphia alone is in the process of closing twenty-three schools. Yet the PA Department of Corrections is requesting an additional $68 million increase in next year's budget, which will push the DOC budget over $2 billion for the first time in the state's history. Further, the state proceeds to expand its prison system.
"At a time when prison populations are finally beginning to decline nationally, it's unfortunate that Pennsylvania is planning to build new prisons," said Marc Mauer, executive director of The Sentencing Project, a national prison reform group. "We've seen that sentencing and drug policy reform, along with a broader array of non-prison options, can have a significant impact on the number of people incarcerated. Prison construction also assures that resources will be less available to invest in the communities most heavily affected by mass incarceration."
The March for a People's Budget includes rallies and community events in towns and cities along the ten-day march route highlighting the high costs of social austerity. The march begins only two weeks after Philadelphia witnessed a massive student walkout in protest of school closings.
Decarcerate PA formed in 2011. Last November, seven members of the group were arrested and charged with trespass and disorderly conduct following a sit-in on the construction site of two new prisons in Montgomery County, PA. The demonstrators sat at school desks and wore banners reading "fund schools, not prisons." The charges are still pending.
For live updates and images of the march, visit www.decarceratepa.info/march and @decarceratepa. The march route and current list of cosponsors is below.
Route and related actions for "March for a People's Budget: Stop Prison Expansion Now":
May 25: Kick-off rally in Philadelphia at noon in Love Park, marching to the Art Museum.
May 26: "Invest in the Future, not Fear!" (protest against immigrant detention and
deportation) with DreamActivist PA and other local organizers, 1 pm, Montgomery County
Courthouse in Norristown. Six-mile march (10 am -1 pm) ending with a community barbeque (1- 4 pm) at Mellon Park in Pittsburgh.
May 27: Protest in Collegeville, PA, near site of Graterford prison construction project.
May 29: "From the Underground Railroad to the School-to-Prison Pipeline: Freedom
Struggles Then and Now" (panel discussion on mass incarceration and austerity), 7:00 pm at the Hopewell Mennonite Church, 45 S. 6th Street, Reading.
May 30 - June 1: March to Womelsdorf, Lebanon, Hershey.
June 2: "A Community Conversation on Mass Incarceration," 7:30 pm, Harrisburg Friends
Meeting, 1100 N. 6th Street, Harrisburg.
June 3: March into Harrisburg and rally at noon at the Capitol, N. 3rd and State streets.
Cosponsors of the "March for a People's Budget: Stop Prison Expansion Now" include:
ACLU - PA , ACT UP , Books Through Bars , Broken On All Sides movie project , Campaign for Nonviolent Schools , The Center for Returning Citizens , Coalition of Labor Union Women ,DreamActivist PA , EXIT-US Inc , Fight for Philly , Granny Peace Brigade Philadelphia , Hearts
on a Wire , Human Rights Coalition , International Action Center , International Socialist
Organization , Jobs with Justice , Juntos , Mishkan Shalom , NAACP Graterford Branch , New
Sanctuary Movement of Philadelphia , Noble Pillars , Point Breeze Organizing Committee , Occupy Trenton , Parents United for Public Education , Philadelphians Allied for a Responsible Economy ,Philadelphia Coalition Advocating for Public Schools ,Philadelphia Federation of Teachers ,Philadelphia Student Union , Philly Survivor Support Collective , Reconstruction Inc., Students Organizing for Unity and Liberation , Support Center for Returning Citizens , Teacher Action Group,Youth Art & Self-empowerment Project
LATEST NEWS
"You cannot remove a member of Congress from a committee simply because you do not agree with their views," said Rep. Pramila Jayapal. "This is both ludicrous and dangerous."
Democratic Rep. Ilhan Omar of Minnesota and her progressive allies are denouncing the Republican effort to oust her from a key House panel as early as Thursday.
House Republicans on Wednesday advanced a resolution to remove Omar from the House Foreign Affairs Committee (HFAC). In a party-line 218-209 vote, GOP lawmakers approved a rule that sets the parameters for debate on the chamber floor prior to a final vote.
"It remains unclear when House Republicans will bring the Omar resolution to the floor for debate and a final vote," The Hillreported. "Democrats still need to formally submit a separate resolution with their roster for the Foreign Affairs Committee." That is expected to happen by Thursday.
The GOP has sought for years to remove Omar, a principled critic of Israeli apartheid and Washington's role in perpetuating it, from the HFAC. House Speaker Kevin McCarthy (R-Calif.) has unilateral authority to boot any lawmaker from a select committee, but because the HFAC is a standing committee, removing a member from it requires a full House vote.
On Tuesday night, after Rep. Max Miller (R-Ohio) introduced the measure to remove Omar from the HFAC over supposedly "antisemitic" remarks, the progressive lawmaker tweeted that "there is nothing objectively true in this resolution."
In response to Miller's argument that "Omar clearly cannot be an objective decision-maker on the Foreign Affairs Committee given her biases against Israel and against the Jewish people"—a contention that wrongfully equates criticism of Israel's colonization of Palestine with criticism of Jewish people—the Minnesota Democrat said that "if not being objective is a reason to not serve on committees, no one would be on committees."
In a Monday statement, Congressional Progressive Caucus Chair Pramila Jayapal (D-Wash.) said that the CPC "stands fully behind our deputy chair."
"Omar is a valued member of the Democratic caucus and of this Congress," said Jayapal. "Throughout her service in Congress and on the House Foreign Affairs Committee, she has brought her essential and unique voice and lived experience to bear: as a refugee, war survivor, and soon, as the first African-born ranking member on the Africa Subcommittee."
"You cannot remove a member of Congress from a committee simply because you do not agree with their views," Jayapal continued. "This is both ludicrous and dangerous. In the last Congress, Republican members were moved from committees with a bipartisan vote for endangering the safety of their colleagues. Speaker McCarthy is attempting to take revenge and draw false comparisons."
Jayapal praised the few Republicans "who have already rejected this idea" and expressed hope that "more will join them to state their opposition so it is not brought to the floor, or vote against it should it be brought to the floor."
As The Washington Post reported Wednesday:
Republican leaders have worked for weeks to ensure that there were enough votes to pass a resolution removing Omar from the committee through their razor-thin majority margin, which stands at three as Rep. Greg Steube (R-Fla.) remains away from Washington recuperating from a traumatic fall. Opposition to the effort emerged last month as four lawmakers signaled that they wouldn't support the measure, citing concerns that it would continue a precedent set by former speaker Nancy Pelosi (D-Calif.).

But the inclusion of a provision in the four-page resolution, that Republicans argue provides due process to Omar, seems to have appeased at least one crucial voter, as Rep. Victoria Spartz (R-Ind.) announced Tuesday that she would now support the measure. Reps. Ken Buck (R-Colo.) and Nancy Mace (R-S.C.) have publicly suggested that they would vote against it before the resolution's text was released Tuesday, while Rep. Matt Gaetz (R-Fla.) has said he remained undecided. Republican leadership aides, who spoke on the condition of anonymity to outline private whip counts, said they have the votes to pass the measure whenever Democrats formally appoint Omar to her committee.
Jayapal affirmed earlier this week that Democrats "will stand strongly with Rep. Omar: an esteemed and invaluable legislator, a respectful and kind colleague, and a courageous progressive leader."
On Sunday, Omar argued that House Republicans are trying to oust her from the HFAC because they disapprove of having a Muslim refugee from Somalia on the panel, as Common Dreamsreported.
Omar has been the frequent target of Islamophobic bigotry, including from Reps. Marjorie Taylor Greene (R-Ga.), Lauren Boebert (R-Colo.), and the American Israel Public Affairs Committee (AIPAC), which paid Facebook to host attack ads that endangered the lawmaker's life. Due to credible death threats, the Minnesota Democrat is often assigned security by the U.S. Capitol Police.
In her Sunday conversation with CNN's Dana Bash, Omar acknowledged that she apologized for the wording of her February 2019 tweets tying U.S. lawmakers' support for Israel to money from lobbyists—at the time, she specifically called out AIPAC, which has given millions of dollars to members of Congress.
The GOP's campaign to expel her from the HFAC "is politically motivated," Omar said. "In some cases, it's motivated by the fact that many of these members don't believe a Muslim, a refugee, an African should even be in Congress, let alone have the opportunity to serve on the Foreign Affairs Committee."
On Monday, Omar asserted that her work on the HFAC has contributed positively to "advancing human rights, holding government officials accountable for past harms, and advancing a more just and peaceful foreign policy."
\u201cWe\u2019ve been clear in our work to center international law and human rights.\u201d

— Rep. Ilhan Omar (@Rep. Ilhan Omar) 1675118259
Rep. Ayanna Pressley (D-Mass.) concurred, tweeting Monday that Omar's work on the panel "matters deeply and Republicans' cowardly efforts to remove and silence her are a disgrace."
Sen. Elizabeth Warren (D-Mass.) echoed Pressley, writing on social media: "It's shameful that Republicans are trying to remove her [from the HFAC] after smearing her for years. We need her voice, values, and expertise on the committee."
Sen. Bernie Sanders (I-Vt.), meanwhile, noted that "Omar is once again facing ugly personal and political attacks with incredible courage and dignity."
"It is outrageous that the House leadership wants to boot her off the Foreign Affairs Committee," Sanders tweeted. "Fair-minded Republicans must join Democrats in preventing that from happening."
News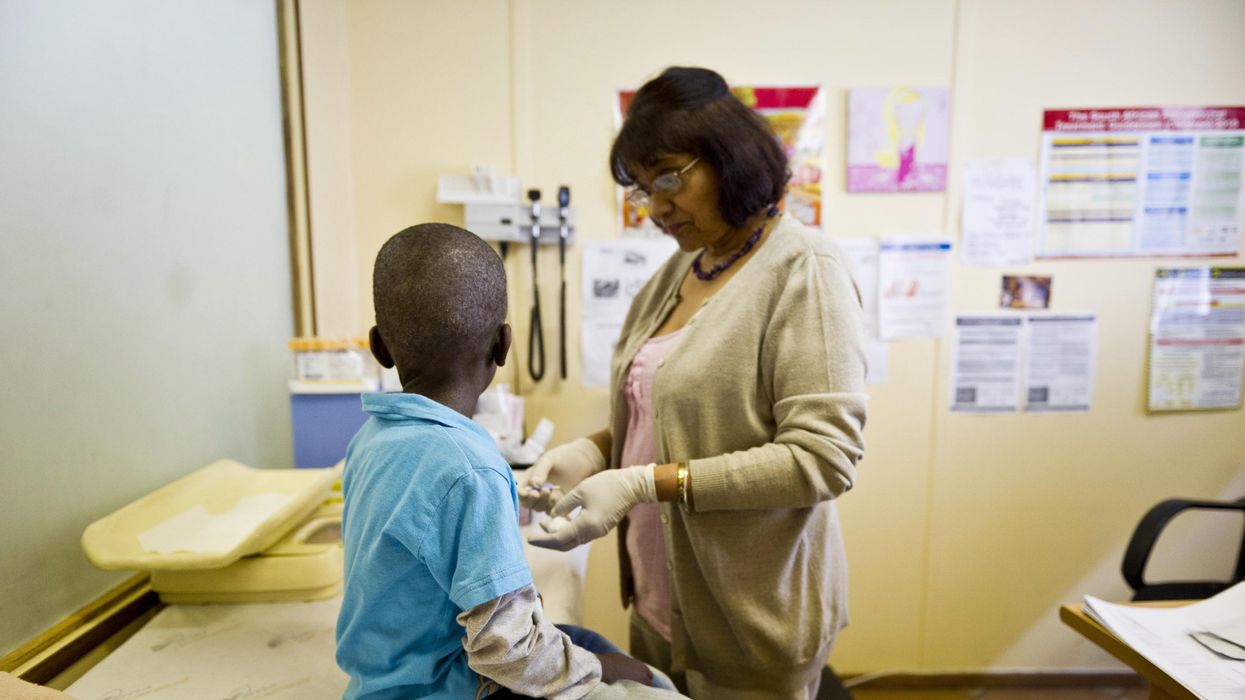 "We have the tools, the guidance, the policies, and the knowledge we need. Now we must make good on this commitment and move to action," reads the Dar es Salaam Declaration. "Together we will not fail."
Declaring the fight against HIV and AIDS infections in children "winnable," public health officials from across Africa on Wednesday convened in Dar es Salaam, United Republic of Tanzania to discuss the steps needed from policymakers and the healthcare sector to eradicate pediatric cases by 2030.
Representatives from 12 countries including Tanzania, Zimbabwe, Cote D'Ivoire, and Cameroon were joined by the U.S. President's Emergency Plan for AIDS Relief (PEPFAR), UNICEF, and other global organizations at the first ministerial meeting of the Global Alliance to End AIDS in Children.
The alliance was formed last summer, as the United Nations noted that just 52% of children living with AIDS are on lifesaving treatment and warned progress for preventing pediatric cases is stalling. Among adults patients, 76% are receiving antiretroviral treatments.
The delegates unanimously agreed on Wednesday to the Dar es Salaam Declaration for Action. The declaration's commitments include:
Providing access to universal testing and treatment for all children and adolescents living with HIV and support them to remain virally suppressed;
Ensuring access to treatment and care for all pregnant and breastfeeding women and support them to stay in care;
Harnessing digital technologies to reach adolescents and young people;
Implementing comprehensive, integrated HIV services;
Working with and for men, women, and adolescent girls to ensure that mothers are protected from acquiring HIV during pregnancy and breastfeeding;
Ending the stigma, discrimination, and gender inequities experienced by women, children, and adolescents affected by HIV; and
Working with communities including men to prevent gender-based violence and counter harmful gender norms.
"We have the tools, the guidance, the policies, and the knowledge we need. Now we must make good on this commitment and move to action," reads the declaration. "Together we will not fail."
"Closing the gap for children will require laser focus and a steadfast commitment to hold ourselves, governments, and all partners accountable for results."
The global alliance has stressed since its formation last year that ending pediatric AIDS and HIV infections is an achievable goal, noting the progress that has been made in several African countries with high HIV burdens.
"By the end of 2021, 12 countries in sub-Saharan Africa reached the target of 95% ART [antiretroviral therapy] coverage in pregnant women and Botswana was the first high prevalence African country to be validated as being on the path to eliminating vertical transmission of HIV," reads a document released when the initiative was launched.
Sixteen countries worldwide have also been "certified for validation of eliminating vertical transmission of HIV," according to UNAIDS.
\u201cI believe this is a winnable fight\u2014one we can win for all children in Africa. We can win it for their mothers; we can win it for their families; we can win it for our countries. Honourable Ministers make it your priority and you will see results during your tenure!\n#ForEveryChild\u201d

— Winnie Byanyima (@Winnie Byanyima) 1675241033
But still, 160,000 children acquired HIV in 2021 and children accounted for 15% of all AIDS-related deaths that year, despite the fact that they only make up 4% of the total number of people living with HIV. Across the globe, a child dies of AIDS-related causes every five minutes.
"Year on year, the same poor progress has been reported towards global and national targets for children and adolescents," said the alliance last year. "Despite available, affordable, and highly effective tools and programming strategies to diagnose and treat HIV among children, adolescents, and pregnant and breastfeeding women, large service gaps for these populations remain."

By meeting the commitments laid out in the Dar es Salaam Declaration, officials said, they will promote active participation of national programs and affected communities, boost existing programs to end AIDS in children, and mobilize resources through "donor coordination and innovative financing."

"Closing the gap for children will require laser focus and a steadfast commitment to hold ourselves, governments, and all partners accountable for results," said John Nkengasong, the U.S. global AIDS coordinator and leader of PEPFAR. "In partnership with the global alliance, PEPFAR commits to elevate the HIV/AIDS children's agenda to the highest political level within and across countries to mobilize the necessary support needed to address rights, gender equality, and the social and structural barriers that hinder access to prevention and treatment services for children and their families."
Philip Mpango, vice president of the United Republic of Tanzania, said the host country "has showed its political engagement" regarding the issue.

"Now we need to commit moving forward as a collective whole," said Mpango. "All of us in our capacities must have a role to play to end AIDS in children. The global alliance is the right direction, and we must not remain complacent. 2030 is at our doorstep."
News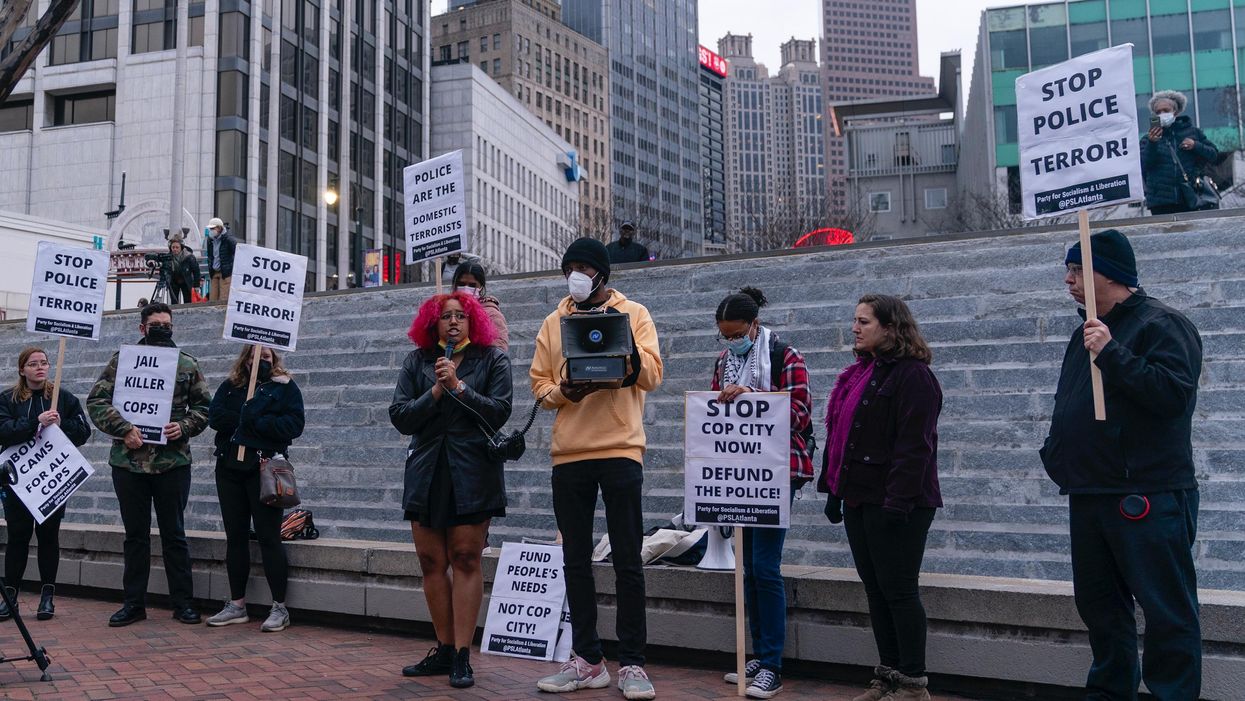 "Power concedes nothing without a demand," said the Atlanta Community Press Collective. "Ours is, 'Cop city must never be built—not here, not anywhere."
As Atlanta Mayor Andre Dickens and DeKalb County CEO Michael Thurmond announced Tuesday that construction of the $90 million, 85-acre police and fire training center known as "Cop City" will proceed under what Dickens called a "compromise," critics of the project had a resounding message: "Defend the Atlanta Forest. Stop Cop City."
Speaking during a Tuesday press conference at Atlanta City Hall, Dickens, a Democrat, outlined changes to the project. Acknowledging "concerns about the environmental impact" of the project, the mayor said a 100-foot tree buffer would be added, and that 100 new hardwood trees would be planted for each one destroyed during construction. Dickens also said the complex's firing range would be moved further away from a nearby residential area.
Dickens also defended the type of police training that would take place at the facility, saying it "includes vital areas like de-escalation training techniques, mental health, community-oriented policing, crisis intervention training, as well as civil rights history and education."
However, activists—many of whom protested inside and outside City Hall chanting slogans including "APD, shut it down," referencing the Atlanta Police Department, and "Cop City will never be built"—were not swayed in their opposition to the project.
"Our firm line is no Cop City anywhere," Jasmine Burnett, organizing director at Community Movement Builders, toldUnicorn Riot outside City Hall. "No destruction of the forest at all. I know, they're trying to harp on the fact that it's only 85 acres. And allegedly, the rest will be left for public use. But that's 85 acres too much."

\u201cRIGHT NOW: Protesters outside City Hall ahead of an announcement of amended plans to move forward with the future site of the Atlanta public safety training center\u201d

— Joe Ripley (@Joe Ripley) 1675185881
"We are also calling for the charges to be dropped against all of the protesters who've been charged with any crimes, but especially the domestic terrorism charges," Burnett added, referring to the 19 nonviolent protesters facing prosecution under a 2017 Georgia law that expanded the definition of "domestic terrorism" to include certain property crimes.
Over the objections of environmental, racial justice, Indigenous, and other groups, the Atlanta Police Foundation (APF)—a private organization whose backers include major corporations like Amazon, Home Depot, Wells Fargo, JPMorgan Chase, and UPS—was given permission in 2021 to build what's officially called the Atlanta Public Safety Training Center in the Weelaunee Forest in DeKalb County just outside Atlanta city limits. Cop City would be built on land stolen from the Muscogee people, many of whom were forced westward during the genocidal Trail of Tears period.
Last month, militarized police shot and killed Manuel Esteban Paez Terán, a 26-year-old protester also known as "Tortuguita" who allegedly opened fire on them, during a raid to violently clear forest defenders from the site. While a few federal lawmakers have called for an independent probe, Georgia Democrats including U.S. Sens. Raphael Warnock and Jon Ossoff and former gubernatorial candidate Stacey Abrams have said little to nothing about the killing, or about Cop City in general.

Also protesting outside City Hall on Tuesday, community organizer Micah Herskind said: "How dare they stand in front of people and say, 'Oh, this plan, where we're tearing down trees, is actually good for people, and it's good for the economy, and it's—you know, it's actually going to protect people?' It's obviously false, and I hope that it's reported as such, because it's such classic, blatant spin, that they're taking us for fools if they think anyone would believe that tearing down trees and putting cement over it is protecting the environment. That's outrageous."
\u201cThere is no compromise between the movement and the government. \n\nThe fact that they feel the need to say there is shows that we are winning.\n\nNo more backroom deals. No more empty promises.\n\nNo Cop City.\nNo land-swap.\nNo more repression.\n\nWe are close. Keep fighting.\u201d

— Defend the Atlanta Forest (@Defend the Atlanta Forest) 1675190179
In a statement, the Atlanta Community Press Collective said that "like all other points of 'compromise,' this has proved empty rhetoric to cover over the undemocratic railroading of this project on to unrepresented, disenfranchised residents of Atlanta and DeKalb County. This is more backroom talk between powerful elites and their dark money contributors."
"Now, the city, DeKalb County, the APF, the funders and builders of Cop City collectively have blood on their hands, and it seems they are willing to get bloodier: These are the people in power goose-stepping us to climate apocalypse," the collective continued. "Police continue to kill at higher and higher rates. In 2022, more people in the U.S. were killed than in any other year on record. The police and their corporate and political backers have used lies, misinformation, and distorted half-truths at every step of this process. Why should we believe a word they say?"
"Power concedes nothing without a demand," the authors asserted. "Ours is: 'Cop city must never be built—not here, not anywhere. Not one blade of grass! Not one tree! Free the prisoners, drop the charges!'"
"The fight continues. The movement to stop Cop City is only growing," they added. "On February 19-26 we are calling for a Week of Solidarity to Stop Cop City, with protests throughout the U.S .and around the world."
News
SUPPORT OUR WORK.
We are independent, non-profit, advertising-free and 100%
reader supported.