For Immediate Release
Contact:
Greta Berlin, 00 357 99 18 72 75

Mary Hughes 00 357 6 38 38 09
CYPRUS
The Rachel Corrie is 150 miles away from Gaza in international waters
and on her way. They will arrive on Saturday morning. The 1200 ton
cargo ship is the last ship from the Freedom Flotilla and is loaded with
construction materials, 20 tons of paper and many other supplies that
Israel refuses to allow into the imprisoned people of Gaza.
Some of the High-Profile people on board:
Mairead Maguire from Belfast, Ireland, a Nobel Peace Laureate (l976)
and Co-founder of Peace People, Northern Ireland. She was awarded the
Nobel Peace Prize for her work for peace and a nonviolent solution to
the Ethnic/political conflict in Northern Ireland. Mairead went on the
maiden Voyage of Dignity in October 2008, the second successful voyage
for the Free Gaza Movement. She was also on Board 'Spirit' when Israel
hijacked the Boat in International Waters, taking all 2l humanitarian
passengers to Israel, where they were arrested, detained for a week in
an Israeli prison and then deported.
Denis Halliday, from Ireland, a UN Assistant Secretary-General from
1994-98. Appointed by SG Boutros Ghali, he served as ASG UN Human
Resources Management in New York and in mid 1997 to end 1998 as Head,
Humanitarian Programme in Iraq to support the Iraqi people struggling
under the genocidal impact of UN Sanctions. Since resigning from the UN
in 1998, Halliday has delivered numerous parliamentary briefings,
provided extensive media inputs and has given public/university lectures
on Iraq, human rights, and the UN, in particular its reform.
Matthias Chang Wen Chieh is a Malaysian of Chinese descent. He is a
Barrister of 32 years standing and once served as the Political
Secretary to the Fourth Prime Minister of Malaysia, Tun Dr. Mahathir
Mohamad. He is the author of three bestsellers, "Future Fast Forward",
"Brainwashed for War, Programmed to Kill", and "The Shadow Money-Lenders
and the Global Financial Tsunami", published in the US and in Malaysia.
Mohd Nizar bin Zakaria,Perak, Malaysia, MP Mohd Nizar bin Zakaria is a
Member of the Malaysian Parliament.
In addition, there is a three-member camera crew on board from
Malaysia TV3 and journalis Shamsul Akmar bin Musa Kamal.
The passengers on board the ship have stated, "Communication is
difficult and sometimes impossible and there are many rumors out there
started by Israeli authorities, but there is no way we are going to
Ashdod. We are, for sure, on our way to Gaza."
Free Gaza is a human rights group founded in 2006. Our mission is to break the Israel's illegal siege on Gaza's 1.8 million civilians, since it inflicts collective punishment on the Palestinians who live there and has destroyed its economy. Free Gaza believes in direct action in confronting Israel's abuse of Palestinians using non-violent means and has found these voyages to be one of the most effective ways to alert the world to the prison-like conditions of Gaza. Ultimately, there is no better example of direct action than Free Gaza's sustained attempts to break the siege on Gaza which Israel claims it no longer occupies
LATEST NEWS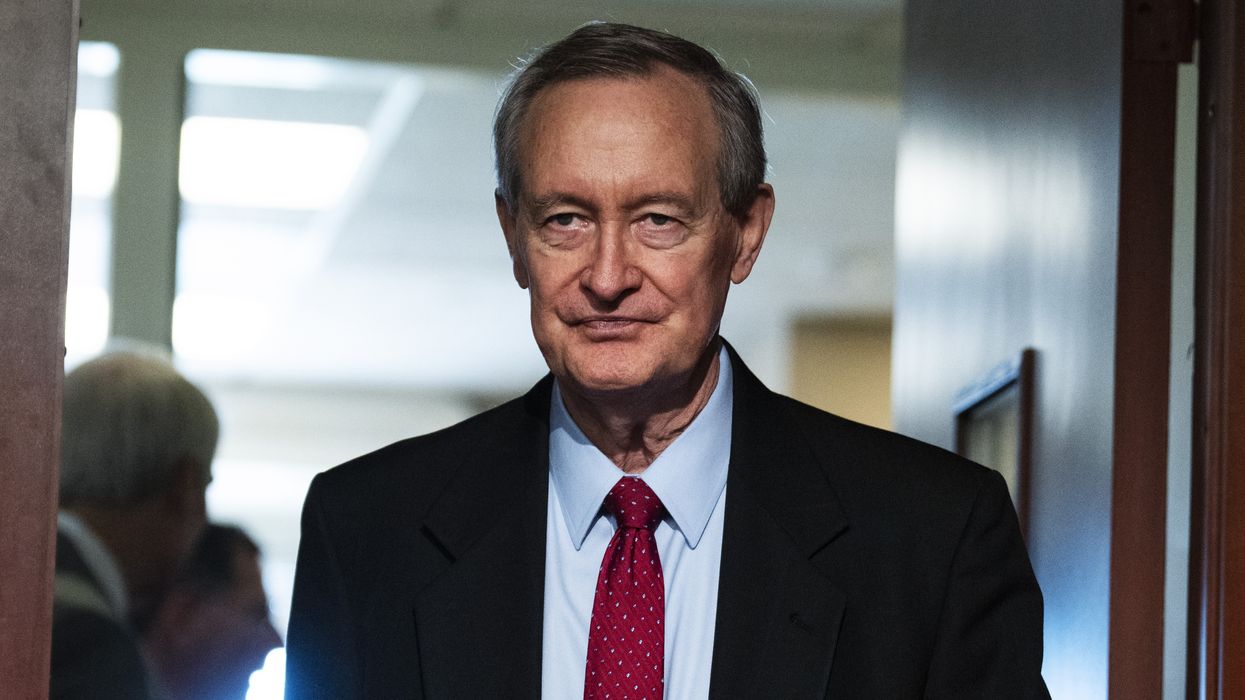 "You have to be hard-core committed to mindless free-market fundamentalism—or truly in thrall to your donors—to insist there's no need for new regulations after Silicon Valley Bank," said one critic.
Republican Sen. Mike Crapo, the lead author of a 2018 bank deregulation law that weakened key guardrails designed to prevent another financial crisis, insisted this week that there is "no need" to impose more strict rules following two of the largest bank collapses in U.S. history.
"There is no need for regulatory reform," said Crapo, who chaired the Senate Banking Committee when Congress passed the 2018 law despite vocal warnings from experts that it would destabilize the banking sector. Dozens of Democrats supported the measure.
In a Fox Business appearance on Tuesday, the Idaho Republican deflected blame for the failures of Silicon Valley Bank and Signature Bank, both of which were in the category of firms that saw regulatory relief thanks to the 2018 law.
"The fact is that President Biden—through all of the spending that he did in the last Congress and the last two years—has driven inflation up to the point where wage earners have to get a 14.8% wage increase just to hold even with this kind of inflation," said Crapo. "And when the Fed responded to push interest rates up, that's what caused a liquidity crisis for these two banks."
While analysts agree that the Fed's aggressive interest rate hikes are at least partly to blame for the collapse of SVB and Signature Bank, they also argue that the 2018 law's removal of enhanced capital requirements and stress tests for banks with between $50 billion and $250 billion in assets—reforms implemented by the post-financial crisis Dodd-Frank Act—also played a significant role.
"You have to be hard-core committed to mindless free-market fundamentalism—or truly in thrall to your donors—to insist there's no need for new regulations after Silicon Valley Bank," wrote Robert Weissman, the president of Public Citizen. (Crapo received more than $880,000 in donations from the securities and investment industry between 2017 and 2022, according to OpenSecrets.)
In effect, the 2018 law ( S.2155) removed the "systemically important" designation and the associated regulations from SVB and Signature Bank—a change that didn't stop the Fed and the Biden administration from rushing in to backstop the financial system and prevent "contagion" after the firms collapsed.
"Congress gave regulators permission to take their eyes off of these mid-sized regional banks."
SVB's announcement last week that it sold its bond portfolio at a major loss and was trying to raise funds led venture capitalists to advise startups—SVB's primary clientele—to withdraw their money, setting off a bank run that ultimately resulted in the firm's failure and takeover by regulators.
"The federal government then stepped in to guarantee the deposits, a dramatic move designed to prevent the panic from spreading to other banks," HuffPost's Arthur Delaney noted Wednesday. "But this kind of intervention... was not supposed to be necessary. The enhanced prudential standards under Dodd-Frank include liquidity requirements that would have automatically covered Silicon Valley Bank if Congress hadn't relaxed the law in 2018."
As former FDIC attorney Todd Phillips toldThe Washington Post earlier this week, "Congress gave regulators permission to take their eyes off of these mid-sized regional banks."
Hilary Allen, a law professor at American University, similarly observed that the 2018 law "did indeed reduce regulatory requirements for banks like Silicon Valley Bank."
"While it is impossible to say categorically that legislative rollback equals the bank's collapse," Allen added, "it does seem that it made it more likely."
The Fed, as then-central bank governor Lael Brainard lamented in 2019, proceeded to take the Republican-authored law and run with it, further weakening safeguards against financial chaos.
"I see little benefit to the banks or the system from the proposed reduction in core resilience that would justify the increased risk to financial stability in the future," Brainard said in a statement at the time.
On Tuesday, dozens of lawmakers led by Sen. Elizabeth Warren (D-Mass.) and Rep. Katie Porter (D-Calif.) introduced legislation that would repeal the section of the 2018 law that relaxed regulations for banks with less than $250 billion in assets.
In a floor speech, Warren said that "both SVB and Signature Bank suffered from a toxic mix of poor risk management and weak supervision."
"If Congress and the Federal Reserve had not rolled back key provisions of Dodd-Frank, these banks would have been subject to stronger liquidity and capital requirements to help withstand financial shocks," Warren continued. "These threats never should have been allowed to materialize. Now, we must prevent them from occurring again by reversing the dangerous bank deregulation of the Trump era."
News
"The East Palestine disaster raised significant questions about rail safety," Sen. Elizabeth Warren said in response to the approval of Canadian Pacific's acquisition of Kansas City Southern. "Allowing this merger is a mistake."
U.S. federal regulators on Wednesday approved the first major railroad merger in more than two decades, a move that follows the East Palestine rail disaster and that critics warned would reduce competition, raise prices, cost jobs, and threaten safety.
The Surface Transportation Board (STB) approved Canadian Pacific Railway Limited's proposed $31 billion acquisition of Kansas City Southern Railway Company, a merger that will create a single railroad linking Canada, the United States, and Mexico. The agency said the merger will take roughly 64,000 truckloads off the road and add more than 800 union jobs.
"The decision includes an unprecedented seven-year oversight period and contains many conditions designed to mitigate environmental impacts, preserve competition, protect railroad workers, and promote efficient passenger rail," STB said, adding that it "also anticipates the merger will result in improvements in safety and the reduction of carbon emissions."
"Shame on STB for disregarding both the administration and the rail workers who know all too well that corporate consolidation leads to a more dangerous rail industry."
However, opponents of the deal pointed to the East Palestine, Ohio disaster and other recent railroad accidents, which they said underscored the need for a more cautious approach to consolidation.
"The merger brings the total number of Class 1 railroads to six, down from over 100 just a few decades ago," the progressive news site More Perfect Unionnoted on Twitter. "Corporate consolidation in the railroad industry compromises safety and risks lives by prioritizing profits and cutting corners to reduce costs."
"Despite concerns from small towns and suburban Chicago cities, the STB ruled, based on data provided by industry, that the only community and environmental impacts of the merger would be an increase in noise," More Perfect Union continued.
"The Biden administration has taken a strong antitrust stance by blocking the $3.8 billion JetBlue-Spirit merger and urging the STB to do the same for Canadian Pacific-Kansas City Southern (CP-KCS), citing the need to promote competition in the railroad industry," the outlet said.
"Shame on STB for disregarding both the administration and the rail workers who know all too well that corporate consolidation leads to a more dangerous rail industry," More Perfect Union added. "The last thing we need is another merger right now."
U.S. Sen. Elizabeth Warren (D-Mass.)—who earlier this month wrote to STB Chair Martin Oberman asking the agency to reject the merger—similarly tweeted that "we don't need another rail merger that'll crush competition, reduce safety, increase prices, and destroy jobs."
U.S. Rep. Raja Krishnamoorthi (D-Ill.), who represents some Chicago suburbs through which the new international railway will run, wrote on Twitter Tuesday that "even before the disaster in Ohio, I had been warning about the threats to communities in my district that would come from a potential CP-KCS merger."
Itasca, Illinois Administrator Carie Anne Ergo—who chairs the Stop CPKCS Coalition—toldThe Washington Post that "the tragedy in Ohio is an illustration of what we've been talking about can happen."
"If what happened in East Palestine happened here in Itasca, the entire community would need to evacuate," she added. "It's terrifying."
News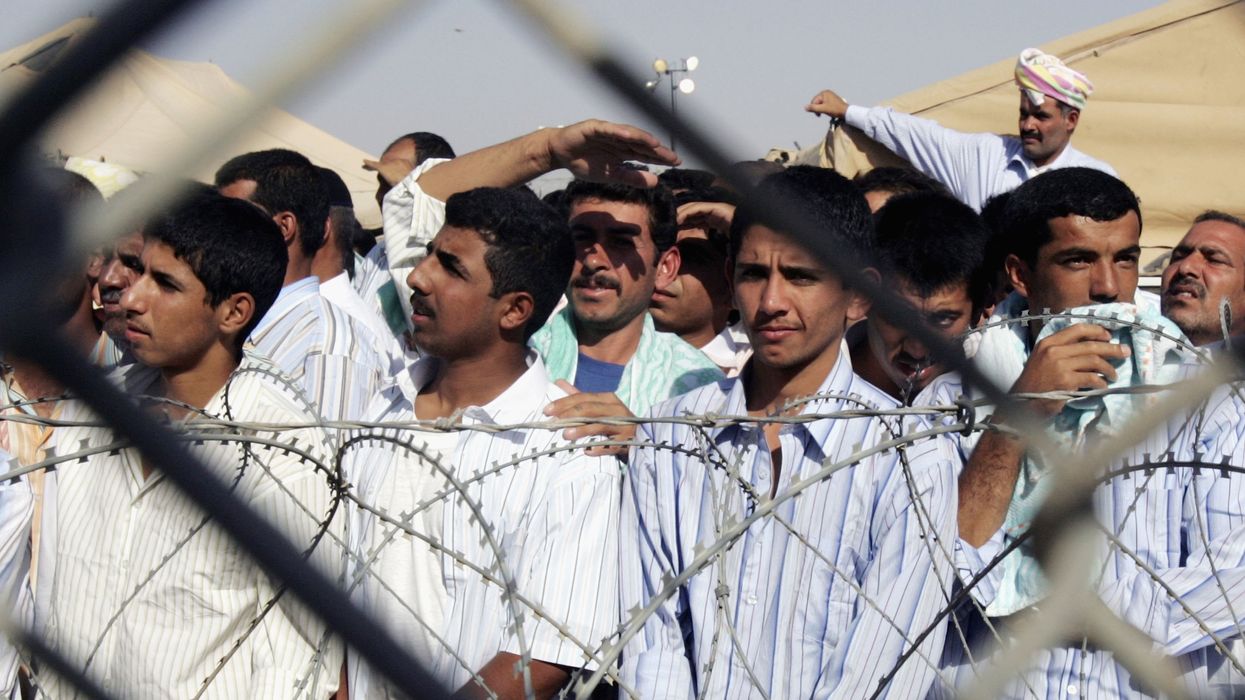 "We should not let the difficulty of securing justice deter us from seeking it—for Iraqis and for all others harmed by U.S. imperialism, exploitation, and genocide," said the Center for Constitutional Rights.
Ahead of the 20th anniversary of the George W. Bush administration's illegal invasion of Iraq this weekend, the New York-based Center for Constitutional Rights on Wednesday renewed its call for reparations "for those harmed as a result of the U.S.'s unlawful act of aggression in its cruel, senseless, and baseless war-for-profit."
"Ten years ago, we teamed up with Iraqi civil society groups and U.S. service members to demand redress," the nonprofit explained, "and this need only becomes more urgent as the incalculable human toll of the war continues to grow: hundreds of thousands dead, some two million disabled, some nine million displaced, environmental devastation, countless people tortured, traumatized, or otherwise harmed in ways unseen, occupation and embrace of torture as policy in the so-called 'War on Terror,' and an entire generation that was born and raised in only war."
As Common Dreams reported earlier Wednesday, the Costs of War Project at Brown University's Watson Institute for International and Public Affairs estimates that already, "the total costs of the war in Iraq and Syria are expected to exceed half a million human lives and $2.89 trillion" by 2050.
The project also said that "an estimated 300,000 people have died from direct war violence in Iraq, while the reverberating effects of war continue to kill and sicken hundreds of thousands more."
"Justice also entails accountability for the perpetrators of these horrific crimes, including those responsible for the torture."
Such figures have fueled calls from groups like the Center for Constitutional Rights (CCR), which asserted that "reparations are rooted in precedent and international law, as well as a strong tradition of justice-based organizing by civil rights movements, and we should not let the difficulty of securing justice deter us from seeking it—for Iraqis and for all others harmed by U.S. imperialism, exploitation, and genocide."
"Justice also entails accountability for the perpetrators of these horrific crimes, including those responsible for the torture" in Iraq and beyond, argued the center—which since 2004 has filed three lawsuits against U.S-based military contractors on behalf of Iraqis tortured at the Abu Ghraib prison and also sued Erik Prince and his company Blackwater over the Nisour Square massacre
"Legal efforts against high-level political and military leaders for the invasion itself and the many crimes committed in the 'War on Terror' pose a different set of challenges, as demonstrated by our efforts to hold high-level Bush-administration officials accountable at the International Criminal Court for crimes in or arising out of the war in Afghanistan or under universal jurisdiction," CCR noted. "Those of us pursuing accountability can draw inspiration from activists in other countries like Argentina and Guatemala who waged successful campaigns over several decades."
Highlighting that "Congress continues its overbroad authorizations for use of military force," the center argued that "such authorizations must be repealed, and the unlawful policies of endless war and militarization must be replaced with international-law-based, rights-respecting policies and practices."
The U.S. Senate is expected to vote Thursday to repeal both the 1991 and 2002 authorizations for use of military force against Iraq. While the measure's sponsor, Sen. Tim Kaine (D-Va.), has been publicly optimistic about passage, it would then need approval from the GOP-controlled House of Representatives before being sent to President Joe Biden's desk for signature.
In a move decried by progressives as "madness," the president last week proposed a budget for fiscal year 2024 featuring a historic $886.4 billion in military spending, including $397.5 million to fight what is left of the Islamic State in Iraq and Syria.

Meanwhile, as CCR pointed out Wednesday, "just this month, the House voted 414-2 to maintain unilateral sanctions on Syria even though—or because—they have caused widespread suffering and hindered earthquake relief efforts. The U.S. has imposed similar deadly sanctions on Cuba for decades. Such manifestations of imperialism differ from the war on Iraq only in degree. Indeed, deadly sanctions on Iraq were a precursor to the U.S. invasion."

In its lengthy statement, the center also said that "as we call for justice for Iraqis, we stand in solidarity with all people who live in countries targeted by U.S. imperialism, and in particular, in Afghanistan, whose civilians have been subjected to endless war and destruction, politicization, and then abandonment of human rights protections, and state-facilitated humanitarian suffering."
"They include not only those killed and maimed by the U.S. military and its proxies but also those harmed by U.S. sanctions and coups, corporate plunder and extraction, and austerity regimes imposed by U.S.-dominated colonial institutions," the center added, pointing to the International Monetary Fund. "It also includes Palestinians, who are subjugated by Israel, a U.S. imperial outpost."
"U.S. warmaking has long fed fascism at home," the group continued, calling out police violence, immigration restrictions, racial and religious profiling, and mass surveillance. "The trillions of dollars spent on militarism and criminalization abroad and in the U.S. must be reallocated to address the material needs and fulfill the human rights of our most marginalized communities."

"On this ignominious anniversary," CCR concluded, "we recommit to our vision of a world in which revolutionary movements across countries and continents struggle together for liberation from U.S. imperialism and all other oppressive systems of power."
News
SUPPORT OUR WORK.
We are independent, non-profit, advertising-free and 100%
reader supported.