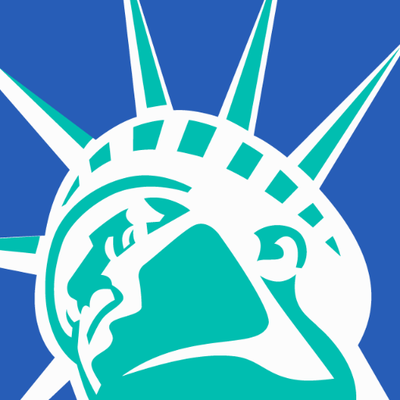 For Immediate Release
March, 13 2019, 12:00am EDT
Federal Consumer Protection Enforcement Drops 37 Percent Under President 'Tough-on-Crime' Trump
Enforcement of protection laws at three agencies has fallen steeply under Trump, Public Citizen finds
WASHINGTON
Law enforcement activity at three large U.S. consumer protection agencies has fallen sharply under President Donald Trump - evidence that the White House continues to put corporate interests ahead of the middle class, Public Citizen said today.
A new Public Citizen report, "Consumer Carnage," examined enforcement activity at the U.S. Consumer Financial Protection Bureau (CFPB), Consumer Product Safety Commission (CPSC) and Federal Trade Commission (FTC) regarding cases that resulted in fines of $5,000 or more.
The analysis found that during Trump's first two years in office, these agencies completed a total of 84 enforcement cases combined, a 37 percent decline from 133 cases completed during President Barack Obama's last two years in office.
More specifically, Public Citizen found that enforcement activity against corporations:
Sank by more than 50 percent at the CFPB once the Trump administration assumed control over the agency in late 2017. The CFPB completed 11 enforcement actions in 2018 under Trump-appointed leadership, compared with 24 the prior year, when the CFPB was led by an Obama-appointed official.
Fell to only seven cases at the CPSC during Trump's first two years in office, compared with 13 cases in Obama's final two years.
"Members of the Trump administration have made abundantly clear they perceive their function as serving and assisting corporations instead of holding them accountable for lawbreaking," said Robert Weissman, president of Public Citizen. "Under this president, federal agencies have slashed fines, declined to bring cases against corporate wrongdoers and gutted enforcement programs. The result is a government that is eager to throw consumers under the bus."
The change at the CFPB has been especially egregious. Public Citizen found that under Trump, the CFPB has moved to terminate investigations, settled cases, lowered fines or imposed no fines at all in at least 10 instances. In one recent case, the CFPB fined a lender accused of swindling veterans out of their benefits just one dollar after the lender claimed he couldn't pay.
At the CPSC, two Democrats on the commission have written strong dissents to the agency's settlements in cases involving defective jogging strollers whose front wheels could detach suddenly during use (at least 50 children and 47 adults were injured) and trash cans whose back protective collars could become dislodged, exposing a sharp edge (at least 60 people have been injured). And the FTC has yet to sanction Facebook over potential violations of a 2011 FTC consent decree over privacy issues.
For the report, Public Citizen examined enforcement cases at the three agencies from 2015 through 2018 and used the Violation Tracker database compiled by the Corporate Research Project of Good Jobs First.
"Trump's appointees' apparent belief that enforcement of consumer protection laws should be a last resort represents a dramatic about-face from Trump's claim of populism during his campaign," said Alan Zibel, research director for Public Citizen's Corporate Presidency Project. "Trump, who once asserted that he was 'not going to let Wall Street get away with murder,' now is allowing industry after industry to get away with just about anything."
Read the report (PDF).
Public Citizen is a nonprofit consumer advocacy organization that champions the public interest in the halls of power. We defend democracy, resist corporate power and work to ensure that government works for the people - not for big corporations. Founded in 1971, we now have 500,000 members and supporters throughout the country.
(202) 588-1000
LATEST NEWS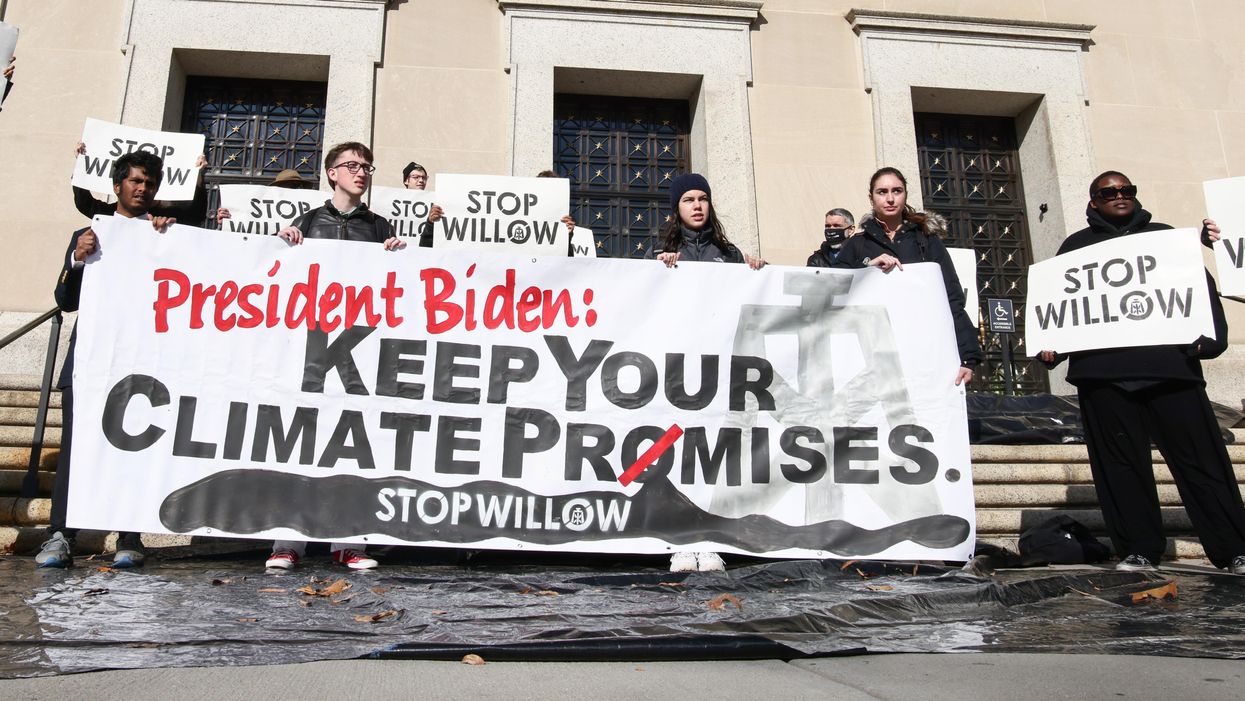 One climate writer said letting the Willow Project proceed in Alaska would be "morally abhorrent, and bad politics, to boot."
The Biden administration is reportedly expected in the coming days to release an environmental analysis that will endorse partial approval of a massive oil drilling initiative on the North Slope of Alaska, alarming climate advocates who say the so-called Willow Project poses a dire threat to the environment, local communities, and wildlife.
The Washington Post reported Wednesday that the legally required environmental assessment, which is set for publication this week, "will trigger a final decision from the Interior Department in a years-long showdown between the federal government and ConocoPhillips about its legal right to drill one of the largest oil and gas developments on federal territory."
According to the Post, which cited unnamed sources briefed on the process, the report "is being drafted to lay out a preferred alternative that allows three well pads, down from the originally requested five."
The New York Times also cited anonymous sources familiar with White House plans to report that the Biden administration is "expected to propose a scaled-down version" of Willow, a project that "has the potential to eventually unlock 600 million barrels of crude oil."
Green groups have warned that the drilling project—which is seen as a key climate litmus test for the Biden administration—could unleash hundreds of millions of metric tons of greenhouse gas pollution, emitting the equivalent of dozens of new coal-fired power plants and worsening the climate emergency.
Last month, environmentalists rallied outside the White House to pressure the Biden administration to block the project, which they characterized as a "climate bomb."
"The best way to describe the Willow Project is a climate disaster in waiting," CAP Energy Policy tweeted earlier this week.
Climate writer Alex Steffen tweeted late Tuesday that letting the project proceed would be "morally abhorrent, and bad politics, to boot."
"It is unconscionable to green-light the single largest proposed oil and gas project on American public lands and open up the western Arctic to further destruction."
Once the Bureau of Land Management's environmental assessment of the project and recommendations are made public, U.S. Interior Secretary Deb Haaland—who vocally opposed Willow as a member of Congress—will be tasked with granting final approval or rejecting the drilling plan.
The Post noted that "Haaland has wide discretion, including the right to choose from other options or to mix and match options from the assessment. Those possibilities also include blocking one pad and deferring decisions on up to three more."
"ConocoPhillips needs approval to start the project within weeks, while Arctic weather is still cold enough for the company to make the ice roads and ice platforms they build on to drill through tundra. Missing that window would put drilling off until the deep freeze returns next winter, opening the chance for court fights or other delays that may block Willow entirely," the Post observed. "Company leaders have also threatened to abandon the project if Haaland's choice is too restrictive. A green light for any less than three pads would prevent Willow from being profitable enough to justify the company's investment."
Progressive Democratic lawmakers have joined climate advocacy groups in urging the Biden administration to reject the drilling project, pointing to rapidly warming temperatures in the Arctic.
"The Arctic is warming four times faster than the rest of the world," Sen. Ed Markey (D-Mass.) tweeted earlier this month. "It is unconscionable to green-light the single largest proposed oil and gas project on American public lands and open up the western Arctic to further destruction."
News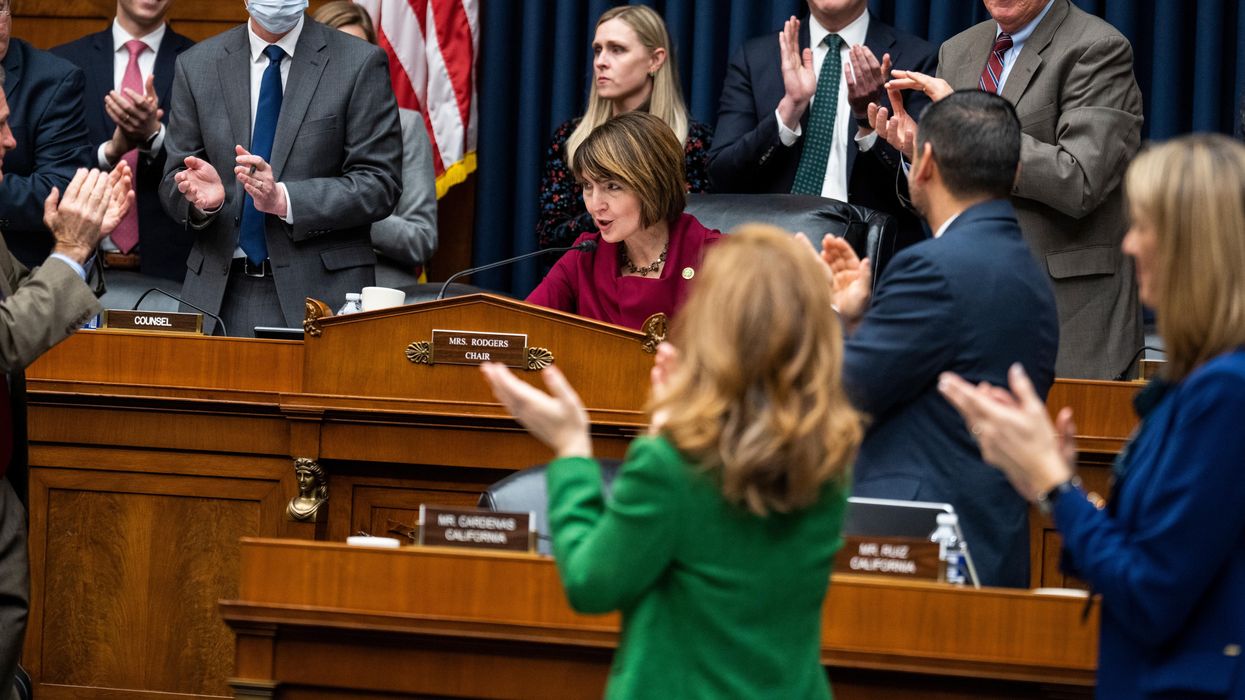 "If today was a sign of what's to come, future House Energy and Commerce Committee hearings will be reduced to GOP members regurgitating Big Oil's false talking points."
On the same day that the largest oil company in the United States reported record profits for 2022, Republicans used the first House Energy and Commerce Committee hearing of the new year to promote the further expansion of climate-wrecking fossil fuel production and attack efforts to build out renewable energy infrastructure.
The energy panel is chaired by Rep. Cathy McMorris Rodgers (R-Wash.), the top recipient of oil and gas PAC money in the last election cycle and a longtime advocate of opening U.S. public lands and waters to fossil fuel drilling.
In keeping with her record, Rodgers kicked off Tuesday's hearing by touting the House's passage of legislation that would require the federal government to lease a certain percentage of public lands and waters for fossil fuel extraction for every non-emergency drawdown of the U.S. Strategic Petroleum Reserve.
Rodgers touted last week's vote as "bipartisan," but just one House Democrat—Rep. Jared Golden of Maine—joined Republicans in passing the bill, which is unlikely to become law. Climate advocates have warned that, if enacted, the measure "could lock in at least a century of oil drilling."
"We need to be doing more to secure and unleash American energy," Rodgers said Tuesday, attacking so-called "rush-to-green" policies and falsely blaming Europe's energy crisis on renewables.

Rep. Jeff Duncan (R-S.C.), chair of the panel's subcommittee on energy, climate, and grid security, toed a similar line during his opening remarks at Tuesday's hearing, decrying "the Democrats' 'rush-to-green policies'" and condemning science-backed calls to phase out fossil fuels.
Duncan also praised surging oil exports, which experts say have driven up costs for U.S. consumers while padding the profits of fossil fuel giants and contributing to the rise of global carbon emissions.
Jordan Schreiber, the director of energy and environment with the progressive watchdog group Accountable.US, said in a statement Tuesday that "if today was a sign of what's to come, future House Energy and Commerce Committee hearings will be reduced to GOP members regurgitating Big Oil's false talking points while openly advocating for energy policies that favor wealthy executives and shareholders over their own constituents."
The hearing began hours after ExxonMobil reported a record-shattering $56 billion in profits for the full year of 2022.
The corporation, whose scientists accurately predicted global warming decades ago as the company publicly lied about climate change, said it distributed nearly $30 billion to shareholders last year as U.S. households struggled to pay their energy bills.
Days before Exxon's earnings release, Chevron—the second-largest oil company in the U.S. by market cap—reported $35.5 billion in 2022 profits, an all-time high for the company.
"Even on a day when three of the country's largest oil companies posted a whopping $82.5 billion in profits for 2022, thanks to the unrelenting price gouging of American consumers, the MAGA majority can not stop themselves from doing the industry's bidding," said Schreiber, referring to the combined profits of Exxon, Marathon Petroleum, and Phillips 66.
During Tuesday's hearing, Democrats on the House Energy and Commerce Committee slammed their Republican colleagues for prioritizing the interests of the ultra-profitable fossil fuel industry over U.S. consumers and the environment.
"We've all heard the slogans: 'Drill baby, drill,' 'energy dominance,' and now 'energy expansion,'" said Rep. Diana DeGette (D-Colo.). "But don't be fooled. These policies will not expand our potential for new renewable energy sources such as wind and solar, and will only increase our dependence on oil and gas."
"They're nothing more than a giveaway to the oil industry," DeGette said of the House GOP's fossil fuel-centered energy agenda.
Rep. Frank Pallone (D-N.J.), the top Democrat on the committee, pushed back on the GOP narrative that energy prices are high because the Biden administration is hindering the oil and gas industry's ability to drill—something that climate groups have pressured the administration to do, with little success.
"Republicans have pushed this idea that somehow Big Oil wanted to pump more but couldn't," said Pallone. "In reality, they wanted to keep the price artificially high."
News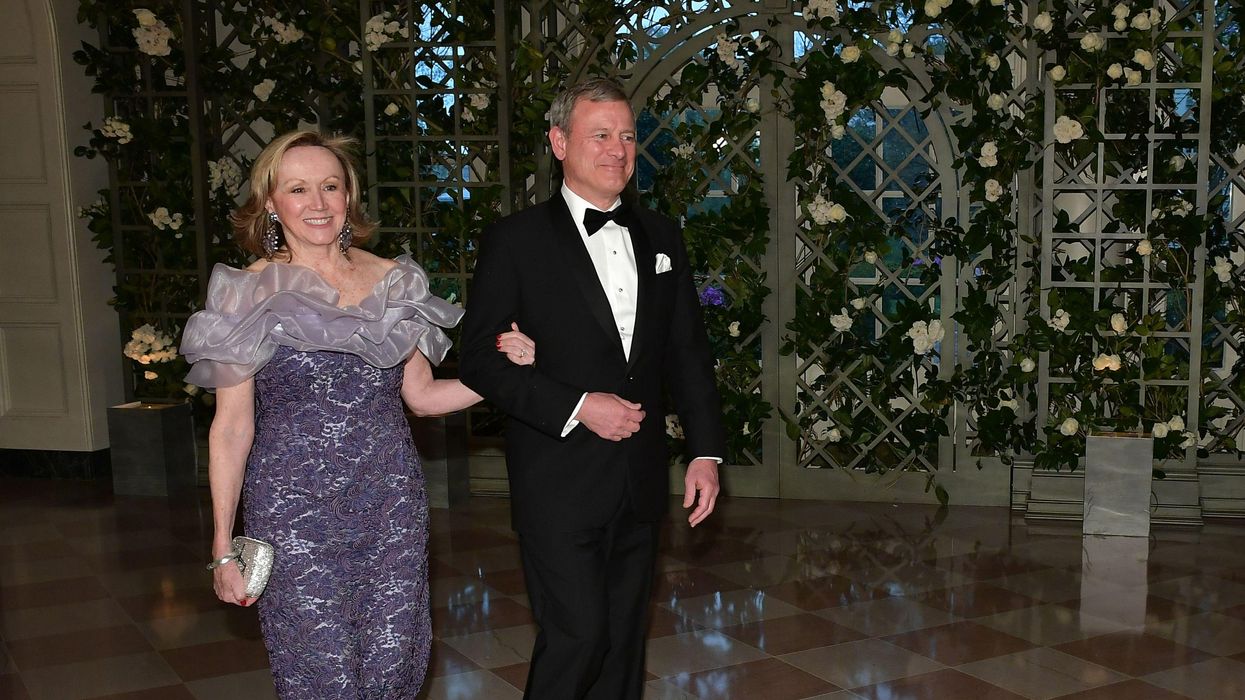 "It's clear that the ultraconservative justices in particular cannot be trusted to hold themselves to the same ethical standard as other federal judges," said one advocate, calling for congressional action.
Fresh calls for federal lawmakers to pass new ethics rules for the U.S. Supreme Court mounted after The New York Times on Tuesday revealed that a former colleague of Chief Justice John Roberts' wife raised concerns to Congress and the U.S. Department of Justice.
After her husband joined the nation's top court, Jane Sullivan Roberts left her job as a law firm partner to work as a legal recruiter. Though Roberts is now the managing partner of the Washington office of Macrae Inc., she and Kendal Price, the author of a letter obtained by the Times, worked as recruiters for the global firm Major, Lindsey & Africa.
"No wonder public trust in the Supreme Court is at an all-time low."
In his letter, Price "argued that the justices should be required to disclose more information about their spouses' work," the newspaper reported. "He did not cite specific Supreme Court decisions, but said he was worried that a financial relationship with law firms arguing before the court could affect justices' impartiality or at least give the appearance of doing so."

As the Times detailed:
According to the letter, Mr. Price was fired in 2013 and sued the firm, as well as Mrs. Roberts and another executive, over his dismissal.

He lost the case, but the litigation produced documents that he sent to Congress and the Justice Department, including spreadsheets showing commissions attributed to Mrs. Roberts early in her headhunting career, from 2007 to 2014. Mrs. Roberts, according to a 2015 deposition in the case, said that a significant portion of her practice was devoted to helping senior government lawyers land jobs at law firms and that the candidates' names were almost never disclosed.
Patricia McCabe, a spokesperson for the Supreme Court, told the paper that all the justices were "attentive to ethical constraints" and complied with financial disclosure laws, and that the chief justice and his wife had consulted the code of conduct for federal judges.
The reporting comes after Justice Clarence Thomas—one of the Supreme Court's six right-wing members—ignored calls to resign over efforts by his wife, activist Ginni Thomas, to help former President Donald Trump overturn the results of the 2020 presidential election. It also follows a September survey showing that U.S. adults' confidence in the court hit a record low.
"No wonder public trust in the Supreme Court is at an all-time low," Brett Edkins, managing director of policy and political affairs for Stand Up America, said Tuesday. "Jane Roberts is just the latest Supreme Court spouse to raise questions about potential conflicts of interest and influence peddling before the nation's highest court."
\u201cThe Roberts Court is corrupt, illegitimate, and undemocratic\n\n\u201cI do believe that litigants in U.S. courts, and especially the Supreme Court, deserve to know if their judges\u2019 households are receiving six-figure payments from the law firms"\nhttps://t.co/meehrlhwgf\u201d

— The Debt Collective \ud83d\udfe5 (@The Debt Collective \ud83d\udfe5) 1675199600
Edkins argued that "while she did not join a seditious conspiracy to overthrow the government, as Ginni Thomas did, her actions may nonetheless undermine Chief Justice Roberts' impartiality when his wife's clients argue before the court."
"It's clear that the ultraconservative justices in particular cannot be trusted to hold themselves to the same ethical standard as other federal judges," he added. "It's time for Congress to step up and pass meaningful reforms to fix the Supreme Court, including a code of ethics that would require justices to recuse themselves from cases where they have an actual or apparent conflict of interest."
In a Tuesday tweet, U.S. Sen. Elizabeth Warren (D-Mass.), lead sponsor of the Judicial Ethics and Anti-Corruption Act, pointed to the reporting as "example #4,394 of why the Supreme Court needs a binding code of ethics."
Senate Judiciary Chair Dick Durbin (D-Ill.) did not say how his panel may respond to Price's letter but told the Times that it raised "troubling issues that once again demonstrate the need" for ethics reforms to "begin the process of restoring faith in the Supreme Court."
News
SUPPORT OUR WORK.
We are independent, non-profit, advertising-free and 100%
reader supported.