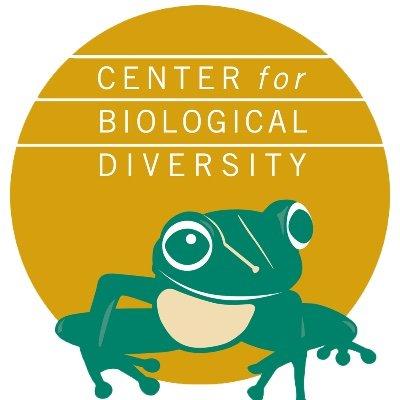 For Immediate Release
April, 27 2018, 12:00am EDT
Contact:
Tel: (520) 623.5252,Email:,center@biologicaldiversity.org
While EU Moves Forward Today on Banning Neonics U.S. EPA Plans Backward Step
"The wise decision by European Union regulators to ban bee-killing neonicotinoids is a huge victory for pollinators and science-based regulation of pesticides," said Lori Ann Burd, director of the Center for Biological Diversity's environmental health program. "But the EU's wisdom highlights the Trump EPA's folly."
WASHINGTON
"The wise decision by European Union regulators to ban bee-killing neonicotinoids is a huge victory for pollinators and science-based regulation of pesticides," said Lori Ann Burd, director of the Center for Biological Diversity's environmental health program. "But the EU's wisdom highlights the Trump EPA's folly."
"Although U.S. beekeepers reported catastrophic losses again this winter, and just this past week the EPA closed a comment period on another suite of damning neonicotinoid risk assessments, rather than banning these dangerous pesticides, the agency is actually considering increasing the use of neonics across another 165 million acres."
At the Center for Biological Diversity, we believe that the welfare of human beings is deeply linked to nature — to the existence in our world of a vast diversity of wild animals and plants. Because diversity has intrinsic value, and because its loss impoverishes society, we work to secure a future for all species, great and small, hovering on the brink of extinction. We do so through science, law and creative media, with a focus on protecting the lands, waters and climate that species need to survive.
(520) 623-5252
LATEST NEWS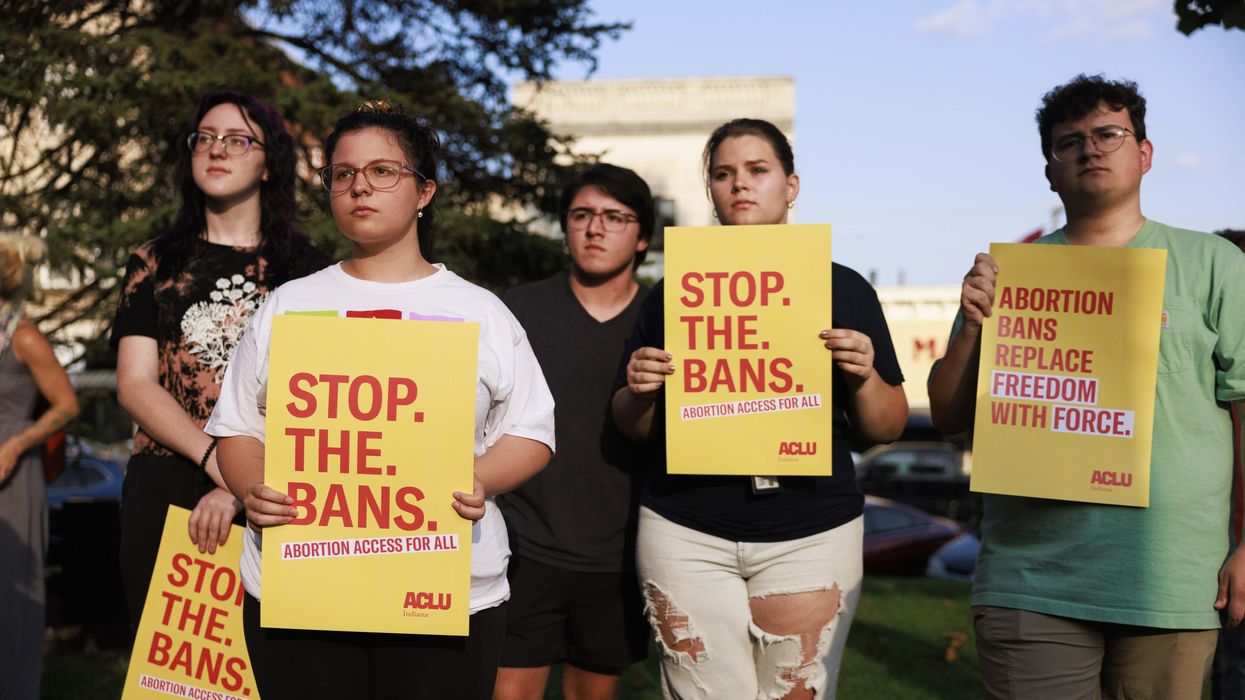 "This is an attempt to blatantly disregard the will of the people."
Kansas voters left little room for interpretation when a sizable majority voted in August to reject a ballot measure that would have paved the way for a statewide abortion ban—but that isn't stopping Republicans from attempting to force residents to continue unwanted pregnancies by imposing city-by-city bans.
State Sen. Chase Blasi on Thursday introduced Senate Bill 65, which would authorize cities and counties "to enact local laws more stringent than state law regarding regulation of abortion" and would repeal the state law which prohibits "political subdivisions" from enacting bans.
The proposal's language makes clear that cities and counties would not be permitted to protect abortion rights if a state ban were to be imposed in the future—only to pass bans if abortion care remains legal in Kansas.
\u201cNEWS: Kansas lawmakers have introduced a bill that would allow cities + counties to ban abortion -- despite the August referendum where Kansans voted overwhelmingly in favor of protecting abortion rights.\u201d

— Caroline Kitchener (@Caroline Kitchener) 1674215954
"The irony of this bill is too much," Anamarie Rebori Simmons, a spokesperson for Planned Parenthood Great Plains Votes, told The New Republic on Friday. "The party that tried to remove fundamental protections from the state constitution didn't get the outcome they wanted when Kansans overwhelmingly supported abortion access. This is an attempt to blatantly disregard the will of the people."
Blasi proposed the legislation five months after 59% of Kansas voters rejected a ballot measure which would have removed the right to abortion care from the state constitution. In 2019, the Kansas Supreme Court ruled that under the constitution, pregnant people have a "right to personal autonomy" and that Kansans could legally obtain abortion care even if Roe v. Wade was overturned as it was last year.
The rejection of the ballot measure in August was seen as a major victory for abortion rights advocates and a clear illustration of the fact that Americans in both red and blue states "want to make their own decisions about abortion," as Nancy Northrup, president and CEO of the Center for Reproductive Rights, said at the time.
Since then, voters in Michigan, California, Kentucky, Montana, and Vermont have been asked whether they support or oppose restricting reproductive rights, and in all the states they have voted in favor of abortion access.
Washington Post reporter Caroline Kitchener noted that proposals like Blasi's "could become part of the playbook for combating the success of ballot initiatives that protect the right to abortion."
In Kansas, Rebori Simmons told The New Republic, "Abortion rights won in a landslide, including in the home county of the bill's sponsor."
"Politicians serve as the voice of the people in the legislature," she said, "and Republican lawmakers should know better than to silence those they represent."
News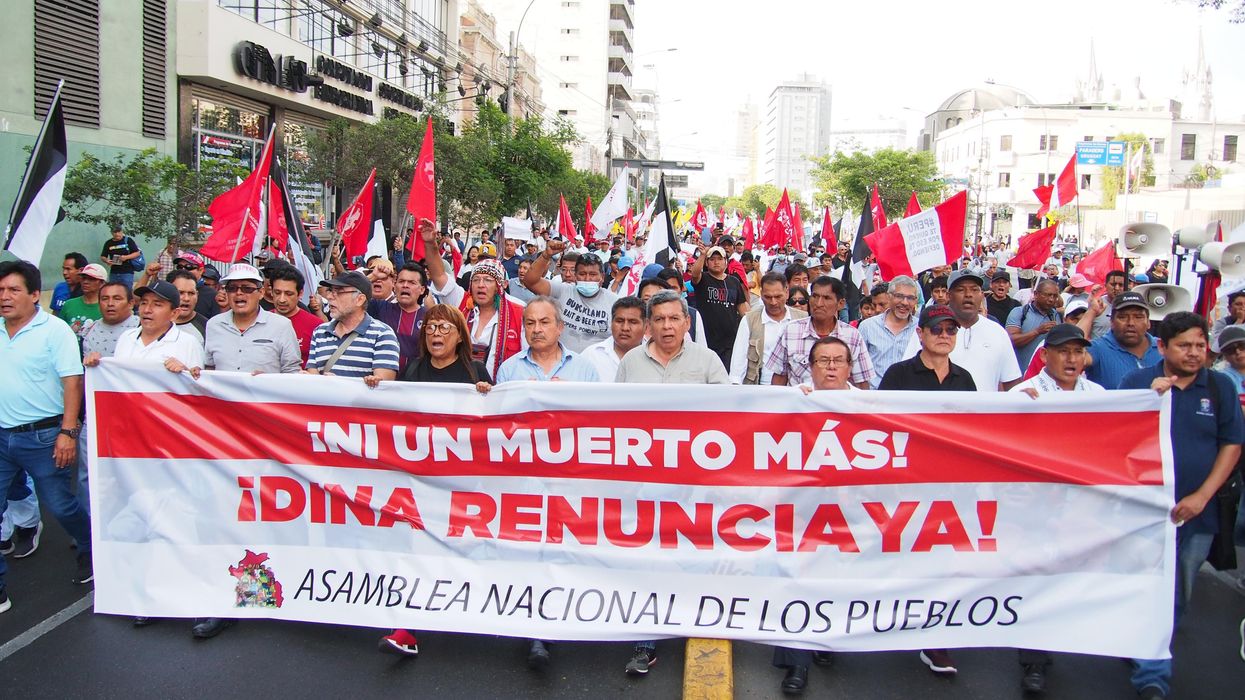 "We're at a breaking point between dictatorship and democracy," warned one student demonstrator.
Thousands of Peruvians took to the streets of the nation's capital on Thursday demanding the resignation of Dina Boluarte—the unelected U.S.-backed president—justice for the more than 50 people killed during the six-week uprising, the return to power of jailed former President Pedro Castillo, and the dissolution of the Congress that ousted him.
The protesters, many of them Indigenous Aymara and Quecha people, traveled to what they called the "Takeover of Lima" from all over the nation of 34 million inhabitants to take part in mostly peaceful demonstrations against what opponents call a "coup regime." The demonstrators carried banners with slogans including "Out, Dina Boluarte," "Dina, Murderer," and "Not One More Death."

"We want justice, we don't want our dead to be forgotten," protester Zulema Chacón toldThe Guardian.
"We want that usurper out, she doesn't represent us," she added, referring to Boluarte.
\u201cDespite repression, anti-coup protesters in Lima, Peru, continue in the streets calling for the fall of the regime.\n\ud83d\udcf9 @LuciaAlvites\u201d

— Kawsachun News (@Kawsachun News) 1674181008
Carrying a Bible, protester Paulina Consac, who traveled 750 miles from the Andean city of Cusco to coastal Lima, told the Associated Press that "our God says thou shalt not kill your neighbor. Dina Boluarte is killing, she's making brothers fight."
Referring to the right-wing-controlled Congress that overthrew Castillo—a leftist who was democratically elected but moved to dissolve the legislature before it could overthrow him—shopkeeper Delia Zevallos told The Guardian that "they are the thieves and they lie and lie to us."
"The people have woken up, we're not children anymore, we know how to read and write... and no one can tell us what to do," she added.

Pedro Mamani, a student at the National University of San Marcos, said that "we're at a breaking point between dictatorship and democracy."
According to Defensoria del Pueblo, Peru's national ombudsman, the 6,000-7,000 demonstrators who marched on Plaza 2 de Mayo and Plaza San Martín were peaceful. However, "violent groups" attempted to reach the building housing Peru's Congress. A massive fire broke out at a building near Plaza San Martín late in the evening; there was no indication that the blaze was related to the protests, although some on the left accused police of causing the inferno.
Defensoría del Pueblo reported injuries to 13 civilians and four of the more than 11,800 police officers deployed in the capital. The ombudsman said at least 53 people including one police officer have been killed and hundreds more were wounded since Castillo was ousted on December 7.
Protests continued elsewhere Thursday, including in the southern city of Arequipa, where a group of around 200 people attempted to storm Rodríguez Ballón International Airport. One protester, identified as 30-year-old Jhancarlo Condori Arcana, died after being shot in the abdomen by police at the airport.
Boluarte said during a nighttime television address that the protests had "no social agenda" and that protesters wanted to "break the rule of law, generate chaos and disorder, and seize power."
Earlier on Thursday, Boluarte met with officials from the United Nations Office of the High Commissioner for Human Rights, whose spokesperson, Maria Hurtado, said earlier this month that the agency was "very concerned at the rising violence."
\u201cYojana gives us the demands of Peruvian protestors that Western media fails to make clear.\n\nListen to "The Coup in Peru w/ Yojana Miraya Oscco and Renzo Aroni" now streaming wherever you get your podcasts!\u201d

— The Red Nation #TheRedDeal (@The Red Nation #TheRedDeal) 1674189927
Weighing in on the protests in a Spanish-language tweet, U.S. Ambassador Lisa Kenna—a former CIA agent appointed by former President Donald Trump whom Castillo claims met with Boluarte the day before his removal—said it's "fundamental that the forces of order respect human rights and protect the citizenry."
Commenting on the uprising, former Greek Finance Minister and progressive activist Yanis Varoufakis tweeted that "the protesters in Peru are right: When the elected president is deposed in a palace coup, only fresh elections can cure the rift and restore democracy."
"Solidarity with Peruvian democrats = solidarity with democracy," Varoufakis added.

News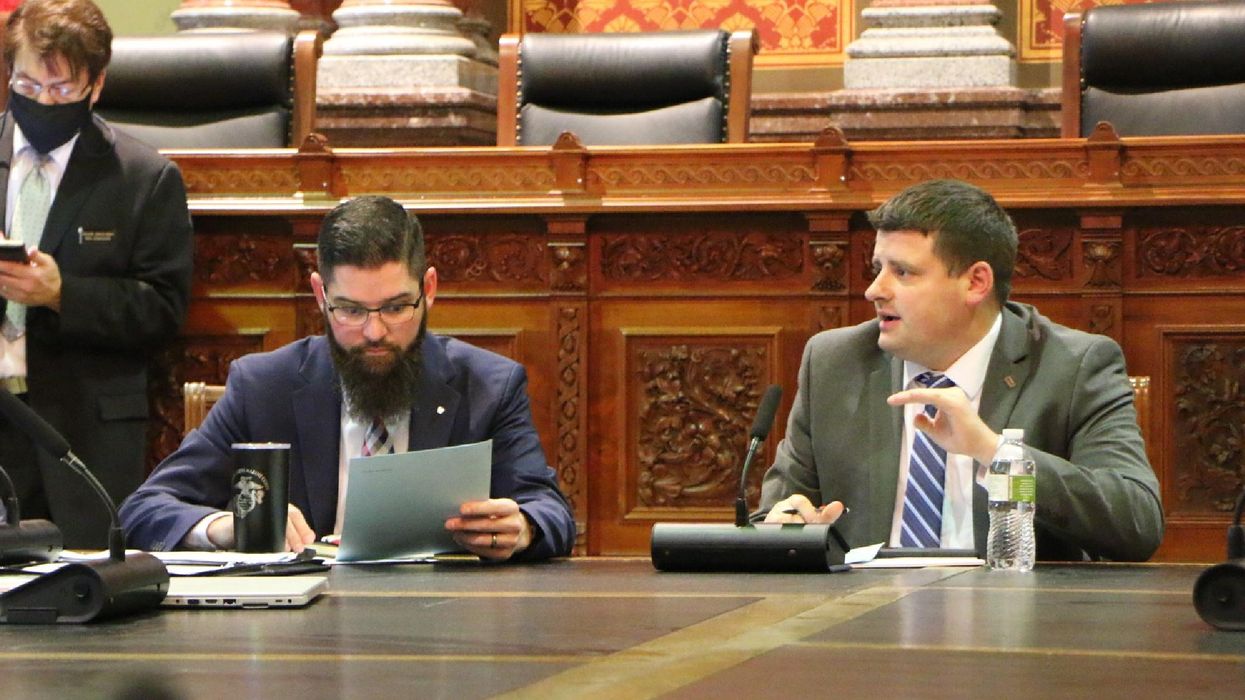 Under the new legislation, Iowans would no longer be allowed to purchase fresh meat, white grains, nuts, canned fruits, American cheese, and other foods with SNAP benefits.
Republicans in the Iowa House introduced legislation this month that would impose a slew of fresh restrictions on the kinds of food people can purchase using SNAP benefits, sparking outrage among local groups who say the measure would exacerbate hunger in the GOP-dominated state.
The Des Moines Area Religious Council (DMARC), an interfaith group that operates the largest food pantry network in Iowa, noted in a statement earlier this week that if the bill passes, "Iowans could no longer use their SNAP benefits to purchase meat, nuts, and seeds; flour, butter, cooking oil, soup, canned fruits, and vegetables; frozen prepared foods, snack foods, herbs, spices—not even salt or pepper."
"This is a punitive policy that will do nothing to improve the health and nutrition of Iowans, but rather be a detriment," the group said.
The Iowa Hunger Coalition (IHC) also condemned the bill, voicing opposition to its proposed food restrictions as well as new asset limits that would make it more difficult for families to qualify for SNAP, a program funded by the federal government and administered by states.
"This bill would restrict SNAP participants' ability to make their own food choices, take food away from Iowans, and increase hunger and food insecurity in our state," IHC warned.
\u201cThe GOP just proposed new restrictions on the types of food eligible for purchase with SNAP benefits, putting even more pressure on families with children.\n\nIn addition, they would aim to keep families with more than one vehicle from receiving help. \ud83d\udc4e\u201d

— Sami Scheetz (@Sami Scheetz) 1674174431
According to Feeding America, the largest hunger-relief organization in the U.S., roughly 229,500 people—including 80,160 children—are facing food insecurity in Iowa.
The details of the new legislation—which is sponsored by 39 Iowa House Republicans, including Speaker Pat Grassley—were met with national anger.

"This is so profoundly cruel and petty," said Leah Greenberg, co-executive director of the progressive advocacy group Indivisible.
Sarah Bowen, a sociologist who studies food and inequality, noted in a tweet on Thursday that "Republicans have tried to destroy SNAP for years," animated by the lie that "SNAP recipients are all stocking up on lobster and steak."
"This is the most ridiculous proposal I've seen though," Bowen added. "No chicken or ground beef. No chili beans. No American cheese?!"
SNAP recipients are already limited in what they can purchase at the grocery store using their benefits, but Iowa Republicans are seeking to dramatically expand those restrictions.
As Todd Dorman of the Iowa Gazetteexplained in a column on Thursday, the legislation "would require the Department of Health and Human Services to seek a federal waiver allowing Iowa to scrap an already restrictive federal list of approved foods and replace it with a list of food available to recipients of aid to Women, Infants, and Children, or WIC."

"The bill would also, for the first time, create an asset test, limiting household assets to $2,750 or $4,250 if one member of the household is over 60. It exempts just one vehicle, potentially making households with two cars ineligible," Dorman wrote. "Beyond all of that draconian wisdom, the bill would force recipients to jump through far more regulatory hoops to become eligible and stay on SNAP, wrapping recipients tightly in red tape and likely costing the state millions more to administer the program."
"Only two groups support the bill," Dorman added. "One is the Florida-based Opportunity Solutions Project, which sends its minions across the country to cut holes in the social safety net and oppose policies such as Medicaid expansion. The group is part of a web of conservative think tanks and bill mills bankrolled by rich donors who think if you just make poor people hungry and sick enough, they'll utilize their bootstraps."
The other group is the right-wing Iowans for Tax Relief.
News
SUPPORT OUR WORK.
We are independent, non-profit, advertising-free and 100%
reader supported.