Overwhelming Opposition to USDA Proposal to Legalize Genetically Engineered Eucalyptus Trees
A Quarter of a Million People Say NO to First-Ever GE Forest Tree.
WASHINGTON
Well over a quarter of a million people and 500 organizations submitted comments yesterday rejecting the commercialization of ArborGen Inc.'s genetically engineered (GE) eucalyptus trees, which, if approved, would be the first-ever GE forest tree approved in the U.S. The U.S. Department of Agriculture (USDA) proposed approval in April 2017, releasing a draft Environmental Impact Statement (dEIS) for public comment. This comment period ended on 5 July. The GE eucalyptus trees are engineered to tolerate freezing temperatures in order to greatly expand their growing range. The approval of these GE trees could set a precedent for future approval of GE forest trees such as poplar and pine.
In the dEIS, USDA downplayed or ignored the significant risks posed by these novel GE trees. The agency conservatively predicts commercial GE eucalyptus plantations would cover over one million acres across seven southern states--from coastal South Carolina to eastern Texas. This would have devastating consequences across this region, which is home to a number of the poorest counties in the country, as well as some of the most biodiverse ecosystems in the world. The region is already precariously threatened by climate change and sprawl.
"GE eucalyptus plantations spread across the South would be a disaster," stated Dr. Marti Crouch, consulting scientist for the Center for Food Safety. "Some non-GE eucalyptus species have already become invasive and are degrading natural areas. Plants and animals, including endangered species, will be unable to find suitable habitats within landscapes dominated by GE eucalyptus. Approving these trees is a terrible idea."
Just last month in Portugal, catastrophic wildfires that killed dozens were directly blamed on eucalyptus plantations that comprise more than one-quarter of Portugal's tree cover. In January, Chile experienced the worst wildfires in its history. In both cases, eucalyptus monocultures--well-known for being extremely flammable and depleting ground water--contributed to dry conditions that combined with heat waves to create the perfect setting for wildfire. Already the U.S. South is experiencing frequent droughts and heat waves, and climate change forecasts predict more of the same. The dEIS made no mention of climate change impacts in its proposed approval of these GE eucalyptus trees.
"GE eucalyptus is being pushed for commercialization to help feed the skyrocketing demand for trees for biomass electricity," said Ruddy Turnstone, GE Trees Campaigner for Global Justice Ecology Project, and a resident of Florida in the region targeted for GE eucalyptus plantations. "But biomass is a false solution to climate change. Not only is it a major polluter, climate-stabilizing Southeastern forests are being decimated for the booming European biomass industry. GE eucalyptus plantations will only escalate this deforestation."
USDA's assurances that GE eucalyptus will not escape into native forests are fatally undercut by the U.S.'s 30-year experiment with GE crops, which have escaped containment over and over again, despite industry and USDA claims they would not. GE trees are even more likely to escape and spread than GE crops, given their much longer lives, pollination distances, and the unpredictable, changing conditions that can occur over the lifespan of the trees.
"Forests are interwoven with human evolution," stated Dr. Rachel Smolker, Co-Director of Biofuelwatch and Steering Committee member of the Campaign to STOP GE Trees. "They regulate and stabilize water flow and climate, enrich soils and prevent erosion. They provide food, medicine, shelter, fuel, livelihoods, recreation and sanctuary for peoples around the world. They literally make life on Earth possible. Trees have evolved over the eons in adaptation to their native environments. Tweaking their genetics and planting them in foreign environments demonstrates an alarming lack of understanding of ecology and genetics."
Beyond the ecological impacts are the effects on local communities that will result from these GE eucalyptus plantations. "GE eucalyptus trees exemplify the unjust and unsustainable forestry model," explained BJ McManama of the Indigenous Environmental Network. "There are already hundreds of documented human rights abuses resulting from the unchecked expansion of eucalyptus plantations in Central and South America. Indigenous and traditional communities are poisoned by exposure to deadly chemicals and in some cases violently evicted from their ancestral lands. These abuses demonstrate the forest industry's blatant disregard for both people and the environment. USDA must deny this petition."
Public opposition to GE eucalyptus has been consistent and strong. In February 2013, the government released ArborGen's GE eucalyptus petition for public comment, resulting in a response of 10,000 to one opposing the GE eucalyptus trees. This was followed by the then-largest ever protest against GE trees at the Tree Biotechnology Conference in Asheville, NC. In April of this year the USDA finally made public their draft findings recommending approval of ArborGen's petition, eliciting yesterday's avalanche of comments rejecting GE eucalyptus trees in the U.S. Even the dEIS itself highlights public opposition as creating risks for investors:
"An additional source of risk that extends beyond the scope of this study is the risk of some public backlash against the planting of genetically modified trees. This societal risk could affect investment choices in the same fashion as biophysical risk--i.e., increased risk would reduce the rate of adoption."
What differentiates Global Justice Ecology Project from most groups is our holistic approach to organizing. We believe that the compartmentalization of issues is enabling corporations and conservative forces to keep movements for change divided and powerless. We strive to identify and address the common roots to the issues of social injustice, ecological destruction and economic domination as a means to achieve a fundamental transformation toward a society based on egalitarian ideals and grounded in ecology.
LATEST NEWS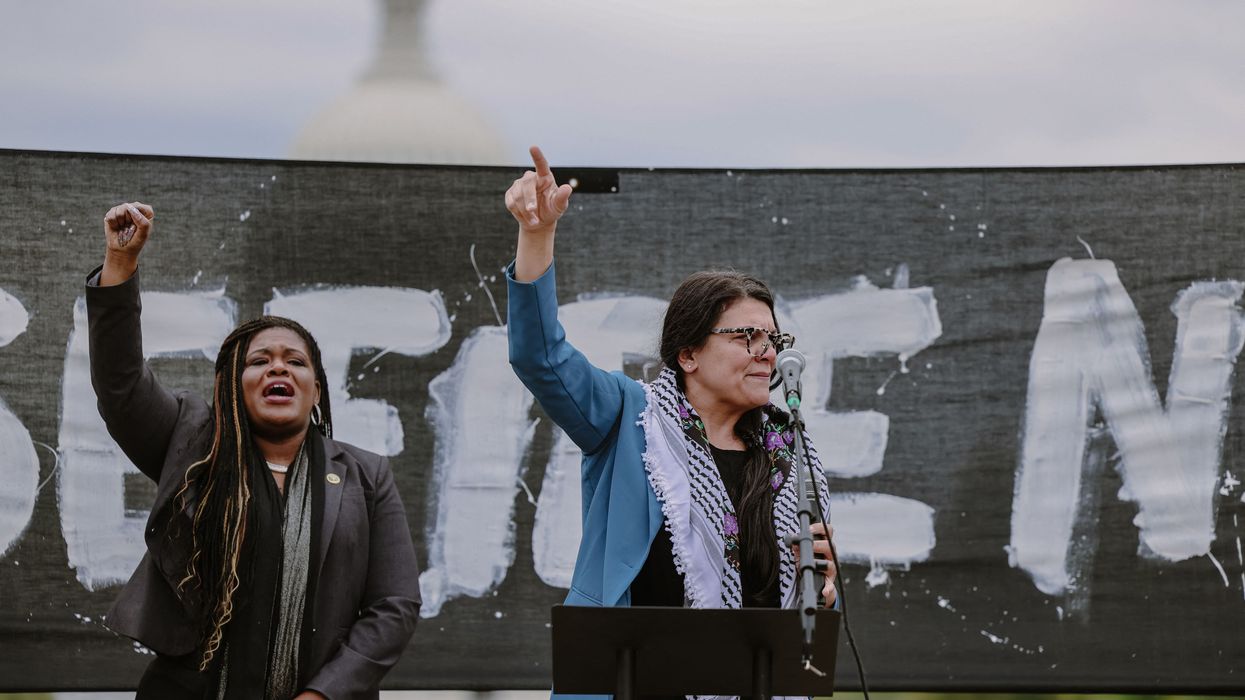 "This extreme and cynical Republican resolution does nothing to combat antisemitism," said Rep. Ilhan Omar, stressing the importance of "legitimate criticism" of the Israeli government and its war on Gaza.
As Israel continued to wage what critics are calling a genocidal war on the Gaza Strip, just 13 U.S. House Democrats and one Republican on Tuesday voted against a GOP resolution that conflates anti-Zionism and antisemitism.
House Resolution 894 passed with support from 95 Democrats and 216 Republicans, including its sponsors, Reps. David Kustoff (Tenn.) and Max Miller (Ohio), who are both Jewish. Almost as many Democrats—92—voted present.
The resolution, which embraces the International Holocaust Remembrance Alliance's controversial working definition of antisemitism, was widely condemned by progressive and Jewish groups this week ahead of the vote.
Republican Congressman Thomas Massie (Ky.) joined the 13 Democrats who opposed H.Res. 894: Reps. Jamaal Bowman (N.Y.), Cori Bush (Mo.), Gerry Connolly (Va.), Jesús "Chuy" García (Ill.), Raúl Grijalva (Ariz.), Pramila Jayapal (Wash.), Summer Lee (Pa.), Alexandria Ocasio-Cortez (N.Y.), Ilhan Omar (Minn.), Ayanna Pressley (Mass.), Delia Ramirez (Ill.), Rashida Tlaib (Mich.), and Bonnie Watson Coleman (N.J.).
"This extreme and cynical Republican resolution does nothing to combat antisemitism, relies on a definition that conflates criticism of the Israeli government with antisemitism, paints critics of the Israeli government as antisemites, and falsely states that anti-Zionism is antisemitism," Omar said in a statement about her vote. "We must stand against any attempt to define legitimate criticism of this war and the government perpetrating it as antisemitism."
According to The Hill, Bowman said after the vote that while he "strongly condemn[s] antisemitism and hate in all of its forms," he voted against H.Res. 894 because "it fuels division and violence, conflates criticism of the Israeli government with antisemitism, and ignores one of the greatest threats to the Jewish community, white nationalism."
Bowman and Omar are among the House progressives facing serious primary challenges for the next cycle, in part because of their criticism of the Israeli government and its war on Gaza that has killed nearly 16,000 Palestinians in under two months.
They joined with Bush, Lee, Massie, Ocasio-Cortez, Ramirez, Tlaib, and Reps. André Carson (D-Ind.) and Al Green (D-Texas) in October to oppose a bipartisan resolution, which declared that the House unconditionally "stands with Israel as it defends itself against the barbaric war launched by Hamas and other terrorists," and did not mention Palestinian suffering.
News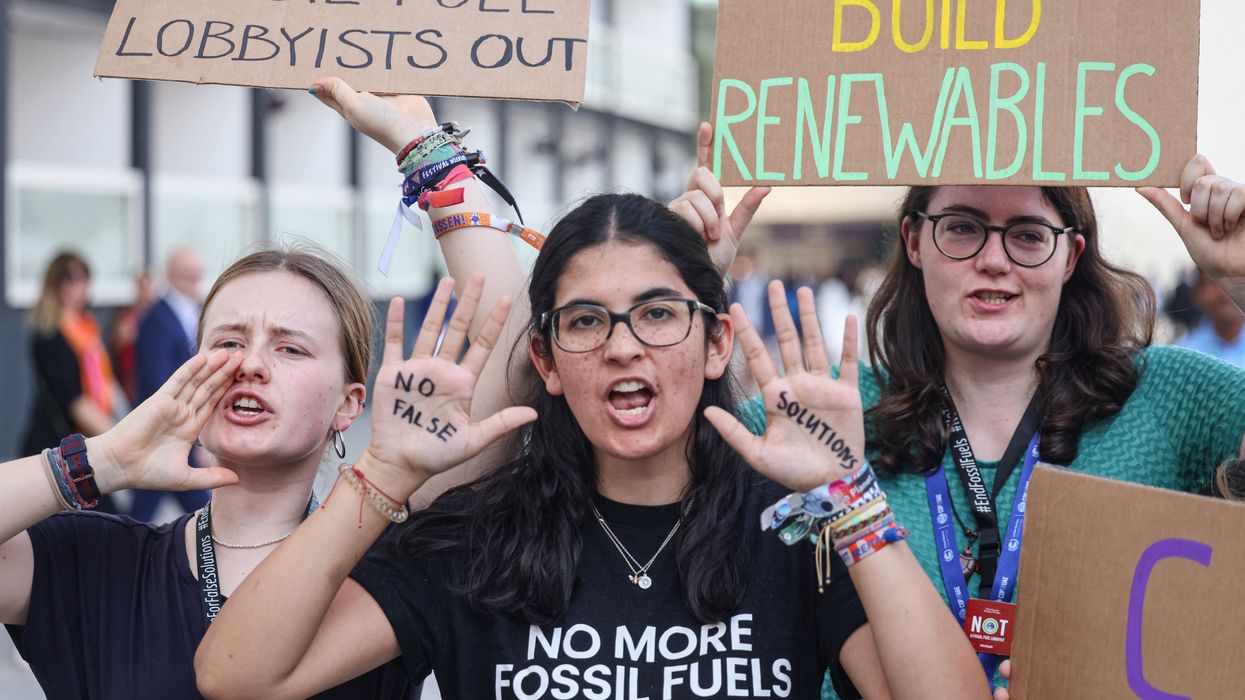 "We need to cut through the smoke and mirrors of 'abated' fossil and keep our eyes fixed on the goal of 1.5°C," said a co-author of a new analysis.
While the United Nations climate summit continued in the Middle East, researchers in Germany warned Tuesday that depending on technology to trap and sequester planet-heating pollution could unleash a "carbon bomb" in the decades ahead.
Specifically, the new briefing from the Berlin-based think thank Climate Analytics states that reliance on carbon capture and storage (CCS) could release an extra 86 billion metric tons of greenhouse gases into the atmosphere between 2020 and 2050.
"The climate talks at COP28 have centered around the need for a fossil fuel phaseout," the publication notes, referring to the United Arab Emirates-hosted U.N. conference. "But some are calling for this to be limited to 'unabated' fossil fuels."
"The term 'abated' is being used as a Trojan horse to allow fossil fuels with dismal capture rates to count as climate action."
Over 100 countries at COP28 support calling for "accelerating efforts toward phasing out unabated fossil fuels," or operations that don't involve technological interventions such as CCS," as Common Dreamsreported earlier Tuesday.
The new briefing highlights the risks of targeting only unabated fossil fuels. Contrary to claims that significant oil and gas consumption can continue thanks to new tech, it says, "pathways that achieve the Paris agreement's 1.5°C limit in a sustainable manner show a near complete phaseout of fossil fuels by around 2050 and rely to a very limited degree, if at all, on fossil CCS."
Additionally, "there is no agreed definition of the concept of abatement," and "a weak definition of 'abated'—or even no definition at all—could allow poorly performing fossil CCS projects to be classed as abated," the document explains. The report's authors suggest that the focus on unabated fossil fuels is driven by polluters who want to keep cashing in on wrecking the planet.
"The term 'abated' is being used as a Trojan horse to allow fossil fuels with dismal capture rates to count as climate action," declared report co-author Claire Fyson. "'Abated' may sound like harmless jargon, but it's actually language deliberately engineered and heavily promoted by the oil and gas industry to create the illusion we can keep expanding fossil fuels."
Climate Analytics CEO Bill Hare, who also contributed to the document, said that "the false promises of 'abated' fossil fuels risks climate finance being funneled to fossil projects, particularly oil and gas, and will greenwash the 'unabatable' emissions from their final use, which account for 90% of fossil oil and gas emissions."
Report co-author Neil Grant stressed that "we need to cut through the smoke and mirrors of 'abated' fossil and keep our eyes fixed on the goal of 1.5°C. That means slashing fossil fuel production by around 40% this decade, and a near complete phaseout of fossil fuels by around 2050."
As a Tuesday analysis from the Civil Society Equity Review details, a "fair" phaseout by mid-century would involve rich nations ditching oil and gas faster than poor countries, and the former pouring billions of dollars into helping the latter. The United States, for example, should end fossil fuel use by 2031 and contribute $97.1 billion per year toward the global energy transition.
The United States is putting money toward what critics call "false solutions" like carbon capture, and it is not alone. An Oil Change International (OCI) report from last week notes that "governments have spent over $20 billion—and have legislated or announced policies that could spend up to $200 billion more—of public money on CCS, providing a lifeline for the fossil fuel industry."
OCI found that rather than permanently sequestering carbon dioxide, 79% of the global CCS capacity sends captured CO2 to stimulate oil production in aging wells, which is called "enhanced oil recovery." The group also reviewed six leading plants in the United States, Australia, and the Middle East, and concluded that they "overpromise and underdeliver, operating far below capacity."
Lorne Stockman, OCI's research director, asserted last week that "governments need to stop pretending that fossil fuels aren't the problem. Instead of throwing a multibillion-dollar lifeline to the fossil fuel industry with our tax dollars, they should fund real climate solutions, including renewable energy and energy efficiency. Fossil fuel phaseout must be the central theme of COP28, not dangerous distractions like CCS propped up with public money."
Underscoring Stockman's point that such projects are incredibly expensive, the University of Oxford's Smith School of Enterprise and the Environment on Monday published research showing that a high carbon capture and storage pathway to net-zero emissions in 2050 could cost at least $30 trillion more than a low CCS pathway.
"Relying on mass deployment of CCS to facilitate high ongoing use of fossil fuels would cost society around a trillion dollars extra each year—it would be highly economically damaging," said Rupert Way, an honorary research associate at the school.
"Any hopes that the cost of CCS will decline in a similar way to renewable technologies like solar and batteries appear misplaced," he added. "Our findings indicate a lack of technological learning in any part of the process, from CO2 capture to burial, even though all elements of the chain have been in use for decades."
News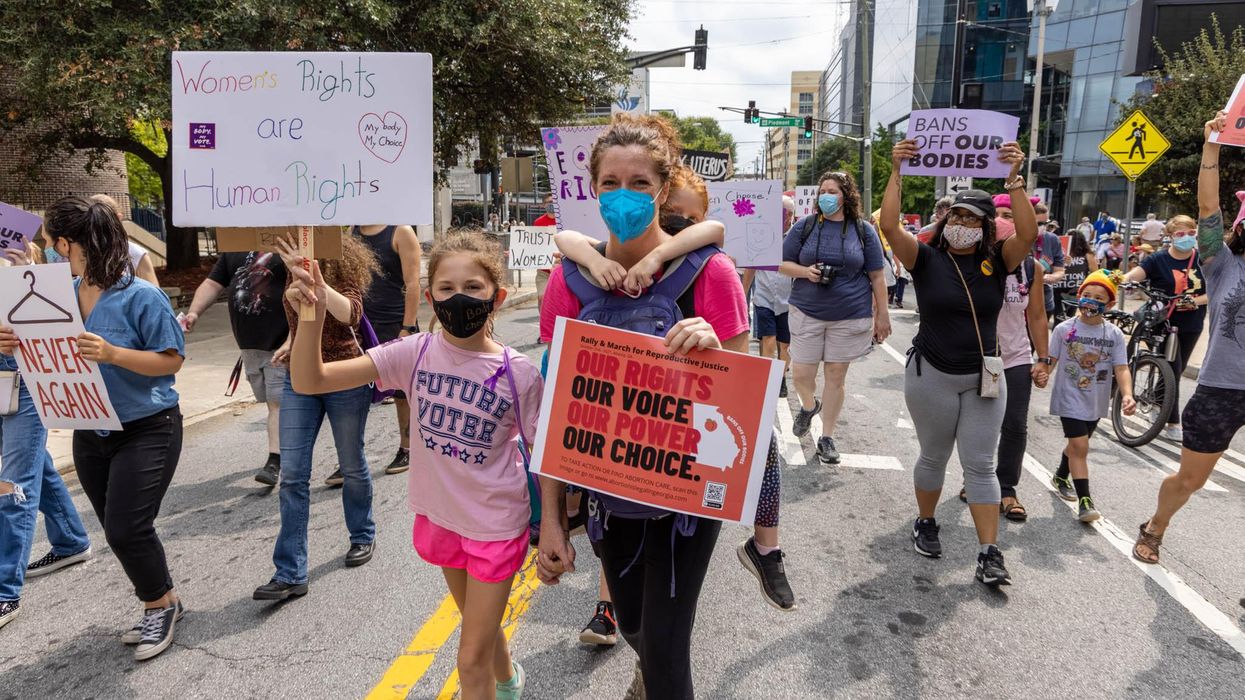 A new analysis shows how "abortion bans, extremist harassment, and the financial realities of operating community-based clinics make it increasingly difficult for independent clinics to stay open."
Scores of independent reproductive health centers have been forced to close or stop offering abortion care, with 14 states now having no abortion clinics, a report published Tuesday revealed.
Abortion Care Network (ACN) released its annual Communities Need Clinics report, which details how "abortion bans, extremist harassment, and the financial realities of operating community-based clinics make it increasingly difficult for independent clinics to stay open" after the right-wing U.S. Supreme Court canceled half a century of federal abortion rights in Dobbs v. Jackson Women's Health Organization a year-and-a-half ago.
As a result, 65 independent reproductive care clinics have shut down or stopped performing abortions since June 2022. The following states now have no clinics providing abortion care: Alabama, Arkansas, Idaho, Indiana, Kentucky, Louisiana, Mississippi, Missouri, North Dakota, Oklahoma, South Dakota, Tennessee, Texas, and West Virginia.
"Even in states where abortion remains legal, medically unnecessary restrictions, financial barriers associated with operating a health center, and the constant work of protecting against anti-abortion extremism make it challenging for many clinics to keep their doors open at all," the report states.
While there are several reasons for these closures, the overturning of Roe v. Wade and subsequent flood of anti-abortion legislation in Republican-controlled states are the most common. The report notes that this year alone, 53 laws restricting abortion access have been passed across the country.
However, the publication highlights how "voters resoundingly reject efforts to ban abortion":
In 2022, Kansas voters rejected a proposed state constitutional amendment that would say there is no right to abortion in the Kansas state Constitution. The vote prevented further restrictions on abortion in a state with only six brick-and-mortar abortion clinics. Winning by nearly 60% of the vote, the decisive election came as a surprise to many. In Kansas, registered Republican voters outnumber Democrats, but support for abortion cuts across party affiliation. States with other severe abortion restrictions surround Kansas, making it an important safeguard for access in the region. The vote in Kansas was the first time voters had the opportunity to vote on abortion access since Roe was overturned and became a bellwether for other states, including Kentucky, Montana, Michigan, Vermont, California, and Ohio—all states in which ballot initiatives confirmed popular support for abortion.
"States that restrict abortion access also have some of the worst reproductive health outcomes—and yet, despite these overlapping conditions and political hostilities, communities have made themselves clear: In every state where abortion was on the ballot, voters showed up to defend access to abortion," ACN co-executive director Erin Grant said in a statement.
Julie Burkhart, the founder and president of Wellspring Health Access and co-owner of Hope Clinic, asserted that "not only do independent abortion clinics provide the majority of abortions in the U.S., we also play a crucial role in protecting and defending reproductive rights by challenging abortion restrictions in the courts."
"In Wyoming, Wellspring Health Access and the patients we serve were nearly written off because of misperceptions of support for abortion in the state," Burkhart continued. "But, along with five co-plaintiffs, we brought a lawsuit challenging the state's recent abortion bans, that has ultimately reinstated abortion access in Wyoming."
Robin Marty, executive director of the West Alabama Women's Center, said that "when abortion was banned in Alabama, we understood that our community needed us more now, not less."
"Just as independent clinics were the vast majority of abortion providers in Alabama prior to Dobbs, we are staying here despite the strictest ban in the nation—providing follow-up care to those who leave the state or self-manage at home, as well as prenatal, contraceptive, and gender-affirming healthcare services, too."
"And when we eventually win back the right to an abortion—and someday we will do just that—we will be here, ready to offer that, too, at the very moment it is legally allowed," Marty added.
News