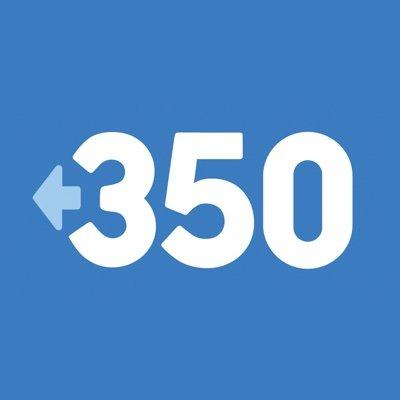 For Immediate Release
Contact:
Lindsay Meiman,Senior U.S. Communications Specialist,lindsay@350.org,us-comms@350.org,+1 347 460 9082,New York, USA
As Trump Dismantles Obama's Climate Legacy, People's Climate Movement Organizes for Mass Mobilization in DC on April 29
Communities Begin Organizing Nationwide to Resist Attacks on the Environment and Our CommunitiesAnd to Call for a New Clean Energy Economy that Stops Climate Change and Creates Good Jobs for All
WASHINGTON
In the wake of last weekend's Women's Marches, activists have announced a major "People's Climate March" on April 29th in Washington, D.C. and across the country. The effort is being organized by the coalition formed out of 2014's People's Climate March, which brought over 400,000 people to the streets of New York City and many more around the world.
The April 29th march comes in response to widespread outrage against President Trump's disastrous anti-climate agenda - including his executive orders yesterday advancing the Keystone and Dakota Access pipelines - as well as his attacks on healthcare, immigrants, and programs and policies that improve the lives of all Americans. The event will cap off 100 days of action to fight Trump's proposals to reverse climate action, dismantle our government and hand power over to the one percent.
Over 145 protests in local communities took place across the country in the first 100 hours of the Trump presidency, demonstrating widespread opposition to the administration's anti-environment and corporate agenda as part of an ongoing campaign organized by the People's Climate Movement.
Background and History: The People's Climate Movement grew out of the largest climate march in U.S. history in New York in September of 2014, creating a groundbreaking coalition of green and environmental justice groups, labor unions, faith, students, indigenous peoples and civil rights groups working to advance a climate agenda rooted in economic and racial justice.
With the 100 days of action and April march, this coalition will leverage their power once again, to resist the Trump administration and corporate leaders' efforts to thwart or reverse progress towards a more just America.
Now more than ever, it will take everyone to change everything. So, the People's Climate Movement is calling on everyone to join in resisting Trump, his crooked administration and the one percent who are running our country.
For more information on The People's Climate Movement and the mobilization on April 29th, please visit: https://peoplesclimate.org/
###
Quote Sheet:
Jamie Henn, 350.org Strategic Communications Director:
"As Trump's corrupt cabinet presents a dark and divisive vision for our world, we envision a world powered by renewable energy with an economy that works for all of us. For too long, a small few have exploited people and planet all in the name of profit. Now, we all must come together to fight for the world we know is possible."
Jeremiah Lowery, Environmental Justice Organizer, Washington, D.C.: "As a community member of the frontline, we must not be forgotten. The next 100 days are critical. Trump's policies will have devastating impact on communities directly impacted by climate change. Supporting local organizing efforts will be important in any effort to stop Trump's attack on our environment, health, and ultimately collective well-being"
Denise Abdul-Rahman, NAACP Indiana Executive Board Member and State Chair:
"The NAACP mantra is about advocating for civil rights. Our grassroots based organization has injected civil disobedience to oppose the current attorney general appointee, we are asserting our voices and calling for a more just and inclusive policies and appointees. We are strategizing at local, state and federal level to curtail the oppressive policies espoused by the Koch Brothers and Alec. These are policies that disproportionately impact our communities, such as criminal justice, voting rights, jobs, women's rights, health care, climate and education. We are with the People, and the People's Climate Movement."
Reverend Leo Woodbury, Kingdom Living Temple in Florence, South Carolina: "President Trump's issuing of executive orders rolling back President Obama's climate agenda in his first days of office and his efforts at dismantling the EPA is a serious threat to our communities. In South Carolina and across the country, communities of color and low-income people are on the front-lines of the climate crisis and we need to fight back. This year we are rebuilding our church for the second time in two years due to flooding from storms that were stronger due to climate change. In our communities, and others across the country, people are dealing with wells and drinking water contaminated with human waste, pesticides and toxic chemicals due to overflow from storms that are stronger than ever before as a result of global warming. We need to come together under the People's Climate Movement banner in Washington, D.C. on April 29th to say we are fighting for our planet and our communities."
Angela Adrar, Executive Director, Climate Justice Alliance: "For the next 100 days and as long as it will take, the Climate Justice Alliance is standing side by side across the U.S. in unity with the people-- in defiance of those who want to divide us. Women of color will not be sacrificed, our communities will not be sacrificed -- now is the time to fight for climate justice as it is key to our liberation and justice for all. Defenders of water, land, air, food, our bodies, and homes will unite across struggles to grow the resistance. Inauguration was just the beginning of a social movement uprising that is making Her-story."
Aura Vasquez, Director of Climate Justice, Center for Popular Democracy: "Around the country and the world, we agreed that climate change is real and affects those most vulnerable. We cannot afford to continue polluting our air and water. Our families deserve a healthy environment to live in. CPD is committed to continue pushing for climate justice with some of the strongest grassroots organizations in the country. We can't back down now. We need climate solutions that protect the most vulnerable from climate change-related damage while finding viable solutions to our current climate crisis."
Michelle Suarez, Florida Institute for Reform and Empowerment, (F.I.R.E.): "As the climate crisis worsens, it's clear that women, children, indigenous nations, low-income and communities of color must lead the way. Marginalized communities can no longer be ignored, instead, real solutions must come from more intentional relationships with one another, an intersectional approach as we empower, educate, and mobilize towards ensuring more resilient communities, justice and equity for all."
Chloe Jackson, Just Transition and Climate Justice Organizer, Missourians Organizing for Reform and Empowerment: "Communities across the country have been working for environmental and social justice for centuries. Now it's time for our struggles to unite and work together across borders to fight racism, sexism, xenophobia, and environmental destruction. We have a lot of work to do, and we are stronger together. Our vision for a better future can be achieved if we join hands in this struggle and support each other."
Mark Magana, President and CEO, GreenLatinos: "Latino communities and GreenLatinos members across this country will stand together with the People's Climate Movement and lift our voices for justice; the right to clean air and clean water; the right to a healthy, clean, and protected environment; the right to live. Latinos have a culture that is grounded in environmentalism and conservationism. It is a way of being for our community, and it is in our DNA. GreenLatinos members from across the country will join the People's Climate March in Washington, DC on April 29th to bring that collective culture and wisdom to bare on the most anti-environment administration and Congress in generations."
Dr. Rachel Cleetus, Climate Policy Manager, Union of Concerned Scientists: "Climate change is contributing to an increase in extreme weather disasters. We're seeing more rains that come as deluges, stronger North Atlantic hurricanes, worsening droughts and heat waves, and a longer, more severe Western wildfire season. When disaster strikes, we see the same old pattern: low-income and minority communities are hit harder than others and have a much harder time recovering."
Patrick Carolan, Executive Director, Franciscan Action Network: "Pope Francis, in his encyclical on ecology, Laudato Si, calls on "every person living on this planet" (LS#3) to "move forward in a bold cultural revolution." (LS#114) It is our moral responsibility to enter in to dialogue with political and faith leaders and ardently work to care for our common home."
Dominique Browning, Senior Director, Moms Clean Air Force: "We represent a million moms--and dads--from across the country. Republican and Democrat, we want to see action to cut the carbon and methane emissions that are changing our climate to so dangerously, and so rapidly. Climate change threatens the health of our children. We are ready to march, to show elected officials that we expect them to respect science, respect medicine, and do the right thing."
Karina Castillo, Miami-based meteorologist and Moms Clean Air Force Organizer: "In Florida, Latinas understand that climate change is a major threat to our health, our livelihood, and our future. Our families and communities are on the line. We are going to make that loud and clear."
Kieran Suckling, Executive Director, Center for Biological Diversity: "From coast-to-coast, we've seen a massive movement building to resist Trump and any policies that would hurt wildlife, marginalize entire classes of people and drive the climate deeper into crisis," said Kieran Suckling, executive director of the Center for Biological Diversity, which just completed its 16-city Earth2Trump tour across the country. "People from all walks of life, are speaking with a single voice of resistance against Trump and his corrupt agenda to gut climate progress and dig fossil fuels from the ground. It's a powerful movement that will show its mighty political force at the People's Climate March in 2017 and over the next four years."
Margrete Strand Rangnes, Executive Vice President, Public Citizen: "Despite the Trump Administration's insistence to bury its head in the sand and deny the overwhelming scientific evidence, climate change is real and is impacting people's lives. Moving away from fossil fuels and toward energy efficiency and renewable energy will not only lower energy prices for consumers, but also save lives and improve the health of people and communities"
Sierra Club Executive Director Michael Brune: "On April 29th, it's going to be much clearer to Donald Trump that he won't drag America or the world backwards on climate without the fight of his life. Our planet is in crisis, and voices from around the nation must and will be heard."
Eva Lin (18 years old), Alliance for Climate Education (ACE) Fellow, San Francisco, CA: "As a young person, a woman, and an immigrant, Trump's presidency threatens my future career as an environmental activist, my bodily autonomy, and my right to simply exist in this country."
Gene Karpinski, President, League of Conservation Voters: "The Trump administration's agenda for the environment is a polluter's dream. It's one of the most dangerous we've seen yet. We must fight back -- but it's going to take all of us."
Ernesto Vargas, Deputy National Director, Chispa, League of Conservation Voters: "We must grow the resistance to this administration's disregard for our climate and our communities. We must organize to guarantee that the political power of communities of color is seen, heard and felt at the White House." (Chispa is a community organizing program building Latino leadership to influence policy makers and local leaders to take action on climate change.)
Alexa Aispuro, Volunteer, Chispa Nevada, League of Conservation Voters: "As a young woman, I believe now more than ever our communities are ready to stand up for Mother Earth. I want to ensure that future generations have access to clean air and water, hope for curbing climate change. That's why I look forward to joining the April 29th march and encouraging others in my state and around the country to do the same."
Mike Tidwell, Director, Chesapeake Climate Action Network: "This morning, Trump made clear that he is putting pipelines over people. We want to make clear: We will never stop fighting. In Trump's first 100 days of office, we will continue mobilizing a historic movement to protect our water, our climate, and our communities."
350 is building a future that's just, prosperous, equitable and safe from the effects of the climate crisis. We're an international movement of ordinary people working to end the age of fossil fuels and build a world of community-led renewable energy for all.
LATEST NEWS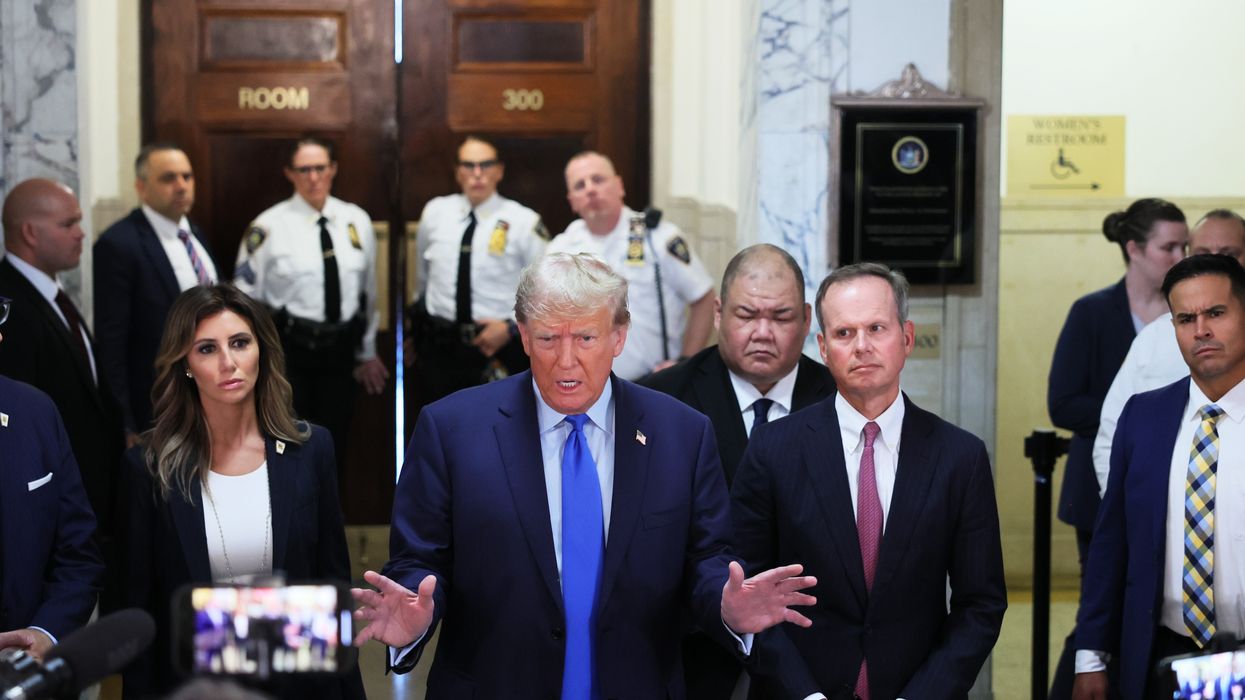 "Self-serving assaults on institutions and individuals are what Trump and his enablers do."
"Jurors—past, present, and future—are under attack from Donald Trump and those who do his bidding," states the groups' letter, which came just hours after the 2024 Republican front-runner's social media tirade about the civil case that will be decided by a judge.
"Self-serving assaults on institutions and individuals are what Trump and his enablers do," the letter argues. "These attacks threaten centuries-old American institutions designed by the Framers to hold to account any leader who would be king."
The letter highlights that in early August, after a Washington, D.C. grand jury indicted Trump, he wrote on social media, "If you go after me, I will come after you."
A few days later, he said, "No way I can get a fair trial, or even close to a fair trial, in Washington, D.C." The letter says that "it's hard to miss the import of this message in a jurisdiction that draws its jury pool from a population of which 45% are Black Americans."
As The Atlanta Journal-Constitution—which exclusively reported on the new letter—noted:

Fulton County District Attorney Fani Willis has sought increased protections after Trump supporters posted personal details about the grand jury that indicted the former president, leading to angry threats and harassment.

And Willis, herself, said she's been targeted by threats and racial slurs, forcing her to take steps to protect her daughters, father, and ex-husband.

Superior Court Judge Scott McAfee recently banned reporters and the public from identifying jurors in the trial against Trump and 18 co-defendants or disclosing other personal details about them. He also required lawyers to refer to them only as their numbers in court.
In addition to detailing examples of the ex-president and his allies' recent attacks on juries, the letter points out that Trump claimed the 2016 and 2020 elections would be "rigged" against him, and after his loss last cycle, he spread the "Big Lie" that he won and "successfully eroded faith in democracy and elections among his followers."
"Trump is now deploying the same, pre-judgment playbook upon the jurors and system of justice positioned to decide his fate in criminal court," asserts the letter. "His attacks are designed to eviscerate an institution of justice inherited from English law and in existence in America before the Constitution that enshrined it. Juries protect individual freedom."
"Trump, by undermining institutions that check both government power and lawless individuals, aims to release himself from all constraints. For this reason, his vicious attacks on juries are sure to escalate," the letter warns, concluding with a call for all "who believe in the rule of law and the jury system" to "speak up and defend such institutions under attack."
The letter was organized by the Not Above the Law coalition. Signatories include Citizens for Responsibility and Ethics in Washington (CREW), Common Cause, Free Speech for People, Government Accountability Project, Indivisible, People for the American Way, Public Citizen, Sierra Club, and Stand Up America.
News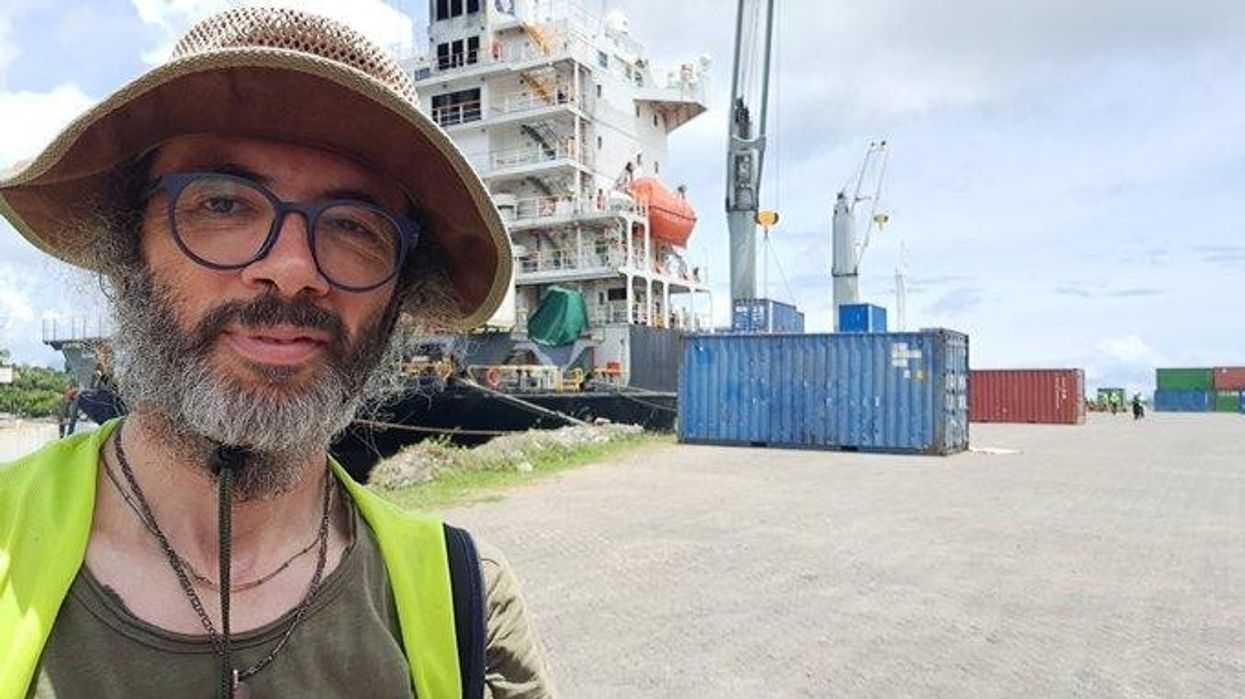 "I am prepared to pay this price, if it helps raising awareness among the public and the societal leadership on the desperate situation we are in," said Giancarlo Grimalda.
A climate researcher based in Kiel, Germany said Monday that he was prepared to lose his job at a globalization think tank, after his employer gave him an ultimatum and demanded he go against his climate-based objection to aviation travel in order to return to his place of work—a requirement at least one critic said was rooted in retaliation for the scientist's activism.
Gianluca Grimalda has been working on a field assignment in Papua New Guinea for the past six months, studying the relationship between globalization, climate change, and social cohesion for his employer, the Kiel Institute for the World Economy (IfW). He traveled to Papua New Guinea without the use of airplanes and has planned to get back to Germany the same way, boarding cargo ships, ferries, trains, and coaches to avoid 3.6 tonnes of carbon emissions.
Grimalda was originally scheduled to be finished with his work on September 10, but said in an essay on Monday that he received permission from the head of his department to remain in Papua New Guinea after wrapping up the project and noted that he is able to complete his work while traveling.
Nevertheless, on Friday the president of IfW informed Grimalda that he was required to be back in Kiel on Monday, which would require him to board a plane—a demand that he said ignores the climate impact of aviation travel and the effects already being felt by communities across the globe, including in Papua New Guinea.
"Traveling by plane would produce around four tons of carbon dioxide—the greenhouse gas responsible for global warming," wrote Grimalda. "In my outbound journey, I limited my emission to two tons by traveling over land and sea for 35 days over 16,0000 of the 22,000 kilometers. In my inbound journey I plan to cover the entire distance without catching a plane, which would limit carbon dioxide emissions to 400 kilograms—ten times less than traveling by plane."
By resolving to carry out his "slow-travel" plans instead of flying back to Kiel, Grimalda said he is risking his job.
"I know that most people would swallow the bitter pill, take a plane, and go ahead with their work—both as a professional and as an activist," wrote Grimalda. "With this job, I have enough economic stability and spare time to pursue environmental causes. Nevertheless, I believe that we have reached the point where instrumental rationality is no longer applicable. The most recent scientific evidence says that we have transgressed six out of nine planetary boundaries and that several ecosystems are close to collapse (or likely past their point of collapse) because of temperature rise—in turn caused by greenhouse gases emissions."
Grimalda acknowledged that his individual refusal to support the airline industry is no match for the continued emissions of the sector as well as fossil fuel giants, industrial farming, and other corporate actors.
"My decision not to catch a plane will mean close to nothing for the protection of the environment," he wrote. "'That plane will fly even if you have not boarded it,' many people have already told me. This is true, but giving less money to the aviation industry may mean fewer planes in the future. In any case, all the science I know, all the evidence I see, point to the fact that we are in [an] emergency. In [an] emergency, extraordinary actions should be taken. That is why, with enormous sadness, I have decided not to take a plane and face all the consequences this will lead to."
"I am prepared to pay this price, if it helps raising awareness among the public and the societal leadership on the desperate situation we are in," Grimalda added. "It is my act of love to the current and future generations, to the animal species under threat of extinction, to the idea of humanity that I instinctively and undeservedly abide by."
Grimalda and direct action group Scientist Rebellion went public with the researcher's dilemma on the same day the Institute for Policy Studies (IPS) in the U.S. released a report on private jet travel out of Laurence G. Hanscom Field near Boston, the largest private aviation field in New England.
Constrasting with Grimalda's commitment to reduce his support for carbon-intensive activities, IPS found that over 18 months, private jet owners and operators were responsible for an estimated 106,676 tons of carbon emissions, with half of those flights used for recreational or luxury travel. More than 40% of the flights were less than an hour long.
Climate groups in the area are currently pushing to ensure developers don't expand Hanscom in order to avoid even more planet-destroying emissions.
Grimalda told Scientist Rebellion that IfW has withheld his pay for the month of September without notice.
Julia Steinberger, a lead author of the latest report by the International Panel on Climate Change—which reiterated that "human activities, principally through emissions of greenhouse gasses, have unequivocally caused global warming" and warned that "approximately 3.3 to 3.6 billion people live in contexts that are highly vulnerable to climate change"—said it was "extraordinary that a research institute threatens to dismiss a researcher for doing his job too diligently and for avoiding flying during a climate emergency."

She added that she believes IfW aims to "retaliate for Gianluca's past participation in civil disobedience on climate change with Scientist Rebellion."

Grimalda has taken part in actions such as a blockade of the entrance of a biofuel refinery controlled by Eni, Italy's energy company.
The researcher expressed hope that his latest action "will sound yet another alarm bell to the ears of an inactive political leadership."

"As a scientist, I feel I have the moral responsibility to be proactive in sounding such alarms," Grimalda wrote. "It is true that thus far hundreds, if not thousands, of protests have all but gone unheard and have changed very little. Nevertheless, 'social tipping points' have existed for much progressive social change and things have changed rapidly for the good after a critical mass of support has been garnered."
News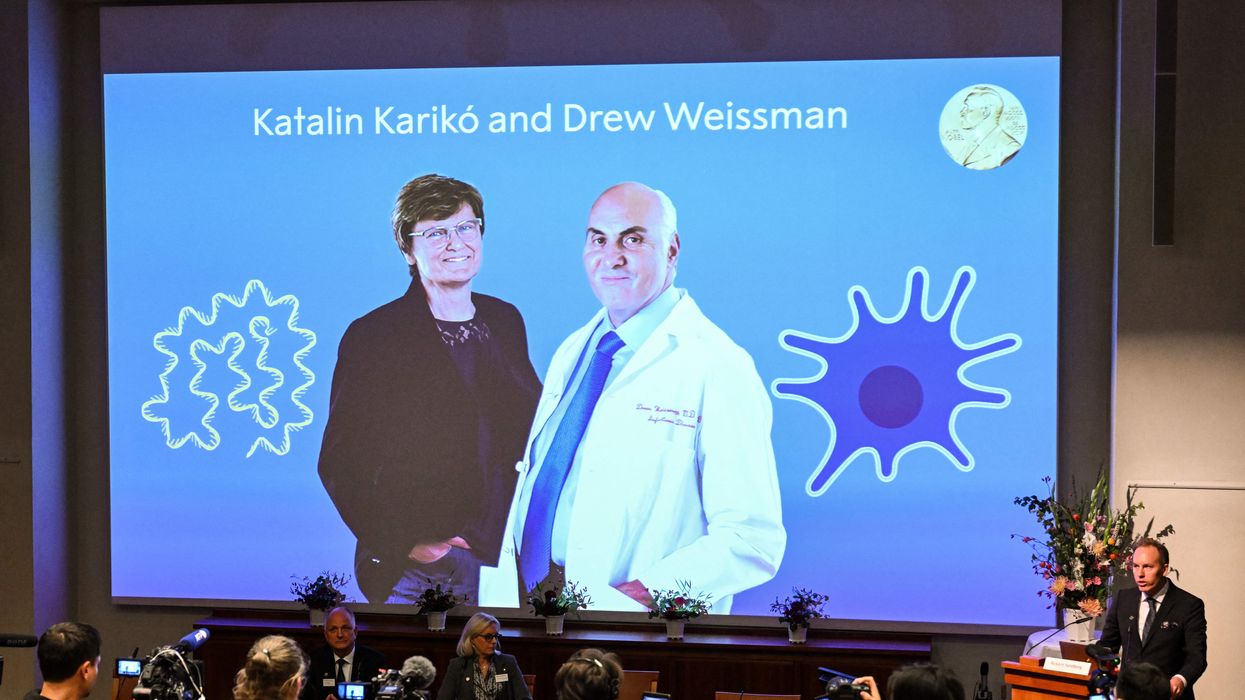 "Public funding delivers incredible medical advances and that should be a priority for all countries, but pharmaceutical companies cannot be trusted to share technology with the world."
Scientists Katalin Karikó and Drew Weissman were awarded the Nobel Prize in Physiology or Medicine on Monday for research that paved the way for the messenger RNA vaccines against Covid-19—critical work that, as campaigners quickly pointed out, benefited from substantial U.S. government funding.
Dr. Mohga Kamal-Yanni, policy co-lead for the People's Vaccine Alliance, said in a statement that "this award challenges the claim that it was solely big pharmaceutical companies who saved the world from Covid-19."
"Just like the Oxford-AstraZeneca vaccine, Karikó and Weissman's groundbreaking work on mRNA vaccines received a huge amount of public funding," said Kamal-Yanni. "Pharmaceutical companies have refused to share mRNA technologies with developers and researchers in developing countries."
The Nobel Prize committee credited Karikó and Weissman with fundamentally changing "our understanding of how mRNA interacts with our immune system."
"The laureates contributed to the unprecedented rate of vaccine development during one of the greatest threats to human health in modern times," the committee said.
As The Washington Postsummarized, the pair "discovered how to chemically tweak messenger RNA, turning basic biology into a technology ready to change the world when the pandemic struck. Their discovery is incorporated into the coronavirus vaccines made by Moderna and Pfizer and its German partner, BioNTech, which have now been given billions of times."
But the Post and other major outlets covering Karikó and Weissman's Nobel prize-winning contributions did not emphasize—or even mention—that some of the scientists' work was funded by the National Institutes of Health. Karikó and Weissman patented their findings in 2006 and later licensed the patents to Moderna and BioNTech, Pfizer's coronavirus vaccine partner.
According to an analysis by Knowledge Ecology International (KEI), Weissman "appears as the principal investigator on a total of 42 projects funded by the National Institutes of Health (NIH) between 1998 and 2020, representing $18,323,060 in costs."
"Karikó was the principal investigator of four projects funded by the NIH between 2007 and 2011, totaling $1,234,462 in costs," KEI observed. "In other words, the United States government funded and has certain rights over at least some of the foundational Karikó and Weissman patents directed to mRNA discoveries."
"As governments discuss how to prepare for the next pandemic, they should learn from the story of mRNA."
Throughout the pandemic and into the present, vaccine makers such as Pfizer and Moderna have opposed global calls to share their vaccine recipes and technology with the world, fiercely clinging to their monopoly control over production and using that control to force governments into one-sided contracts favorable to the pharmaceutical industry—even though their vaccines were developed with massive public support.
A study published in The BMJ earlier this year estimated that the U.S. government pumped nearly $32 billion into the development, production, and purchase of mRNA coronavirus vaccines.

The Biden administration, meanwhile, has declined to use its ownership of key patents or the leverage provided by public funding to force pharmaceutical companies to do everything they can to ensure the equitable distribution of lifesaving vaccine technology.
Kamal-Yanni of the People's Vaccine Alliance said Monday that "fortunately, Weissman is helping a WHO-backed mRNA program which aims to develop mRNA technology in lower-income countries, even while pharmaceutical companies refuse to share their know-how."
"As governments discuss how to prepare for the next pandemic, they should learn from the story of mRNA," said Kamal-Yanni. "Public funding delivers incredible medical advances and that should be a priority for all countries, but pharmaceutical companies cannot be trusted to share technology with the world."
Peter Maybarduk, director of the Access to Medicines program at Public Citizen, echoed that message, saying in a statement that "today's Nobel must ring as a call for equity and health justice, and a call to change a massively unjust pharmaceutical industry."
"Moderna, Pfizer, and BioNTech still largely control the available vaccines and in some countries have significantly increased their price, despite the billions in public funding on which the vaccines rely," said Maybarduk. "By supporting initiatives to share science and technology, and by funding vaccine infrastructure, governments can help blunt the effects of disease, and bring a coda of justice to a terribly unjust time."
This story has been updated to include a statement from Public Citizen.

News
Independent, nonprofit journalism needs your help.
Please Pitch In
Today!