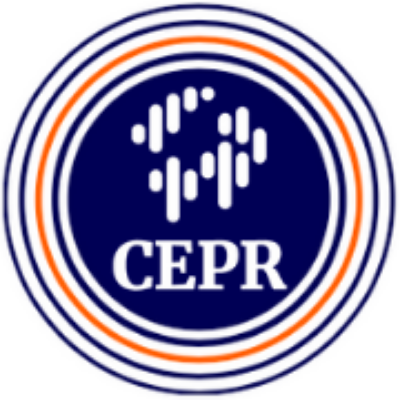 Growth Falls Off Sharply in Third Quarter
WASHINGTON
The Commerce Department reported the economy grew at a 1.5 percent annual rate in the third quarter, a sharp slowing from the 3.9 percent rate reported for the second quarter. The falloff was mostly due to slower inventory growth. Inventories subtracted 1.44 percentage points from the growth rate in the quarter after adding 0.02 percentage points in the second quarter. Final demand for the quarter grew a 3.0 percent annual rate. For the first three quarters of the year, GDP has risen at a 2.0 percent annual rate.
It is worth noting that inventories were still accumulating at a relatively healthy $56.8 billion annual rate in the third quarter. The negative GDP effect was due to the extraordinarily rapid $113.5 billion pace reported for the second quarter. While growth may pick up some in future quarters, inventories are not likely to be a major positive in GDP.
Consumption grew at a 3.2 percent rate in the quarter, driven by a 6.7 percent growth rate in durable goods consumption. Car buying continued to be strong in the quarter, but spending on recreational goods and vehicles were the biggest driver of the growth in durables, rising at an 10.4 percent annual rate. Health care spending continues to grow relatively modestly. Nominal spending grew at a 5.1 percent rate, while health care prices rose at just a 1.1 percent rate.
Non-residential investment grew at a weak 2.1 percent rate. Equipment investment grew at a 5.3 percent annual rate, while structure investment declined at a 4.0 percent rate. This decline follows a reported rise of 6.2 percent in the second quarter. This is more likely a story of erratic data than an actual decline, but clearly structure investment is not growing rapidly. Equipment investment has been growing modestly for some time, rising 6.9 percent over the last year.
Housing grew at a modest 6.1 percent rate, down from an average of 9.8 percent in the prior three quarters. It is likely that housing will continue to boost GDP into 2016, but the growth rate is likely to be more modest in future quarters.
Exports and imports grew at almost the same rate, having little net effect on growth. This is likely somewhat of an aberration as the recent rise in the dollar -- coupled with weakness in other major economies -- is likely to lead to some rise in the deficit in future quarters.
Government expenditures grew at a 1.7 percent annual rate, adding 0.3 percentage points to growth. Almost all of this rise was attributable to state and local expenditures, which grew at a 2.6 percent annual rate. Federal spending grew at a just a 0.2 percent annual rate.
There continues to be no evidence of inflationary pressures in any sector. The overall GDP price index rose at a 1.2 percent rate. It is up by 0.9 percent from its year-ago level. The core PCE grew at just a 1.3 percent rate in the quarter and is up 1.3 percent over the last year.
The underlying picture in this report is one of continuing modest growth. While there seems little basis for serious concerns about a recession, it is also difficult to find any basis for concerns about the economy overheating and an increase in inflationary pressures. With a relatively low saving rate of 4.7 percent, and durable good purchases already at high levels, consumption growth is more likely to slow than to accelerate. We have also seen healthy growth in residential construction in the last year and a half, which is likely to mean that future growth will be slower.
There is little reason to expect any major upturns in the rate of growth of investment in the immediate future. Net exports are likely to be at least a modest negative, unless the new Canadian government gets very aggressive with its stimulus plans. Government spending at all levels is likely to remain contained as there continues to be a political commitment to austerity.
For these reasons, there is little cause to believe that the economy will accelerate much above its recent 2.0 percent growth rate, which in turn indicates there is little cause for the Fed to attempt to slow growth.
The Center for Economic and Policy Research (CEPR) was established in 1999 to promote democratic debate on the most important economic and social issues that affect people's lives. In order for citizens to effectively exercise their voices in a democracy, they should be informed about the problems and choices that they face. CEPR is committed to presenting issues in an accurate and understandable manner, so that the public is better prepared to choose among the various policy options.
(202) 293-5380
LATEST NEWS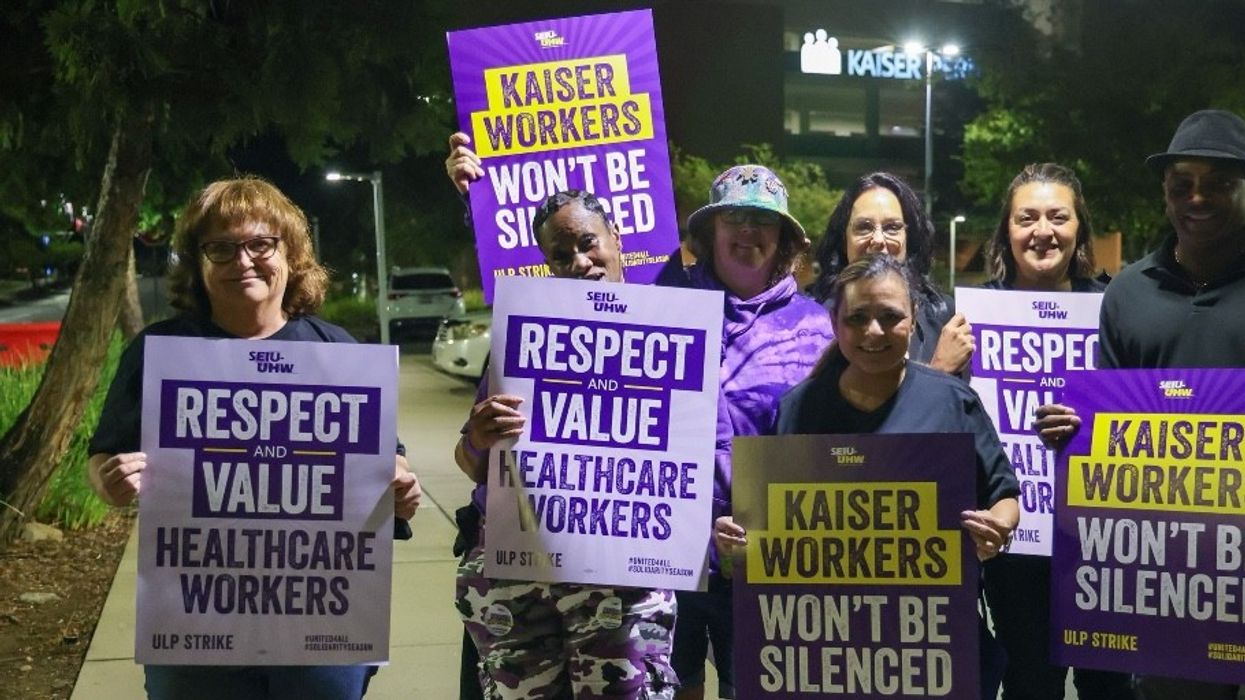 "We have folks getting injured on the job because they're trying to do too much and see too many people and work too quickly," said one union leader, demanding better staffing levels. "It's not a sustainable situation."
Tens of thousands of healthcare workers across the United States began a three-day strike against Kaiser Permanente on Wednesday to protest the nonprofit hospital giant's alleged unfair labor practices, bad-faith bargaining, inadequate wages, and chronic staff shortages that employees say are harming them and patients.
The Coalition of Kaiser Permanente Unions, which represents the 75,000 Kaiser workers who are expected to walk off the job Wednesday, said picket lines will be set up at hundreds of Kaiser hospitals and facilities in California, Colorado, Washington, and other states, as well as in Washington, D.C.
The walkout is expected to be the largest healthcare worker strike in U.S. history.
"Jobs affected by the strike include licensed vocational nurses, emergency department technicians, radiology technicians, ultrasound sonographers, teleservice representatives, respiratory therapists, x-ray technicians, optometrists, certified nursing assistants, dietary services, behavioral health workers, surgical technicians, pharmacists and pharmacy technicians, transporters, home health aides, phlebotomists, medical assistants, dental assistants, call center representatives, and housekeepers, among hundreds of other positions," the coalition said in a statement.
Renée Saldaña, a spokesperson for SEIU United Healthcare Workers West—which is part of the Kaiser union coalition—told the Los Angeles Times that "healthcare workers want to be at the facilities with their patients."
"They're doing this for their patients because of the delays in care, because of the short-staffing crisis," said Saldaña.
The strike kicked off after contract talks between union negotiators and Kaiser—which reported nearly $3.3 billion in net income in the first half of 2023—stalled Tuesday night without a tentative contract agreement. The previous four-year contract expired at the end of September, and negotiations over a new agreement began in April.

"We continue to have frontline healthcare workers who are burnt out and stretched to the max and leaving the industry," Caroline Lucas, executive director of the Coalition of Kaiser Permanente Unions, toldCNBC. "We have folks getting injured on the job because they're trying to do too much and see too many people and work too quickly. It's not a sustainable situation."
Union negotiators have called on Kaiser to hire at least 10,000 new workers by the end of the year to help alleviate staff shortages that—according to a recent survey of healthcare workers in California—have resulted in care being delayed or denied.
Negotiators have also demanded a $25 minimum wage for all Kaiser employees and a 24.5% wage increase over the course of a new four-year contract.

The company has refused to meet many of the unions' core demands, offering wage proposals that would not even keep up with inflation.

"Kaiser executives are refusing to listen to us and are bargaining in bad faith over the solutions we need to end the Kaiser short-staffing crisis," said Jessica Cruz, a licensed vocational nurse at Kaiser Los Angeles Medical Center. "I see my patients' frustrations when I have to rush them and hurry on to my next patient. That's not the care I want to give. We're burning ourselves out trying to do the jobs of two or three people, and our patients suffer when they can't get the care they need due to Kaiser's short-staffing."
News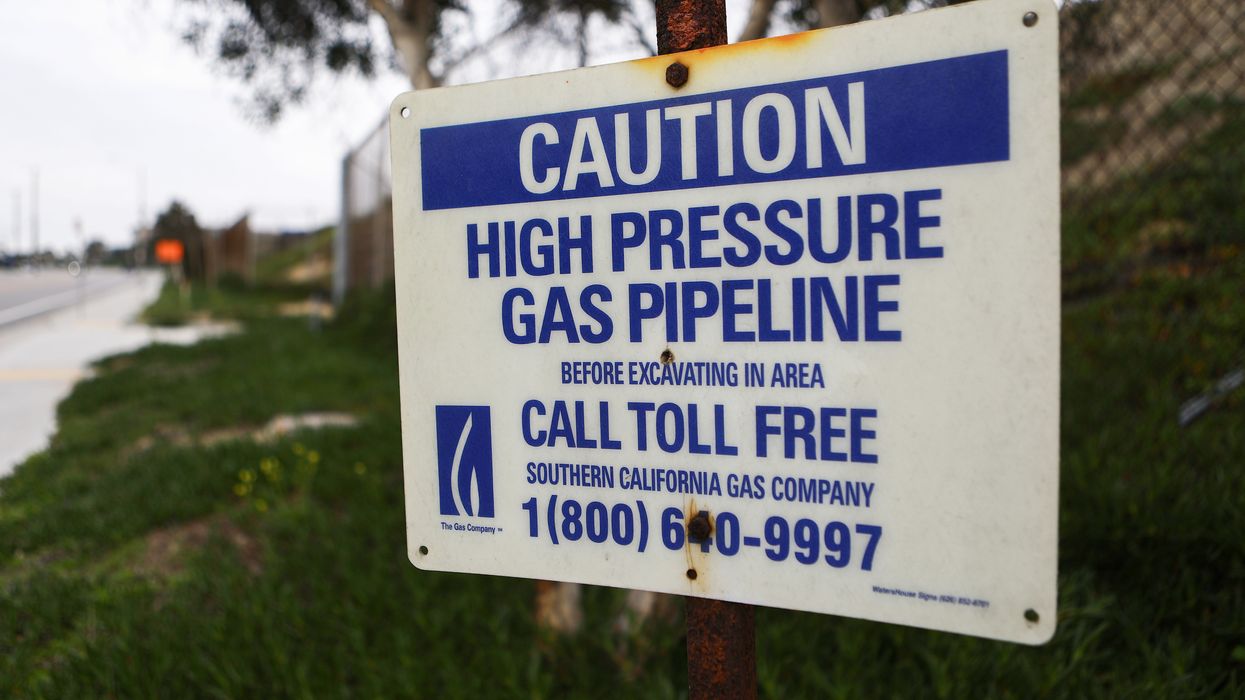 "CO2 spewing from a ruptured pipeline can suffocate humans and animals without notice," more than a dozen House Democrats wrote to President Joe Biden.

Reps. Ilhan Omar and Chuy Garcia led a group of House Democrats on Tuesday in urging President Joe Biden to put a moratorium on federal permitting for new CO2 pipelines—infrastructure at the center of unproven carbon capture efforts—until robust safety regulations are finalized, warning that the current regulatory vacuum is a serious threat to public health.

"As an invisible and odorless asphyxiant, CO2 spewing from a ruptured pipeline can suffocate humans and animals without notice," Omar (D-Minn.), Garcia (D-Ill.), and 11 other lawmakers wrote in a letter to Biden. "Transporting CO2 under the extremely high pressure required to maintain a supercritical fluid state can cause ruptures that 'unzip' a pipeline over long distances, allowing CO2 to escapebefore the flow can be stopped."
The House Democrats called on the president to use his executive authority to place a moratorium on federal CO2 pipeline permits until the Pipeline and Hazardous Materials Safety Administration (PHMSA) completes work on safety regulations that the agency announced last year.

The lawmakers noted that "current regulations do not cover pipelines transporting CO2 as a gas or subcritical liquid, and are tailored to address the transport of hydrocarbon hazardous liquids, such as crude oil and refined petroleum products, which carry vastly different safety risks."
"New pipeline infrastructure will invariably put more communities in danger given the complexity of transporting CO2 thousands of miles."
There are currently around 5,000 miles of carbon dioxide pipelines in the U.S., according to the PHMSA, and analysts say that most of the existing pipelines are used for enhanced oil recovery—a process that involves pumping captured CO2 into oil wells in an effort to produce more oil.
But the Biden administration is pushing for an expansion of CO2 pipelines as part of what climate advocates say is a misguided and irresponsible buildout of carbon capture and storage infrastructure that's supported by the fossil fuel industry.
The bipartisan infrastructure law that Biden signed in 2021 boosts a tax credit that will incentivize the proliferation of CO2 pipelines, which have prompted major safety concerns and opposition from local communities. Jesse Jenkins, a professor of engineering at Princeton University, toldNPR that the U.S. could have more than 65,000 miles of CO2 pipelines within the next few decades.
The Democratic lawmakers point to NPR's reporting in their letter, writing that their concerns about the safety of the carbon dioxide infrastructure "are exemplified by the 2020 rupture of a pipeline, operated by Denbury Gulf Coast Pipelines, transporting CO2 in Satartia, Mississippi."
Earlier this year, NPRdocumented the harrowing experience of Satartia residents impacted by the rupture. One emergency worker said the terrifying scene "looked like you were going through the zombie apocalypse."
On Feb. 22, 2020, a clear Saturday after weeks of rain, Deemmeris Debra'e Burns, his brother and cousin decided to go fishing. They were headed home in a red Cadillac when they heard a boom and saw a big white cloud shooting into the evening sky.

Burns' first thought was a pipeline explosion. He didn't know what was filling the air, but he called his mom, Thelma Brown, to warn her to get inside. He told her he was coming.

Brown gathered her young grandchild and great-grandchildren she was watching, took them into her back bedroom, and got under the quilt with them. And waited...

Little did she know, her sons and nephew were just down the road in the Cadillac, unconscious, victims of a mass poisoning from a carbon dioxide pipeline rupture. As the carbon dioxide moved through the rural community, more than 200 people evacuated and at least 45 people were hospitalized. Cars stopped working, hobbling emergency response. People lay on the ground, shaking and unable to breathe.
The lawmakers warned that "new pipeline infrastructure will invariably put more communities in danger given the complexity of transporting CO2 thousands of miles with what could create dozens of points of entry and exit for CO2."
"Since PHMSA has authority over the safety of CO2 pipelines, states confront preemption issues, restricting their ability to protect residents from the dangers CO2 pipelines pose," the lawmakers wrote. "The absence of strong regulations leaves urban and frontline communities at greater risk, as carbon capture and storage, which depends on CO2 pipelines to function, rises in prominence."
The PHMSA is expected to release its updated regulations next year.

Jim Walsh, policy director of Food & Water Watch (FWW), applauded the lawmakers' call for a moratorium, saying that "communities across the country are opposing these carbon capture pipelines because they understand the risks they pose to their health and safety." FWW is one of the more than 150 environmental justice groups that demanded a moratorium in May.
"President Biden needs to use his authority to immediately enact a moratorium on permits for these dangerous projects," Walsh said Tuesday.
News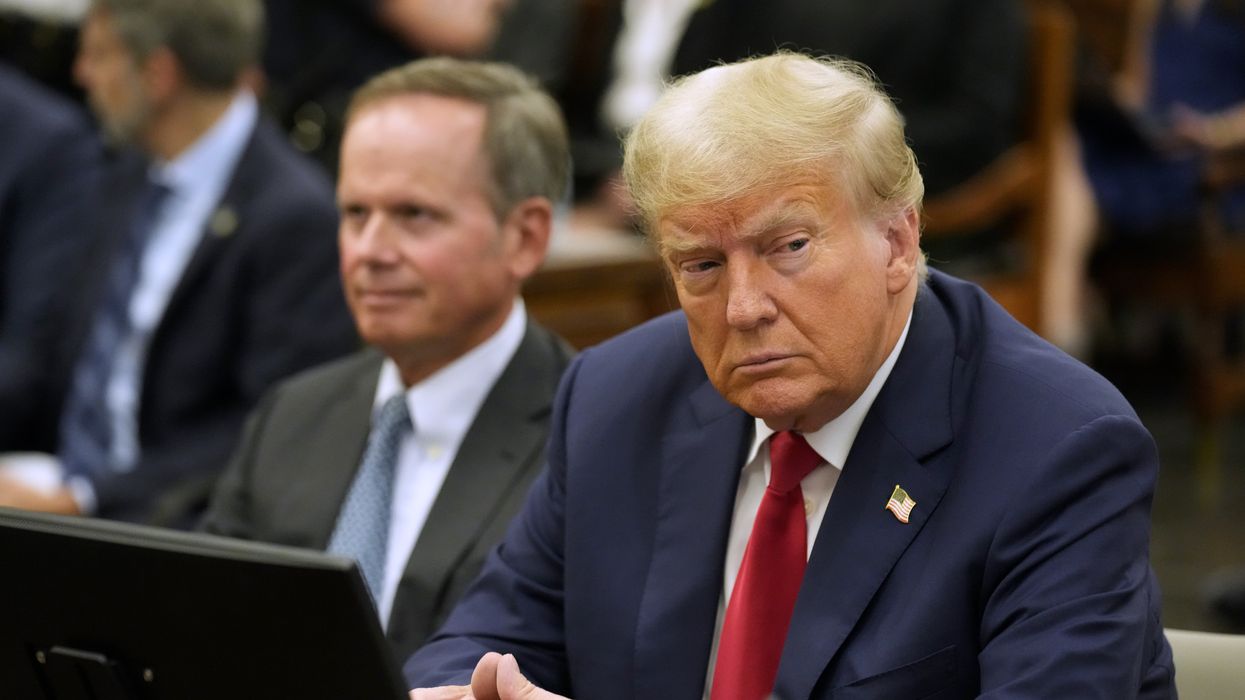 "Personal attacks on members of my court staff are unacceptable, inappropriate, and I will not tolerate them in any circumstances," said Justice Arthur Engoron.
In a New York on Tuesday afternoon, Justice Arthur Engoron issued a gag order against former President Donald Trump and said he would face further "serious sanctions" if he issues any more threats or public comments against the judge, his staff, or the court where Trump is on trial for civil fraud.
Engoron, who sits on the New York City Civil and State Supreme Court, issued the order shortly after the Republican 2024 presidential candidate's claimed on social media that Engoron's clerk is "running this case against" him.
"Consider this statement a gag order forbidding all parties from posting, emailing, or speaking publicly about any of my staff," he said. "Personal attacks on members of my court staff are unacceptable, inappropriate, and I will not tolerate them in any circumstances."
During a lunch break on Tuesday, Trump posted a photo of the clerk, attorney Allison Greenfield, with U.S. Senate Majority Leader Chuck Schumer (D-N.Y.) and called her "Schumer's girlfriend."

"How disgraceful! This case should be dismissed immediately," he wrote on Truth Social in a post that Engoron ordered him to delete.
On Monday as the trial opened, Trump called the proceedings a "scam," "a continuation of the single greatest witch hunt of all time," and "an attempt to hurt me in an election."
The judge noted on Tuesday that he had "warned counsel off the record about the former president's comments yesterday, but the warning went unheeded," according toThe Hill.
The case is one of four pending civil and criminal cases against the former president and centers on allegations that Trump inflated the value of his assets in New York.
As Common Dreamsreported on Monday, advocates are expressing concern for the safety of jurors in the four trials due to Trump's repeated claims that he will not "get a fair trial" and comments he's made regarding his legal troubles including, "If you go after me, I will come after you."
He has also targeted U.S. District Judge Tanya Chutkan, who is presiding over a case in Washington regarding Trump's alleged 2020 election interference, on social media.

Katie Phang, host of "The Katie Phang Show" on MSNBC, predicted that "this is the first of many gag orders against Trump that will be issued by Justice Engoron in this case."

News
Independent, nonprofit journalism needs your help.
Please Pitch In
Today!