Public Knowledge Files Comments Urging FCC to Expand the E-Rate Program to Connect Students During Pandemic
Yesterday, Public Knowledge joined New America's Open Technology Institute in filing comments in response to the Federal Communications Commission's Public Notice on the use of E-Rate funds to enable remote learning.
WASHINGTON
Yesterday, Public Knowledge joined New America's Open Technology Institute in filing comments in response to the Federal Communications Commission's Public Notice on the use of E-Rate funds to enable remote learning. Public Knowledge supports "off-campus" use of E-Rate funds to help students studying at home access the broadband they need to stay connected to classes, student services, and their families during the pandemic.
The following can be attributed to Greg Guice, Director of Government Affairs at Public Knowledge:
"As the nation enters its 12th month of the COVID-19 pandemic, most schools remain closed or opened on a limited basis, making distance learning the primary means of educational instruction for many students. The needs of students and teachers to have broadband, therefore, remains as vital today as it did a year ago. This is why we're asking the FCC to make a common-sense decision to allow the E-Rate program Congress established to ensure schoolchildren and teachers have access to broadband to be used for remote learning.
"As our filing explains, the statute creating the E-Rate program authorizes the Commission to provide full flexibility to schools and libraries to direct funding to the service and equipment necessary to offer remote learning, thereby reaching students in the 'classroom' wherever they are, which, during this pandemic, is at home. Consistent with past Commission decisions, the Commission should immediately remove funding barriers to remote learning."
You may view our comments for more information.
LATEST NEWS
"The same party who provided $2 trillion tax giveaways to the wealthy wants to slash funding for WIC, devastating women and children," said Democratic Rep. Gwen Moore.
Democratic lawmakers and policy analysts are expressing growing alarm over the House GOP's pursuit of increasingly severe spending cuts that would decimate education programs, slash housing assistance and food aid for low-income families, undermine clean air and water safety, and compromise medical research.
Rep. Pramila Jayapal (D-Wash.), the chair of the Congressional Progressive Caucus, called the Republican proposals "unbelievably cruel" and accused the GOP of "playing political games on the backs of the most vulnerable, working people, families just trying to get by."
House Republicans' push for sharp cuts that would be dead on arrival in the narrowly Democratic Senate has all but guaranteed a government shutdown come midnight Saturday.
After failing twice last week to approve a rule that would have advanced a Pentagon spending measure, House Republicans on Tuesday voted to open debate on a package of appropriations bills for the Departments of Defense, Homeland Security, State, and Agriculture—just four out of the 12 measures that must be approved to fully fund the federal government.
In floor remarks ahead of Tuesday's vote, Rep. Rosa DeLauro (D-Conn.)—the top Democrat on the House Appropriations Committee—warned that the GOP's agriculture appropriations bill "shamefully" cuts aid "for the most vulnerable children and families."
"This bill abandons the most vulnerable among us by slashing the Women, Infants, and Children (WIC) program by $800 million. Some 4.6 million women and children would also get severely reduced food and vegetable vouchers," said DeLauro.
"I do not believe we should practice this so-called 'fiscal responsibility' by taking food out of the mouths of moms and of children," she added. "Is this how Republicans seek to sell their spending cuts to the American people? By taking food from veterans and the most vulnerable?"
DeLauro also pointed to a rider in the GOP legislation that would reverse the Food and Drug Administration's decision earlier this year to allow the abortion pill mifepristone to be dispensed at certain pharmacies.
As The Washington Post's Jeff Stein reported Tuesday, House Republican leaders are aiming to cut discretionary federal spending by around 27%, ditching spending levels that they agreed to as part of a bipartisan debt ceiling agreement reached earlier this year.
The floated 27% cut, Stein observed, "appears to translate into taking more than $150 billion per year out of the part of the budget that funds childcare, education subsidies, medical research, and hundreds of additional federal operations."
Citing estimates from the Center for American Progress (CAP), Stein noted that the GOP's current appropriations bills would cut housing subsidies for the poor by 33%, force "more than 1 million women and children onto the waitlist of a nutritional assistance program for poor mothers with young children," and slash home heating assistance for low-income families by more than 70%.
CAP also estimated in a recent analysis that the House GOP's proposed appropriations measures would inflict a staggering 80% cut on Title I education grants for elementary and secondary schools in low-income areas.
Additionally, according to CAP, Republicans' bills would cut Social Security Administration funding by $183 million, slash $2.8 billion from the National Institutes of Health's budget, and curb Environmental Protection Agency funding by 39%.

"Back in May, Speaker Kevin McCarthy made a bipartisan debt ceiling deal with deep cuts and policies that hurt everyday people but with a promise to the American people that no further cuts would harm them," Rep. Delia Ramirez (D-Ill.) said in a statement Tuesday.
"Today," Ramirez continued, "Speaker McCarthy's hunger for power and lack of leadership are leading him to back out of that deal and further cave into far-right Republicans' irrational demands to cut more than $150 billion per year for childcare, education, medical research, and hundreds of other federal critical programs that feed families, provide safe housing, and protect our environment. These are unacceptable demands that I WILL NOT support."
"The same party who provided $2 trillion tax giveaways to the wealthy wants to slash funding for WIC, devastating women and children."
The Senate, meanwhile, voted Tuesday to begin debate on a continuing resolution that would fund the government through November 17, a short-term solution as both chambers work on passing their appropriations bills for the coming fiscal year.
"A shutdown would be nothing short of a catastrophe for American families, our national security, and our economy," said Sen. Patty Murray (D-Wash.), chair of the Senate Appropriations Committee. "It is critical that we avoid one, and that's exactly what this bipartisan legislation will do."
But a number of House Republicans, including members of the far-right House Freedom Caucus, have signaled that they are opposed to any short-term government funding bill. Earlier this month, the House GOP put forth a 30-day stopgap funding measure that would have cut nonmilitary discretionary spending by 8% instead of keeping the government funded at current levels.
The House Republican leadership ultimately pulled the bill after it became clear it did not have the votes to pass.
"The House GOP doesn't serve working families," Rep. Gwen Moore (D-Wis.) wrote on social media Tuesday. "The same party who provided $2 trillion tax giveaways to the wealthy wants to slash funding for WIC, devastating women and children who depend on this program to receive fresh fruits and vegetables."
The Biden White House warned Wednesday that in addition to threatening food aid for millions of mothers and children, a government shutdown "would have damaging impacts across the country—including risking significant delays for travelers and forcing air traffic controllers and Transportation Security Officers to work without pay."

"During an Extreme Republican Shutdown, more than 13,000 air traffic controllers and 50,000 Transportation Security Officers—in addition to thousands of other Federal Aviation Administration (FAA) and Transportation Security Administration (TSA) personnel—would have to show up to do their critical jobs without getting paid until funding becomes available," the White House said. "In previous shutdowns, this led to significant delays and longer wait times for travelers at airports across the country."
News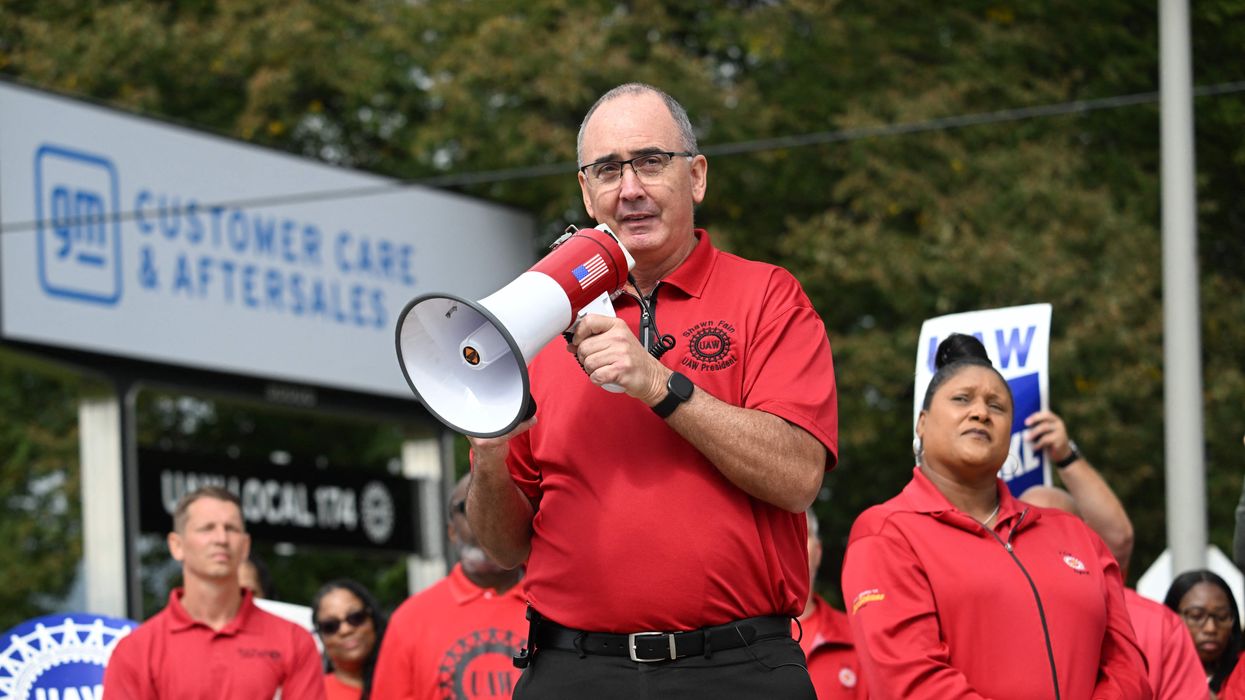 "All you have to do is look at his track record," said United Auto Workers president Shawn Fain. "His track record speaks for itself."
United Auto Workers president Shawn Fain said Tuesday that he will not be meeting with Donald Trump when the former president visits Michigan, pointing to his long history of anti-worker rhetoric and policies.
"I see no point in meeting with him because I don't think the man has any bit of care about what our workers stand for, what the working class stands for," Fain said in a CNN appearance. "He serves the billionaire class, and that's what's wrong with this country."
Fain's remarks came hours before Trump's scheduled address Wednesday night at Drake Enterprises, a nonunion auto parts manufacturer in Clinton Township, Michigan. A national UAW spokesperson toldHuffPost that the union—which is nearly two weeks into its strikes against the Big Three U.S. automakers—doesn't represent any workers at Drake Enterprises, but the facility "could be home to other unions."
In his CNN interview, Fain said he finds it a "pathetic irony" that Trump—who has repeatedly bashed the UAW's leadership—is holding a purportedly pro-worker event at a nonunion business.
"All you have to do is look at his track record," said Fain. "His track record speaks for itself. In 2008 during the Great Recession, he blamed UAW members. He blamed our contracts for everything that was wrong with these companies. That's a complete lie. In 2015 when he was running for president, he talked about doing a rotation, taking all these good-paying jobs in the Midwest and moving them somewhere in the South where people work for less money, and then to make people beg for their jobs back at lower wages."
"And the ultimate show of how much he cares about our workers was in 2019 when he was the president of the United States," Fain continued. "Where was he then? GM—our workers at GM were on strike for 60 days. For two months, they were out there on the picket lines. I didn't see him hold a rally. I didn't see him stand up at the picket line. And I sure as hell didn't hear him comment about it. He's missing in action."
Earlier Tuesday, President Joe Biden joined Fain and striking autoworkers on the picket line outside of a General Motors plant in Belleville, Michigan. Labor historians say Biden is the first sitting U.S. president to walk a picket line with striking workers.
The UAW has not endorsed a candidate in the 2024 presidential race, and Fain told CNN that his comments on Trump were "not an endorsement for anyone."
"It's just flat-out how I view the former president," he said.

News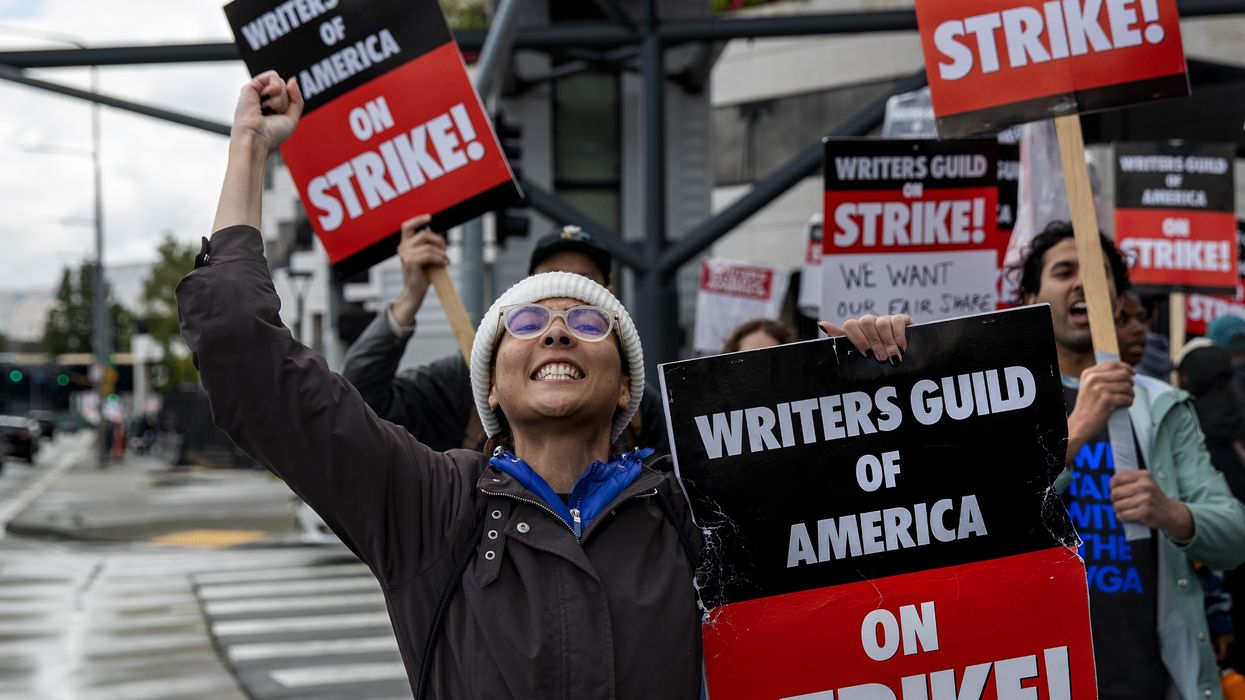 "The WGA appears to have won more than analysts initially believed possible."
Hollywood screenwriters' monthslong strike ended Wednesday after the Writers Guild of America leadership voted unanimously to recommend the tentative three-year contract agreement that the union reached with major studios over the weekend.
WGA members will now vote on whether to ratify the deal, which includes higher pay than the studios were originally willing to offer, improved healthcare benefits, viewership-based streaming residuals, minimum staffing requirements for television writers' rooms, and regulations constraining studios' use of artificial intelligence.
In a statement late Tuesday, the WGA negotiating committee said that union members "will be able to vote from October 2nd through October 9th, and will receive ballot and ratification materials when the vote opens."
"The WGAW Board and WGAE Council also voted to lift the restraining order and end the strike as of 12:01 am PT/3:01 am ET on Wednesday, September 27th," the committee added. "This allows writers to return to work during the ratification process, but does not affect the membership's right to make a final determination on contract approval."
The WGA committee called the tentative agreement an "exceptional deal, with gains and protections for members in every sector of the business."
"The WGA appears to have won more than analysts initially believed possible," The New York Timesreported Tuesday. "Studios suggested early on that they wouldn't bend on issues like residuals or staffing, citing changes streaming has made to their industry. But the strike—coupled with the SAG-AFTRA walkout—has crippled Hollywood, with studio owners like Warner Bros. Discovery predicting big hits to their earnings. Analysts have estimated that studios could lose as much as $1.6 billion in global ticket sales because of movie delays."
According to survey data, the writers' strike was broadly popular with the U.S. public. A Data for Progress poll conducted last month found that 67% of all likely voters backed the strike, while a Gallup survey showed that the public sympathized with screenwriters over Hollywood studios by a margin of 72% to 19%.
SAG-AFTRA actors who joined writers on the picket lines will remain on strike, and the union said Wednesday that it currently has no scheduled dates to meet with the Alliance of Motion Picture and Television Producers, which represents the major studios.
News
Independent, nonprofit journalism needs your help.
Please Pitch In
Today!